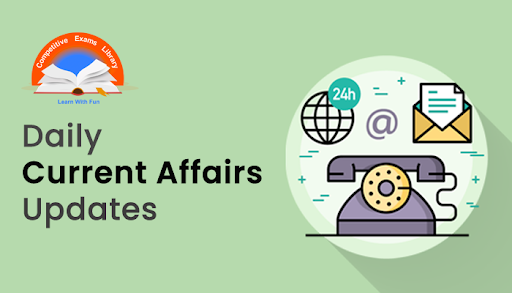 Dear Readers, Daily Current Affairs News Updates about the National and International events were listed here. Read Current Affairs Today here and stay updated with current news. Candidates those who are preparing for IBPS/SBI/PO/Clerk exam and all other competitive exams can use this and try the Current Affairs Quiz to test your knowledge level.
CURRENT AFFAIRS : BANKING & FINANCE
Federal Bank & NeSL partner to offer electronic bank guarantee 
Indian private sector bank Federal Bank has partnered with National e-Governance Services Limited (NeSL) to launch an electronic bank guarantee (e-BG) facility.
With this partnership, Federal Bank hopes to completely replace the traditional paper-based process 'in due course'.
What does " bank guarantee" mean?
A bank guarantee is an assurance a financial institute like a bank offers to the external party if the borrower is unable to pay the debt.
Key Highlights : 
Electronic Bank Guarantee facilitates the issuance, invocation, amendment, and cancellation of Bank Guarantee in digital form and removes the need of printing any document/request thereof.
It is safe, secure, and fast, facilitating trade/business activities.
Individual, Sole Proprietor, Company, Partnership Firm, Govt. Agencies, Association of People, Body of Individuals are eligible to avail of this facility.
This is currently available only in states where e-stamping is available.
The benefits of e-bank guarantee include saving time and cost, enabling faster communication, removing the scope for fraud, and ensuring correct payment of stamp duty.
About Federal Bank :
Established : April 23, 1931
Headquarters :  Aluva, Kochi, Kerala.
MD & CEO : Shyam Srinivasan
Tagline : Your Perfect Banking Partner
About NeSL : 
Headquarters : Mumbai, Maharashtra, India
MD & CEO : Debajyoti Ray Chaudhuri
NeSL is India's first Information Utility and is registered with the Insolvency and Bankruptcy Board of India (IBBI) under the aegis of the Insolvency and Bankruptcy Code, 2016 (IBC).
Axis Bank enables UPI for RuPay credit cards
India's third largest private sector bank, Axis Bank, has successfully enabled linkage of RuPay credit cards with Unified Payments Interface (UPI).
Axis Bank has become the latest entrant in the list of banks that offer customers to link their RuPay credit card with UPI, with other banks being Canara Bank, HDFC Bank, Indian Bank, Punjab National Bank (PNB) and Union Bank of India (UBI).
Bank customers can pay with their RuPay Credit Card when scanning UPI QR Codes or at the merchant's UPI checkout page.
The feature will allow bank customers to receive credit card rewards and the lender is rolling out the functionality in phases.
UPI transactions rose 43% year-on-year (y-o-y) to a record `14.1 trillion in value terms during April, 2023.
In terms of overall volume, it rose 59% y-o-y to a new high of 8.9 billion.
About Axis Bank :
Established : 3 December 1993
Headquarters : Mumbai, Maharashtra, India
MD & CEO : Amitabh Chaudhry
Tagline : Badhti Ka Naam Zindagi
Yes Bank launched 'YES KIRAN' Solar Financing Scheme For Micro, Small and Medium Enterprises
YES Bank , has launched a lending proposition called "YES KIRAN" to provide financial assistance to Micro, Small and Medium Enterprises (MSME) manufacturers who want to install solar panels at their premises.
Aim : 
To support the adoption of sustainable energy practices by MSMEs while also bringing cost efficiency by reducing their expenses towards power and fuel.
About YES KIRAN : 
YES KIRAN offers a range of benefits to MSMEs, including less operational cost, end-to-end support, flexible loan tenure at competitive interest rates, and a variety of tie-ups with leading solar panel manufacturers and installers such as Tata Power Solar Systems Limited, Goldi Solar, Loom Solar.
The bank has also partnered with companies like Panasonic Solar Power System to help businesses transition to renewable energy solutions.
It also fulfils India's G20 vision of achieving a target of over 50% energy production from renewable sources by 2030.
About YES Bank :
Founded : 2004
Headquarters : Mumbai, Maharashtra, India
MD & CEO : Prashant Kumar
Tagline : Experience Our Expertise
Central bank of India launched a unique Recurring Deposit scheme with life cover  
Central bank of India has launched a unique Recurring Deposit scheme with life cover " Cent SurakshitSamriddhi" exclusively for earning individual in the age group of 18 – 50 years with additional benefit of Life insurance coverage of 100 times of principal instalment amount till the maturity of Recurring Deposit.
Key features of the scheme  : 
Eligibility : Age group 18-50 years (Earning customer only)
Instalment : Minimum 10 k Maximum 1 lac.
Period of Deposit : 84 months
Maturity Amount : 100 times of principal instalment amount
Life Insurance Coverage : 100 times of principal instalment amount.
Insurance Premium : Will be borne by the bank in regular accounts.
Premature Withdrawal : Available with penalty clause.
Loan Facility : Available after six months.
Death Clause : Life insurance coverage amount plus RD closure amount. (Terms & Conditions applicable.)
About Central bank of India : 
Founded : 21 December 1911
Headquarters : Mumbai, Maharashtra, India
MD & CEO : Matam Venkata Rao
Tagline : Build a Better Life Around Us./ Central To You Since 1911
RBI imposes ₹1.73 crore fine on HSBC under Credit Information Companies Rules
The Reserve Bank of India (RBI) has imposed a penalty of Rs 1,73,75,000 (Rs 1.73 crore) on the Hongkong and Shanghai Banking Corporation Limited (HSBC Ltd) for the contravention of certain rules under Credit Information Companies Rules, 2006 (CIC Rules).
The statutory inspection for supervisory evaluation (lSE) of the bank was conducted by RBI with reference to its financial position as on March 31, 2021, and the examination of the Risk Assessment Report and all related correspondences pertaining to the same.
This action is based on deficiencies in regulatory compliance and is not intended to pronounce upon the validity of any transaction or agreement entered into by the bank with its customers.
The penalty has been imposed in the exercise of powers vested in RBI conferred under the provisions of Section 25 (1) and Section 23 (4) of the Credit Information Companies (Regulation) Act, 2005.
Penalties on two cooperative banks : 
Apart from HSBC Bank, RBI has also imposed penalties on two co-operative banks for violation of norms.
Kerala-based Thrissur Urban Cooperative Bank Ltd has been fined Rs 2 lakh for flouting gold loan norms.
Bhilai Nagrik Sahakari Bank has been fined Rs 1.25 lakh for not depositing unclaimed deposits in time under the Depositor Education and Awareness Fund Scheme (DEAF Scheme).
About HSBC Ltd : 
Founded : 3 March 1865
Headquarters : Hong Kong
The Hongkong and Shanghai Banking Corporation Limited, commonly known as HSBC, was the parent entity of the multinational HSBC banking group until 1991, and is now its Hong Kong-based Asia-Pacific subsidiary.
About RBI :
Established : 1 April 1935
Headquarters : Mumbai, Maharashtra, India
Governor : Shaktikanta Das
Deputy governors : Mahesh Kumar Jain,M. Rajeshwar Rao, Michael Patra and T. Rabi Shankar
CURRENT AFFAIRS: NATIONAL NEWS
Union Health Ministry launches a learning management information system named SAKSHAM
A learning management information system has been launched by Union Health Ministry.
It is named as SAKSHAM (Stimulating Advanced Knowledge for Sustainable Health Management).
Health Secretary Rajesh Bhushan launched SAKSHAM.
It is a digital learning platform.
It is a platform for providing online training and medical education to all health professionals in India.
It will ensure inclusive capacity building of health professionals.
As of now, the platform is hosting over 200 public health and 100 clinical courses through online mode.
National Institute of Health & Family Welfare, New Delhi has developed this platform.
PM Modi Lays Foundation Stone Of LIGO-India Project.
PM Modi laid the foundation stone of Laser Interferometer Gravitational-Wave Observatory – India (LIGO-India).
The LIGO-India facility is being constructed in the Hingoli district in Maharashtra.
LIGO-India will be an advanced gravitational-wave observatory to be located in India as part of a worldwide network.
Two existing LIGO observatories in the United States detected gravitational waves for the first time in 2015.
Since then, two more similar detectors have come onboard, one in Italy and the other in Japan.
LIGO India would be the fifth node of this network, and possibly the last.
The LIGO facility involves the construction of two 4-km-long vacuum chambers in an L-shape along with other structures.
The facility is set to become operational by 2030.
It is set to become the largest scientific facility in India.
This facility will be capable of sensing gravitational waves generated during the merger of massive astrophysical objects such as black holes, and neutron stars.
Rare Earth Permanent Magnet Plant in Visakhapatnam
The new magnet plant would produce rare earth magnets like Samarium-Cobalt and Neodymium-Iron-Boron.
This plant has been built inside an existing facility of Bhabha Atomic Research Centre (BARC) in Visakhapatnam.
The National Hadron Beam Therapy Facility of Tata Memorial Centre, Navi Mumbai works to undertake highly precise delivery of radiation to the tumour with minimal dose to the surrounding normal structures.
ICMR conducts successful trial run of blood bag delivery under iDrone initiative
The Indian Council of Medical Research (ICMR) has successfully conducted a trial run of delivery of blood bags by drones under its iDrone initiative.
The trial run, as part of a pathbreaking validation study, has been undertaken for the first time in the country by the ICMR; Lady Hardinge Medical College (LHMC); Government Institute of Medical Sciences (GIMS), Greater Noida; and the Jaypee Institute of Information Technology (JIIT), Noida.
The inaugural trial flight carried 10 units of whole blood samples from the GIMS and LHMC in visual line of sight.
LHMC and GIMS are centres for supplying blood bags and testing the samples.
JIIT is acting as the implementation centre for drone sorties.
The project 'i-DRONE'(ICMR's Drone Response and Outreach for North East) assessed the feasibility of using drones to deliver vaccines and medical supplies.
This was carried out in difficult geographical terrains including land, island, foothills and across the hills.
The medical supplies delivered under the i-Drone project included COVID-19 vaccines, vaccines used in routine immunisation programs, antenatal care medicines, multi-vitamins, syringes and gloves.
The drone delivery system focused on an end-to-end ecosystem for drone-based logistic transportation within the states and was the first successful example of delivering vaccines through drones from land to islands in South Asia.
Govt. to set up task force for land governance in northeastern States
The Union Rural Development Ministry announced that a task force will be set up for land governance in the North-Eastern states.
This decision was taken at National Conference on "Land Governance in North Eastern States" held in Guwahati, Assam.
Sessions on current state practices and modernisation of land records and land governance assessment framework were held during the conference.
The Assam, Tripura, Mizoram and Meghalaya territorial and autonomous district councils held that digitisation and modernisation of land records are necessary for the development of the region.
In a part of Assam, the initiatives of computerisation and digitisation of land records and maps have shown good progress.
The Bodoland Territorial Council had proposed the digitisation and modernisation of land records and the Department of Land Resources has approved it.
The Tripura Tribal Areas Autonomous Council has eight districts.
The Garo Hills Autonomous District Council have a system of issuance of Annual Pattas by the District Council.
India eyes green hydrogen bunkering at major ports by 2035
India has set a deadline of 2035 to establish green hydrogen bunkering and refuelling facilities at all 12 major ports in the drive to cut its carbon footprint.
One of the world's biggest emitters of greenhouse gases, India aims to cut emissions to net zero by 2070, and the shipping minister said three of its ports would initially have bunker facilities for green hydrogen and ammonia.
The initial ports in the effort are to be Paradip in the east, Kandla in the west, and Tuticorin in the south.
The new shipping guidelines require ports to satisfy at least 60% of electricity needs through renewables by 2030 and 90% by 2047.
Also, by 2030, all ports must achieve cuts of more than a fifth in energy consumption on each tonne of cargo versus 2023.
Green belt area under port authority to be increased by over 20% by 2030 and 33% by 2047 of the port area
To boost use of gas, the shipping ministry wants ports to set up at least one liquefied natural gas (LNG) bunkering station by 2030 and electric vehicle charging stations in and around port areas by 2025.
Santiniketan recommended for inclusion in UNESCO world heritage list:
Union Culture Minister G Kishan Reddy said Santiniketan, the place where Nobel Laureate poet Rabindranath Tagore built Visva-Bharati over a century ago, has been recommended for inclusion in the UNESCO World Heritage List by an international advisory body.
India has been striving for a long to get a UNESCO tag for this cultural site located in West Bengal's Birbhum district.
This will formally be announced in the World Heritage Committee meeting to be held in Riyadh, Saudi Arabia in September 2023.
The France-based International Council on Monuments and Sites (ICOMOS) is an international non-governmental organisation that comprises professionals, experts, and representatives from local authorities, companies and heritage organisations and is dedicated to the conservation and enhancement of architectural and landscape heritage around the world.
Santiniketan, over 160 km from Kolkata, was originally an ashram built by Tagore's father Debendranath Tagore, where anyone, irrespective of caste and creed, could come to meditate.
India has a total of 40 sites which enjoy the UNESCO World Heritage tag.
It also includes 52 sites in the Tentative List.
About UNESCO
Headquarters: Paris, France
Founded: 16 November 1945, London, United Kingdom
Head: Audrey Azoulay;
CURRENT AFFAIRS : STATE NEWS
New Lithium deposits discovered in Rajasthan after Jammu & Kashmir
Months after India's first lithium reserves were discovered in Jammu and Kashmir (J&K), the Geological Survey of India (GSI) has found another reserve of the crucial mineral in Degana in Rajasthan's Nagaur district.
These reserves are much bigger in quantity than the one found in the Union Territory (UT) J&K & can meet 80% of the total country's demand.
Currently, India is import-dependent for several minerals like lithium, nickel and cobalt.
The tungsten mineral was discovered in Degana's Renvat hill area in 1914.
For the first time in India, a lithium reserve of 5.9 million tonnes was found in Jammu & Kashmir (J&K) in February 2023.
About Lithium : 
Lithium is a non-ferrous metal.
It is used in making mobile-laptops, electric vehicles and other chargeable batteries.
Lithium is the lightest and softest metal in the world.
It is primarily used in the production of rechargeable batteries, particularly those used in electric vehicles, portable electronic devices, and power tools.
Lithium-ion batteries have a high energy density, making them a popular choice for use in devices where weight and size are important factors.
Australia produces 47% of the world's lithium.
Chile and China are also the main lithium-producing countries in the world.
About Rajasthan :
Governor : Kalraj Mishra
Chief Minister : Ashok Gehlot
Capital : Jaipur
National Park : Keoladeo National Park, Ranthambore National Park
Wildlife Sanctuary : Bassi Wildlife Sanctuary, Kumbhalgarh Wildlife Sanctuary.
Telangana becomes 1st State to launches robotics framework                                     
In a first-of-its-kind policy in India, the Telangana Government has introduced Telangana State Robotics Framework, which provides a roadmap to promote a robotic ecosystem in Telangana.
The vision of the framework is to create a sustainable robotics ecosystem in Telangana that champions innovation, entrepreneurship, and research and development, positioning the state as a leader in the field of robotics.
Telangana Information Technology (IT) and Industries Minister Shri KT Rama Rao launched the robotics framework which was developed by the Emerging Technologies Wing of the ITE&C (Information Technology, Electronics & Communications) Department of Telangana in collaboration with the All India Robotics Association.
Key Highlights : 
The Government will set up a Telangana Robotics Innovation Centre (TRIC) to implement the framework, which will focus on the key pillars of infrastructure access, business enablement, fostering research and innovation, development of a skilled workforce, and responsible deployment.
The State Government will set up a Robo Park, which will provide testing facilities, co-working options, and co-production/manufacturing options.
The Telangana government is planning to organise a Global Robotics Summit to showcase its growing robotics ecosystem and attract investments from across the world.
To suit the mood of the occasion, the organisers deployed a robot to co-host the event held at the T-Hub.
To mark the launch of the framework, the Telangana government signed memoranda of understanding (MoUs) with Indian Institute of Technology (IIT)-Hyderabad, ART PARK (AI & Robotics Technology Park) Indian Institute of Science (IISC) , GMR Hyderabad International Airport Limited  (GHIAL), AgHub Professor Jayashankar Telangana State Agricultural University (PJTSAU) and All India Robotics Association (AIRA).
The Emerging Technologies Wing of Telangana's IT, Electronics and Communication Department developed the framework in collaboration with the All India Robotics Association (AIRA) and inputs from academia, industry experts, and stakeholders.
Earlier, Telangana has launched 5 frameworks, covering the niche technology areas of Blockchain (2018), Drones (2019), AI (2020), Cloud Adoption Framework (2021), and SpaceTech (2022).
About Telangana : 
Governor : Tamilisai Soundararajan
Chief Minister : K. Chandrashekar Rao
Capital : Hyderabad
National Park : Mrugavani National Park, Periyar National Park
Tiger Reserve : Amrabad Tiger Reserve
Uttarakhand cabinet approves CM skill upgradation & Global employment scheme          
Uttarakhand Chief Minister (CM) Shri Pushkar Singh Dhami approved 'Chief Minister's Skill Upgradation and Global Employment Scheme' (Mukhya Mantri Kaushal Unnayan aur Vaishavik Rozgar Yojana).
Aim : 
To help youths of Uttarakhand to pursue careers in foreign nations.
Key Highlights : 
An application has been developed on the 'Apuni Sarkar Portal' to create a database related to youth seeking employment abroad.
The proposals are being invited from organisations working in the field of foreign employment and so far the proposals of many organisations have been received by the government.
In the first phase, work will be done to connect the youth of the state with the employment opportunities available abroad in the fields of nursing and hospitality.
A workshop will be held on May 9, 2023 where interested candidates will be screened and after selection, trained for jobs available in the elderly care sector in Japan.
About Uttarakhand : 
Governor : Gurmit Singh
Chief Minister : Pushkar Singh Dhami
Capital : Bhararisain (Summer capital), Dehradun (Winter Capital)
National Park : Corbett National Park, Gangotri National Park, Nanda Devi National Park
Wildlife Sanctuaries : Kanchula Kharak Musk Deer Sanctuary, Askot Musk Deer Sanctuary
Uttar Pradesh Becomes First State To Make Digital Health Cards For Children                                     
Uttar Pradesh (UP) has become the first state which will make digital health cards for children.
The School Health Program has been launched by the Urban Development Department and Lucknow Smart City.
Key Highlights : 
Under the project, a digital health report card for the overall physical and mental well-being of 1765 municipal school students is being made.
A unique ID card will be prepared for each child.
Through this card, the child's parents, school and administrative officials can download this health card.
Follow-up of the Digital Health Report is also done every 6 months.
The digital health report card is being made based on 130 parameters.
These children are also being given the benefit of health insurance worth Rs 25,000.
As part of the pilot project, Lucknow Smart City has started the School Health Program in 3 schools in Lucknow.
Under the pilot project, health checkup of 1765 children is the responsibility of 3 municipal schools including Aminabad Inter College, Kashmiri Mohalla Girls Inter College and Kashmiri Mohalla Montessori School.
Following the successful completion of the pilot project, the program may be implemented in the other 9 smart cities of UP.
About UP :
Governor : Anandiben Patel
Chief Minister : Yogi Adityanath
Capital : Lucknow
National Park : Dudhwa National Park
Wildlife Sanctuary : Bakhira Wildlife Sanctuary, Chandraprabha Wildlife Sanctuary, National Chambal Wildlife Sanctuary
CURRENT AFFAIRS: BUSINESS NEWS
Unnati's Ora Finance awarded a license to operate NBFC, to widen access to credit in the agriculture sector
Agritech firm Unnati said its subsidiary Ora Finance has been awarded a license to operate an NBFC.
Ora Finance can now cater to the financial requirements of the various players in the agriculture ecosystem while aiming to bridge the gaps in agri-financing currently prevalent.
Ora Finance will target its services to farmers, retailers, traders, distributors, food processors, manufacturers and brands focused on the agriculture sector.
Eligibility criteria of NBFC – The company must be registered under the Companies Act, 2013, or any other relevant law.
The company must have a minimum net owned funds of Rs. 2 crores.
The company must have a board of directors with at least one director having at least ten years of experience in the banking or financial sector.
Ashok Prasad, Co-founder of Unnati.
Businesses with turnover of over 5 crore required to generate e-invoice from August 1
Businesses with turnover of over Rs 5 crore will have to generate electronic or e-invoice for B2B transactions with effect from August 1.
Currently, businesses with a turnover of Rs 10 crore and above are required to generate e-invoices for all B2B transactions.
The finance ministry through a notification dated May 10 has notified a reduction in the threshold for e-invoicing.
Effective August 1, any taxpayer with a turnover exceeding Rs 5 crore should raise e-invoices for B2B supplies.
e-Invoicing or electronic invoicing system was introduced under the Goods and Services Tax (GST) law.
It applies to certain taxpayers registered under the GST law in phases.
Under Goods and Services Tax (GST) law, e-invoicing for business-to-business (B2B) transactions was made mandatory for companies with turnover of over Rs 500 crore from October 1, 2020, which was then extended to those with turnover of over Rs 100 crore effective January 1, 2021.
From April 1, 2021, companies with turnover of over Rs 50 crore were generating B2B e-invoices, and the threshold was brought down to Rs 20 crore beginning April 1, 2022.
From October 1, 2022, the threshold was further lowered to Rs 10 crore.
CURRENT AFFAIRS: AWARDS AND HONOURS
Lionel Messi wins Laureus Sportsmen of the Year 2023 award
Lionel Messi won the World Sportsman of the Year award at Laureus World Sports Awards organized in Paris.
Lionel Messi also received another award as part of team of the year for the victory of Argentina at the FIFA World Cup last year.
This is Messi's second individual title.
He shared the Sportsman of the Year award with Formula 1 driver Lewis Hamilton in 2020.
Messi is the 1st athlete who has won individual and team awards in the same year (2023).
Shelly-Ann Fraser-Pryce won the Sportswoman of the Year award.
Shelly-Ann Fraser-Pryce is a Jamaican sprinter who last year won 100-meter gold at the World Athletics Championships for the fifth time.
Tennis player Carlos Alcaraz was given the Breakthrough of the Year award.
Alcaraz won the US Open last year as a teenager.
Laureus World Sports Awards were held in person in Paris for the first time since 2020.
They were held virtually because of the coronavirus pandemic.
Laureus World Sports Award is an annual award ceremony, which honours individuals and teams from the sports world for their achievements.
It is presented by Laureus Sport for Good Foundation.
It is often referred to as the Oscar of sports.
Other winners of awards are given below.
World Team of the Year Award: Argentina Men's Football Team
World Comeback of the Year Award: Christian Eriksen
World Sportsperson of the Year with a Disability Award: Catherine Debrunner
World Action Sportsperson of the Year Award: Eileen Gu
Laureus Sport for Good Award: TeamUp
CURRENT AFFAIRS : APPOINTMENTS & RESIGNATIONS
PESB recommends Parminder Chopra for Chairman & Managing Director post                                            
The Public Enterprise Selection Board (PESB) has recommended Parminder Chopra for the post of Chairman and Managing Director (CMD) of India's largest Nonbank financial company (NBFC) by net worth (all reserves), Power Finance Corporation (PFC).
Chopra will be the first woman to be appointed as the CMD of the PFC.
In her new role as CMD, Chopra will be responsible for driving the strategic initiatives at PFC, spearheading the organisation's growth trajectory, and further strengthening its position as a leading Maharatna Public Sector Undertaking (PSU).
About Parminder Chopra : 
She has over 35 years of experience in the power sector, including work experience at NHPC and the Power Grid Corporation of India (PGCIL).
She has been with the company since 2005.
She has been serving as the Director (Finance) and Chief Financial Officer (CFO) since 2020, as well as a member of the board of directors.
About PFC : 
Established : 1986
Headquarters: New Delhi, Delhi, India
Power Finance Corporation Ltd. is an Indian central public sector undertaking under the ownership of the Ministry of Power (MoF), Government of India (GoI).
CURRENT AFFAIRS : ACQUISITION & MERGERS
CCI Gives Nod To Edelweiss & Biocon Biologics Deal                                    
Fair-trade regulator Competition Commission of India (CCI) has cleared Edelweiss Alternative Asset Advisors (EAAA) and ESOF III Investment Fund's (Acquirers) subscription to certain compulsorily convertible debentures of Biocon Biologics Ltd (BBL) (Target).
The deal has been cleared under the green channel route.
Key Highlights : 
Edelweiss Alternative Asset Advisors is a Securities and Exchange Board of India (SEBI)-registered alternative asset advisor.
ESOF III Investment Fund is a SEBI-registered Alternative Investment Fund (AIF).
BBL is a global biosimilar firm, engaged in the manufacturing and commercialisation of pharmaceutical formulations.
The parties' activities do not exhibit any horizontal, vertical, or complementary overlaps in any of the plausible relevant markets.
About CCI :
Established : 14 October 2003
Headquarters : New Delhi, Delhi, India
Chairman : Sangeeta Verma
Secretary : P K Singh
The CCI is the chief national competition regulator in India.
It is a statutory body within the Ministry of Corporate Affairs.
CURRENT AFFAIRS : DEFENCE NEWS
IAF's First Airbus C295 Completes Maiden Flight In Spain                             
The Indian Air Force's (IAF)'s first C295 medium transport aircraft has completed its maiden flight in Spain marking an important step towards delivery in the second half of 2023.
The tactical aircraft took off from Seville, Spain, after 3 hours of flight.
This first flight represents a significant accomplishment for the first Make in India aerospace programme.
In September 2021, the defence ministry signed a ₹21,935-crore contract with Airbus Defence and Space for 56 C295 planes to give a push to the Atmanirbhar Bharat Abhiyan (self-reliant India campaign).
Tata Advanced Systems Limited (TASL) and Airbus Defence and Space are jointly executing the programme.
Key Highlights : 
As part of the contract, 16 C295 aircraft will be delivered by Airbus in flyaway condition from Spain, and the remaining 40 will be manufactured in India.
The 16 flyaway aircraft are scheduled to be delivered between September 2023 and August 2025, while the first Made in India C295 will roll out of the new facility in September 2026 and the remaining 39 by August 2031.
The C295 programme comprises a total of 280 orders from 39 operators, making it an unmatched aircraft in its weight and mission class.
About IAF : 
Established : 1932
Headquarters : New Delhi, Delhi, India
Chief of the Air Staff : Air Chief Marshal Vivek Ram Chaudhari
CURRENT AFFAIRS : SCIENCE & TECHNOLOGY
IIT Madras & Defence Research and Development Organisation develop sensor technology for underwater communications                                
Scientists from the Defence Research and Development Organisation (DRDO) and researchers from the Indian Institute of Technology Madras (IIT-M), Chennai, Tamil Nadu (TN) have teamed up to create a cutting-edge Piezoelectric MEMS (Micro Electro Mechanical System) technology sensor for underwater communications.
This sensor will be beneficial for defence applications, particularly in the naval forces.
The research was led by IIT Madras professors Amitava Das Gupta and Boby George along with E. Varadarajan, scientist and V. Natarajan, senior scientist of DRDO at the DRDO Industry Academia – Ramanujan Centre of Excellence (DIA-CRoE) in the institute.
Key Highlights : 
The Indian Navy's Next Generation SONAR initiative by DRDO will use this sensor to support both innovative and modern technological advances.
The indigenous invention of this technology allows India to fabricate the devices at a lesser cost than the internationally available foundries, where production costs are high and the availability of foundries is restricted.
The establishment of cutting-edge piezo MEMS technology helps India expand beyond the limits of defence capabilities and undertake strategic operations for key applications.
To create high-performance thin films and transform "piezo thin film" into sophisticated, futuristic naval sensors and equipment for underwater applications, "piezoelectric MEMS technology" is required.
Piezo Thin Films are one of the most important components of piezo MEMS devices and are used in acoustics and vibration sensing.
The fabricated Lead-Zirconium-Titanium oxide (PZT) thin film-based acoustic sensor outperforms the traditional PVDF-based acoustic sensor in terms of functionality..
Globally, several research groups and defence laboratories in the United Staates (US), Europe, Korea, Japan, and China are involved in the development of technologies.
About DRDO :
Established : 1958
Headquarters : New Delhi, Delhi, India
Chairman : Dr Sameer V Kamath
ISRO to start online training programme for PG and and final-year UG students                      
The Indian Space Research Organisation (ISRO) has launched a new introductory-level online training programme called Space Science and Technology Awareness Training (START) for post-graduate and final-year undergraduate students of physical sciences and technology.
Academic institutions can submit applications for the programme through the Jigyasa portal by May 20, 2023.
The programme will cover various domains of Space Science, including Astronomy and Astrophysics, Heliophysics and Sun-Earth interaction, Instrumentation, and Aeronomy. 
Scientists from Indian academia and ISRO centres will handle the programme.
About START programme : 
The START programme is part of ISRO's efforts to help students who want to pursue careers in space science and technology.
The programme's main aim is to provide introductory-level training in space science and technology to students and give them an overview of this field.
The programme's lecture will also cover topics on the Indian space science exploration programme and research opportunities in space science and technologies.
"YUva VIgyani KAryakram" (YUVIKA) or "Young Scientist Programme" is being organized by the Indian Space Research Organization (ISRO) as a special program for school children.
About ISRO :
Established : 15 August 1969
Headquarters : Bangalore, Karnataka, India
Chairman : S. Somanath
CURRENT AFFAIRS: IMPORTANT DAYS
International Nurses Day 2023 – May 12
International Nurses Day is celebrated every year on May 12.
Nurses Day is celebrated to praise the Nurses who contribute their work to the Society
The theme for the 2023 resource is 'Our Nurses. Our Future.'
In 1953, US Department of Health, Education and Welfare officer Dorothy Sutherland contacted US President Dwight.D.Elsenhower to celebrate "Nurses Day".
Since 1965, the International Council of Nurses (ICN) has celebrated this day.
From January 1974, May 12 was officially declared "International Nurses Day".
On this special day, the International Council of Nurses (ICN) distributed the Nurses Day kit to the people to know the importance of nurses.
In Bangladesh, where the number of nurses is half of the number of doctors.
Daily CA One- Liner: May 12
A learning management information system has been launched by Union Health Ministry
PM Modi laid the foundation stone of Laser Interferometer Gravitational-Wave Observatory – India
The Indian Council of Medical Research (ICMR) has successfully conducted a trial run of delivery of blood bags by drones under its iDrone initiative
The Union Rural Development Ministry announced that a task force will be set up for land governance in the North-Eastern states
India has set a deadline of 2035 to establish green hydrogen bunkering and refuelling facilities at all 12 major ports in the drive to cut its carbon footprint
Union Culture Minister G Kishan Reddy said Santiniketan, the place where Nobel Laureate poet Rabindranath Tagore built Visva-Bharati over a century ago, has been recommended for inclusion in the UNESCO World Heritage List by an international advisory body
Agritech firm Unnati said its subsidiary Ora Finance has been awarded a license to operate an NBFC
Businesses with turnover of over Rs 5 crore will have to generate electronic or e-invoice for B2B transactions with effect from August 1
Lionel Messi won the World Sportsman of the Year award at Laureus World Sports Awards organized in Paris
Indian private sector bank Federal Bank has partnered with National e-Governance Services Limited (NeSL) to launch an electronic bank guarantee (e-BG) facility.
India's third largest private sector bank, Axis Bank, has successfully enabled linkage of RuPay credit cards with Unified Payments Interface (UPI).
YES Bank , has launched a lending proposition called "YES KIRAN" to provide financial assistance to Micro, Small and Medium Enterprises (MSME) manufacturers who want to install solar panels at their premises.
Central bank of India has launched a unique Recurring Deposit scheme with life cover " Cent SurakshitSamriddhi" exclusively for earning individual in the age group of 18 – 50 years with additional benefit of Life insurance coverage of 100 times of principal instalment amount till the maturity of Recurring Deposit.
The Reserve Bank of India (RBI) has imposed a penalty of Rs 1,73,75,000 (Rs 1.73 crore) on the Hongkong and Shanghai Banking Corporation Limited (HSBC Ltd) for the contravention of certain rules under Credit Information Companies Rules, 2006 (CIC Rules).
Months after India's first lithium reserves were discovered in Jammu and Kashmir (J&K), the Geological Survey of India (GSI) has found another reserve of the crucial mineral in Degana in Rajasthan's Nagaur district.
In a first-of-its-kind policy in India, the Telangana Government has introduced Telangana State Robotics Framework, which provides a roadmap to promote a robotic ecosystem in Telangana.
Uttarakhand Chief Minister (CM) Shri Pushkar Singh Dhami approved 'Chief Minister's Skill Upgradation and Global Employment Scheme' (Mukhya Mantri Kaushal Unnayan aur Vaishavik Rozgar Yojana).
Uttar Pradesh (UP) has become the first state which will make digital health cards for
The Public Enterprise Selection Board (PESB) has recommended Parminder Chopra for the post of Chairman and Managing Director (CMD) of India's largest Nonbank financial company (NBFC) by net worth (all reserves), Power Finance Corporation (PFC).
Fair-trade regulator Competition Commission of India (CCI) has cleared Edelweiss Alternative Asset Advisors (EAAA) and ESOF III Investment Fund's (Acquirers) subscription to certain compulsorily convertible debentures of Biocon Biologics Ltd (BBL) (Target).
The Indian Air Force's (IAF)'s first C295 medium transport aircraft has completed its maiden flight in Spain marking an important step towards delivery in the second half of 2023.
Scientists from the Defence Research and Development Organisation (DRDO) and researchers from the Indian Institute of Technology Madras (IIT-M), Chennai, Tamil Nadu (TN) have teamed up to create a cutting-edge Piezoelectric MEMS (Micro Electro Mechanical System) technology sensor for underwater communications.
The Indian Space Research Organisation (ISRO) has launched a new introductory-level online training programme called Space Science and Technology Awareness Training (START) for post-graduate and final-year undergraduate students of physical sciences and technology.
International Nurses Day is celebrated every year on May 12