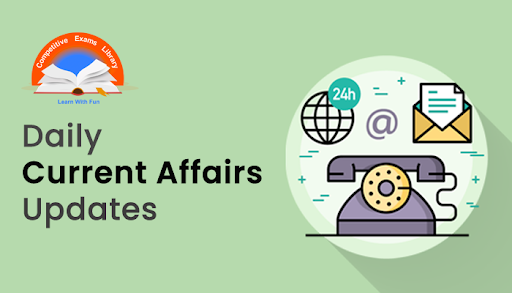 Dear Readers, Daily Current Affairs News Updates about the National and International events were listed here. Read Current Affairs Today here and stay updated with current news. Candidates those who are preparing for IBPS/SBI/PO/Clerk exam and all other competitive exams can use this and try the Current Affairs Quiz to test your knowledge level.
CURRENT AFFAIRS: IMPORTANT DAYS
Goods and Services Tax Day – Observed on July 01
Goods and Services Tax Day – Observed on July 01, India marks the fourth anniversary of the Goods and Services Tax (GST).
The date 1st July has been designated by the Central Government as 'GST Day', which is celebrated every year to mark the roll-out of the historic tax
It took 17 years for the GSTlaw to get passed through both Houses of the Parliament.
GSTwas launched on the intervening night of June 30 and July 1, 2017 in a majestic ceremony held in the Central Hall of Parliament.
The genesis of the introductionof GST in the country was laid down in the historic Budget Speech of 28th February 2006, wherein the then Finance Minister laid down 1st April, 2010 as the date for the introduction of GST in the country.
About GST:
The goods and services tax(GST) is a tax on goods and services sold domestically for consumption.
The taxis included in the final price and paid by consumers at point of sale and passed to the government by the seller.
The GSTis usually taxed as a single rate across a nation.
In India, the idea of adopting GSTwas first suggested by the Atal Bihari Vajpayee Government in 2000.
The state finance ministers formed an Empowered Committee (EC) to create a structure for GST, based on their experience in designing State VAT.
There are 4 different types of GST:
Integrated Goods and Services Tax (IGST)
State Goods and Services Tax (SGST)
Central Goods and Services Tax (CGST)
Union Territory Goods and Services Tax (UTGST)
World UFO Day – Observed on July 02
World UFO Day is an awareness day for people to gather together and watch the skies for Unidentified Flying Objects. 
The day is celebrated by some on June 24, and others on July 2.
World UFO Day is celebrated every year on the second day of July to spread awareness about unidentified flying objects and aims to acknowledge the existence of UFOs.
The day was first observed in 2001 by UFO researcher Haktan Akdogan.
On the day, people gather together to watch the skies looking for extraterrestrial objects.
About Unidentified Flying Objects:
An unidentified flying object is any aerial phenomenon that cannot immediately be identified or explained.
Most UFOs are identified or investigated as conventional objects or phenomena.
World Sports Journalists Day – Observed on July 02
World Sports Journalists Day is celebrated across the world on 2 July every year.
The main objective of celebrating this day is to support the work of sports journalists and encourage them to do better in their work.
In 1924, at the time of the Paris Olympics, this day was named World Sports Journalists Day by the International Sports Committee.
It was found all over the world and united by the International Sports Press Association.
The day recognizes the services and efforts of the sports journalists for taking sports to a new level in media.
About Sports journalism:
Sports journalismis a form of writing that reports on matters pertaining to sporting topics and competitions.
There are many different forms of sports journalism, ranging from play-by-play and game recaps to analysis and investigative journalism on important developments in the sport.
CURRENT AFFAIRS: NATIONAL NEWS
Union Minister N S Tomar unveiled Crop Insurance Awareness Campaign for Fasal Bima Yojana
Union Minister of Agriculture & Farmers Welfare Shri Narendra Singh Tomar launched the Crop Insurance Awareness Campaign for Fasal Bima Yojana during the Crop Insurance Week as a part of Government's [email protected] campaign 'Azadi ka Amrit Mahotsav', commemorating 75 years of India's Independence. 
Union Minister Shri Tomar stated that Fasal Bima Yojana aims to provide security cover to each farmer.
He also announced thatthe scheme achieved milestone figure of Rs 95,000 crore of claims paid to farmers.
The Minister mentioned that state governments and insurance companies have an important role in the implementation of PMFBY.
The result of their hard work is that in the last 4 years, a premium amounting to Rs 17 thousand crores was deposited by the farmers, against which more than Rs 95 thousand crores have been provided to them as claims.
The Agriculture Minister also flagged off IEC vans which will continue to engage the farmers on the PMFBY throughout the crop insurance week.
He also launched PMFBY e-brochure, FAQ booklet and a guidebook to assist farmers and on ground coordinators to understand the scheme, its benefits and the process of crop insurance.
About Pradhan Mantri Fasal Bima Yojana:
The Pradhan Mantri Fasal Bima Yojana launched on 18 February 2016 by Prime Minister Narendra Modi is an insurance service for farmers for their yields.
It is the government sponsored crop insurance scheme that integrates multiple stakeholders on a single platform.
PMFBY aims at providing financial support to the farmers suffering from crop losses or damages arising out of unforeseen events.
Union Education Minister releases Report on UDISE 2019-20 for School Education
Union Education Minister, Shri Ramesh Pokhriyal 'Nishank' released the Report on United Information System for Education Plus (UDISE+) 2019-20 for School Education in India.
Report stated that the Gross Enrolment Ratio at all levels of school education has improved in 2019-20 compared to 2018-19.
Pupil Teacher Ratio (PTR) has improved at all levels of school education.
Enrolment of girls from primary to higher secondary is more than 12.08 crore.
This is a substantial increase by 14.08 lakh compared to 2018-19.
Between 2012-13 and 2019-20, the Gender Parity Index (GPI) at both Secondary and Higher Secondary levels have improved.
The UDISE+ report shows a remarkable improvement in the number of schools with functional electricity, with functional computers, internet facilities in 2019-20 over the previous year.
About UDISC:
Unified District Information System for Education (UDISE) initiated in 2012-13 integrating DISE for elementary and secondary education is one of the largest Management Information Systems on School Education covering more than 1.5 million schools, 9.4 million teachers and almost 250 million children.
U-DISEis the primary information source for educational planning and assessing the progress under the education sector in India, especially under the Government funded Sarva Shiksha Abhiyan (SSA) and Rashtriya Madhyamik Shiksha Abhiyan (RMSA) programmes.
CBSE introduces Financial Literacy Textbook for Class 6 students 
Union Education Minister Ramesh Pokhriyal 'Nishank' launched the 'Financial Literacy Workbook' for Class 6 students.
The book has been prepared by the Central Board of Secondary Education (CBSE) and the National Payments Corporation of India (NPCI).
The book will be used in the "Financial Literacy" subject offered as an elective subject for Class 6.
"The book has been divided into four units and covers crucial topics with regards to financial awareness: starting from basic financial concepts like currency Banking, Security, savings, and investments, UPI, RuPay Cards, Wallets, to evolved concepts such as IMPS, USSD, NACH, PoS, mPoS, QR Codes, and ATMs, etc," it added.
About Financial literacy:
Financial literacy is the possession of the set of skills and knowledge that allows an individual to make informed and effective decisions with all of their financial resources.
There are five core competencies of financial literacy: Earning, Saving & Investing, Spending, Borrowing, and Protecting.
As you make financial decisions each and every day, you should use these five building blocks for managing and growing your money.
About NPCI:
National Payments Corporation of India (NPCI), an umbrella organization for operating retail payments and settlement systems in India, is an initiative of Reserve Bank of India (RBI) and Indian Banks' Association (IBA) under the provisions of the Payment and Settlement Systems Act, 2007, for creating a robust Payment & Settlement Infrastructure in India.
NPCI provides the banks participating in UPI access to system where they can download reports raise charge backs, update the status of UPI transactions
Defence Ministry initiates project to set interactive virtual museum of country's Gallantry award winners
As the nation celebrates the 75th anniversary of its Independence, Ministry of Defence (MoD) has initiated a project to create an interactive virtual museum of the country's Gallantry award winners to honour the heroic deeds of the bravehearts of India.
MoD will implement the project, with no financial implications, in partnership with Society of Indian Defence Manufacturers (SIDM) and Confederation of Indian Industries (CII). 
The Approval Letter to this effect was handed over by Defence Secretary Dr Ajay Kumar to President, SIDM Shri Jayant D Patil in New Delhi on June 30, 2021.
The project is expected to be completed soon.
The Defence Secretary stated that the project would be the first-of-its-kind cyber museum that would honour the war heroes, emphasizing that it would add value to the Gallantry Awards Portal to inspire the countrymen, especially the youth, to serve the nation.
The project also aims to express gratitude to the families of the Armed Forces personnel and convey the Nation's respect to them.
Gallantry Awards:
The Param Vir Chakra (PVC) is India's highest military decoration, awarded for displaying distinguished acts of valour during wartime.
Param Vir Chakra translates as the "Wheel of the Ultimate Brave", and the award is granted for "most conspicuous bravery in the presence of the enemy".
Apart from this award there are 5 other gallantry awards in Indiae. Maha Vir Chakra, Vir Chakra, Ashoka Chakra, Kirti Chakra and Shaurya Chakra.
CURRENT AFFAIRS: INTERNATIONAL NEWS
World Bank provides USD 300 mn to Bangladesh 
The World Bank (WB) will provide USD 300 million to the Bangladesh government as loan to implement a five-year project to improve livelihood, which is scheduled to begin from July.
The government will chip in USD 40 million for the "Resilience, Entrepreneurship and Livelihood Improvement (RELI) Project", raising its total cost to USD 340 million.
The project will provide training to almost 4,90,000 people on climate risk, adaptation, and resilience building. It will also build 5,120 climate-resilient small-scale infrastructures.
The project will also provide skills development training to the unemployed or under-employed youth and returnee migrants to increase their employability.
About World Bank:
The World Bank is an international financial institution that provides loans and grants to the governments of low- and middle-income countries for the purpose of pursuing capital projects.
Headquarters: Washington, D.C., United States
President: David Malpass
The World Bank Group has four Boards of Executive Directors representing the four institutions of the World Bank Group: International Bank for Reconstruction and Development (IBRD), International Development Agency (IDA), International Finance Corporation (IFC) and Multilateral Investment Guarantee Agency (MIGA).
IBRD is a global development cooperative owned by its 189 member countries.
About Bangladesh:
Bangladesh, to the east of India on the Bay of Bengal, is a South Asian country marked by lush greenery and many waterways.
Its Padma (Ganges), Meghna and Jamuna rivers create fertile plains, and travel by boat is common.
It is home to the world's largest river delta, which is formed by the Brahmaputra and the Ganges river.
On the southern coast, the Sundarbans, an enormous mangrove forest shared with Eastern India, is home to the royal Bengal tiger.
Capital: Dhaka
Currency: Bangladeshi taka
Prime minister: Sheikh Hasina
CURRENT AFFAIRS: STATE NEWS
J&K Chief Secretary introduces helpline "Sukoon"
Chief Secretary, Arun Kumar Mehta, inaugurated SDRF first Battalion's 24×7 mental health helpline 'SUKOON' at its headquarters.
About SUKOON:
'SUKOON' is a mental health helpline initiative (toll free number 1800-1807159) to offer guidance to persons (or their well-wishers) who are experiencing anxiety, depression, stress, panic attack, PTSD, adjustment disorder, suicidal thoughts, substance abuse, mental health emergency and pandemic induced psychological stress.
This initiative, launched by SDRF First Battalion Kashmir in collaboration with Mission Youth J&K and Tourism department, will guide the caller to avail services of clinical psycholgists, therapists, counsellors and psychiatrists and provide round the clock one to one support, free and confidential services to those experiencing mental health issues.
About J&K:
Jammu and Kashmir was a state of India from 1954 to 2019, constituting the southern and southeastern portion of the larger Kashmir region, which has been the subject of a dispute between India, Pakistan and China since the mid-20th century. 
The state of Jammu and Kashmir was accorded special status by Article 370 of the Constitution of India.
At the same time, a reorganization act was also passed, which would reconstitute the state into two union territories, Jammu and Kashmir and Ladakh. 
The reorganization took effect from 31 October 2019.
Capital: Jammu(winter), Srinagar(Summer)
Lieutenant Governor: Manoj Sinha
National Parks: DachigamNational Park, Salim Ali National Park, Kazinag National Park, Kishtwar High Altitude National Park.
CURRENT AFFAIRS: BUSINESS NEWS
MSME minister launches integrated services of Udyam Registration Portal
On the occasion of MSME Day, Union Minister for Micro, Small and Medium Enterprises Nitin Gadkari has launched the integrated services of Udyam Registration Portal with Common Service Centre Portal.
He launched it in a Virtual Conference titled 'Indian MSMEs- Growth Engines of Economy'.
It has been launched to increase the penetration of benefits of various government schemes amongst MSMEs in far-flung areas.
Udyam registration certificate:
An enterprise whose turnover is above the threshold limit of Rs. 40 lakh needs to register under GST.
A significant number of MSMEs have an annual turnover less than the threshold limit and thus exempted from registration under the GST Act.
Benefits of obtaining Udyam Registration:-
The business owner can avail octroi and tax concession in states laws as applicable.
Claim stamp duty and registration fees waiver.
Exemption of 1% interest rate on Overdraft.
Can avail subsidy from NSIC and credit ratings & Eligible for IPS subsidy.
CURRENT AFFAIRS: BANKING NEWS
SBI launches dedicated counters to Current Account customers in 360 branches
State Bank of India (SBI) launched a dedicated counter across its 360 selected branches to cater to the current account customers. 
The dedicated counter is being called the current account service point or CASP to address the critical needs of the key current account customers and to mobilize new customers.
The initiative will also allow the customers in digitizing their bank-related workand to provide simpler technical solutions, according to their requirements.
"CASP will be staffed by trained and dedicated Relationship Managers across all the centres.
The CASP initiative was launched by Challa Sreenivasulu Setty, Managing Director (Retail & Digital Banking) in the presence of Chief General Managers of all the Circles on the occasion of 66th Bank Day.
About SBI:
State Bank of India is an Indian multinational, public sector banking and financial services statutory body headquartered in Mumbai, Maharashtra.
Chairperson: Dinesh Kumar Khara
Headquarters: Mumbai
Tagline: Pure banking nothing else ; With you all the way; The Nation banks on us; A Bank to the common man; A banker to every Indian.
ICICI Bank launches banking solutions "SALUTE DOCTORS"
ICICI Bankannounced the launch of a comprehensive banking solution for doctors, called Salute Doctors.
It provides customized bankingas well as value-added services for every doctor, beginning from a medical student to a senior medical consultant to an owner of a hospital or a clinic.
The solutions, which are mostly digital and instant, are designed to take care of the professional, business, lifestyle and wealth banking requirements of doctors and their families.
The initiative is powered by ICICI STACK, a digital banking platform with nearly 500 services that helps customers of the bank to avail the services digitally and seamlessly.
About Salute Doctors:
'Salute Doctors' provides doctors with an array of innovative services.
One, a range of premium savings and current accounts for personal and business banking.
Two, specially curated suites of loans for home, auto, personal, education, medical equipment, setting up clinic or hospital and business.
Three, industry first value added services, which are offered in association with partners, to help doctors fulfill their lifestyle needs, manage clinic/hospital better and digitally, get updates on latest medical developments, take care of accounting needs, expand and procure medical supplies.
About ICICI Bank:
ICICI Bank Limited is an Indian multinational financial services company with its registered office in Vadodara, Gujarat, and corporate office in Mumbai, Maharashtra.
CEO: Sandeep Bakhshi
Headquarters: Vadodara
CURRENT AFFAIRS: APPOINTMENT AND RESIGNATION NEWS
Prathmesh Mishra appointed as Chairman of RCB
Royal Challengers Bangalore (RCB) has appointed Prathmesh Mishra as its new chairman ahead of the upcoming edition of the Indian Premier League (IPL).
Prathmesh is currently the chief commercial officer of Diageo India and will take on this additional responsibility from July 1.
He takes over the role of RCB Chairman from Anand Kripalu.
RCB is owned by Royal Challengers Sports Private Limited, a subsidiary of liquor giant Diageo India.
About Prathmesh Mishra:
Prathmesh Mishrais Chief Commercial Officer at United Spirits Ltd.
Prathmeshleads the Commercial function at Diageo India and is part of its Executive Committee.
He is responsible for the business operations in India.
He joined Diageo India in 2014 as the Chief Operations Officer responsible for the Western region.
An industry veteran, Prathmesh has over two decades of experience.
Titan appointed Ashok Sonthalia as CFO, Swadesh Behera as CPO
Leading jewellery and watches maker Titan Company stated it has appointed Ashok Sonthalia as its new chief financial officer (CFO).
It also announced the appointment of Swadesh Behera as the chief people officer of the company
Both appointments are effective from July 1, 2021.
About Sonthalia:
Sonthalia is a chartered accountant with around 30 years of experience in areas of strategic financial planning, business development, M&A, treasury, finance and accounts in diverse industry verticals in multicultural and multinational environments, it added.
About Behera:
Prior to this appointment, Behera was Senior Director-HR at Boston Scientific Corporation.
He has also worked at Ranbaxy, Coca Cola, MSD and Tata Steel.
Air Marshal Vivek Ram Chaudhari take oath as IAF Vice Chief
Air Marshal Vivek Ram Chaudhari took over as Vice Chief of the Indian Air Force.
He succeeded Air Marshal HS Arora, who retired after putting in more than 39 years of service.
During his tenure, Air Marshal Aora was instrumental in ensuring prompt and optimum operational deployment of assets in proportionate response to the developing situation in Eastern Ladakh.
About Vivek Ram Chaudhari:
Air Marshal Vivek Ram Chaudhari, PVSM, AVSM, VM is an officer in the Indian Air Force.
He currently serves as the 45th Vice Chief of the Air Staff succeeding Air Marshal Harjit Singh Arora on 1 July 2021.
Previously, he served as the Air Officer Commanding-in-Chief, Western Air Command.
IIS Officer N Venudhar Reddy appointed as Director General of All India Radio
N Venudhar Reddy, an Indian Information service IIS Officer of 1988 batch took charge as Director General of All India Radio.
Appointments committee of the cabinet appointed him as Principal DG of News Services Division, All India Radio.
He was given additional charge of AIR.
About N Venudhar Reddy:
Mr Reddy earlier served as Joint Secretary in the Department of Investment and Public Asset Management under the Finance Ministry.
He also served as Additional Director General in the Bureau of Outreach and Communication, which is erstwhile Directorate of Advertising andVisual Publicity.
He has also served in various capacities earlier with All India Radio News and Doordarshan News.
CURRENT AFFAIRS: AWARDS AND HONOURS
Odia poet Rajendra Kishore Panda bags Kuvempu Rashtriya Puraskar
Odia poet Dr. Rajendra Kishore Panda has been selected for the Kuvempu Rashtriya Puraskar, the national award instituted in memory of the late poet laureate, for 2020.
The award carries a cash award of Rs.5 lakh, a silver medal and a citation.
The name of Dr. Panda was finalised by a three-member committee comprising Kannada poet Dr. H.S. Shivaprakash, Agrahara Krishnamurthy, former secretary of Central Sahitya Academy, and Bengali author Shyamal Bhattacharya.
The committee met under the chairmanship of Prof. Hampa Nagarajaiah and chose Dr. Panda for the award.
About the Award:
The award is given annually to a writer who has contributed in any of the languages recognized by the Constitution of India.
While the award was presented at Kuppalli, the birthplace of Kuvempu in Shivamogga district, on December 29 to mark his birth anniversary, the announcement for 2020 was delayed owing to the COVID-19
Kuppali Venkatappa Puttappa (29 December 1904 – 11 November 1994), popularly known by his pen name Kuvempu, was an Indian poet, playwright, novelist and critic.
He is widely regarded as the greatest Kannada poet of the 20th century.
He was the first Kannada writer to be by decorated with the Jnanpith Award.
CURRENT AFFAIRS: MOU's AND AGREEMENTS
Reliance inks pact with ADNOC 
Reliance Industries (RIL) and Abu Dhabi National Oil Company (ADNOC) have signed an agreement to set up a new petrochemical complex in Ruwais, Abu Dhabi, to produce chlor-alkali, ethylene dichloride, and polyvinyl chloride (PVC).
Under the terms of the agreement, this integrated plant will have a capacity to produce 940,000 tonnes of chlor-alkali, 1.1 million tonnes of ethylene dichloride, and 360,000 tonnes of PVC annually.
According to oil sector executives, it would cost upwards of Rs 30,000 crore to set up the petrochemical facility.
About Reliance Industries Limited:
Reliance Industries Limited is an Indian multinational conglomerate, headquartered in Mumbai.
RIL's diverse businesses include energy, petrochemicals, natural gas, retail, telecommunications, mass media, and textiles.
CEO: Mukesh Ambani
Founder: Dhirubhai Ambani
About ADNOC:
The Abu Dhabi National Oil Company or ADNOC is the state-owned oil company of the United Arab Emirates.
As of November 2019, the UAE holds the sixth-largest proven reserves of oil in the world at 105 billion barrels.
Most of these reserves are located in Abu Dhabi.
Headquarters: Abu Dhabi, United Arab Emirates
Founder: Zayed bin Sultan Al Nahyan
Singapore signs pact with Bhutan 
Singapore has signed an agreement with the Royal Government of Bhutan on the establishment of Model Technical Training Centres (MTTC) as part of growth between the two countries.
The agreement was signed by Sonam Tobgay, Director of Bilateral Affairs, Ministry of Foreign Affairs of Bhutan, and Simon Wong, Ambassador of Singapore to Bhutan.
It is seen as one of the outcomes of Bhutan's opening up to the outside world.
India with whom Bhutan has a special relationship has warm ties with Singapore with the city state setting up vocational training institutes for Indian youth in places like Rajasthan and Assam in recent years.
About Singapore;
On 9 August 1965, Singapore separated from Malaysia to become an independent and sovereign state.
Singapore, officially the Republic of Singapore, is a sovereign island city-state in maritime Southeast Asia.
Capital: Singapore city
Currency: Singapore dollar
Prime Minister: Lee Hsien Loong
About Bhutan:
Bhutan, a Buddhist kingdom on the Himalayas' eastern edge, is known for its monasteries, fortresses (or dzongs) and dramatic landscapes that range from subtropical plains to steep mountains and valleys.
Capital: Thimphu
Currency: ngultrum
Prime minister: Lotay Tshering
CURRENT AFFAIRS : DEFENCE NEWS
U.S  & Ukraine Navy launches Sea Breeze 2021 maritime exercise in Black sea
On June 28, 2021, Multinational maritime exercise Sea Breeze 2021 (Ex-SB21) launched by Ukrainian Navy and U.S. Sixth Fleet.
The exercise is taking place from June 28 to July 10 in the Black Sea region.
Exercise Sea Breeze 2021 is an annual multinational maritime exercise, involving sea, land, and air components.
Purpose :
To enhance interoperability and capability among participating forces in the Black Sea region.
It will focus on multiple warfare areas including amphibious warfare, land maneuver warfare, diving operations, maritime interdiction operations, air defense, special operations integration, anti-submarine warfare, and search and rescue operations.
Ex-SB21 has the largest number of participating nations in the exercise's history with 32 countries from six continents providing 5,000 troops, 32 ships, 40 aircraft, and 18 special operations and dive teams scheduled to participate.
The list of 32 Countries are Albania, Australia, Brazil, Bulgaria, Canada, Denmark, Egypt, Estonia, France, Georgia, Greece, Israel, Italy, Japan, Latvia, Lithuania, Moldova, Morocco, Norway, Pakistan, Poland, Romania, Senegal, Spain, South Korea, Sweden, Tunisia, Turkey, Ukraine, United Arab Emirates, United Kingdom, and the United States.
The Exercise Sea Breeze began in the year of 1997 & brings most Black Sea nations and NATO Allies and partners together to train and operate with NATO members in the pursuit of building increased capability.
About Sea Breeze :
Sea Breeze is Ukraine's oldest, largest and best-known multinational military exercise since it gained independence from the Soviet Union some 30 years ago.
The exercises on the northwestern Black Sea coast are an annual event led by Ukraine and the US and are based upon a 1993 memorandum on military cooperation between the two countries.
About Ukraine Navy :
Founded: 12 December 1991
Headquarters: Mykolaiv, Ukraine
Commander of the Navy: Rear Admiral Oleksiy Neizhpapa
About the U.S. Navy :
Founded: 12 February 1950
Current commander: Vice Admiral Eugene H. Black III
CURRENT AFFAIRS : SCIENCE & TECHNOLOGY
Department  of Justice launches "Enforcing Contracts Portal"
On 28th June, 2021 an exclusive "Enforcing Contracts Portal" was inaugurated by Shri Barun Mitra, Secretary (Justice) at the Department of Justice, Delhi.
Aim :
To promote ease of doing business and improve the 'Contract Enforcement Regime' in the country.
About Enforcing Contracts Portal :
The portal provides easy access to latest information on commercial cases in  Dedicated Commercial Courts of Delhi, Mumbai, Bengaluru and Kolkata.
Department of Justice, Ministry of Law and Justice, as the nodal department has been monitoring an array of legislative and policy reforms to strengthen the "Enforcing Contracts" regime for Ease of Doing Business in India in coordination with e-Committee, Supreme Court of India and the High Courts of Delhi, Bombay, Calcutta and Karnataka.
About EoDB Index :
The EoDB index is a ranking system that indicates an economy's position relative to that of other economies across 11 areas of business regulation.
CURRENT AFFAIRS : APPS & SERVICES
Flipkart launches Shopsy App
Flipkart has launched a digital platform Shopsy, to enable Indians to start their online businesses without any investment.
Flipkart aims to enable over 25 million online entrepreneurs to benefit through e-commerce by 2023.   
The platform's users will have access to 15 crore products across fashion, beauty, mobiles, home, to name a few.   
Users are required to register on the Shopsy app using their phone numbers, whereas entrepreneurs can set up their business, as long as they have access to a network of people.
Flipkart stated that Shopsy aims to provide new users to digital commerce consumers access to products by simplifying the process through interactions with a trusted person.
About Flipkart:
Flipkart is an Indian e-commerce company, headquartered in Bangalore, Karnataka, India, and incorporated in Singapore as a private limited company.
CEO: Kalyan Krishnamurthy
Parent organization:Walmart
CURRENT AFFAIRS : RANKING & INDEX
Global Startup Ecosystem Index 2021 : US tops & India Ranks 20th Position by Startup Blink
India has jumped three spots to be ranked at the 20th spot with a score of 8.833 among the top 100 countries in the Global Startup Ecosystem Index 2021 by Startup Blink.
The 2021 Global Startup Ecosystem Index ranks 1,000 cities and 100 countries worldwide.
In the 2020 Index India was at 23rd spot.
Country Wise Top 5 Rankings :
USA with a Index Score of 124.4
UK with a Index Score of 28.7
Israel with a Index Score of 27.7
Canada and Germany ranked 4th & 5th position continue to be in the top five countries respectively like last year.
City Wise Top Rankings :
Overall, City wise San Francisco, United States with a score of 328.9 has topped the cities list, Followed by New York , Beijing, Los Angeles , and London.
In India Bengaluru (10th) is the highest ranked Indian City, Followed by New Delhi and Mumbai are present in 14 & 16th Position respectively.
About the report :
Each country is ranked based on three parameters : quantity, quality and business environment.
Quantity Parameters comprises elements such as number of start-ups, number of co-working spaces, number of accelerators, etc.
Quality Parameters number of employees per start-up, the presence of unicorns, etc
Business environment Parameters include internet speed and freedom, level of English proficiency, research and development investment, number of patents per capita etc.
About Startup Blink :
Headquarters : Tel Aviv, Israel
CEO & Founder : Eli David
CURRENT AFFAIRS : BOOKS & AUTHORS
New Book Titled Fiercely Female: Story of Dutee Chand Authored by Sundeep Misra
The journalist-author Sundeep Misra Authored a new book titled 'Fiercely Female: The Dutee Chand Story' .
The Book was Published by Westland Books On on 'SoftCover.
About the Book :
The book chronicles Chand's controversy regarding her gender identity abruptly interrupted her dreams as she was dropped from the 2014 Commonwealth Games on the charge that she was ineligible to compete as a female athlete.
It also narrates the life of Dutee Chand of how she overcame poverty and an inadequate training and sporting culture to become one of India's premier athletes.
About Dutee Chand :
Dutee Chand, the first openly homosexual athlete from India.
In 2016, she was appointed as an assistant manager in the state government-run Odisha Mining Corporation .
She became only the fifth Indian to participate in the women's 100 metres at the Olympics when she qualified for the 2016 Rio Games.
Achievements :
Dutee Chand, is the first Indian to win a gold medal in 100m race in a global competition.
She is the third Indian woman to ever qualify for the Women's 100 metres event at the Summer Olympic Games.
From the Government of Orissa for winning the silver medals at the 2018 Asian Games she is honoured with 3 Crore rupees.
CURRENT AFFAIRS : SPORTS NEWS
Indian-origin American 12-Year-old Abhimanyu Mishra becomes youngest Grandmaster in Chess
On June 30, 2021, 12-year-old Indian origin boy, Abhimanyu Mishra became the youngest-ever Grandmaster in chess.
Abhimanyu became the youngest GM at the age of 12 years 4 months and 25 days.
He broke the 19-year-old record set by Russian GM Sergey Karjakin in 2002 to become the youngest Grandmaster. 
Karjakin had secured the Grandmaster title at the age of 12 years and 7 months.
Abhimanyu went on to defeat 15-year-old Indian GM Leon Luke Mendonca.
Abhimanyu won his first GM norm in the April Vezerkepzo tournament and the second at the May 2021 First Saturday tournament.
His third GM norm in Budapest, having already crossed the required 2500 ELO rating barrier.
About Abhimanyu Mishra :
Abhimanyu Mishra is from New Jersey.
On November 12, 2019, Abhimanyu made history in becoming the youngest International Master, eclipsing the record held by India's Praggnanadhaa.
About AICF :
AICF : All India Chess Federation
President: Sanjay Kapoor
Secretary: Bharat Singh Chauhan
Founded: 1951
Headquarters : Chennai
Daily CA On July 01
Foundation Day of State Bank of India Observed on July 01. An act was accordingly passed in Parliament in May 1955 and the State Bank of India was constituted on 1 July 1955.
National Chartered Accountant Dayis observed in order to celebrate the formation of Institute of Chartered Accountants of India (ICAI) on July 1st, 1949.  This year 73rd Chartered Accountants' Day is celebrated.
Every year, July1 is celebrated as National Doctors' Day by the Indian Medical Association (IMA). The day is observed to commemorate the birth and death anniversary of former Bengal's Chief Minister Dr Bidhan Chandra Roy.
July 1 was declared National Postal Worker Day in 1997 by a Seattle-area postal carrier to honour fellow employees and since then it is celebrated every year on this day.
Asia's longest and the world's fifth high speed test track was inaugurated at National Automotive Test Tracks (NATRAX) in Pithampur.
On 28thJune, 2021 an exclusive "Enforcing Contracts Portal" was inaugurated by Shri Barun Mitra, Secretary (Justice) at the Department of Justice, Delhi in the presence of senior officers of the Department of Justice.
The Philippines has been included in a global dirty money watchdog's "grey list" of countries that will be subjected to increased monitoring to prove its progress against money-laundering and terrorist financing.
The first two generating units of the world's second-biggest hydroelectric dam were officially turned in southwestern China, the government announced.
In the Union Territory of Jammu and Kashmir, Lieutenant Governor Manoj Sinha rolled out 'Special Assistance Scheme for COVID Mortalities – SASCM', by handing over the grant of Scholarship and Pension certificates to the children and the members of the families affected due to COVID-19.
Government of Jammu and Kashmir took a proactive measure, via Jammu & Kashmir Trade Promotion Organization (JKTPO) under the aegis of Department of Industries of Commerce, with the initiative called "HAUSLA" for women entrepreneurs of Jammu & Kashmir.
West Bengal launched its 'Student Credit Card' on June 30. Under the scheme, a student will be eligible for a soft loan of up to Rs 10 lakh for higher studies.
Homegrown e-commerce marketplace Flipkart stated it has launched grocery services in Coimbatore with the opening of its first fulfillment center in the city to meet growing demand.
Senior IPS officer Anil Kant, who is presently serving as the Road Safety Commissioner in Kerala will be the new chief of the state police.
The US has appointed Indian-American career diplomat Atul Keshap, an old India-hand at the state department, as the country's Charge'd Affairs in Delhi.
Niti Aayog Chief Executive Officer (CEO) Amitabh Kant has been given one-year extension till June 2022.
Bisat hi Bharath has been awarded a Diana Prize for his contributions to youth development from a village in the District of Anantapur.
The Union Cabinet, chaired by the Prime Minister Shri Narendra Modi has approved the signing of the Memorandum of Understanding (MoU) between Department of Administrative Reforms and Public Grievances, Ministry of Personnel, Public Grievances and Pensions, Government of India and the Public Service Commission, Office of the President, Republic of The Gambia on Refurbishing Personnel Administration and Governance Reforms.
On June 29, 2021, India was ranked as the 10th best country in the world in the Global Cybersecurity Index (GCI) 2020, released by International Telecommunication Union (ITU). The United States has topped with a score of 100 in the GCI 2020.
Researchers from the Jawaharlal Nehru Tropical Botanic Garden and Research Institute (JNTBGRI) and the University of Kerala have discovered a New Plant Subspecies Rungia longifolia subsp. keralensis in Western Ghats.
On June 21, the National Olympic Committee of New Zealand (NZOC) nominated the weightlifter Laurel Hubbard for the New Zealand Olympic team to compete in the women's 87-kilogram category.
Madhya Pradesh all-rounder Anshula Rao became the first women cricketer to be handed a four-year ban after failing the dope test. On June 28, 2021, She was banned by the National Anti-Doping Agency for faking a dope test which dates back to July 2020. 
On June 29, 2021, International Cricket Council (ICC) announced, the venue for ICC Men's T20 World Cup 2021 has been shifted to the United Arab Emirates and Oman. The tournament is scheduled to be held from October 17 to November 14.
On June 30, 2021, K V Sampath Kumar, editor of 'Sudharma', the world's only Sanskrit daily newspaper, passed away.
On June 30, 2021, Bollywood film producer and Mandira Bedi's husband Raj Kaushal Passed away.
Daily CA On July 02 :
Goods and Services Tax Day – Observed on July 01, India marks the fourth anniversary of the Goods and Services Tax (GST).
World UFO Day Observed on July 02, It is an awareness day for people to gather together and watch the skies for Unidentified Flying Objects.
World Sports Journalists Day is celebrated across the world on 2 July every year. The main objective of celebrating this day is to support the work of sports journalists and encourage them to do better in their work.
Union Minister of Agriculture & Farmers Welfare Shri Narendra Singh Tomar launched the Crop Insurance Awareness Campaign for Fasal Bima Yojana during the Crop Insurance Week as a part of Government's [email protected] campaign 'Azadi ka Amrit Mahotsav', commemorating 75 years of India's Independence. 
Union Education Minister, Shri Ramesh Pokhriyal 'Nishank' released the Report on United Information System for Education Plus (UDISE+) 2019-20 for School Education in India.
Union Education Minister Ramesh Pokhriyal 'Nishank' launched the 'Financial Literacy Workbook' for Class 6 students. The book has been prepared by the Central Board of Secondary Education (CBSE) and the National Payments Corporation of India (NPCI).
As the nation celebrates the 75th anniversary of its Independence, Ministry of Defence (MoD) has initiated a project to create an interactive virtual museum of the country's Gallantry award winners to honour the heroic deeds of the bravehearts of India.
The World Bank (WB) will provide USD 300 million to the Bangladesh government as loan to implement a five-year project to improve livelihood, which is scheduled to begin from July.
Chief Secretary, Arun Kumar Mehta, inaugurated SDRF first Battalion's 24×7 mental health helpline 'SUKOON' at its headquarters.
On the occasion of MSME Day, Union Minister for Micro, Small and Medium Enterprises Nitin Gadkari has launched the integrated services of Udyam Registration Portal with Common Service Centre Portal.
State Bank of India (SBI) launched a dedicated counter across its 360 selected branches to cater to the current account customers. 
ICICI Bankannounced the launch of a comprehensive banking solution for doctors, called Salute Doctors. It provides customized banking as well as value-added services for every doctor, beginning from a medical student to a senior medical consultant to an owner of a hospital or a clinic.
Royal Challengers Bangalore (RCB) has appointed Prathmesh Mishra as its new chairman ahead of the upcoming edition of the Indian Premier League (IPL).
Leading jewellery and watches maker Titan Company stated it has appointed Ashok Sonthalia as its new chief financial officer (CFO).
Air Marshal Vivek Ram Chaudhari took over as Vice Chief of the Indian Air Force.
N Venudhar Reddy, an Indian Information service IIS Officer of 1988 batch took charge as Director General of All India Radio.
Odia poet Dr. Rajendra Kishore Panda has been selected for the Kuvempu Rashtriya Puraskar, the national award instituted in memory of the late poet laureate, for 2020.
Reliance Industries (RIL) and Abu Dhabi National Oil Company (ADNOC) have signed an agreement to set up a new petrochemical complex in Ruwais, Abu Dhabi, to produce chlor-alkali, ethylene dichloride, and polyvinyl chloride (PVC).
Singapore has signed an agreement with the Royal Government of Bhutan on the establishment of Model Technical Training Centres (MTTC) as part of growth between the two countries.
On June 28, 2021, Multinational maritime exercise Sea Breeze 2021 (Ex-SB21) launched by Ukrainian Navy and U.S. Sixth Fleet. The exercise is taking place from June 28 to July 10 in the Black Sea region.
On 28th June, 2021 an exclusive "Enforcing Contracts Portal" was inaugurated by Shri Barun Mitra, Secretary (Justice) at the Department of Justice, Delhi.
Flipkart has launched a digital platform Shopsy, to enable Indians to start their online businesses without any investment.
India has jumped three spots to be ranked at the 20th spot with a score of 8.833 among the top 100 countries in the Global Startup Ecosystem Index 2021 by Startup Blink.
The journalist-author Sundeep Misra Authored a new book titled 'Fiercely Female: The Dutee Chand Story' . The Book was Published by Westland Books On on 'SoftCover.
On June 30, 2021, 12-year-old Indian origin boy, Abhimanyu Mishra became the youngest-ever Grandmaster in chess. Abhimanyu became the youngest GM at the age of 12 years 4 months and 25 days.Current