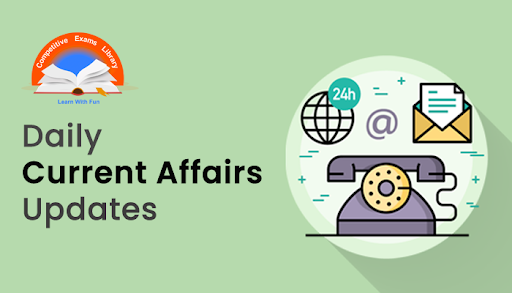 Dear Readers, Daily Current Affairs News Updates about the National and International events were listed here. Read Current Affairs Today here and stay updated with current news. Candidates those who are preparing for IBPS/SBI/PO/Clerk exam and all other competitive exams can use this and try the Current Affairs Quiz to test your knowledge level.
CURRENT AFFAIRS: DAYS
International Day of Persons with Disabilities Celebrated on Dec 3
The annual observance of the International Day of Persons with Disabilities (IDPD) was proclaimed in 1992, by the United Nations General Assembly resolution 47/3.
Theme of the day is "Not all Disabilities are Visible"
Celebrated on 3 December around the world, IDPD mobilizes support for critical issues relating to the inclusion of persons with disabilities, promotes awareness-raising about disability issues and draws attention to the benefits of an inclusive and accessible society for all
About IDPD 
Aim of the day: To promote an understanding of disability issues and mobilise support for the dignity, rights and well-being of persons with disabilities.
Agricultural Education Day celebrated on Dec 3
Indian Council of Agricultural Research has designated on 3rd December as Agricultural Education Day to commemorate the birth anniversary of first President of Independent India and Union Minister of Agriculture, Bharat Ratna, Dr. Rajendra Prasad.
The objective of this day was to expose students including schools to various facets of agriculture and its relevance to country's development, inspire them and attract them towards agriculture, so that they develop interest in agriculture and allied subjects, choose professional career after schooling in some of these courses, engage themselves in agriculture and related activities or become agri entrepreneurs in future.
National Pollution Control Day Observed on December 2                         
December 2 is observed as National Pollution Control Day every year.
The day is observed in the memory of those who have lost their lives in the Bhopal Gas tragedy on the night of December 2nd and 3rd, 1984
Theme: To raise awareness about the importance of pollution control measures and to educate people on how to prevent pollution.
About NPCD:
Significance: The main objectives of the day are to educate people about how to manage and control industrial disasters, create awareness about the importance of pollution control acts, and to prevent air, soil, noise, and water pollution caused by human negligence or industrial processes.
World Computer Literacy Day 2020
Every year, the World Computer Literacy Day is observed on December 2 to create awareness and drive digital literacy in underserved communities worldwide.
The day promotes technological skills, especially in children and women. The World Computer Literacy Day aims to inspire them to learn more and make their work/task easier by the use of computers.
About World Computer Literacy day
The day was originally founded by the Indian computer company NIIT. This year marks its 20th anniversary. However, it was first observed in the year 2001 on December 2.
About NIIT
Headquarters – Gurgaon, Hayana
CEO – Sapnesh Lalia
NIIT- National Institute of Information Technology
International Day for the Abolition of Slavery Observed on Dec 2
International Day for the Abolition of Slavery Observed on December 2
The day was commissioned by the United Nations General Assembly
The focus of this day is on eradicating contemporary forms of slavery, such as trafficking in persons, sexual exploitation, the worst forms of child labour, forced marriage, and the forced recruitment of children for use in armed conflict.
CURRENT AFFAIRS: NATIONAL
Global Terrorism Index 2020: India 8th most affected country
India ranked eighth – with a score of 7.353 – on the index that measures the impact of terrorism.
Afghanistan (9.592) was reported to be the most impacted of the 163 countries, Iraq (8.682) was the second most affected nation, followed by Nigeria (8.314).
India's first 100 Octane petrol
Indian Oil Corporation (IOC)  launched the nation's first 100 Octane petrol, helping India join a select league of nations globally that have such superior quality fuel.
Launching the fuel, Oil Minister Dharmendra Pradhan stated XP100 premium petrol will initially be available at select outlet of IOC in 10 cities
The Cities are Delhi, Gurgaon, Noida, Agra, Jaipur, Chandigarh, Ludhiana, Mumbai, Pune and Ahmedabad
About Indian Oil Corporation
Chairperson: Shrikant Madhav Vaidya
Headquarters : New Delhi
Union Home Minister Shri Amit Shah addressed inaugural session of Annual DGsP/IGsP Conference
This is the first such Conference organised by the Intelligence Bureau in virtual mode. Paying homage to the Police martyrs, the Union Home Minister awarded Indian Police Medals to 50 awardees and congratulated them on their achievements.
The Prime Minister Shri Narendra Modi later joined the Conference virtually and reviewed the action points of the previous Conference.
A session on various initiatives of security forces on the LWE front was held in which discussions were held to improve the security situation in LWE infested areas.
CURRENT AFFAIRS: INTERNATIONAL
The 7th India-Suriname Joint Commission Meeting held virtually
The JCM was co-chaired by the Minister of state for External Affairs, V. Muraleedharan and Minister of Foreign Affairs, International Business and International Cooperation of Suriname, Albert R. Ramdin,
The discussions were held in an atmosphere of warmth against the backdrop of friendly India – Suriname relations
It was agreed that the next JCM Meeting would be held in 2022 in Paramaribo
About Ministry of external affairs
Head quarters: New Delhi
Minister of External Affairs: Subrahmanyam Jaishankar
India Sweden Healthcare Innovation Centre – Annual Conference
Dr Harsh Vardhan, Union Minister of Health & Family Welfare to chaired the inaugural session of the annual conference of the India Sweden Healthcare Innovation Centre – 'health talks,' under Sweden India Nobel memorial week.
India-Sweden Healthcare Innovation Centre announces 14 winning healthtech solutions
CURRENT AFFAIRS: STATES
Union Minister Launches Five-star village postal scheme in Uttarakhand
The Union Minister of State for Communication Sanjay Dhotre launched a five star village postal scheme to ensure the universal coverage of flagship postal schemes in Dehradun  for rural areas of Uttarakhand.
He also distributed Sukanya Samridhi Yojana passbooks, checkbooks, ATM Cards and saving bank passbooks to the beneficiaries of senior citizens welfare fund schemes. State Minister of Communication also chaired the review meeting of Uttarakhand Postal circle at Dehradun's General Post Office.
About  Five-star village postal scheme
Aim: The scheme seeks to bridge the gaps in public awareness and reach of postal products and services, especially in interior villages.
Madras High Court gets 10 additional judges
The President of India, in exercise of the power conferred by clause (l) of Article 224 of  the Constitution of India, appointed Justices S/Shri Govindarajulu Chandrasekharan, A.A. Nakkiran, Veerasamy Sivagnanam, Ganesan Ilangovan, Sathi Kumar Sukumara Kurup, Murali Shankar Kuppuraju, Miss Manjula Ramaraju Nalliah and Smt. Tamilselvi T. Valayapalayam, would be for a period of two years.
The period of appointment of Smt. Ananthi Subramanian and Smt.  Kannammal Shanmuga Sundaram, would be with effect from the date they assume charge of their office till 30th July, 2022 and 19th July, 2022 respectively.
About Madras High Court
Chief Justice – Amreshwar Pratap Sahi
Motto – Truth Alone Triumphs
Foundation stone for a 11.5 megawatt power plant run on municipal waste
Karnataka Chief Minister B S Yediyurappa laid the foundation stone for a 11.5 megawatt power plant run on municipal waste. The first of its kind power plant in the state will be capable of converting 600 tonnes of municipal waste into 11.5 megawatt energy.
The Chief Minister said that the power plant being constructed at a cost of 260 crore rupees, is likely to be ready by 2022.
Once operational, the power plant will help the city municipal corporation save 14 crore rupees annually on solid waste management.
Assam CM Launches New Scheme To Provide Rs 830 Per Month 
Assam Chief Minister Sarbananda Sonowal launched Orunodoi, a direct benefit transfer scheme to provide financial assistance to poor families in the state by providing money to a female member.
The scheme, announced in the state budget with an annual outlay of Rs 2,400 crore, was rolled out with 17.86 lakh families in 29 districts as beneficiaries.
ADB, India sign 50 million loan to boost West Bengal's digital platforms for public finance reforms
The Asian Development Bank (ADB) and the Government of India signed a $50 million policy-based loan to improve financial management procedures and operational efficiencies aimed at achieving more fiscal savings, promote informed decision making, and improve service delivery in the state of West Bengal.
The loan builds up on past ADB policy-based programmes in 2012 and 2017, supporting the Government of West Bengal on sustainable public financial management reforms.
The loan is proposed to be supplemented by a $350,000 technical assistance grant for capacity building, monitoring of IFMS reforms, and strengthening the integration of social and gender aspects in reform areas.
CURRENT AFFAIRS: BANKING
RBI asks HDFC to stop new digital business launches; avoid adding new Credit Card customers
The Reserve Bank of India has asked country's largest private bank, HDFC, to stop new digital business launches and avoid adding new Credit Card customers after repeated reports by its customers facing multiple cases of technical glitches.
RBI has issued an order dated December 2, 2020, to HDFC Bank Ltd with regard to certain incidents of outages in the internet banking/ mobile banking/ payment utilities of the bank over the past two years, including the recent outages in the bank's internet banking and payment system on November 21, 2020, due to a power failure in the primary data centre.
Over the last two years, it has taken several measures to fortify its IT systems and will continue to work swiftly to close out the balance and would continue to engage with the regulator in this regard.
CURRENT AFFAIRS: APPOINTMENT AND RESIGNATION
Lieutenant General Rajeev Chaudhry assumes the charge as Director General Border Roads
Chaudhary is the 27 th Director General of the Border Roads and before taking over the post, he was serving as the ADG LW & E in QMG's Branch at Integrated Headquarters of Ministry of Defence Army, An Official Statement Stated.
Lt Gen. Chaudhry was responsible for conceptualising and conducting the first-ever and only Engineer Brigade Exercise with the US Engineer Brigade as part of EX YUDH ABHYAS. He was also nominated as Exercise Director of EX FORCE 18, a multinational exercise involving 18 countries on Humanitarian Mine Action (HMA), in the year 2016.
CURRENT AFFAIRS: BUSINESS NEWS
Amazon pulls into lead to acquire podcaster Wondery
com Inc. is in exclusive talks to acquire podcasting company Wondery Inc. for more than $300 million, the Wall Street Journal reported, following a bidding process that also drew interest from the likes of Apple Inc. and Sony Music Entertainment.
Amul enters milk procurement business in AP
Chief Minister Y S Jagan Mohan Reddy launched the first phase of Andhra Pradesh-Amul project from his chamber in state secretariat at Amaravati, in the presence of Gujarat Cooperative Milk Marketing Federation managing director Dr R S Sodhi and other executives of Amul.
He stated under the AP-Amul project, each dairy farmer would get a profit of Rs 5-7 per litre, which would go a long way in improving their financial status.
Significance: The tie-up with Amul is for an all-around growth of the dairy sector by giving a helping hand to the dairy farmers ensuring quality feed, veterinary services and marketing facilities.
CURRENT AFFAIRS: AWARDS AND RECOGNITION
'Pandemic' chosen as Word of the Year 2020 by Dictionary.com and Merriam Webster
For the first time, two dictionary companies on Monday – Merriam-Webster and Dictionary.com – declared the same word as their tops.
Pandemic, with roots in Latin and Greek, is a combination of "pan," for all, and "demos," for people or population.
CURRENT AFFAIRS: OBITUARY
Former French President Giscard d'Estaing dies of COVID-19 complications
Former French President Valery Giscard d'Estaing, who championed European integration and helped modernise French society in the 1970s, has died at the age of 94 after contracting COVID-19.
Giscard was elected president in 1974 at the age of 48 to become France's youngest postwar leader.
MDH owner Mahashay Dharampal Gulati passed away
Mahashay Dharampal Gulati, the owner of MDH, or Mahashian Di Hatti, passed away at the age of 97.
The MDH owner has featured in a number of the brand's television and print commercials.
The advertisement jingle and Gulati cameo appearances have made MDH one of the most recognisable brands in India.
In 1937, he set up a small business of mirrors, soaps and carpentry with his father's help. The business further expanded with him selling cloth and hardware. He ever started trading in rice.
In spite of the expansion, his business did not last and he joined his family business of making spices under the name of Mahashian Di Hatti, which was also known as 'Deggi Mirch wale'.
DAILY CA DEC 2nd
Cabinet Secretary Rajiv Gauba chaired a National Crisis Management Committee (NCMC) meeting through video conferencing.
Indian Navy successfully test fires BrahMos Supersonic Cruise Missile in Anti-Ship mode
The Asian Development Bank (ADB) and the Government of India signed a $132.8 million loan to strengthen and modernize the distribution network and improve the quality of power supplied to households, industries, and businesses in India's northeastern state of Meghalaya
Board of Meeting Chaired By Commerce and Industry Minister Piyush Goyal through a Video Conference
Board of Meeting will focus on the new Foreign Trade Policy (FTP) (2021-26)
Goods and services tax collections hovered around Rs 1.05 lakh crore for the second month with the mop-up in November, 2020, estimated to be 1.4% higher than the corresponding period last year.
Singapore Becomes First Country In World To Give Approval For Sale Of Lab-created Meat
First Mobile CNG Dispensing Unit Launched by Minister for Petroleum and Natural Gas Dharmendra Pradhan
Instagram rolled out the Live Rooms feature that allows up to three additional users to go live in the same session
The United States has imposed sanctions on Chinese firm China National Electronics Import & Export Corporation (CEIEC), accusing it of supporting President Nicolas Maduro's efforts to undermine democracy in Venezuela
Chief Minister Mamata Banerjee named the newly-built Majerhat bridge in Kolkata as Jai Hind bridge to commemorate the 125th birth anniversary of Subhas Chandra Bose.
Ajit Pai's determination to step down on January 20, Biden's inauguration day
India, US hold talks on counternarcotics, agree to boost collaboration on regulation
The Special Session of the United Nations General Assembly in Response to the Coronavirus Disease (Covid-19) Pandemic will take place on December 3 and 4 at the UN Headquarters.
Britain became the first country in the world to approve the Pfizer-BioNTech COVID-19 vaccine for use and said that it will be rolled out from early next week.
Rajya Sabha MP Abhay Bhardwaj passes away due to Covid19
India captain Virat Kohli became the fastest cricketer to score 12,000 ODI runs, breaking a record held by legendary compatriot Sachin Tendulkar.
Andhra Pradesh Passes Gaming Amendment Bill To Ban Online Games
DAILY CA DEC 3rd
International Day of Persons with Disabilities Celebrated on December 3. Theme of the day is Not all Disabilities are Visible.
Indian Council of Agricultural Research has designated on 3rd December as Agricultural Education Day to commemorate the birth anniversary of first President Union Minister of Agriculture, Bharat Ratna, Rajendra Prasad.
December 2 is observed as National Pollution Control Day every year. The day is observed in the memory of those who have lost their lives in the Bhopal Gas tragedy on the night of December 2nd and 3rd, 1984
World Computer Literacy Day is observed on December 2 to create awareness and drive digital literacy in underserved communities worldwide.
International Day for the Abolition of Slavery Obsrved on December 2
Lieutenant General Rajeev Chaudhry assumes the charge as Director General Border Roads
The 7th India-Suriname Joint Commission Meeting held virtually co-chaired by the Minister of state for External Affairs, V. Muraleedharan
Dr Harsh Vardhan, Union Minister of Health & Family Welfare chaired the inaugural session of the annual conference of the India Sweden Healthcare Innovation Centre
The Union Minister of State for Communication Sanjay Dhotre launched a five star village postal Scheme in Uttarakhand.
The President of India, in exercise of the power conferred by clause (l) of Article 224 of  the Constitution of India, appointed 10 additional Judges.
Karnataka Chief Minister B S Yediyurappa laid the foundation stone for a 11.5 megawatt power plant run on municipal waste.
Assam Chief Minister Sarbananda Sonowal on Tuesday launched Orunodoi Scheme To Provide Rs 830 Per Month
Global Terrorism Index 2020 India 8th most affected country and Afghanistan ranked in first position.
Indian Oil Corporation (IOC)  launched the nation's first 100 Octane petrol.
ADB, India sign 50 million loan to boost West Bengal's digital platforms for public finance reforms
Union Home Minister Shri Amit Shah addressed inaugural session of Annual DGsP/IGsP Conference
com Inc. is in exclusive talks to acquire podcasting company Wondery Inc. for more than $300 million.
Dairy giant Amul enters milk procurement business in Andhra Pradesh
Pandemic chosen as Word of the Year 2020 by Dictionary.com and Merriam Webster
MDH owner Mahashay Dharampal Gulati passed away
Former French President Giscard d'Estaing dies of COVID-19 complications