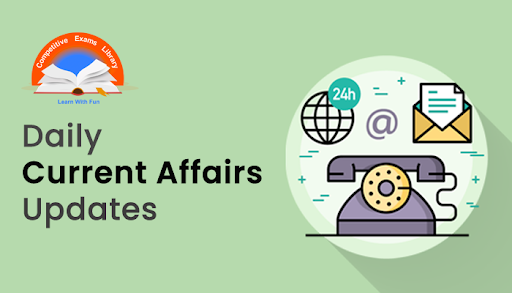 Dear Readers, Daily Current Affairs News Updates about the National and International events were listed here. Read Current Affairs Today here and stay updated with current news. Candidates those who are preparing for IBPS/SBI/PO/Clerk exam and all other competitive exams can use this and try the Current Affairs Quiz to test your knowledge level.
CURRENT AFFAIRS: DAYS
National Bird Day: Observed on January 05
In 2002, Born Free USAin coordination with the Avian Welfare Coalition launched the first annual National Bird Day to promote avian awareness.
Nature lovers, bird lovers, and bird watchers across the country annually recognize National Bird Day on January 5th.
According to Born Free USA, nearly 12 percent of the world's almost 10,000 bird species are in danger of extinction.
CURRENT AFFAIRS: NATIONAL NEWS
FSSAI slashes limit for trans fat levels in foods
The Food Safety and Standards Authority of India (FSSAI) has capped the amount of trans fatty acids (TFA) in oils and fats to 3% for 2021 and 2% by 2022 from the current permissible limit of 5%.
This Regulation through an amendment to the Food Safety and Standards (Prohibition and Restriction on Sales) Regulations.
The revised regulation applies to edible refined oils, vanaspati (partially hydrogenated oils), margarine, bakery shortenings, and other mediums of cooking such as vegetable fat spreads and mixed fat spreads.
India first passed the TFA limit of 10% in oils and fats in 2011.
What is Trans Fat :
According to the World Health Organisation, trans fat, or trans-fatty acids, are unsaturated fatty acids that come from either natural or industrial sources. Naturally occurring trans fat comes from cows and sheep whereas industrially produced trans fat is formed in an industrial process that adds hydrogen to vegetable oil, converting the liquid into a solid, resulting in 'partially hydrogenated oil'.
About FSSAI :
FSSAI has been created for laying down science based standards for articles of food and to regulate their manufacture, storage, distribution, sale and import to ensure availability of safe and wholesome food for human consumption.
Founded : August 2011
Headquarters : New Delhi
Chairperson : Rita Teaotia
Comes under Ministry of Health and Family Welfare
Indian Railways to start train service connecting international airport 
Indian Railways' South Western Railway zone will start operating train services from Bengaluru city station to the newly built KIA, Devanahalli Railway halt station.
According to South Western Railway, three pairs of DEMU services would be introduced from the Bengaluru area to the Kempegowda International Airport (KIAD) Halt Station from January 4.
The new railway halt station is bound to benefit thousands of commuters daily
About Indian Railway:
Founded : 16 April, 1853
Headquarters : New Delhi
Comes Under Ministry of Railways
Railway Minister : Piyush Goyal
PM Modi to inaugurate Kochi-Mangaluru natural gas pipeline
Prime Minister Narendra Modi will dedicate the Kochi – Mangaluru Natural Gas Pipeline to the nation through video conference.
The 'futuristic project', PM Modi said, will positively impact many people.
Modi said that it is a landmark day in India's quest for Urja Aatmanirbharta.
He said, this is a futuristic project that will positively impact many people.
The event marks an important milestone towards the creation of One Nation One Gas Grid.
The 450 kilometre long pipeline has been built by GAIL (India)
It has a transportation capacity of 12 Million Metric Standard Cubic Metres per day.
It will carry natural gas from the Liquefied Natural Gas (LNG) Regasification Terminal at Kochi, Kerala to Mangaluru, Karnataka, while passing through Ernakulam, Thrissur, Palakkad, Malappuram, Kozhikode, Kannur and Kasaragod districts.
The total cost of the project was about 3000 crore and its construction created over 12 lakh man-days of employment.
Kerala Chief Minister Pinarayi Vijayan, Karnataka Chief Minister BS Yediyoorappa and Union Minister for Petroleum and Natural Gas Dharmendra Pradhan will participate in the inaugural function.
India begins 40th Scientific Expedition to Antarctica
India launched the 40th Scientific Expedition to Antarctica.
This Indian expedition marks four decades of the country's scientific endeavour to the southern white continent.
The 40th expedition journey will be flagged off from Goa with 43 members onboard.
The chartered ice-class vessel MV Vasiliy Golovnin will make this journey and will reach Antarctica in 30 days.
After leaving behind a team of 40 members, it would return to India in April.
On return, it will also bring back the winter team of the preceding trip.
Denmark's Oscar nominee 'Another Round' to be opening movie at 51st IFFI in Goa
The 51st International Film Festival of India (IFFI) will open on 16th January, with the Indian premiere of the movie 'Another Round' by Thomas Vinterberg.
The movie starring Cannes Best Actor Award winner Mads Mikkelsen is among a star-studded line up of movies being showcased at IFFI. The movie is also Denmark's official entry to the Oscars.
The festival will also witness the World Premier of 'Mehrunisa'. The film by Sandeep Kumar will premier mid-fest.
About the Festival :
The festival will close on 24th January with the India Premier of the historical drama Wife of a Spy by Kiyoshi Kurosawa.
The 51st IFFI is being organised from 16th to 24th January in Goa.
This edition is being organised in a hybrid mode for the first time and will comprise both online and in-person experience. The festival will be loaded with a line-up of famous movies with a total of 224 films from across the globe.
This includes 21 non-feature films and 26 feature films under the Indian Panorama section. Media registration for the festival has opened recently and is available till 10th January.
Delhi government sets up Tamil Academy
Delhi Government Department of Art, Culture, and Language has set up a Tamil Academy to Promote the language and culture of the southern state of Tamil Nadu.
The Delhi government has appointed former municipal councillor and current member of Delhi Tamil Sangam N Raja as the vice-chairman of the academy.
The Department of Art, Culture and Language of the Delhi government has decided that the new academy will introduce various awards to promote and reward the good works of people in Tamil language and culture.
The government will also provide language courses through this academy.
It will also celebrate and organise cultural festivals for the people of Tamil Nadu.
About Delhi:
Chief Minister : Arvind Kejriwal
5-day national folk dance festival to start in Jammu 
North Zone Cultural Centre, Patiala (Ministry of Culture, Govt. of India) and Jammu & Kashmir Academy of Art, Culture & Languages, Jammu is jointly organizing National Folk Dance Festival from December 26-28.
The festival is of five days and for three days it will be organised at Abhinav Theatre, Jammu.
Artists from Jammu and Kashmir, Gujarat, Rajasthan, Madhya Pradesh, Odisha, Punjab,Assam, Tripura,Maharashtra, Telangana and Haryana, will participate in it.
The festival is part of our efforts to bring together tribal artists from different regions of the country. Encourage them and ensure that arts forms are showcased to the people. It's a way to preserve the great cultural traditions of India.
This Festival was inaugurated by Former Deputy CM, Kevinder Gupta, S D Singh Jamwal and senior Journalist Sohail Kazmi was also Present.
Udyog Manthan being organized from Jan 4 to March 2
Department for Promotion of Industry and Internal Trade is organizing Udyog Manthan – a marathon of focused sector-specific webinars for promoting Quality and Productivity in Indian Industry.
It got underway Jan 4 and will go on till 2nd of March.
Commerce and Industry Minister Piyush Goyal will chair the session.
The webinar series comprising 45 sessions will cover various major sectors in manufacturing and services. Each webinar will be a two-hour session involving discussions led by sectoral and industry experts in a particular sector.
Participants will include representatives from industry, testing and standardization bodies.
Prasar Bharati digital channels grow 100% in 2020
Digital channels of Prasar Bharati have registered more than 100 percent growth in 2020, with Pakistan being the second highest digital audience for Doordarshan (DD) and All India Radio (AIR).
The Ministry of Information and Broadcasting stated the channels across Doordarshan and Akashvani clocked over a billion digital views and over six billion digital watch minutes in the year.
During 2020, Pakistan accounted for the second highest digital audience for DD and AIR content after domestic audience.
During 2020, Prasar Bharati's mobile application 'NewsOnAir' added more than 2.5 million users with the platform registering over 300 million views.
Prasar Bharati Archives and DD Kisan have been steady digital performers featuring in top 10.
About Pakistan :
Capital : Islamabad
President : Arif Alvi
Currency : Pakistani rupee
CURRENT AFFAIRS: INTERNATIONAL NEWS
US Congress passes 'Malala Yousafzai Scholarship Act' for Pakistani women
The US Congress has passed the Malala Yousafzai Scholarship Act which will expand the number of scholarships available to Pakistani women to receive higher education under a merit and needs-based programme.
The bill was passed by the United States Senate by a voice vote on January 1.
The bill now heads to the White House for US President Donald Trump to sign into law.
About the bill :
The bill requires the US Agency for International Development to award at least 50 percent of scholarships under a Pakistan-based higher education scholarship programme to Pakistani women, from 2020 to 2022, across a range of academic disciplines and in accordance with existing eligibility criteria.
The bill also requires USAID to consult with and leverage investments by the Pakistani private sector and Pakistani diaspora in the United States to improve and expand access to education programmes in Pakistan.
About USAID :
Headquarters : Washington, D.C
Founded : 3 November 1961
Founder : John F. Kennedy
The USAID has awarded more than 6,000 scholarships for young women to receive higher education in Pakistan
About Malala Yousafzai :
In October 2012, Malala was shot in the head by Pakistani Taliban on her way home from school. In late 2008, she began making the case for access to education for women and girls despite objections from the Pakistani Taliban.
On October 10, 2014, Malala shared the Nobel Peace Prize with Indian children's rights activist Kailash Satyarthi for her "struggle against the suppression of children and young people and for the right of all children to education".
India sends relief materials to Fiji
India has sent over six tons of relief material to Fiji for its cyclone-affected people, reflecting its close ties with the island nation in the South Pacific.
Fiji was hit by cyclone Yasa on December 17 and 18 that caused extensive damage and destruction of critical infrastructure.
Disaster Risk Reduction and Management is an important pillar of India's Indo-Pacific Oceans' Initiative announced by Prime Minister Narendra Modi in November 2019.
The Ministry of External Affairs said, India remains committed to extend full support to Fiji's efforts to restore livelihoods of the affected communities and to build resilient infrastructure.
About Fiji:
Capital: Suva
Currency:Fijian dollar
Prime Minister : Frank Bainimarama
CURRENT AFFAIRS: STATE NEWS
Petroleum Minister Inaugurates Migrant Worker Cell in Surat
Union Minister Dharmendra Pradhan has inaugurated a migrant worker cell of Surat Municipal Corporation (SMC) at Udhna based iLab in Surat.
Pradhan said that the migrant workers cell with linkage with the city livelihood centre will help extend all kinds of assistance and government-led benefits to them.
Migrant workers' Cell has been created by Surat Municipal Corporation for the first time in the Country under the 'National Urban Livelihood Mission Scheme'.
The city has a presence of over 15 lakh migrant workers.
He said that this cell will do a detailed mapping of migrant workers and classify them according to their skill.
This will help in connecting 'Shramshakti' to relevant industries and boost their livelihood and also ensure their dignity.
About Gujarat :
Capital: Gandhinagar
Governor: Acharya Devvrat
Chief minister: Vijay Rupani
Madhya Pradesh introduces 'Launch Pad Scheme' for unemployed youths
In Madhya Pradesh, 'Launch Pad Scheme' is being started for boys and girls coming out of child care institutions and having completed 18 years of age. 
Objective: Women and Child Development Department is to provide such a platform to these youth, through which they will be able to become self-reliant by continuing their education and training.
Under the launch pad scheme, 52 districts of the state have been divided into 5 clusters.
Five divisional headquarters are being started in Indore, Sagar, Gwalior, Jabalpur and Bhopal.
An amount of Rs 6 lakh will be provided by the Women and Child Development Department for the installation of each launch pad.
These launch pads will be operated through non-governmental organizations.
About Madhya Pradesh:
Capital: Bhopal
Chief minister: Shivraj Singh Chouhan
CURRENT AFFAIRS: APPOINTMENTS 
Justice S Muralidhar Takes Oath as Chief Justice of Orissa High Court
On January 04, Justice S Muralidhar took oath as the 32nd Chief Justice of Orissa High Court.
Governor of Odisha Prof.Ganeshi Lal administered the oath of office at Raj Bhawan in Bhubaneswar in a simple ceremony.
Justice S Muralidhar succeeds Justice Mohammad Rafiq as the new chief justice of the Orissa High Court.
S Muralidhar was appointed as an Additional Judge of Delhi High Court on May 29, 2006, and as Permanent Judge on August 29, 2007.
Later, he was transferred to Punjab and Haryana High Court on March 6, 2020.
About Orissa :
Capital : Bhubaneswar
Governor : Ganeshi Lal
Chief Minister : Naveen Patnaik
Justice Vineet Kothari took oath as Gujarat HC Judge
Justice Vineet Kothari took oath as a Judge in Gujarat High Court.
He was previously an Acting Chief Justice in Madras High Court.
He was transferred to Gujarat High Court on recommendation of a five Judge collegium led by the Chief Justice of India. 
He was elevated as a judge of the Rajasthan High Court in 2005 and was transferred to Karnataka in 2016.
He had assumed charge as the senior-most judge of the Madras High Court on 23rd November, 2018 and had served as its Additional Chief Justice immediately after former Chief Justice Vijaya Kamlesh Tahilramani resigned in September 2019 and once again after the retirement of Chief Justice Amreshwar Pratap Sahi.
Pankaj Mithal takes oath as new chief justice of J&K and Ladakh high court
On January 04, 2021, Lieutenant Governor Manoj Sinha administered the oath of office to Justice Pankaj Mithal as the new chief justice of the common high court for the Union Territory of Jammu & Kashmir and Union Territory of Ladakh.
Chief justice Mithal has been appointed in view of the retirement of chief justice Gita Mittal recently.
Chief Justice Mithal was administered the oath of office by Lieutenant Governor of J&k, Manoj Sinha.
CURRENT AFFAIRS: DEFENCE NEWS
Indian Army inks pact with Goa Shipyard to get 12 fast patrol boats for Pangong Tso lake by May
Indian Army has inked a contract with M/s Goa Shipyard Limited for 12 Fast Patrol Boats for surveillance and patrolling of large water bodies, including those in high altitude areas. Delivery would commence from May 2021.
Indian Army would soon be getting high-powered and bigger capacity boats to meet the strength of the Chinese vessels.
It is the Pangong lake that's been the sticking point with the Chinese troops occupying areas on the northern bank of the lake that had been in India's control.
The indigenously built strong boats will have better anti-ramming capabilities and an enhanced capacity to accommodate additional troops.
The new boats will be stronger with more capacity and are being manufactured in India," said an official privy to the developments.
The need to upgrade boats used to patrol the Pangong Tso lake was felt in the wake of the military tussle between the Indian and the Chinese troops, and the continued standoff across the Line of Actual Control (LAC).
About Indian Army :
Founded : 1 April, 1895
Headquarters : New Delhi
Army Staff : General Manoj Mukund Naravane
GRSE delivers eighth landing craft utility ship to Indian Navy
On December 31, 2020, Kolkata-based, Garden Reach Shipbuilders and Engineers (GRSE), delivered the last ship of the MK IV Landing Craft Utility (LCU) class vessel 'IN LCU L-58' (Yard 2099) to the Indian Navy.
The amphibious ships, to be based in the strategic location of Andaman and Nicobar Islands which is close to various routes leading to the South China Sea.
LCU L-58 is the eighth and final ship in the series of 8 LCUs manufactured by GRSE for the Indian Navy.
About LCU Ship :
The LCU ships, equipped with state-of-the-art technology, were developed in-house with 90 per cent of its parts indigenously manufactured.
These ships are very unique in their design and class in the world. A very specific kind of requirement was given by the Indian Navy speed of 15 knots, a displacement of 900- odd tonnes and a low draught for beaching in the shallowest of waters.
The ships are designed to accommodate 216 personnel and have two indigenous CRN 91 guns to provide artillery fire support during landing operations.
About GRSE :
Headquarters : Kolkata, West Bengal
Founded : 1884
Chairman & Managing Director : Rear Admiral V K Saxena
CURRENT AFFAIRS: BANKING NEWS
Bank of Baroda offers WhatsApp banking services
State-run Bank of Baroda announced the launch of banking services on messaging platform
The lender is offering services such as balance enquiry, mini statement, cheque status enquiry, cheque book request, blocking debit card and information on products and services, among others via WhatsApp, a release said.
The bank's executive director AK Khurana said that "With the growing prominence of social media, we believe that WhatsApp banking will offer immense convenience to our customers to meet their banking requirements".
To activate the banking facility on WhatsApp, need to save WhatsApp number 8433 888 777 of Bank of Baroda (BoB) in phone book.
About BOB:
Headquarters:Alkapuri, Vadodara
Present non-executive Chairman : Hasmukh Adhia
Tagline : India's International Bank.
CURRENT AFFAIRS: SCIENCE & TECHNOLOGY
IAF Chief, Air Marshal R K S Bhadauria launches IAF e-Governance (e-Office) portal in New Delhi
Indian Air Force Chief, Air Marshal R K S Bhadauria formally launched the IAF e-Governance (e-Office) portal in Vayu Bhavan, New Delhi. 
The launch of the portal is part of Digital India and e-governance initiative that will transform the entire Indian Air Force into a paperless office workflow.
The platform will ensure enhanced transparency, improved efficiency, increased accountability, assured data integrity and rapidly accessible archives along with a major reduction in the use of paper.
CURRENT AFFAIRS: AGREEMENTS 
ADB to provide $100 million loan to upgrade power distribution in Bengaluru
The Asian Development Bank (ADB) will provide a USD 100 million (around Rs 730 crore) loan to modernise and upgrade the power distribution system in Bengaluru city.
Beside the USD 100 million sovereign loan, ADB will provide a USD 90 million loan without sovereign guarantee for the project to Bangalore Electricity Supply Company Ltd (BESCOM), one of the five state-owned distribution utilities in Karnataka.
About the Project :
In parallel to underground distribution cables, over 2,800 km of fibre optical cables will be installed to strengthen communication networks. Moving about 7,200 km of distribution lines underground will help reduce technical and commercial losses by about 30 per cent.
The fibre optical cables will be used for smart metering systems, distribution automation system (DAS) in the distribution grid, and other communication networks.
The project will install 1,700 automated ring main units adapted with a DAS to monitor and control the distribution line switchgears from the control centre.
The loan will strengthen the capacity of BESCOM in operation and maintenance of underground cabling, environment and social safeguards, financial management and commercial financing.
Improved financial management capability will help BESCOM access the domestic and international commercial financing market.
About ADB :
Headquarters : Mandaluyong, Philippines
President : Masatsugu Asakawa
Founded : 19 December, 1966
About Karnataka :
Chief Minister : B.S.Yeddyurappa
Governor : Vajubhai Vala
Capital : Bangalore
CURRENT AFFAIRS: BUSINESS NEWS
Bajaj Auto Becomes World's Most Valuable Two-Wheeler Company
Bajaj Auto has become the first two-wheeler company in the world to cross a market capitalization of Rs 1 lakh crore, making it the most valuable two-wheeler maker.
The company's share price closed at Rs 3,479 per share on the NSE on January 1, 2021, making its market capitalisation Rs 1,00,670.76 crore at this price. This milestone comes as Bajaj celebrates the 75th year of its operations.
Bajaj Auto is India's largest exporter of two-wheelers and three-wheelers.
Bajaj Auto has three manufacturing facilities at Chakan, near Pune, Waluj near Aurangabad, and Pantnagar in Uttarakhand. Recently, the company announced to open its fourth plant with an investment of Rs 650 crore for manufacturing premium segment bikes and electric two-wheelers at Chakan.
About Bajaj Auto : 
Headquarters : Pune, Maharashtra
Managing Director : Rajiv Bajaj
Jeff Bezos tops list of richest charitable gifts in 2020
The world's richest person made the single-largest charitable contribution in 2020, according to The Chronicle of Philanthropy's annual list of top donations, a $10 billion gift that is intended to help fight climate change.
Amazon's founder and CEO, Jeff Bezos, whose "real-time" worth Forbes magazine estimates at roughly $188 billion, used the contribution to launch his Bezos Earth Fund.
About Amazon
CEO:Jeff Bezos
Founder:Jeff Bezos
Headquarters:Seattle, Washington, United States
Govt plans to launch seaplane services with airline operators
The government is in the process to launch seaplane services on several routes, including Delhi-Ayodhya, in collaboration with the airline operators, the Ministry of Ports, Shipping and Waterways. 
The development follows the launch of a seaplane service between Kevadia and Sabarmati Riverfront in Ahmedabad by Prime Minister Narendra Modi on October 31, 2020.
The seaplane services to facilitate faster and hassle-free travel across the country will prove to be a game-changer, it said.
"Ministry of Ports, Shipping and Waterways (MoPSW) is initiating the process of commencing operations of the Seaplane services, on the select routes, under a Special Purpose Vehicle (SPV) framework through prospective airline operators," an official statement said.
The project execution and implementation would be through Sagarmala Development Company Ltd (SDCL), which is under the administrative control of the ministry.
Ministry of Ports, Shipping and Waterways :Mansukh L. Mandaviya, Minister of State (Independent Charge)
Indian student Harsh Dalal's startup  wins recognition in Singapore
A 19-year-old Indian student in Singapore is keeping his options open on a startup named "TEAMLABS" he has built with four applications in his teenage while schooling.
While keeping up with his schooling for a diploma in business administration at Singapore Polytechnic, Harsh Dalal, as CEO, has built 120-employee Team Labs' business across eight cities.
The software development company's clients include the Coca-Cola Company, Google and Hilton, featuring Dalal among young entrepreneurs shaping Singapore into a smart nation and for running a USD 25 million tech startup under "On The Red Dot" finds out programme.
He picked up coding at the age of 11 by spending hours watching YouTube tutorials and went on to jailbreak a cast-off iPhone 4, a gift from his mother, a business journalist.
CURRENT AFFAIRS: MOU 
MoU signed between NBCC & JKIT in Jammu, Srinagar
In an effort to bring about reforms in the Information Technology (IT) sector in Jammu and Kashmir, a Memorandum of Understanding (MoU) was signed between National Building Construction Corporation (NBCC) and JK IT Infrastructure Development Company for establishing IT towers in the cities of Jammu and Srinagar.
The MoU was signed in the presence of Jammu and Kashmir Lieutenant Governor Manoj Sinha.
The IT towers would be established at a cost of Rs 50 crore each.
CURRENT AFFAIRS: OBITUARIES 
Former Maharashtra minister Vilas Patil Undalkar passes away at 82
Former Maharashtra cabinet minister and seven-time Congress MLA Vilas Patil Undalkar He was 82.
He is an old Congress hand, Undalkar, popularly known as 'kaka', was elected seven times till 2014 from Karad-South Assembly seat, now represented by senior party leader Prithviraj Chavan.
In the 2014 state Assembly elections, the Congress denied ticket to Undalkar and fielded Chavan.
Undalkar served as minister in the law and justice and cooperative departments during the previous Congress-led state governments.
About Maharashtra:
Governor : Bhagat Singh Koshyari
Chief Minister : Uddhav Thackeray
Capital : Mumbai
Olympic bronze and World Cup winner hockey player Michael Kindo passes away
India's 1975 hockey World Cup-winning and 1972 Olympics bronze winning team member Michael Kondo He was 73.
Achievements:
Kindo, who was part of India's 1975 hockey World Cup-winning and 1972 Olympics bronze medal-winning teams, was conferred with the Arjuna Award in 1972.
The defender contributed to India clinching the bronze medal at the 1972 Olympics by scoring three goals as well.
He won a bronze in Olympic Games and all 3 categories of medals in World Cups.
Daily CA on Jan 03rd and 04th    
World Braille Day is observed every year on 4 January to celebrate the importance of braille, a form of communication and written language for people who are blind and visually challenged.
The Central government has formed a genomic surveillance consortium for laboratory and epidemiological surveillance of circulating strains of the SARS-CoV-2 in India.
Government has decided to extend the benefit of the scheme for Remission of Duties and Taxes on Exported Products (RoDTEP) to all export goods to boost exports.
The Drugs Controller General of India (DCGI) has formally announced the final approval for Oxford-AstraZeneca and Bharat Biotech vaccines against the coronavirus disease (Covid-19) for emergency use.
The Bureau of Police Research & Development (BPR&D) released Data on Police Organizations.The BPR&D has been publishing the Data on Police Organizations (DoPO), annually, since the year
Home Minister Amit Shah released the inaugural issue of the National Police K-9 Journal in New Delhi. It is the first such publication in the country on the subject of Police Service K9s, Police Dogs.
All shops and commercial establishments employing ten or more people in Karnataka are now allowed to operate on a 24×7 basis, the state government.
The Indian Space Research Organisation (Isro) is set to launch Amazonia-1, the first satellite to have been developed completely in Brazil by the National Institute for Space Research (INPE), the Latin American nation's apex space research body.
The Reserve Bank of India has constructed a composite Digital Payments Index (DPI) to capture the extent of digitisation of payments across the country.
Bharat Electronics Limited (BEL) has signed a contract with Indian Navy for initially supplying 20 Light Amplification by Stimulated Emission of Radiation Dazlers (Laser Dazzlers) in New Delhi.
India has been chosen as the IUCN-supported Asia Protected Areas Partnership (APAP) for 3 years and it could, on this capability, help different Asian nations in managing their protected areas.
Prime Minister inaugurates National Metrology Conclave 2021 through video conferencing. National Metrology Conclave 2021 was organised by the Council of Scientific and Industrial Research-National Physical Laboratory, New Delhi.
Goa's 14-year-old Leon Mendonca has become India's 67th chess GrandMaster (GM) by winning the third and final norm at a tournament in Italy.
Former Union minister, ex-MP from Rajasthan and Congress leader Buta Singh passed away. He was 86.
Daily CA on Jan 05th    
In 2002, Born Free USA in coordination with the Avian Welfare Coalitionlaunched the first annual National Bird Day to promote avian awareness.
The Food Safety and Standards Authority of India (FSSAI) has capped the amount of trans fatty acids (TFA) in oils and fats to 3% for 2021 and 2% by 2022 from the current permissible limit of 5%.
Indian Railways' South Western Railway zone will start operating train services from Bengaluru city station to the newly built KIA, Devanahalli Railway halt station.
Prime Minister Narendra Modi will dedicate the Kochi – Mangaluru Natural Gas Pipeline to the nation through video conference.
India launched the 40th Scientific Expedition to Antarctica. This Indian expedition marks four decades of the country's scientific endeavour to the southern white continent.
The 51st International Film Festival of India (IFFI) will open on 16th January, with the Indian premiere of the movie 'Another Round' by Thomas Vinterberg.
Delhi Government Department of Art, Culture, and Language has set up a Tamil Academy to Promote the language and culture of the southern state of Tamil Nadu.
North Zone Cultural Centre, Patiala (Ministry of Culture, Govt. of India) and Jammu & Kashmir Academy of Art, Culture & Languages, Jammu is jointly organizing National Folk Dance Festival from December 26-28.
Department for Promotion of Industry and Internal Trade is organizing Udyog Manthan – a marathon of focused sector-specific webinars for promoting Quality and Productivity in Indian Industry.
Digital channels of Prasar Bharati have registered more than 100 percent growth in 2020, with Pakistan being the second highest digital audience for Doordarshan (DD) and All India Radio (AIR).
The US Congress has passed the Malala Yousafzai Scholarship Act which will expand the number of scholarships available to Pakistani women to receive higher education under a merit and needs-based programme.
India has sent over six tons of relief material to Fiji for its cyclone-affected people, reflecting its close ties with the island nation in the South Pacific.
Union Minister Dharmendra Pradhan has inaugurated a migrant worker cell of Surat Municipal Corporation (SMC) at Udhna based iLab in Surat.
In Madhya Pradesh, 'Launch Pad Scheme' is being started for boys and girls coming out of child care institutions and having completed 18 years of age. 
On January 04, Justice S Muralidhar took oath as the 32nd Chief Justice of Orissa High Court.
Justice Vineet Kothari took oath as a Judge in Gujarat High Court.
On January 04, 2021, Lieutenant Governor Manoj Sinha administered the oath of office to Justice Pankaj Mithal as the new chief justice of the common high court for the Union Territory of Jammu & Kashmir and Union Territory of Ladakh.
Indian Army has inked a contract with M/s Goa Shipyard Limited for 12 Fast Patrol Boats for surveillance and patrolling of large water bodies, including those in high altitude areas. Delivery would commence from May 2021.
On December 31, 2020, Kolkata-based, Garden Reach Shipbuilders and Engineers (GRSE), delivered the last ship of the MK IV Landing Craft Utility (LCU) class vessel 'IN LCU L-58' (Yard 2099) to the Indian Navy.
State-run Bank of Baroda announced the launch of banking services on messaging platform
Indian Air Force Chief, Air Marshal R K S Bhadauria formally launched the IAF e-Governance (e-Office) portal in Vayu Bhavan, New Delhi. 
The Asian Development Bank (ADB) will provide a USD 100 million (around Rs 730 crore) loan to modernise and upgrade the power distribution system in Bengaluru city.
Bajaj Auto has become the first two-wheeler company in the world to cross a market capitalization of Rs 1 lakh crore, making it the most valuable two-wheeler maker.
The world's richest person made the single-largest charitable contribution in 2020, according to The Chronicle of Philanthropy's annual list of top donations, a $10 billion gift that is intended to help fight climate change.
The government is in the process to launch seaplane services on several routes, including Delhi-Ayodhya, in collaboration with the airline operators, the Ministry of Ports, Shipping and Waterways. 
A 19-year-old Indian student in Singapore is keeping his options open on a startup named "TEAMLABS" he has built with four applications in his teenage while schooling.
In an effort to bring about reforms in the Information Technology (IT) sector in Jammu and Kashmir, a Memorandum of Understanding (MoU) was signed between National Building Construction Corporation (NBCC) and JK IT Infrastructure Development Company for establishing IT towers in the cities of Jammu and Srinagar.
Former Maharashtra cabinet minister and seven-time Congress MLA Vilas Patil Undalkar He was 82.
India's 1975 hockey World Cup-winning and 1972 Olympics bronze winning team member Michael Kondo died. He was 73