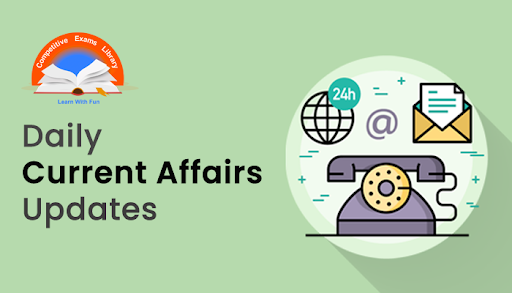 Dear Readers, Daily Current Affairs News Updates about the National and International events were listed here. Read Current Affairs Today here and stay updated with current news. Candidates those who are preparing for IBPS/SBI/PO/Clerk exam and all other competitive exams can use this and try Current Affairs Quiz to test your knowledge level.
CURRENT AFFAIRS: DAYS
World Tsunami Awareness Day
After the 2004 Tsunami, the United Nations General Assembly allocated November 5 as World Tsunami Awareness Day.
The day has been observed ever since its inception in December 2015. The main objective of this day is to raise awareness about Tsunami more among the million people living in small islands and low-lying coastal areas.
As per the UN, the term "tsunami" includes the Japanese words "tsu" (means harbour) and "nami" (means wave). A tsunami is a series of enormous waves caused by an underwater upset, usually earthquakes or underwater landslides or undersea volcanic eruptions.
International Day for Preventing the Exploitation of the Environment in War and Armed Conflict- 6 Nov
On 5 November 2001, the UN General Assembly declared 6 November of each year as the International Day for Preventing the Exploitation of the Environment in War and Armed Conflict.
In 2016, the United Nations Environment Assembly adopted a resolution which recognized the role of healthy ecosystems in reducing the risk of armed conflict.
It also reaffirmed its commitment to the implementation of the Sustainable Development Goals listed in General Assembly resolution entitled "Transforming our world: the 2030 Agenda for Sustainable Development".
CURRENT AFFAIRS: NATIONAL
Prahlad Singh Patel virtually inaugurates "Tourist Facilitation Centre" facility at Guruvayur, Kerala under PRASHAD Scheme
Union Minister of State (IC) for Tourism & Culture Shri Prahlad Singh Patel inaugurated the "Tourist Facilitation Centre" facility constructed under the project "Development of Guruvayur, Kerala" under PRASHAD Scheme of the Ministry of Tourism through Virtual Platform.
The 'National Mission on Pilgrimage Rejuvenation and Spiritual, Heritage Augmentation Drive' (PRASHAD) launched by the Ministry of Tourism in the year 2014-15 with the objective of integrated development of identified pilgrimage and heritage destinations.
The scheme aimed at infrastructure development such as entry points (Road, Rail and Water Transport), last mile connectivity, basic tourism facilities like Information/ Interpretation Centers, ATM/ Money exchange, eco-friendly modes of transport, area Lighting and illumination with renewable sources of energy, parking, drinking water, toilets, cloak room, waiting rooms, first aid centers, craft bazars /haats/ souvenir shops/ cafeteria, rain shelters, Telecom facilities, internet connectivity etc.
The project for "Development of Guruvayur" under the scheme was approved by the Ministry of Tourism with the cost or Rs. 45.36 crores in March 2017.  The component viz. 'Tourist Facilitation Centre' has been successfully completed with the cost of 11.57 Crores.
About MoC&T:
Minister of Culture and Minister of Tourism: Prahlad Singh Mulayam Singh Patel
Constituency: Damoh, Madhya Pradesh
CCEA approves Rs.1,810-crore investment for 210 MW Luhri Stage-I hydel project
The Cabinet Committee on Economic Affairs has approved the investment of 1,810.56 crore for the 210 MW Luhri Stage-I Hydro Electric Project located on the Sutlej river. The project will be situated in Shimla and Kullu districts of Himachal
This project will generate 758.20 million units of electricity annually. The construction will result in direct and indirect employment to around 2,000 persons and will contribute to overall socio-economic development of the State. The Project Affected Families will be provided with 100 units of free electricity per month for ten years," Union Minister Prakash Javadekar told journalists after the Cabinet meeting.
"The project would also lead to reduction of 6.1 lakh tonnes of carbon dioxide from the environment annually, thus contributing to improvement in air quality," he added.
An official statement stated that Himachal Pradesh will benefit with free power worth around 1,140 crore from the Luhri Stage-I Hydro Electric Project, during the Project Life Cycle of 40 years.
This project is being implemented by Satluj Jal Vidyut Nigam Limited (SJVNL) on Build-Own-Operate-Maintain (BOOM) basis with support from the centre and state governments.
CURRENT AFFAIRS: INTERNATIONAL
World's Biggest Pink Diamond Mine in Australia Stops Production
The world's largest pink diamond mine has shut its doors after exhausting its reserves of the expensive gems.
The Argyle mine, in the remote Kimberley region of Western Australia, churned out more than 90 percent of the world's pink diamonds — sought after for their incredible rarity.
The end of operations at Argyle is likely to push the price of the diamonds even higher.
About Australia
Prime minister: Scott Morrison
Capital: Canberra
Currency: Australian dollar
India  and Italy sign 15 agreements in various sectors; Reaffirm commitment to strengthen cooperation against common global challenges
India and Italy signed 15 agreements in various sectors following a Virtual Bilateral Summit between Prime Minister Narendra Modi and his Italian counterpart Giuseppe Conte. The agreements signed will provide for cooperation in a diverse range of areas including energy, green energy, shipbuilding and media sector.
The Summit provided an opportunity to the two leaders to comprehensively review the broad framework of the bilateral relationship. The two leaders reaffirmed their commitment to strengthen cooperation against common global challenges, including the Covid-19 pandemic. The leaders discussed a wide range of issues including political, economic, scientific & technological, space and defence cooperation.
The leaders discussed a wide range of issues including political, economic, scientific and technological, space and defence cooperation. On regional and international issues, both sides agreed to coordinate closely at multilateral fora especially G-20. Italy will assume the Presidency of G-20 in December 2021 followed by India in 2022. Together, India and Italy will be part of the G20 Troika from December this year.
India welcomed Italy's decision to join the International Solar Alliance as soon as the ratification process is completed. 15 MoUs and Agreements in various sectors such as energy, fisheries, ship building, design etc. were signed coinciding with the Summit.
About Italy:
President: Sergio Mattarella
Capital: Rome
Currency: Euro
CURRENT AFFAIRS: BANKING AND FINANCE
Reserve Bank to evaluate impact of 'RBI Kehta Hai' campaign
The Reserve Bank will evaluate the impact of multi-media public awareness campaign 'RBI Kehta Hai', which was launched in 14 languages to educate the public about safe banking and financial practices.
'RBI Kehta Hai' was the first even 360 degree campaign initiated by the central bank using all mass media, including media such as television, radio, newspapers, hoardings, web banners, gifs, social media and SMS.
In order to evaluate the impact of the public awareness campaign, the RBI has invited Expression of Interest (EoI) from eligible companies and other entities which have successfully completed at least five similar projects.
The RBI had launched the multi-media campaign with a view to create awareness among common man about good practices, regulations and initiatives in banking and financial sector.
As part of the campaign, messages have been launched on basic savings bank deposit accounts, customer liability in unauthorised electronic banking transactions, safe digital banking practices, banking facilities for senior citizens, banking ombudsman scheme, and cyber security, among others.
RBI announces co-lending scheme for banks, NBFCs
The Reserve Bank of India (RBI) issued guidelines under the co-origination model so that non-banking finance companies (NBFCs) and banks can jointly lend. The model envisages a joint lending process such that risks and rewards are shared. As per the guidelines, NBFCs need to retain a minimum of 20% share of the loans on their books.
The regulator has also prohibited banks from entering into a co-lending arrangement with an NBFC belonging to their promoter group. RBI had earlier permitted housing finance companies (HFCs), along with other NBFCs to adopt co-lending model with banks. Lenders believe that co-lending will bring down interest rates for HFCs.
"It has been decided to provide greater operational flexibility to the lending institutions, while requiring them to conform to the regulatory guidelines on outsourcing, KYC (know your customer), etc," RBI stated. The primary focus of the revised scheme, rechristened as the Co-lending Model (CLM), is to improve the flow of credit to the unserved and underserved sector of the economy. It also aims to make available funds to the ultimate beneficiary at an affordable cost, considering the lower cost of funds from banks and greater reach of the NBFCs, RBI further stated.
About RBI:
Headquarters: Mumbai
Governor: Shaktikanta Das
Deputy Governor: Shri M. K. Jain, Shri B.P. Kanungo, Michael Debabrata Patra
WhatsApp's payments service gets NPCI nod
The National Payments Corporation of India (NPCI) finally allowed Facebook-owned messaging platform WhatsApp to roll out its payments service in the country in a "graded" manner.
The announcement by NPCI came just minutes after the organisation made a crucial change to its regulations concerning the use of the Unified Payments Interface (UPI). The change puts a limit on single third parties such as WhatsApp or its rivals Google Pay and Walmart's PhonePe where they can only handle 30 per cent of overall UPI transaction volumes.
The NPCI runs the Unified Payments Interface (UPI) used for real-time payments between peers or at merchants' end while making purchases. The UPI channel has rapidly grown to become India's most favoured mode of digital transactions since its launch in terms of volumes.
Placing a cap on how much transaction volumes such companies can use will help in de-risking the entire set-up, according to the NPCI. The payments agency added that such a measure was an essential one since UPI, which surpassed two billion transactions a month in October, continues to grow.
About NPCI:
Founded:2008;
Headquarters: Mumbai, Maharashtra, India
(Non-Exe Chairman): Biswamohan Mahapatra
(MD & CEO): Dilip Asbe
CURRENT AFFAIRS: STATES
Chhattisgarh govt constitutes State Task Force Committee for COVID-19 vaccination
In Chhattisgarh, primary preparations for COVID-19 vaccination have started. The State Task Force Committee has been constituted for better interdepartmental coordination for COVID-19 vaccination.
A database of health workers working in all government and private health institutions of Chhattisgarh is being prepared as per the guidelines of the Government of India. This database will be helpful to decide the priority for COVID-19 vaccination.
State Health Minister T.S. Singhdeo stated that Chhattisgarh has made adequate arrangements for the storage and maintenance of vaccines. At present, 530 cold-chain points are operational and 80 new cold-chain points are being started for safekeeping of the vaccines. The total retention capacity of vaccines in the state is one lakh five thousand liters, which is 60 thousand liters more than the requirement. A state-level steering committee is also being formed under the chairmanship of Chief Secretary.
Besides, the District Task Force Committee will be constituted in all districts of the state. The mission director of the National Health Mission will be the State Nodal Officer for COVID-19 vaccination. At district level, Collectors will be the Nodal Officer.
About chhattisgarh :
Capital: Raipur
Governor: Anusuiya Uikey
Chief minister: Bhupesh Baghel
Bongaigaon District Administration initiates Mission Sampoorna to improve health of malnourished children
In Assam, Bongaigaon District Administration has initiated Mission Sampoorna in a bid to improve the health condition of the malnourished children. Deputy Commissioner Dr. Lakshmi Priya stated that the programme was started during the Poshan Maah in the district.
The Mission Sampoorna initiative is not only to improve the health of the malnourished child but also to relish the dream of women empowerment. She informed that there are 2,500 malnourished children in the district and within a month of launching this project, the health condition of 10 per cent of these children has already improved.
Lakshmi Priya stated that mothers are being involved in Self- Help Groups so that they could manage their livelihood so that the family does not lose their income. The mission aims to achieve the target in three months in this district.
About Assam:
Capital: Dispur
Chief minister: Sarbananda Sonowal
Governor: Jagdish Mukhi
PM to flag off Ro-Pax ferry service between Hazira-Ghogha in Gujarat
Prime Minister Narendra Modi will virtually inaugurate the Ghogha-Hazira Ro-Pax ferry service in Gujarat. This will be the second such ferry service to be launched by the PM after the Ghogha-Dahej route three years ago, which is now dysfunctional.
Both the services were launched to bridge the Gulf of Khambhat by providing a sea route to large number of passengers travelling to and fro between Bhavnagar located on the western side of the Gulf and South Gujarat on the east. The sea route would be shorter compared to the road.
The ferry between Ghogha — a fishing hamlet and an old port — and Hazira — a commercial greenfield port — which will be virtually inaugurated by PM Modi, is about 60 km-long and provides easier access to the city of Surat. Via land, the route is about 400 km. In comparison, the first ferry route inaugurated by PM Modi in October 2017, connects Ghogha to Dahej which lies near the mouth of Narmada river, north to Hazira. This route is about 32 kilometers and connects the Dahej PCPIR and Bharuch town.
About Gujarat:
Capital: Gandhinagar
Governor: Acharya Devvrat
Chief minister: Vijay Rupani
Assam: Rupsi Airport at Kokrajhar all set to start commercial operation by January 2021
In Assam, Rupsi Airport at Kokrajhar district is all set to start commercial operation under Regional Connectivity Scheme by January next year. Sources stated that the airport has been re-developed at an estimated cost of  69 crore rupees and has also received its license by Directorate General of Civil Aviation.
Spread across 337 acres of land, the newly developed airport has a terminal building with an area of 3,500 sqm. Equipped with 10 check-in counters, the terminal is designed to process 200 passengers during peak hours.
CURRENT AFFAIRS: MOU
Bangladesh signs MoU with Indian Company for collecting 3 crore COVID 19 vaccine doses
An MoU was signed between the government of Bangladesh, Beximco Pharmaceutical Ltd and the Serum Institute of India (SII) for priority delivery of  3 crore COVID 19 vaccine The process of development of the vaccine is in the final stages at University of Oxford and AstraZeneca.
Health Minister of Bangladesh Zahid Maleque and High Commissioner of India to Bangladesh Vikram Doraiswami were present on the occasion along with other senior officials of the Health Ministry of Bangladesh and the two companies.
About Bangladesh:
President: Abdul Hamid
Prime Minister: Sheikh Hasina
Capital: Dhaka
Currency: Bangladeshi Taka
Karnataka govt signs agreement with Tata Technologies to upgrade 150 Govt ITIs
The Government of Karnataka has entered into an agreement with Tata Technologies to upgrade 150 Government ITIs at a cost of 4,636.50 crore rupees. The agreement was signed in the presence of Chief Minister B. S. Yediyurappa in Bengaluru.
Along with Tata Technologies, about 20 other companies are contributing 4,080 crore rupees from their CSR funds for this programme. The remaining 657 crore rupees will be provided by the State Government. Each ITI will be upgraded at the cost of 30 crore rupees each.
According to the agreement, the ITIs being upgraded will be able to provide Industry 4.0 based training that will fetch better employment opportunities to the ITI skilled students. It is expected that more than one lakh youth will benefit every year.
About Karnataka:
Capital: Bengaluru
Governor: Vajubhai Vala
Chief minister: B. S. Yediyurappa
CURRENT AFFAIRS: ACQUISITIONS AND MERGERS
Pidilite Industries completes acquisition of Huntsman Group"s Indian subsidiary for Rs 2,100 cr
Pidilite Industries, the manufacturers of the popular Fevicol brand of adhesives, stated it has completed acquisition of the US-based Huntsman Group"s Indian subsidiary for Rs 2,100 crore.
"The company has completed the acquisition of 100 per cent stake in Huntsman Advanced Materials Solutions Private Ltd (HAMSPL), on November 3, 2020. As such, HAMSPL is now a subsidiary of the company," Pidilite Industries stated in a regulatory filing.
Huntsman Advanced Materials Solutions manufactures and sells adhesives, sealants and other products under brands such as Araldite, Araldite Karpenter and Araseal in the country.
The deal also includes the company"s Indian subcontinent business, apart from a trademark licence for the Middle East, Africa and ASEAN countries.
In 2019, Huntsman had a revenue of around Rs 400 crore from its operations.Under the deal, Huntsman received around 90 per cent of the cash consideration at closing and balance around 10 per cent within 18 months if the business achieves sales revenue in-line with 2019
CURRENT AFFAIRS: Cabinet Approvals
Cabinet Approves Signing Of MoU Between India, Spain For Scientific And Technical Collaborations In Astronomy
The Union Cabinet, chaired by Prime Minister Narendra Modi was apprised of signing of a Memorandum of Understanding (MoU) between Indian Institute of Astrophysics (IIA), Bengaluru and the Instituto de Astrofisica de Canarias (IAC) and the GRANTECAN, S.A. (GTC), Spain to develop scientific and technical collaborations in astronomy field.
The activities to be carried out under this MoU will lead to new scientific results, new technologies, capacity building through increased scientific interaction and training and joint scientific projects etc.
"The joint research projects, training programmes, conferences, seminars etc under the MoU will be open to all qualified scientists, students and technologists and will be supported solely on the basis of scientific merit and experience," the press statement read.
The development of segmented telescope technologies as well as the development of robotic telescopes and other future potential specific collaborations will be done.
About Spain:
Capital: Madrid
Currency: Euro
Cabinet approves signing of MoU between India, UK for co-operation in telecom, ICT
The Union Cabinet approved signing of a Memorandum of Understanding (MoU) between India and United Kingdom for co-operation in telecommunications and ICT.
The MoU will contribute towards strengthening bilateral cooperation and mutual understanding between the two sides, in the field of Telecommunications, and Information and Communication Technologies (ICTs), an official release stated.
The Union Cabinet has "given its approval for signing a Memorandum of Understanding between the Ministry of Communications of the Republic of India and the Department of Digital, Culture, Media and Sports (DCMS) of United Kingdom Government on cooperation in the field of Telecommunications/Information and Communication Technologies (ICTs)," the release stated.
Areas for cooperation include technological development in Telecom/ICT including 5G, Internet of Things, Machine to Machine, Cloud Computing, Big Data; ICT policy and regulation; spectrum management; connectivity including mobile roaming; standardisations, testing and certification; and wireless communications.
Other areas are security of telecommunication infrastructure, security in the provision and use of telecom services; building capacity in hi-tech areas and exchange of expertise; and collaboration and sharing of information on Research and Development in emerging technologies and innovation among others.
Cabinet Approves MoU Between India, Israel On Cooperation In Field Of Health And Medicine
The Union Cabinet chaired by Prime Minister Narendra Modi has approved the signing of the Memorandum of Understanding (MoU) between India and Israel on cooperation in the field of health and medicine.
According to a press statement from the cabinet, the MoU covers areas of cooperation in "Exchange and training of medical doctors and other health professionals".
It covers areas of cooperation in "Assistance in development of human resources and setting up of health care facilities; exchange of information regarding regulation of pharmaceutical, medical devices and cosmetics; sharing expertise for vulnerability assessment for health of citizens against climate risk and public health actions targeted towards mitigation and adaptation."
As per the statement, the MoU covers areas of cooperation in "Sharing of expertise for facilitating climate resilient infrastructure as well as providing support for development of 'Green Healthcare' (climate-resilient hospitals); promote mutual research in various relevant areas; and any other area of cooperation as may be mutually decided upon."
About Israel:
Prime minister: Benjamin Netanyahu
Capital: Jerusalem
Currency: Israeli Shekel
CURRENT AFFAIRS: APPOINTMENTS AND RESIGNATIONS
Former Delhi chief secretary MM Kutty to be chairperson of Air Quality Commission
The Centre has notified the Commission for Air Quality Management for the National Capital Region (NCR) days after it issued an ordinance on October 29 to set up the new agency with sweeping powers to monitor and act against sources of air pollution across five north Indian states. The ordinance empowers the agency to make rules, set emission standards, and slap fines of up to Rs1 crore or imprison violators for up to five years.
The Centre stated former Delhi chief secretary MM Kutty will be the Commission's first chairperson. Kutty is also ex-secretary, ministry of petroleum and natural gas.
In exercise of its powers under the ordinance, a selection panel under Union environment minister Prakash Javadekar's chairmanship selected Kutty. The panel that also comprises Union ministers Piyush Goyal, Nitin Gadkari, Harsh Vardhan; and cabinet secretary Rajiv Gauba has named Arvind Kumar Nautiyal, joint secretary, as the Commission's full-time member.
CURRENT AFFAIRS: AWARDS AND HONORS
Army Chief General MM Naravane conferred honorary rank of General of Nepali Army by Prez Bidya Devi Bhandari
Army Chief General MM Naravane has been conferred the honorary rank of General of the Nepali Army by President Bidya Devi Bhandari in Kathmandu. He was honoured at a special ceremony at the President's official residence 'Shital Niwas' in Kathmandu. He was also presented with a sword and scroll during the function. The ceremony was attended by the Prime Minister of Nepal K.P. Sharma Oli, Indian Ambassador Vinay M. Kwatra and other senior officials of both the countries.
The practice follows a seven decade old tradition of conferring Army Chiefs of each other's country with the honorary title.
Earlier in the morning, General Naravane laid a wreath and paid homage to the martyrs at the Bir Smarak Martyr's Memorial in the capital. On behalf of the Indian Government, he presented medical equipment for two field hospitals of the Nepalese Army. It includes equipment such as X-Ray machines, computed radiography systems, ICU ventilators and ambulances.
About Nepal:
Capital: Kathmandu
Prime minister: K. P. Sharma Oli
President: Bidhya Devi Bhandari
2nd National Water Awards 2019 Distribution Ceremony to be held on 11-12 Nov
Ministry of Jal Shakti, Department of Water Resources, River Development and Ganga Rejuvenation is organising the 2nd National Water Awards (NWAs) 2019 Distribution Ceremony on 11th& 12th November 2020 (11 am to 1 pm) through a virtual platform. The awards are given to motivate the individuals/organizations who are doing commendable work in the field of water resources conservation and management.
The NWAs focuses on the good work and efforts made by individual and organisations across the country, and the government's vision for the path to a 'Jal Samridh Bharat'. The event provides a good opportunity to start-ups as well as leading organisations to engage and deliberate with senior policymakers on how to further accelerate the 'Jal Shakti Abhiyan' in India. The event also provides an occasion for all people and organisations to further cement a strong partnership and people engagement in water resources conservation and management activities.
The National Water Awards 2019 is awarding the participants 98 number of awards in 16 different categories – Best State, Best District, Best Village Panchayat, Best Urban Local Body, Best Research/ Innovation/ New Technology, Best Education/ Mass Awareness effort, Best TV show, Best Newspaper, Best School, Best Institution/ RWA/ Religious Organisation, Best Industry, Best Water Regulatory Authority, Best Water Warrior, Best NGO, Best Water User Association, and Best Industry for CSR Activity. Each of the categories has sub-categories in different zones of the country.
About Ministry of Jal Shakti:
Ministry of Jal Shakti is a ministry under Government of India which was formed in May 2019 under the second Modi ministry. This was formed by merging of two ministries; Ministry of Water Resources, River Development & Ganga Rejuvenation and Ministry of Drinking Water and Sanitation.
Gajendra Singh Shekhawat, Cabinet Minister
Constituency: Jodhpur
Rattan Lal Kataria, Minister of State
Ministry of Water Resources to award Maharashtra villager
The Union Ministry of Water Resources has declared an award for a villager of Sangli Sampatrao Pawar for his contribution to the revitalization of the Agrani River.Mr. Pawar was the first person to come up with the idea of re-circulating the river which had disappeared due to mud, soil and bushes.
Agrani is a tributary of Krishna river originating from Tamkhadi village in Khanapur tehsil of Sangli district.In all, 107 villages in five tehsils of Sangli district fall under this river basin.It also has a tributary called Mahakali. The Agrani river disappeared due to mud, soil and bushes.
However, in 2013, the work of reviving this river started with the Jalyukt Shivar Abhiyan. Under the guidance of Sampatrao Pawar, the villagers of Balwadi and Benapur built a dam and inaugurated a pioneering revival project.
The work, which started with public participation, gained momentum and the long-lost river finally overflowed.
The commendable work by Mr Sampatrao pawar, which has been acknowledged by the Ministry of Water Resources will indeed inspire more people to engage in the revitalization of rivers.
CURRENT AFFAIRS: BOOKS AND AUTHORS
Rachna Bisht Rawat's 'Insomnia' is an engaging collection of tales about the Indian Army
Rachna Bisht Rawat's collection, titled 'Insomnia: Army Stories' captures the emotions of men who guard the nation. It is different from other army books which tell tales of valour. Rachna's characters are from real life, moulded with creative licence.
It places the revered bond of an Army officer, his family and his buddy (referred to as batman, sahayak or Man Friday over the years) under a different spotlight, one that is often hidden behind the hedgerows that line the prim and proper world of cantonments.
But in the 17 stories in Insomnia (published by Penguin), Rawat portrays an emotive picture of the lives of soldiers, their families and their brotherhood — "stories which only could be written by someone closely related to the Army,"
CURRENT AFFAIRS: SUMMITS AND CONFERENCE
PM Modi will lead Indian delegation to 20th Summit of SCO Council of Heads of States on Nov 10
Prime Minister Narendra Modi will lead the Indian delegation to the 20th Summit of SCO Council of Heads of States, which will be held virtually on 10th of this month.
The meeting will be chaired by President of Russia Vladimir Putin. Briefing media, MEA Spokesperson Anurag Srivastava stated, this will be the first SCO Summit to be held in virtual format and this is the third meeting that India will be participating as a full member.
India was granted observer status of SCO in 2005 and it became a full member in 2017. In the last three years, India has maintained extensive engagement in all fields under the SCO framework.
India hosts 5th Joint Working Group on Coal between India and Indonesia through video conference
India successfully hosted 5th Joint Working Group (JWG) on Coal between India and Indonesia through video conference due to travel restrictions on account of Covid-19 pandemic. The JWG was co-chaired from the Indian side by Vinod Kumar Tiwari, Additional Secretary, Ministry of Coal, Government of India and by Jonson Pakpahan, Director for Mineral and Coal, Non Tax State Revenue of Ministry of Energy and Mineral Resources, Republic of Indonesia, from the Indonesian side.
Tiwari provided an overview of the coal sector in India and presented emerging scenarios for the future. He highlighted India's initiatives for self-sufficiency in coal under Atmanirbhar Bharat and imperatives for businesses in the coal sector in both the countries.
The Ministry of Coal made presentations on Indian Coal Policy reforms, Coking Coal Exploration and Commercial Mining, followed by presentations by the Indonesian side on Coal Policy and Current Coal Business s, Deep Seated Coal Potential in Indonesia.
About Indonesia:
President: Joko Widodo
Capital: Jakarta
Currency: Indonesian rupiah
CURRENT AFFAIRS: SCIENCE AND TECHNOLOGY
IIT-Kharagpur to set up Centre of Excellence for Indian knowledge system, says education minister
The Indian Institute of Technology, Kharagpur, will set up a Centre of Excellence for the Indian knowledge system, the Union Education Minister Ramesh Pokhriyal Nishank announced while inaugurating the international webinar called 'Bharata Tirtha' organised by the institute.
"IIT-Kharagpur has attempted to introspect on the spirit of India, her challenges in the present times, and taken the right measures through an initiative like Bharata Tirtha and research," the minister stated.
CURRENT AFFAIRS: RANKING
Body mass index of Indian 19-year-olds among lowest in 200 countries
India ranks third and fifth from the bottom respectively among countries where 19-year-old girls and boys have a low body mass index, according to a study in The Lancet to be published. The study provides new estimates for height and BMI trends in 2019 across 200 countries after analysing data from 2,181 studies.
BMI is measured as the weight in kg divided by the square of the height in metres. World Health Organization guidelines define a normal BMI range as 18.5 to 24.9, overweight as 25 or higher, and obesity as 30 or higher.
The mean BMI of 19-year-old boys is 20.1 in India, compared to a high of 29.6 in the Cook Islands and a low of 19.2 in Ethiopia. For Indian girls, the mean BMI is again 20.1, compared to a high of 29.0 in Tonga and a low of 19.6 in Timor-Leste. The mean height of Indian 19-year-olds is 166.5 cm for boys and 155.2 cm for girls, well below the high of Netherlands boys (183.8 cm) and girls (170 cm).
CURRENT AFFAIRS: SPORTS
ICC Cricket Rankings 2020: ODI Ranking
Team:
| | | |
| --- | --- | --- |
| RANK | TEAM | RATING |
| 1 | England | 123 |
| 2 | India | 119 |
| 3 | New Zealand | 116 |
| 4 | Australia | 109 |
| 5 | South Africa | 108 |
BATTING
| | | |
| --- | --- | --- |
| RANK | PLAYER | RATING |
| 1 | Virat Kohli India | 871 |
| 2 | Rohit Sharma India | 855 |
| 3 | Babar Azam Pakistan | 837 |
| 4 | Ross Taylor New Zealand | 818 |
| 5 | Faf du Plessis South Africa | 790 |
BOWLING
| | | |
| --- | --- | --- |
| RANK | PLAYER | RATING |
| 1 | Trent Boult New Zealand | 722 |
| 2 | Jasprit Bumrah India | 719 |
| 3 | Mujeeb Ur Rahman Afghanistan | 701 |
| 4 | Chris Woakes England | 675 |
| 5 | Kagiso Rabada South Africa | 665 |
ALL ROUNDER
| | | |
| --- | --- | --- |
| RANK | PLAYER | RATING |
| 1 | Shakib Al Hasan Shakib Al Hasan Bangladesh | 373 |
| 2 | Mohammad Nabi Mohammad Nabi Afghanistan | 301 |
| 3 | Chris Woakes Chris Woakes England | 281 |
| 4 | Ben Stokes Ben Stokes England | 276 |
DAILY CA 5th  Nov
Army Aviation Corps Day- nov 1
National Stress Awareness Day- 1st wed of nov
International Stress Awareness Week- 2nd to 6th nov
Hardeep Singh Puri launches 'Nurturing Neighbourhoods Challenge'
President Kovind promulgates Arbitration and Conciliation (Amendment) Ordinance, 2020
79% of Indians would adopt a 'robot nanny' to help care for children while WFH: Survey
I&B Ministry sets up committee to review norms on TV ratings
India, GCC Troika hold annual Political Dialogue in virtual mode
UNGA adopts two India sponsored resolutions on Nuclear disarmament
AU Bank enters into agreement with Care Health
Visa Partners With DigitSecure, HDFC Bank For Global-First Live Deployment Of PCI Certified Tap To Phone Card Acceptance Solution
Bank of Baroda launches employee-assistance programme
Paytm ties up with SBI Card to launch co-branded credit cards
ICICI Bank launches banking stack for millennial customers
HDFC Bank appoints Ramesh Lakshminarayanan as Group Head – IT
Amazon India launches first all-women virtual customer service in Bengaluru
AP plans to set up 400 EV charging stations
Assam Education Dept launches toll free tele-education helpline number for govt school students
COVID-19 testing laboratory inaugurated at Rajiv Gandhi Intl Airport in Hyderabad
Tamil Nadu, HCL to set up disaster management analytics centre
Prasar Bharati signs MoU to launch 51 education TV channels
Magufuli wins second term in Tanzania presidential election
Vodafone Idea appoints Jagbir Singh as CTO
6 women led startups win COVID-19 Shri Shakti Challenge organized by MyGov in Collaboration with UN Women
Stanford University study names five from LVPEI among top 2% scientists of the world
Age Of Pandemics (1817-1920): How they shaped India and the World
Advanced version of Pinaka Rocket System successfully test-fired; 6 rockets launched
Bangladesh, US launch joint naval exercise 'CARAT Bangladesh 2020'
Tamil Nadu tops Indian states in new investments in H1FY21: CARE Ratings
Uttar Pradesh among Top 5 in MSME employment generators amid Covid-19
Telangana top performing state with maximum functional drinking water tap connections
West Indies all-rounder Marlon Samuels announces retirement from all forms of cricket
Actor Faraaz Khan passes away
DAILY CA 6th & 7th Nov
World Tsunami Awareness Day-5th nov
International Day for Preventing the Exploitation of the Environment in War and Armed Conflict- 6 Nov
Prahlad Singh Patel virtually inaugurates "Tourist Facilitation Centre" facility at Guruvayur, Kerala under PRASHAD Scheme
CCEA approves Rs.1,810-crore investment for 210 MW Luhri Stage-I hydel project
World's Biggest Pink Diamond Mine in Australia Stops Production
India and Italy sign 15 agreements in various sectors; Reaffirm commitment to strengthen cooperation against common global challenges
Reserve Bank to evaluate impact of 'RBI Kehta Hai' campaign
RBI announces co-lending scheme for banks, NBFCs
WhatsApp's payments service gets NPCI nod
Chhattisgarh govt constitutes State Task Force Committee for COVID-19 vaccination
Bongaigaon District Administration initiates Mission Sampoorna to improve health of malnourished children
PM to flag off Ro-Pax ferry service between Hazira-Ghogha in Gujarat
Assam: Rupsi Airport at Kokrajhar all set to start commercial operation by January 2021
Bangladesh signs MoU with Indian Company for collecting 3 crore COVID 19 vaccine doses
Karnataka govt signs agreement with Tata Technologies to upgrade 150 Govt ITIs
Pidilite Industries completes acquisition of Huntsman Group"s Indian subsidiary for Rs 2,100 cr
Cabinet Approves Signing Of MoU Between India, Spain For Scientific And Technical Collaborations In Astronomy
Cabinet approves signing of MoU between India, UK for co-operation in telecom, ICT
Cabinet Approves MoU Between India, Israel On Cooperation In Field Of Health And Medicine
Former Delhi chief secretary MM Kutty to be chairperson of Air Quality Commission
Army Chief General MM Naravane conferred honorary rank of General of Nepali Army by Prez Bidya Devi Bhandari
2nd National Water Awards 2019 Distribution Ceremony to be held on 11-12 Nov
Ministry of Water Resources to award Maharashtra villager
Rachna Bisht Rawat's 'Insomnia' is an engaging collection of tales about the Indian Army
PM Modi will lead Indian delegation to 20th Summit of SCO Council of Heads of States on Nov 10
India hosts 5th Joint Working Group on Coal between India and Indonesia through video conference
IIT-Kharagpur to set up Centre of Excellence for Indian knowledge system, says education minister
Body mass index of Indian 19-year-olds among lowest in 200 countries