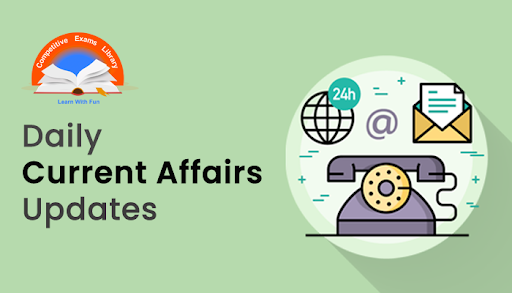 Dear Readers, Daily Current Affairs News Updates about the National and International events were listed here. Read Current Affairs Today here and stay updated with current news. Candidates those who are preparing for IBPS/SBI/PO/Clerk exam and all other competitive exams can use this and try the Current Affairs Quiz to test your knowledge level.
CURRENT AFFAIRS: NATIONAL NEWS
PM Chaired High-level meeting to commemorate 400th birth anniversary of Guru Tegh Bahadur 
Prime Minister Narendra Modi will chair a meeting of the High-Level Committee to commemorate the 400th Birth Anniversary of Guru Tegh Bahadur through video conferencing.
Home Minister Amit Shah will also attend the meeting.
The meeting will discuss the year-long calendar of events planned to mark this special occasion.
The High Level Committee was constituted by the Centre on 24th October last year, to approve policies, plans and programs related to the commemoration of the birth anniversary.
It has 70 members including the Prime Minister as Chairman.
Union Ministers Dr Harsh Vardhan and Arjun Munda jointly inaugurates Tribal Health Collaborative- 'Anamaya'
Union Health Minister Dr Harsh Vardhan and Tribal Affairs Minister Arjun Munda launched 'Anamaya'– the Tribal Health Collaborative through video conference.
A multi-stakeholder initiative supported by Piramal Foundation and Bill and Melinda Gates Foundation (BMGF), Anameya' will converge efforts of various Government agencies and organisations to enhance the health and nutrition status of the tribal communities.
On the occasion, Dr Vardhan said, in the past one year, several efforts have been made by the Health Ministry to jointly address the health gaps of the tribal communities with the Ministry of Tribal Affairs.
He said, recently, the Tribal TB Initiative was launched by both the Ministries to fulfill the Prime Minister's goal of TB Mukt Bharat by 2025, five years ahead of the global deadline.
Union Cabinet approved PLI Scheme for Air Conditioners and LED Lights 
The Union Cabinet has approved the Production Linked Incentive (PLI) Scheme– 'National Programme on High Efficiency Solar PV Modules' for achieving manufacturing capacity of Giga Watt with an outlay of Rs 4,500 crore.
The National Programme on High Efficiency Solar PV Modules will reduce import dependence in a strategic sector like electricity and will also support the Atmanirbhar Bharat
Addressing the media in New Delhi after the Cabinet Meeting, Commerce and Industry Minister Piyush Goyal said that the scheme will add an additional 10 thousand MegaWatt capacity of integrated solar Photovoltaic manufacturing plants and will bring direct investment of around Rs 17,200 crore in solar PV manufacturing projects.
He said direct employment of about 30 thousand and Indirect employment of about 1 lakh 20 thousand persons will be generated.
First online PDOT Programme for migrant workers unveiled to supplement physical training
The first online Pre-Departure Orientation Training, PDOT Programme for migrant workers was launched today to supplement physical training being held in PDOT Centres.
The Ministry of External Affairs in association with Protector of Emigrants, Mumbai and other POEs has taken this initiative in view of Covid restrictions and to take advantage of technology.
Online PDOT will continue even after COVID restrictions are eased to facilitate prospective migrants, who are not in a position to attend the training in-person, and to expand its reach.
PDO training would help migrant workers to know about the culture, language and regulations of the destination country to ensure their safety and security.
The initiative will provide prospective migrants with better skills and empower them further as they embark on the journey of migration.
Nearly 68% loans under PMMY accredit to women entrepreneurs
More than 28 crore 68 lakh loans for an amount of nearly 15 lakh crore rupees have been sanctioned since launch of Pradhan Mantri MUDRA Yojana.
The Yojana was launched in 2015 for providing loans upto 10 Lakh rupees to non-corporate, non-farm, small and micro-enterprises.
Finance Ministry has said that about 68 percent of loans have been given to women entrepreneurs and about 51 percent of loans have been given to SC, ST and OBC borrowers.
The Ministry of Labour and Employment has said that this yojana has helped in generation of 1 crore 12 lakh net additional employment from 2015 to 2018.
Women have accounted for 62 percent of this estimated increase in employment.
CURRENT AFFAIRS: INTERNATIONAL NEWS
PM Modi with Seychelles President Wavel Ramkalawan inaugurate range of Indian projects in Seychelles 
Prime Minister Narendra Modi and Seychelles President Wavel Ramkalawan will jointly inaugurate a range of Indian projects in Seychelles
The high level event will feature joint e-inauguration of the new Magistrates' Court Building, and handing over of a Fast Patrol Vessel to Seychelles Coast Guard.
It also includes handing over of a Solar Power Plant and inauguration of 10 High Impact Community Development Projects.
The new Magistrates' Court Building in the capital city Victoria is India's first major civil infrastructure project in Seychelles built with grant assistance.
It is a state of the art building which will substantially enhance the capacity of the Seychelles judicial system and aid in better delivery of judicial services.
The Fast Patrol Vessel, which is a modern and fully equipped naval ship, has been made in India and is being gifted to Seychelles under Indian grant assistance to strengthen its maritime surveillance capabilities.
CURRENT AFFAIRS: STATE NEWS
Sikkim: State Skill development Ministry to organize 1st regional workshop on PMKVY 3 at Gangtok 
Union ministry of skill development and entrepreneurship or MSDE will organize the first regional workshop to understand provisions of Pradhan Mantri Kaushal Vikas Yojana 3.0 or PMKVY 3.0 and to effectively implement the scheme in the NorthEast Region (NER) at Gangtok, Sikkim.
The states covered include Arunachal Pradesh, Assam, Manipur, Meghalaya, Mizoram Nagaland, Sikkim and Tripura.
The workshop is aimed at learning from the best practices and understanding the challenges related to PMKVY 3.0 and to build a detailed understanding on the use of the Skill India Portal.
Some participants will attend the event through videoconferencing.
CURRENT AFFAIRS: BUSINESS NEWS
IMF Projects growth rate for Bangladesh – 5 percent 
The International Monetary Fund has projected a 5 percent growth rate for Bangladesh for the year 2021.
In its latest World Economic Outlook released ahead of the spring meeting, the IMF projected that the Bangladesh economy will grow at 7.5 percent in the year 2022.
Consequently, the GDP of Bangladesh is projected to grow from USD 329 billion in 2020 to USD 352 billion in 2021.
The per capita GDP of Bangladesh currently at USD 1998 in 2020 will grow to USD 2122 in the year 2021 and USD 2330 in the year 2022.
The IMF also made an upward revision in the global growth rate projection to 6 percent for the year 2021 and 4.4 percent for 2022.
The report noted that an additional 95 million people are estimated to have fallen into extreme poverty in 2020.
Commenting on the high growth rate projection in the World Economic Outlook report, IMF Chief Economist Gita Gopinath said that the 1.9 trillion dollar US stimulus and adapting to the continuing pandemic by the countries has contributed substantially to the positive change in the growth outlook.
Digital healthcare platform Practo launches online consultations in 15 vernacular languages
Leading digital healthcare platform Practo launched online consultations in 15 vernacular languages.
New Delhi: This initiative will allow users to choose a doctor who can speak in their preferred languageincluding Hindi, Marathi, Tamil, Kannada and Bengali — with more to be added soon.
CURRENT AFFAIRS: BANKING NEWS
RBI decides to publish Financial Inclusion Index annually
The Reserve Bank of India has decided to publish the Financial Inclusion Index. 
To begin with, The FI index will be published annually in July for the previous financial year.
RBI's Governor Shaktikanta Das said, Financial Inclusion has been a thrust area for the Government, RBI and other regulators, with significant progress made over the years.
This index will be used to measure the extent of financial inclusion in the country.
It will use various parameters and shall reflect the broadening and deepening of financial inclusion in the country.
Financial Inclusion has been viewed as a key enabler for achieving inclusive and sustainable development worldwide.
CURRENT AFFAIRS: APPOINTMENT AND RESIGNATION NEWS
Tanla appointed Wipro veteran Viswanathan as its CFO
TanlaPlatforms Limited, a Communications Platform-as-a-Service (CpaaS) player, has roped in Aravind Viswanathan, who was with Wipro as its Senior Vice-President and CFO – iDEAS Global Business Line, as its Chief Financial Officer.
He will take charge on June 1.
Aravind joins the company from Wipro Limited, where he served as Senior Vice President and CFO – iDEAS Global Business Line.
Govt appointed S Ramann as SIDBI Chairman & MD
The government has appointed S Ramann as Chairman and Managing Director of Small Industries Development Bank of India (SIDBI).
The appointment is for a period of three years from the date of his assuming the charge or until further orders, a government statement said.
In December, Banks Board Bureau, the headhunter for state-owned banks and financial institutions, had recommended his name for the post.
Ramann, a 1991-batch Indian Audit & Accounts Service officer, is currently the CEO of National E-Governance Services Ltd, India's first Information Utility.
Vivo appointed Virat Kohli as its brand ambassadors 
Chinese smartphone major Vivo mentioned it has appointed cricketer Virat Kohlias its brand ambassador. 
With the association, Vivo aims to reach the millennials and technologically driven consumers and a 360-degree marketing approach will characterise the company's association with Kohli, a statement said.
The BBK Electronics' owned Chinese Smartphone Company, according to market sources privy to the development, is engaged in negotiations to sign Kohli as the brand's India ambassador.
The IPL title sponsor, third-largest selling smartphone brand in India, is also aiming to launch a massive campaign with Kohli during the IPL.
Governor appointed Selvakumar as Vice-Chancellor of TANUVAS  
Tamil Nadu Governor and Chancellor Banwarilal Purohit appointed KN Selvakumar as the new Vice-Chancellor (V-C) of the Tamil Nadu Veterinary and Animal Sciences University (TANUVAS).
Selvakumar, the senior most serving professor of the varsity, will hold the post for three years, according to a statement issued by the Raj Bhavan.
He has teaching experience of around 32 years and is currently serving as the Dean of Madras Veterinary College.
CURRENT AFFAIRS : SCIENCE & TECHNOLOGY
Union Health Minister Dr Harsh Vardhan launches Integrated Health Information Platform
On April 05, 2021, Dr Harsh Vardhan, Union health minister virtually launched the Integrated Health Information Platform (IHIP).
The Integrated Health Information Platform is the next generation highly refined version of the presently used Integrated Disease Surveillance Programme (IDSP).
India is the first country in the world to adopt such an advanced disease surveillance system.
It is the world's biggest online disease surveillance
NCDC and WHO are associated with the development of the platform.
The National Digital Health Mission and fully compatible with the other digital information systems presently being used in India.
A health information system developed for real-time, case-based information, integrated analytics, advanced visualization capability.
IIHP to track 33 diseases now as compared to the earlier 18 diseases.
It is an advanced digital platform for scouting the earliest signs of disease spread in the smallest of villages and blocks in the country will immensely help in nipping in the bud any potential outbreak or epidemic.
About NCDC :
Director : Sujeet Kumar Singh
Headquarters : New Delhi
Comes Under Ministry of Health and Family Welfare
About WHO :
Headquarters: Geneva, Switzerland
Founded: 7 April 1948
CJI launches top court's SUPACE – AI-driven research portal
On April 06, 2021, The Supreme Court unveiled its Artificial Intelligence (AI) portal SUPACE, designed to make research easier for judges, thereby easing their workload.
The AI portal Supreme Court Portal For Assistance in Court's Efficiency (SUPACE) was launched  in the presence of incumbent CJI Bobde, Justice Nagrewara Rao, and CJI designate Justice N V Ramana.
It is a tool that collects relevant facts and laws and makes them available to a judge.
Through this portal, the SC intends to leverage machine learning to deal with the vast amounts of data received at the time of filing of cases.
Justice L Nageshwara Rao, who is also the chairman of the SC's Artificial Intelligence Committee, delivered the opening address during the virtual launch of SUPACE.
Chief Justice of India (CJI) SA Bobde was the first-ever chairman of the Artificial Intelligence Committee.
CJI Bobde first spoke of the use of AI to assist the Supreme Court soon after he took oath as the Chief Justice in 2019.
About Supreme Court of India :
Established: 26 January 1950
Total Number of Judges : 34
CURRENT AFFAIRS : BOOKS & AUTHORS
PM Modi Release Hindi Version of Odisha Itihaas
Prime Minister Shri Narendra Modi will release the Hindi translation of the book 'Odisha Itihaas'.
It was written by 'Utkal Keshari' Dr. Harekrushna Mahtab on 9th April 2021 from Ambedkar International Center, Janpath, New Delhi.
The book, available in Odia and English.
It has been translated into Hindi by Shri. Shankarlal Purohit.
The event marking the release of the Hindi version has been organised by Harekrushna Mahtab Foundation.
About Dr. Harekrushna Mahtab :
He served as Chief Minister of Odisha from 1946 to 1950 and from 1956 to 1961.
He wrote the book 'Odisha Itihaas' in Ahmednagar Fort Jail, where he was imprisoned for more than two years during 1942-1945.
A Book Titled Exam Warriors Updated Version Released by PM Modi                              
On March 29, 2021, The updated version of Prime Minister Narendra Modi's book named 'Exam Warriors' was launched.
About the Book :
The book gives out various suggestions to both students and parents to deal with the examination pressure and stress.
To raise awareness on topics like mental health, role of technology and time management.
The book has been made available both online and in the bookstores.
The book has new Mantras and a range of interesting activities.
The book reaffirms the need to remain stress free before an exam.
Note :
Exam Warriors, first published in 2018.
It was written by PM Modi to help young students deal with the stress of exams.
Published in 15 languages, its Braille version was launched on World Braille Day (January 4) in 2020.
CURRENT AFFAIRS : OBITUARIES 
President of Gita Press Radheshyam Khemka passes away 
The president of Gita Press, Radheshyam Khemka, passed away.
He was 87.
Radheshyam Khemka, was editor of Kalyan, a famous magazine of Sanatan Dharma for nearly 40 years
About Gita Press :
Gita Press was founded in 1923 by Jaya Dayal Goyanka and GhanshyamDas Jalan for promoting the principles of Sanatana Dharma.
Gita Press is the world's largest publisher of Hindu religious texts.
The press is located in Gorakhpur city of Uttar Pradesh.
Daily CA on April 06 & 07 :
The United Nations General Assemblyhas designated 5 April to be observed as an International Day of Conscience every year. 2021 Theme: "Let Conscience Light up our World".
The International Day of Sport for Development and Peace is an annual celebration of the power of sport to drive social change, community development and to foster peace and understanding.
The World Health Day is a global health awareness day celebrated every year on 7 April, under the sponsorship of the World Health Organization, as well as other related organizations.
The Information and Broadcasting Ministry has urged private TV channels to generate greater awareness on the message of Dawai Bhi Kadai Bhiby disseminating messages for COVID-appropriate behavior and vaccination of eligible persons.
Prime Minister Narendra Modi has lauded the completion of Arch closure of the Chenab Bridge. It is the world's highest Railway Bridge in Jammu and Kashmir.
Russiahas become the first country in the world to register the coronavirus vaccine for animals.
The state government of Rajasthan has launched a cashless medical insurance scheme titled "Mukhyamantri Chiranjeevi Swasthya Bima Yojana",aimed at providing medical relief to all residents of the state.
The Chief Electoral Officer of West Bengal Ariz Aftab launched two SVEEP Trams in Kolkata to increase voters' awareness and to encourage more and more eligible electors to exercise their democratic rights.
India has attracted a total FDI inflow of USD 72.12 billion during April 2020 to January, 2021. 
The International Monetary Fund (IMF) has upgraded its growth projection for India to 12.5 per cent for the Financial Year 2021-22. 
Reserve Bank of India Governor Shaktikanta Das noted that the monetary policy committee voted unanimously to leave the repo rate and reverse repo rate unchanged at 4 and 3.3.5 per cent, respectively. 
RBI twin the deposit limit of payments banks to Rs.2 lakh
The Reserve Bank of India (RBI) has decided to enhance the aggregate limit of ways and means advance (WMA) limitfor all States and Union Territories to Rs.47,010 crore, which is an increase of 46 per cent from the current limit of 32,225 crore.
The RBI had issued guidelines in October 2018 for the adoption of interoperability voluntarily for full-KYC PPIs.
The Reserve Bank of India (RBI) will provide refinance aggregating 50,000 crore to All India Financial Institutions (AIFIs). 
In Q1, RBI to conduct G-SAP aggregating Rs.1-lakh crore.
Bengaluru-based non-life insurance company 'Digit Insurance'has roped in veteran cricketer Virat Kohli as its brand ambassador.
President Ram Nath Kovind has appointed Justice N V Ramana as the 48th Chief Justice of India, accepting the recommendation made by the outgoing CJI SA Bobde.
Vietnam's National Assembly confirmed Pham Minh Chinh, a career security official, as the Southeast Asian country's next Prime Minister at an official ceremony.
Ola Electric, India's leading mobility company, announced the appointment of Yongsung Kim as head of global sales and distribution, overseeing India and international markets.
Tarun Bajaj to take full time charge of Revenue.
Professor Suman Chakraborty has been selected for the 30th GD Birla Award for Scientific Research.
Spices Board India under the Ministry of Commerce and Industry and UNDP India's Accelerator Lab signed a MoU with the aim to build a blockchain based traceability interface for Indian spices to enhance transparency in supply chain and trade.
The fourth batch of three Rafale fighter jets landed in India after flying non-stop from Istres Air Base France.
On April 01, 2021, Anil Ambani Group's Reliance Infrastructure (RInfra) sold its headquarters (HQ) in Mumbai's Santacruz to YES Bank for Rs 1,200 crore.
On April 01, 2021   (BDL) Started flags off Akash Missile for Delivery to Indian Army. It was flagged off by Lt Gen A P Singh, AVSM, Director General and Senior Colonel Commandant, Army Air Defence 
On April 01, 2021, Defence Research and Development Organisation (DRDO) developed a lightweight bullet-proof jacket for Indian Army.
A book titled Cinema Through Rasa: A Tryst with Masterpieces in the Light of Rasa Siddhanta authored by Prachand praveer
A new species of flowering plants, recently discovered in south Maharashtra's Kolhapur
On April 06, 2021, The 35th edition Forbes World's Billionaires list was released.
On March 02, 2021, the 2023 men's boxing World Championships will be held in Uzbekistan capital Tashkent.
The 2021 Miami Open Tennis Tournament  Hubert Hurkacz of Poland defeated Italian teenager Jannik Sinner in straight sets.
On April 04, 2021, Founder member of the Samajwadi Party (SP) and former UP minister Bhagwati Singh Passed away.
Daily CA on April 8 :
Prime Minister Narendra Modi will chair a meeting of the High-Level Committee to commemorate the 400th Birth Anniversary of Guru Tegh Bahadur through video conferencing.
Union Health Minister Dr Harsh Vardhan and Tribal Affairs Minister Arjun Munda launched 'Anamaya'– the Tribal Health Collaborative through video conference
The Union Cabinet has approved the Production Linked Incentive (PLI) Scheme– 'National Programme on High Efficiency Solar PV Modules' for achieving manufacturing capacity of Giga Watt with an outlay of Rs 4,500 crore.
The first online Pre-Departure Orientation Training, PDOT Programme for migrant workers was launched today to supplement physical training being held in PDOT Centres.
More than 28 crore 68 lakh loans for an amount of nearly 15 lakh crore rupees have been sanctioned since launch of Pradhan Mantri MUDRA Yojana.
Prime Minister Narendra Modi and Seychelles President Wavel Ramkalawan will jointly inaugurate a range of Indian projects in Seychelles
Union ministry of skill development and entrepreneurship or MSDE will organize the first regional workshop to understand provisions of Pradhan Mantri Kaushal Vikas Yojana 3.0 or PMKVY 3.0 and to effectively implement the scheme in the NorthEast Region (NER) at Gangtok, Sikkim.
The International Monetary Fund has projected a 5 percent growth rate for Bangladesh for the year 2021.
The Reserve Bank of India has decided to publish the Financial Inclusion Index. To begin with, The FI index will be published annually in July for the previous financial year.
TanlaPlatforms Limited, a Communications Platform-as-a-Service (CpaaS) player, has roped in Aravind Viswanathan, who was with Wipro as its Senior Vice-President and CFO – iDEAS Global Business Line, as its Chief Financial Officer.
The government has appointed S Ramann as Chairman and Managing Director of Small Industries Development Bank of India (SIDBI).
Chinese smartphone major Vivo mentioned it has appointed cricketer Virat Kohlias its brand ambassador. 
Tamil Nadu Governor and Chancellor Banwarilal Purohit appointed KN Selvakumar as the new Vice-Chancellor (V-C) of the Tamil Nadu Veterinary and Animal Sciences University (TANUVAS).
On April 05, 2021, Dr Harsh Vardhan, Union health minister virtually launched the Integrated Health Information Platform (IHIP).
On April 06, 2021, The Supreme Court unveiled its Artificial Intelligence (AI) portal SUPACE, designed to make research easier for judges, thereby easing their workload.
Prime Minister Shri Narendra Modi will release the Hindi translation of the book 'Odisha Itihaas'.
On March 29, 2021, The updated version of Prime Minister Narendra Modi's book named 'Exam Warriors' was launched.
The president of Gita Press, Radheshyam Khemka, passed away. He was 87. Radheshyam Khemka, was editor of Kalyan, a famous magazine of Sanatan Dharma for nearly 40 years