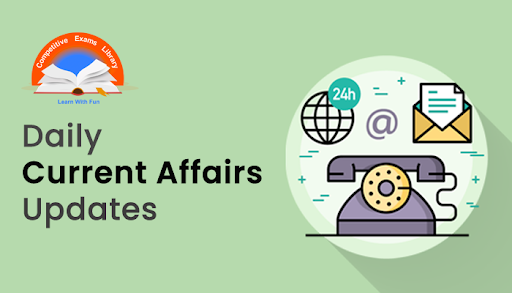 Dear Readers, Daily Current Affairs News Updates about the National and International events were listed here. Read Current Affairs Today here and stay updated with current news. Candidates those who are preparing for IBPS/SBI/PO/Clerk exam and all other competitive exams can use this and try the Current Affairs Quiz to test your knowledge level.
CURRENT AFFAIRS: IMPORTANT DAYS
National Technology Day – Observed on May 11
National Technology Day2021 on May 11 celebrates the achievements and contributions of Indians to science and technology.
The themeof the National Technology Day 2021 theme is "Science and Technology for a Sustainable Future".
The day acts as a reminder of the country's technological advancements.
This day serves as a reminder of India breaking into the elite group of nations with nuclear weapons. The National Technology Day was observed for the first time on May 11, 1999.
CURRENT AFFAIRS: NATIONAL NEWS
National Horticulture Board cleared a record 1278 pending subsidy applications 
The Agriculture Ministry stated its autonomous body National Horticulture Board (NHB) has cleared a record 1,278 pending subsidy applications for integrated development of hi-tech commercial horticulture, including promotion of post-harvest.
"The team NHB has worked in a campaign mode to complete this commendable task," it said in a statement.
Agriculture Secretary and Chairman of the Managing Committee of NHB Sanjay Agarwal kept a regular watch on the progress and continuously guided the NHB officials, it added.
Under the direct supervision of the ministry, the NHB has also taken a lot of steps for ease of doing business by simplification of scheme guidelines, documentation and processing process of new applications, it noted.
According to the ministry, the NHB has released the subsidy to 357 beneficiaries, while 921 new projects have been approved in the last one year.
More than 1 lakh Metric Tonnes of food grains distributed to over 2 crore beneficiaries under PMGKAY-3
The Secretary, Department of Food & Public Distribution Shri Shudhanshu Pandey briefed the media persons about PMGKAY-3 and One Nation One Ration Card scheme through a virtual press conference.
Secretary stated that "Pradhan Mantri Garib Kalyan Anna Yojana" (PM-GKAY III),department started implementation of  "Pradhan Mantri Garib Kalyan Anna Yojana" (PM-GKAY III) for two months period i.e. May and  June 2021 in same pattern as earlier by providing an additional quota of free-of-cost food grains (Rice/Wheat) at a scale of 5 Kg per person per month, over and above their regular monthly NFSA entitlements to about 80 Crore beneficiaries covered under both categories of NFSA, namely Antyodaya Anna Yojana (AAY) and Priority Householders (PHH). 
The Government of India will bear all expenditure of over Rs 26,000 Crore on account of food subsidy and Central assistance to states/UTs on account of intrastate transportation etc.
About Pradhan Mantri Garib Kalyan Anna Yojana:
Pradhan Mantri Garib Kalyan Anna Yojana is a food security welfare scheme announced by the Government of India in March 2020, during the COVID-19 pandemic in India.
The program is operated by the Department of Food and Public Distribution under the Ministry of Consumer Affairs, Food and Public Distribution.
SC constitute the 12 member national task force to streamline oxygen allocation across country
The Supreme Court formed a 12-member task force to ensure medical oxygen is delivered throughout the country in a streamlined manner.
A bench headed by Justice DY Chandrachud set up the task force to assess and recommend the need and distribution of oxygen throughout India.
The court-appointed task force will also provide a public health response on the basis of a scientific approach on issues of essential drugs, manpower and medical care to rural areas.
The task force consists of 10 doctors and the convener of the task force will be the cabinet secretary to the Centre.
The secretary to the health ministry is also part of the 12-member committee formed by the Supreme Court.
CURRENT AFFAIRS: INTERNATIONAL NEWS
Foreign Secretary welcomes new US Charge d'Affaires Ambassador 
Foreign Secretary Harsh V Shringla welcomed new US Charge d'Affaires Ambassador Daniel B. Smith.
Mr Shringla conveyed appreciation for USA's solidarity and assistance in dealing with the current COVID pandemic situation. 
Both agreed to work together in enhancing vaccines and essential pharma cooperation, including raw materials supply.
Both officials said they are looking forward to maintaining the upward trajectory of the strategic partnership.
About USA:
President: Joe Biden Trending
Capital: Washington, D.C.
Currency: United States Dollar
Nepal's opposition parties begins to form new government
Nepal PM KP Sharma Oli lost the vote of confidence at the Lower House.
Coalitions of more than two parties representing in the parliament, who will form Nepal's new government, have already started consultations over the next leadership.
Opposition leaders, Sher Bahadur Deuba, Pushpa Kamal Dahal and Upendra Yadav had called on President Bidya Devi Bhandari to initiate government formation procedure, soon after the commencement of a special session of parliament.
About Nepal:
Capital: Kathmandu
Currency: Indian rupee
CURRENT AFFAIRS: STATE NEWS
Puducherry becomes 'Har Ghar Jal' Union Territory
Puducherry has become 'Har Ghar Jal' UT by ensuring that every rural home in the Union Territory gets a household tap connection.
With this, the UT becomes the fourth State/UT after Goa, Telangana and Andaman & Nicobar Islands to provide assured tap water supply to every rural home under Union Government's flagship programme, Jal JeevanMission.
Despite challenges faced due to CoVid-19 pandemic, Jal Jeevan Mission is being implemented in partnership with States/ UTs to provide safe tap water in adequate quantities of prescribed quality on a regular and long-term basis to every rural home by 2024. 
About Jal Jeevan Mission:
The Mission was launched on August 15, 2019.
Jal Jeevan Mission is envisioned to provide safe and adequate drinking water through individual household tap connections by 2024 to all households in rural India.
The programme will also implement source sustainability measures as mandatory elements, such as recharge and reuse through grey water management, water conservation, rain water harvesting.
The Jal Jeevan Mission will be based on a community approach to water and will include extensive Information, Education and communication as a key component of the mission.
Maharashtra govt to offer free treatment to Mucormycosis patients
Health Minister Rajesh Tope stated that Patients of Mucormycosis, a serious but rare fungal infection now affecting those suffering from coronavirus, will be treated for free under the Maharashtra government's flagship medical insurance scheme.
Mucormycosis patients will be covered under the Mahatma Jyotiba Phule Jan Arogya Yojana since the medicines required to combat the fungal infection are expensive, an official statement quoted Tope as saying.
According to the statement, he said patients will be treated free of cost at 1,000 hospitals covered under the health scheme.
The minister said symptoms of the disease are being seen in those COVID-19 patients who are diabetic and whose diabetes is not under control.
CURRENT AFFAIRS: BUSINESS NEWS
Karnataka: Ola begins to donate doorstep delivery of o2 concentrators in Bengaluru
Ola Foundation, the philanthropic arm of Ola, has partnered with donation platform GiveIndia to provide consumers with oxygen concentrators amid the deadly second wave of the Covid pandemic.
The service, which will be provided for free through the Ola app, will start rolling out in Bengaluru from this week with an initial set of 500 oxygen concentrators.
Ola and GiveIndia will scale it up across the country with up to 10,000 concentrators in the coming weeks.
LifeCell introduces OmegaScore, a critical diagnosis test – for newborn's health,
With an aim to provide the best possible healthcare to every child born in India, LifeCell has introduced the first-of-its-kind diagnostic test called Omega Score.
The OmegaScore-Prenatal and OmegaScore-Newborn test has been specially designed for Indian pregnant women as well as mothers respectively to determine the concentration of a critical omega-3 fatty acid, DHA, also known as docosahexaenoic acid.
This fatty acid has been proven to be essential for the overall health and cognitive development of a child.
CURRENT AFFAIRS: BANKING NEWS
HDFC Bank and CSC jointly launches chatbot 'Eva'
Private lender HDFC Bank and Common Services Centers (CSCs) jointly announced the launch of chatbot 'Eva' on CSC's Digital Seva Portal to support Village Level Entrepreneurs (VLEs) in providing banking services for last-mile rural consumers.
Via Eva, VLEs will get help in learning about the products and services offered by HDFC Bank, which in turn will be improving services offered to the last mile customers.
The service will be available 24×7.
It will allow the VLEs in accessing accurate information pertaining to various products, processes and resolve queries about HDFC Bank's services.
VLEs would also be to improve their business by learning about account opening, loan lead generation, and product details.
About HDFC:
CEO: Sashidhar Jagdishan
Headquarters: Mumbai
Tagline: We understand your world
Federal Bank, Mashreq Bank of UAE sign an ink pact – to offer money transfer
Federal Bank, Mashreq Bank of UAE ink pact, to offer money transfer.
Federal Bankhas entered into a tie-up with Mashreq Bank, a leading financial institution in the UAE, to facilitate money transfers to India.
The partnership will support Mashreq'sfaster payment product, QuickRemit.
About Federal Bank:
Headquarters: Aluva
CEO: Shyam Srinivasan
Tagline: Your Perfect Banking Partner
CURRENT AFFAIRS: APPOINTMENT AND RESIGNATION NEWS
RBI appointed Jose Kattoor as Executive Director
The Reserve Bank of India appointed JoseJ Kattoor as Executive Director (ED) with effect from 4 May 2021, the central bank said in a press release.
Before being promoted as ED, Kattoorwas heading Bengaluru Regional Office of the RBI as regional director for Karnataka.
PESB appointed Arun Kumar Singh as next CMD of BPCL
Arun Kumar Singh, who currently holds two key responsibilities at disinvestment-bound Bharat Petroleum Corporation Limited (BPCL), is set to be the next Chairman and Managing Director (CMD) of the oil marketing major.
He has been recommended for the BPCL CMD post by the Public Enterprises Selection Board (PESB)
He is serving as Director (Marketing) in the same Maharatna PSU and also holds additional charge of the post of Director (Refineries).
Currently, BPCL's Director (HR) K Padmakar holds the additional charge of the BPCL CMD post.
Padmakar was given an additional charge of the post in September 2020 after Rajkumar's superannuation.
HUL appointed Srinandan Sundaram as head of its foods and refreshment business
Hindustan Unilever (HUL) has announced the appointment of Srinandan Sundaram, currently serving as the Executive Director, Customer Development to the post of Executive Director, Foods and Refreshment.
Sundaramwill be replacing Sudhir Tripathi, who will be leaving HUL after 22 years to pursue an external opportunity.
CURRENT AFFAIRS : SUMMITS & CONFERENCES
India participates in the 3rd Arctic Science Ministerial
India Participated in the 3rd Arctic Science Ministerial (ASM3) – the global platform for discussing research and cooperation in the Arctic region On May 08th and 09th 2021.
Theme of 2021 :
Knowledge for a Sustainable Arctic'.
Purpose :
The meeting is designed to provide opportunities to various stakeholders, including academia, indigenous communities, governments and policymakers, to enhance collective understanding of the Arctic region, emphasize and engage in constant monitoring, and strengthen observations.
The first two meetings ASM1 and ASM2 were held in the USA in 2016 and Germany in 2018
About ASM3 :
3rd Arctic Science Ministerial (ASM3) jointly organised by Iceland and Japan.
It is the first Ministerial meeting being held in Asia (Tokyo in Japan )
India shared its plans to contribute observing systems in the Arctic, both in-situ and by remote sensing. 
It would deploy open ocean mooring in the Arctic for long-term monitoring of upper ocean variables and marine meteorological parameters. 
The launch of NISER (NASA-ISRO Synthetic Aperture Radar) satellite mission, in collaboration with the USA, is underway.
NISER aims to conduct global measurements of the cause and consequences of land surface changes using advanced radar imaging. India's contributions to the Sustained Arctic Observational Network (SAON).
CURRENT AFFAIRS : SCIENCE & TECHNOLOGY
In 2022 SpaceX accepts Dogecoin as payment to launch lunar mission 
SpaceX will launch the "DOGE-1 Mission to the Moon" in the first quarter of 2022, with Elon Musk's commercial rocket company accepting the meme-inspired cryptocurrency dogecoin as payment.
It will be the First crypto in space  and First meme in space.
On crypto data tracker com, dogecoin has jumped more than 800% over the last month and is now the fourth-largest digital currency
About the Mission :
DOGE-1 represents a 40 kilogram cube satellite flying as a payload on a Falcon 9 rocket.
This mission will demonstrate the application of cryptocurrency beyond Earth orbit and set the foundation for interplanetary commerce.
About SpaceX :
Founder & CEO : Elon Musk
SpaceX Vice President of Commercial Sales : Tom Ochinero
Founded: 6 May 2002
Headquarters: Hawthorne, California, United States
 Long March 5B lands in Indian Ocean            
On May 09, 2021, China's biggest rocket Long March 5B lands in Indian Ocean
Its lands with the bulk of its components destroyed upon re-entry into the Earth's atmosphere.
Parts of the Long March 5B re-entered the atmosphere and landed at a location with the coordinates of longitude 72.47 degrees east and latitude 2.65 degrees north.
Most of the debris was burnt up in the atmosphere.
The coordinates put the point of impact in the ocean, west of the Maldives archipelago.
The Long March was the second deployment of the 5B variant since its maiden flight in May 2020. 
About China Manned Space Engineering Office :
Headquarters : Beijing
Director : Yu Tongjie
The China Manned Space Engineering Office (CMSEO) provides engineering and administrative functions for the human spaceflight effort of the People's Republic of China.
CMSEO is a special department within the People's Liberation Army General Armaments
About China :
President: Xi Jinping
Capital: Beijing
Currency: Renminbi
CURRENT AFFAIRS : SPORTS NEWS
ICC Players of the Month for April 2021 : Australia Alyssa Healy & Pakistan's Babar Azam Wins        
In the Men's Category, Pakistan skipper Babar Azam has been named the ICC Men's Player of the Month for April 2021.
It is for his consistent and stellar performances across all formats in the recently concluded series against South Africa.
In the Women's category, Alyssa Healy of Australia has won the ICC Women's Player of the Month for April 2021.
It is For The Month accolade for her incredible performances during the month of April.
Purpose of ICC Players of the Month Awards :
The ICC Player of the Month Awards recognise and celebrate the best performances from both male and female cricketers across all forms of international cricket throughout the year.
About ICC :
Chairperson: Greg Barclay
Deputy Chairman: Imran Khwaja
CEO: Manu Sawhney
Headquarters: Dubai, United Arab Emirates
Founded: 15 June 1909
CURRENT AFFAIRS : OBITUARIES
Actress Abhilasha Patil Passes Away
On May 05, 2021, Actress Abhilasha Patil,Passed Away.
She was 40.
She appeared in Marathi and Hindi films.
Abhilasha Patil appeared in various Marathi and Hindi projects over the years, including the Bollywood movie Chhichhore, which featured Sushant Singh Rajput in the lead role.
Hindi Films : Chhichhori, Badrinath Ki Dulhania, Good Newwz and Malaal, Abhilasha
Marathi Films : Te Aath Diwas, Pipsi, Bayko Deta Ka Bayko, Prawaas and Tujha Majha Arrange Marriage
Indian National Army Veteran & Freedom Fighter Lalti Ram Passes Away
On May 09, 2021, Freedom fighter and veteran of the erstwhile Indian National Army (INA) Lalti Ram Passed Away.
He was 100.
In 2019, Lalti Ram had presented a cap of the pre-Independence INA to Prime Minister Narendra Modi at an event to mark the 75th anniversary of the proclamation of the 'Azad Hind Sarkar' by freedom fighter Subhas Chandra Bose.
In 2019, he was honoured by the Indian government for his contribution towards the freedom struggle of the country.
About 'Azad Hind Sarkar :
Azad Hind, was an Indian Provisional government established in Japanese occupied Singapore during World War II. 
It was created in October 1943.
Founded : 1 sept 1942
Kerala's veteran politician & Founding Member of CPI KR Gouri Amma passes away
On May 11, 2021, KR Gouri Amma ( The senior most communist leader of Kerala ) Passed Away.
She was 102.
About Gowri Amma :
She joined the Communist party in 1948.
She was the first Revenue Minister in the first communist ministry of the state in 1957.
She was the second longest serving MLA in Kerala Legislative Assembly 
Also She was the last surviving member of the first Kerala government.
She stood with the CPI(M) post the split of the Communist party in 1964
After that K. R. Gouri joined the newly formed Communist Party of India (Marxist).
In 1994, the CPI(M) expelled Gouri Amma for 'anti-party activities.
She then floated her own political outfit named Janathipathya Samrakshana Samithi based in Alappuzha.
Gouri Amma was an MLA 13 times.
Gouri Amma presented the revolutionary Land Reforms Bill in 1957.
Daily CA On May 09 & 10 :
On the second Sunday ofMay, we honor those women who are our mothers. Mother's Day is a time-honored tradition of recognizing the women in our lives who raised us, dried our tears, and well, mothered us. 
Minister of State for Finance Anurag Thakur has claimed 5 lakh doses of Sputnik V have previously reached India and Russian Direct Financial commitment Fund has also tied up with regional Indian companies for bulk manufacturing.
Union Education Minister Ramesh Pokhriyal Nishank has donated Rs 1.5 crore from his Members of Parliament Local Area Development Scheme (MPLAD) fund for the purchase of medical equipment in his Lok Sabha Constituency Haridwar to fight the second wave of the COVID-19 pandemic.
PIB reported No such approval has been given by the Government of India Bharat Biotech's vaccine for children above 12 years
A drug developed by the Defence Research and Development Organization, DRDO got the approval for emergency use by the Drugs Controller General of India, DCGI.
The Employees State Insurance Corporation, under the Ministry of Labour and Employment, has installed oxygen generation plants at its two hospitals in the Delhi NCR area.
Bharatiya Janata Party (BJP) leader Himant Biswa Sarma to be sworn-in as the new chief minister of Assam, a day after he was elected "unanimously" as the leader of the BJP's legislature party in the state.
Himachal Pradesh chief minister Jai Ram Thakur inaugurated pressure swing adsorption (PSA) oxygen plants at Dr Radhakrishnan Government Medical College in Hamirpur and Jawahar Lal Nehru Government Medical College in Chamba. 
Union Territory Ladakh received Four Critical Care Life Support Ambulances from National Highways and Infrastructure Development Corporation (NHIDCL) of Road Transport and Highways Ministry. 
GigIndia, a B2B gig marketplace for on-demand work completion, will provide free COVID health insurance to its active gig workers covering up to Rs 3 lakh of medical expenses.
The new DMK government, Agricultural Production Commissioner Gagandeep Singh Bedihas been appointed as Commissioner of Greater Chennai Corporation, replacing G Prakash.
Tamil Nadu governor Banwarilal Purohit appointed former Minister K Pitchandi as pro-tem Speaker of the state legislative assembly.
Senior IAS officer Dr. V Irai Anbu has been appointed as the Chief Secretary of Tamil Nadu.
Singer-songwriter Taylor Swift is set to be feted at the upcoming Brit Awards, where she will receive the global icon award at this year's ceremony.
Drug major Cipla has inked a pact with US-based Eli Lilly And Company to manufacture and produce baricitinib in the country for the treatment of COVID-19.
On May 07, 2021, Private equity firm Carlyle Group divested 4 per cent stake in SBI Life Insurance for over Rs 3,900 crore through an open market transaction.
On May 08, 2021, Prime Minister Narendra Modi participated in the India-EU Leaders' Meeting at Virtually. The Prime Minister attended the event at the invitation of the President of the European Council Mr. Charles Michel.
The Interpol has launched a mobile phone application ID-Art which will help identify stolen cultural property, reduce smuggling and increase the possibility of recovering stolen works and artefacts.
VINCOV-19- Novel antibody engineered product to treat COVID-19 cleared for clinical trials. It is a collaborative effort of the University of Hyderabad (UoH), CSIR-Centre for Cellular and Molecular Biology (CSIR-CCMB) and Vins Bioproducts Ltd.
Bollywood Actress Kalki Koechlin is making her debut as an author of a book, Titled – Elephant In The Womb. It is an illustrated non-fiction book on motherhood. The book illustrated by Valeriya Polyanychko.
On May 09, 2021, Lewis Hamilton won the 2021 Spanish Grand Prix. This is the fifth successive Spanish Grand Prix title of Lewis Hamilton. Also this is the third win of this season.
On May 06, 2021, Tennis players Rafael Nadal and Naomi Osaka picked up the Laureus Sportsman and Sportswoman of the Year awards.
On May 08, 2021, In tennis, Aryna Sabalenka of Belarus, defeated world number one Ashleigh Barty of Australia to win the 2021 Madrid Open women's single title.
On May 09, 2021, Rajya Sabha MP and renowned Sculptor Raghunath Mohapatra passed away.
On May 08, 2021, Former Two Indian Hockey Players Maharaj Krishan Kaushik & Ravinder Pal Singh Passed Away.
Daily CA On May 11 :
National Technology Day2021 on May 11 celebrates the achievements and contributions of Indians to science and technology. The theme of the National Technology Day 2021 theme is "Science and Technology for a Sustainable Future".
The Agriculture Ministry stated its autonomous body National Horticulture Board (NHB) has cleared a record 1,278 pending subsidy applications for integrated development of hi-tech commercial horticulture, including promotion of post-harvest.
The Secretary, Department of Food & Public Distribution Shri Shudhanshu Pandey briefed the media persons about PMGKAY-3 and One Nation One Ration Card scheme through a virtual press conference.
The Supreme Court formed a 12-member task force to ensure medical oxygen is delivered throughout the country in a streamlined manner.
Foreign Secretary Harsh V Shringla welcomed new US Charge d'Affaires Ambassador Daniel B. Smith.
Nepal PM KP Sharma Oli lost the vote of confidence at the Lower House.
Puducherry has become 'Har Ghar Jal' UT by ensuring that every rural home in the Union Territory gets a household tap connection.
Health Minister Rajesh Tope stated that Patients of Mucormycosis, a serious but rare fungal infection now affecting those suffering from coronavirus, will be treated for free under the Maharashtra government's flagship medical insurance scheme.
Ola Foundation, the philanthropic arm of Ola, has partnered with donation platform GiveIndia to provide consumers with oxygen concentrators amid the deadly second wave of the Covid pandemic.
To provide the best possible healthcare to every child born in India, LifeCell has introduced the first-of-its-kind diagnostic test called Omega Score.
Private lender HDFC Bank and Common Services Centers (CSCs) jointly announced the launch of chatbot 'Eva' on CSC's Digital Seva Portal to support Village Level Entrepreneurs (VLEs) in providing banking services for last-mile rural consumers.
Federal Bank, Mashreq Bank of UAE ink pact, to offer money transfer. Federal Bankhas entered into a tie-up with Mashreq Bank, a leading financial institution in the UAE, to facilitate money transfers to India.
The Reserve Bank of India appointed JoseJ Kattoor as Executive Director (ED) with effect from 4 May 2021, the central bank said in a press release.
Arun Kumar Singh, who currently holds two key responsibilities at disinvestment-bound Bharat Petroleum Corporation Limited (BPCL), is set to be the next Chairman and Managing Director (CMD) of the oil marketing major.
Hindustan Unilever (HUL) has announced the appointment of Srinandan Sundaram, currently serving as the Executive Director, Customer Development to the post of Executive Director, Foods and Refreshment.
India Participated in the 3rd Arctic Science Ministerial (ASM3) – the global platform for discussing research and cooperation in the Arctic region On May 08th and 09th 2021.
SpaceX will launch the "DOGE-1 Mission to the Moon" in the first quarter of 2022, with Elon Musk's commercial rocket company accepting the meme-inspired cryptocurrency dogecoin as payment.
On May 09, 2021, China's biggest rocket Long March 5B landed in Indian Ocean. Its lands with the bulk of its components destroyed upon re-entry into the Earth's atmosphere.
In the Men's Category, Pakistan skipper Babar Azam has been named the ICC Men's Player of the Month for April 2021. In the Women's category, Alyssa Healy of Australia has won the ICC Women's Player of the Month for April 2021.
On May 05, 2021, Actress Abhilasha Patil,Passed Away.
On May 09, 2021, Freedom fighter and veteran of the erstwhile Indian National Army (INA) Lalti Ram Passed Away.
On May 11, 2021, KR Gouri Amma ( The senior most communist leader of Kerala ) Passed Away