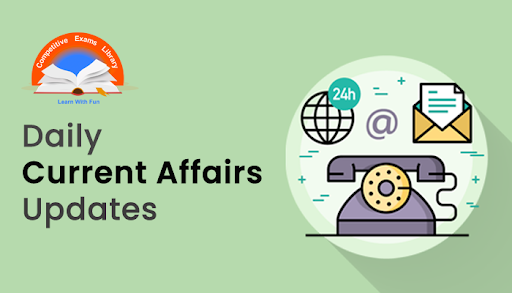 Dear Readers, Daily Current Affairs News Updates about the National and International events were listed here. Read Current Affairs Today here and stay updated with current news. Candidates those who are preparing for IBPS/SBI/PO/Clerk exam and all other competitive exams can use this and try the Current Affairs Quiz to test your knowledge level.
CURRENT AFFAIRS: IMPORTANT DAYS
World Haemophilia Day – Observed on Apr 17
World Haemophilia Dayis observed on 17 April every year to increase awareness about haemophilia disease and other inherited bleeding disorders.
In 1989, World Haemophilia Day was started by the World Federation of Haemophilia (WFH) in honour of WFH founder Frank Schnavel's birthday.
The themefor the year 2021 World Hemophilia Day is 'Adapting to Change, sustaining care in a new world.' 
This theme has been decided considering the fact that the COVID-19 pandemic is having a major impact on people with a bleeding disorder and is it important for the world to stand together in this changing scenario.
CURRENT AFFAIRS: NATIONAL NEWS
Indian Air Force Commanders' Conference 2021 concluded 
The Indian Air Force Commanders' Conference 2021, themed 'Reorienting for the Future' concluded at Air headquarters in New Delhi.
The three day conference saw detailed deliberations on ways and means to enhance the operational capabilities of the IAF.
Air Officers Commanding-in-Chief of the seven commands and key appointments from Air headquarters attended the conference.
The conference was addressed by Defence Minister Rajnath Singh.
The Chief of Defence Staff, Navy Chief and Army Chief also addressed the conference and interacted with the commanders on subjects of future war-fighting through joint planning and integration of service capabilities.
The actions and follow-up plans for implementing the directions given by Prime Minister during the Combined Commanders' Conference were discussed by the participants.
The other key subjects included reorientation of the Indian Air Force for future challenges across all threat domains, and the roadmap for effective utilisation of assets and future inductions.
The contours of the operational philosophy and organizational aspects of Air Defence and Joint Command Structures were also discussed.
World 1st affordable and long-lasting hygiene product DuroKea Series unveiled by Education Minister
Education Minister Ramesh Pokhriyal Nishank launched World 1st affordable and long-lasting hygiene product DuroKea Series. 
This next generation DuroKea antimicrobial technology starts at 189 rupees, kills 99.99 per cent of germs instantly and leaves behind the long-lasting protective nanoscale coating up to 35 days till next wash.
Researcher from Indian Institute of Technology Hyderabad has developed these innovative technologies to combat COVID-19 virus spreading.
Mr Pokhriyal said that Durokea Product is aligned with the vision of Prime Minister Narendra Modi to attain self reliance.
He said, the unique property of DuroKea range is to ensure instant killing, within 60 second and prolonged protection which is an immense necessity during this current pandemic situation.
The Minister said, this revolutionary antimicrobial property of DuroKea products has been tested and certified by Indian Government accredited lab and field-tested at the IIT Hyderabad campus.
CURRENT AFFAIRS: INTERNATIONAL NEWS
Bui Thanh Son became new Foreign Minister of Vietnam 
External Affairs Minister Dr S Jaishankar congratulated Foreign Minister of Vietnam Bui Thanh Son on his recent appointment.
Deputy Foreign Minister and seasoned diplomat Bui Thanh Son was appointed foreign minister
During the telephonic conversation, both Ministers discussed development of the Comprehensive Strategic Partnership and implementation of the Plan of Action.
They recognised the convergence of India's Indo-Pacific Oceans Initiative and ASEAN's Indo-Pacific outlook.
The Ministers also discussed the development partnership, economic engagements and health cooperation.
Dr Jaishankar said, India and Vietnam will coordinate closely in multilateral forums and consult regularly on regional issues.
CURRENT AFFAIRS: STATE NEWS
Chief Minister unveils AP Amul Project in Guntur
Andhra Pradesh Chief Minister YS Jagan Mohan Reddy launched AP Amul Project in Guntur district and outlined 4,000 crore plans to strengthen the milk supply chain.
The Chief Minister said the project was started following an MoU with Amul on July 21, 2020 for the empowerment of women self help groups by encouraging the setting up of milk cooperatives in government sector.
Through the AP-Amul project, 9,899 villages across the State will be brought under milk production, where Bulk Milk Cooling Units (BMCU) and Automatic Milk Collection Units (AMCU) will be set up.
GCMMF (Amul) MD RS Sodhi and Sabarkanta Co-operative Society MD BM Patel were among those who participated through video conference.
CURRENT AFFAIRS: APPOINTMENT AND RESIGNATION NEWS
Krishna Prasad appointed as Group Editorial Officer of The hindu
The Hindu Group Publishing Pvt. Ltd. (THGPPL), publisher of The Hindu, BusinessLine, Frontline and Sportstar, has appointed Krishna Prasad as Group Editorial Officer with effect from April 16, 2021.
He will lead and enable greater synergies across the different print publications and digital offerings, by coordinating content efforts across all publications of The Hindu Group (THG).
"Krishna Prasad as Group Editorial Officer will play a guiding role on content management and strategy across all the publications, working with the editors of the various publications, digital editors, and the business and technical teams to drive THG's digital transformation," Malini Parthasarthy, Chairperson, THGPPL, said in a statement.
Ajai Seth took charge as new Economic Affairs Secretary
Ajai Seth took charge as the new Economic Affairs Secretary in the Finance Ministry.
He has been appointed in place of Tarun Bajaj who has been given full time charge of Revenue Department.
Seth is a 1987 Batch Indian Administrative Service officer of Karnataka Cadre.
Prior to coming to North Block, he was Managing Director of Bangalore Metro Rail Corporation Limited.
He will be in service till June 30, 2025
Delhi: Manish Sisodia appointed nodal minister for Covid management 
For the better management of the hospitals, the AAP-led state government has appointed Deputy Chief Minister Manish Sisodia as the 'Nodal Minister' for Covid-19 situation in the national capital.
"Manish Sisodia, Deputy Chief Minister, shall function as Nodal Minister for Covid management and shall be responsible for inter-ministerial coordination till further orders," an order issued by Delhi Chief Secretary Vijay Dev stated.
The government has also appointed 10 IAS officials as nodal officers at state-run hospitals.
Each will be the overall in-charge of the Covid-19 hospital assigned and will oversee its functioning.
"The nodal officer shall also be responsible for efficient and effective handling of telephone lines/call centre and complaint centre pertaining to their respective hospitals," the order stated.
Shaukat Tareen as new finance minister in Pakistan cabinet reshuffle
Pakistan Prime Minister Imran Khan has appointed Shaukat Tareen as the new finance minister of the country, the fourth to don the mantle, in another cabinet reshuffle, it was announced by his office.
A banker by profession, Tareen, 68, served in the same capacity in the government of Pakistan Peoples Party (2009-10) for a short period before he decided to step down to raise capital for his Silk Bank.
Tareen was facing corruption charges and had initially refused to accept the post until his name was cleared.
It was not known if the National Accountability Bureau (NAB) dropped charges against him or not.
He is a cousin of Jehangir Tareen, dubbed as sugar baron due to several sugar mills, who is an influential politician but is facing probe in the sugar scandal of the present government.
CURRENT AFFAIRS: AWARDS AND HONOURS
Moscow International Film Festival: Marathi Film 'Puglya' bags Best Foreign Language Feature award
The Marathi film "Puglya"has won the Best Foreign Language Feature award at Moscow International Film Festival, 2021.
The film Puglya has been directed and produced by Vinod Sam Peter under the banner Abraham Films.
So far, this film has won over 45 awards and recognitions at various international film festivals.
The film is yet to be released in India.
CURRENT AFFAIRS: MOU's AND AGREEMENTS
India and France Inks Agreement for cooperation on Gaganyaan Mission
Indian space agency, ISROhas signed an agreement with the space agency of France CNES for cooperation in its first human space mission, Gaganyaan.
Under the agreement, CNES will provide equipment developed by it, tested and still operating aboard the International Space Station (ISS) to Indian crews.
It will also supply fireproof carry bags made in France to shield equipment from shocks and radiation.
CNES will train Indian flight physicians and CAPCOM mission control teams at French facilities.
CURRENT AFFAIRS : ACQUISITIONS & MERGERS
Bharti Airtel unit Nettle acquires 100% stake in OneWeb India
Nettle Infrastructure Investments, a wholly-owned arm of Bharti Airtel has acquired 100% stake in OneWeb India Communications Pvt Ltd.
About OneWeb :
OneWeb was incorporated on 04 February 2020 to carry on business activities and network services associated with the communications industry.
OneWeb is a low earth orbit (LEO) satellite communications operator, co-owned by Bharti Global and the UK government.
Recently, OneWeb launched 36 satellites by Arianespace from the Vostochny cosmodrome in Russia, paving the way for launching high-speed satellite broadband services in key global markets from late-2021, and in India by mid-2022.
CEO: Adrián Steckel
Founder: Greg Wyler
Founded: 2012
Headquarters location: London, United Kingdom
About Bharti Airtel :
CEO: Gopal Vittal
Founder: Sunil Bharti Mittal
Founded: 7 July 1995, India
CURRENT AFFAIRS : SUMMITS & CONFERENCES
Commerce and Industry Minister Piyush Goyal chairs first meeting of National Startup Advisory Council
On April 15, 2021, Commerce and Industry Minister Piyush Goyal today chaired the first meeting of the National Startup Advisory Council. 
It is constituted by the Department for Promotion of Industry and Internal Trade.
Aim :
To advise the Government on measures needed to build a strong ecosystem for nurturing innovation and startups in the country.
This council will act as the guiding light for many budding startup entrepreneurs in India.
Piyush Goyal mentioned this is the first time in our nation's history where such a high-powered team of people from the private sector and the government have come together.
CURRENT AFFAIRS : SCIENCE & TECHNOLOGY
Secretary MeitY Shri Ajay Prakash Sawhney inaugurates three new initiatives of NIXI
On April 15, 2021, Ajay Prakash Sawhney, IAS, Secretary Ministry of Electronics & Information Technology (MeitY) & Chairman NIXI inaugurated three path breaking initiatives for National Internet Exchange of India (NIXI).
Three Initiatives are :
IP Guru,
NIXI Academy
NIXI-IP-INDEX
About IP Guru :
The IP Guru is a group to extend support to all the Indian entities finding it technically challenging to migrate and adopt Internet Protocol version, IPv6.
The group will help in identifying and hiring agencies that will help end customers by providing necessary technical support to adopt IPv6.
About NIXI Academy :
It has been created to educate technical and non-technical people in India about technologies.
About NIXI-IP-INDEX portal :
It has been launched to showcase IPv6 adoption rate in India and across the world.
About NIXI :
National Internet Exchange of India (NIXI) is a not-for-profit organization (section 8 of the Companies Act 2013) working since 2003 for spreading the internet infrastructure to the citizens of India
CURRENT AFFAIRS : SPORTS NEWS 
Asian Wrestling Championships 2021: India clinches one Gold, two Bronze medals
On April 16, 2021, Olympics-bound Indian wrestlers Vinesh Phogat and Anshu Malik clinched their maiden Asian Championship titles at Almaty, Kazakhstan.
It is being held from April 13 to 18, 2021.
India has a rich haul of seven medals from the women's event as the country won four gold, a silver and two bronze medals in this edition.
Sarita Mor clinched the sole gold medal for India by defending the women's 59 kg title.
The 25-year-old wrestler from Haryana made a spectacular comeback in the final stages of her final bout with Mongolia's Shoovdor Baatarjav to score 9 straight points, taking the final score to 10-7.
Two other Indian women wrestlers-Seema Bisla (50kg) and Pooja (76kg) won one bronze medal each in their respective weight categories. 
CURRENT AFFAIRS : OBITUARIES
Former CBI Director Ranjit Sinha passes away
On April 16, 2021, Former CBI director Ranjit Sinha passed away.
He was
He was a 1974 batch IPS officer of the Bihar cadre.
He earlier headed the Indo-Tibetan Border Police and the Railway Protection Force.
Ranjit Sinha had also headed the Railway Protection Force (RPF).
He served at senior positions in the CBI in Patna and Delhi before his appointment as CBI chief in 2012 for a two-year tenure.
About CBI :
Headquarters: New Delhi
Motto: Industry, Impartiality, Integrity
Founded: 1 April 1963
Interim director, Director General : Praveen Sinha,
About Indo-Tibetan Border Police :
Founded: 24 October 1962
Headquarters: New Delhi, India
Padma Shri Awardee & Noted Radiologist Kakarla Subba Rao passes away
On April 16, 2021, Renowned radiologist and former Director of Nizam's Institute of Medical Sciences in Hyderabad Dr. Kakarla Subba Rao passed away.
About Kakarla Subba Rao :
Rao was born on 25 January, 1925.
He was the founder president of Telugu Association of North America (TANA), an umbrella organisation for Telugu speaking people in the United States.
For his efforts to transform NIMS into a super-speciality hospital, Rao was its first director between 1985 and 1990 and later between 1997 and 2004.
In recognition of his valuable contributions in the field of medicine, the Government of India honoured him with a Padma Shri in 2000.
Former Chief Election Commissioner G.V.G. Krishnamurty passes away
On April 14, 2021, Former Chief Election Commissioner G.V.G. Krishnamurty passed
He was 86.
He served as Election Commissioner from October 1, 1993 to September 30, 1996.
His contributions particularly in strengthening laws and procedures of conducting elections will be long remembered by the Commission.
Dr Krishnamurty was also one of the founding fathers of the Indian Society of International Law and personally supervised and ensured the construction of its edifice, opposite the Supreme Court of India.
Daily CA on April 16 :
The World Homoeopathy Day is observed every year on April 10 to commemorate the Birthday of Dr. Hahnemann, the Founder of Homoeopathy.
World Voice Day is a worldwide annual event that takes place on April 16 devoted to the celebration of the phenomenon of voice.
Commerce and Industry Minister Piyush Goyal chaired the first meeting of the National Startup Advisory Council. 
Union Health Ministry has said that 100 new Hospitals in the country will have their own Oxygen plant under Prime Minister's Citizen Assistance and Relief in Emergency Situations (PM-CARES) Fund.
Secretary, Ministry of Electronics and Information Technology Ajay Prakash Sawhney inaugurated three path breaking initiatives for National Internet Exchange of India, NIXI.
Housing and Urban Affairs Minister Hardeep Singh Puri launched the EatSmart Cities Challenge and Transport 4 All Challenge through video conferencing.
Haitian Prime Minister Joseph Jouthe has resigned as the country faces a spike in killings and kidnappings and prepares for an upcoming constitutional referendum and general election later this year.
Union Minister Nitin Gadkari said American electric car major Tesla has a golden opportunity to set up its manufacturing facility in India given the country's thrust on e-vehicles.
Wipro will embark on a robust hiring plan (with a YoY growth in recruitments), and offer skill-based bonuses and salary increments for senior employees after the IT services firm adopted a new operating model last quarter with a more linear structure
E-commerce giant Amazon announced a USD 250 million (about Rs 1,873 crore) fund that will focus on digitising small and medium businesses, and driving innovation in the areas of agri-tech and health-tech in India.
As many as eight institutions and individuals have applied for on-tap licenses to set up universal banks and small finance banks.
Food delivery platform Swiggy is set to raise up to $500 million from SoftBank Vision Fund 2 at a market valuation of nearly $5.5 billion, according to reliable industry sources.
IDBI Bank said it has appointed the company's deputy general manager Jyothi Biju Nair as the new company secretary with effect from April 16.
Director Roberto Benigni will be receiving the Golden Lion for Lifetime Achievement at the 78th Venice International Film Festival, which runs from September 1 to 11. 
One Million for One Billion (1M1B) Foundation, a United Nations accredited not-for-profit organization is holding Lead Z Teacher Awards in July for educators across India who made extraordinary efforts to provide quality education during the pandemic
Facebookis partnering with Mumbai-based clean energy company, CleanMax, to set up 32 megawatts (MW) wind power project in Karnataka
Indian e-commerce company,Flipkart announced that it will be acquiring Cleartrip, an online travel technology company. 
On April 12, 2021, Dr Harsh Vardhan, Union Minister for Health and Family Welfare chaired ICMR's International Symposium titled 'One Health in India: Research informing biosafety, preparedness and response' through video conference
On April 13, 2021, The 'Infant Toddler and Caregiver-friendly Neighbourhoods (ITCN) Training and Capacity Building Programme' was launched.
The Economist Intelligence Unit(EIU), in partnership with Facebook, has released the Inclusive Internet Index 2021.
Daily CA on April 17:
World Haemophilia Dayis observed on 17 April every year to increase awareness about haemophilia disease and other inherited bleeding disorders.
The Indian Air Force Commanders' Conference 2021, themed 'Reorienting for the Future' concluded at Air headquarters in New Delhi.
Education Minister Ramesh Pokhriyal Nishank launched World 1st affordable and long-lasting hygiene product DuroKea Series.
External Affairs Minister Dr S Jaishankar congratulated Foreign Minister of Vietnam Bui Thanh Son on his recent appointment
Andhra Pradesh Chief Minister YS Jagan Mohan Reddy launched AP Amul Project in Guntur district and outlined 4,000 crore plans to strengthen the milk supply chain
The Hindu Group Publishing Pvt. Ltd. (THGPPL), publisher of The Hindu, BusinessLine, Frontline and Sportstar, has appointed Krishna Prasad as Group Editorial Officer with effect from April 16, 2021
Ajai Seth took charge as the new Economic Affairs Secretary in the Finance Ministry
For the better management of the hospitals, the AAP-led state government has appointed Deputy Chief Minister Manish Sisodia as the 'Nodal Minister' for Covid-19 situation in the national capital
Pakistan Prime Minister Imran Khan has appointed Shaukat Tareen as the new finance minister of the country, the fourth to don the mantle, in another cabinet reshuffle, it was announced by his office
The Marathi film "Puglya"has won the Best Foreign Language Feature award at Moscow International Film Festival, 2021.
Indian space agency, ISROhas signed an agreement with the space agency of France CNES for cooperation in its first human space mission, Gaganyaan
Nettle Infrastructure Investments, a wholly-owned arm of Bharti Airtel has acquired 100% stake in OneWeb India Communications Pvt Ltd
On April 15, 2021, Commerce and Industry Minister Piyush Goyal today chaired the first meeting of the National Startup Advisory Council
On April 15, 2021, Ajay Prakash Sawhney, IAS, Secretary Ministry of Electronics & Information Technology (MeitY) & Chairman NIXI inaugurated three path breaking initiatives for National Internet Exchange of India (NIXI)
On April 16, 2021, Olympics-bound Indian wrestlers Vinesh Phogat and Anshu Malik clinched their maiden Asian Championship titles at Almaty, Kazakhstan.
On April 16, 2021, Former CBI director Ranjit Sinha passed away
On April 16, 2021, Renowned radiologist and former Director of Nizam's Institute of Medical Sciences in Hyderabad Dr. Kakarla Subba Rao passed away
On April 14, 2021, Former Chief Election Commissioner G.V.G. Krishnamurty passed away