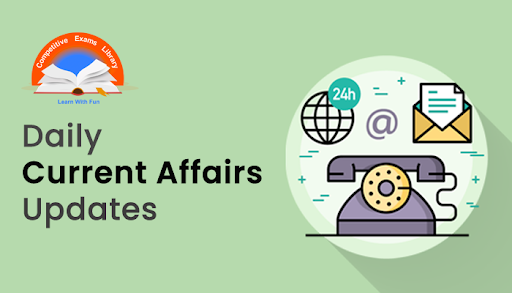 Dear Readers, Daily Current Affairs News Updates about the National and International events were listed here. Read Current Affairs Today here and stay updated with current news. Candidates those who are preparing for IBPS/SBI/PO/Clerk exam and all other competitive exams can use this and try the Current Affairs Quiz to test your knowledge level.
CURRENT AFFAIRS: IMPORTANT DAYS
Sustainable Gastronomy Day – Observed on June 18
The UN General Assembly adopted on 21 December 2016 its resolution and designated 18 Juneas an international observance, Sustainable Gastronomy Day.
Sustainable gastronomy can play a role due to its interlinkages with the three dimensions of sustainable development, in achieving the Sustainable Development Goals by promoting:
Agricultural development
food security
nutrition
sustainable food production
Conservation of biodiversity.
International Picnic Day – Observed on June 18
June 18th every year is International Picnic Day.
The origins of this event are unknown, but it doesn't dampen its popularity with many countries across the globe celebrating this event.
Although this is more of a fun event rather than your typical fundraising awareness day.
Celebrate International Picnic Day by getting outside and enjoying nature with friends or family! It's an opportunity for you to take a break from your daily routine and enjoy some time in the great outdoors.
Autistic Pride Day – Observed on June 18
Autistic Pride Day is a pride celebration for autistic people held on June 18 each year. 
The theme for World Autistic Pride Day 2021 announced by the United Nations(UN) is "Inclusion in the Workplace: Challenges and Opportunities in a Post-Pandemic World".
Autistic pride recognizes the importance of pride for autistic people and its role in bringing about positive changes in the broader society.
Autism, also called autism spectrum disorder (ASD), is a complicated condition that includes problems with communication and behavior.
It can involve a wide range of symptoms and skills.
People with autism have trouble with communication.
They have trouble understanding what other people think and feel.
CURRENT AFFAIRS: STATE NEWS
ADB approves USD 484 million loan with GoI to upgrade road network in Tamil Nadu
The Asian Development Bank (ADB) stated, it has approved a USD 484-million loan to improve transport connectivity and road maintenance in the Chennai-Kanyakumari Industrial Corridor (CKIC) in Tamil Nadu.
The CKIC is part of India's East Coast Economic Corridor, which stretches from West Bengal to Tamil Nadu and connects India to the production networks of Southeast and East Asia.
The project will upgrade about 590 km of state highways in the CKIC influence areas.
Climate change adaptation measures will be incorporated in the highway upgrades, including improved drainage, raised road embankments in critical sections, and resizing of bridges and culverts.
The project will strengthen road safety improvement programmes through advanced technologies for road monitoring and enforcement.
In addition, the project will support improved planning capacity of Tamil Nadu's highways and minor ports department.
About Asian Development Bank:
The Asian Development Bank is a regional development bank established on 19 December 1966, which is headquartered in the Ortigas Center located in the city of Mandaluyong, Metro Manila, Philippines.
The company also maintains 31 field offices around the world to promote social and economic development in Asia.
Headquarters: Manila, Philippines.
About Tamil Nadu:
Tamil Nadu, a South Indian state, is famed for its Dravidian-style Hindu temples.
In Madurai, Meenakshi Amman Temple has high 'gopuram' towers ornamented with colourful figures.
On Pamban Island, Ramanathaswamy Temple is a pilgrimage site.
The town of Kanyakumari, at India's southernmost tip, is the site of ritual sunrises.
Chief minister: M. K. Stalin
Governor: Banwarilal Purohit
Capital: Chennai
Haryana declared Rs 5,000 one-time aid for labourers, shopkeepers hit by pandemic
The Haryana government announced a one-time payment of Rs 5,000 each to small shopkeepers, construction workers, auto-rickshaw drivers and unorganized labourers who have faced financial hardship due to the COVID-19 pandemic and lockdown.
BPL families who have lost a family member in the 18-50 age group to COVID-19 will be given an ex gratia of Rs 2 lakh each, Chief Minister Manohar Lal Khattar announced at a media briefing here on the occasion of his government completing 600 days in office.
The chief minister also announced a host of other benefits, including waiver of property tax and reduction in electricity bill in the first quarter of 2021-22.
About Haryana:
Haryana is a North Indian state surrounding New Delhi on 3 sides.
The Yamuna River runs along its eastern border with Uttar Pradesh.
Shared with Punjab, the state capital Chandigarh is known for its modernist buildings and gridlike street plan designed by Swiss architect, Le Corbusier.
Capital: Chandigarh
Governor: Satyadev Narayan Arya
Chief minister: Manohar Lal Khattar
West Bengal CM relaunches scheme doubling farmers' aid to Rs 10,000
West Bengal Chief Minister Mamata Banerjee relaunched her government's Krishak Bandhu scheme, doubling the assistance to farmer- beneficiaries to Rs 10,000 a year.
She stated that day labourers in farmlands and sharecroppers in possession of at least one katha (0.0165 acre) of land will now receive Rs 4,000 a year, instead of Rs 2,000 they used to get earlier.
Banerjee also mentioned that the respective boards of the state will announce the evaluation process for examinations of classes 10 and 12, that have been cancelled because of the Covid-19 pandemic situation.
About West Bengal:
West Bengal is a state in eastern India, between the Himalayas and the Bay of Bengal.
Its capital, Kolkata (formerly Calcutta), retains architectural and cultural remnants of its past as an East India Company trading post and capital of the British Raj.
Capital: Kolkata
Governor: Jagdeep Dhankhar
Chief minister: Mamata Banerjee
CURRENT AFFAIRS: BANKING NEWS
Federal Bank joined with Infosys for Oracle CX implementation
Federal Bank has expanded its strategic collaboration with Oracle and Infosys, to offer an enhanced customer experience through Oracle CX (Customer Experience) platform.
The partnership will be creating a comprehensive integrated Customer Relationship Management (CRM) solution across marketing, sales, customer service, and social listening to strengthen Federal Bank's operations, and to deliver connected, data driven, and intelligent customer experiences across all touch points.
Federal Bank will be unveiling a 360degree view of the customer portfolio in an application in a bid to achieve a 'Single Source of Truth'.
According to the lender, these services will help improve productivity and customer satisfaction.
About Federal Bank:
Federal Bank Limited is a major Indian commercial bank in the Private Sector, headquartered in Aluva, Kochi.
The bank has more than 1,200 branches spread across different states in India.
It also has its Representative Offices abroad at Abu Dhabi, Qatar, Kuwait, Oman and Dubai.
Headquarters: Aluva
CEO: Shyam Srinivasan
Founder: K.P Hormis
About Infosys:
Infosys Limited is an Indian multinational information technology company that provides business consulting, information technology and outsourcing services.
The company was founded in Pune and is headquartered in Bangalore.
CEO: Salil Parekh
Headquarters: Bengaluru
LIC CSL introduced Prepaid Gift Card on IDBI Bank's Rupay Platform
LIC Cards Services Ltd (LIC CSL) has launched a contactless prepaid gift card 'Shagun' in collaboration with IDBI Bank on the RuPay platform.
The purpose of this card is to expand the gift card market with an intent to promote cashless ways of gifting and present a wide range of end-use choices and in future foray into the market of e-gift cards.
Shagun card, in the initial phase, will be available to LIC and its subsidiaries for official use.
The card will be used to facilitate awards and special rewards during official conferences and functions.
The Shagun gift card offers customization in the form of flexible loading of any amount ranging from Rs 500 to Rs 10,000. 
With the wide acceptability of RuPay, the Shagun gift card can be used at millions of merchant outlets and e-commerce websites in India to diversify spending options on the card.
About Life Insurance Corporation:
Life Insurance Corporation of India is an Indian government owned insurance and Investment Corporation.
It is under the ownership of the Ministry of Finance, Government of India.
Chairperson: M R Kumar
Headquarters: Mumbai
About IDBI bank:
Industrial Development Bank of India was established in 1964 by an act to provide credit and other financial facilities for the development of the fledgling Indian industry.
It is a development finance institution and a subsidiary of Life Insurance Corporation.
Headquarters: Mumbai
CEO: Rakesh Sharma
Tagline: Banking for All, Aao sochein Bada
Canara Bank fund for bad bank with 12% stack
State-owned Canara Bankmentioned it will be the lead sponsor of National Asset Reconstruction Company Limited (NARCL) or bad bank with 12 per cent stake in the entity.
Bad bank refers to a financial institution that takes over bad assets of lenders and undertakes resolution.
"The Indian Banks' Association (IBA) vides their letter dated May 13, 2021 requested Canara Bank to participate in NARCL as sponsor.
The board of Canara Bankhas given in-principle approval for taking stake in NARCL".
Banks have identified around 22 bad loans worth Rs 89,000 crore to be transferred to the NARCL in the initial phase.
About Canara Bank:
Canara Bank is one of the largest Indian government owned banks.
It is under the ownership of the Ministry of Finance, Government of India.
It was established at Mangalore in 1906 by Ammembal Subba Rao Pai and later the government nationalized the bank in 1969.
Headquarters: Bengaluru
CEO: Lingam Venkat Prabhakar
Tagline: Together We Can
CURRENT AFFAIRS: APPOINTMENT AND RESIGNATION NEWS
udChalo appointed Ravi Kumar as its Chief Executive Officer
udChalo, a Consumer Services Company for Indian Defence Personnel announced that Ravi Kumar has been appointed as Chief Executive Officer of udChalo.
Varun Jain, the Outgoing Chief Executive Officer will continue in an advisory role to the Company.
About Ravi Kumar:
Ravi is a graduate from the Army Institute of Technology, Pune and Stanford GSB's Seed Program.
It was his vision and entrepreneurial spirit that led him to start udChalo to cater to the travel needs of Indian Defence Personnel.
He has extensive experience in travel and service management, notably in the areas of innovation, development and research opportunities that benefit udChalo's Customers.
He was awarded the 40 under 40 most influential Asians for his contribution in travel by Asia One Magazine and the Young Entrepreneur Award by Army Institute of Technology, Pune.
5Paisa named Ankit Fitkariwala as CBO & Head of products
com has appointed Ankit Fitkariwala as Chief Business Officer & Head of Products.
Prior to joining 5paisa, Ankit Fitkariwala worked with Paytm Money as the Head of Investment Products.
His main focus in 5Paisa will be to further fortify the company's digital presence and enhance the overall process of customer acquisition.
About Ankit Fitkariwala:
At Paytm, he was instrumental in building a digital platform for investment products.
He has over 10 years of experience in the financial services sector.
Ankit has earlier worked with Jefferies, DBS Bank, Cisco Systems and Smartwiz (which he also co-founded).
He completed his MBA from IIM Calcutta and B.E. from Jadavpur University.
Timex appointed Manoj Juneja as VP – Sales & Marketing
Watch manufacturer Timex Group India announced the appointment of former ADIDAS India executive Manoj Juneja as Vice President Sales & Marketing.
An experienced leader, he brings with him over two decades of deep understanding of the consumer goods segment of the Indian market.
In the past 22+ years, Manoj spearheaded the sales & e-commerce vertical for ADIDAS India and prior to that worked with LG Electronics.
About Timex:
Timex Group USA, Inc. is an American global watch manufacturing company founded in 1854 as the Waterbury Clock Company in Waterbury, Connecticut.
In 1944, the company became insolvent but was reformed into Timex Corporation.
In 2008, the company was acquired by Timex Group B.V. and was renamed Timex Group USA.
Headquarters: Middlebury, Connecticut, United States
Founder: Thomas Olsen
Yuvraj Singh appointed as Brand Ambassador of PUMA Motorsport in India
Global sports brand PUMAhas extended partnership with former Indian cricketer Yuvraj Singh.
Singh has been associated with the brand for over a decade.
He will now be seen in a new avatar as the face of PUMA Motorsport in India, showcasing his passion for fast cars and sports-inspired fashion.
With this, Singh also joins the brand's global league of legends like Thierry Henry, Boris Becker and Usain Bolt.
Abhishek Ganguly, managing director, PUMA Indiaand Southeast Asia stated, "PUMA and Yuvraj share a deep emotional bond that only grew stronger over the years.
CURRENT AFFAIRS: MOU's AND AGREEMENTS
H-Energy signed an ink pact MoU for supply of re-gasified LNG to Petrobangla
H-Energy signed a Memorandum of Understanding (MoU) with Petrobangla recently to supply re-gasified liquefied natural gas (R-LNG) from India to Bangladesh.
"The companies will soon finalize a long-term supply agreement to commence the supply of regasified LNG to Bangladesh through a cross border natural gas pipeline".
H-Energy has received permission from the Petroleum and Natural gas Regulatory Board (PNGRB) to build, own and operate Kanai Chhata-Shrirampur natural gas pipeline connecting it's LNG terminal in West Bengal to Bangladesh, to enable cross border supply of regasified LNG.
Shipping Ministry and MoCA sign pact to develop seaplane services in India
India's ministry of state for ports, shipping, and waterways has signed a pact with the ministry of civil aviation to develop seaplane services across the country.
The ministry of state for ports, shipping, and waterways stated, "MoU for development of seaplanes services under RCS-UDAN scheme signed between the ministry of state for ports, shipping, and waterways and ministry of civil aviation.
"Seaplane operations will result in enhanced connectivity of remote places and boost religious tourism."
Both the ministries will jointly workout operating routes.
CURRENT AFFAIRS : SUMMITS & CONFERENCES
2021 NATO Summit Held in Brussels, Belgium
On June 14, 2021, The yearly meeting of North Atlantic Treaty Organization (NATO) held a face-to-face summit at NATO headquarters in Brussels, Belgium.
It was the 31st formal meeting of the heads of state and heads of government of the alliance.
About the Summit :
The summit of the 30-member NATO group was held as a part of U.S. President Joe Biden's first foreign trip.
All the leaders agreed on the "NATO 2030" agenda, a comprehensive initiative to make sure that the alliance remains ready to face future challenges.
The agenda also states that NATO will strengthen political consultation and the resilience of society, reinforce defense and deterrence, sharpen the technological edge, and develop its next Strategic Concept in time for the summit in 2022.
About NATO :
Founded: 4 April 1949, Washington, D.C., United States
Headquarters: Brussels, Belgium
Chairman : Air Chief Marshal Stuart Peach
IIT Bombay Hosts Conference of BRICS Network Universities 
On June 16, 2021, The Indian Institute of Technology (IIT) Bombay hosted a three-day virtual conference of BRICS Network Universities on electric mobility. 
The theme of the Conference of BRICS Network Universities is "Electric Mobility".
The conference is part of the engagements that India is hosting under the education stream during its 13th BRICS Summit this year.
More than 100 students, researchers, and faculty from the BRICS Network Universities of the five-member countries are expected to participate in the conference.
The Conference deals with Eighteen experts from Brazil, Russia, India, China and S. Africa who will talk about various aspects of electric mobility like traffic management, hydrogen technology, hybrid vehicles, lithium-ion batteries and linkage between e-mobility and livelihoods over the next three days. 
About BRICS Network Universities :
BRICS Network University is a union of higher education institutions of the five BRICS member countries.
Objective :
Enhancing educational cooperation, especially in the field of research and innovation. 
IIT-Bombay is the leading institution of India for the BRICS Network University.
CURRENT AFFAIRS : SPORTS NEWS
ICC Hall Of Fame Vinoo Mankad, Kumar Sangakkara Inducted 
On June 13, 2021, The International Cricket Council (ICC) announced  list of 10 cricket legends who have been inducted to the prestigious list of the ICC Hall of Fame 
The total number of inductees in the list of ICC Hall of Famers have reached to 103.
The 10 new ICC Hall of Famers are listed below:
South Africa's Aubrey Faulkner
Australia's Monty Noble
West Indies' Sir Learie Constantine,
Australia's Stan McCabe
England's Ted Dexter
India's Vinoo Mankad
West Indies' Desmond Haynes\
England's Bob Willis
Sri Lanka's Kumar Sangakkara
Zimbabwe's Andy Flower
About ICC :
Headquarters: Dubai, United Arab Emirates
CEO: Manu Sawhney (Jul 2019–)
Founded: 15 June 1909
Chairman : Greg Barclay
Gelfand Challenge Chess Title : Grandmaster D. Gukesh wins
On June 13, 2021, world's second youngest Grandmaster D. Gukesh sensationally won the $15,000 Gelfand Challenge chess title.
He secured a 'wild card' for the elite Meltwaters Champions Chess Tour.
Gukesh, 15, won all four rounds, including the key battle against Praggnanandhaa.
Gukesh and Praggnanandhaa aggregated 14 points from 19 rounds.
Gukesh took the title due to his 17th-round win over Praggnanandhaa.
CURRENT AFFAIRS : OBITUARIES
Former vice-president of All India Football Federation (AIFF) CR Viswanathan passes away
On June 15, 2021, Former All India Football Federation (AIFF) vice-president CR Viswanathan passed away
He was 85.
About CR Viswanathan :
He was affectionately called CRV.
CR Viswanathan was a AIFF vice-president during the period of 2004-08.
He was also a member of the AIFF executive committee from 2008 to 2012
He was also a chairman of the AIFF technical committee (2009-2012).
CRV was the president of Tamil Nadu Football Association (TFA) and the vice-president of the All India Football Federation (AIFF).
He was also the president of the Chennai District Football Association (1984-2009) and the Coimbatore District Football Association ('72-74).
About AIFF:
President : Praful Patel
General Secretary : Kushal Das
Vice-President: Subrata Dutta
Headquarters location: New Delhi
Founded: 23 June 1937
Daily CA On June 17 :
The World Day to Combat Desertification and Drought is a United Nations observance celebrated each year on 17 June. The themeof World Day to Combat Desertification and Drought 2021 is "Restoration. Land. Recovery".
PM Narendra Modi invited the world to invest in India while addressing the 5th edition of global tech event VivaTech via video conferencing. 
Union Tribal Affairs Minister launches 'Sankalp Se Siddhi-Mission Van Dhan' & several other initiatives
Albania, Brazil, Gabon, Ghana and the United Arab Emirates were elected unopposed to the powerful UN Security Council as non-permanent members for the 2022-23 term.
A new free trade agreement with the UK will deliver more Australian jobs and business opportunities for exporters, bringing both countries closer together in a changing strategic environment.
The Rajasthan government will soon set up a Vedic Education and Sanskar Board to revive the knowledge of Sanskrit scriptures and Vedas.
The Telecom Regulatory Authority of India (TRAI) launched a TV Channel Selector web portal for consumers who could not access its mobile phone app of the same name due to lack of a smartphone.
Facebook has kicked off a new initiative to keep children safe on the internet. The 'Report it, don't share it' campaign is being helmed by the social media giant in collaboration with Aarambh India Initiative, Cyber Peace Foundation, and Arpan. 
Global advertising technology major, The Trade Desk announced the launch of operations in India and stated it has appointed Tejinder Gill as the Country General Manager.
Wipro announced that it has joined the World Economic Forum's Partnership for New Work Standards initiative to establish a healthy, resilient and equitable future of work.
ICICI Banklaunched 'ICICI STACK for Corporates', a comprehensive set of digital banking solutions for corporates and their entire ecosystem including promoters, group companies, employees, dealers, vendors and all other stakeholders.
Godrej Housing Finance (GHF) has released a 'design your EMI' home personal loan product to enable consumers to customize their equated monthly installments (EMIs).
Google Pay app will now support debit card payments by SBI, IndusInd Bank and Federal Bank and credit cards by IndusInd Bank and HSBC. 
Nivea India announced the appointment of Ajay Simha as the marketing director. 
Streaming platform SonyLIV has appointed Sreedhar Reddy Komalla as head, Telugu content, digital business.
Foreign lender HSBC appointed bank veteran Raghu Narula as the head of wealth and retail banking for the country from August 1.
Microsoft named its chief executive officer Satya Nadella as board chairman, an additional role in which he will lead the work to set the agenda for the board.
An MoU has been signed between the Ministry of Ports, Shipping and Waterways and Ministry of Culture and Tourism for Cooperation in Development of National Maritime Heritage Complex at Lothal in Gujarat.
State-owned SJVN Ltdhas signed a pact with National Institute of Wind Energy (NIWE) to develop solar and wind energy projects. 
The European Space Agency (ESA) has planned to launch the world's first wooden satellite, WISA Woodsat, on Earth's orbit by the end of 2021.
On June 17, 2021, The Shenzhou 12 mission launched from Jiuquan Satellite Launch Center in northwest China. China successfully launched the first three men crew to its new space station in its first crewed mission in five years.
Researchers at the Indian Institute of Technology, Kharagpur and Yantai Institute of Coastal Zone Research in China have developed a technique that can detect the formation of cyclones in the North Indian Ocean region.
Daily CA On June 18 :
The UN General Assembly adopted on 21 December 2016 its resolution and designated 18 Juneas an international observance, Sustainable Gastronomy Day.
June 18th every year is International Picnic Day. The origins of this event are unknown, but it doesn't dampen its popularity with many countries across the globe celebrating this event.
Autistic Pride Day is a pride celebration for autistic people held on June 18 each year. The theme for World Autistic Pride Day 2021 announced by the United Nations(UN) is "Inclusion in the Workplace: Challenges and Opportunities in a Post-Pandemic World".
The Asian Development Bank (ADB) stated, it has approved a USD 484-million loan to improve transport connectivity and road maintenance in the Chennai-Kanyakumari Industrial Corridor (CKIC) in Tamil Nadu.
The Haryana government announced a one-time payment of Rs 5,000 each to small shopkeepers, construction workers, auto-rickshaw drivers and unorganized labourers who have faced financial hardship due to the COVID-19 pandemic and lockdown.
West Bengal Chief Minister Mamata Banerjee relaunched her government's Krishak Bandhu scheme, doubling the assistance to farmer- beneficiaries to Rs 10,000 a year.
Federal Bank has expanded its strategic collaboration with Oracle and Infosys, to offer an enhanced customer experience through Oracle CX (Customer Experience) platform.
LIC Cards Services Ltd (LIC CSL) has launched a contactless prepaid gift card 'Shagun' in collaboration with IDBI Bank on the RuPay platform.
State-owned Canara Bankmentioned it will be the lead sponsor of National Asset Reconstruction Company Limited (NARCL) or bad bank with 12 per cent stake in the entity.
udChalo, a Consumer Services Company for Indian Defence Personnel announced that Ravi Kumar has been appointed as Chief Executive Officer of udChalo.
com has appointed Ankit Fitkariwala as Chief Business Officer & Head of Products.
Watch manufacturer Timex Group India announced the appointment of former ADIDAS India executive Manoj Juneja as Vice President Sales & Marketing.
Yuvraj Singh appointed as Brand Ambassador of PUMA Motorsport in India
H-Energy signed a Memorandum of Understanding (MoU) with Petrobangla recently to supply re-gasified liquefied natural gas (R-LNG) from India to Bangladesh.
India's ministry of state for ports, shipping, and waterways has signed a pact with the ministry of civil aviation to develop seaplane services across the country.
On June 14, 2021, The yearly meeting of North Atlantic Treaty Organization (NATO) held a face-to-face summit at NATO headquarters in Brussels, Belgium.
On June 16, 2021, The Indian Institute of Technology (IIT) Bombay hosted a three-day virtual conference of BRICS Network Universities on electric mobility.  The theme of the Conference of BRICS Network Universities is "Electric Mobility".
On June 13, 2021, The International Cricket Council (ICC) announced  list of 10 cricket legends who have been inducted to the prestigious list of the ICC Hall of Fame 
On June 13, 2021, world's second youngest Grandmaster D. Gukesh sensationally won the $15,000 Gelfand Challenge chess title.
On June 15, 2021, Former All India Football Federation (AIFF) vice-president CR Viswanathan passed away