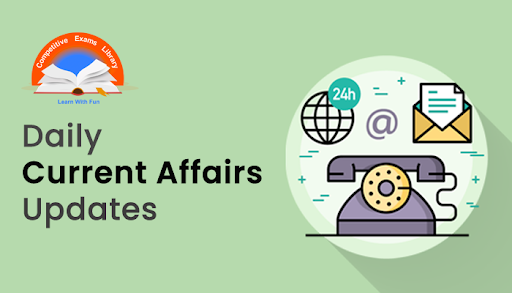 Dear Readers, Daily Current Affairs News Updates about the National and International events were listed here. Read Current Affairs Today here and stay updated with current news. Candidates those who are preparing for IBPS/SBI/PO/Clerk exam and all other competitive exams can use this and try the Current Affairs Quiz to test your knowledge level.
CURRENT AFFAIRS: IMPORTANT DAYS
World Brain Day – Observed on July 22
The World Federation of Neurology was established on July 22 1957.
It was suggested by the Public Awareness and Advocacy Committee that 22 July 2014 should be celebrated as "World Brain Day".
World Brain Day 2021: The theme of this year's World Brain Day is "Stop Multiple Sclerosis".
This proposal was announced at WCN, Council of Delegates meeting on 22 September, 2013 and the proposal was received with a warm welcome by delegates.
The Board of Trustees meeting in February 2014 endorsed this proposal as an annual activity.
The main objective of this day of the brain is to increase public awareness and promote advocacy related to brain health.
The theme for this year's campaign is "our brain, our future".
National Broadcasting Day celebrated on 23rd July
National Broadcasting Day is observed on July 23 across the country every year.
The Indian Broadcasting Company (IBC) started organising radio broadcasting from Bombay station on this day in 1927.
To mark the event, All India Radio (AIR) conducted a symposium on Creation of New India and Broadcasting Medium in New Delhi.
Radio broadcasting services began in India during the British rule in 1923 under the initiative of the Radio Club of Bombay.
India's largest public broadcasting agency, Prasar Bharati is a statutory autonomous body established by an Act of Parliament and accords to the Doordarshan Television Network, which previously was media unit of the Ministry of Information and Broadcasting.
CURRENT AFFAIRS: NATIONAL NEWS
NSE Foundation inaugurates project CAVACH in 5 Districts
NSE Foundation, a subsidiary of the National Stock Exchange (NSE), in partnership with the NITI Aayog and UNICEF has launched a programme to spread awareness on COVID-19 vaccination in India.
The programme will unite the efforts of grassroot-level partners and the local district administration to facilitate increased vaccination in remote districts of India which include Nandurbar and Osmanabad in Maharashtra, Karauli in Rajasthan, Ramanathapuram in Tamil Nadu and Kiphire in Nagaland.
About the Project:
The project — CAVACH (COVID-19 and Vaccination Assistance Campaign for Health) — unites more than 30 community-based organizations on a single platform to address issues of vaccine hesitancy and resistance across five aspirational districts to improve COVID-19 immunization numbers.
Vinod K Paul, Member of NITI Aayog, Chair of the Empowered Group on Medical Infrastructure and Covid Management Plan, National Task Force on Covid-19 (ICMR), and the National Expert Group on Vaccine Administration for COVID-19, launched Project CAVACH in the presence of district collectors and NSE officials.
Union Cabinet approves Production-linked Incentive (PLI) Scheme for Specialty Steel
Union Cabinet approved the Production Linked Incentive (PLI) Scheme for specialty steel.
The duration of the scheme will be five years, from 2023-24 to 2027-28.
With a budgetary outlay of ₹6322 crores, the scheme is expected to bring in investment of approximately ₹40,000 crores and capacity addition of 25 MT for speciality steel.
The scheme will give employment to about 5, 25,000 people of which 68,000 will be direct employment.
Speciality steel has been chosen as the target segment because out of the production of 102 million tonnes steel in India in 2020-21, only18 million tonnes value added steel/speciality steel was produced in the country
Apart from this out of 6.7 million tonnes of imports in the same year, approx.
4 million tonnes import was of specialty steel alone resulting in FOREX outgo of Approx. Rs. 30,000 crores.
By becoming Aatmanirbhar in producing speciality steel, India will move up the steel value chain and come at par with advanced steel making countries like Korea and Japan.
It is expected that the speciality steel production will become 42 million tonnes by the end of 2026-27.
This will ensure that approximately 2.5 lakh crores worth of speciality steel will be produced and consumed in the country which would otherwise have been imported.
Similarly, the export of specialty steel will become around 5.5 million tonnes as against the current 1.7 million tonnes of specialty steel getting FOREX of Rs 33,000 crore.
The benefit of this scheme will accrue to both big players' i.e. integrated steel plants and to the smaller players (secondary steel players)
Specialty steel is value added steel wherein normal finished steel is worked upon by way of coating, plating, heat treatment, etc to convert it into high value added steel which can be used in various strategic applications like Defence, Space, Power, apart from automobile sector, specialized capital goods etc.
The five categories of specialty steel which have been chosen in the PLI Scheme are:
Coated/Plated Steel Products
High Strength/Wear resistant Steel
Specialty Rails
Alloy Steel Products and Steel wires
Electrical Steel
Out of these product categories, it is expected that after completion of the Scheme India will start manufacturing products like API grade pipes, Head Hardened Rails, electrical steel (needed in transformers and electrical appliances) which are currently manufactured in very limited quantity or not manufactured at all.
There are 3 slabs of PLI incentives, the lowest being 4 % and highest being 12% which has been provided for electrical steel (CRGO).
The PLI Scheme for specialty Scheme will ensure that the basic steel used is 'melted and poured 'within the country which means that raw material (finished steel) used for making specialty steel will be made in India only, thereby ensuring that Scheme promotes end to end manufacturing within the country.
Cabinet approves establishment of an Integrated Multi-purpose Corporation for the Union Territory of Ladakh
The Union Cabinet has approved the establishment of an Integrated Multi-purpose infrastructure Development Corporation for the Union Territory of Ladakh.
The Cabinet also approved the creation of one post of Managing Director, for the corporation in the pay scale of 1, 44,200- Rs.2,18,200 level.
It is a new establishment.
Presently, there is no such similar organization within the newly formed UT of Ladakh.
The approval has an inherent potential for employment generation as the corporation will be undertaking various kinds of developmental activities.
Corporation will work for industry, tourism, transport and marketing of local products and handicraft.
Corporation will also work as main construction agency for infrastructure development in Ladakh.
The establishment of corporation will result in inclusive and integrated development of the Union Territory of Ladakh.
This will, in turn, ensure socio-economic development of the entire region and population of the Union Territory.
The impact of development will be multi-dimensional.
It will help in further development of human resources and better utilization thereof.
It increases domestic production of goods and services and will facilitate their smooth supply.
Thus, the approval will help in realizing the goal of Atmanirbhar Bharat.
Government receives 27 proposals from private entities for undertaking various space activities in India
Union Minister of State (Independent Charge) Science & Technology; Minister of State (Independent Charge) Earth Sciences; MoS PMO, Personnel, Public Grievances, Pensions, Atomic Energy and Space, Dr Jitendra Singh said that 27 proposals from private entities were received so far for undertaking various space activities in India.
He said, the types of proposals include building and launching of Launch vehicles, building, owning and operating Satellites, providing Satellites based services, establishing Ground segments, Research Partnerships and providing Mission services.
The global space economy is poised to grow over a trillion USD in the next two decades.
With the space sector reforms, Indian Private Space Industry is slated to contribute to the core elements of global space economy space-based services, launch services, manufacturing of launch vehicles and satellites, establishment of ground segment and launch infrastructure to a considerable extent.
Participation of private sector including academic institutions, start-ups and industries in end-to-end space activities is expected to expand the national space economy, generate more employment opportunities and create better manufacturing facilities.
Government achieves its atomic energy generation target set for the current year
Government has achieved its atomic energy generation target set for the current year.
The target set for the current year 2021-22 is 41821 Million Units.
The target for the period April to June 2021 was 10164 Million units against which, the actual generation was 11256 Million Units.
The targets for nuclear power generation are set on an annual basis, as a part of Nuclear Power Corporation of India Limited (NPCIL)'s annual Memorandum of Understanding (MoU) with Department of Atomic Energy (DAE).
The targets for future will be set on an annual basis prior to the commencement of the financial year.
National Farmers Welfare Program Implementation Committee office inaugurated by Union Agriculture Minister
Union Agriculture and Farmers Welfare Minister Shri Narendra Singh Tomar inaugurated the office of National Farmers Welfare Program Implementation Committee.
The National Farmers Welfare Program Implementation Committee would act as a project monitoring unit for the implementation of PM-Kisan Yojana, Kisan Maandhan Yojana, Agriculture Infrastructure Fund and other schemes of the Department of Agriculture and Farmers Welfare.
The Central Government has implemented the Pradhan Mantri Kisan Samman Nidhi (PM-Kisan) scheme to make farmers self-reliant and to provide direct income support for agricultural expenditure.
Under this scheme, an amount of Rs 1.37 lakh crore has been transferred to the accounts of more than 11 crore farmer families so far.
The Minister said that the Central Government along with the experts, IT companies of the country is working with new technology to make the farmers self-reliant.
Various technological solutions are being developed through Aadhar integration with UIDAI, launch of mobile app and integration with CSCs, KCC, and integration with land records database maintained by States/UTs.
Union Agriculture Minister lays foundation stone of Plant Authority Building
Union Minister of Agriculture and Farmers Welfare Shri Narendra Singh Tomar laid the foundation stone of the Plant Authority building at Pusa, New Delhi.
On this occasion, Shri Tomar said that the rights of farmers are being protected through Plant Authority.
With this, the farmers can get rights over their traditional varieties and the seeds of any other variety produced by them.
It also ensures that the farmers are not exploited by infringement of intellectual property rights.
The National Intellectual Property Rights (IPR) Policy-2016 has been implemented through better infrastructure and modifications to encourage innovations.
Protection of Plant Varieties and Farmers' Rights Authority (PPVFRA) is affiliated with the Ministry of Agriculture and Farmers Welfare.
In this IPR, the certificate is awarded only after crops are grown and verification the claim made by the farmer.
Under the new IPR policy, the IPR authorities are being strengthened by the government by providing necessary manpower and infrastructure.
Union Agriculture Minister Shri Tomar stated that one floor will be allocated for the establishment of the courts of the Authority and two floors will be allocated for registry work along with other support systems.
He said that it will make it easier for the visiting farmers and consumers.
It is expected that work on the new office building will start from next year.
Bhartiya Prakritik Krishi Padhati (BPKP)
Government is implementing Bhartiya Prakritik Krishi Padhati (BPKP) as a sub scheme of Paramparagat Krishi Vikas Yojana (PKVY) since 2020-21 for the promotion of traditional indigenous practices.
The scheme mainly emphasizes on exclusion of all synthetic chemical inputs and promotes on-farm biomass recycling with major stress on biomass mulching; use of cow dung-urine formulations; plant-based preparations and time to time working of soil for aeration.
Under BPKP, financial assistance of Rs 12200/ha for 3 years is provided for cluster formation, capacity building and continuous handholding by trained personnel, certification and residue analysis.
As of now, an area of 4.9 lakh ha is covered in 8 states and Rs. 4980.99 lakh has been released. Telangana has not taken up natural farming so far under BPKP programme.
CURRENT AFFAIRS: INTERNATIONAL NEWS
Liverpool cleared of World Heritage status
Liverpool has been stripped of its coveted world heritage status after UNESCO blamed years of development for an "irreversible loss" to the historic value of its Victorian docks.
The UN's heritage body concluded at a meeting in China that the "outstanding universal value" of Liverpool's waterfront had been destroyed by new buildings, including Everton football club's new £500m stadium.
The decision is a humiliating blow for the city and gives Liverpool the ignominious distinction of being only the third place to lose the status in nearly 50 years.
The other delisted sites were Oman's Arabian Oryx Sanctuary in 2007 and the Dresden Elbe valley in Germany in 2009.
Liverpool has enjoyed world heritage status since 2004 – placing it alongside the Taj Mahal and Great Wall of China – as recognition for its role as a major trading power during the British empire and the architectural beauty of its waterfront.
About World Heritage Site:
A World Heritage Site is a landmark or area with legal protection by an international convention administered by the United Nations Educational, Scientific and Cultural Organization.
World Heritage Sites are designated by UNESCO for having cultural, historical, scientific or other form of significance.
King Mswati III appoints Cleopas Dlamini as Eswatini's new Prime Minister
Eswatini's King Mswati III has appointed Cleopas Dlamini as the nation's prime minister, more than six months after the death of the previous leader of government.
Dlamini will take over from Themba Masuku, who was acting in the role since Ambrose Dlamini died in December.
The new prime minister was the chief executive officer of Eswatini's Public Service Pension Fund.
During a national dialogue to address the unrest in the country, the king announced that Cleopas Dlamini would be the country's new prime minister.
About Eswatini:
Eswatini, officially the Kingdom of Eswatini and formerly and still commonly known in English as Swaziland, is a landlocked country in Southern Africa.
It is bordered by Mozambique to its northeast and South Africa to its north, west, and south.
Capitals: Mbabane, Lobamba
Currencies: South African rand, Swazi lilangeni
CURRENT AFFAIRS: STATE NEWS
Telangana CM Launches 'Telangana Dalit Bandhu' scheme
Chief Minister K Chandrashekhar Rao took on the opposition for levelling allegations against him that the launch of Telangana Dalit Bandhu scheme aimed at benefitting Dalits was politically motivated.
CM KCR named the Dalit empowerment scheme that was decided by the cabinet recently as Telangana Dalita Bandhu scheme and chose to launch the scheme on a 'pilot project' basis in poll-bound Huzurabad constituency.
The scheme, which was to be called Dalit Empowerment Scheme, has now been renamed as Dalita Bandhu scheme.
As part of the scheme, eligible Dalit families would be given Rs 10 lakh in cash directly to their accounts.
The Chief Minister stated the State government was implementing every scheme after brainstorming on each aspect for several days and months.
About the scheme:
Huzurabad constituency has only a total of around 2 lakh voters.
Out of the total, CM KCR's scheme will benefit nearly 21,000 families, which accounts for around 60,000 to 80,000 people, if this scheme is implemented soon.
Interestingly, the CM had mentioned that all over the state the Dalita Bandhu scheme will be implemented as decided earlier with Rs 1200 crore.
However, in poll-bound Huzurabad, the CM has now said that additional Rs 1500 to Rs 2000 crore would be spent in the constituency on the scheme.
About Telangana:
Telangana is a state in southern India.
In the capital of Hyderabad, the Charminar is a 16th-century mosque with 4 arches supporting 4 towering minarets.
In the city of Warangal, the centuries-old Warangal Fort features carved stone towers and gateways.
Capital: Hyderabad
Governor: Tamilisai Soundararajan
Chief minister:  Chandrashekar Rao
National parks: Kasu Brahmananda Reddy National Park, Mahavir Harina Vanasthali National Parkand Mrugavani National Park
Uttar Pradesh to set panchayat secretariat in all panchayats of the state
Uttar Pradesh Cabinet has decided to set up a panchayat secretariat in all panchayats of the state.
The move is aimed at strengthening the rural democracy and providing employment to the rural youth.
Panchayat secretariat will be established in all gram panchayats for the first time in the state.
There are currently 58,189 gram panchayats in UP.State government has also decided to provide free healthcare to all antyodaya card holders who are not covered under any healthcare scheme.
This will benefit around 40 lakh families.
Briefing the media after Cabinet meeting, UP minister Sidharth Nath Singh stated that the government has decided to create about 1.6 lakh jobs, two each in 58,189 gram panchayats in the state by appointing a computer operator and an assistant who will work from panchayat bhawans or rural secretariat buildings to be constructed at gram panchayats where such infrastructure doesn't exist at the moment.
About Uttar Pradesh:
Uttar Pradesh is a state in northern India.
With over 200 million inhabitants, it is the most populous state in India as well as the most populous country subdivision in the world.
Governor: Anandiben Patel
Capital: Lucknow
Chief minister: Yogi Adityanath
National Parks: Dudhwa National Park.
Uttarakhand: Shravan Harela Festival celebrated
The Shravan Harela, celebrated in the Hindu calendar month of Shravan, marks the onset of the rainy season (Monsoon).
Harela means "Day of Green".
It is considered to be an auspicious day for farmers, as it is the day when they begin the sowing cycle in their fields.
It is celebrated by people from the Kumaon region of the state of Uttarakhand.
The day marks the religious celebration of Lord Shiva and Goddess Parvati's wedding.
The village communities make clay idols of Lord Shiva and Goddess Parvati.
These are known as Dikare or Dikars.
The festival is celebrated with prayers for good harvest and prosperity.
About Uttarakhand:
Uttarakhand, a state in northern India crossed by the Himalayas, is known for its Hindu pilgrimage sites.
Rishikesh, a major centre for yoga study, was made famous by the Beatles' 1968 visit.
The city hosts the evening Ganga Aarti, a spiritual gathering on the sacred Ganges River.
The state's forested Jim Corbett National Park shelters Bengal tigers and other native wildlife.
Capital: Dehradun
Governor: Baby Rani Maurya
Chief minister: Pushkar Singh Dhami
National Parks: Valley of Flowers National Park, Rajaji National Park, Nanda Devi National Park, Gangotri National Park, Govind Pashu Vihar National Park & Sanctuary.
MP CM Shivraj Singh Chouhan unveiled UNESCO's 'Historic Urban Landscape' Project
In Madhya Pradesh, Gwalior and Orchha cities have been selected by UNESCO under 'Historic Urban Landscape Project', which was started in the year 2011, for the inclusive and well-planned development of fast-growing historical cities while preserving the culture and heritage.
Chief Minister Shivraj Singh Chouhan virtually launched UNESCO's 'Historic Urban Landscape' project for Gwalior and Orchha cities of the state through video conferencing.
Chief Minister stated that six cities of South Asia, including Ajmer and Varanasi in India are already involved in this project.
Orchha and Gwalior have been included as the 7th and 8th cities.
The development and management plan of these cities will be prepared by UNESCO.
This project will help MP tourism get a new dimension.
Additional employment opportunities will also be created along with the development of tourism.
About Madhya Pradesh:
Madhya Pradesh, a large state in central India, retains landmarks from eras throughout Indian history.
Begun in the 10th century, its Hindu and Jain temples at Khajuraho are renowned for their carvings of erotic scenes, most prominently Kandariya Mahadeva, a temple with more than 800 sculptures.
The eastern Bandhavgarh and Kanha national parks, noted Bengal tiger sanctuaries, offer guided safaris.
Capital: Bhopal
Chief minister:Shivraj Singh Chouhan
Governor: Mangubhai C. Patel
National Parks: Kanha National Park, Bandhavgarh National Park, Madhav National Park, Sanjay National Park, Van Vihar National Park, Panna National Park, Satpura National Park, Pench National Park, Mandla Plant Fossils National Park.
CURRENT AFFAIRS: BUSINESS NEWS
Mirae MF introduces financial services ETF
Mirae Asset Investment Managers (India), with an asset under management (AUM) of Rs 77,674 crore at the end of June 2021 launched India's first ETF tracking Nifty Financial Services Index.
It is an open-ended ETF tracking Nifty Financial Services Total Return Index.
The new fund offer (NFO) will open for subscription on July 22, 2021, and close on July 29, 2021.
The minimum initial investment in the scheme during the NFO period will be Rs 5,000 and multiples of Re 1, thereafter.  
Mirae Asset Nifty Financial services ETF will provide exposure to 20 companies, representing various segments of the financial services sector including banks, non-banking financial company, insurance, and capital market.
About Mirae MF:
Mirae Mutual Fund is one of the fastest growing AMCs in India.
The funds they offer have shown a stable performance over the last few years.
Investors who wish to attain long-term Investment plan can prefer Investing in Equity Funds.
Mirae Asset Financial Group is a financial services group headquartered in Seoul, South Korea.
Significant improvement in India's score in United Nation's Global Survey on Digital and Sustainable Trade Facilitation
India has scored 90.32% in United Nation's Economic and Social Commission for Asia Pacific's (UNESCAP) latest Global Survey on Digital and Sustainable Trade Facilitation. The Survey hails this as a remarkable jump from 78.49% in 2019.
After evaluation of 143 economies, the 2021 Survey has highlighted India's significant improvement in the scores on all 5 key indicators, as follows:
Transparency:100% in 2021 (from 93.33% in 2019)
Formalities: 95.83% in 2021 (from 87.5% in 2019)
Institutional Arrangement and Cooperation: 88.89% in 2021 (from 66.67% in 2019)
Paperless Trade: 96.3% in 2021 (from 81.48% in 2019)
Cross-Border Paperless Trade: 66.67% in 2021 (from 55.56% in 2019)
The Survey notes that India is the best performing country when compared to South and South West Asia region (63.12%) and Asia Pacific region (65.85%).
The overall score of India has also been found to be greater than many OECD countries including France, UK, Canada, Norway, Finland etc. and the overall score is greater than the average score of EU.
India has achieved a 100% score for the Transparency index and 66% in the "Women in trade" component.
CBIC has been at forefront of path breaking reforms under the umbrella of 'Turant' Customs to usher in a Faceless, Paperless and Contactless Customs by way of a series of reforms.
This has had a direct impact in terms of the improvement in the UNESCAP rankingson digital and sustainable trade facilitation.
About the Survey:
The Global Survey on Digital and Sustainable Trade Facilitation is conducted every two years by UNESCAP.
The 2021 Survey includes an assessment of 58 trade facilitation measures covered by the WTO's Trade Facilitation Agreement.
The Survey is keenly awaited globally as it evidences whether or not the trade facilitation measures being taken have the desired impact and helps draw comparison amongst countries.
A higher score for a country also helps businesses in their investment decisions.
CURRENT AFFAIRS: BANKING NEWS
ICICI Bank and HPCL jointly launches 'ICICI Bank HPCL Super Saver' Credit Card
ICICI Bank – the country's second-largest private sector lender, launched a co-branded credit card with Hindustan Petroleum Corporation Limited (HPCL) to provide customers with benefits and reward points of using multiple credit cards in one.
The 'ICICI Bank HPCL Super Saver Credit Card' provides in-class rewards and benefits to customers on daily fuel spends as well as other categories such as departmental stores like Big Bazaar and D-Mart, electricity and mobile, and e-commerce portals, among others.
The co-branded credit card is powered by VISA and provides benefits in multiple categories of spends, unlike its peers, which typically offer benefits on only one category.
About ICICI:
ICICI Bank Limited is an Indian financial services company with its registered office in Vadodara, Gujarat, and corporate office in Mumbai, Maharashtra.
CEO: Sandeep Bakhshi
Headquarters: Vadodara
Tagline: Hum Hai Na, Khayal Apka
LIC introduces Arogya Rakshak insurance plan
The state-run insurance and investment company, Life Insurance Corporation of India (LIC), has rolled out the Arogya Rakshak plan, a benefit-based, non-linked, non-participating, regular premium and individual health insurance policy.
The policy aims to provide people with timely financial support in case of medical emergencies.
"The Arogya Rakshak policy provides fixed benefit health insurance cover against certain specified health risks and provides timely support in the case of medical emergencies and helps the insured and his family to remain financially independent in difficult times".
About LIC:
Life Insurance Corporation of India is an Indian government owned insurance and Investment Corporation.
It is under the ownership of Ministry of Finance, Government of India.
Chairperson: M R Kumar
Headquarters: Mumbai
SBI choose Paisalo as its National Corporate Business Correspondent
India's largest lender State Bank of Indiahas selected Paisalo Digital as its National Corporate Business Correspondent for boosting its financial inclusion drive with the help of kiosk-based banking services.
The final signing of the Service Level Agreement and other formalities shall be done shortly.
As a part of this alliance, Paisalo Digital shall be extending its services and its reach to its existing customers and new customers.
As a business correspondent for State Bank of India, they will help the bank in improving the synergy with the thrust of the already up and running fully digital small loan business under SBI-Paisalo Loan Co-origination.
CURRENT AFFAIRS: APPOINTMENT AND RESIGNATION NEWS
Citi India appointed Rahul Saraf as Head of Investment Banking
Citi announced the appointment of Rahul Saraf as Head of Investment Banking, India, effective from July 21, 2021.
In this new role, Rahul will support the growth of Citi India's renewed focus on the institutional business, leveraging his deep relationships with large Indian conglomerates and some of our other key clients, and will continue to report to Ravi Kapoor, Head of Banking, Capital Markets and Advisory (BCMA), Citi South Asia.
Rahul joined Citi India in June 2005 and over this period has helped build Citi's Investment Banking franchise in India as a Managing Director in the Investment Bank.
About Citi Bank:
Citibank is the consumer division of financial services multinational Citigroup.
Citibank was founded in 1812 as the City Bank of New York, and later became First National City Bank of New York.
Headquarters: New York, United States
Founder: Samuel Osgood
Aramane Giridhar take oath additional charge of Chairman, NHAI
Ministry of Road Transport and Highways (MoRTH) Secretary Aramane Giridhar (IAS) has been given additional charge of the Chairman of the National Highways Authority of India (NHAI).
"The Appointments Committee of the Cabinet (ACC) has approved the assignment of the additional charge of the post of the Chairman of NHAI to Giridhar till the appointment of a regular incumbent or until further orders whichever is earlier".
Giridhar is a 1988-batch Indian Administrative Service (IAS) officer of the Andhra Pradesh cadre.
He has been serving as Secretary in the Ministry of Road, Transport and Highways since May 1, 2020.
About NHAI:
The National Highways Authority of India is an autonomous agency of the Government of India, set up in 1995 and is responsible for management of a network of over 50,000 km of National Highways out of 1,32,499 km in India.
It is a nodal agency of the Ministry of Road Transport and Highways.
It is responsible for the development, maintenance and management of National Highways.
In addition to this, NHAI is also responsible for implementing other projects on National Highways, primarily road connectivity to major ports in India.
Rasmi Ranjan Das, among 25 Tax Experts appointed to UN Tax Committee
Rasmi Ranjan Das, a Joint Secretary in the Ministry of Finance, is among a distinguished group of 25 tax experts from around the world appointed as members of the UN tax committee  for the 2021 to 2025 term.
The committee, formally known as the UN Committee of Experts on International Cooperation in Tax Matters, guides countries' efforts to advance stronger and more forward-looking tax policies adapted to the realities of globalised trade and investment, an increasingly digitalized economy and worsening environmental degradation.
About the committee:
The Committee gives special focus to developing countries and their policy environment and majority of the newly appointed members come from developing countries.
For the first time since its inception, the Committee has a majority of women experts.
The UN Tax Committee fosters international cooperation on domestic and international tax matters and works closely with observers from government, civil society, business and academia, to develop guidance and encourage an inclusive setting of norms and policies.
CURRENT AFFAIRS: AWARDS AND HONOURS 
Cachar district bags National Silver SKOCH award
The Cachar district of Barak Valley in South Assam has got the prestigious National Silver SKOCH award under health category on the project called "Pushti Nirbhor".
It can be mentioned here that "Pushti Nirbhor" is a convergence project with transformation and Development along with Panchayat and Rural Development Department in one of the "Axom Adarxo Gram yojana" village's name Dinnathpur Bagicha near Indo-Bangladesh Border under Katigorah, Cachar District of Assam.
The prime objectives were to train the villagers towards becoming self reliant especially during pandemic situation, to explore the household Nutri gardens and earn the marketing value and to meet up nutritional need of the families.
About the Award:
Instituted in 2003, SKOCH Award salutes people, projects and institutions that go the extra mile to make India a better nation.
SKOCH Award winners include the mighty and the ordinary alike.
They receive this Award for their extraordinary achievements in contributing to the society.
The Roll of Honour of the SKOCH Award over the years is a testimony to this.
Awardees value SKOCH Award as the highest civilian honour in the country conferred by an independent organization.
Former Indian Footballer Shibaji Banerjee honoured with Mohun Bagan Ratna Award 2021 Posthumously
Former India goalkeeper Shibaji Banerjee, who stood out against the Pele-led Cosmos Club in an exhibition match in Kolkata in 1977, will be conferred with Mohun Bagan Ratna posthumously.
The executive committee members also unanimously adjudged Fijian striker Roy Krishna as the Best Footballer of 2020-21, having guided ATK Mohun Bagan to the runner-up finish in the Indian Super League.
Bengal skipper Abhimanyu Easwaran was chosen as the Best Cricketer, while Bidisha Kundu, who won the 100m hurdles and high jump events at the National Championship, was named as the Best Athlete.
About Mohun Bagan Ratna Award:
Mohun Bagan Ratna is an award presented each year on Mohun Bagan Day to outstanding former players, irrespective of sports played.
The first recipient was former captain Sailen Manna.
Ambition Box bags UST for top employee choice awards
UST, a leading digital transformation solutions company announced that it has been awarded as one of the 'Best Places to Work in India2021', in the country's first employee choice awards by com, a rapidly growing career advisory platform.
UST was ranked among the Top 12 Best IT/ITES Companies  and Top 3 in the large IT/ITES companies in India.
Companies are ranked based on ratings and reviews shared by employees who have worked in the company, during the year 2020.
About AmbitionBox:
Ambition Boxis a career advisory platform in India that helps job seekers discover great places to work.
The reviews on AmbitionBox capture employee sentiment across key workplace metrics including culture, career growth, compensation, work-life balance, development of skills, work satisfaction and job security.
CURRENT AFFAIRS: MOU's AND AGREEMENTS
Kotak Mahindra Bank signs MoU with the Indian Navy
The Indian Navy has signed a Memorandum of Understanding (MoU) with Kotak Mahindra for salary accounts of all its personnel – both serving and retired.
The signing ceremony took place in Delhiin the presence of Commodore Neeraj Malhotra (commodore pay and allowances) of the Indian Navy and Parminder Varma, business head (corporate salary) at Kotak Mahindra Bank.
The bank will reportedly offer special salary account benefits to the Indian Navy like enhanced complimentary personal accident insurance cover, special education benefit for children, and additional girl child benefit, and attractive rates and zero processing fees on personal loans, home loans and car loans.
About Kotak Mahindra Bank:
Kotak Mahindra Bank Limited is an Indian banking & financial services company headquartered in the city of Mumbai, India.
It offers banking products and financial services for corporate and retail customers in the areas of personal finance, investment banking, life insurance, and wealth management.
CEO: Uday Kotak
Headquarters: Mumbai
CURRENT AFFAIRS: SCIENCE AND TECHNOLOGY
Space technology applications being used for digital education in the country.
Government said that space technology applications being used for digital education in the country.
Satellite communication is being used for beaming the educational contents in digital mode by 19 States and A&N Islands under Tele-education Programme.
Further, the Bhaskaracharya National Institute for Space Applications and Geo-informatics (BISAG-N) is also beaming 51 educational channels using satellite communication.
Apart from this, Indian Institute of Remote Sensing is actively involved in training beneficiaries (such as UG/PG and Doctorate students, working professionals, academicians, school teachers and school students) on Space Technology and its Applications using digital platforms.
During the last one year, about 2.42 lakh participants benefitted from these programmes.
The Space Sector is opened up for larger participation of non-governmental entities which is expected to bring in wide opportunities to provide space based applications including digital education.
CURRENT AFFAIRS: DEFENCE
Last blast of Sela Tunnel's escape tube conducted by DG Border Roads
The last blast of the escape tube of under-construction Sela Tunnel was conducted by Director General Border Roads (DGBR) Lt Gen Rajeev Chaudhry through video conferencingfrom New Delhi on July 22, 2021.
This breakthrough will facilitate faster completion of Sela Tunnel by undertaking simultaneous activities in two tubes e.,a two-way tube of 1,555 meters and an escape tube of 980 meters, besides 8.8 kms of approach roads.
The DGBR had initiated the first blast of the escape tube during his visit on Army Day in January 2021.
This tube has already crossed the 425-meter excavation mark.
Prime Minister Shri Narendra Modi had laid the foundation stone of Sela Tunnel on February 09, 2019 to provide all weather connectivity to Tawang, Arunachal Pradesh through the Balipara-Charduar-Tawang Road.
The construction of the tunnel started on April 01, 2019 with the first blast taking place on October 31, 2019.
The excavation pace of Sela Tunnel has been swift as it has resulted in the breaking down of the escape tube of the 1,555 meters tunnel on July 22, 2021, much ahead of schedule.
Despite COVID-19 restrictions and adverse weather conditions, the pace of works has increased in the last 6-10 months
On completion, Sela Tunnel will be the longest bi-lane road tunnel in the world at an altitude above 13,000 feet. 
This unique tunnel constructed using the latest New Austrian Tunneling Method (NATM), is much below the snow line allowing all weather travel without the challenges of snow clearance.
The Sela Tunnel will prove to be a boon for the people of Tawang as it will reduce travel time and ensure speedier movement across the Sela Pass.
It will play a crucial role in the development of not just Arunachal Pradesh, but the entire North-East.
In case of natural calamities and adverse weather, it can prove to be a vital link for evacuation of personnel.
Keypoints about this Tunnel:
The breakthrough to facilitate faster completion of Sela Tunnel
Sela Tunnel to be world's longest bi-lane road tunnel at an altitude above 13,000 feet
To provide all weather connectivity to Tawang, Arunachal Pradesh
To play a crucial role in the development of North-east
Indian navy exercises with royal navy carrier strike group
Indian Navy participated in a two-day bilateral Passage Exercise (PASSEX) with Royal Navy Carrier Strike Group (CSG)-21 led by HMS Queen Elizabeth in the Bay of Bengal from 21 to 22 Jul 21.
The bilateral Maritime Exercise was designed to hone the ability of the two navies to operate together in the maritime domain.
The maiden exercise between Indian Navy and the Royal Navy's latest Aircraft Carrier, HMS Queen Elizabeth included participation of CSG-21 comprising Type 23 Frigates and an Astute-class submarine in addition to the other surface combatants.
Indian Navy was represented by INShips Satpura, Ranvir, Jyoti,Kavaratti, Kulish and a submarine. Anti-Submarine Warfare capable Long Range Maritime Reconnaissance Aircraft P8I also participated in the exercise.
With the presence of the CSG-21 in the Indian Ocean, the on-going exercise has afforded excellent opportunity to engage over the entire spectrum of maritime operations including ASW, Anti-Air and Anti-Surface warfare.
The exercise also witnessed the maiden participation of the F 35 B Lightning which operates from the deck of HMS Queen Elizabeth.
Note:
Regular IN (Indian Navy)-RN (Royal Navy) interactions over the years have augmented their professional content, interoperability and adaptability in the ever-changing security scenarios.
The inter-operability achieved over the years has ensured a quantum jump in the complexity and scale of professional exchanges which is being further enhanced by the presence of the Royal Navy's Carrier Strike Group in the Indian Ocean.
Daily CA On July 22 :
MyGov platform is hosting the Online Competition under PM's Mentorship Scheme for Young Writers,
seeking participation of young and aspiring Indian writers from across the globe.
National Education Society for Tribal Students (NESTS) (an autonomous body under this Ministry) has
collaborated with National Council of Educational Research and Training (NCERT) for conduct of "National
Initiative of School Heads' and Teachers' Holistic Advancement" (NISHTHA) Capacity Building Program
for EMRS teachers and Principals.
Khelo India' centres are being opened for nurturing of athletes at grassroots level and to strengthen
sports ecosystem in the country
China unveiled the world's first high-speed maglev transportation system running at a speed of 600 kilometers
per hour made its public debut in Qingdao, East China's Shandong Province.
Ariel Henry has been sworn in as Haiti's new Prime Minister, nearly two weeks after the assassination of the
country's President Jovenel Moise.
The Kunariya village of Kutch district in Gujarat has come up with a unique idea of holding Balika Panchayat.
Perumkulam is a unique village in Kerala, where the inhabitants are so passionate about reading that they
have turned the entire village into what you can call a public library and have rightly earned the title of being
Kerala's first 'village of books'.
Rajasthan government develops mobile app "Raj Kisan Organic" for purchase, sale of organic products
U GRO Capital, a BSE listed, technology enabled small business NBFC, announced the launch of a co-lending
partnership for micro, small and medium enterprises (MSME) with Bank of Baroda.
The Insolvency and Bankruptcy Board of India (IBBI) notified the Insolvency and Bankruptcy Board of India
(Insolvency Resolution Process for Corporate Persons) (Second Amendment) Regulations, 2016 on 14th July,
2021.
The Indian Olympic Association has appointed retired IPS officer B K Sinha to perform the dual role of
Security as well as Press Attache of the country's contingent at the Tokyo Games, which begins on July 23.
Senior India defender Sandesh Jhingan was named the AIFF men's Footballer of the Year, while midfielder
Suresh Singh Wangjam was picked as the Emerging Player for 2020-21 season.
Industrial and logistics real estate platform ESR India stated it has signed an agreement with the Tamil Nadu
government to develop two industrial parks with an estimated investment of Rs 550 crore.
Mineral Exploration Corporation Limited (MECL) a premier notified mineral exploration agency under the
aegis of Ministry of Mines, Govt. of India signed a Memorandum of Understanding (MoU) with Directorate of
Mines & Geology (DMG), Government of Goa, offering integrated mineral exploration and consultancy services.
Vice-President of India Shri M. Venkaiah Naidu, inaugurated the World Universities Summit 2021 (WUS 21)
organised by O.P. Jindal Global University located at Sonipat, Haryana from July 21 to 23.
Defence Research & Development Organisation (DRDO) successfully flight-tested the New Generation Akash
Missile (Akash-NG), a surface-to-air Missile from Integrated Test Range (ITR) off the coast of Odisha on
July 21, 2021.
In a major boost towards Atma Nirbhar Bharat and strengthening of Indian Army, Defence Research and
Development Organisation (DRDO) successfully flight-tested indigenously developed low weight, fire and forget
Man Portable Anti Tank Guided Missile (MPATGM) on July 21, 2021.
DBT-BIRAC-funded JeevtronicsPvt. Ltd. has developed SanMitra 1000 HCT, the hand-cranked dual
powered (grid+hand cranked) defibrillator.
Indian Institute of Technology, Ropar has developed a first-of-its-kind Oxygen Rationing Device – AMLEX.
Founder and executive chairman of Amazon, Jeff Bezos has made a short journey to space, in the first
crewed flight of his rocket ship, New Shepard.
The Defence Research and Development Organisation (DRDO) has indigenously developed a High
Strength Metastable Beta Titanium Alloy
Science Journalist Hari Pulakkat has released his Debut Book titled SPACE. LIFE. MATTER : The Coming of
Age of Indian Science
On July 21, 2021, the International Olympic Committee approved the Australian city of Brisbane as the
host city for the 2032 Summer Olympics and Paralympic Games.
Daily CA On July 23 :
World Brain Day – Observed on July 22, The theme for this year's campaign is "our brain, our future"
National Broadcasting Day celebrated on 23rd July
NSE Foundation, a subsidiary of the National Stock Exchange (NSE), in partnership with the NITI Aayog and UNICEF has launched a programme to spread awareness on COVID-19 vaccination
Union Cabinet approved the Production Linked Incentive (PLI) Scheme for specialty steel. The duration of the scheme will be five years, from 2023-24 to 2027-28.
The Union Cabinet has approved the establishment of an Integrated Multi-purpose infrastructure Development Corporation for the Union Territory of Ladakh
Government receives 27 proposals from private entities for undertaking various space activities in India
Government has achieved its atomic energy generation target set for the current year. The target set for the current year 2021-22 is 41821 Million Units
Union Agriculture and Farmers Welfare Minister Shri Narendra Singh Tomar inaugurated the office of National Farmers Welfare Program Implementation Committee
Union Minister of Agriculture and Farmers Welfare Shri Narendra Singh Tomar laid the foundation stone of the Plant Authority building at Pusa, New Delhi
Government is implementing Bhartiya Prakritik Krishi Padhati (BPKP) as a sub scheme of Paramparagat Krishi Vikas Yojana (PKVY) since 2020-21 for the promotion of traditional indigenous practices
Liverpool cleared of World Heritage status
King Mswati III appoints Cleopas Dlamini as Eswatini's new Prime Minister
Telangana CM Launches 'Telangana Dalit Bandhu' scheme
Uttar Pradesh to set panchayat secretariat in all panchayats of the state
The Shravan Harela, celebrated in the Hindu calendar month of Shravan, marks the onset of the rainy season (Monsoon)
In Madhya Pradesh, Gwalior and Orchha cities have been selected by UNESCO under 'Historic Urban Landscape Project'
Mirae Asset Investment Managers (India) launched India's first ETF tracking Nifty Financial Services Index
India has scored 90.32% in United Nation's Economic and Social Commission for Asia Pacific's (UNESCAP) latest Global Survey on Digital and Sustainable Trade Facilitation
ICICI Bank and HPCL jointly launches 'ICICI Bank HPCL Super Saver' Credit Card
The state-run insurance and investment company, Life Insurance Corporation of India (LIC), has rolled out the Arogya Rakshak plan, a benefit-based, non-linked, non-participating, regular premium and individual health insurance policy
India's largest lender State Bank of India has selected Paisalo Digital as its National Corporate Business Correspondent for boosting its financial inclusion drive with the help of kiosk-based banking services
Citi India appointed Rahul Saraf as Head of Investment Banking
Aramane Giridhar take oath additional charge of Chairman, NHAI
Rasmi Ranjan Das, a Joint Secretary in the Ministry of Finance, is among a distinguished group of 25 tax experts from around the world appointed as members of the UN tax committee for the 2021 to 2025 term
The Cachar district of Barak Valley in South Assam has got the prestigious National Silver SKOCH award under health category on the project called "Pushti Nirbhor"
Former Indian Footballer Shibaji Banerjee honoured with Mohun Bagan Ratna Award 2021 Posthumously
AmbitionBox bags UST for top employee choice awards
The Indian Navy has signed a Memorandum of Understanding (MoU) with Kotak Mahindra for salary accounts of all its personnel – both serving and retired
Space technology applications being used for digital education in the country
Last blast of Sela Tunnel's escape tube conducted by DG Border Roads
Indian Navy participated in a two-day bilateral Passage Exercise (PASSEX) with Royal Navy Carrier Strike Group (CSG)-21 led by HMS Queen Elizabeth in the Bay of Bengal from 21 to 22 Jul 21