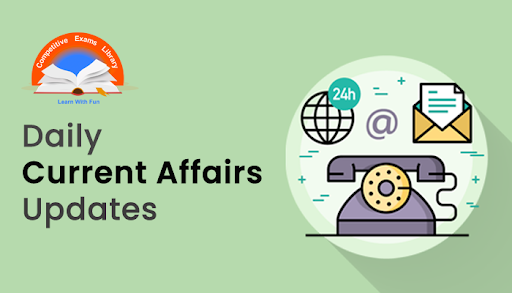 Dear Readers, Daily Current Affairs News Updates about the National and International events were listed here. Read Current Affairs Today here and stay updated with current news. Candidates those who are preparing for IBPS/SBI/PO/Clerk exam and all other competitive exams can use this and try the Current Affairs Quiz to test your knowledge level.
CURRENT AFFAIRS:  DAYS
Netaji Subhash Chandra Bose Jayanti –observed on Jan 23
Netaji Subhash Chandra Bose Jayanti or Subhas Chandra Bose's birthday is celebrated on 23rd January every year to remember and honour Netaji's vigour as one the greatest freedom fighters of India.
It will mark his 125th birth anniversary.
"Give me your blood, and I shall give you freedom"—the quote by Netaji Subhas Chandra Bose inspired thousands of Indian youths to join the struggle for independence from the British colonial rule.
National Girl Child Day: Observed on Jan 24, 2021
The National Girl Child Day is celebrated in India every year on January 24.
It was started by the Ministry of Women and Child Development and the Government of India in 2008, with the purpose to spread awareness among people about all the inequalities girls face in the Indian society.
National Girl Child day 2021 is being celebrated across the country with the objective of raising awareness on the issue of declining Child Sex Ratio (CSR).
The celebrations will also mark the anniversary of Beti Bachao, Beti Padhao (BBBP) scheme.
National Voters' Day: Observed on Jan 25, 2021-01-25
In order to encourage more young voters to take part in the political process, the Government of India has decided to celebrate January 25 every year as "National Voters' Day".
President Ram Nath Kovind will be the Chief Guest at the national function being organized in New Delhi.
The theme for this year's NVD, 'Making Our Voters Empowered, Vigilant, Safe and informed', envisages active and participative voters during elections.
It has been started from January 26, 2011 to mark the Commission's foundation day.
The National Voters' Day has been celebrated on January 25 every year since 2011, all across the country to mark the foundation day of Election Commission of India, i.e. 25th January 1950.
The main purpose of the NVD celebration is to encourage, facilitate and maximize enrolment, especially for the new voters.
National Tourism Day 2021: Celebrated On Jan 25
Every year, January 25 is observed as National Tourism Day in the country.
Significance of the day :
Owing to the diversity and the multiculturalism India has to offer, this day is to highlight the importance of tourism having a positive impact on the country's economy.
It is to highlight the prominence of tourism in the country and how it impacts India's economic prospects.
Theme of this year is 'Dekho Apna Desh'.
This time, this day will be observed virtually. From January 21 to February 22, the Ministry of Tourism has been organizing seminars pertaining to the theme. With that, they want to showcase the diverse culture of our country.
 About Ministry of Tourism :
Officeholder: Prahlad Singh Patel
Founded: 1967
Headquarters: New Delhi
Uttar Pradesh celebrates its statehood day
Uttar Pradesh is celebrating its foundation day on Jan 24.
Chief Minister Yogi Adityanath inaugurated the Sthapna Diwas at a gala at Awadh Shilpgram in capital city Lucknow.
The programmes of foundation day programme will continue for next three days.
The theme of Uttar Pradesh Divas is 'Self-reliant Uttar Pradesh:  Women, youths, Farmers: Development of all, Honour to All.'  Sabka Vikas Sabka Samman '.
A huge exhibition on the theme of 'One District One Product' is also being displayed at Gautam Budh Nagar in NCR.
An app of MSME department 'Udhyam Sarthi ' was launched on this occasion.
This app is said to be a master key for youths that, on a Click, will provide all detailed information regarding employment.
Chief Minister Sri Yogi distributed prizes to the winners in different fields including Sports, Agriculture, Dairy, Industry and culture.
Advanced Tool kits were given to the artisans under ODOP scheme in state.
About Uttar Pradesh:
Capital: Lucknow
Governor: Anandiben Patel
Chief minister: Yogi Adityanath
International Day of Education 2021 Observed On Jan 24
On January 24, 2018, the United Nations General Assembly adopted a resolution proclaiming this day as International Day of Education in celebration of the role of education for peace and development.
The theme for International Education Day is Recover and Revitalize Education for the COVID-19 Generation."
About History of International Education Day 2021:
On January 24, the United Nations General Assembly adopted a resolution proclaiming this day as International Day of Education on December 3, 2018.
This day is also celebrated to promote the role of education and thus the International Day of Education came into existence.
About  United Nations General Assembly :
President: Volkan Bozkır
Headquarters: New York, United States
Founded: 1945
CURRENT AFFAIRS: NATIONAL NEWS
Modi address the inaugural function of Parakram Diwas in Kolkata 
Prime Minister Narendra Modi will visit West Bengal to address the inaugural function of the 'Parakram Diwas' celebrations at Victoria Memorial in Kolkata.
The Prime Minister said, among the various programmes being organised across the nation, one special programme is being held at Haripura in Gujarat.
He said, Haripura has a special relation with Netaji Subhas Chandra Bose.
It was at the historic Haripura Session of 1938 that Netaji Bose took up the Presidentship of the Congress Party.
About West Bengal:
Governor: Jagdeep Dhankhar
Capital: Kolkata
Chief minister: Mamata Banerjee
PM interact with Pradhan Mantri Rashtriya Bal Puraskar awardees
Prime Minister Narendra Modi will interact with Pradhan Mantri Rashtriya Bal Puraskar awardees through video conferencing.
32 children have been awarded the Pradhan Mantri Rashtriya Bal Puraskar this year.
Women and Child Development Minister Smriti Irani will also be present on the occasion.
The Government has been conferring the Bal Shakti Puraskar under Pradhan Mantri Rashtriya Bal Puraskar to the children with exceptional abilities and outstanding achievement in the fields of innovation, sports, arts and culture, social service and bravery.
The awardees are from 32 districts of 21 States and Union territories.
Center extends Ayushman Bharat health scheme to CAPF
Union Home Minister Amit Shah has launched the Ayushman CAPF health scheme in Guwahati for about 28 lakh Central Armed Police Forces and their families in all the states where Ayushman Bharat- Pradhan Mantri Jan Arogya Yojana is operational.
Assam Chief Minister Sarbananda Sonowal, MoS Home Nityananda Rai, Assam Finance Minister Himanta Biswa Sarma, Union Home Secretary Ajay Bhalla were also present on this occasion.
Shah paid triunites to Netaji Subhash Bose.
He said it was a great occasion coinciding with the Parakram Diwas to start Ayushman Bharat scheme for the Central Armed Police Forces.
Amit Shah attends first BTR Accord Day celebration 
Union Home Minister Amit Shah  has  said that due to the efforts of Prime Minister Narendra Modi, a new era of development and peace has  prevailed in  Bodoland Territorial Region.
Addressing the the opening ceremony of the 1st  BTR ( Bodoland Territorial Region) Accord Day celebration at Kokrajhar in Assam.
Modi is committed for the development of North East and also did all measures to put an end to the era of violence in the region.
He said that a peaceful region is required for development.
The Home Minister mentioned that Mr. Modi took step to step terrorism in Jammu and Kashmir.
He said that 500 crore have been sanctioned for the road development in BTR .
Home Minister Chair the Plenary session of North Eastern Council Meeting 
Union Home Minister Amit Shah is visiting Shillong to chair the 69th Plenary Meeting of the North Eastern Council (NEC).  
The meeting would be attended by the MoS (Independent Charge), Ministry of Development of North-Eastern Region (DoNER) and Vice-Chairman, Dr Jitender Singh and members of the NEC comprising Governors and Chief Ministers of the eight north-eastern States.
Senior officials from north-eastern States and Central Government Ministries are also expected to be present.
Shah will also launch the Ayushman Bharat programme for central armed police forces at Guwahati in Assam this evening.
Health Minister Dr. Harsh Vardhan will also attend the programme.
Mr Shah will also attend the opening ceremony of the first anniversary of the BTR Accord at Kokrajhar.
CURRENT AFFAIRS: INTERNATIONAL NEWS
Republic Day parade – 122 Bangladesh Armed Forces personnel participate
For the first time ever, a 122 member strong contingent of the Bangladesh Armed Forces will participate in the Republic Day parade.
Sources said the contingent will be led by contingent commander Lieutenant Colonel Abu Mohammed Shahnoor Shawon and his deputies Lieutenant Farhan Ishraq and Flight Lieutenant Sibat Rahman. 
The contingent comprises soldiers of the Bangladesh Army, sailors of the Bangladesh Navy and air warriors of the Bangladesh Air Force.
This year India and Bangladesh celebrate 50 years of the establishment of diplomatic ties and Bangladesh celebrates 50 years of its independence.
Both sides have agreed to hold commemorative events in several other countries and also jointly organize events throughout the year.
About Bangladesh:
Capital: Dhaka
Currency:Bangladeshi taka
President:Abdul Hamid
India- Bangladesh: Joint Steering Committee meeting 
19th meeting of the Joint Steering Committee on India Bangladesh cooperation in the energy sector was held in Dhaka.
The steering committee took stock of the progress of implementation of the decisions taken during the last meeting of the Joint Working Group (JWG) and Joint Steering Committee (JSC).
According to the press release issued by the High Commission of India in Dhaka, the meeting also discussed the status of 1320 MW Maitree Super Thermal Power Project at Rampal.
Detailed discussions were held on power trade between India and Bangladesh through various interconnections.
The meeting discussed ways for further enhancing the cooperation in the energy sector.
Indian delegation was led by the Power Secretary Sanjiv Nandan Sahai while Power Secretary Habibur Rahman represented the Bangladesh side at the meeting.
Dhaka International Film Festival concluded
The 19th Dhaka International Film Festival (DIFF)
During the 9-day long festival which started on 16 January, 226 films from 73 countries were shown.
Kyrgyz film 'The Road to Eden' jointly directed by Bakyt Mukul and Dastan Zhapar won the best film award at the festival.
The film tells the struggle of an old writer who wishes to promote literature to bring enlightenment to his people.
In the Asian competition section, the Best Director award was given to Ksenia Langutina for the film Farida.
The film is jointly produced by Azerbaijan and Russia.
Masud Hasan Ujjal won the Best Film Award in the Bangladesh Panorama section for his film 'Unponchash Batash'.
The Best Audience award was won by the film 'Gondi' directed by the Bangladeshi director Arefeen Khan.
Information Minister of Bangladesh Hasan Mehmud was the Chief Guest at the closing ceremony.
The State Minister for Foreign Affairs and Chief Patron of the Dhaka International Film Festival expressed happiness at the successful organising of the festival.
The Dhaka International Film Festival (DIFF) had introduced a new section this year on the 'World Leaders who changed society' under which films on Mahatma Gandhi, Lenin, Fidel Castro, Che Guevara and Bangabandhu Sheikh Mujibur Rahman were shown during the festival.
The DIFF 2021 was dedicated to the centenary year of Bangabandhu Sheikh Mujibur Rahman.
Austin wins Senate confirmation as America's first Black Pentagon chief
Lloyd J. Austin, a West Point graduate who rose to the Army's elite ranks and marched through racial barriers in a 41-year career, won Senate confirmation to become the nation's first Black secretary of defense.
The 93-2 vote gave President Joe Biden his second Cabinet member.
Avril Haines was confirmed as the first woman to serve as director of national intelligence.
Biden is expected to win approval for others on his national security team in coming days, including Antony Blinken as secretary of state.
About United States:
President: Joe BidenTrending
Capital: Washington, D.C.
Currency: US Dollars
China overtakes Germany with largest current account surplus-Ifo
China overtook Germany to become the country with the world's largest current account surplus in the year 2020, as per a survey by the Munich-based Ifo institute.
About Ifo :
Ifo (Information and Forschung) is a Institute for Economic Research is a research institution based in Munich, Germany, which analyses economic policy .
China's current account surplus, which measures the flow of goods, services and investments, more than doubled to $310 billion last year.
While the current account surplus of Germany shrank for the fifth year in a row in 2020 to $261 billion.
Germany's current account surplus shrank to $261 billion in 2020 as demand for cars, machinery and equipment fell in many of its key export markets, the survey showed.
Japan came in third with a current account surplus of $158 billion.
CURRENT AFFAIRS: STATE NEWS
Ladakh administration organises Opening Ceremony of Archery Competition 
Archery has always been a part of every Ladakhi society.
Nowadays, Ladakhi youth are seen focusing more on modern archery along with traditional one.
Under the Khelo India Ladakh Winter Games, the Union Territory Administration has organised the Opening Ceremony of Archery Competition at Leh.
Union Minister of State for Sports and Youth Affairs Kiren Rijiju inaugurated the competition.
In the Leh district of UT of Ladakh, Union Minister of State for Sports and Youth Affairs Kiren Rijiju inaugurated Archery Competition-2021 under First Khelo India Ladakh Winter Games at NDS Sports Stadium.
About Ladakh:
Capitals: Leh, Kargil
Lieutenant Governor: Shri Radha Krishna Mathur
Golden jubilee statehood day celebrated by Himachal Pradesh 
Himachal Pradesh is celebrating its golden jubilee statehood day(Jan 25th) with full zeal across the state.
It was on this day in 1971 Himachal Pradesh became the 18th state of India.
Chief Minister Jairam Thakur stated that the 'golden jubilee' of the statehood of Himachal Pradesh would be celebrated round the year by organizing 51 programs in various parts of the state.
'Swarnim Rath Yatra' will also be carried out to showcase the development journey of the hill state as a part of golden jubilee celebrations during the year.
A special postal stamp would also be released to mark the occasion.
About Himachal Pradesh:
Capitals: Shimla(summer) , Dharamshala(winter)
Chief Minister: Jai Ram Thakur
Governor: Bandaru Dattatreya
New scheme initiated in Rajasthan 
A new scheme has been initiated in Sirohi district, Rajasthan to make people aware about the importance of nourishment of pregnant women and children.
The scheme called Ek Paudha Suposhit Beti Ke Naam or A plant on the name of a well nourished daughter' has been started under Beti Bachao Beti Padhao scheme of the union government.
Under this Scheme on the birth of a girl child a drumstick plant is being distributed by district administration this nutritional plant is taken care of by family members of girl child.
Tourism Minister inaugurates IISM branch in Kargil
In Kargil of Ladakh Union territory, the Union Tourism Minister Mr Prahlad Singh Patel has inaugurated a branch of Indian Institute of Skiing and Mountaineering (IISM).
The Minister participated in various events to celebrate the National Tourism Day with National Events of Adventure Tourism, (NEAT) in Kargil district.
Minister Prahlad Singh said, the Union Government is taking all measures to encourage adventure sports and snow based winter games in the region.
He said, till now outside sportspersons who are using the natural advantages are supporting local talent.
About Ladakh:
Capitals: Leh, Kargil
Lieutenant Governor: Shri Radha Krishna Mathur
Madhya Pradesh – first state to get additional funds for capital projects
Madhya Pradesh has become the first state to get additional funds for capital projects for successfully carrying out reforms in various citizen-centric areas.
The Department of Expenditure, Ministry of Finance has allocated additional 660 crore to the state for capital expenditure for undertaking the One Nation, One Ration Card Reforms, Ease of Doing Business Reforms, and Urban Local Bodies Reforms.
The scheme of "Special Assistance to States for capital expenditure" was announced by the Finance Minister on 12th October last year under the Atma Nirbhar Bharat package.
About Madhya Pradesh:
Capital: Bhopal
Chief minister: Shivraj Singh Chouhan
WIPRO group – knowledge partner of Madhya Pradesh govt.
In Madhya Pradesh, WIPRO group is all set to act as knowledge partner of the State Government.
Chief Minister Shivraj Singh Chouhan, while holding a discussion with Mr Azim Premji of WIPRO through video conference, informed that the company has taken initiative for establishment of a university in the State.
For this purpose, the State Government will extend all possible support to the Foundation.
The Wipro Group will also set up a Software Development Centre in Bhopal.
The Chief Minister said, such centers will go a long way in providing more opportunities to the youth in the Information Technology sector.
Gujarat govt. announces to set up new industrial estates 
In Gujarat, the State Government has announced to set up new industrial estates under the Gujarat Industrial Development Corporation-GIDC.
It will be set up over 987 hectares of land across eight districts.
Among these new estates, Jalotra in Banaskantha district will cover the marble cutting and polishing industry. 
Shekhpat in Jamnagar district will house brass and ceramic units, while Kadjodra in Gandhinagar district will cover food and agro industry.
Patan will have auto ancillary units, while Nagalpar in Rajkot district will cover the medical devices industry.
Anand and Mahisagar districts will have industrial estates for engineering industries.
According to official sources, the new GIDC estates will provide 2,570 plots of 500 to 2,000 square meters to the MSME sector and 337 plots of 10,000 to 50,000 square metres to large industries.
The new GIDC estates will generate nearly 20,000 employments after its complete set up.
About Gujarat:
Capital: Gandhinagar
Governor: Acharya Devvrat
Chief minister: Vijay Rupani
Tamil Nadu: Union Minister Giriraj Singh disburses subsidy amount 
In Tamil Nadu, Union Minister for fisheries Giriraj Singh disbursed subsidy amounts to three boat building yards for construction of deep sea fishing  boats scheme worth
One crore 64 lakhs under the Pradhan Mantri Matsya Sambadha Yojana at Kunthakkal Harbour Ramanathapuram.
The Minister said that the Government has invested 20 thousand fifty crore for fisheries development throughout the Country. 
He said that the Centre would take up the fishermen issues with the neighbouring Srilankan Government which will provide a solution to make their livelihood a success.
CURRENT AFFAIRS: APPOINTMENTS
A L Jarhad IAS appointed as secretary of chief minister Uddhav Thackeray
Maharashtra government has appointed A L Jarhad IAS as secretary to the chief minister Uddhav Thackeray.
Jarhad was transferred from BrihanMumbai Municipal Corporation (BMC) and was waiting for the new posting.
About Maharashtra:
Capital: Mumbai
Governor: Bhagat Singh Koshyari
Chief minister: Uddhav Thackeray
CURRENT AFFAIRS: AWARDS AND HONOURS
Bihar cops, including three IPS officers won national awards
Three officers of Indian Police Service (IPS), besides three junior cops, have been selected this year also  to be awarded with  the Internal Security Service Medals and the Home Minister's Medals respectively for outstanding services in  duty.
Rakesh Rathi, The Inspector General of Police of Magadh range, present Lakhisarai SP Sushil Kumar and Jamui ASP (operation) Sudhansu Kumar are the IPS officers, who would be awarded with the Internal Security Service Medals.
The other three policemen selected for the Home Minister Medal this year for outstanding services are havaldar Bhogendra Mishra of Police Academy at Rajgir and constables Anuranjan Kumar and  Vipin Kumar Singh of CTC at Nathnagar in Bhagalpur.
About Bihar:
Governor: Phagu Chauhan
Chief minister: Nitish Kumar
Capital: Patna
CURRENT AFFAIRS: MOU
Ministry of Road Transport & Highways signed MOU with IIT Roorkee
Ministry of Road Transport and Highways and Indian Institute of Technology, IIT Roorkee signed an MoU in New Delhi for continuation of Ministry of Road Transport and Highways Professorial Chair focusing on research and development, teaching and training in the area of Development of Highway Infrastructure.
The MoU was signed by Indresh Kumar Pandey, Special Secretary and Director GeneralRoad Development and Manoranjan Parida, Deputy Director and Professor of Civil Engineering, IIT Roorkee.
Secretary in the Ministry Giridhar Aramane presided over the MoU signing ceremony.
CURRENT AFFAIRS : OBITUARIES 
Larry King, legendary talk show host, dies at 87
Larry King, the longtime CNN host who became an icon through his interviews with countless newsmakers and his sartorial sensibilities, has died. He was 87.
King hosted "Larry King Live" on CNN for over 25 years, interviewing presidential candidates, celebrities, athletes, movie stars and everyday people.
He retired in 2010 after taping more than 6,000 episodes of the show.
His show was one of the prime attractions on the television as it was a mix of interviews, political discussions, current event debates and phone calls from viewers
Daily CA On Jan 23 :
Indian Railways in a tribute to freedom fighter Subhas Chandra Bose who is also known as  'Netaji' has decided to rename the Howrah-Kalka Mail as 'Netaji Express'
Meghalaya chief minister Conrad K Sangma inaugurated India's longest road arch bridge, the Wahrew Bridge at Sohbar in East Khasi Hills district.
The Supreme Court held that the successful bidders for a corporate debtor under the Insolvency and Bankruptcy Code (IBC) would be immune from any investigations.
The Department for Promotion of Industry and Internal Trade (DPIIT) has launched a regulatory compliance portal that will act as a bridge between citizens, industries and the government to minimise burdensome compliances.
The Union Home Minister Shri Amit Shah inaugurated the new 4-lane Thaltej-Shilaj-Rancharda railway overbridge, in Ahmedabad city of Gujarat through video conferencing from New Delhi.
Uttarakhand Chief Minister Trivendra Singh Rawat inaugurated the state's first child friendly police station describing it as a major reformative step by the police.
The Reserve Bank of India (RBI) has imposed a monetary penalty of 2 crore on Standard Chartered Bank–India for delays in reporting of frauds.
The RBI state-owned SBI, along with private sector lenders ICICI Bank and HDFC Bank continue to be Domestic Systemically Important Banks (D-SIBs) or institutions which are 'too big to fail'.
Axis Bank has unveiled a credit 'AURA' exclusively loaded with several health and wellness benefits for its users at an affordable price.
Harsh Vardhan,Union Minister of Health and Family welfare today inaugurated the 7th Edition of "MASCRADE 2021"- Movement against Smuggled & Counterfeit Trade
The Competition Commission of India (CCI) approves acquisition of a minority stake in Aditya Birla Fashion and Retail Limited (ABFRL) by Flipkart Investments Private Limited (FIPL).
A large-scale joint military exercise 'Excercise Kavach' will be conducted in the coming week under the aegis of Andaman and Nicobar Command (ANC), the only Joint Forces Command of India.
Infectious diseases topped the global risks chart, displacing climate change, in a report by the World Economic Forum (WEF).
The Ministry of Electronics and Information Technology (MeitY) has announced the establishment of a Quantum Computing Applications Lab in partnership with Amazon Web Services (AWS). 
Popular bhajan singer Narendra Chanchal passed away in New Delhi. He was 80.
Daily CA on Jan 24 & 25 :
Netaji Subhash Chandra Bose Jayanti or Subhas Chandra Bose's birthday is celebrated on 23rd January every year to remember and honour Netaji's vigour as one the greatest freedom fighters of India.
The National Girl Child Day is celebrated in India every year on January 24.
To encourage more young voters to take part in the political process, the Government of India has decided to celebrate January 25 every year as "National Voters' Day".
Every year, January 25 is observed as National Tourism Day in the country.
Uttar Pradesh is celebrating its foundation day on Jan 24.
On January 24, 2018, the United Nations General Assembly adopted a resolution proclaiming this day as International Day of Education in celebration of the role of education for peace and development.
Prime Minister Narendra Modi will visit West Bengal to address the inaugural function of the 'Parakram Diwas' celebrations at Victoria Memorial in Kolkata.
Prime Minister Narendra Modi will interact with Pradhan Mantri Rashtriya Bal Puraskar awardees through video conferencing.
Union Home Minister Amit Shah has launched the Ayushman CAPF health scheme in Guwahati for about 28 lakh Central Armed Police Forces and their families in all the states where Ayushman Bharat- Pradhan Mantri Jan Arogya Yojana is operational.
Union Home Minister Amit Shah  has  said that due to the efforts of Prime Minister Narendra Modi, a new era of development and peace has  prevailed in  Bodoland Territorial Region.
Union Home Minister Amit Shah is visiting Shillong to chair the 69th Plenary Meeting of the North Eastern Council (NEC).  
For the first time ever, a 122 member strong contingent of the Bangladesh Armed Forces will participate in the Republic Day parade.
19th meeting of the Joint Steering Committee on India Bangladesh cooperation in the energy sector was held in Dhaka.
The 19th Dhaka International Film Festival (DIFF) During the 9-day long festival which started on 16 January, 226 films from 73 countries were shown.
Lloyd J. Austin, a West Point graduate who rose to the Army's elite ranks and marched through racial barriers in a 41-year career, won Senate confirmation to become the nation's first Black secretary of defense.
China overtook Germany to become the country with the world's largest current account surplus in the year 2020, as per a survey by the Munich-based Ifo institute.
Ladakh administration organises Opening Ceremony of Archery Competition
Himachal Pradesh is celebrating its golden jubilee statehood day(Jan 25th) with full zeal across the state.
A new scheme has been initiated in Sirohi district, Rajasthan to make people aware about the importance of nourishment of pregnant women and children.
In Kargil of Ladakh Union territory, the Union Tourism Minister Mr Prahlad Singh Patel has inaugurated a branch of Indian Institute of Skiing and Mountaineering (IISM).
Madhya Pradesh has become the first state to get additional funds for capital projects for successfully carrying out reforms in various citizen-centric areas.
In Madhya Pradesh, WIPRO group is all set to act as knowledge partner of the State Government.
In Gujarat, the State Government has announced to set up new industrial estates under the Gujarat Industrial Development Corporation-GIDC.
In Tamil Nadu, Union Minister for fisheries Giriraj Singh disbursed subsidy amounts to three boat building yards for construction of deep sea fishing  boats scheme worth
Maharashtra government has appointed A L Jarhad IAS as secretary to the chief minister Uddhav Thackeray.
Rakesh Rathi, The Inspector General of Police of Magadh range, present Lakhisarai SP Sushil Kumar and Jamui ASP (operation) Sudhansu Kumar are the IPS officers, who would be awarded with the Internal Security Service Medals.
Ministry of Road Transport and Highways and Indian Institute of Technology, IIT Roorkee signed an MoU in New Delhi
Larry King, the longtime CNN host who became an icon through his interviews with countless newsmakers and his sartorial sensibilities, has died. He was 87