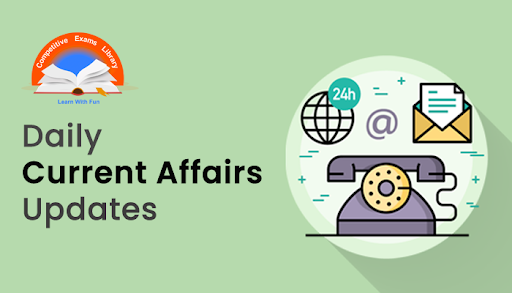 Dear Readers, Daily Current Affairs News Updates about the National and International events were listed here. Read Current Affairs Today here and stay updated with current news. Candidates those who are preparing for IBPS/SBI/PO/Clerk exam and all other competitive exams can use this and try the Current Affairs Quiz to test your knowledge level.
CURRENT AFFAIRS: IMPORTANT DAYS
International Dog Day 2021 – Observed on Aug 27
Every year on 26 August, International Dog Day is celebrated across the world.
It is a day to encourage people to adopt dogs, instead of buying them from pet stores or shops.
The day is also recognised to celebrate all dogs, irrespective of their shape, size, breed among others.
The day is significant because there are hundreds of dogs around the world who need to be rescued by local authorities as people do not take proper care of them.
As these dogs have no home, many of them are abused while some are even brutally killed or poisoned.
Apart from encouraging people to adopt, the day also raises awareness about problems faced by canines.
It also encourages people to take better care of these animals as they deserve a good life.
About the day:
In the year 2004, the day was founded by animal welfare advocate and pet lifestyle expert, Collen Paige.
He is also a conservationist, dog trainer, and author.
The date 26 August was selected for International Dog Day because it was the first time when Paige's family adopted Sheltie; he was 10-years-old.
CURRENT AFFAIRS: NATIONAL NEWS
Govt replaces UAS Rules with the liberalised Drone Rules, 2021
In March 2021, the Ministry of Civil Aviation (MoCA) published the UAS Rules, 2021.
They were perceived by academia, Startups, end-users and other stakeholders as being restrictive in nature as they involved considerable paperwork, required permissions for every drone flight and very few "free to fly" green zones were available.
Based on the feedback, the Government has decided to repeal the UAS Rules, 2021 and replace the same with the liberalised Drone Rules, 2021.
Unmanned Aircraft Systems (UAS), commonly known as drones, offer tremendous benefits to almost all sectors of the economy like – agriculture, mining, infrastructure, surveillance, emergency response, transportation, geo-spatial mapping, defence, and law enforcement etc.
Drones can be significant creators of employment and economic growth due to their reach, versatility, and ease of use, especially in India's remote and inaccessible areas.
In view of its traditional strengths in innovation, information technology, frugal engineering and huge domestic demand,India has the potential to be global drone hub by 2030.
Government grants to increase of Bank Employees Family Pension to 30% of last salary drawn
The Central Government has approved to increase the family pension of bank employees to 30 per cent of last salary drawn.
This move would make family pension go up to as much as 30,000 rupees to 35,000 rupees per family of bank employees.
This proposal was given by the Indian Banks' Association's proposal in order to provide relief to families of Bank Employess.
This was announced by the Secretary, Department of Financial Services, and Ministry of Finance.
Secretary Debashish Panda informed that in continuation of the 11th bi-partite settlement on wage revision of public sector bank employees, which was signed by the IBA with the unions on 11th November last year,  there was a proposal for enhancement of family pension and also the employers' contribution under the National Pension Scheme.
NITI Aayog and Cisco launches Women Entrepreneurship Platform – "WEP Nxt"
The Niti Aayog and the US-based tech giant Cisco launched the next phase of the Women Entrepreneurship Platform (WEP).
Titled 'WEP Nxt', this next phase of Niti Aayog's flagship platform will leverage Cisco's technology and experience working with India's start-up ecosystem to enable more women-owned businesses across the country.
The WEP is a first of its kind, unified access portal that brings together women from different parts of India to realise their entrepreneurial aspirations.
About NITI Aayog:
The NITI Aayog is a public policy think tank of the Government of India, established with the aim to achieve sustainable development goals with cooperative federalism by fostering the involvement of State Governments of India in the economic policy-making process using a bottom-up approach.
Headquarters: New Delhi
Chairperson: Narendra Modi
CEO: Shri Amitabh Kant
Vice Chairman: Rajiv Kumar
About Cisco:
Cisco Systems, Inc. is an American multinational technology conglomerate corporation headquartered in San Jose, California, in the center of Silicon Valley.
Cisco develops, manufactures and sells networking hardware, software, telecommunications equipment and other high-technology services and products.
CEO: Chuck Robbins
Headquarters: San Jose, California, United States
BPR&D and AICTE jointly launches MANTHAN 2021
Ministry of Education's innovation cell, All India Council for Technical Education (AICTE) and Bureau of Police Research and Development (BPR&D) has jointly launched the MANTHAN 2021 hackathon, a unique national initiative to identify innovative concepts and technology solutions for addressing the security challenges of the 21st century faced by the intelligence agencies.
MANTHAN 2021 will have two phases.
In the first phase, participants would submit their concepts against the problem statements which they wish to solve on the portal.
These submitted ideas will be evaluated by group of experts in the field and only the innovative ideas will be selected for the Grand Finale or 2nd round scheduled from 28 November 2021.
During the grand finale, selected participants are expected to build the solution to demonstrate their concepts and prove to the juries that their ideas are technically feasible and more importantly implementable.
Best ideas will be declared winners.
About BPR&D:
The Bureau of Police Research and Development was set up on 28 August 1970 in furtherance of the objective of the Government of India for the modernisation of police forces.
It has evolved as a multifaceted, consultancy organisation.
Headquarters: New Delhi, India
About AICTE:
The All India Council for Technical Education is a statutory body, and a national-level council for technical education, under the Department of Higher Education.
Headquarters: New Delhi
Textile Ministry approved Samarth Scheme for Capacity Building
Scheme for Capacity Building in Textile Sector (SAMARTH) was approved towards addressing the skill gap in textile sector and also to supplement the efforts of textile industry in providing gainful and sustainable employment to the youth.
The objectives of Samarth are as follows:
To provide demand driven, placement oriented National Skills Qualifications Framework (NSQF) compliant skilling programmes to incentivize and supplement the efforts of the industry in creating jobs in the organized textile and related sectors, covering the entire value chain of textiles, excluding Spinning and Weaving
  To promote skilling and skill upgradation in the traditional sectors of handlooms, handicrafts, sericulture and jute
iii.   To enable provision of sustainable livelihood either by wage or self-employment to all sections of the society across the country
CURRENT AFFAIRS: INTERNATIONAL NEWS
Dubai sets up specialised court to combat money laundering
Dubai Courts announced the establishment of a specialised court, focused on combating money laundering, within the Court of First Instance and Court of Appeal.
The move, under the directives of His Highness Sheikh Mohammed bin Rashid Al Maktoum, Vice-President and Prime Minister of the UAE and Ruler of Dubai, is in line with the UAE leadership's vision to strengthen the integrity of the financial system.
It follows the establishment of the Executive Office of the Anti-Money Laundering & Countering the Financing of Terrorism (AML/CFT) by Sheikh Mohammed to oversee the implementation of the UAE's National AML/CFT Strategy and National Action Plan (NAP).
The Executive Office reports to the UAE's Higher Committee overseeing the implementation of the country's National AML/CFT Strategy chaired by Sheikh Abdullah bin Zayed Al Nahyan, Minister of Foreign Affairs and International Cooperation.
The new court will support Dubai's efforts to tackle financial crimes, including money laundering, as part of the UAE's wider endeavour to combat crime.
About UAE:
Currency: United Arab Emirates dirham
Capital: Abu Dhabi
President: Khalifa bin Zayed Al Nahyan
Pakistan receives $2.75 billion from IMF 
Pakistan received $2.75 billion from the International Monetary Fund (IMF) under a Special Drawing Rights (SDR) programme to support low-income countries hit by the corona virus.
The funds, part of a $650 billion global programme, will shore up Pakistan's foreign reserves, under pressure from a rise in the current account deficit and falling remittances from workers based abroad.
Pakistan has reported more than 1.1 million corona virus cases and more than 25,000 pandemic-related deaths.
About Pakistan:
Currency: Pakistani rupee
Capital: Islamabad
President: Arif Alvi
Prime minister: Imran Khan
CURRENT AFFAIRS: STATE NEWS
Karnataka – first State to officially implement National Education Policy
Karnataka has become the first state in the country to officially implement the National Education Policy.
The Higher Education Department has introduced an admission module under the new policy.
The process of admissions under the new policy will be initiated by the Universities in the state.
A website and a helpline were launched last week for the reference of students. The teaching programme under the new policy will begin from 1st of October.
Higher Education Minister Dr. C. N. Ashwath Narayana on the significance of introducing the New Education Policy in the state.
About Karnataka:
Capital: Bengaluru
Governor: Thawar Chand Gehlot
Chief minister:Basavaraj Bommai
National Parks: Bannerghatta National Park, Bandipur National Park, Nagarhole National Park, Kudremukh National Park, Anshi National Park.
Tourism Minister inaugurates mega-tourism event "Ladakh: New Start, New Goals" 
Tourism Minister G Kishan Reddy inaugurated a mega-tourism event "Ladakh: New Start, New Goals" in Leh virtually from Delhi.
Centre and Union Territory Ladakh are organizing a 3-Day mega-event from 26th to 28th of this month.
Our correspondent reported that the Minister appealed to all the pilots of the tourism industry to promote Ladakh as a domestic and international tourist destination.
Three-day event is organized to promote Ladakh as a tourist destination with focus on aspects of adventure, culture and responsible tourism.
While inaugurating the Ladakh New Start, New Goals, Kishan Reddy listed various government initiatives like Dekho Apna Desh, to promote tourism in Ladakh and boost local economy with sustainability.
About Ladakh:
Capital: Leh, Kargil
Lieutenant governor: Radha Krishna Mathur
National park: Hemis National Park
CURRENT AFFAIRS: BUSINESS NEWS
Yahoo shuts down its news sites in India
Yahoo has shut down its news websites in India due to the new foreign direct investment rules that limit foreign ownership of digital content platforms in the country.
These include Yahoo News, Yahoo Cricket, Yahoo Finance, Entertainment and MAKERS India.
This, however, will not affect Yahoo Mail and Search in India.
As of August 26th, 2021, Yahoo India will no longer be publishing content.
Your Yahoo Account, Mail and Search experiences will not be affected in any way and will operate as usual.
About Yahoo: 
Yahoo is an American web services provider.
It is owned by Verizon Media, pending sale to investment funds managed by Apollo Global Management.
Headquarters: Sunnyvale, California, United States.
CURRENT AFFAIRS: BANKING NEWS
RBI now extends card payment tokenisation facility to laptops, wearable devices
The Reserve Bank of India has extended the scope of permitted devices for undertaking tokenised card transactions to include consumer devices such as laptops, desktops, wearables (wrist watches, bands, etc.), and Internet of Things (IoT) devices.
RBI provided reference to its circular DPSS on Tokenisation – Card transactions, permitting authorised card networks to offer card tokenisation services to any token requestor, subject to the conditions listed therein.
The facility was available only for mobile phones and tablets of interested card holders.
There has been an uptake in the volume of tokenised card transactions during the recent months.
RBI includes PM SVANidhi Scheme beneficiaries under PIDF Scheme in tier 1 and 2 centers
The Reserve Bank extended the scheme for encouraging deployment of Point of Sale (PoS) infrastructure to street vendors covered under the PM SVANidhi programme in tier 1 and 2 centres.
The Payments Infrastructure Development Fund (PIDF) scheme, with a corpus of Rs 345 crore, envisages creating 30 lakh new touch points every year for digital payments in tier-3 to tier-6 centres.
The scheme, operationalized in January this year, has now been extended to select street vendors in tier 1 and 2 centres.
Launched in June 2020, the PM Street Vendor's AatmaNirbhar Nidhi (PM SVANidhi) scheme is aimed at helping street vendors impacted by the coronavirus pandemic to resume their livelihood activities.
It facilitates collateral-free working capital loans of up to Rs 10,000 of one-year tenure to approximately 50 lakh street vendors.
DBS Bank India to enter credit card business this year
DBS Bank India Limited (DBIL), the wholly-owned subsidiary of DBS Bank of Singapore, is preparing to enter the country's credit card market this year in a bid to grow the high-margin unsecured loan portfolio.
The lender plans to cash in on the consumer credit that is likely to peak this festive season as second wave ebbs and economic activity gathers momentum.
"DBS Bank already issues debit cards to digibank customers.
Now, we have outlined a strategy for expansion into credit cards.
By the end of 2021, DBS plans to launch a co-branded credit card along with Bajaj Finance and subsequently come with our proprietary card over a period of 2-3 quarters," Prashant Joshi, Managing Director and Head – National Distribution.
About DBS bank:
DBS Bank Ltd is a Singaporean multinational banking and financial services corporation headquartered in Marina Bay, Singapore.
The company was known as The Development Bank of Singapore Limited, before the present name was adopted on 21 July 2003 to reflect its changing role as a global bank.
PhonePe gets in-principle grant as an account aggregator from RBI
Walmart-backed digital payments firm PhonePe's subsidiary, PhonePe Account Aggregator Pvt Ltd, has got an in-principle approval from the Reserve Bank of India (RBI) to operate as an account aggregator.
With the license, PhonePe can now launch its account aggregator platform that will enable the free and instant exchange of financial data between financial information users (FIUs) and financial information providers (FIPs) with due consent from customers, thus helping Indian consumers avail financial services in a faster, cheaper and more convenient manner.
Account aggregators are responsible for providing services based on the explicit consent of individual clients, which includes the transfer, but not storing, of a client's data.
About PhonePe:
PhonePe is an Indian digital payments and financial services company headquartered in Bangalore, India.
PhonePe was founded in December 2015, by Sameer Nigam, Rahul Chari and Burzin Engineer.
The PhonePe app, based on the Unified Payments Interface, went live in August 2016.
PhonePe is 100% safe and secure.
It is powered by Yes Bank.
All payments happen over secure banking networks and the app does not store any user data or passwords.
All you need to do for every transaction is enter your MPIN.
Parent organization: Flipkart
CEO: Sameer Nigam
Headquarters: Bengaluru
CURRENT AFFAIRS: APPOINTMENT AND RESIGNATION NEWS
RBI approves the appointment of Hitendra Dave as CEO of HSBC India
HSBC India stated the Reserve Bank of India (RBI) has approved the appointment of Hitendra Dave as the country head for three years, effective August 24.
Dave is a General Manager within the HSBC Group and a member of the Asia Pacific Executive Committee of HSBC, "underlining the importance of the India business to HSBC".
About HSBC:
HSBC has developed a number of traditions over its years in business and employed people who would later find fame in other fields.
The bank's name is derived from the initials of The Hongkong and Shanghai Banking Corporation Limited, the founding member of HSBC.
CEO: Noel Quinn
RBI appointed Ajay Kumar as ED
The Reserve Bank of India stated Ajay Kumar has been appointed as Executive Director (ED), who will look after the departments of currency management, foreign exchange, and premises.
About Ajay Kumar: 
Before being promoted as ED, he was heading the New Delhi Regional Office of the RBI as Regional Director.
Kumar has, over a span of three decades, served in foreign exchange, banking supervision, financial inclusion, currency management and other areas in the Reserve Bank.
DFS decided to Three MDs and ten EDs of various PSU banks get term extensions
The Appointments Committee of the Cabinet (ACC) has accepted the proposal of the Department of Financial Services (DFS) to extend the tenure of three managing directors and chief executive officers (MDs and CEOs) and ten executive directors (EDs) of public sector banks.
The ACC has approved the extension of tenure of S S Mallikarjuna Rao, MD and CEO of Punjab National Bank, until January 31, 2022, when he is due for superannuation.
The appointments panel has also approved a two-year extension for Atul Kumar Goel, MD and CEO of UCO Bank as well as A S Rajeev, MD and CEO of Bank of Maharashtra.
The DFS had written to the Department of Personnel and Training (DoPT) suggesting the extension of tenure of MDs and EDs of public sector banks to ensure stability and continuity at state-owned lenders amid the pandemic even as the Banks Board Bureau identifies new candidates for the role of bank chiefs.
The ACC has also approved a two-year extension to Bank of Baroda ED Ajay K Khurana, ED of Canara Bank A Manimekhalai and P R Rajagopal, Bank of India ED.
Terms of Sanjay Kumar and Vijay Dube (Punjab National Bank), Gopal Singh Gusain and Manas Ranjan Biswal (Union Bank of India), Vikramaditya Singh Khichi (Bank of Baroda), Shenoy Vishwanath Vittal (Indian Bank), and Alok Srivastava (Central Bank of India) as EDs have been approved for an extension until their age of superannuation.
CCL director Bhola Singh elected as chief of Coal India arm
Coal India subsidiary Central Coalfields Ltd stated its director technical Bhola Singh has been chosen because the chief of NCL. Singh, an IIT-Kharagpur alumnus, has been chosen because the chairman and managing director of Northern Coalfields Ltd.
He began his skilled journey with NCL, a subsidiary of the coal behemoth, and has greater than three many years of expertise.
Singh was beneficial because the NCL chief by the Public Enterprises Choice Board, the assertion stated. Earlier than becoming a member of CCL in 2019, he was heading the Sasan Extremely Mega Energy
Singh launched sustainable mining in Central Coalfields and took it to a brand new degree with the deployment of state-of-the-art machines.
CURRENT AFFAIRS: AWARDS AND HONOURS
EASE Reforms Index Award 2021 conferred
Union Minister of Finance and Corporate Affairs Smt. Nirmala Sitharaman unveiled the fourth edition of the Public Sector Bank (PSB) Reforms Agenda 'EASE 4.0' for 2021-22 – tech-enabled, simplified, and collaborative banking.
She unveiled the annual report for the PSB Reforms Agenda EASE 3.0 for 2020-21 and participated in the awards ceremony to felicitate best performing banks on EASE 3.0 Banking Reforms Index.
Award details:
SBI, BoB Union Bank of India win top honours.
State Bank of India, Bank of Baroda and Union Bank of India has won the awards for best performing banks for PSB Reforms EASE 3.0 based on the EASE index.
Indian Bank won the award for the best improvement from the baseline performance.
SBI, BoB, Union Bank of India, Punjab National Bank and Canara Bank won the top awards in different themes of the PSB Reforms Agenda EASE 3.0.
Amit Rohidas bags Biju Patnaik Sports Award
Indian men's hockey team defender and drag-flicker Amit Rohidas has been awarded the prestigious Biju Patnaik Sports Award for outstanding performance in Sports & Games by the Odisha government.
Rohidas played an instrumental role in India's backline as well as PC defending in the recently concluded Tokyo Olympics Games, where India ended a 41-year wait for an Olympic medal by claiming bronze.
The hockey star from Sundargarh district in Odisha has been a regular feature in the Indian team after making a comeback in 2017 and has been part of some of the biggest feats in recent years.
Hockey coach Kalu Charan Choudhury, who has worked towards developing talented players at the grassroots level and has been coaching aspiring hockey players from Odisha for many decades, has won the Biju Patnaik Sports Award for Lifetime Achievement in the promotion of Sports & Games.
Siba Prasad was awarded the Coach of The Year award.
CURRENT AFFAIRS: MOU's AND AGREEMENTS
India & Maldives signed inks pact on mega Greater Male Connectivity Project
In one of the major connectivity initiatives abroad, India will commence the Greater Male Connectivity Project (GMCP) — the largest-ever infrastructure project — in the Maldives.
India will grant $100 million for the project besides a line of credit worth Rs 400 million.
"A contract between AFCONS and Government of the Maldives was signed for construction of Greater Male Connectivity Project."
"This is a flagship project of President Solih's presidency.
It will be an enduring symbol of the India-Maldives partnership.
It is the largest infrastructure project to be executed in the country.
This project will connect business, people, and industry."
GMCP will include the construction of a 6.74 km long bridge and causeway link which will connect the capital city Male with adjoining islands of Villingli, Gulhifalhu and Thilafushi.
About Maldives:
Capital: Malé
Currency: Maldivian rufiyaa
President: Ibrahim Mohamed Solih
CURRENT AFFAIRS : DEFENCE NEWS
Indian Pavilion inaugurated at Army 2021 in Moscow
The India Pavilion at the International Military Technical Forum – ARMY 2021 has been organised in Moscow, Russia from August 22 to 28, 2021, at Patriot Expo, Kubinka Air Base and Alabino military training grounds.
It has been organised by the Ministry of Defence of the Russian Federation since 2015.
It is the 7th edition of the annual International Military-Technical Forum.
The Indian pavilion is being represented by Defence Research and Development Organisation (DRDO), Bharat Dynamics Ltd. (BDL), Goa Shipyard Limited, BEML and Ordnance Factory Board.
ARMY 2021' was inaugurated jointly by Mr. Raj Kumar, Secretary-Department of Defence Production and Mr. Bala Venkatesh Varma, Ambassador of India to Russia.
The International Military and Technical Forum 'ARMY' is the world's leading exhibition of armament and military equipment and the authoritative platform for discussing innovative ideas and developments for the armed forces by various foreign exhibitors, delegations and visitors.
CURRENT AFFAIRS : ACQUISITIONS & MERGERS
Rakesh Jhunjhunwala picks up 1.59% stake in Canara Bank
Ace investor Rakesh Jhunjhunwala has picked 2,88,50,000 shares or 1.59 percent minority stakes in Canara Bank via the qualified institutions placement (QIP).
A total of seven investors have been allotted more than 5% of the equity offered in the QIP issue they are LIC 15.91%, BNP Paribas Arbitrage 12.55%, Societe Generale 7.97%, Indian Bank and ICICI Prudential Life Insurance 6.37% each, Morgan Stanley Asia (Singapore) Pte-ODI 6.16% of the shares issued in QIP and Volrado Venture Partners Fund II subscribed to 6.05%.
About Canara Bank :
Founded: 1 July 1906
Headquarters: Bengaluru
CEO: Lingam Venkat Prabhakar
Founder: Ammembal Subba Rao Pai
Canara Bank is the third largest nationalised bank in India.
CURRENT AFFAIRS : APPS & SERVICES
Centre Launches E-Shram Portal : A database for unorganised sector workers
On Aug 26, 2021, Minister for Labour and Employment, Shri Bhupender Yadav launched e-Shram Portal-National Database for Unorganised Workers.
About E-Shram Portal :
Aim of the portal :
To register 38 crore unorganised workers, such as construction labourers, migrant workforce, street vendors and domestic workers.
All registered unorganised workers will be provided accidental insurance coverage through Pradhan Mantri Suraksha Bima Yojana (PMSBY) for a year.
The sanctioned amount is Rs 2 lakh for accidental death and permanent disability and Rs 1 lakh in case of partial disability.
Upon registration on the eSHRAM Portal, the worker will get an eSHRAM card with a unique 12 digit Universal Account Number (UAN) and will be able to access the benefits of the various social security schemes through this Card anywhere anytime.
It will help the Ministry of Labour and Employment for building a national database of unorganised workers is central to the effort towards formalisation of the Indian workforce.
CURRENT AFFAIRS : SCIENCE & TECHNOLOGY
Pakistan successfully test-fires Fatah-1
On Aug 24, 2021, Pakistan successfully test fired the indigenously developed guided multi-launch rocket system Fatah-1, capable of precisely delivering conventional warheads deep into enemy territory.
This was the second flight of Fatah-1, after its first launch in January 2021.
The Fatah-1 weapon system can hit targets up to a range of 140 km.
It is a variant of the guided MLRS family, usually with an extended range of up to 150km.
About Pakistan :
Currency: Pakistani rupee
Capital: Islamabad
President: Arif Alvi
Prime minister: Imran Khan
CURRENT AFFAIRS : RANKING & INDEX
Niti Aayog releases NER District SDG Index report; East Sikkim tops                             
NITI Aayog, released the first edition of the North-Eastern Region District Sustainable Development Goals (SDGs) Index and Dashboard 2021–22.
It is designed and developed by NITI Aayog in collaboration with the Ministry of Development of North Eastern Region (DoNER) with technical inputs from the United Nations Development Programme.
East Sikkim with a score of 75.87 has topped the NER District SDG Index 2021-22 followed by Gomati, North Tripura (score 75.73) & West Tripura amongst 103 districts in the ranking.
About the Index :
The Index measures the performance of the districts of the eight States of Arunachal Pradesh, Assam, Manipur, Meghalaya, Mizoram, Nagaland, Sikkim and Tripura on the SDG and their corresponding targets, and ranks the districts based on the same.
The index offers insights into the social, economic, and environmental status of the region and its districts in their march towards achieving the SDGs.
About NITI Aayog:
The NITI Aayog is a public policy think tank of the Government of India, established with the aim to achieve sustainable development goals with cooperative federalism by fostering the involvement of State Governments of India in the economic policy-making process using a bottom-up approach.
Headquarters: New Delhi
Chairperson: Narendra Modi
CEO: Shri Amitabh Kant
Vice Chairman: Rajiv Kumar
CURRENT AFFAIRS : BOOKS & AUTHORS
K J Alphons presents his book 'Accelerating India: 7 Years of Modi Government' to PM Modi             
On Aug 26, 2021, Former Union Minister, Shri K J Alphons presented his book 'Accelerating India: 7 Years of Modi Government' to the Prime Minister, Shri Narendra Modi.
The book has been published by the publishing house, OakBridge Publishing.
About the Book :
The book is about all the areas of India's reform journey.
About K J Alphons :
K J Alphons is a 1979 batch of the Indian civil servant, advocate, and politician from Kerala.
He is the former Union Minister of State for Culture, and Tourism, in office from 3 September 2017 to May 2019.
Also, he is the first ever BJP Central Minister from Pathanamthitta
He is currently serving as a Rajyasabha MP from the state of Rajasthan.
CURRENT AFFAIRS : SPORTS NEWS
India GM Erigaisi wins chess tourney in Portugal    
The 17-year old Indian Grandmaster Arjun Erigaisi II Terras de Trás-os-Montes Chess Open in Bragança Portugal.
He secured 5 points from nine rounds (posting eight wins and settling for a draw) to finish clear winner in the field comprising over 140 players.
A total of five Indians participated in the tournament.
The Chennai-based Gukesh's gained 17.7 Elo points in 2nd place by winning 8 games & 1 losing match against GM Arjun Erigaisi.
Moksh Amit Doshi was the next best Indian performer as he finished 15th with six points.
About Arjun Erigaisi :
Arjun is from Telangana
He is the first grandmaster from Hanumakonda, Warangal, in Telangana state & he is the fifth grand master from Telugu states and 54th from India.
He was the winner of a silver medal in the 2015 Asian Youth Championship in Korea.
In 2021 he became the first Indian to qualify for the knockouts of Champions Chess Tour 2021.
CURRENT AFFAIRS : OBITUARIES
Padma Shri awardee agriculture scientist BV Nimbkar Passes away        
On Aug 25, 2021, Noted agricultural scientist and recipient of Padma Shri award, V. Nimbkar Passed away.
He was 90.
About BV Nimbkar :
V. Nimbkar was born on 17 July 1931 in Goa
He was known for his pioneering work in the fields of animal husbandry and
He is the founder of Nimbkar Agricultural Research Institute, a Phaltan-based non governmental organization.
Awards & Honours :
BV Nimbkar was awarded the Padma Shri Award in 2006 for his contribution in the field of agriculture.
In November 2016 he was also the recipient of the prestigious Jamnalal Bajaj award for application of science and technology for rural applications.
Former England Test captain Ted Dexter passes away
Former England Test captain Ted Dexter passed away
He was 86.
About Ted Dexter :
Ted Dexter was an aggressive middle-order batsman of ferocious power and a right-arm medium bowler.
He captained England in 30 test matches out of his 62 test match appearances.
He scored 4502 Test runs at an impressive average of 47.89.
He slammed 9 centuries and 27 half-centuries.
He was known by the nickname Lord Ted.
In June 2021, he was inducted into the ICC Cricket Hall of Fame.
He is credited for his instrumental role in the formation of the modern ICC Player Rankings system.
Daily CA On Aug 26 :
Women's Equality Day is celebrated in the United States on August 26 to commemorate the 1920 adoption of the Nineteenth Amendment to the United States Constitution
The Jal Shakti Ministry started a 100-day campaign — Sujalam — as part of the 'Azadi ka Amrit Mahotsav' (August 25) to create more ODF plus villages by undertaking wastewater management at the village level.
The Ministry of Electronics & Information Technology has launched the "Start-up Accelerators of MeitY for product Innovation, Development and growth (SAMRIDH)" programme.
The world's largest and tallest observation wheel will open in the UAE on October 21;
The Bangladesh Telecom Regulatory Commission (BTRC) has ordered the Department of Telecommunication (DoT) to ban internet games like PubG and Freefire.
Ohmium International, a US-based renewableenergy start-up, has launched India's first green hydrogen electrolyzer gigafactory at Bengaluru through its India subsidiary.
Infosys shares hit $100 billion m-cap, fourth Indian firm to reach milestone
BharatPe has entered peer-to-peer (P2P) lending with its product '12% club', which will allow consumers to not only earn 12 per cent interest on the funds they invest but also borrow at an interest rate of 12 per cent.
HDFC Bank has divested more than 2 per cent stake in Central Depository Services (India) Ltd (CDSL) in tranches during June-August this year, garnering nearly Rs 223 crore from the sale.
Union finance and corporate affairs minister Nirmala Sitharaman reviewed the performance of 12 public sector banks in an annual review meeting held in Mumbai.
The board of directors of Ujjivan Small Finance Bank approved the appointment of Carol Furtado as the officer on special duty (OSD).
Karnataka government has selected Sri Basavaliga Pattaddevaru, senior seer of Bhalki Hiremath, for the prestigious Sri Basava International Award.
Poonawalla Fincorp Limited (Formerly Magma Fincorp Limited), has signed an MoU with Institute of Company Secretaries of India (ICSI) to provide collateral-free term loans to ICSI members as well as its employees.
On Aug 24, 2021, India's National Security Advisor Ajit Doval hosted the 11th Meeting of the BRICS High Representatives Responsible for National Security through video conferencing.
The Spices Board in association with the Embassy of India, Bangkok organized an International Buyer Seller Meet (IBSM) and a webinar.
Indian Naval Ships Shivalik and Kadmatt are participating in the annual Exercise MALABAR-21 from 26 – 29 August 2021 along with the US Navy (USN), Japanese Maritime Self Defence Force (JMSDF) and the Royal Australian Navy (RAN).
The Indian Army has received the first batch of locally manufactured Multi-Mode Hand Grenades (MMHG) manufactured by Economic Explosives Limited (EEL) in the presence of Defence Minister Rajnath Singh in Nagpur.
New Book Titled The Kapil Sharma Story, is authored by Ajitabha Bose.
On Aug 24, 2021, Indian shot-putter Tek Chand was the flag-bearer for the Indian contingents at the opening ceremony of Paralympics  in Tokyo.
On Aug 21,2021, All-India Chess Federation (AICF) and Chess Association of India announced they have joined hands to administer the sport in India.
Daily CA On Aug 27 :
Every year on 26 August, International Dog Day is celebrated across the world & to encourage people to adopt dogs, instead of buying them from pet stores or shops.
In March 2021, the Ministry of Civil Aviation (MoCA) published the UAS Rules, 2021.
The Central Government has approved to increase the family pension of bank employees to 30 per cent of last salary drawn.
The Niti Aayog and the US-based tech giant Cisco launched the next phase of the Women Entrepreneurship Platform (WEP).
Ministry of Education's innovation cell, All India Council for Technical Education (AICTE) and Bureau of Police Research and Development (BPR&D) has jointly launched the MANTHAN 2021 hackathon, a unique national initiative to identify innovative concepts and technology solutions for addressing the security challenges of the 21st century faced by the intelligence agencies.
Scheme for Capacity Building in Textile Sector (SAMARTH) was approved towards addressing the skill gap in textile sector and also to supplement the efforts of textile industry in providing gainful and sustainable employment to the youth.
Dubai Courts announced the establishment of a specialised court, focused on combating money laundering, within the Court of First Instance and Court of Appeal.
Pakistan received $2.75 billion from the International Monetary Fund (IMF) under a Special Drawing Rights (SDR) programme to support low-income countries hit by the corona virus.
Karnataka has become the first state in the country to officially implement the National Education Policy.
Tourism Minister G Kishan Reddy inaugurated a mega-tourism event "Ladakh: New Start, New Goals" in Leh virtually from Delhi.
Yahoo has shut down its news websites in India due to the new foreign direct investment rules that limit foreign ownership of digital content platforms in the country.
The Reserve Bank of India has extended the scope of permitted devices for undertaking tokenised card transactions to include consumer devices such as laptops, desktops, wearables (wrist watches, bands, etc.), and Internet of Things (IoT) devices.
The Reserve Bank extended the scheme for encouraging deployment of Point of Sale (PoS) infrastructure to street vendors covered under the PM SVANidhi programme in tier 1 and 2 centres.
DBS Bank India Limited (DBIL), the wholly-owned subsidiary of DBS Bank of Singapore, is preparing to enter the country's credit card market this year in a bid to grow the high-margin unsecured loan portfolio.
Walmart-backed digital payments firm PhonePe's subsidiary, PhonePe Account Aggregator Pvt Ltd, has got an in-principle approval from the Reserve Bank of India (RBI) to operate as an account aggregator.
HSBC India stated the Reserve Bank of India (RBI) has approved the appointment of Hitendra Dave as the country head for three years, effective August 24.
The Reserve Bank of India stated Ajay Kumar has been appointed as Executive Director (ED), who will look after the departments of currency management, foreign exchange, and premises.
The Appointments Committee of the Cabinet (ACC) has accepted the proposal of the Department of Financial Services (DFS) to extend the tenure of three managing directors and chief executive officers (MDs and CEOs) and ten executive directors (EDs) of public sector banks.
Coal India subsidiary Central Coalfields Ltd stated its director technical Bhola Singh has been chosen because the chief of NCL. Singh, an IIT-Kharagpur alumnus, has been chosen because the chairman and managing director of Northern Coalfields Ltd.
Union Minister of Finance and Corporate Affairs Smt. Nirmala Sitharaman unveiled the fourth edition of the Public Sector Bank (PSB) Reforms Agenda 'EASE 4.0' for 2021-22 – tech-enabled, simplified, and collaborative banking.
Indian men's hockey team defender and drag-flicker Amit Rohidas has been awarded the prestigious Biju Patnaik Sports Award for outstanding performance in Sports & Games by the Odisha government.
In one of the major connectivity initiatives abroad, India will commence the Greater Male Connectivity Project (GMCP) — the largest-ever infrastructure project — in the Maldives.
The India Pavilion at the International Military Technical Forum – ARMY 2021 has been organised in Moscow, Russia from August 22 to 28, 2021, at Patriot Expo, Kubinka Air Base and Alabino military training grounds.
Ace investor Rakesh Jhunjhunwala has picked 2,88,50,000 shares or59 percent minority stakes in Canara Bank via the qualified institutions placement (QIP).
On Aug 26, 2021, Minister for Labour and Employment, Shri Bhupender Yadav launched e-Shram Portal-National Database for Unorganised Workers.
On Aug 24, 2021, Pakistan successfully test fired the indigenously developed guided multi-launch rocket system Fatah-1, capable of precisely delivering conventional warheads deep into enemy territory.
NITI Aayog, released the first edition of the North-Eastern Region District Sustainable Development Goals (SDGs) Index and Dashboard 2021–22 & East Sikkim with a score of 75.87 has topped the NER District SDG Index 2021-22 followed by Gomati, North Tripura (score 75.73) & West Tripura amongst 103 districts in the ranking.
On Aug 26, 2021, Former Union Minister, Shri K J Alphons presented his book 'Accelerating India: 7 Years of Modi Government' to the Prime Minister, Shri Narendra Modi.
The 17-year old Indian Grandmaster Arjun Erigaisi II Terras de Trás-os-Montes Chess Open in Bragança Portugal.
On Aug 25, 2021, Noted agricultural scientist and recipient of Padma Shri award, V. Nimbkar Passed away.
Former England Test captain Ted Dexter passed away