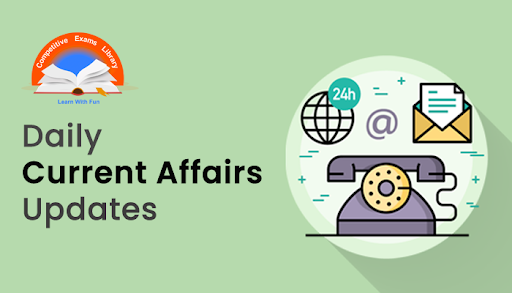 Dear Readers, Daily Current Affairs News Updates about the National and International events were listed here. Read Current Affairs Today here and stay updated with current news. Candidates those who are preparing for IBPS/SBI/PO/Clerk exam and all other competitive exams can use this and try the Current Affairs Quiz to test your knowledge level.
CURRENT AFFAIRS: NATIONAL NEWS
Vice President Jagdeep Dhankhar attends the FIFA world cup inauguration in Qatar:
Vice President Jagdeep Dhankhar attended the inauguration of the FIFA World Cup in Qatar alongside the Emir of Qatar, Sheikh Tamim bin Hamad Al Thani, and other dignitaries.
Dhankhar is in Doha for two days to represent India at the opening of FIFA's flagship event.
During his visit, the Vice President will meet with members of the Indian community as well as attend the Football World Cup's opening ceremony.
The opening ceremony will take place on November 20, 2022, at the 60,000-capacity Al Bayt Stadium in Al Khor, right before the first match between host Qatar and Ecuador.
The Vice President's visit would be an occasion for him to join a close and friendly country, Qatar, while it stages a major athletic tournament, as well as to recognize the role and support offered by Indians in this World Cup.
About Qatar
Capital: Doha
Currency: Riyal
CURRENT AFFAIRS: STATE NEWS 
Odisha CM Naveen Patnaik Launches Mukhyamantri Siksha Puraskar Yojana Award and Scholarship Scheme
Odisha Chief Minister (CM) Shri Naveen Patnaik announced the Mukhyamantri Siksha Puraskar Yojana Award and Scholarship Scheme. 
The scheme has been introduced to encourage healthy competition between the state schools and also recognize excellence in
About Mukhyamantri Siksha Puraskar Yojana : 
Under the programme, annual awards worth Rs. 100 Crore per year will be given to school students, educational institutions and principals, teachers, and school management committees for achieving excellence in Education and Alumni for their contribution.
About Award Scheme : 
The award will be given to 50,000 students, 1,500 principals, School Management Committee, Alumni, Gram Panchayat, and District Administrators.
The chief minister also launched a digital locker app for the Council of Higher Secondary Education and the Board of Secondary Education for safekeeping of certificates, mark sheets, and other documents.
About Odisha : 
Governor: Ganeshi Lal
Chief minister: Naveen Patnaik
Capital: Bhubaneswar
National Park: Simlipal National Park, Bhitarkanika National Park
Wildlife Sanctuaries: Tikarpada Wildlife Sanctuary, Chilika Wildlife Sanctuary, Sunabeda Wildlife Sanctuary, Kotagarh Wildlife Sanctuary
Dance : Ghumura Dance, Ranapa Dance
Tribes : Bagata, Banjara, Munda
CURRENT AFFAIRS: BANKING & FINANCE
HDFC Capital selects 10 startups for funding & support during the 2nd [email protected] summit 
HDFC Capital, a subsidiary of Housing Development Finance Corporation Ltd, has shortlisted 10 startups for funding and support during the 2nd housing and Affordable Real Estate and Technology ([email protected]) Summit Concluded in Mumbai, Maharashtra.
HDFC Capital has shortlisted 10 startups for funding and support during the 2nd [email protected] Summit
Out of the 10 finalist start-ups, four were focused on construction tech and three each on sustainability tech and sales & fintech.
Key Highlights : 
Recently, the [email protected] Platform raised over Rs 500 crore through global investors as the first close of its property technology fund.
[email protected] Platform launched HDFC Real Estate Tech Innovators 2022 challenge in partnership with Startup India, receiving an overwhelming response with over 537 startups categorized under Project Management & Construction Tech, Sales and FinTech, and Sustainability Tech.
HDFC Capital is the investment manager to HDFC Capital Affordable Real Estate Fund 1 (H-CARE 1), HDFC Capital Affordable Real Estate Fund 2 (H-CARE 2), and HDFC Capital Affordable Real Estate Fund 3 (H-CARE 3), which are registered with SEBI as a category II alternative investment funds.
These funds combine to create a $ 3 billion platform targeting the development of affordable and mid-income housing in
Note : 
The Real Estate industry is the second largest employer in India and is expected to contribute 13% of GDP in 2030
About HDFC Capital :
Headquarters: Mumbai, Maharashtra
MD & CEO : Vipul Roongta
Shriram Life gets PFRDA nod to become the annuity service provider
Shriram Life Insurance Company (SLIC) is empanelled as an Annuity Service Provider by the Pension Fund Regulatory Development Authority (PFRDA).
The empanelment will help the insurance major manage the annuity component of the maturity proceeds under the National Pension System (NPS).
SLIC's empanelment as ASP will help it mobilize 40% of the NPS maturity amount which will be open to investment in annuity schemes.
The annuity premium mobilization in India is above ₹25,000 crore per year.
About Annuity Service Provider :
Annuity Service Provider is an IRDA-registered insurance company empanelled by PFRDA for providing Annuity Services to NPS subscribers upon their exit from the system.
ASPs will be responsible for managing the funds (allocated for buying annuity) and payment of the pension after a subscriber attains the age of 60.
This will also enable customers to choose from an array of insurance providers who provide rewarding annuity plans according to their needs and lifestyle.
About SLIC : 
Founded: 2005 (commenced operations in 2006).
Headquarters: Hyderabad, Telangana
Chairman: T.S. Krishna Murthy
MD & CEO : Casparus Kromhout
HDFC Capital & CREDAI collaborate to accelerate investments into realty projects in tier 2,3 cities
HDFC Capital Advisors, a subsidiary of India's largest private mortgage lender HDFC, has entered into a collaboration with the property developers' body the Confederation of Real Estate Developers' Association of India (CREDAI) to accelerate investments into real estate projects in tier II and III cities.
This announcement was made by CREDAI at the 'NATCON 2022' annual event held at YAS Island in Abu Dhabi.
Key Highlights : 
The real estate private equity investment manager will be investing in mid-income and affordable projects in these cities through its $3 billion fund.
CREDAI also partnered with India's first and largest integrated incubator and accelerator for startups – Venture Catalysts & NeoVon – to set up a $100 million fund – 'Spyre VC Proptech Fund'.
The fund shall invest a 100 million dollar fund in the next couple of years across early and growth-stage startups.
Additionally, to be able to accelerate the adoption of technology, CREDAI will launch Credaiverse' to have a permanent presence in Metaverse for an immersive buying consumer experience.
CREDAI has also announced that it's over 13,000 member developers have taken a pledge to turn 100% carbon neutral by 2050 in a bid to accelerate its commitment to the UN's Sustainable Development Goals (SDG) 2030.
About CREDAI :
Chairman: Mr. Satish Magar
President: Harsh Vardhan Patodia
President Elect : Mr. Boman Irani
Navi Enters Into Co-Lending Partnership With Piramal For Digital Personal Loans
Navi Group, a technology-driven financial products, and services company has partnered with Piramal Capital and Housing Finance Ltd to offer digital personal loans in India.
About the Partnership :
The partnership would allow the fintech startup to serve 11,000+ pin codes across India.
Under the partnership, customers can get digital personal loans of up to INR 20 Lakh with a tenure of up to 72 months via the startup's app.
Piramal Finance will fund 80% of the loans generated by the partnership, while the rest will come from Navi Finserv, a subsidiary of Navi Technologies.
About Navi Group : 
Founded: December 2018
Headquarters: Bangalore, Karnataka, India
CEO and chairman : Sachin Bansal
CURRENT AFFAIRS: AWARDS AND HONOURS
Chiranjeevi is named Indian Film Personality of the Year 2022 at the 53rd IFFI:
Telugu superstar Chiranjeevi was honoured with the Indian Film Personality of the Year 2022 award at the opening ceremony of the 53rd International Film Festival of India (IFFI).
Anurag Thakur, Union Minister for Information and Broadcasting, revealed that megastar Chiranjeevi will get the Indian Film Personality of the Year award.
Chiranjeevi has appeared in over 150 films, mostly in Telugu, for his nearly four-decade career.
About Chiranjeevi:
Chiranjeevi is a well-known Indian actor, film producer, philanthropist, and politician best known for his work in Telugu cinema.
Chiranjeevi has appeared in over 150 films during his career.
He has appeared in films in Telugu, Tamil, and Hindi. In 1978, he made his screen debut with Punadhirallu.
From 2012 to 2014, he was the Minister of Tourism for the Government of India.
In 1982, he captivated the audience with his performance in Initlo Ramayya Veedilo Krishnayya.
He's recognized for his vivacious dancing routines and powerful fight sequences.
Through his organization, The Chiranjeevi Charitable Foundation, which he formed in 1998, he actively participates in philanthropy.
Uma Sharma, a Kathak performer, earned the Sumitra Charat Ram Award:
Uma Sharma, a Kathak exponent, has earned the coveted 'Sumitra Charat Ram Award for Lifetime Achievement in appreciation of her contribution to Indian classical music and dance.
She is a renowned classical dancer who has received the Padma Shri (1973) and the Padma Bhushan (2001) for her distinctive contribution to India's cultural history.
She received the award from former Governor of Jammu and Kashmir Karan Singh and Sarod player Ustad Amjad Ali Khan at a ceremony hosted by Shriram Bharatiya Kala Kendra at Kamani Auditorium.
About Sumitra Charat Ram Award:
The Sumitra Charat Ram Award for Lifetime Achievement has been granted for the past 11 years to honour outstanding Artists who have made a lasting contribution to the world of Indian Classical Music & Dance.
Birju Maharaj, the doyen of the kathak dance, received the first award, which was followed by Smt. Kishori Amonkar (Hindustani Vocal Music), Shri Mayadhar Raut (Odissi Dance), Smt. Kumudini Lakhia (Kathak Dance), Pt. Jasraj (Hindustani Vocal Music), Pt. Hariprasad Chaurasia (Hindustani Instrumental Music (Indian Classical Dance Guru, Motivational Speaker).
Franca Ma-ih Sulem Yong has been awarded the UNESCO Madanjeet Singh Prize for 2022:
Franca Ma-ih Sulem Yong of Cameroon, President of the NGOs #Afrogiveness and Positive Youths Africa, has been awarded the UNESCO-Madanjeet Singh Prize for the Promotion of Tolerance and Non-Violence for the 2022 Edition.
The prize is named after its sponsor, Madanjeet Singh (1924-2013), a prominent Indian artist, writer, and diplomat who was also a UNESCO Goodwill Ambassador.
About Franca Ma-ih Sulem Yong:
Franca Ma-ih Sulem Yong, a journalist with seven years of experience, worked to shift public understanding of mental illness.
She started two non-governmental organizations (NGOs) – Afrogiveness Movement and Positive Youths Africa – after receiving training in art therapy and psychology (PYA).
These two non-governmental organizations (NGOs) work to help wounded survivors of religious and intercultural disputes in African countries heal through the universal language of the arts.
They have operations in Cameroon, the Central African Republic, Chad, Congo, Mali, Niger, Nigeria, Sudan, and Togo.
Concerning the UNESCO-Madanjeet Singh Prize:
UNESCO awards the UNESCO-Madanjeet Singh Prize for the Promotion of Tolerance and Nonviolence every two years.
The prize was inspired by UNESCO's Constitution, which declares that "peace if it is not to fail, must be established on the intellectual and moral unity of mankind."
It was unveiled in 1996, following the United Nations Year of Tolerance in 1995, and in conjunction with Mahatma Gandhi's 125th birthday.
Madanjeet Singh, a former Indian artist, writer, and diplomat who served as a UNESCO Goodwill Ambassador, donated to fund the award.
CURRENT AFFAIRS: MOUS AND AGREEMENT
India and the EU have signed an agreement to collaborate on high-performance computing:
The Indian Ministry of Electronics and Information Technology (MeitY) and the European Commission's Directorate-General for Communications Networks, Content and Technology (DG CONNECT) signed an "Intent of Cooperation on High-Performance Computing (HPC), Weather Extremes & Climate Modeling, and Quantum Technologies."
The agreement builds on both sides' agreements to strengthen technology cooperation on quantum and high-performance computing during the May 8 India-EU leaders meeting.
Moreover, the signing of the agreement is significant in light of the April 25 decision to establish the EU-India Trade and Technology Council (TTC).
The agreed partnership aims to facilitate collaboration on high-performance computing applications using Indian and European supercomputers in fields such as bio-molecular pharmaceuticals, Covid-19 therapies, mitigating climate change, predicting natural disasters, and quantum computing.
According to MeitY secretary Alkesh Kumar Sharma, high-performance computing is addressing some of the world's most pressing concerns, and demand for such systems is growing rapidly across multiple disciplines.
Under this collaboration, India and the EU will pool their experience to optimize high-performance computing to produce breakthrough technology solutions in a variety of industries.
CURRENT AFFAIRS: RANKING AND REPORTS
India is placed 61st in the Network Readiness Index 2022:
According to the Network Readiness Index 2022 (NRI 2022) report issued by the US-based Portulans Organisation, an independent non-profit research and educational institute, India has risen six spots to rank 61st.
According to a Telecom Ministry announcement, India's total score has risen to 51.19 in 2022 from 49.74 in 2021.
The NRI 2022 report rates 131 economies, which collectively account for over 95% of world GDP.
With an overall score of 80.3, the United States ranks top on the list.
Singapore takes second place with a score of 79.35, and Sweden takes third place with a score of 78.91.
Singapore is the leader in the Asia Pacific region, followed by South Korea and Japan.
Network Readiness Index: India
India ranked first in 'AI talent concentration,' second in 'Mobile broadband internet traffic within the country,' third in 'Annual investment in telecommunication services,' fourth in 'ICT Services exports,' fifth in 'FTTH/Building Internet subscriptions,' and sixth in 'AI scientific publications,' according to the report.
While India ranks 61st overall, it ranks third among lower-middle-income countries. India's score was greater than the group average in each of the four pillars of the score.
India, on the other hand, was ranked 11th in the Asia-Pacific region.
India has done exceptionally well in terms of AI talent concentration, international Internet bandwidth, and intra-country mobile broadband internet traffic.
Happiness, online access to financial accounts and the gender gap in Internet use were the country's worst metrics.
Given its income level, India has more network readiness than would be predicted.
India comes in third place out of 36 lower-middle-income countries, trailing only Ukraine (50) and Indonesia (59).
India outperforms the income group average across the board in all pillars and sub-pillars.
CURRENT AFFAIRS: APPOINTMENTS & RESIGNATIONS
WhatsApp India head Abhijit Bose & Meta India public policy director Rajiv Aggarwal step down    
WhatsApp's India head Abhijit Bose and Meta India's director of public policy Rajiv Aggarwal have resigned from their respective positions.
These developments come against the backdrop of Facebook's parent company laying off 11,000 people worldwide.
Shivnath Thukral, who is currently the director of public policy at WhatsApp India, has been appointed as the director of public policy for Meta India, which includes Facebook, Instagram, and WhatsApp.
About Abhijit Bose : 
Bose, who co-founded offline payments startup Ezetap (now part of Razorpay), joined WhatsApp as the head of WhatsApp India in November 2018.
Under Bose's leadership, WhatsApp made significant progress in India with its API-based business products, even as business messaging became more strategic for Meta over the last 12-18 months
Meanwhile, Aggarwal has exited Meta over a year after leading its public policy division in the country.
Note : 
Meta Chief Executive Officer: Mark Zuckerberg
Additional Info :
On November 3, Meta's India head Ajit Mohan also resigned from his post.
Govt extends tenure of ED Director Sanjay Kumar Mishra for one year until Nov 2023
The Central government extended the tenure of Enforcement Directorate (ED) chief Sanjay Kumar Mishra by a year till November 18, 2023.
This is the third extension given to the officer, with a total tenure as ED chief lasting 5 years.
In 2021, the government brought an ordinance, and later Parliament passed bills to extend the tenure of the director of the Central Bureau of Investigation (CBI) and ED to a maximum of five years from two years.
About Sanjay Kumar Mishra :
Mishra is a 1984-batch Indian Revenue Service officer.
He was appointed the Enforcement Directorate chief on November 19, 2018, for two years.
About ED : 
Established: 1957
Headquarters: New Delhi, Delhi
The ED is a central investigative agency that enforces two central laws the Prevention of Money Laundering Act (PMLA) and the Foreign Exchange Management Act (FEMA).
Retired BPCL chairman Arun Kumar Singh to be next head of ONGC
Arun Kumar Singh, the former chairman of the oil refining and marketing company Bharat Petroleum Corporation Limited (BPCL), is most likely to become the new chairman of ONGC, India's top oil and gas producer.
This will be the first time a senior PSU board position has gone to a person over 60.
If his selection is approved, Singh will get three years as head of the cash-rich PSU (Public Sector Unit).
He was already selected to head the Petroleum and Natural Gas Regulatory Board (PNGRB).
Key Highlights : 
ONGC has been without a regular chairman and managing director since April 2021 and the senior director on the board has been entrusted with the additional charge.
Eligibility criteria for a board-level position at PSU provide that an internal candidate (applicant from within the PSU) should not be more than 58 years of age on the date of the vacancy.
This eligibility for external candidates is the maximum age of 57 years on the date of the vacancy.
This made Singh as well as Mukesh Kumar Surana, who superannuated as chairman and managing director of Hindustan Petroleum Corporation Ltd (HPCL) on April 30 this year, and Subhash Kumar, who retired as acting chairman of ONGC on December 31, 2021, eligible.
About BPCL : 
Headquarters: Mumbai, Maharashtra, India
BPCL is an Indian central public sector undertaking under the ownership of the Ministry of Petroleum and Natural Gas, GoI.
BPCL is India's second-largest government-owned downstream oil producer.
Meta appoints Sandhya Devanathan as India's head
Facebook parent Meta has appointed Sandhya Devanathan as the head of Meta India with effect from 1st Jan 2023,
She Succeeds Ajit Mohan who resigned from Meta, which owns Facebook, Instagram, and Whatsapp.
As the head of Meta in India division, Sandhya Devanathan will report to Dan Neary, vice-president of Meta's overall APAC business.
About Sandhya Devanathan : 
She served as the country managing director for Singapore and business head for Vietnam.
Devanathan currently serves as vice president of gaming for Meta's Asia-Pacific (APAC) 
CURRENT AFFAIRS: SPORTS NEWS
Red Bull's Max Verstappen wins the Abu Dhabi F1 Grand Prix:
Max Verstappen of the Red Bull Racing team won the season-ending F1 Abu Dhabi race in Abu Dhabi, United Arab Emirates.
The struggle for second place remained a huge drama, with Charles Leclerc and Sergio Perez entering the race equal at 290 points, but it was Leclerc who came out on top, finishing second on the Yas Marina Circuit.
Max Verstappen won his 15th championship of the 2022 season.
He also won the world F1 championship in 2022.
In 2021, he won his first Formula One world championship.
He also retains the record for winning the most races in a single season (15).
He broke Michael Schumacher's (2004 season) and Sebastian Vettel's (2004 season) previous record of 13 race victories in a season (2013 season).
CURRENT AFFAIRS: BOOKS AND AUTHOR
Ruskin Bond launches Gautaam Borah's new book, 'Nalanada – Until We Meet Again.':
Gautaam Borah, a senior management professional and the globally regarded author of 'Monetising Innovation,' releases his latest book 'Nalanada – Until We Meet Again.' Ruskin Bond, a great writer, launched the book.
Gautaam's new book is a movie-like experience that incorporates action, adventure, romance, love, grit and intuition, and mystery.
The book will take you on a breathtaking journey across all of these.
The book's gist:
'Nalanda- until we meet again' is a compelling narrative of passion, retribution, and an age-old mystery.
It's the story of Neil and Aanchal.
Neil meets Aanchal at the famous University of Oxford and they fall in love.
Back in India, Aanchal works for an NGO, while Neil works for a telecom business.
When Neil becomes a victim of business politics, he is thrust into a merciless adventure.
Aanchal's politician father steers her in a different direction, and she vanishes.
A surprising revelation from a mysterious sage places Neil at the crossroads of a century-old mystery.
Neil must travel to Nalanda to perform a larger mission that will bring Aanchal back into his life.
Daily CA on November 23:
Vice President Jagdeep Dhankhar attended the inauguration of the FIFA World Cup in Qatar alongside the Emir of Qatar, Sheikh Tamim bin Hamad Al Thani, and other dignitaries.
Telugu superstar Chiranjeevi was honoured with the Indian Film Personality of the Year 2022 award at the opening ceremony of the 53rd International Film Festival of India (IFFI).
Uma Sharma, a Kathak exponent, has earned the coveted 'Sumitra Charat Ram Award for Lifetime Achievement in appreciation of her contribution to Indian classical music and dance.
Franca Ma-ih Sulem Yong of Cameroon, President of the NGOs #Afrogiveness and Positive Youths Africa, has been awarded the UNESCO-Madanjeet Singh Prize for the Promotion of Tolerance and Non-Violence for the 2022 Edition.
The Indian Ministry of Electronics and Information Technology (MeitY) and the European Commission's Directorate-General for Communications Networks, Content and Technology (DG CONNECT) signed an "Intent of Cooperation on High-Performance Computing (HPC), Weather Extremes & Climate Modeling, and Quantum Technologies."
According to the Network Readiness Index 2022 (NRI 2022) report issued by the US-based Portulans Organisation, an independent non-profit research and educational institute, India has risen six spots to rank 61st.
Max Verstappen of the Red Bull Racing team won the season-ending F1 Abu Dhabi race in Abu Dhabi, United Arab Emirates.
Gautaam Borah, a senior management professional and the globally regarded author of 'Monetising Innovation,' releases his latest book 'Nalanada – Until We Meet Again.' Ruskin Bond, a great writer, launched the book.
Odisha Chief Minister (CM) Shri Naveen Patnaik announced the Mukhyamantri Siksha Puraskar Yojana Award and Scholarship Scheme. 
HDFC Capital, a subsidiary of Housing Development Finance Corporation Ltd, has shortlisted 10 startups for funding and support during the 2nd housing and Affordable Real Estate and Technology ([email protected]) Summit Concluded in Mumbai, Maharashtra.
Shriram Life Insurance Company (SLIC) is empanelled as an Annuity Service Provider by the Pension Fund Regulatory Development Authority (PFRDA).
HDFC Capital Advisors, a subsidiary of India's largest private mortgage lender HDFC, has entered into a collaboration with the property developers' body the Confederation of Real Estate Developers' Association of India (CREDAI) to accelerate investments into real estate projects in tier II and III cities.
Navi Group, a technology-driven financial products, and services company has partnered with Piramal Capital and Housing Finance Ltd to offer digital personal loans in India.
WhatsApp's India head Abhijit Bose and Meta India's director of public policy Rajiv Aggarwal have resigned from their respective positions.
The Central government extended the tenure of Enforcement Directorate (ED) chief Sanjay Kumar Mishra by a year till November 18, 2023.
Arun Kumar Singh, the former chairman of the oil refining and marketing company Bharat Petroleum Corporation Limited (BPCL), is most likely to become the new chairman of ONGC, India's top oil and gas producer.
Facebook parent Meta has appointed Sandhya Devanathan as the head of Meta India with effect from 1st Jan 2023,