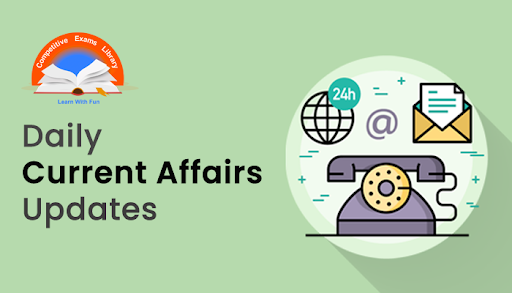 Dear Readers, Daily Current Affairs News Updates about the National and International events were listed here. Read Current Affairs Today here and stay updated with current news. Candidates those who are preparing for IBPS/SBI/PO/Clerk exam and all other competitive exams can use this and try the Current Affairs Quiz to test your knowledge level.
CURRENT AFFAIRS: NATIONAL NEWS
Union Minister for Health and Family Welfare has Chaired the 12th Indian Organ Donation Day Celebrations:
Mansukh Mandavya, Union Minister for Health and Family has addressed the 12th Indian Organ Donation Day in the presence of Bharati Pravin Pawar, Union Minister of State for Health and Family Welfare.
The event, meant to celebrate the gift of life given by the deceased donors to the transplant recipients was inaugurated by the Union Ministers to promote organ donation at a time the country's demand for organ replacement far exceeds organ donations.
The occasion felicitated the members of families of deceased donors who gave their consent in a time of grief.
India now ranks third in the world only behind USA and China as per the data available on the Global Observatory on Donation and Transplantation (GODT) website
The State Organ and Tissue Transplant Organization (SOTTO) of Maharashtra won the award for the highest number of deceased donors' transplantations while Regional Organ and Tissue Transplant Organization (ROTTO) for the Western Region was recognized for best performance.
Ganga Connect concludes in London:
The Ganga Connect exhibition, that has been running across the UK from 8th November concluded in London on 25th November 2021.
This has been a major effort of the National Mission for Clean Ganga, the High Commission of India and cGanga to engage with the international community of scientists, technology companies, policy makers, industry, investors and finance professionals.
Gajendra Singh Shekhawat, Minister of Jal Shakti,and Shri Rajiv Ranjan Mishra, Director General, National Mission for Clean Ganga, hosted a virtual roundtable with eminent members of the Indian community who gathered in person at the Indian High Commission in London, UK and others via a digital bridge from elsewhere in the UK
A number of scientists and research institutions have agreed to come together to form a knowledge pool for exchange of scientific and technological ideas leading to development of collaborative research
Scotland – India Water Partnership: This partnership builds upon the MOU of National Mission for Clean Ganga and Government of Scotland MOU.
Indian Oil, Bharat Petroleum Corporation Limited and Hindustan Petroleum Corporation Limited has launched Model Retail Outlet Scheme:
Indian Oil, Bharat Petroleum Corporation Limited and Hindustan Petroleum Corporation Limited have announced the launch of Model Retail Outlet Scheme and a Digital Customer Feedback Program called [email protected]
Three oil PSUs have joined hands to launch Model Retail Outlets to enhance service standards and amenities, across their networks, which serve over 6 Crore consumers.
The initiative was inaugurated by Shri Hardeep Singh Puri, Minister of Petroleum and Natural Gas & Housing and Urban Affairs, Govt. of India.
In order to keep pace with the rapidly changing consumer behavior and a view to offer a heightened customer experience in retail outlets, Oil Marketing Companies aim to benchmark Retail Outlet standards for ensuring standardized customer facilities through these initiatives.
The scheme involves an intense 5 Level evaluation process of over 70000 retail outlets in the country on a set of core service and facility parameters as well as standard of customer amenities.
Top performers will be awarded the "Shresth" and "Uttam", Awards by the Ministry of Petroleum and Natural Gas and the "Rajya Sarv Pratham" awards by the respective Oil Companies.
The digital customer feedback program, [email protected], a unique, real time feedback program was also launched and customers will be encouraged to give their valuable feedback which will go a long way in enhancing service standards at the retail outlets
Gala Inauguration of "Textiles Week" at India Pavilion in Dubai Expo 2020:
The 'Textiles Week' was inaugurated by Shri Vijoy Kumar Singh, Additional Secretary, Ministry of Textiles along with Shri Jay Karan Singh, Trade Advisor at India Pavilion in "DUBAI EXPO' 2020 in the presence of heads of participating Export Promotion Councils.
An interactive session on the 'Sourcing and Investment Destination for Textiles Production Linked Incentive (PLI) Scheme – A Game Changer' was also organised at the Dubai Expo.
The objective of the interaction was to project India's commitment towards attracting investments in the Textile Sector so as to enhance production and thereby exports.
The Expo will be open seven days a week, from 10 am to 12 pm (midnight) from Saturday to Wednesday and 10 am to 2 am (night) (Thursday and Friday).
The Dubai Expo 2020 is a World Expo, currently hosted by Dubai in the United Arab Emirates from 1st October 2021 to 31st March 2022 with 192 participating country Pavilions.
 Union Minister of Textiles, Commerce & Industry, Consumer Affairs, Food and Public Distribution, Shri Piyush Goyal inaugurated the India Pavilion on 1st October, 2021.
The India Pavilion at Expo 2020 Dubai reflects India's commitment to the philosophy LokahSamastahSukhinoBhavantu, which means, "May everyone, in the whole world, be happy
The Handicrafts exports during the seven months of current financial year from April to October, 2021-22 is Rs. 19119.48 Crores registering a growth of over 50.88% over the same period last year.
Sixth BRICS Film Festival awards has announced at closing ceremony of IFFI 52:
South African Film Barakat by Director Amy Jephta and Russian Film the Sun above Me Never Sets by Director Lyubov Borisova has shared the Best film Award in the Sixth edition BRICS Film Festival.
For the first time the BRICS Film Festival was held alongside the 52nd International Film Festival of India in Goa during November 20-28, 2021.
The other Best Film Award Winner the Sun above Me Never Sets narrates the story of a young man who tries to reinvigorate the zeal to live life in an old man so that he can see his lost daughter
The Best Director award was won by Brazilian Filmmaker Lúcia Murat for her documentary film Ana.
Indian actor Dhanush won the Best Actor (Male) award for his role in Asuran, a film on a farmer father-son duo (both played by Dhanush) who fights against the archaic systems of the society
Brazilian actress Lara Boldorini was honored with the Best Actor (Female) Award for her film On Wheels, a rousing on-road tale of a search for a father-figure.
The union minister for Information & Broadcasting Shri Anurag Singh Thakur, Member of the Parliament, Ms. Sumalatha and Shri Rahul Rawail presented the awards to all the awardees.
7th IISF 2021 to be held in Panaji from 10-13 of Dec:
The 7th India International Science Festival (IISF) 2021 will be held in Panaji, Goa from 10th to 13th of next month.
The 4 days festival will be organized by the Ministry of Earth Sciences in collaboration with the Ministry of Science and Technology, the Department of Atomic Energy, the Department of Space and the Government of Goa. More than 100 scientists from different fields will participate and 740 science films from 70 countries will be screened.
The festival theme will be based on Aazadi Ka Amrit Mahotsav with the motto of Celebration of science and its promotion by all.
Union Minister for Science and Technology, Dr. Jitendra Singh has inaugurated the curtain-raiser program of the Festival in New Delhi.
Hunar Haat receives India International Trade Fair, 2021 Silver Medal for strengthening commitment to "Vocal for Local":
The HUNAR HAAT, organized by the Ministry of Minority Affairs at Pragati Maidan, New Delhi, received the prestigious India International Trade Fair, 2021 Silver Medal for strengthening commitment to "Vocal for Local" and its strong presence at the Trade Fair.
On the last day of India International Trade Fair, the Minority Affairs Minister Mukhtar Abbas Naqvi visited the HUNAR HAAT and lakhs of people visited "Hunar Haat" at Pragati Maidan where sale of indigenous products worth crores of rupees took place.
Mr. Naqvi, over 550 artisans and craftsmen from more than 30 States and Union Territories participated and set up more than 300 stalls in the 33rd HUNAR HAAT.
The Minister stated that Prime Minister Narendra Modi's "mantra" of "Vocal for Local" and "Swadeshi to Swavlamban" has encouraged and promoted India's traditional and ancestral legacy of handloom-handicraft.
The next HUNAR HAAT will be organised at Surat and JLN Stadium, New Delhi.
Dharmendra Pradhan launches Centre for Innovation and Incubation website at Utkal University:
Union Education, Skill Development and Entrepreneurship Minister Dharmendra Pradhan has the National education policy 2020 made under the visionary leadership of the Prime Minister Narendra Modi has given us a scope to internationalise our universities.
There is a need to put in place a special framework to realise the provisions of the policy that include multidisciplinary education, employment and research.
On the occasion of attending the 79th foundation day function of Utkal University in Bhubaneswar, capital of Odisha, the union minister launched the website of the Centre for Innovation and Incubation of the University.
Emphasizing autonomy for the universities, any sort of limitation imposed on them will prevent their intellectual potential from flowering forth.
Cryptocurrency bill in Parliament:
The Central Government is going to introduce the Cryptocurrency and Regulation of Official Digital Currency Bill 2021 during the ongoing Winter Session of Parliament.
 There have been speculations in past that the Government may completely ban cryptocurrencies in India.
However, several reports recently claimed official sources as saying that the Government may allow trading and investing in cryptocurrencies with certain restrictions.
Crypto experts say that it won't be possible to completely ban cryptocurrencies.
 However, the government may ban or put restrictions on trading in crypto and its use as a means of exchange or payments.
CURRENT AFFAIRS: INTERNATIONAL NEWS
WHO designates new strain as 'Variant of Concern'; Names its Omicron:
World Health Organization has named the new COVID-19 variant B.1.1.529, which was detected in South Africa, as 'Omicron', it may spread more quickly than other forms.
After a closed meeting of independent experts who reviewed the data, the WHO, preliminary evidence suggests there is an increased risk of reinfection and there had been a detrimental change in COVID-19 epidemiology.
Infections in South Africa had risen steeply in recent weeks, coinciding with detection of the variant now designated as omicron.
This variant has a large number of mutations, some of which are concerning. Preliminary evidence suggests an increased risk of reinfection with this variant, as compared to other (variants of concern).
This variant has been detected at faster rates than previous surges in infection, suggesting that this variant may have a growth advantage.
 Current PCR tests continue to successfully detect the variant.
Earlier, the WHO cautioned countries against hastily imposing travel restrictions linked to the variant of COVID, saying they should take a risk-based and scientific approach.
CURRENT AFFAIRS: STATE NEWS
Smriti Irani has inaugurated ESI Dispensary and Branch Office in Uttar Pradesh:
Union Minister of Women and Child Development, Smt. Smriti Zubin Irani has inaugurated the newly built ESI Dispensary and Branch Office at Rae Bareli in Uttar Pradesh.
This will benefit 60,000 ESI beneficiaries of Rae Bareli area. In addition, about 15,000 workers will also get cash benefits from the ESIC Branch Office.
 Shri Rameshwar Teli, Union Minister of State for Labour and Employment and Petroleum and Natural Gas, Purnima Shrivastava, Chairperson, Rae-Bareli Municipality, Shri Dinesh Pratap Singh, Member Legislative Council, Uttar Pradesh were also present at the inauguration.
Further, through the 'Atal Bimit Vyakti Kalyan Yojana', if the insured person loses his/her job, he/she is given a relief of 50% of the average daily earnings during the last four contribution periods.
As a once-in-a-lifetime measure, relief is paid up to a maximum of 90 days of unemployment
'National Database' has been prepared for the unorganized workers, which has been named as 'E-Shram Portal' and appealed to the people to come forward in maximum numbers to get registered on the portal at the earliest.
The Minister also visited the E-shram camp and distributed the 'E-Shram Card' during the event.
About UP:
Governor: Anandiben Patel
Capital: Lucknow
Chief minister: Yogi Adityanath
Drinking water supply schemes worth Rs. 225.24 Crore approved for Uttarakhand:
Drinking water supply schemes worth Rs 225.24 Crore were approved for Uttarakhand in the State-level scheme sanctioning committee (SLSSC) meeting held on 26th November, 2021.
These schemes will provide tap water connection in 293 villages spread over 7 districts of the State.
 Of the 12 water supply schemes sanctioned, 11 are multi-village and one is a single village scheme.
It will provide tap water connection to over 19,000 rural household.
As on date, out of 15.18 lakh rural household in the State, 7.41 lakh (48.79%) are getting tap water supply in their homes.
In 2021-22, the State plans to provide tap water connections to 2.64 lakh household.
Under Jal Jeevan Mission (JJM), there is provision for constitution of State Level Scheme Sanctioning Committee (SLSSC) for consideration and approval of schemes to be taken up for making provision of tap water supply to rural households.
The SLSSC acts as a State level Committee to consider water supply schemes/ projects, and a nominee of the National Jal Jeevan Mission (NJJM), Government of India is a member of the committee.
About Uttarkhand:
Governor: Gurmit Singh
Chief minister: Pushkar Singh Dhami
Capitals: Dehradun
Neiphiu Rio and MoS Tourism Shri Ajay Bhatt inaugurate the three-day International Tourism Mart at Kohima:
Chief Minister of Nagaland Shri Neiphiu Rio, Minister of State for Tourism & Defence, GoI, Shri Ajay Bhatt and MLA & Advisor Tourism, Government of Nagaland Shri. H Khehovi Yeputhomi jointly inaugurated the three-day long 9th International Tourism Mart for the North East Region at Kohima, Nagaland.
Secretary Tourism, GoI Shri Arvind Singh, ADG Tourism, GoI Smt. Rupinder Brar and other dignitaries of Central government and North Eastern States were also present on the occasion.
The objective of the event is to highlight the tourism potential of the region in the domestic and international markets.
Coffee table book on Nagaland was also launched on this occasion.
Department of Tourism, Government of Nagaland & Trade Promotion Council of India (TPCI) signed MoU for the operations of SIHM.
About Nagaland:
Capital: Kohima
Chief minister: Neiphiu Rio
Governor: Jagdish Mukhi
Govt has launched pilot projects to revive and catalyze traditional Namda Craft and upskill the Artisans and Weavers of Kashmir:
Ministry of Skill Development and Entrepreneurship has launched two pilot projects with a view to revive and catalyze the traditional Namda Craft and upskill the Artisans and Weavers of Kashmir.
The projects are Revival of Namda craft of Kashmir as a special pilot project under Pradhan Mantri Kaushal Vikas Yojana (PMKVY) 3.0 and upskilling of artisans and weavers of Kashmir under Recognition of Prior Learning (RPL), a component of PMKVY.
The pilot projects have been launched by Minister of State for Skill Development and Entrepreneurship Rajeev Chandrasekhar.
The objective of these projects is to boost and preserve the traditional Namda craft of Kashmir and upskill the local weavers and artisans to enhance their productivity through RPL assessment and certification.
 Namda craft is a rug made of sheep wool through felting technique instead of normal weaving process.
The Namda project will be an industry-based training program with beneficiaries involved in Namda Crafts Production who will contribute towards preserving and reviving the rich heritage associated with Namda craft in Kashmir.
This will also improve the access of existing artisans of Namda crafts cluster in Kashmir and will improve their prospects of employability.
Launching the initiative, Union Minister Rajeev Chandrasekhar said that India has a rich heritage and is home to several traditional art forms.
Amit Shah has inaugurated dairy projects worth Rs 415 crore at Gandhinagar in Gujarat:
Union Home and Cooperative Minister Amit Shah has inaugurated dairy projects worth 415 crore rupees at Amul Fed Dairy at Gandhinagar in Gujarat.
Mr. Shah urged the Amul to take an initiative on creating marketing infrastructure for organic agri products for supporting the wealth creation for farmers.
The center will help in any plan in this regard and Amul can expand its purview and rope in newer areas to replicate the success of cooperatives into other areas.
Shah inaugurated AmulFed Dairy's new milk powder factory, poly film manufacturing plant, new robotic storage facility at the total cost of 415 crore rupees in Gandhinagar.
Gujarat Chief Minister Bhupendra Patel termed it a big driver for women empowerment as over 11 lakh women are engaged in the dairy cooperative in the State.
Apart from Gujarat, Amul Federation is also sourcing milk from 13 other States.
It has 87 dairy manufacturing plants with a total milk handling capacity of 390 LLPD- lakh litres per day.
About Gujarat:
Capital: Gandhinagar
Governor: Acharya Devvrat
Chief minister: Bhupendrabhai Patel
CURRENT AFFAIRS: BANKING AND ECONOMY
RBI has announced the higher cap on promoter stake in private banks at 26% after 15 years:
Reserve Bank of India had formed an Internal Working Group (IWG) in June 2020, to review the extant guidelines on ownership and corporate structure for Indian private sector banks.
 The IWG had 5 members with Shrimohan Yadav as the convenor. The Internal Working Group (IWG) had made 33 recommendations to RBI.
 Now RBI has accepted 21 recommendations out of these 33.
The initial lock-in requirements will continue as minimum 40 per cent of the paid-up voting equity share capital of the bank for first five years.
The cap on promoters' stake in long run of 15 years has been raised from 15 percent (earlier) to 26 percent of the paid-up voting equity share capital of the bank.
For Universal Banks: The initial paid-up voting equity share capital/ net worth required to set up a new universal bank has been increased to ₹1000 crore (from present ₹500 crores).
For SFBs: The initial paid-up voting equity share capital/ net worth required to set up a new SFB, has been increased to ₹300 crores (from present ₹200 crores).
For UCBs transiting to SFBs: The initial paid-up voting equity share capital/ net worth has been increased to ₹150 crores (from present ₹100 crores) which has to be increased to ₹300 crores in five years (from present ₹200 crores).
About RBI:
The Reserve Bank of India is India's central bank and regulatory body under the jurisdiction of Ministry of Finance, Government of India.
Headquarters: Mumbai
Founded: 1 April 1935, Kolkata
Governor: Shaktikanta Das
Paytm Payments Bank rolls out 'Paytm Transit card':
Paytm Payments Bank (PPBL) has rolled out a 'Paytm Transit Card', aiming to equip millions of Indians with one physical card for all their everyday needs from travel in metro, railways, State-owned bus services, toll & parking charges to payments at offline merchant stores, online shopping and more.
The first phase of rollout is being launched in collaboration with Hyderabad Metro Rail, Ahmedabad Metro and the Delhi Airport Express Line.       
The card linked to the Paytm Wallet can be used for all transactions of a user from travel in metros, buses and trains, to pay toll and parking charges, payment at offline and online stores to withdrawal of cash from ATMs.
Paytm Transit Card is the firm's second product in the mass transit category after the success of PPBL FASTags.
About Paytm:
CEO: Vijay Shekhar Sharma
Founder: Vijay Shekhar Sharma
Founded: August 2010
Headquarters: Noida, Uttar Pradesh
CURRENT AFFAIRS: APPOINTMENTS AND RESIGNATION
IRS officer Vivek Johri appointed CBIC chairman:
1985-batch Indian Revenue Service officer Vivek Johri has been appointed as the chairman of the Central Board of Indirect Taxes and Customs CBIC.
Mr Johri is currently working as the member in the CBIC.
He succeeds M Ajit Kumar who is completing his tenure ON 30TH nov.
CURRENT AFFAIRS: MOUs AND AGREEMENT
ARCI signs agreement to support Indigenization of Lithium-Ion Battery Technology fabrication:
A fabrication lab for Li-ion batteries will be set up in Bangalore in an attempt to boost up-scaling and commercialisation of the technology.
International Advanced Research Centre for Powder Metallurgy and New Materials (ARCI), an Autonomous R&D Centre of Department of Science and Technology (DST), Govt. of India and Nsure Reliable Power Solutions, Bengaluru signed an agreement for technical know-how transfer and training of personnel to set up the Li-ion battery fabrication lab on November 25, 2021.
The transfer of know-how will be based on the expertise developed in establishing Li-ion battery process and its successful demonstration in electric scooters and solar street lamps by the Centre for Automotive Energy Materials, ARCI under the Technical Research Centre on Alternative Energy Materials and Systems, in line with the 'Atmanirbhar Bharat Abhiyan' or 'Self-Reliant India Mission'.
CURRENT AFFAIRS: SUMMITS & CONFERENCES
9th Meeting of the BIMSTEC Joint Working Group on Counter Terrorism and Transnational Crime
On 25th November 2021, the 9th Meeting of the BIMSTEC Joint Working Group on Counter Terrorism and Transnational Crime (JWG-CTTC), hosted by Bhutan
An inter-agency Indian delegation led by Mahaveer Singhvi, Joint Secretary, Counter Terrorism, Ministry of External Affairs participated the meeting.
The meeting was attended by all the BIMSTEC Members States i.e. Bangladesh, Bhutan, India, Myanmar, Nepal, Sri Lanka and Thailand.
The meeting discussed emerging traditional and non-traditional security threats in the BIMSTEC region.
The meeting deliberated and made recommendations on wide ranging issues to enhance cooperation and collaboration in countering terrorism and transnational crimes in the region.
The meeting also discussed modalities for implementation of the BIMSTEC Convention on Cooperation in Combating International Terrorism, Transnational Organized Crime and Illicit Drug Trafficking, which entered into force on 16 March 2021 upon ratification by all Member States.
India is the Lead Country for BIMSTEC Joint Working Group on Counter Terrorism and Transnational Crime (JWG-CTTC), which also oversees six Sub-Groups on
Intelligence Sharing
Legal and Law Enforcement
Countering Radicalization and Terrorism
Anti- Money Laundering and Combating the Financing of Terrorism
Human Trafficking and
Narcotic Drugs, Psychotropic Substances and Precursor Chemicals.
Note :
India would be hosting the tenth Meeting of the BIMSTEC Joint Working Group on Counter Terrorism and Transnational Crimes (JWG-CTTC) in 2022.
CURRENT AFFAIRS : DEFENCE NEWS
Indian Army Forces conducts 'Dakshin Shakti' military exercise in Jaisalmer
The Indian Army had organised the biggest military exercise called Dakshin Shakti in Rajasthan's Jaisalmer from November 19 to 22, 2021.
Exercise Dakshin Shakti witnessed the participation of over 30,000 troops from the Army, Navy, IAF, Coast Guard, BSF and
T-72, T-90 as well as Vijayanta tanks of the Army and the IAF's Dhruv and Rudha helicopters, and the Jaguar fighter aircraft participated in the joint exercise.
Objective:
To test the capability of the troops in the marshy and marine areas and to see how well the forces worked together and how well they connected.
To establish the best coordination among armed forces, space technology and artificial intelligence.
The drills were undertaken in the deserts of Thar to the Rann of Kutch.
About Indian Army:
Headquarters: New Delhi
Founded: 1 April 1895, India
Commander-in-Chief: President Ram Nath Kovind
Chief of Defence Staff : General Bipin Rawat
Chief of the Army Staff : General Manoj Mukund Naravane
Vice Chief of the Army Staff : Lieutenant General Chandi Prasad Mohanty
About Ministry of Defence:
Minister of Defence : Rajnath Singh
Minister of State: Ajay Bhatt
Defence Secretary : Dr Ajay Kumar
CURRENT AFFAIRS: SCIENCE & TECHNOLOGY
In a first, Drone delivers medicines in Meghalaya          
In a first in the country, the Meghalaya government has used e-VTOL (Virtual take off and landing ) Drone AquilaX2, drones to deliver medicines to a remote primary health centre in West Khasi Hills district, 25 km away from the district headquarter.
This is a unique project that will transform the healthcare supply chain to a hard-to-reach population.
It covers a distance of 25 kms in less than 25 mins from Nongstoin to Maweit.
The tech support was provided by innovation team Tech Eagle, Smart Village Movement in collaboration with the State Health department.
The deployment of a drone to deliver medicines was undertaken on a pilot basis and reduced the time from 3 hours to less than half an hour.
About Meghalaya:
Capital: Shillong
Governor: Satya Pal Malik
Chief minister: Conrad Sangma
Wildlife Sanctuaries: Siju Wildlife Sanctuary, Nongkhyllem Wildlife Sanctuary, Baghmara Pitcher Plant Sanctuary, Narpuh Wildlife Sanctuary
National Parks: Balpakram National Park, Nokrek Ridge National Park
Biosphere Reserve: Nokrek Biosphere Reserve
CURRENT AFFAIRS: RANKING & INDEX
NITI Aayog's Multidimensional Poverty Index: Bihar has highest while Kerala is least poor state
Niti Aayog has released the first ever Multidimensional Poverty Index (MPI) to measure poverty at the national, State/UT, and district levels.
Bihar has the highest proportion of people, at 91 percent of the state's population, who are multidimensionally poor, followed by Jharkhand at 42.16 percent and Uttar Pradesh at 37.79 percent & Madhya Pradesh 36.65 percent and Meghalaya 32.67 percent in top five poorest states.
Meanwhile, Kerala (0.71 percent), Goa (3.76%), Sikkim (3.82%), Tamil Nadu (4.89%) and Punjab (5.59 %) are the top 5 lowest poverty states across India.
In Kerala, Kottayam is the only district which registered zero poverty across the country as per the index.
Bihar also has the highest number of malnourished people followed by Jharkhand, Madhya Pradesh, Uttar Pradesh and Chhattisgarh.
Bihar also ranks worst when it comes to percentage of population deprived of maternal health, percentage of population deprived of years of schooling, school attendance and percentage of population deprived of cooking fuel and electricity.
While among union territories (UTs), Dadra and Nagar Haveli ( 27.36 per cent), Jammu & Kashmir, and Ladakh (12.58), Daman & Diu (6.82 per cent) and Chandigarh( 5.97 per cent), have emerged as the poorest UTs in India.
Puducherry having 1.72 percent of its population as poor, Lakshadweep (1.82 per cent ), Andaman & Nicobar Islands (4.30 per cent) and Delhi (4.79 per cent) have fared better.
The development of the National Multidimensional Poverty Index of India is an important contribution towards instituting a public policy tool which monitors multidimensional poverty, informs evidence-based and focused interventions.
In early 2020, the Cabinet Secretariat, Government of India, identified 29 global indices to monitor, analyse and evaluate with the aim of improving India's position in global rankings.
Under this mandate, also known as the Global Indices for Reforms and Growth (GIRG) mandate, Niti Aayog was identified as the nodal agency for the Multidimensional Poverty Index (MPI).
About MPI Index:
The Global Multidimensional Poverty Index (MPI) was developed in 2010 by the Oxford Poverty & Human Development Initiative (OPHI) and the United Nations Development Programme.
The MPI Index has measured the level of poverty across three equally weighted dimensions which are health, education, and standard of living.
These 3 dimensions are represented by 12 indicators which are nutrition, child and adolescent mortality, antenatal care, years of schooling, school attendance, cooking fuel, sanitation, drinking water, electricity, housing, assets, and bank accounts.
This baseline report of the national MPI measure is based on the reference period of 2015-16 of the National Family Health Survey (NFHS).
About NITI Aayog:
Formed: 1 January 2015
Headquarters: New Delhi
Chairperson: Narendra Modi
Vice Chairperson: Rajiv Kumar
CEO: Amitabh Kant
CURRENT AFFAIRS: BOOKS & AUTHORS
Vice President Venkaiah Naidu released a Book titled Democracy, Politics and Governance'
On commemorating the 72nd anniversary of the adoption of the 'Constitution of India', Vice President Venkaiah Naidu released in English and 'Loktantr, Rajniti and Dharm' in Hindi versions of books titled 'Democracy, Politics and Governance' authored by Dr. A. Surya Prakash.
Both these books have been published by Prabhat Publishers.
About the Book :
The two books chronicle the trends and temptations that marked our public life over the last 30 years bringing out the attendant concerns and flagging the required correctional interventions.
It is a collection of articles about the social, economical & political issues, impacted India's politics & governance.
About Dr.A.Surya Prakash :
Surya Prakash is an Indian journalist who was also the chairperson of Prasar Bharati.
He is a Vice Chairman, Executive Council of Nehru Memorial Museum and Library and a leading commentator on parliamentary and constitutional issues and a veteran journalist.
He has served as chief of bureau of Indian Express, executive editor of The Pioneer, India editor of Asia Times, political editor of Eenadu Group and editor of Zee News.
He is the author of two books, What Ails Indian Parliament and The Emergency — Indian Democracy's Darkest Hour.
Indian Innings: The Journey of Indian Cricket from 1947 – authored by Ayaz Memon
Indian sports writer Ayaz Memon authored a book titled Indian Innings: The Journey of Indian Cricket from 1947.
The Book has been published by Westland.
About the Book :
The book has pieces by some fine wordsmiths including Dicky Rutnagar, Ramachandra Guha, Rajdeep Sardesai, Anil Dharker, Kadambari Murali, Sharda Ugra and Suresh Menon on the second most popular sport in the world.
Equally, the book wrestles with the game's difficult history. The 'Summer of 42', the match-fixing issue, the Greg Chappell saga, the Lalit Modi affair and more, are addressed.
About Ayaz Memon:
Ayaz Memon is an Indian sports writer, journalist, columnist, author and lawyer.
He was born on 3 August 1955 in Bridgeport, Connecticut, US.
He is currently working on an illustrated history of Indian cricket.
He has also been a commentator for sports channels and an analyst on various issues for news channels.
Ayaz has authored the Wills Book of Excellence on One-Day Cricket, Thunder Down Under, and co-authored India 50—The Making of a Nation released on the fiftieth anniversary of Indian Independence.
Ayaz has recently written books such as Sachin Tendulkar: Master Blaster, Virat Kohli: Reliable Rebel, MS Dhoni: Captain Cool and Yuvraj Singh: Powerful Elegance.
CURRENT AFFAIRS: OBITUARIES
Veteran Broadway Composer Stephen Sondheim Passes Away
Broadway composer and lyricist , who redefined the American musical theatre, Stephen Sondheim Passed away.
He was 91.
About Stephen Sondheim:
Stephen Sondheim Born on March 22, 1930, in New York City.
He was an American composer and lyricist.
He wrote the lyrics for "West Side Story" and "Gypsy," in the 1990s.
He started playing piano at age 7 and was family friends with Oscar Hammerstein II, half of the famed musical theatre writing duo Rodgers and Hammerstein.
Sondheim's best-known works include A Funny Thing Happened on the Way to the Forum (1962), Company (1970), Follies (1971), A Little Night Music (1973), Sweeney Todd: The Demon Barber of Fleet Street (1979), Merrily We Roll Along (1981), Sunday in the Park with George (1984), and Into the Woods (1987).
Awards & Honours :
He is a recipient of Tony (eight Tony Awards ) Awards plus a 2008 Special Tony Award for lifetime achievement in the theatre.
He also received eight Grammy Awards, a Pulitzer Prize, a Laurence Olivier Award, and a 2015 Presidential Medal of
He wrote five songs for 1990's Dick Tracy, including "Sooner or Later (I Always Get My Man)", sung in the film by Madonna, which won the Academy Award for Best Original Song.
UNION GOVERNMENT SCHEME
MISSION COVID SURAKSHA
Mission COVID Suraksha is India's targeted mission to enable the development of vaccine
for the country.
This mission will complement the ongoing mission of Atma Nirbhar Bharat.
The COVID-19 Vaccine development Mission with end-to-end focus from preclinical
development through clinical development and manufacturing and regulatory facilitation for deployment, would consolidate all available and funded resources towards an accelerated product development.
The goal of the Mission is to accelerate the development of at least 5-6 COVID-19 vaccine candidates and ensure that some of these are brought closer to licensure and introduction in the market for consideration of regulatory authorities and for introduction in public health systems.
Launched on:
The covid surakhsa mission was launched on 29 november 2020 by the government.
Ministry involved:
The mission will be led by the Department of Biotechnology (DBT) which is under Ministry of Science
& Technology.
Minister of science and technology –Dr. Jitendra singh
Objective:
To accelerate pre-clinical& clinical development. licensure of COVID-19 vaccine candidates that are currently in clinical stages or ready to enter clinical stage of development.
To establish clinical trial sites.
To strengthen the existing immunoassay laboratories, central laboratories and suitable facilities for animal studies, production facilities and other testing facilities to support COVID-19 vaccine development.
To support development of common harmonized protocols, trainings, data management systems, regulatory submissions, internal and external quality management systems and accreditations
Target group:
As this mission's main aim is to enable the development of indigenous, affordable and accessible
vaccines for the country; the target group of this mission is ultimately the people of india.
Corpus:
The Government of India (GOI) has announced the third stimulus package of Rs. 900 Crore for
the Mission COVID Suraksha- The Indian COVID-19 Vaccine Development Mission.
Benefits:
The mission will be under administrative control of Department of Biotechnology.
Led by Department of Biotechnology and implemented by a dedicated Mission Implementation Unit at Biotechnology Industry Research Assistance Council (BIRAC),the existing activities under National Bio Pharma Mission (NBM) and Ind-CEPI Mission will provide complementary strengths to this Mission.
Capabilities for process development, cell line development and manufacturing of GMP batches for animal toxicology studies and clinical trials will be supported under the Mission.
A key element will be development of suitable Target Product Profile so that vaccines being introduced through the mission have preferred characteristics applicable for India.
Recent news about mission covid surakhsa:
In september 2021, the Department of Biotechnology (DBT), Ministry of Science & Technology,
Government of India (GoI) has taken initiatives to increase investments in research & development (R& D) and manufacturing of COVID-19 Vaccines.
The Department of Biotechnology (DBT) and its PSU, Biotechnology Industry Research
Assistance Council (BIRAC) have supported Biological E.'s COVID-19 Vaccine candidate from Preclinical Stage to Phase III clinical studies. In addition to receiving financial assistance under Mission COVID Suraksha, this vaccine candidate has also obtained a financial support under COVID-19 Research Consortia through National Biopharma Mission, BIRAC.
Biological E. has received Drugs Controller General of India (DCGI) approval for conducting
Phase III Comparator Safety & Immunogenicity trial in adults after Subject Expert Committee's (SEC) review of Phase I and II clinical trials data.
Additionally, Biological E.  also received approval on 01.09.2021 to initiate the Phase II/III Study to evaluate Safety, Reactogenicity, Tolerability and Immunogenicity of CORBEVAX™ vaccine in Children and Adolescents. The candidate is a RBD protein sub-unit vaccine.
Daily CA On Nov 30:
Mansukh Mandaviya, Union Minister for Health and Family has addressed the 12th Indian Organ Donation Day in the presence of Bharati Pravin Pawar, Union Minister of State for Health and Family Welfare.
The Ganga Connect exhibition, that has been running across the UK from 8th November concluded in London on 25th November 2021.
Indian Oil, Bharat Petroleum Corporation Limited and Hindustan Petroleum Corporation Limited have announced the launch of Model Retail Outlet Scheme and a Digital Customer Feedback Program called [email protected]
The 'Textiles Week' was inaugurated by Shri Vijoy Kumar Singh, Additional Secretary, Ministry of Textiles along with Shri Jay Karan Singh, Trade Advisor at India Pavilion in "DUBAI EXPO' 2020 in the presence of heads of participating Export Promotion Councils.
South African Film Barakat by Director Amy Jephta and Russian Film the Sun above Me Never Sets by Director Lyubov Borisova has shared the Best film Award in the Sixth edition BRICS Film Festival.
The 7th India International Science Festival (IISF) 2021 will be held in Panaji, Goa from 10th to 13th December
The HUNAR HAAT, organized by the Ministry of Minority Affairs at Pragati Maidan, New Delhi, received the prestigious India International Trade Fair, 2021 Silver Medal for strengthening commitment to "Vocal for Local" and its strong presence at the Trade Fair.
Union Education, Skill Development and Entrepreneurship Minister Dharmendra Pradhan has the National education policy 2020 made under the visionary leadership of the Prime Minister Narendra Modi has given us a scope to internationalise our universities.
The Central Government is going to introduce the Cryptocurrency and Regulation of Official Digital Currency Bill 2021 during the ongoing Winter Session of Parliament.
World Health Organisation has named the new COVID-19 variant B.1.1.529, which was detected in South Africa, as 'Omicron', it may spread more quickly than other forms.
Union Minister of Women and Child Development, Smt. Smriti Zubin Irani has inaugurated the newly built ESI Dispensary and Branch Office at Rae Bareli in Uttar Pradesh.
Drinking water supply schemes worth Rs 225.24 Crore were approved for Uttarakhand in the State-level scheme sanctioning committee (SLSSC) meeting held on 26th November, 2021.
Chief Minister of Nagaland Shri Neiphiu Rio, Minister of State for Tourism & Defence, GoI, Shri Ajay Bhatt and MLA & Advisor Tourism, Government of Nagaland Shri. H Khehovi Yeputhomi jointly inaugurated the three-day long 9th International Tourism Mart for the North East Region at Kohima, Nagaland.
Ministry of Skill Development and Entrepreneurship has launched two pilot projects with a view to revive and catalyze the traditional Namda Craft and upskill the Artisans and Weavers of Kashmir.
Union Home and Cooperative Minister Amit Shah has inaugurated dairy projects worth 415 crore rupees at Amul Fed Dairy at Gandhinagar in Gujarat.
Reserve Bank of India had formed an Internal Working Group (IWG) in June 2020, to review the extant guidelines on ownership and corporate structure for Indian private sector banks.
Paytm Payments Bank (PPBL) has rolled out a 'Paytm Transit Card', aiming to equip millions of Indians with one physical card for all their everyday needs from travel in metro, railways, State-owned bus services, toll & parking charges to payments at offline merchant stores, online shopping and more.
Vivek Johri has been appointed as the chairman of the Central Board of Indirect Taxes and Customs CBIC.
ARCI signs agreement to support Indigenisation of Lithium-Ion Battery Technology fabrication: