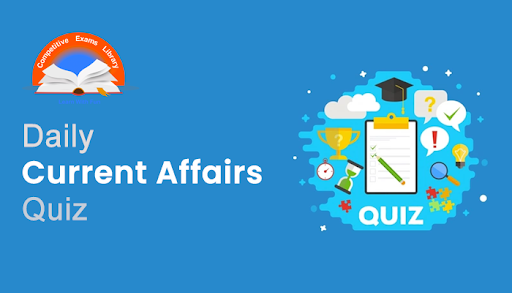 Dear Readers, Daily Current Affairs Questions Quiz for SBI, IBPS, RBI, RRB, SSC Exam 2020 of 02nd December 2020. Daily GK quiz online for bank & competitive exam. Here we have given the Daily Current Affairs Quiz based on the previous days Daily Current Affairs updates. Candidates preparing for IBPS, SBI, RBI, RRB, SSC Exam 2020 & other competitive exams can make use of these Current Affairs Quiz.
1) Who among the following has chaired the National Crisis Management Committee (NCMC) meeting through video conferencing?
A) Ramesh Chand
B) Vijay Raghavan
C) Rajiv Gauba
D) VK Paul
E) Ramesh Saraswat
2) The First Mobile CNG Dispensing Unit has been launched in which city?
A) Surat
B) Dehradun
C) Delhi
D) Pune
E) Chandigarh
3) Who among the following will chair a meeting of the Board of Trade (BOT)   through a Video Conference?
A) Narendra Modi
B) Prahlad Patel
C) Amit Shah
D) Nitin Gadkari
E) Piyush Goyal
4) Which of the following has become the First Country to Approve sale of Lab Grown Meat?
A) China
B) Malaysia
C) Vietnam
D) Singapore
E) Thailand
5) Which of the following countries has imposed sanctions on Chinese firms over Venezuela internet curbs?
A) Germany
B) France
C) US
D) EU
E) Canada
6) India has held talks with which country on counternarcotics and has agreed to boost collaboration on regulation?
A) Sweden
B) Israel
C) France
D) Germany
E) US
7) Abhay Bhardwaj who passed away due to Covid19 was a ______.
A) Director
B) Singer
C) Politician
D) Historian
E) Actor
8) The Special Session of the United Nations General Assembly in Response to the Coronavirus Disease (Covid-19) Pandemic will take place on which date at the UN Headquarters?
A) December 7 and 8
B) December 6 and 7
C) December 5 and 6
D) December 3 and 4
E) December 4 and 5
9) Which category of Indians may soon get to vote remotely with e-ballots?
A) FPIs
B) NRIs
C) OCIs
D) PIOs
E) NRE
10) The Government of India has signed an MoU for loan with which bank in order to strengthen Meghalaya's power distribution Sector?
A) IMF
B) AfDB
C) ADB
D) AIIB
E) ECB
11) GST Collection In November hovered around Rs. 1.05 lakh crores which is estimated to be ____ percent higher than the corresponding period last year.
A) 2.5
B) 2.2
C) 2.4
D) 1.2
E) 1.4
12) Majerhat Bridge based in which city has been renamed as "Jai Hind"?
A) Surat
B) Pune
C) Gwalior
D) Kolkata
E) Chandigarh
13) Which of the following states has passed a Bill that bans online gaming, betting?
A) Uttar Pradesh
B) Kerala
C) Andhra Pradesh
D) Haryana
E) Madhya Pradesh
14) Which of the following company's COVID-19 vaccine has been approved By UK?
A) Piramal
B) Wockhardt
C) Ranbaxy
D) Cipla
E) Pfizer
15) Which of the following social media companies has launched the 'Live Rooms' feature?
A) Whatsapp
B) Facebook
C) Instagram
D) Snap
E) Telegram
16) Indian Navy has successfully fired the BrahMos Supersonic Cruise Missile in Anti-Ship mode. It was first launched in which of the following year?
A) 2004
B) 2005
C) 2003
D) 2001
E) 2002
17) Which of the following cricketers has beaten Tendulkar's record to score 12,000 ODI runs?
A) Shikhar Dhawan
B) KL Rahul
C) Rohit Sharma
D) Virat Kohli
E) Hardik Pandya
Answers :
1) Answer: C
In view of the deep depression emerging along the Southern coast of Tamil Nadu and Kerala, Mr Gauba held the meeting with the Chief Secretaries of Tamil Nadu, Kerala, Advisor Lakshadweep and Secretaries of different ministries.
India Meteorological Department stated. "A depression has formed over southeast Bay of Bengal," the department and in a subsequent post on pre-cyclone watch for south Tamil Nadu and south Kerala coasts stated it is very likely to intensify further into a deep depression during the next 12 hours.
As per the naming convention, it is named as 'Burevi' (बुरेवि), and the name has been contributed by the Maldives
2) Answer: D
The unit was launched by Minister for Petroleum and Natural Gas Dharmendra Pradhan. The Mobile Refuelling Unit will be operated by Mahanagar Gas Ltd (MNGL) in Pune.
Secretary, Ministry of Petroleum and Natural Gas, Tarun Kapoor, stated the company should ensure that 2-3 compressed biogas plants are connected to the gas network.
3) Answer: E
Commerce and Industry Minister Piyush Goyal will chair a  meeting of the Board of Trade (BOT)   through a Video Conference.
The meeting will be also addressed by ministers of state for commerce and industry Som Parkash and Hardeep Singh Puri.
The discussions in the meeting will focus on the new Foreign Trade Policy (FTP) (2021-26) and the strategies and measures to be taken in order to take forward domestic manufacturing and exports.
Board of Trade will take an Overview of the Export and Import Performance, Investment Promotion Strategy for AtmaNirbhar Bharat.
4) Answer: D
Singapore Becomes First Country In World To Give Approval For Sale Of Lab-created Meat
The first-in-the-world regulatory allowance of real, high-quality meat created directly from animal cells for safe human consumption paves the way for a forthcoming small-scale commercial launch in Singapore.
5) Answer: C
The United States has imposed sanctions on Chinese firm China National Electronics Import & Export Corporation (CEIEC), accusing it of supporting President Nicolas Maduro's efforts to undermine democracy in Venezuela.
While slamming China, US Secretary of State, Mike Pompeo has stated that CEIEC provides cyber support and technical experts to state-run telecommunications providers which frequently blocks online independent newspapers and speeches by opposition members.
The US Department of Treasury has stated that CEIEC has been supporting the Maduro regime's malicious cyber efforts since 2017 and providing technical expertise to Venezuelan government entities, against the people of the country.
6) Answer: E
The two countries agreed to enhance their data sharing operations to combat the production, distribution and export/import of drugs and precursor chemicals.
During the inaugural meeting of the Counternarcotics Working Group (CNWG), held virtually on November 24, the two countries also agreed to enhance their data sharing operations to combat the production, distribution, diversion, and export/import of drugs and precursor chemicals.
The Indian delegation was led by Sachin Jain, Deputy Director General, Narcotics Control Board, Ministry of Home Affairs, while the US side was headed by White House Office of
National Drug Control Policy Assistant Director Kemp Chester.
7) Answer: C
Abhay Bhardwaj was an Indian advocate Turned into Politician.
He was also a member of the 21 st Law Commission of India and Contributed towards Legislation Like Muslim Women ( Protection of Rights On Marriage ) Act 2019 and Uniform civil code.
8) Answer: D
The Special Session of the United Nations General Assembly in Response to the Coronavirus Disease (Covid-19) Pandemic will take place on December 3 and 4 at the UN Headquarters.
The session's first day will feature statements by the President of the General Assembly Volkan Bozkir, Secretary-General Antonio Guterres, President of the Security Council for the month of December South African Ambassador Jerry Matthews Matjila and Chair of the Movement of Non-Aligned Countries Ilham Heydar oglu Aliyev. The General Assembly will then hear from world leaders.
The second day will feature speeches from WHO Director-General Tedros Adhanom Ghebreyesus and other UN and intergovernmental agencies.
9) Answer: B
Election Commission, in a proposal sent to the law ministry last week, has suggested that NRIs be allowed to vote through electronically-transmitted postal ballot system (ETPBS), a facility already extended to service voters that include members of the Armed forces and paramilitary forces and government employees serving abroad.
10) Answer: C
The Asian Development Bank (ADB) and the Government of India signed a $132.8 million loan to strengthen and modernize the distribution network and improve the quality of power supplied to households, industries, and businesses in India's northeastern state of Meghalaya.
The signatories to the Meghalaya Power Distribution Sector Improvement Project were Dr. CS Mohapatra, Additional Secretary (Fund Bank & ADB), Department of Economic Affairs in the Ministry of Finance who signed for the Government of India, and Mr. Takeo Konishi, Country Director of ADB's India Resident Mission who signed for ADB.
11) Answer: E
Goods and services tax collections hovered around Rs 1.05 lakh crore for the second month with the mop-up in November, 2020, estimated to be 1.4% higher than the corresponding period last year.
"During the month, revenues from import of goods was 4.9% higher and the revenues from domestic transactions, including import of services, were 0.5% higher that the revenues from these sources during the same month last year," the finance ministry stated in a statement.
On a cumulative basis, collections during April-November were 17% lower, sharply down from the lows of 56% seen in April when the lockdown was in full force.
12) Answer: D
Chief Minister Mamata Banerjee named the newly-built Majerhat bridge in Kolkata as "Jai Hind" bridge to commemorate the 125th birth anniversary of Subhas Chandra Bose.
The new bridge, which has been built in the place of an old one that collapsed in September 2018, will be inaugurated by Ms Banerjee.
The 650-metre-long bridge will be thrown open to traffic as soon as Ms Banerjee inaugurates it, officials stated.
13) Answer: C
The Andhra Pradesh Gaming Act-1974, Home Minister M. Sucharitha stated that development of technology and mass communication network and the Internet had opened many opportunities for online activities.
Andhra Pradesh has banned online gaming, online betting and gambling, and has urged the Centre to direct all internet service providers to block access to 132 websites and apps, including Paytm First Game, Mobile Premier League and Adda52, that are providing such services in the state
14) Answer: E
Britain became the first country in the world to approve the Pfizer-BioNTech COVID-19 vaccine for use and stated that it will be rolled out from early next week.
The government has  accepted the recommendation from the independent Medicines and Healthcare products Regulatory Agency (MHRA) to approve Pfizer-BioNTech's COVID-19 vaccine for use," the government stated.
The vaccine will be made available across the UK from next week." in trials of their vaccines, which are both based on new messenger RNA (mRNA) technology.
Health Secretary Matt Hancock stated the programme would begin early next week. Hospitals, he stated, were already ready to receive it.
15) Answer: C
Instagram rolled out the 'Live Rooms' feature that allows up to three additional users to go live in the same session. Instagram Live views grew 60% compared to the week prior, the company stated.
With the introduction of this feature, an Instagram live session will now be able to hold 4 people instead of 2 which was the previous limit. Users will now not have to end their live session with the current user to add another participant.
After creating a live session by swiping left from the feed or by clicking on the '+' button, you will have to tap on the 'Rooms' icon to bring more participants into your live session.
16) Answer: D
Ministry of Defence stated that BrahMos is the supersonic cruise missile jointly developed by DRDO and NPOM of Russia as a Brahmos Aerospace joint venture, which became Brahmos Aerospace Private Limited
It  has been deployed in all the three wings of the Indian Armed Forces.
The first launch of Brahmos took place in 2001
The Indian Navy stated, "Indian Navy hones its combat readiness as BrahMos AShM launched by INS Ranvijay strikes target ship at max range with pinpoint accuracy in Bay of Bengal.
INS Ranvijay is a Rajput-class destroyer warship of the Indian Navy.
17) Answer: D
India captain Virat Kohli became the fastest cricketer to score 12,000 ODI runs, breaking a record held by legendary compatriot Sachin Tendulkar.
Kohli reached the milestone during the third and final match against Australia in Canberra.