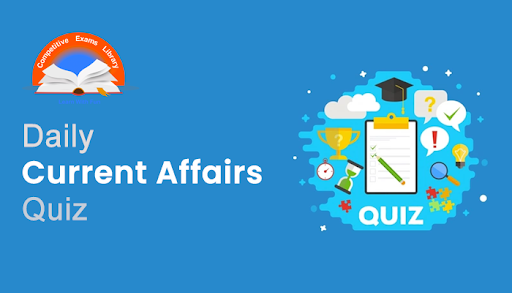 Dear Readers, Daily Current Affairs Questions Quiz for SBI, IBPS, RBI, RRB, SSC Exam 2021 of 03rd & 04th January 2021. Daily GK quiz online for bank & competitive exam. Here we have given the Daily Current Affairs Quiz based on the previous days Daily Current Affairs updates. Candidates preparing for IBPS, SBI, RBI, RRB, SSC Exam 2021 & other competitive exams can make use of these Current Affairs Quiz.
1) World Braille Day Observed is observed on which date?
A) January 1
B) January 14
C) January 4
D) January 15
E) January 12
2) Shantanu Mohapatra who died at 84 in Bhubaneshwar was an eminent ____.
A) Actor
B) Writer
C) Director
D) Musician
E) Dancer
3) Indian SARS-CoV-2 Genomics Consortium (INSACOG) has been launched under the leadership of ______.
A) MoH & FW
B) AIIMS
C) CSIR
D) ICMR
E) NCDC
4) Drug regulator has given final approval for Covid-19 vaccines of which of the following?
A) Sputnik V
B) SII
C) Cipla
D) Pfizer
E) Ranbaxy
5) Which organization has released data on Police Organizations?
A) RPF
B) CRPF
C) CISF
D) BPRD
E) NitiAayog
6) Who among the following has released the inaugural issue of 'National Police K-9 Journal'?
A) Anurag Thakur
B) Prahlad Patel
C) Amit Shah
D) NarendraModi
E) Venkiah Naidu
7) RBI has recently introduced the Digital Payments Index with the base year as _____.
A) 2019
B) 2018
C) 2017
D) 2016
E) 2015
8) Government has extended the benefit of the RoDTEP scheme to all export goods to boost exports based on the recommendation of ______ committee.
A) Ramesh Chand
B) VK Paul
C) V Srinivasan
D) GK Pillai
E) Suresh Mathur
9) The government of which state has Permitted all shops to remain open for 24×7?
A) Telangana
B) Andhra Pradesh
C) West Bengal
D) Kerala
E) Karnataka
10) ISRO to launch the first satellite developed entirely by which country's space agency?
A) US
B) Japan
C) Brazil
D) France
E) Germany
11) Which company has signed a contract with Indian Navy for Initial Supply of indigenously developed Laser Dazzlers?
A) ISRO
B) BEL
C) DRDO
D) BDL
E) GRSE
12) Which country will be a co-chair of a regional forum to conserve wildlife habitats – Asia Protected Areas Partnership (APAP)?
A) Thailand
B) China
C) Russia
D) India
E) Qatar
13) Who among the following has inaugurated the National Metrology Conclave 2021?
A) Amit Shah
B) Prahlad Patel
C) Narendra Modi
D) Harsh Vardhan
E) Anurag Thakur
14) Leon Mendonca has become India's ______ chess Grandmaster.
A) 63rd
B) 64th
C) 65th
D) 66th
E) 67th
15) Buta Singh who passed away recently belonged to which political party?
A) CPI
B) JDU
C) Congress
D) BJP
E) BJD
Answers :
1) Answer: C
World Braille Day is observed every year on 4 January to celebrate the importance of braille, a form of communication and written language for people who are blind and visually challenged.
The day commemorates the birth anniversary of Louis Braille, the man who invented braille in the year 1809.
Aim of the day : The day aims to raise awareness about braille language and other forms of communication, As many establishments such as banks, restaurants, hospitals still don't offer braille versions of their printed materials, the day serves as a reminder of the importance of accessibility and independence for people who are visually impaired.
2) Answer: D
Legendary Odia music director ShantanuMohapatra died in Bhubaneswar on December 30 .He was 84 years old.
Born at Baripada in Mayurbhanj district in 1936.
ShantanuMohapatra was the first Odia music director to work with acclaimed singers and music composers of the Hindi film industry.
These included LataMangeshkar (Surjyamukhi), Mohd Rafi (Arundhati), Manna Dey (Surjyamukhi), UshaMangeskar (Arundhati) and other artists like Suresh Wadekar, AnuradhaPaudwal, UshaUthup, Kavita Krishnamurthy, etc.
He composed the first modern lullaby in AIR, first qawali, first bhangra tune, and first fusion and jumping note.
3) Answer: E
The Central government has formed a genomic surveillance consortium for laboratory and epidemiological surveillance of circulating strains of the SARS-CoV-2 in India.
The Indian SARS-CoV-2 Genomic Consortia (INSACOG) has been launched. Coordinated by the Department of Biotechnology (DBT) along with MoH&FW, ICMR, and CSIR , the strategy and roadmap of the National SARS CoV2 Genome Sequencing Consortium (INSACOG) has been prepared.
The genomic surveillance consortium, INSACOG, has been formed under the leadership of the National Centre for Disease Control (NCDC), New Delhi.
Aim : To monitor the genomic variations in the SARS-CoV-2 on a regular basis through a multi-laboratory network. This vital research consortium will also assist in developing potential vaccines in the future.
4)  Answer: B
The Drugs Controller General of India (DCGI) has formally announced the final approval for Oxford-AstraZeneca and Bharat Biotech vaccines against the coronavirus disease (Covid-19) for emergency use.
CDSCO (Central Drugs Standard Control Organisation) accepts the subject expert committee reform rations on Serum and Bharat Biotech Covid vaccines.
About Covishield :
The subject expert committee (SEC) under CDSCO had recommended Oxford-AstraZeneca's vaccine, which is being manufactured by the Serum Institute of India (SII) as Covishield, for emergency use and Covaxin for restricted use.
5) Answer: D
The Bureau of Police Research & Development (BPR&D) released Data on Police Organizations.
The BPR&D has been publishing the Data on Police Organizations (DoPO), annually, since the year 1986.
DoPO as on 01.01.2019 was released by the Union Home Minister ShriAmit Shah, on 29th January, 2020.
This is for the first time in the history of BPR&D that DoPO for a particular year has been released during the year itself.
The number of people getting police protection across India stood at 19,467 in 2019 and 21,300 in 2018 a reduction of 1,833 (or 8.7 percent).
The number of police personnel put on protection duty in 2018 and 2019 for ministers, MPs, MLAs, judges, bureaucrats, etc., outnumbered their sanctioned strength for the job by around 35 percent.
6) Answer: C
Home Minister Amit Shah released the inaugural issue of the National Police K-9 Journal in New Delhi.
It is the first such publication in the country on the subject of Police Service K9s, Police Dogs.
This is a unique initiative that will further enrich the subjects related to Police Service Dog, K-9, PSK teams in the country.
The event was attended by Home Secretary Ajay Bhalla, Directors General of Central Armed Police Forces and senior ranking Police Officers of the Forces, while CAPF personnel from all over the country attended through virtual conference.
7) Answer: B
The Reserve Bank of India has constructed a composite Digital Payments Index (DPI) to capture the extent of digitisation of payments across the country.
The RBI-DPI comprises 5 broad parameters that enable measurement of deepening and penetration of digital payments in the country over different time periods.
These parameters are
Payment Enablers (weight 25%),
Payment Infrastructure – Demand-side factors (10%),
Payment Infrastructure – Supply-side factors (15%),
Payment Performance (45%) and
Consumer Centricity (5%).
The RBI-DPI has been constructed with March 2018 as the base period, i.e. DPI score for March 2018 is set at 100. The DPI for March 2019 and March 2020 work out to 153.47 and 207.84 respectively, indicating appreciable growth.
RBI-DPI shall be published on RBI's website on a semi-annual basis from March 2021 onwards with a lag of 4 months.
The base period for RBI-DPI is March 2018.
This means that the DPI score for March 2018 is set at 100.
8) Answer: D
Government has decided to extend the benefit of the scheme for Remission of Duties and Taxes on Exported Products (RoDTEP) to all export goods to boost exports.
The scheme will refund to exporters the embedded Central, State and local taxes that were so far not being given rebate or refunded.
The refund will be credited in the exporter's ledger account with Customs and used to pay Basic Customs duty on imported goods.
The RoDTEP rates will be notified shortly by the Department of Commerce, based on the recommendation of a Committee chaired by former Commerce and Home Secretary Dr. G.K. Pillai
9) Answer: E
All shops and commercial establishments employing ten or more people in Karnataka are now allowed to operate on a 24×7 basis, the state government.
The move is aimed at generating employment and accelerating economic growth.
The permission is subject to the establishments which employ ten or more people.
The state government also mandated that no employee will be made to work more than eight hours and in case of overtime the working hours should exceed ten hours a day and 48 hours in a week.
10) Answer: C
The Indian Space Research Organisation (Isro) is set to launch Amazonia-1, the first satellite to have been developed completely in Brazil by the National Institute for Space Research (INPE), the Latin American nation's apex space research body.
Emirates SkyCargo, the freight division of Emirates airline, has executed a cargo charter to transport Amazonia-1 from Sao Jose dos Campos, Brazil to Chennai. This is the first time that Emirates SkyCargo has transported a space satellite from South America.
The satellite is due to be sent to space in February 2021 from the SatishDhawan Space Centre on the East coast of India.
India and Brazil signed a Framework Agreement for cooperation in the field of outer space in January 2004. Apart from this, an agreement on the programme of cooperation between the two space agencies was also signed. Under this, Brazil received data from ISRO's remote sensing satellite ResourceSAT-1.
11) Answer: B
Bharat Electronics Limited (BEL) has signed a contract with Indian Navy for initially supplying 20 Light Amplification by Stimulated Emission of Radiation Dazlers (Laser Dazzlers) in New Delhi.
The BEL had earlier this month won the contract beating global Original Equipment Manufacturers (OEMs) in the global category.
These would be manufactured by BEL, Pune plant.
Laser dazzler technology was developed by Defence Research and Development Organisation (DRDO).
This unique product is indigenously designed and developed for the first time for the Armed Forces.
12) Answer: D
India has been chosen as the IUCN-supported Asia Protected Areas Partnership (APAP) for 3 years and it could, on this capability, help different Asian nations in managing their protected areas.
About APAP :
The APAP is a regional platform to assist governments and different stakeholders to collaborate for more practical administration of protected areas (PA) within the region.
The APAP presently consists of 21 members from 17 nations together with China, Japan, South Korea, Nepal, Bhutan, Sri Lanka and Bangladesh.
The APAP, formally launched at the IUCN World Parks Congress in Australia in 2014, is chaired by IUCN Asia and co-chaired by an APAP nation member.
India will substitute South Korea which held this place for 3 years until November, 2020.
Currently there are 21 members from 17 international locations.
13) Answer: C
Prime Minister inaugurates National Metrology Conclave 2021 through video conferencing.
National Metrology Conclave 2021 was organised by the Council of Scientific and Industrial Research-National Physical Laboratory, New Delhi.
Science and Technology Minister Dr. Harsh Vardhan and Director General, CSIR, ShekharMande and Principal Scientific Adviser to the Central Government, Professor K VijayRaghavanwere also present on the occasion.
Theme of 2021 : Meteorology for the Inclusive Growth of the Nation.
He also The National Atomic Time Scale generates Indian Standard Time with an accuracy of 2.8 nanosecond. BhartiyaNirdeshakDravya aims at supporting testing and calibration of laboratories for quality assurance, at par with international standards.
14) Answer: E
Goa's 14-year-old Leon Mendonca has become India's 67th chess GrandMaster (GM) by winning the third and final norm at a tournament in Italy.
Mendonca, who achieved the feat at 14 years, 9 months and 17 days, is the second GM from the Coastal State.
The All India Chess Federation (AICF) acknowledged the development. Leon is the second Indian to become GM this year after G. Akash.
He achieved his first GM norm at the Rigo Chess GM Round Robin in October while the second came at the first Saturday in Budapest in November. His final GM norm came at the Vergani Cup in Italy that ended on December 30.
GM is a title awarded by FIDE ( International Chess Federation ). It is the highest title a chess player can obtain apart from World Champion.
15) Answer: C
Former Union minister, ex-MP from Rajasthan and Congress leader Buta Singh passed away. He was 86.
About ButaSingh :
Born in 1934 in Punjab's Jalandhar, Buta Singh joined the Congress under Jawaharlal Nehru's leadership and was close to Indira Gandhi and Rajiv Gandhi, both.
Mr Singh was first elected to the Parliament in 1962.
He also served as the Home Minister in the Rajiv Gandhi government from 1986 to 1989, National President of Scheduled Caste Commission, governor for West Bengal and Bihar, and Union minister for Agriculture, Railways, Commerce and Sports, among other departments.
He subsequently held many positions including those of the Union home minister and Union agriculture minister.
He was the chairperson of the National Commission For Scheduled Caste from 2007 to 2010.
He also authored a collection of articles on Punjabi literature and Sikh history and wrote a book Punjabi Speaking State: A Critical Analysis.