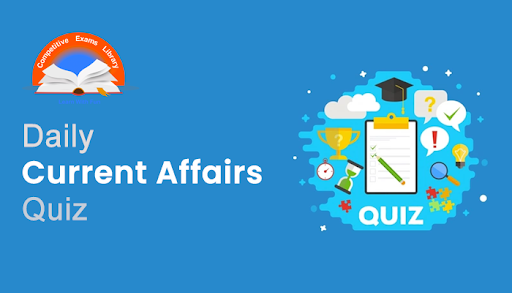 Dear Readers, Daily Current Affairs Questions Quiz for SBI, IBPS, RBI, RRB, SSC Exam 2020 of 03rd November 2020. Daily GK quiz online for bank & competitive exam. Here we have given the Daily Current Affairs Quiz based on the previous days Daily Current Affairs updates. Candidates preparing for IBPS, SBI, RBI, RRB, SSC Exam 2020 & other competitive exams can make use of these Current Affairs Quiz.
1) International Day to End Impunity for Crimes Against Journalists is observed on which date?
A) November 1
B) November 3
C) November 2
D) November 4
E) November 5
2) Who among the following has recently announced retirement from all forms of cricket?
A) Nathan Lyon
B) Shaun Marsh
C) Aaron Finch
D) Shane Watson
E) Michael Clarke
3) RBI has temporarily postponed its circular on current accounts till _________ to allow banks to comply with its guidelines that no bank can open a current account for a customer who has availed cash credit or overdraft facility from others in the banking system.
A) April 1, 2021
B) December 31, 2020
C) January 31, 2021
D) March 31, 2021
E) December 15, 2020
4) Who among the following has inaugurated the Mansar Lake Project in Jammu to attract 20 lakh tourists every year once completed?
A) Anurag Thakur
B) Nirmala Sitharaman
C) Jitendra Singh
D) Amit Shah
E) Prahlad Patel
5) The government of which state will launch the Rythu Vedika scheme to address farmers' issues and bring farmers under one platform and help them attain higher returns?
A) Tamil Nadu
B) Karnataka
C) Kerala
D) Telangana
E) Chhattisgarh
6) The Schools of which state are all set to celebrate November 8 to 14 as Children's week?
A) Telangana
B) Maharashtra
C) Haryana
D) Uttar Pradesh
E) Chhattisgarh
7) The Chief Minister of which state has launched a scheme for distribution of fortified rice?
A) Kerala
B) Uttar Pradesh
C) Madhya Pradesh
D) Haryana
E) Chhattisgarh
8) RBI has extended the trading hours for various debt as well as the current market by ______ minutes starting November 9.
A) 20
B) 60
C) 30
D) 90
E) 40
9) Who among the following will release a new book titled 'Till We Win': Book on Covid-19 ?
A) Ramesh Bidhuri
B) R. Subrahmanyam
C) Randeep Guleria
D) DS Rana
E) N Gopalkrishna
10) Which company in partnership with the Ministry of Statistics & Programme Implementation (MoSPI) has launched MSME Credit Health Index?
A) CRIF
B) Experian
C) CRISIL
D) Equifax
E) TransUnion CIBIL
11) Students from which institute have created an online game to spread Coronavirus awareness?
A) IIT Hyderabad
B) IIT Bombay
C) IIT Madras
D) IIT Delhi
E) IIT Guwahati
12)  Who among the following has authored the book Pandemonium: The Great Indian Banking Tragedy?
A) C. Rangarajan
B) Arijit Basu
C) R Gandhi
D) Tamal Bandyopadhyay
E) Urijit Patel
13) Which of the following institutions is going to launch a VC fund to support start-ups?
A) CII
B) STPI
C) NITI Aayog
D) ASSOCHAM
E) NASSCOM
14) Which edition of the Malabar naval exercise is scheduled to be held in two phases in November 2020?
A) 23rd
B) 22nd
C) 24th
D) 21st
E) 20th
15) Who among the following has created history by becoming the first-ever Kiwi-Indian Minister in the New Zealand government?
A) Kadakampally Surendran
B) E. P. Jayarajan
C) E. Chandrasekharan
D) K. T. Jaleel
E) Priyanca Radhakrishnan
16) Who among the following has won the Erste Bank open, lifting his fifth title of the season?
A) Gael Monfils
B) Ugo Humbert
C) Novak Djokovic
D) Cristian Garin
E) Andrey Rublev
17) What is the amount released by the Central Government as the first installment to 15 states for improvement of air quality?
A) 1,500 crores
B) 3,000 crores
C) 2,200 crores
D) 2,500 crores
E) 3,500 crores
18) From Waste to Art, a unique art installation park has come up in which state recently?
A) Gujarat
B) Madhya Pradesh
C) Uttar Pradesh
D) West Bengal
E) Haryana
19) Which of the following organisations has recently organized the virtual version of Delhi Book Fair this year?
A) Association of Publishers in India
B) Indian Publishers Association
C) ASSOCHAM
D) FICCI
E) Federation of Indian Publishers
20) TN Krishnan who passed away at 92 was a legendary _______.
A) Producer
B) Writer
C) Director
D) Violinist
E) Cricketer
21) The First indigenous Petcoke-based high energy supercapacitor has recently been developed by ________and would benefit the Electric Vehicles (EVs) industry.
A) International Advanced Research Centre for Powder Metallurgy
B) ARCI
C) Mishra Dhatu Nigam Limited
D) CSIR – National Geophysical Research Institute
E) National Environmental Engineering Research Institute
22) Which of the following Utsav has recently begun virtually with COVID-19 precautions and will continue till November 4th?
A) Krishna Utsav
B) Yamuna Utsav
C) Ganga Utsav
D) Godavari Utsav
E) Ravi Ustav
23) Which of the following noted writers has been selected for this year's Ezhuthachan Puraskaram, the Kerala government's highest literary honour?
A) Shibu Gangadharan
B) Adoor Gopalakrishnan
C) Indu Menon
D) MR Gopakumar
E) Paul Zacharia
24) Who among the following is going to be appointed as the next Chief Information Commissioner?
A) Neelam Singh
B) Rajesh Gupta
C) Gati Yadav
D) Yashvardhan Kumar Sinha
E) Anubhav Kumar
25) Which agency has recently signed an MoU with MNRE for setting key targets for year 2020-21?
A) Gujarat Energy Development Agency
B) Indian Renewable Energy Development Agency
C) Punjab Energy Development Agency
D) Maharashtra Energy Development Agency
E) Tamilnadu Energy Development Agency
26) Which of the following institutions is all set to launch a website for students' emotional needs?
A) IIT Roorkee
B) IIT Guwahati
C) IIT Bombay
D) IIT Madras
E) IIT Delhi
27) Who among the following has won the Emilia Romagna Grand Prix, earning Mercedes the Constructors' Championship?
A) Max Verstappen
B) Kimi Räikkönen
C) Valtteri Bottas
D) Sebastian Vettel
E) Lewis Hamilton
28) Who among the following has been elected as the new President of the Inter Parliamentary Union?
A) John Cabot
B) Pedro Álvares
C) Duarte Pacheco
D) Bartolomeu Dias
E) Ferdinand Magellan
29) Rare metallic asteroid Psyche may be worth $10,000 quadrillion has been detected by which of the following space telescopes?
A) Herschel
B) TESS
C) Chandra
D) Hubble
E) Spitzer
30) Which of the following companies has bagged the construction order of a bullet train project?
A) Reliance Infrastructure Limited
B) Patel Engineering
C) ITD Cementation
D) IL&FS Engineering
E) L&T
31) Which of the following companies has received the CCI nod to acquire Bharti AXA's non-life insurance business?
A) GIC
B) New India Assurance
C) ICICI Lombard
D) Oriental Insurance
E) LIC
32) How many Indian cities will be facing increasing 'water risks' by 2050 according to a recently released report by WWF?
A) 50
B) 45
C) 40
D) 30
E) 35
33) Who among the following has taken over as the MD and CEO of ONGC Videsh?
A) Anand Raj
B) Kabir Agarwal
C) AK Gupta
D) Rajesh Kumar
E) UK Sinha
Answers :
1) Answer: C
The International Day to End Impunity for Crimes against Journalists is a UN-recognized international day observed annually on 2 November.
The day draws attention to the low global conviction rate for violent crimes against journalists and media workers, estimated at only one in every ten cases.
2) Answer: D
Shane Watson, the former Australia all-rounder and Chennai Super Kings (CSK) opener, announced his retirement from all forms of cricket.
He made the decision after CSK's final IPL 2020 match against Kings XI Punjab in Abu Dhabi.
Watson, who was bought by CSK two years ago, had already retired from international cricket in 2015. He played a vital role in the Chennai-based franchise's third IPL title win in 2018 with a century in the final.
Before CSK, he had also turned out for Rajasthan Royals and Royal Challengers Bangalore and had played a crucial role in the Royals' maiden title win in the inaugural edition in 2008.
Watson, who has played 59 Tests, 190 ODIs, and 58 T20s at the international level, has won the ICC World Cup with Australia twice, in 2007 and in 2015.
In Tests, Watson scored 3731 runs and picked up 75 wickets, and scored 5757 runs and scalped 168 wickets in ODIs to finish his career as one of the leading all-rounders of his era.
3) Answer: E
The Reserve Bank of India (RBI) allowed banks time till 15 December to comply with its guidelines on opening of current accounts. The earlier deadline was 5 November.
As part of its monetary policy on August 6, the central bank said no bank can open current account for a customer who has availed cash credit or overdraft facility from others in the banking system, and from now on, all transactions will now have to be routed through the cash credit, or overdraft account.
The RBI said banks should not route withdrawal from term loans through current accounts. Instead, the funds should be remitted directly to the supplier of goods and services. Expenses incurred by the borrower for day to day operations should be routed through cash credit or overdraft account, if the borrower has one, otherwise the current account can be opened.
4) Answer: C
Union minister Jitendra Singh inaugurated the Mansar Lake Project in Jammu which will attract 20 lakh tourists every year once completed.
It is an e-foundation stone laying ceremony of the Comprehensive Mansar Lake Rejuvenation/Development Plan.
Mansar Rejuvenation Plan will lead to employment generation of about 1.15 crore man-days and will generate an income of more than Rs 800 crore per year.
While Udhampur-Doda-Kathua is possibly the only Lok Sabha constituency in the country which has received three medical colleges in three years, Udhampur possibly the only district in the country which has on the lines of Namami Ganga and Ganga cleaning project received two similar rejuvenation and renovation projects for River Devika and Mansar Lake respectively.
World's highest railway bridge is coming up in Reasi, the work on a new national highway project from Sudhmahadev via Marmat to Khileni has also started.
North India's first biotech industrial park and the first ever seed processing plant are also coming up, which will generate job opportunities as well as sources of livelihood and research.
5) Answer: D
The Telangana government's Rythu Vedika initiative to address the issues faced by farmers will be launched. Chief Minister K Chandrasekhar Rao will inaugurate the Rythu Vedika at Kodakandla mandal headquarters town in Jangaon district.
Rythu Vedika is an initiative to bring farmers under one platform and help them attain higher returns.
The government plans to construct as many as 2,601 Rythu Vedikas in the state, of which 1,580 were completed.
The government earmarked Rs 572.22 crores towards the total construction cost at Rs 22 lakh per Rythu Vedika. Of the total cost, Rs 12 lakh will be met by the agriculture department and the remaining Rs 10 lakh will be met from MNREGS funds.
Rythu Vedikas will help in mobilising the farmers to organise themselves into groups for attaining their ultimate objective of getting remunerative prices, better marketing facilities, higher productivity and ultimately making agriculture profitable
6) Answer: B
Ahead of Children's Day on November 14, the Maharashtra state education department has asked schools in the state to celebrate Children's week between November 8 and 14.
As part of the initiative, schools have to conduct activities and upload photographs of celebrations conducted online.
During the week, various competitions such as essay writing, elocution and video making will be organised for students by the schools. The education department has also announced prizes in each category for students between Classes 1 and 12.
7) Answer: E
Chhattisgarh Chief Minister Bhupesh Baghel launched a scheme for distribution of fortified rice through Public Distribution System (PDS) and other welfare initiatives for the people of Kondagaon district of the state on a pilot basis.
The fortified rice is a mixture of iron, vitamin B-12 and folic acid enriched fortified rice kernel (FRK), which meet the nutritional requirements in the diet and thereby help in controlling malnutrition and anemia. It will be distributed through fair price shops.
Two rice mills have been allotted the work of rice blending for fortification.
The function to celebrate the statehood of Chhattisgarh, which came into existence on November 1, 2000 after being carved out of Madhya Pradesh.
Baghel felicitated 30 individuals and three organisations with "Rajya Alankaran Samman" (state awards) for their exemplary contribution in 24 different disciplines in the virtual presence of the governor.
The CM later launched the fortified rice distribution scheme and virtually dedicated five newly-built tourist resorts as part of the Tribal Tourism Circuit in different districts.
8) Answer: D
The Reserve Bank announced phased restoration of trading hours for various debt as well as currency markets from November 9.
The market opening time was revised to 10 a.m. instead of 9 a.m. for all segments. Closing timing too was revised to 2 p.m.
From Nov. 9, 2020, the trading hours have been extended by 90 minutes till 3:30 p.m. for most of the segments. In case of 'market repo in government securities' the timing from next week will be 10 a.m. to 2:30 p.m., and 'tri-party repo in government securities' 10 a.m. to 3 p.m.
Trading hours for 'Commercial Paper and Certificates of Deposit', 'Repo in Corporate Bonds', 'Government Securities', 'Foreign Currency/Indian Rupee Trades including Forex Derivatives', 'Rupee Interest Rate Derivatives', and 'Call/notice/term money' will be 10 a.m. to 3:30 p.m. However, the market will continue to open at 10 a.m. instead of 9 a.m.
9) Answer: C
A new book by AIIMS Director Randeep Guleria and two other doctors will give a definitive account of India's fight against Covid-19 and how to deal with the pandemic in the days to come.
The book, titled "Till We Win", has been co-written by leading public policy and health systems expert Chandrakant Lahariya and renowned vaccine researcher and virologist Gagandeep Kang. It will hit the stands this month and Published by Penguin Random House India.
10) Answer: E
TransUnion CIBIL in partnership with the Ministry of Statistics & Programme Implementation (MoSPI) has launched MSME Credit Health Index.
The MSME Credit Health Index will provide government, policy makers, lenders and MSME market participants, a numeric indicator for benchmarking the health of the MSME sector.
This measurement model will facilitate better MSME credit risk management, formulation of strategies and policies to support the revival and resurgence of the MSME sector and the economy.
The MSME Credit Health Index is built using credit data submitted by lending institutions to TransUnion CIBIL. The index measures the credit health of India's MSME industry on two parameters: growth and strength. Growth is measured by plotting increase in exposure value (outstanding balances) over time and strength is measured by decrease/increase in credit risk in terms of non-performing assets (NPA).
11) Answer: C
Indian Institute of Technology Madras (IIT-M) researchers have developed a digital game 'IITM Covid Game' to create awareness about Covid-19 virus among the general public, particularly children.
This game is browser-based and can be played on any device including Personal Computers, laptops, tablets and mobile phones, among others.
Based on initial prototyping and feedback from different audiences, the students' team translated the game to several Indian regional languages to improve its reach.
Apart from English, the game is already available in 12 languages — Assamese, Bengali, Gujarati, Hindi, Kannada, Malayalam, Marathi, Oriya, Punjabi, Sanskrit, Tamil and Telugu.
The game takes inspiration from the famous 'Super Mario' game and consists of a character who encounters various right things — like masks, washing hands and also encounters things to be avoided — like hugs, handshakes.
It is available free of cost and can be played from the home page of www.letsplaytolearn.com'. It is also available on the website of IIT Madras.
12) Answer: D
Tamal Bandyopadhyay has authored a book titled "Pandemonium: The Great Indian Banking Tragedy" .
This book is a bird's-eye view of Indian banking and also a fly-on-wall documentary.
Published by Roli Books.
13) Answer: B
Software Technology Parks of India (STPI), an Autonomous Society set up by the Ministry of Electronics and Information Technology (MeitY), will float a venture capital fund to support startups & entrepreneurs from the tier II and III cities to launch new technology products.
STPI has taken various initiatives including launching of six centers of excellence (CoEs) in emerging technologies and 10-15 more CoEs are in the pipeline.
These centers will focus on new age technologies including artificial intelligence, machine learning, data analytics, autonomous connected electronic shared (ACES) mobility, block chain, VR/AR, fintech, medtech, agritech among others.
Through these centers, STPI shall act as single-window facilitation centres to extend requisite lab support, funding and mentoring to startups.
This scheme will support around 300 start-ups for the next three years by offering Rs 25 lakh risk capital and Rs 10,000 internship per startup.
14) Answer: C
The 24th edition of the Malabar naval exercise is scheduled to be held in two phases in November 2020.
Phase 1 of the exercise Malabar 20 involving participation by Indian Navy (IN), United States Navy (USN), Japan Maritime Self Defence Force (JMSDF), and Royal Australian Navy (RAN) is set to commence off Visakhapatnam in Bay of Bengal from 3-6 November, 2020
Phase-1 of Malabar 20 will witness participation of Indian Navy units with United States Ship (USS) John S McCain (Guided-missile destroyer), Her Majesty's Australian Ship (HMAS) Ballarat (long range frigates) with integral MH-60 helicopter, and Japan Maritime Self Defence Ship (JMSDF) Onami (Destroyer) with integral SH-60 helicopter.
The Indian Navy participation in Phase 1 will be led by Rear Admiral Sanjay Vatsayan, Flag Officer Commanding Eastern Fleet.
Phase 2 of Malabar 20 is scheduled to be conducted in the Arabian Sea in mid-November 2020.
15) Answer: E
Labour Party's MP Priyanca Radhakrishnan has created history by becoming the first-ever Kiwi-Indian Minister in the New Zealand government.
Priyanca, a Keralite became the first Indian to be sworn in as a Minister in New Zealand as Prime Minister Jacinda Ardern unveiled her new cabinet.
The 41-year-old has been sworn in as the Minister for the Community and Voluntary Sector
A two-time MP from Auckland, she reached New Zealand to pursue her higher studies, following which she is a Kiwi national hailing from Christchurch and since 2004 she has been in active politics with the Labour Party.
16) Answer: E
The red-hot Russian Andrey Rublev beat Lorenzo Sonego to win the Erste Bank Open, lifting his ATP Tour-leading fifth title of the season.
The 23-year-old is now tied with World No. 1 Novak Djokovic atop the 2020 match wins leaderboard with 39.
With the Vienna title, Rublev has qualified for the Nitto ATP Finals for the first time. There is only one singles spot remaining at the season finale, to be held at The O2 in London from 15-22 November.
Rublev is the first Russian to win five ATP Tour titles in the season since Nikolay Davydenko in 2009. Davydenko played 23 tournaments that year, finishing it off by lifting the trophy at the Nitto ATP Finals. The Erste Bank Open was Rublev's 12th tournament of 2020. 020 ATP Tour Titles
17) Answer: C
The Centre has released 2,200 crore rupees as the first installment to 15 states for the improvement of air quality measures in their million-plus cities. The amount has been released based on the recommendations of the 15th Finance Commission.
The states which have been given the amount include Andhra Pradesh, Gujarat, Jharkhand, Karnataka, Madhya Pradesh, Maharashtra, Rajasthan, Tamil Nadu, Uttar Pradesh and West Bengal.
Of the total amount, 396.5 crore rupees has been released to Maharashtra, 202.5 crore rupees to Gujarat, 357 crore rupees to Uttar Pradesh and 209.5 crore rupees to West Bengal.
18) Answer: D
Kolkata is set to get a unique art installation – a park decked up with used tyres at the Esplanade area of the city. The "Tyre Park' has been conceived and developed by the West Bengal Transport Corporation.
"The idea behind the park is that waste can be converted into art. Nothing is waste and can be art and that is a message with which a unique Tyre Park is coming up in Kolkata," an official with the transport corporation stated.
Workers and artists are working round the clock in the park to give finishing touches to the installation.
Disposal of used tyres poses a major challenge and tyres usually pile up at bus depots in the state.
The Tyre Park, located in the heart of the city, would have a small cafe, music and it will be a little space for people to sit and relax and also enjoy the various examples of craftsmanship made up entirely of tyres.
19) Answer: E
The Federation of Indian Publishers (FIP) has organised a virtual version of Delhi Book Fair this year in light of the Corona pandemic. The book fair organised in partnership with PragatiE is a two day online event which will culminate tonight. The organisers stated that arranging the book fair online was a challenging task but expressed satisfaction that the virtual module of the Delhi book fair 2020 has opened up new and future avenues of marketing books.
Publications Division of Ministry of Information and Broadcasting has also put up three virtual stalls in this 26th and unique edition of the Delhi Book Fair. Nearly 120 publications covering 12 wide categories including Gandhian literature, Art and Culture, Children literature and Speeches of Prime Minister and President among others have been put up for sale and displayed by the Publications Division.
20) Answer: D
Legendary violinist T N Krishnan died in Chennai. He was 92.
Born in 1928 in Tripunithura in Kerala, Krishnan started as a child prodigy and went on to perform with legends from several generations. He taught at the Chennai Music College and later held the position of Dean at the School of Music and Fine Arts of the University of Delhi.
He was also honoured with many titles and awards, including Sangeetha Kalanidhi, Padma Bhushan and Padma Vibhushan.
21) Answer: B
The first indigenous Petcoke-based 1200 F supercapacitor device has been developed with the help of high performance porous activated carbon electrodes, a move that would be commercially attractive for the Electric Vehicles (EVs) industry.
In EVs, supercapacitors are useful in regenerative braking to recover the energy quickly during the application of brake, while in case of hybrid electric vehicles, they are used to improve the life and performance of Li-ion and lead-acid batteries. They are lithium free and safe and can deliver high power in minutes to enable fast charging of EV batteries, a critical requirement in fast-charging EV stations.
The indigenous supercapacitor device developed by a team of scientists and engineers at International Advanced Research Centre for Powder Metallurgy and New Materials (ARCI), an autonomous institute under the Department of Science & Technology (DST), Govt of India with  petroleum coke (petcoke) from Hindustan Petroleum Corporation Limited (HPCL) is at par with a world-class commercial supercapacitors in performance.
The ARCI team plans to scale-up the new technology with higher capacitance (<3000 F) to make modules from these supercapacitor devices for EV applications.
22) Answer: C
The much-awaited Ganga Utsav-2020 began virtually amidst COVID-19 precautions. The festival will continue till 4th of November.
The Ministry of Jal Shakti stated that several programmes were also held in districts as a part of Ganga Utsav celebrations.
Ganga Task Force conducted an afforestation drive with NCC cadets and educational tour for youth in the project area.
23) Answer: E
Noted Malayalam writer Paul Zacharia has been selected for this year's Ezhuthachan Puraskaram, the Kerala government's highest literary honour.
The award, named after Ezhuthachan, the father of the Malayalam language, carries a cash prize of Rs five lakh and a citation.
A five-member jury, headed by Kerala Sahitya Akademi President Vyshakhan, selected him for the award.
Born in 1945 at Kottayam, Zacharia had worked as a journalist with various national media organisations, a state government release stated.
'Salam America', 'Oridath, 'Aarkkariyam', 'Bhaskara patelarum ente jeevithavum' are among his various literary works.
Zacharia won the Kerala Sahitya Akademi Award in 1979 and the Kendra Sahitya Akademi Award in 2004.
24) Answer: D
Former diplomat and Central Information Commissioner Yashvardhan Kumar Sinha is tipped to be appointed as the country's next Chief Information Commissioner (CIC), two months after the position at the top transparency watchdog fell vacant, sources stated.
Mr. Sinha is a retired officer of the Indian Foreign Service and has previously served as India's High Commissioner to the United Kingdom and to Sri Lanka. He was appointed as a member of the Central Information Commission in January 2019.
The Commission is the highest appellate authority under the Right to Information Act, and consists of a Chief and up to ten Commissioners. It has been headless twice this year, due to a two month delay in appointing the last chief Bimal Julka, and another two month period since he retired at the end of August. It has not functioned at full strength for almost four years, and currently has only five Commissioners, leading to a backlog of almost 37,000 pending cases.
25) Answer: B
Indian Renewable Energy Development Agency (IREDA) has signed a Memorandum of Understanding (MoU) with the Ministry of New and Renewable Energy (MNRE), for setting key targets for the year 2020-21. The MOU was signed by MNRE Secretary, Indu Shekhar Chaturvedi and IREDA CMD, Pradip Kumar Das.
The government has set a revenue target of 2,406 crore rupees under 'Excellent' rating along with various performance-related parameters such as Operating Profit as percentage of Revenue from Operation, PAT (profit after tax) as a percentage of Average Net worth, Loan disbursement, Overdue loan etc.
IREDA as on today, has financed more than 2700 renewable energy projects in India with cumulative loan disbursements to the tune of 57,000 crore rupees, and has supported green power capacity addition of 17,259 MW in the country.
26) Answer: C
IT Bombay announced its plans to release a self-help website for students to elevate their emotional well-being. Titled 'Bandhu', the website will allow for self-exploration through quizzes, stories, and other elements, stated director Dr Shubhasis Chaudhuri. It will be inaugurated on November 1.
"The website has various options, quizzes, stories of people, self-discovery tools to help [and ascertain] whether you can recover or you need to come back for more help," he added.
27) Answer: E
To the surprise of no one that follows Formula 1, Lewis Hamilton has won yet another race. Formula 1 returned to the Italian town of Imola to race at the Autodromo Internzionale Enzo e Dino Ferrari. This race was added to the 2020 calendar in order to replace cancellations due to the COVID-19 pandemic.
The podium at the end of this race was topped by Lewis Hamilton and Mercedes teammate Valtteri Bottas taking positions one and two, respectively.
With this win from Hamilton, Mercedes has won its seventh consecutive Constructors' Championship. The Formula One World Constructors' Championship is awarded by the Fédération Internationale de l'Automobile to the Formula One chassis constructor that scored the most points during a season. Previously tied with Scuderia Ferrari at six wins each, Mercedes now also holds the longest consecutive streak of Constructors' Championship wins. At seven wins, this now has Mercedes tied with the now defunct Team Lotus for fourth most wins overall.
28) Answer: C
Duarte Pacheco of Portugal has been elected as the new President of Inter Parliamentary Union (IPU) for the period 2020-2023.
Earlier, the Governing Council of Inter Parliamentary Union (IPU), Geneva resumed its business during the 206th Session in virtual format. The election process to elect the new IPU President through remote electronic secret ballot, with a 24 hour window for casting votes came to a close at 1930 hrs.
During the day, the election for filing up the vacancies in the IPU Executive Committee was also held. During the election, Laurence Fehlmann Rielle from Switzerland and Beatriz Argimon from Uruguay were unanimously elected to the IPU Executive Committee.
Further, the IPU Secretary General presented the summary of the financial results of IPU for the period 2019-2020. In this context, the Financial Report of the internal auditor was made available to the participants. Also the Budget for the year 2021-22 was presented by the Chairman of the IPU Sub Committee on Finance which was duly approved by the Members of the Council.
29) Answer: D
Hundreds and thousands of asteroids are floating in space, but there's one unique metal asteroid, rich enough to fetch up to ten thousand times the global economy in 2019. It's worth a whopping $10,000 quadrillion ($10,000,000,000,000,000,000), reports stated.
The National Aeronautics and Space Administration's (Nasa) Hubble Space Telescope has discovered a metal-rich asteroid '16 Psyche' which is orbiting the Sun, in the main asteroid belt between Mars and Jupiter.
It is located roughly 370 million kilometres (230 million miles) from the Earth and measures 226 kilometres across (140 miles) — roughly about the size of West Virginia.
Authors of the study stated that Psyche's surface could be pure iron. They also suggested that the asteroid may be mostly made of iron and nickel. However, the exact composition of Psyche is still unclear.
It has been hypothesized that a piece of iron of its size could be worth about $10,000 quadrillion — more than the entire economy on our planet stated.
"Psyche's composition may be consistent with mostly iron-nickel by mass," the study stated.
30) Answer: E
L&T has bagged another construction package of the bullet train project for an estimated value of Rs.7,000 crore.
According to industry sources, L&T has emerged as the lowest bidder for the C6 package for the Mumbai-Ahmedabad High Speed Rail Project (MAHSR), popularly referred to as the Bullet Train project from the National High-Speed Rail Corporation Limited (NHSRCL).
Recently, the EPC major emerged as the lowest bidder at  Rs.24,985 crore for constructing the 237.1 km under Package C4 of the 508.17 km MAHSR corridor
31) Answer: C
The Competition Commission of India (CCI) has given its nod for the merger of Bharti AXA's non-life insurance business with ICICI Lombard General Insurance, paving the way for creating the country's third-largest non-life insurance company.
Now that the CCI has blessed the deal, both sides are expected to form an integration committee to take the merger process forward and obtain multiple regulatory approvals including SEBI, RBI, IRDA and NCLT among others, sources familiar with the development stated.
It may be recalled that this deal was announced in August this year. The combined entity is expected to have a market share of 8.7 percent on a pro forma basis.
Under the deal, shareholders of Bharti AXA will receive two shares of ICICI Lombard for every 115 shares of Bharti AXA held by them as on the date on which the scheme of arrangement is approved by the Board of Directors of ICICI Lombard and Bharti AXA.
32) Answer: D
About 30 Indian cities will face increasing "water risks" in the next few decades according to a new report released by the World Wide Fund for Nature (WWF).
According to the scenarios in the WWF Water Risk Filter report, nearly 30 Indian cities, including Jaipur, Indore, Amritsar, Pune, Srinagar, Kolkata, Bengaluru, Mumbai, Kozhikode and Visakhapatnam will face acute "water risks."
Globally, the report estimates that "hundreds of millions of people in cities across the globe could face dramatically increased water risks." 100 cities will witness a massive rise in water risks by 2050. The list also includes cities such as Beijing, Jakarta, Johannesburg, Istanbul, Hong Kong, Mecca and Rio de Janeiro.
Almost half of these cities are in China, with other hotspots in South Asia, Middle East, South America and Africa.
These cities overall, are home to 350 million people. Globally, populations in areas of high-water risk could increase to 51 per cent by 2050.
"India dominates both current and future lists of cities with the highest overall water risk," WWF stated.
33) Answer: C
AK Gupta, the new Managing Director and CEO of ONGC Videsh Limited (OVL) took charge. Before this, Gupta was Director (Operations) of the company.
OVL is the international petroleum company of India and the overseas arm of national oil and gas major Oil and Natural Gas Corporation (ONGC) Limited. Gupta brings with him over three decades of experience in various capacities in domestic and overseas oil and gas exploration and production operations, a company statement stated.
Gupta was also the Head of New businesses in Marketing in ONGC and Head Business development in ONGC Videsh, both for the domestic and international markets. He has handled commercial negotiations with alliance partners, regulators, customers and National Oil Companies.