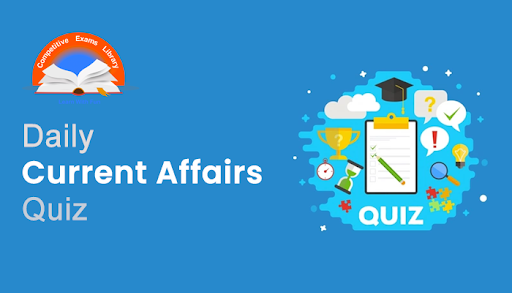 Dear Readers, Daily Current Affairs Questions Quiz for SBI, IBPS, RBI, RRB, SSC Exam 2020 of 06th & 07th December 2020. Daily GK quiz online for bank & competitive exam. Here we have given the Daily Current Affairs Quiz based on the previous days Daily Current Affairs updates. Candidates preparing for IBPS, SBI, RBI, RRB, SSC Exam 2020 & other competitive exams can make use of these Current Affairs Quiz.
1) International Civil Aviation Day is observed on which of the following date?
A) December 3
B) December 2
C) December 7
D) December 5
E) December 6
2) Ravi Patwardhan who passed away at 84 was a veteran _____.
A) Producer
B) Director
C) Writer
D) Actor
E) Singer
3) What is the theme of the 7th WASH Conclave being organized in Hyderabad?
A) Let's practice Hygiene
B) Maintaining Hygiene
C) Hygiene and You
D) Importance of Hygiene
E) Hygiene Matters
4) Who has been elected as the Vice president of WSF?
A) Prahlad Patel
B) NitinGadkari
C) DebendranathSarangi
D) Rajnath Singh
E) Amit Shah
5) Bangladesh  signed its maiden preferential trade agreement (PTA) with which country to boost bilateral trade between the two countries?
A) Myanmar
B) Thailand
C) Vietnam
D) Bhutan
E) Sri Lanka
6) Asian Development Bank has approved a ______million loan to upgrade the power distribution system in Bengaluru.
A) 170
B) 190
C) 185
D) 180
E) 175
7) Which bank has partnered with Rupifi to launch credit card for MSMEs?
A) IDBI
B) HDFC
C) ICICI
D) Axis
E) SBI
8) International Armed Forces Flag Day Observed on which of the following date?
A) December 11
B) December 12
C) December 7
D) December 13
E) December 15
9) Manu Mukherjee who passed away at 90 on December 6 was a veteran _____.
A) Writer
B) Producer
C) Director
D) Singer
E) Actor
10) RTGS is all set to be Made 24X7 from which of the following date?
A) December 15
B) December 13
C) December 14
D) December 12
E) December 11
11) RBI has announced the Introduction of LAF and MSF for Regional Rural Bank and has mandated the CRAR of _____ per cent to be eligible for the scheme. 
A) 12
B) 11
C) 10
D) 9
E) 8
12) Joe Biden has picked who among the following as the Surgeon general?
A) Suresh Kamar
B) Vivek Murthy
C) Narinder Singh
D) Ramesh Kumar
E) Rajat Gupta
13) Who among the following has released the Book '40 Years with Abdul Kalam?
A) Ram NathKovind
B) NarendraModi
C) Suresh Prabhu
D) Prahlad Patel
E) Venkiah Naidu
14) Who among the following has won the PEN Hessell-Tiltman history prize?
A) SurenderRawat
B) Naresh Chandra
C) Anita Anand
D) SunitaNarain
E) Rani Verma
15) Corey Anderson who retired from international cricket played for which country?
A) South Africa
B) Australia
C) England
D) New Zealand
E) Zimbabwe
16) Which of the following country has unfurled a flag on the Moon and has become the second country to achieve this feat after America?
A) Iran
B) North Korea
C) France
D) UK
E) China
17) Who among the following has been among "Asians of the Year" by Singapore's leading daily?
A) Indira Hinduja
B) NareshTrehan
C) Deepak Chopra
D) Adar Poonawalla
E) Devi Shetty
18) Which of the following company is all set to launch remote-sensing satellites on Isro rocket in early 2021?
A) Dream Chaser
B) Pixxel
C) Kawa Space
D) Antrix
E) Blue Origin
Answers :
1) Answer: C
The International Civil Aviation Day 2020 will be observed all over the world on December 7.
The day is commemorated to help generate and reinforce worldwide awareness of the importance of international civil aviation to the social and economic development of countries.
International Civil Aviation Day was first observed in the year 1994 as part of the International Civil Aviation Organization's 50th-anniversary activities.
The United Nations General Assembly officially recognised December 7 as International Civil Aviation Day in the UN system in 1996.
2) Answer: D
Veteran actor Ravi Patwardhan, best known in Marathi entertainment Industry,  has passed away after suffering from a massive heart attack. He was 84.
Ravi Patwardhan, best known for starring in the Marathi show AggabaiSasubai and 1980s Hindi
films like Tezaab and Ankush
3) Answer: E
A 3 day virtual 7 th edition of Water, Sanitation and Hygiene conclave 2020 started in Hyderabad from Dec 2 to Dec 4.
Theme – Hygiene Matters
Andhra Pradesh Governor BiswaBhusanHarichandan participated as Chief Guest of seventh WASH Conclave organised by UNICEF and the National Institute of Rural Development and Panchayati Raj (NIRDPR).
Target – It should be ensured to achieve the target to provide access to and use of safe and adequate drinking water to all households within premises by 2024."
4) Answer: C
DebendranathSarangi, President Squash Rackets Federation of India, was elected as one of the three vice presidents of the World Squash Federation and its annual general body meeting On Dec 5.
Ms.Zena Wooldridge England was elected president. I feel honoured to have been elected to this post and i will strive to implement new initiatives at the WSF, Stated Sarangi
5) Answer: D
Bangladesh signed its maiden preferential trade agreement (PTA) with Bhutan to boost bilateral trade between the two countries.
Commerce Minister TipuMunshi and Bhutanese Economic Affairs Minister LyonpoLoknath Sharma signed the agreement on behalf of their respective sides.
This is the first such agreement Bangladesh has signed with any country since independence in 1971.
The signing was held on December 6 to make the day memorable as on this day in 1971, Bhutan became the first country in the world to recognize Bangladesh's independence. And then Besides, the 50th anniversary of diplomatic relations between Bangladesh and Bhutan will also be celebrated on this day.
In this PTA 100 Bangladeshi products will get duty-free access to Bhutan. Meanwhile, 34 Bhutanese products that will get duty-free access to the Bangladeshi market.
6) Answer: B
Asian Development Bank (ADB) has approved a USD 190 million (over Rs 1,400 crore) loan for modernisation and upgradation of power distribution system in Karnataka's capital city of Bengaluru.
The funding for the Bengaluru Smart Energy Efficient Power Distribution Project by ADB includes a USD 100 million sovereign loan and a USD 90 million without sovereign guarantee loan to Bangalore Electricity Supply Company Limited (BESCOM).
BESCOM is one of five state-owned distribution utilities and the largest in Karnataka.
The project will convert 7,200 kilometer (km) of overhead distribution lines to underground cables with the parallel installation of 2,800 km of fiber-optic communication cables.
7) Answer: D
Axis Bank strengthened its offerings for the MSME segment with the launch of a business credit card in partnership with Rupifi, an embedded lending fintech company that provides financial solutions to MSMEs.
The co-branded credit card, powered by Visa
Rupifi partners with established B2B marketplace and aggregator platforms across sectors including food, grocery, pharma, agri- commodities, e-commerce, fashion, logistics, transport and industrial goods.
There is a joining fee of Rs 1,000 and there are no annual fees for the co-branded card.  It's a revolving card with 51 days interest free credit period.
The average credit limit offered will be in the range of Rs 1 and 2 lakh per month
8) Answer: C
Armed Forces Flag Day is marked in India every year on December 7 since 1949. Interestingly, the Centre, this year, has declared that Armed Forces Flag Day would be celebrated throughout December.
The Day provides us an opportunity to honour the sacrifices made by defence personnel in the line of duty.
The Day also urges citizens to support defence personnel and their families by contributing to Armed Forces Flag Day Fund (AFFDF).
To celebrate the day, all three branches of the Indian armed forces – the Indian Army, the Indian Air Force (IAF) and the Indian Navy arrange a variety of shows, carnivals, dramas and other entertainment programmes to showcase to the general public the efforts of their personnel to ensure national security.
9) Answer: E
Bengali actor Monu Mukherjee died due to cardiac arrest. He was 90.
Mukherjee, had started his film career with MrinalSen's Nil Akasher Niche (1958), earned plaudits with his roles in Satyajit Ray's Joy Baba Felunath and Ganashatru.
He had also received critical appreciation for his role in children's fantasy film Patalghar.
10) Answer: C
Presently RTGS system is available for customers between 7:00 AM and 6:00 PM.
On 24×7 availability of Real Time Gross Settlement (RTGS) System, the RBI stated it has been decided to make RTGS available round the clock on all days of the year with effect from 00:30 hours on December 14, 2020.
The Reserve Bank announced a slew of measures including enhancing the limit for contactless card transactions to Rs 5,000 and making RTGS transaction facility available round the clock from December 14.
The RBI also decided to increase the limit for contactless card transactions to Rs 5,000 from Rs 2,000 at Point of Sale (PoS) terminals from January 1, 2021
11) Answer: D
Reserve Bank of India introduces Liquidity Adjustment Facility (LAF) and Marginal Standing Facility (MSF) for Regional Rural Banks (RRBs)
Eligibility For the Scheme
These include Implemented Core Banking Solution (CBS),
A minimum CRAR of nine per cent
Full compliance with the terms and conditions for availing LAF and MSF issued by Financial Markets Operations Department (FMOD).
RBI has announced the Introduction of LAF and MSF for Regional Rural Bank and has mandated the CRAR of 9 per cent to be eligible for the scheme
12) Answer: B
Indian-American Dr Vivek Murthy was Surgeon General during the Obama administration
The Surgeon General serves a four-year term and is the top government official on public health issues
US President-elect Joe Biden has selected his key Covid-19 advisor Dr Vivek Murthy as the next Surgeon General, a role for which he was appointed during the Obama administration, according to a media report.
Vivek H Murthy, a former US surgeon general, has been asked to reprise the role in an
expanded version in the new administration.
13) Answer: E
Vice President Venkaiah Naidu has released The Book Titled 40 Years with Abdul Kalam – Untold Stories by scientist A. SivathanuPillai,
The book is published by Pentagon Press LLP
Book foreword was written by Pranab Mukherjee, former president of India.
About the Book
The book provided information of the life of Dr APJ Abdul Kalam, who was described as the epitome of simplicity, honesty and wisdom
Dr.Kalam contribution to strengthening India's defence and space capabilities
The book also Discusses his life events including ISRO, DRDO and BrahMos and then his interaction with the power corridors.
14) Answer: C
British Indian journalist and author Anita Anand's book that tells the story of a young man caught up in the 1919 JallianwalaBagh massacre in Amritsar has won a prestigious history-literary prize in the UK.
True Tale of Massacre, Revenge and the Raj' beat six other titles for the PEN Hessell-Tiltman Prize for History 2020, awarded annually for a non-fiction book of specifically historical content.
15) Answer: D
New Zealand all-rounder Corey Anderson retires from international cricket, signs up with MLC in the USA. Anderson has signed a 3-year contract with Major League Cricket (MLC) in the USA.
In the 93 international games across formats, he scored 2277 runs with two hundreds and 10 half-centuries. He also picked up 90 wickets.
Anderson rose to fame after scoring the fastest 100 in the history of One Day International cricket (ODI), in 36-ball against West Indies in January 2014.
His 36-ball hundred against West Indies on the New Year's Day in 2014, was the fastest ODI hundred for a year before AB de Villiers' broke the record with a 31-ball feat against the same opposition.
16) Answer: E
China has become the second country to plant its national flag on the moon's surface.
The China National Space Administration (CSNA) released pictures of Chinese flag placed on the lunar surface.
Earlier this was achieved only by the USA, during the Apollo mission in 1969.
The spacecraft comprises an orbiter, a lander, an ascender, and a returner. It was launched on November 24.
China achieved the historic feat a designer of the Chang'e-5 probe from China Academy of Space Technology (CAST) under the China Aerospace Science and Technology Corporation stated.
If the return journey concludes successfully, China will be only the third country to have samples from the moon following the United States and the Soviet Union in the 1960s and 1970s.
China made its first lunar landing in 2013.
17) Answer: D
Adar Poonawalla, the chief executive of the world's largest vaccine manufacturer Serum Institute of India, is among six people named "Asians of the Year" by Singapore's leading daily, The Straits Times for their work in fighting the COVID-19 pandemic.
Pune-based Serum Institute of India (SII) has collaborated with the University of Oxford and the British-Swedish pharmaceutical company AstraZeneca for making the COVID-19 vaccine, 'Covidshield', and is conducting trials in India.
The Serum Institute was founded by Adar Poonawalla's father Cyrus Poonawalla in 1966.
Adar Poonawalla joined the Serum Institute of India in 2001 and became the CEO of Serum Institute with complete control of the day-to-day operations of the company in 2011.
Sars-CoV-2, the virus that has brought death and hardship to the world's largest and most populous continent, is meeting its tamer in The Virus Busters,the award citation stated.
The Five others who made it to the list are Chinese researcher Zhang Yongzhen, Major General Chen Wei ( China ), Dr.RyuichiMorishita (Japan), OoiEngEong (Singapore) and South Korean businessman Seo Jung-jin.
18) Answer: B
Pixxel, a private satellite-imaging company, will launch its first remote-sensing satellite on the Indian Space Research Organisation (ISRO) workhorse rocket Polar Satellite Launch Vehicle (PSLV) in early 2021.
The Bengaluru-based firm has entered into an agreement with NewSpace India Limited (NSIL), a Government of India company under the Department of Space.
The company's first satellite was scheduled to be launched towards the end of this year on a Russian Soyuz rocket.
Pixxel aims to put a constellation of 30 earth observation micro-satellites into a sun-synchronous orbit by mid-2023.
The agreement with NSIL is one of its kind and one of the first since the setting up of IN-SPACe, the authorisation and regulatory body under the Department of Space (DoS) to enable private players undertaking space activities in India.