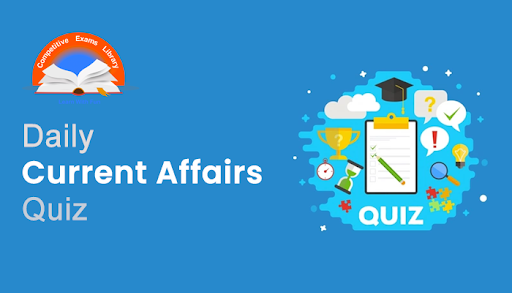 Dear Readers, Daily Current Affairs Questions Quiz for SBI, IBPS, RBI, RRB, SSC Exam 2020 of 08th & 09th November 2020. Daily GK quiz online for bank & competitive exam. Here we have given the Daily Current Affairs Quiz based on the previous days Daily Current Affairs updates. Candidates preparing for IBPS, SBI, RBI, RRB, SSC Exam 2020 & other competitive exams can make use of these Current Affairs Quiz.
1) National Cancer Awareness Day is observed on which date to educate people about the serious threat that is cancer?
A) November 1
B) November 2
C) November 7
D) November 3
E) November 4
2) Name the Military exercise conducted by India's special forces in Andaman Nicobar Islands.
A) SLINEX
B) Garud Force
C) Air Strike
D) Bull Strike
E) Vajra Prahar
3) Airports Authority Of India has signed an MoU With which company to Set Up Solar Power Plants At Airports?
A) Tata Power
B) JSW
C) Adani Green
D) BHEL
E) NTPC
4) Which state has launched the "Parivarthanam" scheme for better livelihood of fisherfolk?
A) Karnataka
B) Kerala
C) Andhra Pradesh
D) Tamil Nadu
E) Gujarat
5) International Day of Radiology is observed on which date to promote the role of medical imaging in healthcare?
A) November 1
B) November 12
C) November 8
D) November 4
E) November 5
6) In which of the following cities will the world's largest Elephant Rehabilitation Centre come up?
A) Mathura
B) Kovalam
C) Kollam
D) Thiruvananthapuram
E) Kochi
7) Joe Biden is all set to become the __________ President of the US with Kamala Harris becoming the Vice President.
A) 48th
B) 47th
C) 44th
D) 45th
E) 46th
8) India's first solar-based water supply project will be launched in which state at a cost of Rs 28.50 crore?
A) Uttar Pradesh
B) Arunachal Pradesh
C) Haryana
D) Madhya Pradesh
E) Jammu & Kashmir
9) Whatsapp has partnered with ______ Banks for its UPI Payment service.
A) 6
B) 2
C) 5
D) 4
E) 3
10) SEBI has increased the overseas investment limits for mutual funds from existing USD 300 million to USD ______ million.
A) 650
B) 400
C) 500
D) 600
E) 450
11) Who among the following has become the Brand Ambassador for the Namami Gange Project?
A) Shikari Shambhu
B) Yoddha
C) Shakti
D) Shaktimaan
E) Chacha Chaudhary
12) Atal Innovation Mission along with which foundation is all set to Launch 'AIM-Sirius Innovation Programme 3.0'?
A) Green America
B) Worldreader
C) Sirius, Russia
D) UN Global Cell
E) Orbis International
13) OPEC recently held its _________ High-Level Meeting of the OPEC-India Dialogue via video conference.
A) 6th
B) 5th
C) 2nd
D) 3rd
E) 4th
14) Who among the following has become the 1st president of Hockey India from Northeast?
A) Komati Naga
B) Nanga Pannala
C) Gyanendro Ningombam
D) Atoka Wotsa
E) Sowjanya Naga
15) Who among the following will chair the Virtual Global Investor Roundtable 2020?
A) Suresh Prabhu
B) Nirmala Sitharaman
C) Anurag Thakur
D) Narendra Modi
E) Amit Shah
16) The Public investment fund of which country has invested Rs.9,555 crore in RIL's retail arm?
A) Qatar
B) Israel
C) Lebanon
D) Oman
E) Saudi Arabia
17) ISRO has successfully launched EOS01 along with _______ customer satellites from Satish Dhawan Space Centre in Sriharikota.
A) 5
B) 6
C) 9
D) 8
E) 7
18) PM Narendra Modi has recently announced the change of name of which of the following Ministry?
A) Ministry of Education
B) Ministry of Law and Justice
C) Ministry of Shipping
D) Ministry of Earth Sciences
E) Ministry of Finance
19) Two-day joint coastal security exercise 'Sagar Kavach' was launched at Paradip coast. It is located in which state?
A) Telangana
B) Karnataka
C) Kerala
D) Odisha
E) Andhra Pradesh
20) Fitch Solutions has revised India's Fiscal Deficit Forecast To _______ per cent from 8.2% Earlier For FY21.
A) 5.2
B) 4.5
C) 7.5
D) 6.5
E) 7.8
21) Which of the following Banks is set to acquire shares in CSC e-Governance for Rs 36 crores?
A) ICICI
B) HDFC
C) Bandhan
D) Axis
E) SBI
22) The Ministry of Road Transport and Highways has made FASTags mandatory for all four wheelers from which date?
A) 1st April, 2021
B) 1st January, 2021
C) 31st March, 2021
D) 15 January, 2021
E) 26 January, 2021
23) Railways has tied with which institution in order to implement artificial intelligence, data analytics for better operational efficiency?
A) IIM Lucknow
B) IIM Ahmedabad
C) IIT Guwahati
D) IIT Delhi
E) Indian School of Business, Hyderabad
24) Who among the following has been elected to the UN Advisory Committee on Administrative and Budgetary Questions?
A) Sudhir Srivastava
B) Anand Raj
C) Vidisha Maitra
D) Anil Kumar
E) Suresh Patel
25) Which of the following Banks has launched the National Common Mobility Debit card?
A) ICICI
B) SBI
C) Bandhan
D) Karnataka
E) Axis
26) Which of the following banks has tied up with the Bharti AXA General for car insurance?
A) Bandhan
B) HDFC
C) ICICI
D) SBI
E) Airtel Payments Bank
27) Who among the following has launched the 'International Satavadhanam' event, a unique literary feat?
A) Prahlad Patel
B) Narendra Tomar
C) Venkaiah Naidu
D) Narendra Modi
E) Anurag Thakur
28) Who among the following has won the 2020 Emmett Leahy Award for his outstanding contributions Accomplishments that Have a Major Impact on the digital information and records management?
A) Kumar Vishwas
B) Dinesh Katre
C) Anand Kumar
D) Sushil Aggarwal
E) Raj Gupta
29) Who among the following has virtually inaugurated several developmental projects in Varanasi?
A) Nirmala Sitharaman
B) Narendra Tomar
C) Anurag Thakur
D) Narendra Modi
E) Amit Shah
30) Indian Overseas Bank has sought capital support of about _______ crore from the government to create a buffer from any exigency.
A) 950
B) 1200
C) 1000
D) 800
E) 1500
31) Carlos Gonzalez Valles SJ who passed away recently was a veteran ______.
A) Director
B) Producer
C) Actor
D) Singer
E) Author
32) IFFCO Bazar has partnered with YONO Krishi App of which bank to boost accessibility of quality agri-products?
A) Bandhan
B) Axis
C) SBI
D) ICICI
E) HDFC
33) Which company has signed an MOU with the Department of Chemicals & PetroChemicals to achieve a revenue target of 451 Crore rupees?
A) GAIL
B) NTPC
C) ONGC
D) BHEL
E) HIL
34) Who among the following has defeated Alexander Zverev in the Paris Masters final to clinch his 8th ATP title?
A) Rafael Nadal
B) Novak Djokovic
C) Daniil Medvedev
D) Dominic Thiem
E) Karen Khachanov
Answers :
1) Answer: C
National Cancer Awareness Day is observed on November 7.
The day is important, for it educates people about the serious threat that is cancer.
According to the World Health Organization (WHO), cancer is the second-deadliest disease which causes death among people.
Union Health Minister Dr. Harsh Vardhan first announced National Cancer Awareness Day in September 2014.
2) Answer: D
A Military exercise involving special forces was carried out in the Andaman and Nicobar Islands between November 3 and 5 as the Army, Navy and Air Force got together for the war games amid the India-China standoff to test synergy in joint operations.
Andaman and Nicobar Command (ANC) conducted a joint services exercise code-named 'Bull Strike', involving the three Services components of Andaman and Nicobar Command.
Elements of Indian Army's Parachute Brigade, marine commandos or MARCOS and Special Forces carried on the exercise at the remotely located Teressa Island, in the strategically important Nicobar Group of Islands.
The major training activities comprised combat free fall and paradrop from strategic lift aircraft C-130 by a company of Para Commandos from the mainland, action by MARCOS of Indian Navy and Special Heli Borne Operations (SHBO) by Indian Army Ghatak Platoons.
3) Answer: E
The Airports Authority of India signed a Memorandum of Understanding with an NTPC Ltd.,subsidiary to promote usage of electric vehicles and set up solar power plants at its airports.
NTPC Vidyut Vyapar Nigam, a subsidiary of NTPC, will be provided adequate land and rooftop space free of cost at identified AAI airports to set up solar power plants.
The AAI owns and manages more than 100 airports across India. The airports in Delhi, Mumbai, Bengaluru, Hyderabad, Mangaluru and Lucknow are managed by private companies and not by the AAI.
In the initial phase, NVVN will be taking up the projects at airports in Tamil Nadu and Rajasthan. The solar capacity required at airports in Tamil Nadu and Rajasthan is around 55 MW and 8 MW, respectively to become 100% solar powered airports.
AAI airports in Tamil Nadu have solar power plants with 3.5 MWp (Megawatt peak) capacity currently. It stated 12 MW solar energy is being purchased through open access for the Chennai airport.
The AAI and NVVN will also jointly work towards supporting the government of India's initiatives for adoption of electric vehicles by creation of public charging infrastructure and promoting usage of electric vehicles at airports.
4) Answer: B
A pioneering eco-sustainable programme Parivarthanam, to help the fishing community was launched, aiming to improve the livelihood skills of youngsters along the coastline and also enable socio-economic uplift of the fishermen community.
Conceived to manage the state's aquatic and agricultural products through intelligent use of human resources, the scheme will promote processing and marketing of clean fish and its fresh products.
Finance Minister Dr T M Thomas Isaac also released a book on the project.
Parivarthanam, which means change, will be spearheaded by Kerala State Coastal Area Development Corporation (KSCADC).
It is to provide jobs to college dropouts and migrant workforce returning home due to Covid-19, the scheme envisages a rapid improvement in the standard of living of the states fisher communities by encouraging entrepreneurship.
Parivarthanam will also guarantee a fixed price to fish-catchers as a fair compensation.
Besides the state-run KSCADC, the Union governments Central Institute of Fisheries Technology (CIFT) will monitor procurement and processing of fish besides ensuring its quality.
5) Answer: C
The International Day of Radiology is an annual event promoting the role of medical imaging in modern healthcare. It is celebrated on November 8 each year.
The date marks the anniversary of the discovery of x-radiation by Wilhelm Roentgen in 1895.
IDoR 2020 Theme: 'Radiologists and radiographers supporting patients during COVID-19′.
6) Answer: D
The Elephant Rehabilitation Centre at Kottoor in Thiruvananthapuram is set to become the largest care and cure centre for elephants in the world.
The first phase of the Elephant Rehabilitation Centre will be commissioned in February 2021. The project is being implemented at a cost of Rs 108 crore with funding from Kerala Infrastructure Investment Fund Board (KIIFB). The centre has facilities to accommodate 50 elephants including the existing 16 elephants.
The project will also include the construction of various reservoirs and check dams at the Neyyar Dam and also special facilities for the care of elephant calves. The aim of the centre is to give elephants a natural ecosystem just like in the forest.
The centre will also have an elephant museum, a veterinary hospital with super speciality facilities, a study and research centre for nature lovers and students, a training centre for mahouts, an entrance plaza, an administrative office, parking for visitors, a cafeteria, cottages, a toilet block and a special elephant viewing facility.
The project is also expected to generate job opportunities for the locals and adivasis living in the nearby forest areas will be given priority in the employment at the centre.
Kottur is expected to become a major site for tourists after the completion of this project.
7) Answer: E
Joe Biden has defeated President Donald Trump to become the 46th president of the United States.
He is from the Democratic Party and Trump is from Republican Party.
His full name is Joseph Robinette Biden Jr. and has served as Vice President of the United States under Barack Obama from 2009 to 2017.
Kamala Harris will be the vice president and will be the first Indian-American woman to serve as Vice President of the USA.
8) Answer: B
India's first solar-based Integrated Multi-Village Water Supply Project (IMVWSP) was dedicated to the people of Arunachal Pradesh by Union Jal Shakti Minister Gajendra Singh Shekhawat.
The solar-based lift water supply project for 39 villages in Lower Dibang Valley district in northeastern Arunachal Pradesh was commissioned at a cost of Rs 28.50 crore.
The project is first of the kind in the state using green energy-solar grid, SCADA automation system, prefabricated zinc alum storage tank and HDPE conduit for mains, sub-mains and distribution networking system, and also amusement park including swimming pool, amphi-theatre, fountains, and sit-outs.
The Chief Minister during the event launched the "Arunachal Jal Sankalp", a state government dedicated flagship programme to supplement the Jal Jeevan Mission and to sustain the drinking water systems.
9) Answer: C
WhatsApp had partnered with five Indian banks, ICICI Bank, HDFC Bank, Axis Bank, the State Bank of India, and Jio Payments Bank, for the payments service.
Recently, WhatsApp received NPCI approval to 'Go Live' on UPI in a graded manner.
WhatsApp, which counts India as its biggest market with more than 400 million users, had been running a peer-to-peer payments service with limited users for over two years, awaiting regulatory approvals.
Payments is available now in 10 Indian regional language versions of WhatsApp.
10) Answer: D
The market regulator, Securities & Exchange Board of India (SEBI) has increased the limits of overseas investment per fund house. This limit was enhanced from the existing USD 300 million to USD 600 million.
Whereas, the overall limit of the mutual fund industry would stand at USD 7 billion.
Further, limits for making investments in the overseas exchange-traded funds (ETFs) have raised to USD 200 million per fund house from the earlier limit of USD 50 million per fund house, while the limit set for the overall industry would be USD 1 billion.
If mutual funds launch new schemes, which propose to invest in securities or ETFs overseas, it needs to ensure that they disclose the intended amount of investment in scheme documents.
Also, such disclosure of the limits shall remain valid for a period of six months from the date of closure of the new fund offerings.
SEBI has made clear that if there is any unutilised limit, the same shall not be available for mutual funds for investment in overseas securities or ETFs. Rather, the same would be available towards the unutilised industry wide limits.
11) Answer: E
The iconic Indian superhero, Chacha Chaudhary, the man whose brain works faster than a computer has now come forward to join hands with Namami Gange Programme, an Integrated Conservation Mission to accomplish the twin objectives of effective abatement of pollution, conservation and rejuvenation of National River Ganga.
It is a  joint initiative by Diamond Toons and the Ministry of Jal Shakti.
The character is all set to become the face of the movement and will help in successfully promoting this campaign across the country aggressively.
12) Answer: C
Atal Innovation Mission (AIM) and Sirius, Russia, launched 'AIM-Sirius Innovation Programme 3.0′- a 14-day virtual programme for Indian and Russian schoolchildren.
The first Indo-Russian bilateral youth innovation initiative, the AIM-Sirius programme seeks to develop technological solutions (both web- and mobile-based) for the two countries.
Over a two-week programme, from 7-21 November 2020, 48 students and 16 educators and mentors will create 8 virtual products and mobile applications addressing global challenges– across a range of areas such as culture, distance education, applied cognitive science, health and well-being, sports, fitness, and games training, chemistry, artificial intelligence, and digital financial assets–in the wake of the covid-19 pandemic.
Innovations developed by the student teams will leverage 21st-century technologies such as app development, artificial intelligence, blockchain, machine learning, data analytics and visualization, UI/UX, virtual reality, augmented reality, gamification, 3D design, and rapid prototyping, among others. AIM and Sirius' mentors from the industry and academia will work closely with the teams.
13) Answer: E
The OPEC Secretariat hosted the 4th High-Level Meeting of the OPEC-India Dialogue via videoconference.
The Meeting was co-chaired by HE Mohammad Sanusi Barkindo, Secretary General of OPEC and the Honourable Dharmendra Pradhan, India's Minister of Petroleum and Natural Gas and Minister of Steel.
The meeting focused on the implications of COVID-19, discussing the repercussions of the pandemic and its significant impact on both the world economy and energy markets, including oil. Participants also deliberated on medium-term energy and oil prospects and challenges.
The first such dialogue was held in 2015.
The next High-Level Meeting of the OPEC-India Dialogue will be held in 2021, if possible in person, in
New Delhi.
14) Answer: C
Manipur's Gyanendro Ningombam was elected unopposed as the President of Hockey India while former President Mohd Mushtaque Ahmad is back in the Hockey India Executive Board after being Elected Unopposed for the Senior Vice President post.
On being elected unopposed, Gyanendra became the first President from the north east India to spearhead Hockey India.
He will serve as Head of the national federation for two years.
He was Senior Vice President of Hockey India, Senior Vice President of Manipur Hockey, and also Chief Executive Officer of Manipur Hockey.
15) Answer: D
Prime Minister Narendra Modi chaired the Virtual Global Investor Roundtable (VGIR) 2020 which will be attended by heads of 20 top institutional investors from the US, Europe, Canada, Korea, Japan, Middle East, Australia and Singapore.
VGIR 2020 will focus on discussions around India's economic and investment outlook, structural reforms and the government's vision for making the country a USD 5 trillion economy.
The VGIR is being organized by the Ministry of Finance, Government of India, and National Investment and Infrastructure Fund.
Some of the prominent funds that would be participating in the event are Australian Super, British Columbia Investment Management Corporation, Future Fund, GIC, Japan Post Bank, Japan Bank for International Cooperation, Korean Investment Corporation, Mubadala, Nippon Life, Pension Denmark, Qatar Investment Authority and US International Development Finance Corporation.
The Indian side included business leaders, financial market regulators, finance minister Nirmala Sitharaman and RBI governor Shaktikanta Das.
16) Answer: E
Saudi Arabia's Public Investment Fund (PIF) will invest Rs.9,555 crore for 2.04% in Reliance Industries Ltd's (RIL) retail unit, taking total investments into India's largest retailer to about Rs.47,265 crore.
This will be the second such investment by the Saudi sovereign wealth fund in an RIL unit this year. PIF had earlier acquired a 2.32% stake in Jio Platforms Ltd.
Since September, a bevy of global funds from the Middle East to the US including Silver Lake, KKR, General Atlantic, Mubadala, Singapore's GIC and TPG have already announced investing billions of dollars into Reliance Retail.
17) Answer: C
India's PSLV-C49 carrying its latest earth observation satellite EOS-01 and nine customer satellites lifted off from the spaceport in Sriharikota.
The Polar Satellite Launch Vehicle (PSLV-C49/EOS-01) blasted off from the Satish Dhawan Space Centre.
This is the first mission by the Indian Space Research Organisation (ISRO) this year.
EOS-01 is intended for applications in agriculture, forestry and disaster management support.
The customer satellites are from Lithuania (1), Luxembourg (4) and USA (4).
This launch was the 51st launch of PSLV, while it was the 77th launch mission from the Sriharikota spaceport.
With this launch, ISRO has altogether sent 328 foreign satellites (from 33 nations) into space.
18) Answer: C
The Prime Minister stated, Government is changing the name of the Ministry of Shipping and it will be known as the Ministry of Ports, Shipping and Waterways. Mr.Modi has stated that to reduce the expenditure on logistics, India is fast developing multimodal connectivity.
He stated that we are trying to interconnect the infrastructure related to road, rail, air and shipping and removing the silos in this process. He stated that we are still spending more money on transportation in comparison to the other nation. We can reduce the cost of logistics through water transport.
19) Answer: D
A two-day joint coastal security exercise, "Sagar Kavach" was launched at Paradip Coast.
The exercise is being carried out by a joint effort of the state of Odisha and West Bengal governments. More than 10 such departments, including the Indian Navy, the Indian Coast Guard, the Odisha Police, the local fishermen, the forest department, and the port marine department, have joined the joint exercise.
The exercise will be held for two days on November 5 and 6.
The main purpose of the exercise is to carry out the exercise on the coast of Paradip this year, just like every year after the 26/11 Mumbai attacks.
The exercise is being carried out to prevent a repeat of the Mumbai attacks by sea.
It will run for two days, with red and green forces being formed to infiltrate and prevent attacks. This year for coastal security the exercise was named "Sagar Kavach".
20) Answer: E
Fitch Solutions on Friday revised its forecast for the central government's fiscal deficit for the financial year (FY) 2020-21 to 7.8 percent from its earlier projection of 8.2 per cent.
According to the report, this revised forecast was driven by a strong recovery in tax revenues during the second quarter of FY 2020-21.
According to Fitch Solutions, it "suggests a faster than previously anticipated path of recovery for fiscal receipts over the fiscal year."
The company, however, stated that it maintains that its views that the receipts in FY21 will be lower as compared to FY20. But, it has revised its outlook for central government expenditures to come in slightly below budget projections, as "revenue constraints will likely see some winding down of fiscal spending on a year-on-year basis over the second half of FY21."
The fiscal revenue forecast in FY21 for the central government has been revised to 18.2 percent decline, from the earlier forecast of 18.4 per cent, as per the report.
"Total receipts staged a strong quarter-on-quarter (QoQ) recovery in Q2FY21, coming in at Rs 4,118 bn, a 168 per cent jump from Q1 FY21, when India's nationwide lockdown severely crippled economic activity and with it, fiscal receipts. That stated, we highlight that total receipts in Q2FY21 were still down 25 per cent year on year (YoY) despite improving from -47 per cent yoy in Q1FY21," it stated.
21) Answer: D
Axis Bank has acquired over 57,700 shares in CSC e-Governance Services India Ltd for Rs 36.38 crore, the lender stated on Thursday.
Axis Bank has executed a pact for subscribing to 57,743 equity shares of a face value of Rs 1,000 each to be issued by CSC e-Governance Services India Ltd at Rs 6,300 per equity share, the lender stated in a regulatory filing.
CSC e-Governance Services India Ltd is a special purpose vehicle set up by the electronics and information technology ministry to oversee the implementation of the common services centre scheme.
The transaction is for 9.91 per cent equity stake in CSC e-Governance Services India Ltd as a strategic investment by the bank.
Axis Bank stated the transaction is expected to be completed by December 2020 for a cash consideration of Rs 36.38 crore.
CSC e-Governance Services India Ltd had a total income of Rs 1,105.49 crore in 2019-20. Its total assets stood at Rs 1,495.93 crore as on March 31, 2020.
22) Answer: B
The Ministry of Road Transport and Highways has issued a notification making FASTags mandatory for all four wheel vehicles from 1st January 2021. This will apply to old vehicles as well as M and N category of motor vehicles sold before 1st December, 2017.
As per Central Motor Vehicles Rules, 1989, the FASTag had been made mandatory for all registration of new four wheeled Vehicles since 1st December 2017 and is being supplied by the Vehicle Manufacturer or their dealers. It had further been mandated that the renewal of fitness certificate will be done only after the fitment of FASTag for the Transport Vehicles. For National Permit Vehicles the fitment of FASTag has been mandated since 1st of October, 2019.
The Ministry stated that a valid FASTag is also mandatory while getting a new third Party Insurance through an amendment in certificate of Insurance, wherein the details of FASTag ID will be captured. This will be applicable with effect from 1st of April 2021.
The Ministry stated, this notification would be a major step for ensuring that the payment of fees be 100 per cent at Toll Plazas through the Electronic Means only and that the vehicles pass seamlessly through the Fee Plazas.
The steps for ensuring the availability of FASTag at multiple channels are being made through physical locations and also through online mechanisms so that the citizens are able to have them affixed to their vehicles within the next two months at their convenience.
23) Answer: E
The railways is set to go big with artificial intelligence and data analytics to improve its operational efficiency and has tied up with the Indian School of Business in Hyderabad to analyse the data generated by the national transporter, Railway Board Chairman V K Yadav stated.
He stated the railways will set up a Centre for Excellence in this regard in the next three months.
The Railway Board has taken a decision to appoint a Chief Technology Officer (CTO) in every zonal railways whose mandate will be to keep track of emerging technologies in analytics and artificial intelligence (AI) and use it in the rail system, Yadav stated.
The Indian School of Business in Hyderabad has been assigned to plan an introductory capacity building program and formulate a report on the industrial practices of AI on rail transport and benchmarking. It will also develop a report on establishing the centre for excellence and an advanced capacity building program.
Meanwhile, the railways has already trained 88 officials over the last two months for this purpose and such training will be provided for identified officials in every zone and division.
The training modules include cloud computing, data science, big data analytics, AI using reinforcement learning and AI for autonomous vehicles.
Six to ten officers in divisions and about 20 in zonal headquarters will be identified for training in data analytics and AI. They will be formally trained in institutes like IITs, ISB, IIMs, IIIT in the two subjects (of data analytics and AI).
The railways is also looking at development of data sharing protocols with the Centre for Railway Information Systems (CRIS), RailTel and others, they added.
24) Answer: C
In a significant victory for India at the United Nations, Indian diplomat Vidisha Maitra was elected to the UN Advisory Committee on Administrative and Budgetary Questions (ACABQ), a subsidiary organ of the General Assembly.
In the Group of Asia-Pacific States, Maitra, First Secretary in India's Permanent Mission to the UN, obtained 126 votes.
The 193-member General Assembly appoints members of the Advisory Committee. Members are selected on the basis of broad geographical representation, personal qualifications and experience.
Ms Maitra was one of two nominated candidates from the Group of Asia-Pacific States. In the group, Ali Mohammed Faeq Al-Dabag of Iraq drew 64 votes.
The Fifth Committee of the General Assembly, which deals with administrative and budgetary issues, recommended Ms Maitra to the Assembly for a three-year term beginning January 1, 2021.
The victory comes as India gets ready to sit in the UN Security Council as a non-permanent member for a two-year term beginning January 2021.
25) Answer: D
Karnataka Bank Ltd has launched National Common Mobility Debit Card.
A press release by the bank stated on Monday that this Rupay card is a contactless debit-cum-prepaid and interoperable transport card.
It stated that the users can make payments without inserting the card at PoS terminals. Payments can be made at toll plazas, metro transits, parking lots, retail outlets and smart cities with the help of this card. The card's wallet supports small-ticket size offline payments through the value stored in the card, it stated.
26) Answer: E
Airtel Payments Bank has partnered with Bharti AXA General Insurance to offer comprehensive car insurance to the payments bank's customers.
The Smart Drive Private Car Insurance offers financial protection against damage to the vehicle due to accident, theft, and natural and man-made disasters.
Airtel Payments Bank's customers can purchase the Bharti AXA's car insurance policy within five minutes using a paperless, secure, and quick process through the Airtel Thanks app.
Currently, the country's first payments bank has over 3 crore customers.
The car insurance offered through Airtel Payments Bank also compensates for injury or damages to another person or property caused due to a car accident.
The insurance comes with a personal accident cover for the policyholder. In the event of an accident leading to permanent disablement or loss of life, the policy ensures financial protection for the family.
27) Answer: C
The Vice President Shri M Venkaiah Naidu has observed that 'avadhanam' as a literary feat has greatly contributed to the Telugu language's glorious tradition. 'Avadhanam' is like a test of the poet's literary prowess and scholarship, he added. This extraordinary feat, a historical and unique feature of only a few languages, should be further promoted, the Vice President advised.
The 'International 'Satavadhanam'' program, launched virtually by the Vice President today, was organized by Dr. Medasani Mohan under the auspices of Sri Krishnadevaraya Satsang in Tirupati. Speaking on the occasion, he stated 'avadhanam' is an exciting literary performance that involves solving tricky literary posers, improvising poems and tests a person's capability of performing such multiple tasks simultaneously.
28) Answer: B
Dr. Dinesh Katre, Senior Director & HOD at C-DAC Wins 2020 Emmett Leahy Award for his outstanding contributions Accomplishments that Have a Major Impact on the digital information and records management.
The Emmett Leahy Award Committee recognized the sustained leadership by Dr. Dinesh Katre, Senior Director & HOD, C-DAC Pune, on issues of digital stewardship and preservation over several decades. In particular, through his efforts in creating India's National Digital Preservation Program and its flagship project, the Center of Excellence for Digital Preservation, he has helped to advance the cause of providing robust and trustworthy platforms for the preservation of digital materials, including for electronic recordkeeping systems and tools for intelligent archiving.
Among his many impressive achievements, he led the development of the DIGITĀLAYA , e-Library and Archiving System which played an important role in the ISO 16363 certification of world's first trustworthy digital repository.
29) Answer: D
Prime Minister Narendra Modi inaugurated and laid the foundation stone of various development projects in Varanasi via video conferencing.The total cost implication of these projects is Rs. 614 crores.
The Prime Minister also interacted with the beneficiaries of these projects during the event. The Chief Minister of Uttar Pradesh was present on the occasion.
The projects inaugurated include Sarnath Light and Sound show, upgradation of Lal Bahadur Shastri Hospital Ramnagar, sewerage related works, infrastructure facilities for protection and conservation of cows, multipurpose seed storehouse, agriculture produce warehouse of 100 MT, IPDS phase 2, a housing complex for players in Sampurnanand Stadium, Varanasi city smart lighting work, along with 105 Anganwadi Kendras and 102 Gau Ashray Kendras.
During the event, Prime Minister laid the foundation stone for projects including the redevelopment of Dashashwamedh Ghat and Khidkiya Ghat, barracks for PAC police force, redevelopment of certain wards of Kashi, parking facility along with redevelopment of park in Beniya Bagh, upgradation of the multi-purpose hall in Girija Devi Sanskritik Sankul, repair work of roads in the city and development of tourist places.
30) Answer: C
Indian Overseas Bank (IOB) has sought a capital support of about Rs.1,000 crore from the government in order to create a buffer for any exigency, a top official of the bank stated.
The state-owned lender, which has posted profit for the last three consecutive quarters, expects to continue the trend in the remaining part of the current fiscal year with increased focus on recovery and business pick up.
For the September quarter, the bank posted a profit of Rs.148 crore as compared to a net loss of Rs.2,254 crore in the same period a year ago. Net profit in the quarter grew 22.3 per cent from Rs.121 crore in April-June.
The Chennai-based lender expects to reduce the NPA by Rs.2,000 crore during the second half of this fiscal year.
31) Answer: E
Veteran author and Gujarati columnist of Father Carlos Gonzalez Valles SJ, popularly known as Father Valles passed away today. He was 95 and breathed his last in Spain.
A Jesuit priest born in Spain, he was a Mathematics teacher in Gujarat. He wrote extensively in Gujarati, English and Spanish. He translated many mathematical concepts into Gujarati and coined terms for them.
32) Answer: C
IFFCO Bazar, the e-commerce wing of IFFCO, announced its integration with the State Bank of India (SBI) YONO Krishi, a dedicated portal catering to farmer's needs, a company statement stated.
The portal, iffcobazar.in offers a wide variety of products speciality fertilisers, organic agri-inputs, seeds, agrochemicals, agri-machinery amongst others.
"IFFCO has been at the service of farmers for the past 50 years. iffcobazar.in is a platform which will connect and serve the farmers digitally. It is aimed at realizing the dream of our PM of doubling income of farmers through a digital first and farmer centric approach. Through the portal, farmers can not only order best quality non-subsidised fertilisers and other agriculture inputs but can also get answers to their queries through a farmers' forum and a dedicated helpline,
33) Answer: E
HIL (India) Limited, a PSU under the Ministry of Chemicals & Fertilizers,   has signed a memorandum of understanding (MoU) with the Department of Chemicals & Petrochemicals recently to achieve the revenue target of Rs 451 crore in the current financial year ( 2020-21).
The MoU was signed by the HIL (India) Limited's Chairman & Managing Director (CMD) Shri SP Mohanty and the Department of Chemicals & Petrochemicals' Secretary  Shri Rajesh Kumar Chaturvedi in presence of other Senior officers.
In addition to this, the company has also registered the highest ever sale for the product in the first two quarters and supplied the entire quantity to various institutions like the Ministry of Agriculture's Locust Control Programme and municipal corporations across the country for the vector control.
34) Answer: C
In Tennis, world number five Daniil Medvedev defeated Alexander Zverev 5-7, 6-4, 6-1 in the Paris Masters final to clinch his eighth ATP title. World number seven, Zverev of Germany, who beat World number two Rafael Nadal in semi-finals, took an early advantage.
But Russian third seed Medvedev rallied to win in two hours seven minutes. He became the fourth Russian to capture the Paris Masters title after Marat Safin, Nikolay Davydenko and Karen Khachanov.