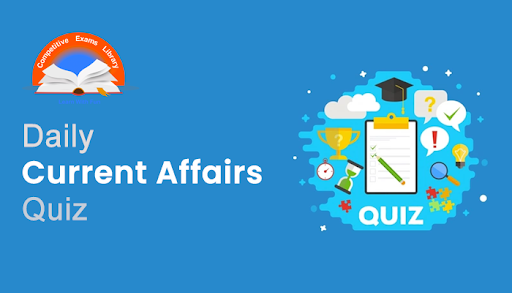 Dear Readers, Daily Current Affairs Questions Quiz for SBI, IBPS, RBI, RRB, SSC Exam 2020 of 08th December 2020. Daily GK quiz online for bank & competitive exam. Here we have given the Daily Current Affairs Quiz based on the previous days Daily Current Affairs updates. Candidates preparing for IBPS, SBI, RBI, RRB, SSC Exam 2020 & other competitive exams can make use of these Current Affairs Quiz.
1) Which of the following institution has released the Urban Quality of Life Index?
A) IIT Delhi
B) IIT Madras
C) IIT Bombay
D) IIT Guwahati
E) IIT Roorkee
2) Who among the following has been appointed as CEO for WHO Foundation?
A) AmitAggrawal
B) Rajat Gupta
C) Surender Singh
D) Anil Soni
E) Sudhir Mishra
3) Narinder Singh Kapany who passed away at 94 was the father of ______.
A) Neuro linguistic programming
B) Robotics
C) HTML
D) DVD
E) Fiber optics
4) Who among the following has virtually inaugurated construction of the Agra Metro project in UP?
A) Prahlad Patel
B) Venkiah Naidu
C) NarendraModi
D) Amit Shah
E) Anurag Thakur
5) Which institution has won the King Bhumibol World Soil Day Award 2020?
A) GAIL
B) ONGC
C) BHEL
D) ICAR
E) DRDO
6) Which institute has won the United Nations Investment Promotion Award for 2020?
A) ADB
B) Invest India
C) UNDP
D) IMF
E) World Bank
7) The ______ Cancer Genome Atlas (TCGA) 2020 Conference has recently been Inaugurated In New Delhi.
A) 5th
B) 4th
C) 3rd
D) 1st
E) 2nd
8) The Quarterly Return filing & Monthly Payment Scheme has been Launched For GST Payers With Turnover Up To Rs _____ Crore.
A) 2
B) 3.5
C) 5
D) 4.5
E) 4
9) Which bank has launched the LenS-The Lending Solution to speed up and maintain accuracy in online loan processing and sanctioning of credit proposals?
A) Axis
B) HDFC
C) ICICI
D) PNB
E) SBI
10) PM Modi will share his thoughts in 'Mann Ki Baat' programme on which of the following date?
A) December 22
B) December 27
C) December 23
D) December 25
E) December 24
11) Who among the following has won the Sakhir Grand Prix 2020?
A) Sebastian Vettel
B) NicoHülkenberg
C) Pedro Rodriguez
D) Lance Stroll
E) Sergio Perez
12) Which of the following country will host the Asia Cup in 2021?
A) Maldives
B) Thailand
C) Sri Lanka
D) Pakistan
E) Bangladesh
13) Who among the following has created history by becoming the first Indian to win an F2 race at Sakhir?
A) Aditya Patel
B) ArjunMaini
C) ArmanEbrahim
D) JehanDaruvala
E) MahvirRaghunathan
Answers :
1) Answer: C
IIT-Bombay researchers have come up with an urban quality of life index tailored to the reality of life in India.
The first time, they have factored in gender parity
Chennai, it turns out, is the most women-friendly and Patna the least.
Overall, Mumbai tops the list of 14, followed closely by Delhi, Kolkata and Chennai.
The study found that Jaipur has the highest crime rate against women, Chennai has the lowest .
2) Answer: D
World Health Organisation has appointed Indian-origin Anil Soni as the Chief Executive Officer for the WHO Foundation.
Global health expert Soni will assume his role as its inaugural CEO on January 1 next year.
WHO Director-General TedrosAdhanomGhebreyesus described Soni as a proven innovator in global health who has spent two decades in service of communities affected by HIV/AIDS and other infectious diseases.
In his new role, Soni will accelerate the Foundation's work to invest in innovative, evidence-based initiatives that support WHO in delivering on its mission to ensure healthy lives and promote well-being for all, the WHO Foundation stated.
3) Answer: E
Kapany was the first to transmit images through fiber optics back in 1954 and laid the foundation for high speed internet technology.
He founded the Optics Technology Incorporation and Kaptron Incorporation in 1960 and 1973 respectively.
DR Narinder Singh Kapany is among the 10 most renowned Sikhs in the world.
Achievements of Kapany:
He received 'The Excellence 2000 Award' from the USA Pan-Asian American Chamber of Commerce in 1998.
He was named among the seven "Unsung Heroes" of the 20th century who affected the lives of people all over the world by Fortune in their 'Businessmen of the Century' issue of November 22, 1999.
4) Answer: C
Prime Minister NarendraModi is set to inaugurate the phase one of construction of the Agra metro project  via videoconferencing on 7 thdec.
Uttar Pradesh Governor Anandi Ben Patel and Chief Minister Yogi Adityanath marked their virtual presence on the occasion.
The Agra metro project comprises two corridors with a total length of 29.4 km and will connect major tourist attractions like TajMahal, Agra Fort, Sikandra with railway stations and bus stands.
The estimated cost of the construction of the project is Rs 8,379.62 crore and it will be completed in five years, an official stated.
The project will benefit Agra's population of 26 lakh and also cater to more than 60 lakh tourists who visit the historic city every year. It will provide an environment-friendly mass rapid transit system to Agra.
5) Answer: D
The Indian Council of Agricultural Research (ICAR), has bagged the prestigious International King Bhumibol World Soil Day Award conferred by the Food and Agriculture Organization (FAO), Rome.
The announcement to this effect was made on a virtual function by the FAO on the World Soil Day 5th December 2020 Through Video Conferencing.
The prestigious global award was conferred to the ICAR for its commitment to raising awareness of the importance of healthy soils.
The World Soil Day Award was conferred to the ICAR for last year's World Soil Day celebration, which addressed soil erosion under the motto "Stop soil erosion, save our future".
ICAR organised "Soil Health Awareness Week" during 1-7 December 2019 with participation of more than 13 000 people, including scientists, government institutions, officials, students, farmers and the general public, in the social media campaign "SOIL – Our Mother Earth" on 5 December 2019.
Her Royal Highness, Princess MahaChakriSirindhorn of Thailand, will give the award to the ICAR in an official ceremony that will take place in Bangkok in January 2021.
6) Answer: B
United Nations Conference on Trade and Development (UNCTAD) has declared 'Invest India' as winner of the 2020 United Nations Investment Promotion Award.
The award ceremony took place at UNCTAD Headquarters in Geneva on Dec 7.
The Award recognizes and celebrates the outstanding achievements of the World's best-practice investment promotion agencies. The evaluation was based on UNCTAD's assessment of work undertaken by 180 national Investment Promotion Agencies across the world.
7) Answer: E
The Minister of Science and Technology Harsh Vardhan held the second TCGA-Cancer Genome Atlas 2020 conference in New Delhi.
The conference brought together scientists and clinicians from all over the world to jointly establish the Indian Cancer Genome Atlas (ICGA).
About ICGA
It aims to create an indigenous, open-source and comprehensive database to collect molecular profiles of all prevalent cancers in the Indian population. A variety of molecular mechanisms, including genetic and lifestyle factors, cause cancer, posing major challenges to treatment. Therefore, it is necessary to better understand the underlying factors of the patient.
8) Answer: C
The government has launched the 'Quarterly Return filing & Monthly Payment' scheme for small taxpayers under the Goods and Services Tax system.
The notifications for the same were issued by the Central Board of Indirect Taxes and Customs (CBIC).
Eligibility:
Taxpayers with an aggregate annual turnover of up to Rs 5 crore in the preceding financial year and have filed their October GSTR-3B (sales) return by Nov. 30, 2020, are eligible for this scheme.
9) Answer: D
Punjab National Bank  launched a tech-based loan management solution called 'LenS-The Lending Solution', to speed up and maintain accuracy in online loan processing and sanctioning of credit proposals.
Purpose
To standardise the system, process and appraisal formats for loan processing,
Speed up the process of credit sanctions,
Auto-generate loan documents, among others.
This system is envisaged to be implemented in a phased manner for all kinds of loans — MSME, agriculture, retail and other credit.
Processing and sanction of credit proposals up to ₹10 lakh under the Mudra scheme, including MSME loans (fresh, renewal, enhancement and review) shall be done through LenS with effect from December 1, 2020.
10) Answer: B
Prime Minister NarendraModi will share his thoughts with the people in the country and abroad in the 'Mann Ki Baat' programme on All India Radio at 11 AM on 27th of this month. It will be the 19th edition of Prime Minister's Mann kiBaat 2.0.
The programme will be broadcast on the entire network of AIR and Doordarshan and also on AIR News website www.newsonair.com and newsonair Mobile App. It will also be streamed live on the YouTube channels of AIR, DD News, PMO and Information and Broadcasting Ministry.
AIR will broadcast the programme in regional languages immediately after the Hindi broadcast. Citizens can share their suggestions and ideas for the upcoming Mann kiBaatprogramme through Namo App, MyGov Forum or through toll free number 1800-11-7800.
11) Answer: E
Sergio Perez Mexico-Racing Point-BWT Mercedes , Sergio Perez , won the 2020 Sakhir Grand Prix,, at the Bahrain International Circuit in Sakhir, Bahrain.
Sergio Perez became the first Mexican victor in F1 since Pedro Rodriguez in 1970, ending a series of races dominated by Mercedes for whom ValtteriBottas finished eighth and George Russell ninth.
The race was the maiden edition of the Sakhir Grand Prix and sixteenth race of the 2020 Formula One World Championship.
12) Answer: C
PTI, PCB Chief Executive Officer (CEO), Wasim Khan said, "The next Asia Cup will be hosted in Sri Lanka in June and we have got hosting rights now for the 2022 Asia Cup."
The tournament which was supposed to take place in Pakistan this year, will now be taking place in Sri Lanka in 2021.
PCB Chief Executive Officer (CEO), Wasim Khan said, "The next Asia Cup will be hosted in Sri Lanka in June and we have got hosting rights now for the 2022 Asia Cup."
Since, it has been pushed to June 2021 in Sri Lanka now, Pakistan automatically gets the 2022 edition hosting rights as compensation.
13) Answer: D
JehanDaruvala emerged on top in the support race of the season-ending Formula 1 Grand Prix after a thrilling battle against F2 champion Mick Schumacher and Daniel Ticktum.
The 22-year-old Indian emerged on top in the support race of the season-ending Formula 1 Grand Prix.
His Japanese teammate, Yuki Tsunoda came second and Britain's Daniel Ticktum was in a third position