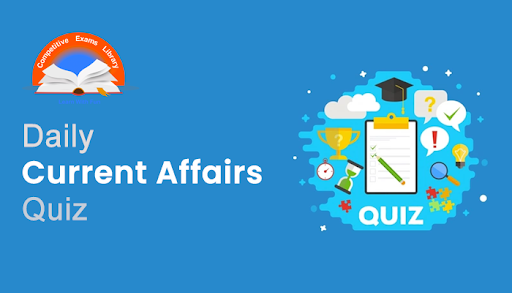 Dear Readers, Daily Current Affairs Questions Quiz for SBI, IBPS, RBI, RRB, SSC Exam 2020 of 12th December 2020. Daily GK quiz online for bank & competitive exam. Here we have given the Daily Current Affairs Quiz based on the previous days Daily Current Affairs updates. Candidates preparing for IBPS, SBI, RBI, RRB, SSC Exam 2020 & other competitive exams can make use of these Current Affairs Quiz.
1) International Universal Health Coverage Day is observed on which of the following date?
A) December 11
B) December 13
C) December 12
D) December 14
E) December 15
2) ADB launches a ________ billion dollar Covid-19 vaccine scheme called the Asia Pacific Vaccine Access Facility (APVAX).
A) 7
B) 6.5
C) 8.5
D) 9
E) 8
3) Which of the following organization has conducted Joint Venture Protective Carbine trials?
A) BDL
B) ISRO
C) GRSE
D) BHEL
E) DRDO
4) Who among the following has won the Ramanujan Prize For Young Mathematicians?
A) Adam Harper
B) Yifeng Liu Jack Thorne
C) Carolina Araujo
D) Maryna Viazovska
E) Ramdorai Sujatha
5) Which of the following has been declared the first UT to become 100% organic?
A) Delhi
B) Lakshadweep
C) Chandigarh
D) Daman & Diu
E) Puducherry
6) The _____ edition of the India Water Impact Summit has begun virtually on 10th December.
A) 6th
B) 2nd
C) 3rd
D) 5th
E) 4th
7) Who among the following will deliver the inaugural address at FICCI's 93rd Annual General Meeting and Annual Convention?
A) Venkiah Naidu
B) Nitin Gadkari
C) Amit Shah
D) Prahlad Patel
E) Narendra Modi
8) The Assembly of which state has adopted a Bill against cow slaughter?
A) Uttar Pradesh
B) Kerala
C) Assam
D) Karnataka
E) Bihar
9) International Day of Neutrality is observed on which of the following date?
A) December 11
B) December 13
C) December 12
D) December 14
E) December 15
10) Ladakh Lieutenant Governor R K Mathur has virtually inaugurated the ______edition of Ladakh Literature Festival 2020.
A) 7th
B) 5th
C) 4th
D) 3rd
E) 2nd
11) ADB expects Indian economy to contract at a slower pace of ______ percent against its earlier estimate of 9% in FY21.
A) 6.5
B) 7.5
C) 7
D) 8
E) 8.5
12) USFDA has given nod for generic Precedex injection of which company?
A) GSK
B) Ranbaxy
C) Aurobindo Pharma
D) Cipla
E) Pfizer
13) Which company has tied-up with Skylotech India for Satellite based network?
A) Airtel
B) BSNL
C) MNTL
D) VI
E) Jio
14) Who among the following has addressed the ASEAN Defence Ministers Meeting Plus online?
A) Narendra Modi
B) Nitin Gadkari
C) Prahlad Patel
D) Rajnath Singh
E) Amit Shah
15) Who among the following has bagged the top honour at FICCI India Sports Awards?
A) Pankaj Advani
B) Yuvraj Singh
C) Bajrang Punia
D) SainaNehwal
E) Mary Kom
Answers :
1) Answer: C
International Universal Health Coverage Day is a United Nations' recognized international day celebrated every year on December 12.
Aim: To raise awareness of the need for strong and resilient health systems and universal health coverage with multi-stakeholder partners.
2020 Theme – Health For All: PROTECT EVERYONE
The theme reflects that to end this crisis Covid-19 and build a safer and healthier future, we must invest in health systems that protect us all.
On 12 Dec 2017 United Nations Proclaimed , December 12 as International Universal Health Coverage day.
2) Answer: D
The Manila-based Asian Development Bank (ADB) has launched an initiative called the Asia Pacific Vaccine Access Facility (APVAX), it will offer "rapid and equitable support" for its developing member countries.
The $9billion coronavirus scheme, structured as a credit facility, will support Asian developing countries' efforts to procure vaccines against the deadly virus rapidly as well as their investments in vaccine production and distribution systems.
3) Answer: E
DRDO designed 5.56×30 mm Protective Carbine has successfully undergone the final phase of User trials on 7th December 2020 meeting all the GSQR parameters.
JVPC has successfully met the stringent performance criteria of reliability and accuracy in addition to quality trials conducted by DGQA.
JVPC is a Gas Operated Semi Bull-pup automatic weapon having more than 700 rpm rate of fire.
Its effective range of the carbine is more than 100 m and weighs about 3.0 kg with key features like high reliability, low recoil, retractable Butt, ergonomic design, single hand firing capability, and multiple Picatinny rails.
The carbine has been designed as per Indian Army's GSQR, by Armament Research and Development Establishment (ARDE), a Pune based laboratory of DRDO.
4) Answer: C
The Ramanujan Prize for Young Mathematicians 2020 has been awarded to Carolina Araujo, Mathematician from the Institute for Pure and Applied Mathematics (IMPA), Rio de Janeiro, Brazil, in a virtual ceremony on December 9, 2020.
Dr. Araujo is the Vice President of the Committee for Women in Mathematics at the International Mathematical Union, the first non-Indian women mathematician to receive this prize.
MsAraujo work area focuses on birational geometry, which aims to classify and describe the structure of algebraic varieties.
Prior to her RamdoraiSujatha, from India became the first woman to receive the award in 2006.
5) Answer: B
The Ministry of Agriculture has declared Lakshadweep as India's first Union Territory to become 100% organic.
Earlier in 2016, Sikkim was declared as the first organic farming state in India.
The success of acquiring a certification of being 100% organic was achieved with the help of the central government's ParamparagatKrishiVikasYojana and the financial assistance earmarked for the UT under the scheme.
6) Answer: D
The 5th India Water Impact Summit (IWIS) began on 10th December 2020 virtually. The five day programme will conclude on 15 December 2020.
Theme – Arth Ganga – river conservation synchronised development.
Objective of IWIS 2020 is Comprehensive Analysis and Holistic Management of Rivers and Water Bodies.
The conference will have comprehensive analysis and review of river rejuvenation and local river. It will also have deliberation about Arth Ganga, i.e. how river conservation synchronised development can take place.
It is being organised virtually by the NMCG and the Centre for Ganga River Basin Management and Studies (cGanga).
RatanLalKataria, Minister of State in the Jal Shakti Ministry, inaugurated this summit.
7) Answer: E
Prime Minister NarendraModi will deliver the inaugural address at FICCI's 93rd Annual General Meeting and Annual Convention via video conferencing and also inaugurate the virtual FICCI Annual Expo 2020.
FICCI's Annual Convention is being held virtually on 11th, 12th and 14th December.
The virtual expo will provide an opportunity to exhibitors from across the globe to showcase their products and advance their business prospects.
The theme of this year's Annual Convention is "Inspired India"
The convention will witness various stakeholders deliberating on the implications of Covid-19 on the economy, reforms being undertaken by the government and the way forward for the Indian economy.
8) Answer: D
The Karnataka Legislative Assembly passed the Karnataka Prevention of Slaughter and Preservation of Cattle Bill-2020.
The Bill was moved by Animal Husbandry Minister PrabhuChavan, which calls for a blanket ban on cattle slaughter and stringent punishment to those indulging in these activities.
The new act defines "cattle" as including cows, calves, bulls, bullocks, and male and female buffalos below 13 years. "Beef" is defined as the flesh of cattle in any form.
Slaughter of cattle as per the new Bill will be a cognisable offence and will attract three to seven years imprisonment and a fine that shall not be less than ₹50,000 extendable to ₹5 lakh.
The minister stated the new Bill will repeal the Karnataka Prevention of Cow Slaughter and Cattle Preservation Act, 1964 (Karnataka Act 35 of 1964) to prohibit the slaughter of cattle and for the preservation of improvement of the breeds of cattle and to endeavour to organise agriculture and animal husbandry in terms of Article 48 of the Constitution of India, by enacting a comprehensive legislation.
9) Answer: C
It was officially declared by a UN General Assembly resolution adopted in February 2017 and first observed on December 12, 2017.
International Day of Neutrality is a United Nations recognized day held on December 12.
Aim : To raise public awareness of the value of neutrality in international relations.
About Neutrality
Neutrality, the legal status arising from the abstention of a state from all participation in a war between other states, the maintenance of an attitude of impartiality toward the belligerents, and the recognition by the belligerents of this abstention and impartiality.
10) Answer: E
Ladakh Lieutenant Governor R K Mathur virtually inaugurated the second edition of Ladakh Literature Festival, 2020, in Leh on Dec 10.
It is a 3 day festival that will host  a series of talks, importance of the region, ancient knowledge of Ladakh, Folk music, cultural Dance, geology and wildlife of Himalayas
11) Answer: D
The Asian Development Bank expects the Indian economy will contract at a slower pace of 8% against its earlier estimate of 9% in FY21 on the back of a faster recovery in Asia's third-largest economy following the easing of covid restrictions.
The earlier South Asia forecast for 6.8% contraction is upgraded to 6.1% in 2020 with growth recovery of 7.2% in 2021.
12) Answer: C
AurobindoPharma has received final approval from the US health regulator for the generic of Precedex injection, used for sedation of patients.
The company has received final approval from the US Food and Drug Administration (USFDA) to manufacture and market Dexmedetomidine Hydrochloride in 0.9% sodium chloride injection, 200 µg/50 mL and 400 µg/100 mL single dose flexible containers.
The company stated the product will be launched in January 2021.
Dexmedetomidine Hydrochloride in 0.9% sodium chloride injection is indicated for sedation of initially intubated and mechanically ventilated patients during treatment in an intensive care setting and sedation of non-intubated patients prior to and/or during surgical and other procedures.
13) Answer: B
Global machine connectivity solutions company Skylotech India has partnered with BSNL to launch a satellite-based narrowband IoT network in India.
That will enable it to provide connectivity for millions of unconnected machines, sensors and industrial IoT devices across the country.
This solution, developed by Skylo, will connect with BSNL's satellite ground infrastructure and provide pan India coverage, including indian seas.
This is the World's first satellite based NB-IoT network.
Skylo User Terminal interfaces with sensors transmits data to Network.
14)  Answer: D
RakshamantriShriRajnathSingh, attended the 14th ASEAN Defence Ministers' Meeting Plus organized online at Hanoi, Vietnam on 10 December 2020 that marked the 10th anniversary of ADMM Plus.
Members : 10 ASEAN Countries and eight partner countries, Australia, China, Japan, India, Korea, New Zealand, Russia, United States.
It is a Platform for ASEAN and its eight Dialogue Partners to Strengthen security and defence cooperation for peace, stability, and development in the region
15) Answer: C
The Federation of Indian Commerce and Industry (FICCI) presented the India Sports Awards 2020 on the back of the 10th Global Sports Summit, virtually due to the coronavirus pandemic.
Tokyo Olympics-bound athletes wrestler BajrangPunia and shooter ElavenilValarivan have won the 2020 Male and Female Sportsperson of the Year award.
About the Award
The sports awards are an attempt by industry body, FICCI to acknowledge and recognise the contribution of sportspersons and various stakeholders who deliver excellent results throughout the year.