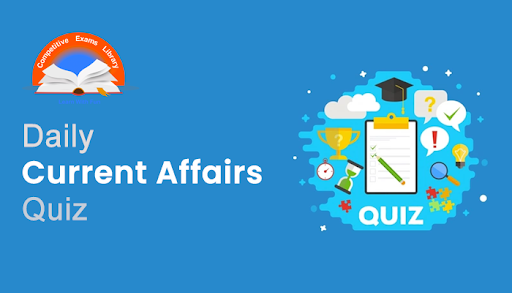 Dear Readers, Daily Current Affairs Questions Quiz for SBI, IBPS, RBI, RRB, SSC Exam 2020 of 12th November 2020. Daily GK quiz online for bank & competitive exam. Here we have given the Daily Current Affairs Quiz based on the previous days Daily Current Affairs updates. Candidates preparing for IBPS, SBI, RBI, RRB, SSC Exam 2020 & other competitive exams can make use of these Current Affairs Quiz.
1) Who among the following will inaugurate the "Sarhad Vistar Vikasotsav 2020 "in Gujarat?
A) Venkiah Naidu
B) Ram Nath Kovind
C) Amit Shah
D) Prahlad Patel
E) Narendra Modi
2) A _______ megawatt renewable park will soon light up the India-Pak border areas in Rajasthan.
A) 6000
B) 7000
C) 7500
D) 8000
E) 8500
3) Who among the following has been Named Chief Of Staff To Acting US Defence Secretary?
A) Anand Varma
B) Rupesh Patel
C) Sushil Gupta
D) Naren Singh
E) Kash Patel
4) IRDAI has set up a ______ member panel to revisit retail business of engineering tariff.
A) 8
B) 7
C) 9
D) 6
E) 5
5) Public Service Broadcasting Day is observed on which of the following dates?
A) November 13
B) November 11
C) November 8
D) November 12
E) November 15
6) According to a recent Survey, the Wildlife Institute of India has found that Ganga supports ______ percent of high biodiversity.
A) 40
B) 49
C) 45
D) 44
E) 42
7) Prince Khalifa bin Salman Al Khalifa who passed away recently was the prime minister of which country?
A) Saudi Arabia
B) Lebanon
C) Oman
D) Qatar
E) Bahrain
8) Cabinet has approved a Production-Linked Incentive Scheme for _____key sectors to boost manufacturing & exports.
A) 6
B) 4
C) 10
D) 8
E) 12
9) Which state government will  observe National Unity Week from November 19 to 25?
A) Punjab
B) Chattisgarh
C) Madhya Pradesh
D) Maharashtra
E) Haryana
10) CM Shivraj Singh Chouhan will release a roadmap _____ of Atmanirbhar Madhya Pradesh.
A) 2026
B) 2023
C) 2022
D) 2025
E) 2024
11) International bird festival is all set to be organized in which city?
A) Chennai
B) Delhi
C) Gorakhpur
D) Dehradun
E) Chandigarh
12) Which state has launched a unique initiative- local4Diwali hashtag?
A) Punjab
B) Chattisgarh
C) Andhra Pradesh
D) Madhya Pradesh
E) Haryana
13) Which company is all set to be added to MSCI India domestic index?
A) PNB Housing
B) Tata capital
C) HDFC finance
D) Indiabulls
E) Muthoot Finance
14) Which state has been adjudged second best in water management as per National water awards 2019?
A) Punjab
B) Chattisgarh
C) Maharashtra
D) Kerala
E) Haryana
15) Who has won the "Dr Tulsi Das Chugh Award-2020?
A) Prakash Verma
B) Neeraj Mittal
C) Sushil Singh
D) Satish Mishra
E) Anand Raj
16) The UK minister for Investment has launched the ____annual  Report On Doing Business In India.
A) 7th
B) 3rd
C) 5th
D) 4th
E) 6th
17) Which institution will organise the 3rd edition of Deccan Dialogue on November 16?
A) IIT Guwahati
B) IIT Madras
C) ISB
D) IIT Delhi
E) IIM Ahmedabad
18)  National Education Day is observed on which date?
A) November 13
B) November 10
C) November 11
D) November 9
E) November 7
18) Satyajit Ghosh who passed away from heart attack was a renowned ________.
A) Hockey player
B) Director
C) Writer
D) Football player
E) Actor
19) India has signed 4 pacts including a $100M grant for a key connectivity project with which country?
A) Bangladesh
B) Sri Lanka
C) Nepal
D) Bhutan
E) Maldives
21) Who among the following will head the IRDAI panel to revisit retail business of engineering tariff?
A) Rajesh Gupta
B) Ganesh Verma
C) R Chandrasekaran
D) TL Alamelu
E) Anand Ranjan
22) Jacinda Ardern's biography "Jacinda Ardern: Leading with Empathy" will be released in 2021. She is the prime minister of which country?
A) Iceland
B) Netherlands
C) Ireland
D) New Zealand
E) Sweden
23) Which of the following teams has won the Dream 11 IPL 2020?
A) Rajasthan Royals
B) Mumbai Indians
C) Delhi Capitals
D) Kolkata Knight Riders
E) Kings XI Punjab
24) Who among the following has written the book 'How to Be a Writer'?
A) Ravi Subramaniam
B) Roopa Pai
C) Amitav Ghosh
D) Arundhati Roy
E) Ruskin Bond
25) Indian astronomers have collaborated with which Nobel laureate on the Thirty Meter Telescope Project?
A) Max von Laue
B) Wilhelm Wien
C) Prof. Andrea Ghez
D) Guglielmo Marconi
E) Joseph John Thomson
26) Which of the following institutions has launched the Australia-India Water Centre along with University of Western Sydney?
A) IIT Roorkee
B) IIT Delhi
C) IIT Madras
D) IIT Guwahati
E) IIT Bombay
27) Which of the following institutions has developed a fire detection and suppression system for passenger buses?
A) BEML
B) BDL
C) DRDO
D) ISRO
E) GRSE
28) After Jammu And Kashmir _________Cultivation is Likely To Be Expanded To Northeast India.
A) Oilseeds
B) Wheat
C) Rice
D) Saffron
E) Maize
29) Which of the following teams has beaten Supernovas by 16 runs to win the Women's T20 Challenge title?
A) Wales
B) All blacks
C) Springboard
D) Velocity
E) Trailblazers
30) The Governor of which state has released former Minister Rajendra Darda's book 'Majhi Bhint'?
A) Chhattisgarh
B) Madhya Pradesh
C) Maharashtra
D) Haryana
E) Uttar Pradesh
31) Ken Spears who passed away at 82 was the co-creator of which cartoon?
A) Hey Arnold
B) Scooby-Doo
C) Swat Kats
D) Ninja Turtles
E) Cat & Dog
Answers :
1) Answer: C
Home Minister Amit Shah will inaugurate  "Sarhad VistarVikasotsav 2020 " tomorrow at Dhordo village situated in the forward border area in  Kutch district of Gujarat.
Over 1500 Sanpanch and Gram Panchayat members from 158 border villages from Kutch, Banaskantha and Patan districts are invited to participate in this first of its kind event being organized under Border Area DevelopmentProgramme (BADP).
Union Minister for Panchayati Raj Narendra Singh Tomar andGujarat Chief Minister Vijay Rupani will be present on the occasion. HomeMinisters' Special Operation Medals will also be presented to the PRIfunctionaries selected for this decoration.
"Sarhad Vistar Vikasotsav 2020" is aimed to address the problems relating to  health, education and road connectivity in remote and border villages, so that standard of living in such areas can be improved considerably.
2) Answer: D
India's border areas with Pakistan in Rajasthan would soon be illuminated with renewable energy as the state government will soon ink an MoU with National Thermal Power Corporation (NTPC) and Solar Energy Corporation of India (SECI) to establish Ultra Mega Renewal Energy Power Park, government officials said.
The park to be set up near borders areas will be of 8,000 megawatts (MW) capacity, which will comprise 4,310 MW of wind energy; 3,760 MW of solar energy and 120 MW of power from biomass. Currently, Rajasthan's solar generation capacity is 4,883 MW.
The Rajasthan Renewable Energy Corporation Limited (RRECL) would be signing a separate MoU with the NTPC and the SECI to materialise the GoI Mega Power Park project.
A senior official of the department, on condition of anonymity, said the Park will ensure uninterrupted power supply to the border areas. An annual expenditure of Rs 40 crore is incurred for supplying power to the border which, with renewable energy, will reduce to one-third of the present cost.
3) Answer: E
Indian-American Kash Patel has been named as the Chief of Staff to the Acting US Defence Secretary Chris Miller, the Pentagon has announced.
The new appointment from the Pentagon comes a day after Donald Trump fired Defence Secretary Mark Esper and designated the National Counter Terrorism Center Director, Chris Miller, as the Acting Secretary of Defence.
Chris Miller took over the functions and responsibilities of the new role on Monday, the Pentagon said.
Kash Patel, currently on the National Security Council staff, has been named by Acting Secretary Chris Miller as his Chief of Staff, the Pentagon announced on Tuesday.
He replaces Jen Stewart, who resigned earlier in the day.
Acting Under Secretary of Defence for Policy Dr. James Anderson, Under Secretary of Defence for Intelligence and Security Joseph Kernan have submitted letters of resignation.
Kashyap Pramod Patel, popularly known as Kash Patel, had previously served as senior counsel for counter-terrorism at the House Permanent Select Committee.
4) Answer: C
Insurance sector regulator IRDAI has set up a working group to revisit product structures of engineering tariffs relevant for the retail category in the wake of continuous advancement in technology.
The nine-member panel has been asked to revisit the product structures of the erstwhile engineering tariffs relevant for the retail category and make suitable recommendations for revising them.
The Insurance Regulatory and Development Authority of India (IRDAI) noted that with continuous advancement in technology, engineering insurance requirements are constantly evolving. Customer expectations regarding insurance are changing significantly.
The panel has been asked to recommend new suitable and appropriate standard products in line with advancements in technology for the retail segment.
As per the terms of reference of the group, the panel has to also make recommendations regarding revisions to the general regulations in the tariffs.
The group, headed by R Chandrasekaran, former secretary general of GI Council, has to submit a report within three months.
5) Answer: D
Public Service Broadcasting Day is being observed. The day is celebrated every year to commemorate the only visit of Mahatma Gandhi to the studio of All India Radio, Delhi in 1947. The Father of the Nation addressed the displaced people, who had temporarily settled at Kurukshetra in Haryana after partition.
A special programme is organized in the premises of All India Radio, New Delhi every year to mark the occasion.
6) Answer: B
With celebrations of the Ganga Utsav — to mark the 12th anniversary of declaring the Ganga as a national river — having come to an end, the Wildlife Institute of India (WII) in the second phase of its survey of the entire main stem of the Ganga river (the main river without its tributaries), has found that 49 per cent of the river has high biodiversity and that biodiversity sightings, including of the Gangetic Dolphin and otters, have increased in the river. Scientists at the institute say that this indicates reducing pollution levels and a healthier state of the river.
The WII will next week kick off the second part of the Ganga survey and in the coming months collate data and information of these increased sightings to ascertain how much the river habitat has improved and how this has affected the species living in the Ganga.
The study was initiated by WII on behalf of the National Mission for Clean Ganga, one of the flagship projects undertaken by the Ministry of Jalshakti, and the first phase of the survey was carried out between 2017-2019.
7) Answer: E
The world's longest serving Prime Minister, Prince Khalifa bin Salman Al Khalifa of Bahrain, passed away. He was 84.
Prince Khalifa, who took office after Bahrain gained independence in 1971, had been receiving treatment at a hospital in the US, the state media said. He was an uncle to the Bahraini King Hamad Bin Isa Al Khalifa.
A week-long official mourning has been declared in Bahrain and flags will be flown at half-mast. Government ministries and departments will be closed for three days starting this morning.
8) Answer: C
The Cabinet Committee on Economic Affairs, CCEA, has approved continuation and revamping of the Scheme for Financial Support to Public Private Partnerships in Infrastructure Viability Gap Funding Scheme till 2024-25 with a total outlay of eight thousand 100 crore rupees.
Finance Minister Nirmala Sitharaman said, the aim of this Scheme is to promote Public Private Partnerships in social and economic infrastructure, leading to efficient creation of assets and ensuring their proper operation and maintenance and make the economically and socially essential projects commercially viable.
The Union Cabinet has also approved the production linked incentive (PLI) scheme for 10 key sectors for enhancing India's manufacturing capabilities and exports. These sectors include Telecom and Networking Products, Pharmaceutical and Drug, Automobile and Auto components, Textile products and Food products.
Industry body FICCI has said that the announcement of PLI scheme for ten sectors by the Government is a major boost for the manufacturing sector.
9) Answer: D
Maharashtra will observe the National Unity Week from 19th to 25th of November. Making an announcement in this regard, Minister for Skill Development and Minority Development Nawab Malik appealed that in order to increase social harmony in the state, everyone should participate in this programme.
He said, instructions have been given to all the government agencies including all the Divisional Commissioners, Collectors, Chief Executive Officers of Zilla Parishads to conduct various programs with due care to prevent spread of corona infection.
Mr Malik said, emphasis should be laid on the 15-point programme for the welfare of minorities, as well as on the backdrop of COVID-19 and as per the guidelines of the Central and State Governments processions should not be held this year.
10) Answer: B
In Madhya Pradesh, Chief Minister Shivraj Singh Chouhan will release a roadmap-2023 of Atmanirbhar Madhya Pradesh in Bhopal. Chief Executive Officer of NITI Aayog Amitabh Kant will also participate in the programme.
Madhya Pradesh is the first state in the country, which has prepared a roadmap for Atmanirbhar State in consultation with various subject experts in accordance with the strategy of Atma Nirbhar Bharat as envisioned by Prime Minister Narendra Modi.
The roadmap for Atmanirbhar Madhya Pradesh has been focused on four core areas – infrastructure, good governance, health and education and economy and employment.
11) Answer: C
Gorakhpur is all set to host the International Bird Festival in the month of February. The main focus of the government is ecotourism, as there is a lot of potential for eco-tourism in Gorakhpur and the surrounding Terai region. It will be attracting many international tourists at Ramagarhtal Lake for bird watching.
The International Bird Festival was first launched in a bid to promote the state as an international bird-watching destination.
The Yogi government is developing fast in the sphere of ecotourism by starting up several projects such as the only red-head culture breeding and building up a conservation park of the country in Maharajganj. The first zoological park of Purvanchal in Gorakhpur with a focus on keeping it so beautiful that any tourist, who would visit Kushinagar will definitely choose to visit the zoo of Gorakhpur as well.
The Bird Festival that is going to be organized by the government in the month of February will be certainly giving an uplift to eco-tourism in the area. It will be developing Gorakhpur as a hub of ecotourism where tourists from international level will arrive
12) Answer: D
In Madhya Pradesh, the Handicrafts Development Corporation has launched a unique initiative- local4Diwali hashtag under the 'Vocal for Local' campaign in the festive season. The objective of this campaign is to encourage the products of local artisans to make them self-reliant.
The sale of locally produced earthen lamps, cotton and silk handloom textiles is being promoted by the Handicrafts Development Corporation under the Local4Diwali hashtag.
Managing Director of Madhya Pradesh Handicrafts Development Corporation Rajiv Sharma has stated that the Local4Diwali has been shared by the Madhya Pradesh Handicrafts Development Corporation in all social media platforms to increase sales of local products on social media. The corporation is also organizing Deepotsav Melas, a fair on Diwali in Bhopal, Gwalior, Jabalpur, Indore and Sagar. Following the COVID-19 protocol, handicrafts and weavers of the state are selling their products in these fairs.
13) Answer: E
As part of MSCI's (Morgan Stanley Capital Index) semi-annual review of indices, Muthoot Finance will be added to the MSCI India Domestic Index from the close of November 30.
MSCI is at the forefront of constructing global benchmarking indices, and the MSCI India Index is designed to measure the performance of the large- and mid-cap segments of the Indian market. This index covers approximately 85 percent of the Indian equity universe, and companies are selected after comprehensive evaluation on several factors that are considered vital for global investors.
MSCI announces changes to its portfolio every quarter based on market capitalisation, FII limit, Free Float and Foreign Room factors (FDI limits). It is estimated that MSCI's India portfolio attracts around $ 30-32 billion of passive fund investments.
14) Answer: C
Maharashtra was adjudged the second-best state in water conservation effort by the Ministry of Jal Shakti, Department of Water Resources, River Development and Ganga Rejuvenation, at the 2019 National Water Awards. Vice President M Venkaiah Nadu, who attended the event virtually, gave away the awards.
Tamil Nadu was the top state in overall water conservation efforts, whereas Rajasthan settled for third position. In the same category, Mizoram received a special award.
Aniket Lohiya of Manavlok, an NGO from Beed, won the 'Water Warrior' award. The organisation has been working for the development of forest, land and water in Marathwada district. Besides, it is also involved in works to improve the health and socio-economic situation of local residents.
In another award for the state, the Sangli district administration bagged the top prize in the river revival category for contribution in reviving Agrani river. Being one of the drought-prone districts of the state, Agrani is a lifeline for farmers across five talukas. The administration not only revived the river but also improved the groundwater situation.
For the second consecutive year, the Maharashtra Water Regulatory Authority (MWRA) won the first prize in the water regulatory authority category.
15) Answer: D
The National Academy of Medical Sciences (India) has selected the Principal Scientist, Division of Molecular Parasitology and Immunology, (CSIR-CDRI)-Lucknow, Dr Satish Mishra for "Dr.Tulsi Das Chugh Award 2020". He is awarded for his research work on Malaria parasite's life cycle which is a complex process involving two hosts and three invasive stages.
Invasion in both mammals and mosquitoes requires a coordinated sequence of events to be played out successfully. His outstanding work focused on "Secreted Protein with Altered Thrombospondin Repeat (SPATR) which is Essential for Asexual Blood Stages but not Required for Hepatocyte Invasion by the Malaria Parasite Plasmodium Berghei".
This study focuses on the dispensability of SPATR in P. berghei sporozoites and its importance for the establishment of blood-stage infection, further investigation is needed to unravel its precise role during this process.
16) Answer: E
UK Minister for Investment, Lord Gerry Grimstone, has released UK India business council's 'doing business in India report 2020' at a roundtable with Indian industry captains during his virtual visit to India.
Findings from the UK India Business Council's "Doing Business in India Report 2020" show that UK businesses believe that India's business environment is improving, and they see an opportunity for greater UK-India collaboration notwithstanding Brexit, COVID-19 and the global economic slowdown. India's Atma Nirbhar Bharat mission is seen by UK firms as an opportunity to do more business in India, leveraging UK's innovation for manufacturing in India.
The report is the UKIBC's sixth of an annual series dating back to 2015. This year's report is based on an in-depth survey of 106 UK organisations operating in India spanning manufacturing, services, and higher education sectors.
66 percent of the surveyed businesses said that they believe it is getting easier to do business in India, thanks to progressive reforms and improvements in components of India's business environment such as the availability of support and service providers, skilled labour, and supply chain.
Telecommunication facilities', 'the availability of support and service providers', 'the availability of skilled labour', and 'the availability of supply chain' were the top 4 most noted strengths in India's business environment.
More than half of respondents identified 'improving bureaucratic processes with accountability' as one of their top 5 reform priorities, making it the most frequently cited. 'Increasing regulatory certainty' was the second most popular reform, followed by 'simplification of the GST processes' and 'improving the quality of infrastructure'.
For the third year running, Maharashtra came out as the state with maximum incremental improvement, followed by Karnataka, Delhi, Gujarat, and Tamil Nadu, in that order. Next in sequence were Uttar Pradesh, Telangana, Andhra Pradesh, Chandigarh and Haryana to complete the top ten.
17) Answer: C
The Indian School of Business (ISB), in partnership with the Ministry of External Affairs will be organising the third edition of Deccan Dialogue on November 16, on a virtual platform.
The theme of the Dialogue is 'Crisis and Cooperation — Imperative in times of the pandemic'. External Affairs Minister S Jaishankar will deliver the keynote address while Hardeep Singh Puri, Minister for Housing and Urban Affairs (I/C), will deliver the valedictory keynote address.
The third edition of Deccan Dialogue will focus on healthcare diplomacy and atma nirbhar Bharat.
With two successful previous editions in 2018 and 2019, Deccan Dialogue has become an annual flagship event of ISB, aimed at promoting multi-stakeholder conversations on various aspects of diplomacy and India's external engagement. Deccan Dialogue brings together policy makers, representatives from business, diplomatic and strategic communities, media, and academia on a common platform, to engage and deliberate on emerging aspects of diplomacy and development.
The objective is to explore ways and means to address the crisis through various diplomatic efforts of cooperation and talk in detail on the pertinent issues faced by the world order. The dialogue will see participation from various business leaders, CXOs, professionals, students, government officials, among others, according to a release.
18) Answer: C
National Education Day or Rashtriya Shiksha Diwas is celebrated every year on November 11.
This day is celebrated on the birth anniversary of Maulana Abul Kalam Azad, the first Education Minister of Independent India.
He was India's first Vice President and also the first education minister of independent India from 1947 to 1958.
Since 2008, this day is celebrated to commemorate the birthday of Maulana Abul Kalam Azad for his contributions in the field of education, national-building, and institution-building.
19) Answer: D
Ex-Mohun Bagan defender Satyajit Ghosh, who once formed a formidable central defensive partnership with club legend Subrata Bhattacharjee, passed away due to a heart attack this morning. He was 62.
Ghosh joined the Kolkata giants from Railway FC towards the end of 1981. He played for them till 1986 before coming back for a second spell in 1988 after a short stint at Mohammedan Sporting.
He also played for India in the Nehru Cup in 1985 under the coaching of Ceric Milovan.
20) Answer: E
India and the Maldives signed four agreements, including one for a $100-million grant for a connectivity project, as visiting foreign secretary Harsh Shringla and the Maldivian leadership discussed ways to boost economic recovery amid the Covid-19 pandemic.
Shringla is on a two-day visit to the Indian Ocean archipelago as part of New Delhi's outreach to key countries in the neighbourhood and beyond.
The Maldives is the sixth country he has visited in the aftermath of pandemic-related travel restrictions, the others being Bangladesh, Myanmar, France, Germany and the UK.
One of four memorandums of understanding (MoUs) signed by the two sides was for the grant of $100 million by India for the $500-million Greater Male Connectivity Project (GMCP) that will link capital Male with three islands. India will also provide a $400-million line of credit for the project, the largest such infrastructure venture undertaken in the Maldives.
The other MoUs were for setting up soil and plant testing laboratories through a grant of 1.71 million Maldivian rufiyaas, establishing a drug detox facility through a grant of 7.7 million Maldivian
rufiyaas and cooperation in sports and youth affairs.
21) Answer: C
Insurance sector regulator IRDAI has set up a working group to revisit product structures of engineering tariffs relevant for the retail category in the wake of continuous advancement in technology.
The nine-member panel has been asked to revisit the product structures of the erstwhile engineering tariffs relevant for the retail category and make suitable recommendations for revising them.
The panel has been asked to recommend new suitable and appropriate standard products in line with advancements in technology for the retail segment.
The group, headed by R Chandrasekaran, former secretary general of GI Council, has to submit a report within three months.
22) Answer: D
"Jacinda Ardern: Leading with Empathy" is a biography of New Zealand Prime Minister Jacinda Ardern, who has recently been re-elected in a landslide victory, will be published next year.
HarperCollins Publishers India has announced the acquisition of a book, which will be authored by Supriya Vani and Carl A Harte.
The book examines the prime minister of New Zealand through the authors' interviews with her, her multitude of public statements and speeches, and through the words of those who know her.
23) Answer: B
Mumbai Indians (MI) beat Delhi Capitals (DC) by five wickets in the Dream11 Indian Premier League (IPL) 2020 final in Dubai and clinched their fifth IPL title.
The league was founded by the Board of Control for Cricket in India (BCCI) in 2007.
Mumbai Indians wins DREAM 11 IPL 2020
This is the 5th title for MI
Edition: 13th
Host Country : UAE
Highest Runs ( Orange Cap) : K L Rahul
Highest Wickets ( Purple Cap) : Kagiso Rabada
Maximum no of Sixes : Ishaan Kishan
Most Expensive Player : Pat Cummins 15.5 cr ( Kolkata Knight Riders )
First player to score century in DREAM11 IPL 2020 : K L Rahul
24) Answer: E
The book "How to Be a Writer" is an exclusive glimpse into the writing credo of Ruskin Bond, an author who has had an incredibly successful writing career spanning over seventy years.
It is Published by HarperCollins India.
Recent Books by Ruskin Bond
'A Song of India'
"Hop On: My Adventures on Boats, Trains and Planes"
25) Answer: C
2020 Physics Nobel Laureate Prof. Andrea Ghez had worked closely with Indian astronomers on the design of back-end instruments and possible science prospects of the Thirty Meter Telescope (TMT) project being installed at Maunakea in Hawaii, which can revolutionized the understanding of the universe and the enigmas in it.
The Thirty-meter telescope (TMT) project is an international partnership between CalTech, Universities of California, Canada, Japan, China, and India; through the Department of Science and Technology (DST) and Department of Atomic Energy (DAE).
Some of the Indian astronomers like Dr. Annapurni Subramanium, Director of the Indian Institute of Astrophysics (IIA) and Dr. Shashi Bhushan Pandey, a scientist at Aryabhatta Research Institute of Observational Sciences (ARIES) along with many others collaborated with Prof. Ghez in the ongoing research and developmental activities of the TMT project.
In October 2013, India along with the US, China and Japan have all committed funds towards this the-$1.2 billion TMT project. And, though the share of India's funding is not available, it was said that it was close to USD $250 million.
26) Answer: D
Australia-India Water Centre was inaugurated virtually through a Webinar, in view of the pandemic situation.
The Water Centre is led by University of Western Sydney from Australia and IIT Guwahati from India along with 21 other partners from India and Australia.
Dan Tehan, Minister for Education – Government of Australia, Gajendra Singh Shekhawat, minister for Jal Shakti – Government of India were present.
The water issues and challenges of India and Australia share many common elements, including natural extremes of floods and droughts, increasing competition for water between urban, peri-urban and rural sectors and increased threats to water security from climate change. There are also pressures due to the over-exploitation and water quality degradation of surface and ground water resources.
The MoU signed during this occasion attempts to establish an understanding of cooperation for the Australia India Water Centre (AIWC) between the parties.
The Australia India Water Centre will enable Australian and Indian partners to explore opportunities and create synergy for a longer-term collaboration in research and education between the two countries.
27) Answer: C
The Defence Research and Development Organisation (DRDO) has developed for passenger buses a technology called "Fire Detection and Suppression System (FDSS)".
Union Road Transport Minister Nitin Gadkari and Defence Minister Rajnath Singh witnessed at the DRDO Bhawan the demonstration of FDSS — a technology which can detect fire in buses in less than 30 seconds and extinguish it in 60 seconds.
DRDO's Centre for Fire Explosive and Environment Safety (CFEES), Delhi has developed the technology.
The FDSS for passenger compartment comprises a water tank of 80 litre capacity, a 6.8 kg nitrogen cylinder pressurised to 200 bar installed at appropriate location in the bus and a network of tubing with 16 number of atomizers inside the passenger compartment.
28) Answer: D
The North East Centre For Technology Application and Reach (NECTAR) has undertaken a pilot project to explore the feasibility of growing saffron in the NorthEast region of the country.
Saffron production has long been restricted to a limited geographical area in the Union territory of Jammu & Kashmir.
Pampore region, commonly known as Saffron bowl of Kashmir, is the main contributor to saffron production, followed by Budgam, Srinagar, and Kishtwar districts.
Saffron has traditionally been associated with the famous Kashmiri cuisine. It's medicinal values were considered as part of the rich cultural heritage of Kashmir. As saffron growing was confined to very specific areas in Kashmir, its production remained limited. Though the National Mission on Saffron focused on several measures to improve its farming, the measures were still limited to the specified areas of Kashmir.
29) Answer: E
The 2020 Women's T20 Challenge, branded as Jio Women's T20 Challenge, was the third season of the Women's T20 Challenge, a Twenty20 cricket tournament established by the Board of Control for Cricket in India (BCCI) in 2018.
Women's T20 Challenge 2020 between Trailblazers and Supernovas at the Sharjah Cricket Stadium.
So after two years of the Supernovas, the Trailblazers are Women's T20 Challenge champions for the first time.
Player of the match goes to Smriti Mandhana.
Player of the series goes to Radha Yadav.
30) Answer: C
Maharashtra Governor Bhagat Singh Koshyari released the book 'Majhi Bhint' (My Wall) authored by former Maharashtra Education Minister Rajendra Darda.
The book is a compilation of selected Facebook posts by Darda pertaining to a range of issues written over the last four years.
The Governor also released the Diwali issues of Lokmat 'Deepotsav' and 'Deep Bhava' on the occasion.
31) Answer: B
Scooby-Doo co-creator Ken Spears passed away at the age of 82.
The TV writer and producer died due to compilations related to Lewy body dementia.
Spears began his career in animation back in 1959 when he worked as a sound editor in Hanna-Barbera Productions, as per report. He eventually met Joe Ruby while working there and the two began writing teleplays together.
Among them was the popular animated TV show Scooby-Doo. Years after, they set up their own studio called Ruby-Spears Productions in 1977.