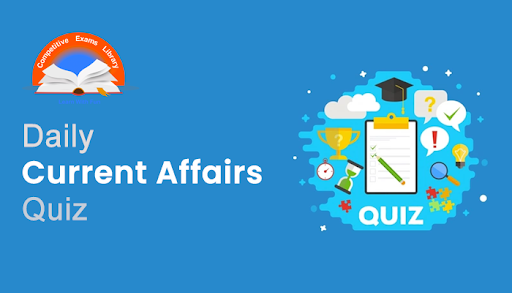 Dear Readers, Daily Current Affairs Questions Quiz for SBI, IBPS, RBI, RRB, SSC Exam 2020 of 14th to 16th November 2020. Daily GK quiz online for bank & competitive exam. Here we have given the Daily Current Affairs Quiz based on the previous days Daily Current Affairs updates. Candidates preparing for IBPS, SBI, RBI, RRB, SSC Exam 2020 & other competitive exams can make use of these Current Affairs Quiz.
1) World Kindness Day is observed on which date?
A) November 12
B) November 9
C) November 15
D) November 11
E) November 13
2) The Ministry of Youth Affairs and Sports has announced incentive structure to fund _____private academies.
A) 300
B) 350
C) 500
D) 450
E) 400
3) National Children's Day is observed on which date with the aim to increase awareness about children's rights?
A) November 13
B) November 8
C) November 9
D) November 14
E) November 11
4) The Finance Minister has recently announced a new stimulus under Atma Nirbhar Bharat 3.0. The total stimulus announced is ____ per cent of GDP.
A) 11
B) 15
C) 13
D) 12
E) 14
5) World Diabetes Day is celebrated every year on which date?
A) November 15
B) November 9
C) November 14
D) November 11
E) November 13
6) The country's first sandalwood museum is likely to come up in which state?
A) Uttar Pradesh
B) Haryana
C) Madhya Pradesh
D) Chattisgarh
E) Karnataka
7) Lonar Lake in which state has been chosen as a site of international importance under the Ramsar treaty?
A) Kerala
B) Uttar Pradesh
C) Bihar
D) Maharashtra
E) Haryana
8) Who among the following has secured enough seats to form the government in Myanmar?
A) Aung San Soo
B) Khin Kyi
C) Aung San Suu Kyi
D) Michael Aris
E) Win Myint
9) Soumitra Chatterjee who passed away recently was an eminent ______.
A) Director
B) Writer
C) Dancer
D) Producer
E) Actor
10) Teen Sadat Rahman from which country has won an award for anti-cyberbullying app?
A) Mauritius
B) Bangladesh
C) Sri Lanka
D) Vietnam
E) Maldives
Join General Awareness Crash course for IBPS RRB-IBPS PO/Clerk use code NASA to get 30% discount
11) Retail inflation jumps to ____ per cent in October 2020, highest in six years.
A) 7.21
B) 7.35
C) 7.61
D) 7.50
E) 7.45
12) The _____ edition of the BRICS Science, Technology and Innovation Ministerial meeting has unanimously adopted the BRICS STI Declaration 2020.
A) 3rd
B) 6th
C) 7th
D) 5th
E) 8th
13) Name the Indian Navy's fifth Scorpene-class submarine which has been launched recently.
A) Chennai
B) Kiltan
C) Madras
D) Vagir
E) Viragraha
14) Which of the following organisations has successfully test-fired the Quick Reaction Surface-to-Air Missile system?
A) BEL
B) DRDO
C) ISRO
D) GRSE
E) BDL
15) Ravi Belagere who passed away recently was a prominent ____.
A) Singer
B) Actor
C) Journalist
D) Director
E) Writer
16) Who among the following represented  India at East Asia Summit?
A) Anurag Thakur
B) Amit Shah
C) Narendra Modi
D) Prahlad Patel
E) S Jaishankar
17)  The National Press Day is observed on which of the following dates?
A) November 13
B) November 16
C) November 15
D) November 11
E) November 9
18) Nitish Kumar is set to be sworn-in as Chief Minister of Bihar for the _____th term.
A) 3
B) 4
C) 7
D) 8
E) 5
19) Who among the following will unveil the  'Statue of Peace' to mark the 151st Birth Anniversary of Jainacharya Shree Vijay Vallabh Surishwer Ji Maharaj?
A) Amit Shah
B) Nirmala Sitharmaman
C) Anurag Thakur
D) Narendra Modi
E) Prahlad Patel
20) India will provide _____Metric Tons of food aid to people of Djibouti.
A) 35
B) 30
C) 50
D) 40
E) 45
21) The chief minister of which state will change the Tribal Welfare Department to  Tribal Affairs Department?
A) Uttar Pradesh
B) Himachal Pradesh
C) Chattisgarh
D) Madhya Pradesh
E) Haryana
22) Who among the following has equalled  Pete Sampras's record of six year-end No.1 trophies?
A) Dominic Thiem
B) Stefanos Tsitsipas
C) Novak Djokovic
D) Roger Federer
E) Charles Leclerc
23) RBI has cancelled the Certificate of Authorisation of _____PSOs.
A) 8
B) 6
C) 5
D) 7
E) 4
24) Who among the following has won the F1 Turkish Grand Prix?
A) Max Verstappen
B) Valtteri Bottas
C) Fernando Alonso
D) Max Biaggi
E) Lewis Hamilton
25) Nobel laureate Masatoshioshi Koshiba who passed away was eminent _____ .
A) Astronomer
B) Physicist
C) Biologist
D) Psychologist
E) Actor
26) Which company has acquired the Pramerica Services unit from Prudential?
A) Wipro
B) HP
C) HCL
D) TCS
E) Infosys
27) A Survey of vulture habitats has stated in which state?
A) Uttar Pradesh
B) Bihar
C) Chattisgarh
D) Madhya Pradesh
E) Haryana
28) Who among the following has won  the National award for TNAU Scientist?
A) Raj Singh
B) Vishnu Talwar
C) Ks subramaniam
D) Anand Verma
E) Ramesh Gupta
29) Q2 GDP of India  to shrink to ____ per cent.
A) 6.1
B) 8.6
C) 7.2
D) 7.5
E) 7.3
30) Embassy Group has inked a pact for developing government schools of which state?
A) Uttar Pradesh
B) Kerala
C) Assam
D) Bihar
E) Karnataka
31) The _____ edition of the World Health Expo will be held in Wuhan, China.
A) 6
B) 2
C) 4
D) 3
E) 5
Answers :
1) Answer: E
World Kindness Day is an international observance on 13 November.
It was introduced in 1998 by the World Kindness Movement.
This day is dedicated to the act of kindness and doing good deeds as an individual or as an organization.
The theme is Kindness: The World We Make – Inspire Kindness.
2)  Answer: C
Ministry of Youth Affairs And Sports Kiren Rijiju has introduced an incentivisation structure to extend monetary support to 500 private academies, through the Khelo India Scheme over the next four years starting FY 2020-21.
In this model, private academies shall be graded into different categories based on quality achievement of players trained by the academy, level of coaches available at the academy, quality of the field of play and allied infrastructure, availability of sports science facilities, and staff.
The 14 priority disciplines identified for excellence in the 2028 Olympics will be eligible for receiving support in the first phase.
Under the scheme, SAI and NSFs will be working together. SAI will also hold discussions with NSFs and implement categorisation and gradation of the academies.
There will be a special focus on developing sports science facilities at all the academies to improve the overall quality of training.
3) Answer: D
Children's Day in India is celebrated on 14 November every year as a tribute to India's First Prime Minister, Jawaharlal Nehru.
The day aims at increasing the awareness of the rights, care and education of children.
Pandit Jawaharlal Nehru was born on 14th November 1889.
Before 1964, Children's Day in India was celebrated on 20 November (the date observed as Universal Children's Day by the United Nations).
The first Children's Day in India was celebrated after independence in 1959.
After the death of Pandit Jawaharlal Nehru in 1964, the Children's Day celebration date was changed from 20 November to 14 November, the birthday of Jawaharlal Nehru.
4) Answer: B
Union Finance Minister Nirmala Sitharaman announced new stimulus measures under Atmanirbhar Bharat Abhiyan 3.0 to boost the Indian economy amid the ongoing COVID-19 pandemic.
The total stimulus announced by the Government and Reserve Bank of India till date, to help the nation tide over the COVID-19 pandemic, works out to ₹ 29.87 lakh crore, which is 15% of national GDP. Out of this, a stimulus worth 9% of GDP has been provided by the government.
12 Key announcements as part of Atma Nirbhar Bharat 3.0
5) Answer: C
World Diabetes Day is every year on November 14, first created in 1991 by the International Diabetes Foundation and the World Health Organization.
It is the birthday of Sir Frederick Banting, who co-discovered insulin along with Charles Best in 1922.
The theme for World Diabetes Day 2020 is The Nurse and Diabetes.
6) Answer: E
The country's very first sandalwood  museum is likely to come up later this month in Mysuru in Karnataka.
Mysuru is already famous for its sandalwood soaps, sandalwood oil, incense sticks, etc.
The museum has been conceptualised in a way that it will help in spreading awareness about the history and the cultivation of sandalwood products. Additionally, it will also give visitors the chance to witness the beauty and variety of the many pieces on display.
The museum has been established by the Mysuru Forest Division, within its premises.
7)  Answer: D
The Lonar Lake in Maharashtra's Buldhana district has been chosen as a wetland site of international importance under the Ramsar conservation treaty.
Lonar Lake was formed by the impact of a meteorite on basalt bedrock several thousand years ago.
Ramsar sites are wetlands of international importance under the Ramsar Convention (held for the first time in Ramsar, Iran, in 1971), which aims to halt the worldwide loss of wetlands.
In January, Maharashtra got its first Ramsar site at Nandur Madhmeshwar, in Nashik.
The lake was first proposed as a Ramsar site in 2017 by the state forest department.
8) Answer: C
Myanmar's ruling National League for Democracy (NLD) party Aung San Suu Kyi candidate has secured enough seats in parliament to form the next government.
The 1991-Nobel Peace laureate, Aung San Suu Kyi, is the first and incumbent State Counsellor (a position equivalent to prime minister) of Myanmar, since the post was created on 6 April 2016.
9) Answer: E
Legendary Bengali actor Soumitra Chatterjee passed away. He was 85.
Soumitra Chatterjee is also the first Indian film personality conferred with the Ordre des Arts et des Lettres, France's highest award for artists.
In 2017, exactly thirty years after auteur Satyajit Ray was honoured with France's highest civilian award, the coveted Legion of Honor, Chatterjee also received the prestigious award.
10) Answer: B
A teenager in Bangladesh Sadat Rahman has won the International Children's Peace Prize for his efforts to educate young people about cyberbullying.
Sadat Rahman, 17, was inspired to create a mobile app to help young people report online abuse after hearing about a 15-year-old girl who took her own life because of bullying.
Cyber Teens, allows young people to report cyberbullying confidentially through a network of volunteers who then approach police or social workers, while also educating teenagers about online safety.
The International Children's Peace Prize is an annual award that recognises the work of young people who promote children's rights. Previous winners include Swedish climate activist Greta Thunberg.
11) Answer: C
According to Consumer Price Index (CPI) data released by the Ministry of Statistics and Program Implementation, inflation stood at 7.61% in October — the highest since May 2014.
Retail inflation recorded at 7.27% in September. The Consumer Food Price Index (CFPI) jumped to 11.07% in October, up from 10.68% in September.
The main factor leading to higher inflation was elevated food inflation. In October, inflation in meat and fish rose to 18.7% while vegetable prices increased to 22.51%.
12) Answer: E
The 8th BRICS Science, Technology and Innovation Ministerial meeting unanimously has adopted BRICS STI Declaration 2020.
The meeting was held through a virtual platform.
The Ministry of Science and Higher Education of Russia organized the meeting, Russian Federation being the Chair for the 12th BRICS Summit.
Science and Technology cooperation among the member countries Brazil, Russia, India, China and South Africa was discussed in the meeting.
During the meeting, Science and Technology Minister Dr Harsh Vardhan highlighted that the COVID 19 pandemic has been a test, demonstrating that multilateral cooperation is the key to overcoming such global challenges. He informed that India has initiated an integrated response to overcome this pandemic.
From the development of indigenous vaccines, novel point-of-care diagnostics and therapeutic formulations based on traditional knowledge, Indian Research and Development are working relentlessly to develop effective interventions for combating the pandemic.
India have recently launched a scheme 'SERB–POWER' (Promoting Opportunities For Women in Exploratory Research) to encourage and support emerging as well as eminent women researchers to undertake R&D activities in frontier areas of science and engineering.
13) Answer: D
Indian Navy's fifth Kalvari-class Diesel Electric attack submarine INS Vagir was launched at Mazgaon Dock in Mumbai.
A modern and stealthy class of submarines having been built under Project 75 and whose design is based on the Scorpene class of the submarines.
The other vessels in the class are INS Kalvari, INS Khanderi, INS Karanj, INS Vela and INS Vagsheer. Of these Kalvari and Khanderi have been commissioned in 2017 and 2019, Vela and Karanj and undergoing sea trials, Vagir has now been launched and Vagsheer is under construction.
Like Kalvari – which means Tiger Shark, Vagir has been named after a Sand Fish, a predatory marine species. Khanderi has been named after an Island Fort built by Chhatrapati Shivaji, which played a key role in his Navy. Karanj has also been named after an Island located South of Mumbai.
14) Answer: B
India has successfully test-fired the Quick Reaction Surface to Air Missile (QRSAM) system off the coast of Balasore in Odisha.
The missile is propelled by a single-stage solid-propellant rocket motor and uses all indigenous subsystems.
The QRSAM system has been developed by the Defence Research and Development Organisation (DRDO) in association with Bharat Electronics Limited and Bharat Dynamics Limited for the Indian Army
All QRSAM weapon system elements like Battery Multifunction Radar, Battery Surveillance Radar, Battery Command Post Vehicle and Mobile Launcher were deployed in the flight test.
The system is designed to give air defence coverage against strike columns of the Indian Army.
In the last two months, India has test-fired a number of missiles including a new version of the surface-to-surface supersonic cruise missile BrahMos and an anti-radiation missile named Rudram-1.
15) Answer: C
Noted journalist and writer Ravi Belagere (62) passed away in Bengaluru, after a massive heart attack.
Known for his writing style, Belagere was honoured with many awards, including the Karnataka Sahitya Academy award, Kannada Rajyotsava award, Karnataka Media Academy award and many more.
Belagare penned a book on the real-life story of the gangsters, titled Bheema Theerada Hanthakaru, which was published in 2001, and turned into a bestseller.
16)  Answer: E
External Affairs Minister S Jaishankar will represent India at the 15th East Asia Summit (EAS), which provides a platform for discussion on important strategic issues in the Indo-Pacific region.
Last year, PM Narendra Modi had represented India at the EAS in Bangkok, Thailand.
The virtual summit meeting will be chaired by the Prime Minister of Vietnam, Nguyen Xuan Phuc, and see participation from all the 18 EAS countries —10 ASEAN countries (Brunei, Cambodia, Indonesia, Laos, Malaysia, Myanmar, Philippines, Singapore, Thailand and Vietnam), Australia, China, India, Japan, South Korea, New Zealand, Russia and the United States.
The leaders will also exchange views on issues of international and regional interest, including the pandemic and cooperation among EAS participating countries to achieve an expeditious and sustainable economic recovery.
The East Asia Summit is a premier leaders-led forum for discussions on important strategic issues in the Indo-Pacific, and a leading confidence-building mechanism in the region.
17)  Answer: B
The day, observed on 16th November every year, is symbolic of a free and responsible press. It was on this day the Press Council of India started functioning as a moral watchdog to ensure that the press maintains high standards and is not fettered by any influence or threats.
18) Answer: C
Nitish Kumar will be sworn-in as Chief Minister of Bihar for the seventh term.He was unanimously elected leader of the NDA at a meeting of its newly elected MLAs in Patna.
BJP legislature party leader Tarkishore Prasad and Deputy leader Renu Devi will be the new Deputy Chief Ministers.
19) Answer: D
Prime Minister Narendra Modi will unveil 'Statue of Peace' to mark the 151st Birth Anniversary celebrations of Jainacharya Shree Vijay Vallabh Surishwer Ji Maharaj tomorrow through video conferencing. The 151 inch tall statue has been made from Ashtadhatu- 8 metals, with Copper being the major constituent, and is being installed at Vijay Vallabh Sadhana Kendra, Jetpura, in Pali, Rajasthan.
Shree Vijay Vallabh Surishwer Ji Maharaj who lived during 1870-1954, led an austere life as a Jain Saint working selflessly and dedicatedly to spread the message of Lord Mahavira. He also worked relentlessly for the welfare of masses, spread of education, eradication of social evils, wrote inspiring literature  and gave active support to the freedom movement and the cause of Swadeshi.
With his inspiration, more than 50 educational institutions of eminence, including colleges, schools and study centres, are operational across several States. The Statue to be unveiled in his honour has been named as 'Statue of Peace'.
20) Answer: C
India has provided 50 Metric Tons of food aid to the people of Djibouti as part of its assistance to friendly countries to overcome natural calamities and the COVID-19 pandemic. Ambassador of India to Djibouti Ashok Kumar handed over a gift of food items to the Secretary-General of the country's Ministry of Social Affairs and Solidarity Mme Ifrah Ali Ahmed as part of humanitarian assistance and disaster relief to Djibouti delivered by INS Airavat.
In a statement, the Ministry of External Affairs stated that the step was part of SAGAR II (Security and Growth for All in the Region) through which the Government of India is providing 270 Metric Tons of Humanitarian assistance to friendly countries in the region.
21) Answer: D
In Madhya Pradesh, the name of the Tribal Welfare Department will be changed to Tribal Affairs Department. This was announced by the Chief Minister Shivraj Singh Chauhan at a program organized on the birth anniversary of martyr Birsa Munda at the Madhya Pradesh Tribal Museum in the capital Bhopal.
In the programme, Ranbankure, a short film based on self-esteem of tribal genitals, released a folder. Significantly, Birsamunda fought with the British for the protection of the rights of the tribes. The work area of Birsa Munda is now Chotanagpur plateau, Jharkhand and Madhya Bharat is now Madhya Pradesh and Chhattisgarh. Birsa Munda's birthday is celebrated every year on 15 November in Madhya Pradesh to commemorate his contribution in the freedom struggle.
22) Answer: C
Tennis star Novak Djokovic has equalled Pete Sampras record of winning six year-end number one trophies. The Serbian player achieved the feat as he was given the ATP Tour Number One trophy for finishing as the year-end number one. With this, Djokovic has become only the second player in tennis history to do it six times. Before this, Djokovic had finished as world number one in 2011, 2012, 2014, 2015 and 2018.
Among past players, only Pete Sampras has managed to finish six years on top of the rankings which he did between 1993 and 1998.
23) Answer: C
The Reserve Bank of India (RBI) has cancelled the Certificate of Authorisation (CoA) of five Payment System Operators (PSOs), including Aircel Smart Money Ltd and Delhi Integrated Multi-Modal Transit System Ltd.
The five PSOs, which also includes Pyro Networks Pvt Ltd, Card Pro Solutions Pvt Ltd, and InCashMe Mobile Wallet Services Pvt Ltd, were issued COA for issuance and operation of prepaid payment instruments.
The central bank, in a statement, stated it cancelled the COA of Delhi Integrated Multi-Modal Transit System Ltd and Pyro Networks Pvt Ltd due to voluntary surrender.
The COA of Card Pro Solutions Pvt Ltd and InCashMe Mobile Wallet Services Pvt Ltd have been cancelled due to non-compliance with regulatory requirements, it added.
The RBI cancelled the COA of Aircel Smart Money due to non-renewal.
24) Answer: E
Lewis Hamilton seals seventh world title
Hamilton joins Michael Schumacher as a seven-time F1 world champion after amazing Istanbul victory from sixth on the grid; Hamilton now statistically the most successful driver of all time holding or sharing all of F1's biggest records
Lewis Hamilton clinched the 2020 F1 championship with a stupendous drive to victory in a wet and unpredictable Turkish GP to equal Michael Schumacher's illustrious record of seven drivers' world titles.
In a race in which numerous drivers could have won in challenging wet conditions, Hamilton pulled off an unlikely but fitting triumph from sixth on the grid to seal his seventh title in the 94th win of an unprecedented career.
Already the record holder for the most victories, pole positions, podiums and points, Hamilton's equalling of Schumacher's prestigious titles record means he is now statistically the most successful F1 driver of all time.
25) Answer: B
Professor Masatoshi Koshiba, one of Japan's most eminent scientists, died on November 12 at the age of 94.
Koshiba shared the 2002 Nobel Prize in Physics with Raymond Davis Jr, and Riccardo Giacconi "for pioneering contributions to astrophysics, in particular for the detection of cosmic neutrinos."
Koshiba's story is one of notable personal achievements in the context of Japan's recovery from World War II and its development into a major force in science and precision manufacturing.
Davis and his colleagues were the first to detect neutrinos created by nuclear fusion in the sun through their Brookhaven Solar Neutrino Experiment (also known as the Homestake experiment) in the United States in the 1960s. Davis died in 2006.
Koshiba followed up by designing and constructing a neutrino detector in Japan that confirmed Davis's results in the 1980s. Similar experiments were conducted in the USSR and Italy.
26) Answer: D
The IT major will acquire the staff and select assets of Pramerica Systems Ireland, Prudential Financial Inc. (PFI)'s subsidiary based in Letterkenny, Ireland.
PFI is a financial wellness leader and premier active global investment manager with more than $1.5 trillion in assets under management as of 30 September 2020, has operations in the United States, Asia, Europe, and Latin America.
TCS will establish a new global delivery centre in Ireland to provide Prudential with a range of business and technology services. Over 1,500 staff of Pramerica Systems Ireland will transfer to TCS and further expand the latter's global delivery capability. PFI will retain the Pramerica Ireland entity, which will continue to operate from Letterkenny and will focus on providing regional business services, reporting under its global asset manager, PGIM.
27) Answer: D
Vultures have always been considered an important part of the Ecosystem. However, their number has decreased considerably in the last few years. At present, survey of vulture habitats has started in Madhya Pradesh for how many vultures are left and what measures should be taken for their protection.
Survey  of vulture habitats, considered an important part of Ecosystem, has started in Madhya Pradesh. According to Wildlife Headquarters, after this survey, the vultures will be counted in the state. For this work, Van Vihar National Park of Bhopal has been made the nodal agency.
Van Vihar officials stated that the vultures are counted every four years. After the year 2018, now their count will start from the first week of February next year. After counting the vultures, a review will be made about their conservation and improvement in habitat.
28) Answer: C
Tamil Nadu Agricultural University's Director of Research and NABARD Chair, K S Subramanian has bagged the Fertiliser Association of India Golden Jubilee Award. The award pertains to his outstanding contribution in the field of nano-fertilizers and its role in improved use efficiency while ensuring environmental safety.
The award carries a cash prize of Rs.1 lakh and a Gold medal. Subramanian is to receive the award next month.
The research director, who incidentally is also the founder Head of the Department of Nano Science & Technology has worked on design and fabrication of nano-agri inputs, nano-preservation of fruits, nano-sensors besides biosafety of nano-products. He has helped ICAR develop a research framework for nanotechnology, obtained research grants of more than Rs.25 crore through International and National funding agencies.
29) Answer: B
The GDP is likely to contract by 8.6 per cent for the July-September period, which means India will enter into a recession for the first time in history in the first half of this fiscal with two successive quarters of negative growth due to the COVID-19 pandemic, as per an RBI official.
Researchers have used the 'nowcasting' method to arrive at the estimates ahead of the official release of data and their views in an article in RBI's monthly bulletin released on Wednesday do not constitute the central bank's views.
The pandemic-induced lockdowns had led to a steep contraction of 23.9 percent in the GDP for the April-June quarter as compared to the same period a year ago.
The RBI has estimated that the economy will contract by 9.5 per cent for the full fiscal year.
"India has entered a technical recession in the first half of 2020-21 for the first time in its history with Q2 2020-21 likely to record the second successive quarter of GDP contraction," as per the article titled 'Economic Activity Index', authored by Pankaj Kumar of the Monetary Policy Department.
30) Answer: E
Embassy Group has signed a Memorandum of Understanding with the Government of Karnataka, Department of Education for the all-around improvement of Government Schools in Bangalore. The scope of the MoU is to provide educational resources, infrastructural support and holistic health programs for 20 Government Schools at a budget of Rs 15 crores.
The MoU will be signed for a period of two years, starting from October 2020 to September 2022, renewing the previous MoU, which was signed in November 2018.
Under the MoU, the Embassy will implement educational programs including annual distribution of starter kits, Maths, Life Skills, Sports, E-classrooms, scholarships, educational tours, after-school academic support, an alumni program and Art & Crafts. The Group will also provide new school buildings, repairs & renovations and daily maintenance to these adopted Government Schools.
31) Answer: B
The Second World Health Expo is held in Hubei's capital city Wuhan from November 11 to 14. It features 12 different venues for audiences to experience the most frontier health technology, the latest in fitness sports and the most realistically restored anti-epidemic scenes.
This year's Expo will focus on displaying the most cutting-edge science and technology in the global health industry, and help Wuhan build "city of the global health industry".
The exhibition area covers an area of 150,000 square meters, with 12 special venues set for anti-epidemic materials, medical equipment, and Chinese medicine, relating to the entire industry chain of health.
control, and the Global University Leaders Forum, will be organized.  forum, academician forum and the roundtable dialogue on epidemic prevention and normalized During the Expo, more than a hundred high-end forums including a summit