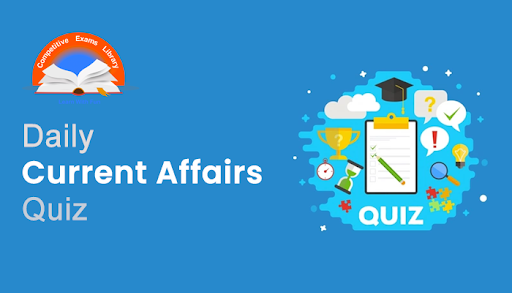 Dear Readers, Daily Current Affairs Questions Quiz for SBI, IBPS, RBI, RRB, SSC Exam 2020 of 15th December 2020. Daily GK quiz online for bank & competitive exam. Here we have given the Daily Current Affairs Quiz based on the previous days Daily Current Affairs updates. Candidates preparing for IBPS, SBI, RBI, RRB, SSC Exam 2020 & other competitive exams can make use of these Current Affairs Quiz.
1) International Tea Day is observed on which of the following date?
A) December 11
B) December 12
C) December 15
D) December 13
E) December 14
2) Deputy Governor of Kabul ___________ was killed in a bomb blast attack in the capital city on December 15.
A) Khalifa bin Hamad Al Thani
B) Hamad bin Khalifa Al Thani
C) Ahmad bin Ali Al Thani
D) Mahbubullah Muhibbi
E) Jassim bin Mohammed Al Thani
3) Health minister has released the ______ National Family Health Survey for 17 states & 5 UTs.
A) 3rd
B) 4th
C) 7th
D) 6th
E) 5th
4) RBI has decided to set up Automated Banknote Processing Centre in which city?
A) Chennai
B) Delhi
C) Jaipur
D) Raipur
E) Chandigarh
5) CRISIL has revised GDP Forecasts to -_______ per cent for FY21.
A) 5.2
B) 4.9
C) 4.5
D) 7.7
E) 7.5
6) IFSCA has notified the IFSC Authority (Bullion Exchange) Regulations, 2020 for setting up an International Financial Services Centre in which city?
A) Kolkata
B) Gandhinagar
C) Delhi
D) Chennai
E) Lucknow
7) The ______ edition of Sustainable Mountain Development Summit has begun in Dehradun.
A) 5th
B) 6th
C) 8th
D) 7th
E) 9th
8) Ambrose Dlamini who passed away due to covid-19 was the prime minister of which country?
A) Mozambique
B) Botswana
C) Sierra Leone
D) Eswatini
E) Lesotho
9) Handicraft and GI Toys have been exempted from Quality Control Order and it will come into effect from which date?
A) 30st September 2021
B) 31st June 2021
C) 1st January 2021
D) 31st March 2021
E) 1st February 2021
10) Ola will invest Rs ________crore for the world's largest e-scooter factory in Tamil Nadu.
A) 1450
B) 1500
C) 2200
D) 2100
E) 2400
11) ISRO will launch Communication Satellite ________ on December 17.
A) CMS-05
B) CMS-04
C) CMS-03
D) CMS-01
E) CMS-02
12) Who among the following has addressed the Climate Ambition Summit 2020?
A) Piyush Goyal
B) Narendra Modi
C) Suresh Prabhu
D) Amit Shah
E) Venkiah Naidu
13) The _______ edition of the TWG Meeting between India, Iran, Uzbekistan on joint use of Chabahar Port has been held virtually.
A) 4th
B) 5th
C) 1st
D) 2nd
E) 3rd
14) Which state will host the 2023 FIH Men's Hockey World Cup?
A) Chhattisgarh
B) Uttar Pradesh
C) Madhya Pradesh
D) Odisha
E) Haryana
15) ICC has announced the Women's World Cup Schedule which is scheduled to be held in which country?
A) France
B) US
C) South Africa
D) Australia
E) New Zealand
16) Who among the following has launched a programme of Socio-Economic Profiling of PM SVANidhi beneficiaries and their families?
A) Prahlad Patel
B) Hardeep Puri
C) Durga Shanker Mishra
D) Narendra Modi
E) Amit Shah
17) Radhika Ranjan Pramanik who passed away at 88 belonged to which political party?
A) Congress
B) JDU
C) BJD
D) CPI-M
E) BJP
18) Roddam Narasimha who passed Away At 87 was an eminent ______.
A) Producer
B) Scientist
C) Actor
D) Writer
E) Director
Answers :
1) Answer: C
Every year on December 15, world celebrates International Tea Day since 2015 in tea producing countries like  Bangladesh, Sri Lanka, Nepal, Vietnam, Kenya, India, Uganda, Indonesia, Malaysia, and Tanzania.
Theme of 2020 : Harnessing Benefits for all From Field to Cup.
Moreover United Nations General Assembly (UNGA) has designated May 21 as International Tea Day,Goal of the day : The goal of the day is to promote and foster collective actions to implement activities in favour of the sustainable production and consumption of tea and raise awareness of its importance in fighting hunger and poverty.
India is the Second Largest Producer of tea after China.
2) Answer: D
In Afghanistan, deputy governor of Kabul Mahbubullah Muhibbi was killed in a sticky bomb attack in the capital city on December 15.
While such killings have long plagued Afghanistan, they appear to be on the rise since the Taliban signed an agreement with the United States that will see foreign forces withdraw by spring.
President Trump most recently ordered that only 2,500 American forces should remain in Afghanistan by January 15 – just five days before his successor Joe Biden is inaugurated.
3) Answer: E
Health minister Harsh Vardhan released the 5th National Family Health Survey (NFHS) which contains detailed information on population, health and nutrition for India and its states and UTs.
In Phase I results Show the status of 17 States and 5 UTs.
Phase II covering the remaining 12 States and 2 UTs and is  expected to be completed by May 2021.
Goal of the Survey:
To provide essential data on health and family welfare needed by the Ministry of Health and Family Welfare and other agencies for policy and programme purposes.
To provide information on important emerging health and family welfare issues.
About National Family Health Survey
The National Family Health Survey (NFHS) is a large-scale, multi-round survey conducted in a representative sample of households throughout India.
The survey collected extensive information on population, health, and nutrition, with an emphasis on women and young children.
4) Answer: C
The Reserve Bank of India (RBI) has decided to set up an Automated Banknote Processing Centre (ABPC) in Jaipur for receipt, storage and dispatch of currency notes.
The functions of the ABPC will also include processing of banknotes received from currency chests (CCs) and bank branches, and destruction of soiled banknotes in an automated manner.
About RBI Banknotes :
RBI is the sole issuer of banknotes of the country and responsible for management of currency and all its aspects.
RBI is supplied with banknotes from four printing presses and coins from four mints.
The new banknotes and coins are received at 19 issue offices of the bank located across the country from where these are further distributed to about 3,300 CCs operated by scheduled banks under an agency agreement with the RBI.
The CCs act as store houses and the currency stored there is distributed to various bank branches/ATM networks for distribution to the public.
The unfit notes withdrawn from circulation are verified through a Currency Verification and Processing System (CVPS) and destroyed by shredding.
5) Answer: D
Rating agency CRISIL has lowered the contraction rate of India's GDP, and now expects the growth rate of Indian economy to contract 7.7% in the ongoing fiscal 2020-21, compared to the 9% forecast in September 2020, due to faster-than-expected recovery in the second quarter.
For the fiscal 2021-22 (FY22), CRISIL expects the growth to bounce back to 10%.
6) Answer: B
IFSCA has notified International Financial Services Centres Authority Regulations 2020.
In the Union Budget 2020, Union Minister of Finance Corporate Affairs Smt.
Nirmala Sitharaman had made an announcement for setting up an International Bullion Exchange at the International Financial Services Centre in GIFT City, Gandhinagar, Gujarat.
Government of India had notified the bullion spot delivery contract and bullion depository receipt (with bullion as underlying) as Financial Products and related services as Financial Services under the International Financial Services Centres Authority (IFSCA) Act, 2019.
7) Answer: E
The ninth edition of the Sustainable Mountain Development Summit (SMDS) in Dehradun has begun from December 11 to 14.
The theme for this year is Emerging Pathways for Building a Resilient Post COVID-19 Mountain Economy, Adaptation, Innovation and Acceleration.
The four-day-long summit was organised by Indian Mountain Initiative (IMI) and hosted by Sustainable Development Forum Uttaranchal (SDFU), Dehradun.
The summit will focus on the overall objective of building pathways toward a resilient and sustainable mountain economy in the context of a post COVID-19 scenario and Climate Change.
Uttarakhand Chief Minister Trivendra Singh Rawat and Meghalaya Chief Minister Conrad K Sangma attended the function.
About Sustainable Mountain Development Summit :
Organised by Indian Mountain Initiative (IMI), the four-day-long summit seeks to deliberate on issues such as migration, water security, climate resilience and innovative solutions for the farm sector, and disaster risk reduction in the Indian Himalayas.
8) Answer: D
Ambrose Dlamini, the Prime Minister of Eswatini, a country in Southern Africa, has passed away due to coronavirus. He was 52.
Dlamini was appointed as the tenth prime minister of the country in October 2018.
9) Answer: C
Centre has exempted Handicraft and Geographical Indications toys from Quality Control Order. Order will come into effect from 1st January next year.
Department for Promotion of Industry and Internal Trade mentioned this exemption in Toys (Quality Control) Second Amendment Order, 2020.
Aim : This order aims to bring forward the synergized efforts of the centre, states and the stakeholders to promote 'Team up for toys' vision keeping quality standards of the indigenous toys as the priority.
About Quality Control Order :
Quality control order was issued by the Department for standardization and quality adherence of Toys.
10) Answer: E
The SoftBank-backed firm Ola Electric has announced a Rs 2,400-crore ($320 million) investment plan to set up, what it calls, the 'world's largest' electric scooter (e-scooter) manufacturing plant in Hosur, Tamil Nadu (TN).
It aims to make India a manufacturing hub for electric vehicles (EVs). Ola has signed a memorandum of understanding with the TN government for this facility.
It will initially have an annual capacity of 2 million units.
The company stated that in line with Prime Minister Narendra Modi's vision, Ola's factory was an important step in making India 'Atma nirbhar'. It would catalyse the reduction of India's import dependence in a key future sector like EVs, boost local manufacturing, create jobs, and improve technical expertise in the country.
11) Answer: D
The Indian Space Research Organisation (ISRO) will launch communication satellite CMS-01 aboard Polar Satellite Launch Vehicle (PSLV-C50) on December 17, 2020. This would be India's 42nd Communication Satellite.
The mission would be the 52nd mission of PSLV and 22nd flight of PSLV in 'XL' configuration (with 6 strap-on motors). The launch vehicle will take off from the second launch pad of the Satish Dhawan Space Centre in Sriharikota, Andhra Pradesh.
12) Answer: B
Prime Minister Narendra Modi addressed the Climate Ambition Summit 2020, United Nations, United Kingdom and France Virtually Co-hosted.
The Climate Ambition Summit, held virtually, marked the five years of the adoption of the Paris Agreement on Climate Change.
The Summit heard from about 70 world leaders highlighting new announcements and steps they are taking to reach the goal of net-zero emissions.
Next UN Climate Change Conference of the Parties (COP26), which will be hosted by the UK next November in Glasgow.
13) Answer: C
The first Trilateral Working Group Meeting between India, Iran and Uzbekistan on the joint use of Chabahar Port was held virtually On Dec 14.
The Meeting was jointly chaired by Secretary (Shipping), Sanjeev Ranjan, Government of India, Deputy Minister of Transport, Uzbekistan D. Dehkanov and Deputy Transport Minister of Iran, Shahram Adamnejad.
This Meeting Mainly Focus Joint Use of Chabahar Port trade and transit purposes along with enhancing regional connectivity.
14) Answer: D
The FIH, International Hockey Federation had announced that the 2023 FIH Men's Hockey World Cup Will be hosted in Odisha for a second Consecutive Time.
This time it will be held in two venues, namely Bhubaneswar and Rourkela.
The 2023 tournament will be 15th edition of the Men's FIH Hockey World Cup. It will be held at the Kalinga Stadium in Bhubaneswar and at the Biju Patnaik Hockey Stadium in Rourkela.
The Men's Hockey World Cup 2018 was also hosted by Odisha.
15) Answer: E
The International Cricket Council (ICC) announced the schedule for the 2022 Women's World Cup in New Zealand with 31 matches to be played across 31 days from March 4 to April 3, 2022.
Six cities in New Zealand will play host to the competition – Auckland, Tauranga, Hamilton, Wellington, Christchurch, and Dunedin.
New Zealand, Australia, England, South Africa and India have already qualified for the World Cup
16) Answer: C
Housing and Urban Affairs Secretary Durga Shanker Mishra launched a programme of Socio-Economic Profiling of PM SVANidhi beneficiaries and their families, as an additional component of PM SVANidhi Scheme.
Under this, a complete profile of each PM SVANidhi beneficiary and their family members will be prepared. Based on the profiled data, benefits of the various eligible Central Schemes would be extended to them for their holistic socio-economic upliftment.
In the first phase, 125 cities have been selected for the programme
PM SVANidhi scheme objective:
Provide affordable working capital loan up to 10 thousand rupees to Street Vendors.
17) Answer: D
Veteran politician and five-time MP Radhika Ranjan Pramanik died. He was 88.
He was elected to Lok Sabha five times from Mathurapur on a CPI(M) ticket, beginning 1989.
Pramanik left the CPI(M) to join the TMC during the later phase of his political career.
18) Answer: B
Eminent aerospace scientist and Padma Vibhushan awardee Roddam Narasimha passed away on December 14, He was 87.
Narasimha made a mark in the field of aerospace engineering and as a fluid dynamicist. He taught aerospace engineering at an Institute Indiaute of Science (IISc) from 1962 to 1999.
He also served as the director of the National Aerospace Laboratories from 1984 to 1993.