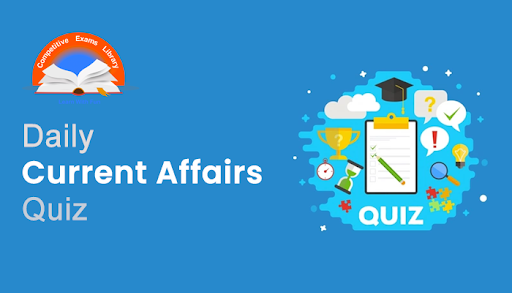 Dear Readers, Daily Current Affairs Questions Quiz for SBI, IBPS, RBI, RRB, SSC Exam 2020 of 22nd & 23rd November 2020. Daily GK quiz online for bank & competitive exam. Here we have given the Daily Current Affairs Quiz based on the previous days Daily Current Affairs updates. Candidates preparing for IBPS, SBI, RBI, RRB, SSC Exam 2020 & other competitive exams can make use of these Current Affairs Quiz.
1) National Cadet Corps, the largest uniformed youth organisation in the world, will celebrate its _______ Raising Day.
A) 75th
B) 73rd
C) 72nd
D) 71st
E) 70th
2) Which company along with USTATED has joined hands for Project Kirana to empower women through financial inclusion?
A) PayTm
B) Visa
C) Freecharge
D) Mastercard
E) PayU
3) Who among the following beat Dominic Thiem to win ATP Tour Finals in London?
A) Jurgen Melzer
B) Wesley Koolhof
C) Roger Fedrer
D) Nikola Mektic
E) Daniil Medvedev
4) Who among the following has recently addressed the Boston Center of Excellence for Health & Human Development via video conference?
A) Venkiah Naidu
B) Narendra Modi
C) Harsh Vardhan
D) Amit Shah
E) Prahlad Patel
5) Which state aims to become a $50-bn bio-economy by 2025?
A) Haryana
B) Chhattisgarh
C) Assam
D) Karnataka
E) West Bengal
6) India International Cherry Blossom Festival in which state has been cancelled due to COVID-19 pandemic?
A) Assam
B) Meghalaya
C) Mizoram
D) Nagaland
E) Manipur
7) Which of the following ministries has organized a webinar on "India's Hidden Gems"under the Dekho Apna Desh Webinar Series?
A) Ministry of Finance
B) Ministry of External Affairs
C) Ministry of Education
D) Ministry of Consumer Affairs
E) Ministry of Tourism
8) Which bank has Signed a Pact With Luxembourg Stock Exchange?
A) Bandhan
B) Axis
C) SBI
D) ICICI
E) HDFC
9) RBI has imposed a fine of _______ Crore Fine on Six Entities Including PNB, Sodexo and PhonePe.
A) 1.46
B) 2.57
C) 3.45
D) 4.5
E) 5.78
10) The RBI panel has proposed to raise the promoters cap to ______ per cent in private banks.
A) 30
B) 18
C) 26
D) 20
E) 15
11) Which company has signed an MoU with MoPNG for upcoming CBG Plants?
A) GAIL
B) ONGC
C) BPCL
D) Indian Oil
E) HPCL
12) Who among the following has recently been appointed As Jill Biden's Policy Director?
A) Jenna Eliis
B) Chad Wolf
C) Russell Vought
D) Christopher Rufo
E) Mala Adiga
13) Who among the following has won the Palghar CSR Award 2020?
A) HelpAge India
B) Nanhi Kali
C) Raah Foundation
D) GOONJ
E) World Vision
14) Which institution has recently inked a pact with IESC and IIM Shillong to mentor women entrepreneurs?
A) Niti Aayog
B) NASSCOM
C) CII
D) FICCI FLO
E) ASSOCHAM
15) Books by _______ Indian writers have been featured in 2020 '100 Notable Books' selected by The New York Times.
A) 6
B) 5
C) 4
D) 2
E) 3
16) Which of the following was awarded as best performing state in the inland fisheries sector?
A) Punjab
B) Haryana
C) Uttar Pradesh
D) Odisha
E) Chhattisgarh
17) India has become the _______ nation to get IMO nod for navigation satellite system.
A) 6th
B) 5th
C) 2nd
D) 3rd
E) 4th
18) Which of the following countries will host the G20 Summit in 2023?
A) Germany
B) Brazil
C) India
D) Japan
E) France
19) Which edition of SITMEX-20 is currently underway in the Andaman Sea?
A) 6th
B) 4th
C) 5th
D) 2nd
E) 3rd
20) The 80th All India Presiding Officers' Conference is all set to be organized at ________ on November 25.
A) Karnataka
B) Gujarat
C) Haryana
D) Chhattisgarh
E) Kerala
21) India is holding a Bilateral Maritime Exercise SIMBEX-20 with which country?
A) Thailand
B) Bangladesh
C) Singapore
D) Sri Lanka
E) Maldives
Answers :
1) Answer: C
National Cadet Corps (NCC), the largest uniformed youth organisation in the world, will celebrate its 72nd Raising Day.
The raising day function was marked by paying homage at the National War Memorial to the fallen heroes who made the supreme sacrifice of their lives. Defence Secretary Ajay Kumar and DG NCC Lt. Gen Rajeev Chopra laid wreaths on behalf of the entire NCC fraternity.
Defence Secretary stated the NCC cadets have contributed by participating selflessly during the COVID-19 pandemic as Corona warriors to spread awareness about measures to fight against the pandemic.
The cadets and Associate NCC Officers led by example in activities such as 'Ek Bharat Shresht Bharat', 'Atmanirbhar Bharat' and 'Fit India'.
The cadets participated wholeheartedly in 'Swachhta Abhiyan', 'Mega Pollution Pakhwada' and played a pivotal role in spreading awareness about various government initiatives like 'Digital Literacy', 'International Day of Yoga', 'Tree Plantation' and immunisation programs.
2) Answer: D
Global  payments technology major Mastercard has joined hands with the United States Agency for International Development (USTATED for Project Kirana that will help increase revenue streams, expand financial inclusion and digital payments adoption of kirana shops that are owned or operated by women.
To begin with, as many as 3,000 such women are targeted to be enrolled under this project in certain places in Uttar Pradesh. Mastercard stated that around the world, gender inequality limited women-owned businesses' ability to launch, grow and thrive.
To address these gaps, Mastercard and development agency USTATED have partnered under the Women's Global Development and Prosperity Initiative (W-GDP) to launch Project Kirana, it added.
Recently, Mastercard announced a commitment of Rs 250 crore ($33 million) to help reboot Indian SMEs and enable business recovery amid the COVID-19 pandemic. As part of this, it has launched multiple initiatives in India in helping small businesses go online by growing digital payments.
The initiatives will also drive inclusive growth by enabling small merchants and kirana stores with access to credit and empower women entrepreneurs by increasing their business acumen.
Project Kirana will work to increase revenue streams, expand financial inclusion and digital payments adoption of kirana shops that are owned or operated by women, Mastercard stated.
3) Answer: E
In Tennis, Daniil Medvedev beat Dominic Thiem to win ATP Tour Finals, the biggest title of his career.Medvedev fought back from losing the first set to beat Thiem 4-6, 7-6, 6-4 in a thrilling final in London last night. Thiem was denied the title for the second year in a row.
In the doubles final, Dutch-Croatian duo Wesley Koolhof and Nikola Mektic claimed their first title together edging Jurgen Melzer and Edouard Roger-Vasselin 6-2, 3-6, 10-5.
4) Answer: C
Health Minister Harsh Vardhan addressed the Boston Center of Excellence for Health and Human Development through a Video Conference.
Saluting millions of front-line health workers who bravely carried on with their duty in spite of risk and adversity, including professionals other than doctors and nurses, Dr. Vardhan elaborated India's strategy to contain COVID-19.
In this regard, the Health Minister observed that it is not the first one and definitely not the last one but this COVID 19 will soon be a past episode of the 21st century.
Detailing that India has already mastered all components of Modern medicine from antibiotics to emergency care, surgery, immunization, and vaccine, Dr Vardhan noted that the focus is now on the cost, quality, and affordability.
He elaborated that India has already made strides in remote diagnostics and treatment using the latest telemedicine technology to treat people.
He also congratulated the Boston Center of Excellence for Health and Human Development for bringing together experts to research a better cure and better healthcare for all.
5) Answer: D
Karnataka aims to become a $50-billion bio-economy by doubling the $22.6-billion sector in five years, stated the state government at the Bengaluru Tech Summit.
Bio-economy, which uses renewable biological resources sustainably to produce food, energy and industrial goods, has grown by at least 14 per cent in two years in Karnataka. It contributes 10.3 per cent to the Gross State Domestic Product of $221.82 billion.
"Our target is to raise Karnataka's bio-economy share to 50 per cent of the national bioeconomy revenue target of $100 billion by the year 2025," stated CN Ashwath Narayan, Karnataka's deputy chief minister and minister for electronics, IT, BT & S&T, while releasing the state's
'Bioeconomy Report 2020'.Karnataka expects bio-economy to touch $42 billion by 2025.
6) Answer: B
India International Cherry Blossom Festival, the calendar event of Meghalaya which attracts record number of tourists annually in Shillong, has been cancelled this year in the wake of COVID-19 pandemic. The capital, Shillong hosts the only Cherry Blossoms festival in India.
These beautiful flowers can be spotted across Meghalaya during this time of the year.
It is expected that the flowers will continue to bloom till the end of November. But people of Meghalaya celebrate festivals through virtual mode.The beautiful hill station Shillong in Meghalaya has turned pink with blooming cherry blossoms.
Every year, the Cherry Blossom Festival in Shillong hosts a plethora of events like fitness art, fashion show, rock concerts and much more.This time, the pomp and fervour of the festival will be missed. Due to the COVID -19 pandemic, the Cherry Blossom Festival held annually in Shillong has been cancelled this year.
7) Answer: E
The Ministry of Tourism's Dekho Apna Desh Webinar series titled "India's Hidden Gems" on 21stNovember 2020 focused on hidden gems of India. India is truly like a kaleidoscope, where every twist and turn will present you with a different pattern of landscape, colour, cuisine and culture. This also inspires the spirit of Ek Bharat Shreshtha Bharat. The best way to experience this is by traveling to destinations that are not popular on the internet, and as much as you can, by road.
The webinar was presented by Ms. Bindu Menon, an expat relocation manager, an intercultural trainer and a brand communications specialist by profession, a linguaphile, an India enthusiast, an avid traveler and writer by passion. Bindu has delighted in presenting India to the world at every given opportunity. She started her presentation with a quote "Life is more exciting when one treads away from the everyday path, seeking bold new horizons".
8) Answer: C
State Bank of India (SBI) has signed a memorandum of understanding (MoU) with the Luxembourg Stock Exchange (LuxSe). The MoU will help SBI and LuxSE set up a long-term cooperation mechanism, and promote ESG (Environmental, Social, and Corporate Governance) and green finance.
Through this MoU, the Luxembourg Stock Exchange would work towards creating a sustainable environment for issuers, asset managers, and investors in terms of ESG focused funds and bonds, according to an official release.
State Bank of India has raised $800 Mio in the Green Bond Market to date. The MoU with the Luxembourg Stock Exchange will open up new avenues for market development and fundraising in the green bond market," Mr Khara added.
9) Answer: E
The Reserve Bank of India (RBI) has imposed a total fine of over Rs 5.78 crore on six entities, including PNB, Sodexo and PhonePe, for violating regulatory guidelines. In exercise of powers vested under Section 30 of the Payment and Settlement Systems Act, 2007, the RBI has imposed monetary penalty on these entities for non-compliance of regulatory guidelines, it stated.
Except Punjab National Bank (PNB), the remaining five entities are non-bank prepaid payment instrument (PPI) issuers. RBI imposes the penalty on Sodexo SVC India Pvt Ltd, Muthoot Vehicle & Asset Finance Ltd, QwikCilver Solutions Pvt Ltd, Phonepe Pvt Ltd, Delhi Metro Rail Corporation Ltd, and Punjab National Bank, stated the release.
Sodexo is slapped with the highest fine of Rs 2 crore; PNB and QwikCilver Solutions Rs 1 crore each; PhonePe Rs 1.39 crore; Muthoot Vehicle & Asset Finance Rs 34.55 lakh; and Delhi Metro Rail Corporation Rs 5 lakh.
10) Answer: C
An internal working group set up by the RBI has proposed to raise the cap on promoters' stake in private banks from the current 15 per cent to 26 per cent in 15 years.
The group has also recommended that large corporate or industrial houses may be allowed as promoters of banks only after amendments to the Banking Regulation Act and strengthening of the supervisory mechanism for conglomerates, including consolidated supervision.
The Reserve Bank of India had constituted the internal working group (IWG) on June 12, 2020, to review extant ownership guidelines and corporate structure for Indian private sector banks. The central bank released the groups' report.
The terms of reference of the IWG inter alia included a review of the eligibility criteria for individuals/entities to apply for banking license; examination of preferred corporate structure for banks and harmonisation of norms in this regard; and review of norms for long-term shareholding in banks by the promoters and other shareholders.
On eligibility of promoters, it stated large corporate/industrial houses may be allowed as promoters of banks only after necessary amendments to the Banking Regulations Act, 1949 to deal with connected lending and exposures between the banks and other financial and non-financial group entities.
11) Answer: D
Indian Oil signed MoU with MoPNG for upcoming CBG Plants – An MoU has been signed with the Ministry of Petroleum and gas by the Indian Oil R&D Centre has developed robust technology on Bio-methanation, Government of India as a technology provider for the upcoming CBG Plants.
This would help to reduce import dependence, create employment & reduce pollution as Production of CBG would increase the green energy mix and also will help in realizing Hon'ble PM's vision of boosting farmers' income mentioned Chairman of IOCL Shri Shrikant Madhav Vaidya while the signing of MOU with Petroleum Ministry for CBG projects.
Indian Oil is that the first company to plug Compressed Biogas from 10 shops spread across
Maharashtra, Tamil Nadu, and Gujarat, under the name Indi Green.
12) Answer: E
US President-elect Joe Biden appointed an Indian-American, Mala Adiga, the policy director of his wife Jill Biden, who will be the First Lady.
Ms Adiga has served as a senior advisor to Jill Biden and a senior policy advisor on the Biden-Kamala Harris campaign. Previously, Ms Adiga was director for Higher Education and Military Families at the Biden Foundation.
During former president Barack Obama's administration, Mala Adiga served as the deputy assistant secretary of state for Academic Programs at the Bureau of Educational and Cultural Affairs, in the Secretary of State's Office of Global Women's Issues as chief of staff and senior advisor to the Ambassador-at-Large, besides as director for human rights on the National Security Staff.
A native of Illinois, Ms Adiga is a graduate of Grinnell College, the University of Minnesota School of Public Health, and the University of Chicago Law School.
A lawyer by training, Ms Adiga had been a clerk for a federal agency and had worked for a Chicago law firm before joining the campaign of former president Barack Obama in 2008.
13) Answer: C
Raah Foundation wins Palghar CSR Award 2020 – Raah Foundation won Palghar CSR Award 2020 under the category of Village Development for outstanding contribution towards sustainable socio-economic development of Palghar, Kokan region at the 2nd edition CSR conclave and awards Dialogue Palghar on 6th Nov 2020.
The youngest tribal-dominated district of Palghar features a long development road ahead as dynamic district administration, passionate NGOs and resourceful well-meaning CSRs have all come close to contributing to realizing the UN Sustainable development goals.
Dialogue Palghar was launched in 2019 to bring these stakeholders on one platform to make sure that efforts are mutually exclusive and exhaustive.
Raah Foundation has bestowed the distinguished award within the second edition. Award was received by the Head of Operations on behalf of the organization Sonia Risbood and expressed her gratitude for the popularity and also mentioned that this was a huge responsibility because the expectations from Raah Foundation have increased enormously after this award.
14) Answer: D
FLO, the women wing of the Federation of Indian Chamber of Commerce and Industry (FICCI), stated it has signed an agreement with Indian Institute of Management (IIM) Shillong and Incubation and Enterprise Support Centre (IESC) to mentor entrepreneurs.
Under this Memorandum of Understanding (MoU), FICCI FLO, IESC and IIM Shillong will jointly provide guidance and mentor entrepreneurs by facilitating a nurturing, instructive and supportive environment during the initial and critical stages of starting a business, thus enabling them to reduce the initial start-up costs and establish themselves in a shorter time frame, according to a statement.
15) Answer: E
Critically-acclaimed books by three Indian writers have featured among this year's '100 Notable Books' list of The New York Times that also includes former US president Barack Obama's newly released memoir 'A Promised Land'.
Editors of The New York Times Book Review selected 100 "notable fiction, poetry and nonfiction" works from around the world. The prestigious list also includes the work of fiction 'A Burning' by India-born Megha Majumdar.
Djinn Patrol on the Purple Line' by Deepa Anappara, who grew up in Kerala, also features on the list.
Samanth Subramanian's 'A Dominant Character: The Radical Science and Restless Politics of J. B. S. Haldane' is a nonfiction work.
Red Pill' by British-Indian author Hari Kunzru also features in the list.
16) Answer: C
Uttar Pradesh was awarded as best performing state in the inland fisheries sector while Odisha got the award of the best Marine state on the occasion of 'World Fisheries Day' observed by the Department of Fisheries, Ministry of Fisheries, Animal Husbandry and Dairying, Government of India.
The Minister of State for Fisheries, Animal Husbandry and Dairying, Pratap Chandra Sarangi, was the chief guest at the occasion. Laxmi Narayan Chaudhary, Minister for Dairy Development, Animal Husbandry and Fisheries, Government of Uttar Pradesh also graced the occasion and received the award on behalf of the State of Uttar Pradesh, awarded as best performing State in the inland fisheries sector. The fishers, fish farmers, entrepreneurs, stakeholders, professionals, officials and scientists from across the nation also participated in the grand event.
17) Answer: E
India has become the fourth country in the world to have its independent regional navigation satellite system recognised by the International Maritime Organisation (IMO) as a part of the World Wide Radio Navigation System (WWRNS).The other three countries that have its navigation systems recognised by the IMO are the US, Russia and China.
The Indian Regional Navigation Satellite System (IRNSS) was designed to provide accurate position information services to assist in the navigation of ships in Indian Ocean waters. The Director General of Shipping (DGS) had approached the IMO for granting recognition to the IRNSS as a component of the WWRNS, similar to the US-owned Global Position System (GPS) or Russia's Global Navigation Satellite System (GLONASS) – a process that took two years.
18) Answer: C
G20 leaders announced that India will host the summit of the high-profile grouping in 2023 ― a year later than what was decided earlier.
India was earlier slated to host the summit in 2022 with the Osaka declaration of the G20 stating last year that "we look forward to meeting again in Saudi Arabia in 2020, in Italy in 2021, and in India in 2022".
India looks forward to taking forward the G20 agenda in 2023 after the Italian and Indonesian presidencies, the source said.
19) Answer: D
Indian Navy Ships including indigenously built ASW corvette Kamorta and missile corvette Karmuk are participating in the 2nd edition of India, Singapore and Thailand Trilateral Maritime Exercise SITMEX-20 in Andaman Sea.
The two day exercise got underway.
First edition of SITMEX, hosted by Indian Navy, was conducted off Port Blair in September last year.
The SITMEX series of exercises are conducted to enhance mutual interoperability and imbibing best practices between Indian Navy, Republic of Singapore Navy and Royal Thai Navy.
The 2020 edition of the exercise is being hosted by Republic of Singapore Navy which is being represented by the 'Formidable' Class frigate 'Intrepid' and 'Endurance' Class Landing Ship Tank 'Endeavour'.
The Royal Thai Navy is being represented by the 'Chao Phraya' Class frigate 'Kraburi' in the exercise.
20) Answer: B
A two day  80th All India Presiding Officers' Conference will be organized at  Kevadia, Gujarat on 25th of this month. Lok Sabha Speaker Om Birla stated that the theme of this year's conference is Harmonious Coordination of Legislative, Executive and Judiciary- Key to a Vibrant Democracy. He stated, President Ram Nath Kovind will inaugurate the two day conference.
He stated, it is our collective efforts to maintain the  constitutional sanctity which  is very important for  mutual  co-existence between the three organs of governance  and the sustenance of  democracy in the country. Mr Birla stated, various sessions will be organised in which presiding officers will exchange their views and shared best practices. He stated, discussions will also be held on ways to make the proceedings of  Parliament and Legislative Assemblies more productive.
21) Answer: C
Indian Navy is scheduled to host the 27th edition of India – Singapore Bilateral Maritime Exercise SIMBEX-20 from in Andaman Sea. It will continue till 25th of this month.
The SIMBEX series of exercises between Indian Navy and Republic of Singapore Navy  being conducted annually since 1994, are aimed at enhancing mutual interoperability and imbibing best practices from each other.
The scope and complexity of these exercises has increased steadily over the past two decades to include advanced naval drills covering a wide spectrum of maritime operations.
The 2020 edition of SIMBEX will witness participation by Indian Navy ships including destroyer Rana with integral Chetak helicopter and indigenously built corvettes Kamorta and Karmuk.
SIMBEX-20 will witness the two friendly navies participate in advanced surface, anti-air warfare and anti-submarine warfare exercises including weapon firings, over three days of intensive joint operations at sea.
SIMBEX series of exercises exemplify the high level of coordination and convergence of views between India and Singapore, particularly in the maritime domain, towards enhancing the overall maritime security in the region and highlight their commitment to a rules-based international order.