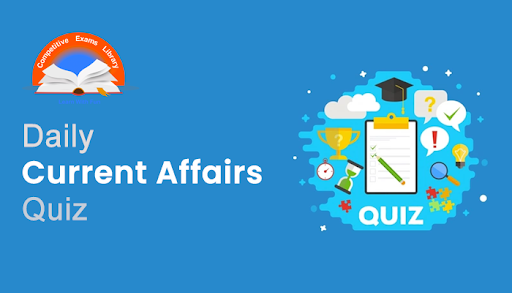 Dear Readers, Daily Current Affairs Questions Quiz for SBI, IBPS, RBI, RRB, SSC Exam 2020 of 23rd December 2020. Daily GK quiz online for bank & competitive exam. Here we have given the Daily Current Affairs Quiz based on the previous days Daily Current Affairs updates. Candidates preparing for IBPS, SBI, RBI, RRB, SSC Exam 2020 & other competitive exams can make use of these Current Affairs Quiz.
1) National Farmers Day is observed on which of the following date?
A) December 21
B) December 22
C) December 12
D) December 23
E) December 15
2) The Centre and World Bank have signed a ______ million project to build Green National Highway Corridors.
A) 700
B) 600
C) 650
D) 550
E) 500
3) Who among the following will head the High Level Committee constituted to commemorate the 125th birth anniversary of NetajiSubhas Chandra Bose?
A) Venkiah Naidu
B) Rajnath Singh
C) Amit Shah
D) Narendra Modi
E) Nirmala Sitharaman
4) IMD has released the End of the Season Report for Southwest Monsoon 2020 and the report noted that seasonal rainfall for June-September was _____ of the long period average in 2020.
A) 108%
B) 109%
C) 110%
D) 105%
E) 102%
5) UN Women has signed a pact with which state government's Gender Park to initiate gender equality activities?
A) Chattisgarh
B) Andhra Pradesh
C) Uttar Pradesh
D) Kerala
E) Haryana
6) The US President has conferred Legion of Merit award to who among the following?
A) Prahlad Patel
B) Venkiah Naidu
C) Narendra Modi
D) Amit Shah
E) Anurag Thakur
7) Who among the following has dedicated Bengal's First Oil And Gas Reserve To Nation?
A) Ram Nath Kovind
B) Nitin Gadkari
C) Suresh Prabhu
D) Narendra Modi
E) Dharmendra Pradhan
8) NCAER has projected the GDP contraction of _____ per cent in Fiscal Year 21.
A) 7.8
B) 7.3
C) 7.5
D) 7.6
E) 7.7
9) Which institution has launched India's first aquaframers call centre?
A) ISRO
B) ONGC
C) BHEL
D) MPEDA
E) NAREDCO
10) Department of Information Technology, Electronics and Communication and which state government signs MoU with India Accelerator to build Startup Ecosystem?
A) Gujarat
B) Haryana
C) Kerala
D) Tamil Nadu
E) Bihar
11) Prime Minister to launch ______, health insurance scheme for Jammu-Kashmir on December 26.
A) ATMANIRBHAR
B) AAROGYA
C) RAAHAT
D) ANAND
E) SEHAT
12) Which Bank has launched an Online Portal Called Infinite India for foreign firms?
A) Bandhan
B) Axis
C) SBI
D) ICICI
E) HDFC
13) ADB has announced to give _______ crore as loan to Tripura
A) 3500
B) 2500
C) 2100
D) 2250
E) 2000
14) The ______edition of the GRIHA Summit was recently concluded with the awards ceremony.
A) 9th
B) 14th
C) 13th
D) 11th
E) 12th
Answers :
1) Answer: D
KisanDiwas or National Farmers Day is observed on December 23 across the country to praise the farmers as they are the spine of India.
The day was chosen to honour the birth anniversary of the fifth Prime Minister of India, ChoudharyCharan Singh. He was born on December 23, 1902.
He brought farmer-friendly policies and worked towards the welfare of the farmers
The day was first celebrated in 2001.
Significance:
To promote awareness to help and reward farmers for their contribution to society Farmers day is celebrated every year.
National Farmers Day is celebrated every year especially in those states which are actively engaged in farming such as Uttar Pradesh, Punjab, Haryana, Madhya Pradesh among others.
2) Answer: E
The Centre and the World Bank signed a USD 500 million project to build safe and green national highway corridors in Rajasthan, Himachal Pradesh, Uttar Pradesh and Andhra Pradesh.
The project will also enhance the capacity of the Ministry of Road Transport and Highways in mainstreaming safety and green technologies.
About the Project :
The Green National Highways Corridors Project will support the Road Transport and Highways Ministry to construct 783 kilometres of highways in various geographies by integrating safe and green technology designs such as local and marginal materials, industrial byproducts and other bioengineering solutions.
The project will help reduce GHG emissions in the construction and maintenance of highways.
Dr C S Mohapatra, Additional Secretary in Department of Economic Affairs, Ministry of Finance stated that this project will set new standards in the construction of safe motorable roads.
The selected stretches in the States of Uttar Pradesh, Andhra Pradesh, Rajasthan and Himachal Pradesh will also help improve connectivity and promote economic development.
The Government of India has launched many investment programmes in road infrastructure to strengthen and improve logistics performance.
3) Answer: C
Government has decided to constitute a High Level Committee to commemorate the 125th Birth Anniversary of NetajiSubhas Chandra Bose.
The Committee will decide on the activities for a one year long commemoration starting 23rd January, 2021.
The High Level Committee will be headed by Home Minister Amit Shah.
The Commemoration is being held as a tribute and as a mark of gratitude to the colossal contribution Netaji made to India's freedom struggle.
And also this Committee will include the members of  experts, historians, authors, family members of NetajiSubhas Chandra Bose, as well as eminent persons associated with Azad Hind Fauj-INA.
4) Answer: B
National Weather Forecasting Centre of the Indian Meteorological Department (IMD), has released the End of the SeasonSouthwest Monsoon 2020 report.
Features:
The report noted that seasonal (June-September) rainfall over the country as a whole was 109% of its Long Period Average (LPA) in 2020. It was the third highest after 112% of LPA in 1994 and 110 % of LPA in 2019.
Southwest monsoon current reached the south Andaman Sea and Nicobar Islands on 17th May 2020 (5 days ahead of its normal date), but further advance was sluggish. It set in over Kerala on 1st June coinciding with its normal date for onset over Kerala; Monsoon covered the entire country on 26th June 2020; 12 days before its normal date (8th July).
Monsoon started withdrawing from western parts of northwest India on 28th September 2020 against the normal date of 17th September 2020 with a delay of around 11 days. The Southwest Monsoon withdrew from the entire country on 28th October 2020.
During the season, one Severe Cyclonic Storm NISARGA formed during 1st to 4th June.
This year also witnessed absence of monsoon depression during the season.
5) Answer: D
On December 21, 2020 UN Women, the United Nations entity working for the empowerment of women, entered into an agreement with the Kerala government's Gender Park that has been initiating gender equality activities.
UN Women will be offering project development and capacity building for the Gender Park for the empowerment of women in South Asia.
Gender Park will be developed into a South Asia hub for gender-related activities.
A Gender Data Centre at Kozhikode campus is one of the highlights of the tie-up with UN Women.
UN Women Deputy Country Representative Nishtha Satyam and Gender Park Chief Executive Officer P T M Sunish signed the MoU in the presence of Kerala Chief Minister PinarayiVijayan and Health and Social Justice Minister K KShailaja.
Satyam lauded various women empowerment initiatives of Kerala like She Taxi, jobs for transgender persons and stress management amid the spread of the coronavirus pandemic.
6) Answer: C
US President Donald Trump presented the prestigious Legion of Merit to Prime Minister NarendraModi for his leadership in elevating strategic partnership of the two countries and emergence of India as a global power.
The award was received on behalf of the Prime Minister by the Ambassador of India to the United States Taranjit Singh Sandhu on 21st December 2020.
7) Answer: E
Union Petroleum & Natural Gas Minister, dedicated West Bengal's first oil and gas reserve, Bengal Basin, to the nation.
He stated production from the petroleum reserve in Ashoknagar, about 47 km from Kolkata, has started with the extracted oil being sent to Haldia refinery of Indian Oil Corporation (IOC).
The Bengal Basin is explored and owned by Oil and Natural Gas Corporation (ONGC), and It is the eight producing basin of India by ONGC.
ONGC Limited commenced the production of crude oil from the Asokenagar-1 well, Bengal Basin in 24 Paragana district of the state on 20 December 2020.
The first proven reserve of oil and gas in the state was discovered in 2018.
8) Answer: B
The National Council of Applied Economic Research (NCAER) has revised upward its gross domestic product (GDP) projection for FY21 to 7.3% contraction from the 12.6% dip estimated in September 2020.
The Delhi based economic think tank, released its mid-year review of the Indian economy virtually on 21 December 2020.
About National Council of Applied Economic Research (NCAER) :
The National Council of Applied Economic Research (NCAER) was founded in 1956 as an independent, board-run body to give support to both the government and the private sector in empirical economic research.
9) Answer: D
The Marine Products Export Development Authority (MPEDA), headquartered in Kochi, has launched a multilingual call centre for aquafarmers at Vijayawada in Andhra Pradesh.
MPEDA will address their technical issues and impart knowledge about efficient farming methods.
The call centre can also handle calls in English and Hindi.
The call centre primarily caters to aqua farmers of Andhra Pradesh, the state that contributes more than 60 percent of the country's marine products export basket.
10) Answer: B
Department of Information Technology, Electronics and Communication and Government of Haryana has signed a Memorandum of Understanding (MoU) with India Accelerator (IA) to build a strong startup ecosystem in Haryana.
India Accelerator will provide support to the startups through Knowledge sharing & free of cost services to high potential startups.
The MoU will help in bridging the gap between Industry & Startups.
11) Answer: E
Prime Minister NarendraModi will launch the PMJAY – SEHAT scheme on December 26 for Jammu and Kashmir.
The scheme will cover the remaining population which has not been covered under the Ayushman Bharat Scheme.
Under Ayushman Bharat PM Jan ArogyaYojana (PMJAY) eligible beneficiaries were covered under Health cover of Rs 5 lakhs.
According to the Department of Information and Public Relations, Government of Jammu and Kashmir, SEHAT scheme stands for Social, Endeavour for Health and Telemedicine, a health insurance scheme for the Union Territory.
Under PMJAY scheme, 30 lakh people are being covered in J&K. With the  launch of 'SEHAT' Scheme by the Prime Minister on December 26,  J&K will be among the first in the country to achieve Universal Health Coverage.
Programmes will be organized across the UT and the distribution of Golden cards will be started on the same day. Around 16 Lakh registrations have been done as on date and the registrations for the rest of the beneficiaries is underway.
12) Answer: D
ICICI Bank has launched an online platform Infinite India to support foreign companies to establish or expand business in India.
The platform offers them banking solutions as well as value-added services such as incorporation of a business entity, corporate filings, licences and registrations, HR services, compliances and taxation among others.
Through this initiative, ICICI bank aims to strengthen its position in the multinational corporations (MNC) segment.
And also this initiative is part of our strategy to further strengthen our technology enabled offerings aimed to partner with foreign companies coming to india.
13) Answer: C
The Asian Development Bank has announced to provide Rs 2,100 crore loan to the Tripura government for the development of urban areas and tourism in the northeastern state that borders Bangladesh,
From the total amount of Rs 2,100 crore expected to be provided by the ADB as loan, Rs 1600 crore will be for urban development and Rs 500 crore for the tourism sector.
About the Project:
Under the loan arrangement, initially ADB would provide Rs 40 crore for engagement of project design and management consultants for urban and tourism sectors.
Once the projects are prepared, ADB would provide Rs 1,600 crore for development works in urban areas and Rs 500 crore in tourism sector over the next three years.
Under this, all 20 urban local bodies in Tripura would be covered and in the tourism sector, all tourism destinations, roads leading to them and tourist facilities would be covered.
The Tripura government has recently sent a Rs 40 crore project to the Union Tourism Ministry to sanction funds under the PRASHAD scheme for an all round development of the famous 520-year-old Tripura Sundari Temple in southern Tripura's Udaipur (60 kilometre south of state capital Agartala)
14) Answer: E
The 12th Green Rating for Integrated Habitat Assessment Summit was held virtually from December 15-16, 2020.
It was inaugurated by Vice President of India Venkaiah Naidu virtually.
The theme is Rejuvenating Resilient Habitats
It is the annual flagship event organized by GRIHA Council in association with 'key stakeholders in the construction industry' to discuss and deliberate on furtherance of Sustainable Habitat Development in India.
The Summit provides a platform to deliberate on innovative technologies and solutions to help in creating robust mechanisms for developing sustainable and resilient solutions for the benefit of the entire community.