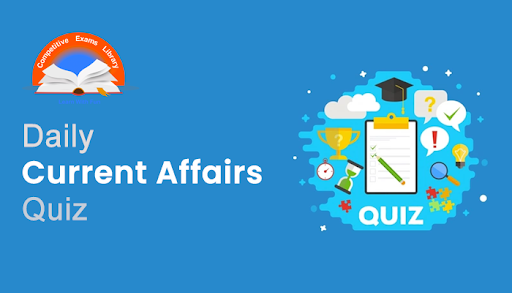 Dear Readers, Daily Current Affairs Questions Quiz for SBI, IBPS, RBI, RRB, SSC Exam 2020 of 24th December 2020. Daily GK quiz online for bank & competitive exam. Here we have given the Daily Current Affairs Quiz based on the previous days Daily Current Affairs updates. Candidates preparing for IBPS, SBI, RBI, RRB, SSC Exam 2020 & other competitive exams can make use of these Current Affairs Quiz.
1) National Consumer Rights Day is observed on which date?
A) December 11
B) December 14
C) December 24
D) December 15
E) December 19
2) Which of the following Ministry has launched the Firefly bird diverter initiative?
A) Ministry of Science & Technology
B) Ministry of Earth Sciences
C) Ministry of Education
D) Ministry of Environment
E) Ministry of Consumer Affairs
3) NITI Aayog launches india's first indigenous digital storage platform ________.
A) Digital Boxx
B) Consumer Boxx
C) Beat Boxx
D) Internet Boxx
E) Digi Boxx
4) Sugathakumari who passed away was a renowned _____.
A) Actor
B) Director
C) Writer
D) Poet
E) Singer
5) Cabinet has given nod to merger of _____ Film Media Units with NFDC.
A) 3
B) 4
C) 5
D) 6
E) 8
6|) Who among the following has released the Postal Stamp To Mark Centenary Celebrations Of AMU?
A) Ram NathKovind
B) Venkiah Naidu
C) NarendraModi
D) Prahlad Patel
E) Anurag Thakur
7)  PM Modi will release Rs. ________ crore under PM-Kisan scheme to more than 9 crore farmers.
A) 14,000
B) 17,000
C) 16,000
D) 18,000
E) 15,000
8) Cabinet has approved _______ crore of the post matric scholarship scheme of more than four crore SC students.
A) 25,048
B) 35,000
C) 45,000
D) 55,047
E) 59,048
9) Which institution has launched the COVID-19 vaccine market dashboard?
A) ADB
B) WHO
C) UNICEF
D) UNESCO
E) IMF
10) Who among the following has been appointed as the next new chief Secretary of AP?
A) Narendra Mehta
B) AdityaNath Das
C) Rajendra Singh
D) Sushil Gupte
E) Raj Kanwar
11) Who among the following has assumed charge as DSP of Andaman and Nicobar?
A) Raj Kanwar
B) Anand Batra
C) Satyendra Garg
D) Sushil Kumar
E) Rajendra Gupte
12) Who among the following has held a virtual meet with Spanish counterpart Arancha Gonzalez Laya?
A) Anurag Thakur
B) S Jaishankar
C) Narendra Modi
D) Prahlad Patel
E) Venkiah Naidu
13) Indian Army and which bank have signed anMoU for 'Baroda Military Salary Package?
A) Bandhan
B) HDFC
C) Bank of Baroda
D) SBI
E) ICICI
14) Who among the following has won the 2020 UN Population Award?
A) Ramakrishna Foundation
B) Human Hope
C) NavChetna
D) Goonj
E) Help Age
15) Government of which state has Inaugurated the 1st Fruits Portal?
A) Himachal Pradesh
B) Uttar Pradesh
C) Madhya Pradesh
D) Karnataka
E) Kerala
16) Which college has recently received an award for cultural heritage protection by the United Nations Educational, Scientific and Cultural Organization (UNESCO) Asia-Pacific in 2020?
A) Kirori Mal College
B) SD College
C) Amar Singh College
D) Mirabai College
E) DAV College
17) Which country's new space carrier rocket has successfully launched five satellites?
A) US
B) China
C) France
D) Germany
E) UK
18) Who among the following has taken over as new Assocham President?
A) Anand Batra
B) Sukesh Jain
C) Rajan Singh
D) Vineet Aggarwal
E) Sunil Mehta
19) DevendraFadnavis releases book 'Ayodhya' written by among the following?
A) Sushil Tripathi
B) Raj Gupte
C) Surender Singh
D) Anand Verma
E) Madhav Bhandari
20) Indian men will finish 2020 in _______ position while women in 9th in FIH rankings.
A) 6th
B) 2nd
C) 4th
D) 3rd
E) 5th
Answers :
1) Answer: C
National Consumer Rights Day is observed on December 24, every year in India.
The Consumer Protection Act 1986 came into effect on this day.
The theme of the National Consumer Day is The Sustainable Consumer. The theme is in view of the urgent need for action to approach the worldwide crisis, global temperature change and biodiversity loss.
Aim of the act:
The main objective of the Consumer Protection Act is to provide consumers with effective safeguards against different types of exploitation such as defective goods, unsatisfactory services, and unfair trade practices.
Significance:
This day provides an opportunity for individuals to highlight the importance of the consumer movement and the need to make every consumer more aware of their rights and responsibilities.
2) Answer: D
The Ministry of Environment Forest and Climate Change (MoEFCC) along with the Wildlife Conservation Society (WCS) India has come up with a unique initiative of a firefly bird diverter for overhead power lines in areas where Great Indian Bustard (GIB) populations are found in the wild.
Firefly bird diverters are flaps installed on power lines. They work as reflectors for bird species like the GIB. Birds can spot them from a distance of about 50 meters and change their path of flight to avoid collision with power lines.
3) Answer: E
NITI Aayog's CEO Amitabh Kant has virtually launched India's first digital asset management and storage platform DigiBoxx.
Kant also signed up for an account, making him the first user of an Indian digital file storage, sharing and management SaaS product that provides storage options for business as well as individual users.
The platform provides an easy and secure way to store all the files in one centralised location.
DigiBoxx has free 2GB storage space and the file shared stays for 45 days.
4) Answer: D
Renowned Malayalam poet and activist Sugathakumari, who devoted her life to the green cause, rights of women and the deprived, passed away at Thiruvananthapuram. She was 86.
She was one of the most active campaigners of the Save Silent Valley Movement when it took shape in the 1970s.
She wrote a poem MarathinuSthuti (Hymn to a tree) , which was received at every other protest to save the silent valley.
5) Answer: B
The Cabinet approved the merger of Films Division, Directorate of Film Festivals, National Film Archives of India, and Children's Film Society, India with National Film Development Corporation.
The Cabinet also approved revision in guidelines for providing DTH services in India.
Under the DTH licence will be issued for 20 years in place of present 10 years.
Guidelines have been amended to allow 100 percent FDI in DTH services.
And also the Cabinet approved an ordinance for extending National Capital Territory of Delhi Laws (Special Provisions) Act for another 3 years, giving protection to unauthorised colonies from punitive action in Delhi.
The Cabinet also gave its nod for signing the revised Air Services Agreement between India and Philippines. It also gave its approval for signing the revised Air Services Agreement between India and Afghanistan.
6) Answer: C
Prime Minister NarendraModi released a special postal stamp to mark the centenary celebrations of the Aligarh Muslim University (AMU).
This is the first time in five decades that a prime minister has attended an AMU event as the chief guest. Prime Minister Modi attended the event via video conferencing.
Union Education Minister Ramesh PokhriyalNishank also Participated in the event.
Ramesh PokhriyalNishank recalled the achievements of the AMU over the century and contributions of its alumni.
The last time a prime minister attended an event at AMU was LalBahadurShastri in 1964.
Before him, prime minister Jawaharlal Nehru had visited the AMU four times.
7) Answer: D
Prime Minister Modi will release Rs. 18,000 crore for the  nextinstalment of financial benefit under the PM-Kisan scheme to more than 9 crore farmers through video conference.
Agriculture Minister Narendra Singh Tomar will also be present during the programme.
Under the PM-KISAN Scheme, a financial benefit of Rs. 6,000 per year is provided to small and marginal farmers, payable in three equal 4-monthly installments of Rs. 2,000 each.
The fund is transferred directly to the bank accounts of the beneficiaries.
8) Answer: E
The Cabinet Committee on Economic Affairs (CCEA) has also approved Rs. 59,048 Crore post matric scholarship scheme for more than 4 Crore Scheduled Castes students in 5 years.
Social Justice and Empowerment Minister ThawarchandGehlot stated, the Central Government will spend Rs. 35,534 Crore for it which is 60 percent and the balance 40 per cent will be spent by the State Governments.
It is estimated that 1.36 Crore such poorest students, who are currently not continuing their education beyond 10th standard would be brought into the higher education system in the next 5 years.
9) Answer: C
On December 21, The UNICEF announced the launch of a Covid-19 vaccine market dashboard.
It is an interactive tool to follow the developments of the rapidly evolving coronavirus vaccine market and the efforts of the COVAX Facility to ensure fair and equitable access for every country in the world.
10) Answer: B
Senior IAS officer AdityaNath Das has been appointed Chief Secretary to the Government of Andhra Pradesh..
Incumbent NilamSawhney, who is due to retire from service on December 31, has been appointed Principal Advisor to the Chief Minister in the rank of a Cabinet Minister.
Das, a 1987 batch IAS officer, currently the Special Chief Secretary, Water Resources and Environment, Forest, Science and Technology departments, will take charge as the Chief Secretary after the incumbent Sawhney retires from service.
The order of the appointment was issued by Praveen Prakash, on 22nd December 2020.
11) Answer: C
Senior IPS officer SatyendraGarg assumed Andaman and Nicobar DGP charge.
Garg, a 1987-batch IPS officer was posted as joint secretary in the Union home ministry.
He was handing the North East division in the home ministry as joint secretary before being repatriated to his cadre.
12) Answer: B
On December 23, External Affairs Minister S Jaishankar and his Spanish counterpart Arancha Gonzalez Laya held a virtual meeting, during which they agreed to maintain the momentum of cooperation in a range of areas like defence and energy.
The Ministry of External Affairs (MEA) stated the ministers also deliberated on relations between India and the European Union and agreed to work closely in the context of the forthcoming India-EU summit, proposed to be held in Portugal in May next year.
13) Answer: C
Indian Army and Bank of Baroda have entered into a Memorandum of Understanding (MoU) for Baroda Military Salary Package.
The MoU was signed by Lt Gen RavinKhosla, DG(MP&PS) and Vikramaditya Singh Khichi, Executive Director, Bank of Baroda in the presence of Lt Gen Harsha Gupta, Adjutant General, Indian Army who also chaired the meeting.
Benefits :
Free Personal Accidental Insurance cover,
Permanent Total Disability cover,
Partial disability Cover and Air Accident Insurance Cover of sizeable amounts,
Higher Education Cover and Girl Child Marriage Cover on death in case of serving personnel.
Unlimited free ATM transactions at all bank ATMs
Waivers or concessions on various service charges in retail loans, free remittance facility through RTGS/NEFT, free Demand Draft/Banker's Cheque.
14) Answer: E
NGO HelpAge India has been awarded the UN Population Award for 2020 in the institutional category.
This award for its contribution towards serving disadvantaged elderly people and raising awareness on their cause
The UN Population Award, established by the United Nations General Assembly (UNGA) in 1981, recognises contributions in the fields of population and reproductive health.
15) Answer: D
On 22 December 2022, the FRUITS (Farmer Registration and Unified Beneficiary Information System) Portal, a project of e-Governance, Government of Karnataka was inaugurated with BHOOMI Package of Karnataka state to fetch and validate land details.
Canara Bank also will take the project on a pilot basis.
It is the first kind of technology adopted by the government of Karnataka, to combine 70 lakh farmers with land and other details under a single platform.
16) Answer: C
Amar Singh College, in Srinagar has been awarded for cultural heritage protection by the United Nations Educational, Scientific and Cultural Organization (UNESCO) Asia-Pacific in 2020.
The College Building is 80 years old and INTACH chapter in the Union Territory of Jammu and Kashmir has carried out the conservation work at the Amar Singh College.
17) Answer: B
On December 22, China's new medium-lift carrier rocket Long March-8 made its maiden flight on, sending five satellites successfully into planned orbit.
The rocket was launched from the Wenchang Spacecraft Launch Site in Hainan.
The new rocket, which was developed by the China Academy of Launch Vehicle Technology (CALT)
The five experimental satellites will carry out the in-orbit verification of microwave imaging and other technologies.
18) Answer: D
Managing Director of logistics major Transport Corporation of India Limited VineetAgarwal has taken over as the new President of The Associated Chambers of Commerce and Industry of India (Assocham).
He replaces NiranjanHiranandani, Co-Founder and MD, Hiranandani Group of Companies.
SumantSinha, Chairman and Managing Director of ReNew Power, is the new Senior Vice-President of Assocham.
19) Answer: E
On December 22, Former Maharashtra Chief Minister and Leader of Opposition in the Legislative Assembly DevendraFadnavis released the book 'Ayodhya' written by BJP's State Vice President MadhavBhandari in Mumbai.
He stated that the fight to build a Ram temple is a fight to awaken the Hindu community and the book will be used as a reference book.
20) Answer: C
The Indian men and women hockey teams will finish 2020 in fourth and ninth positions, respectively.
The International Hockey Federation (FIH) confirmed that the Belgium men's team and the Netherlands' women will finish the year at the top of the world rankings.
In the men's FIH world rankings, reigning world and European champions Belgium (2496.88 points) sit at the top ahead of 2019 FIH Hockey Pro League winners Australia (2nd place – 2385.70), Netherlands (3rd place 2257.96) and India (4th place 2063.78).
Among women, the Netherlands (2631.99 points) are at the top followed by Argentina (2174.61). Germany (2054.28) occupy the third position and India (9th place 1543.00).