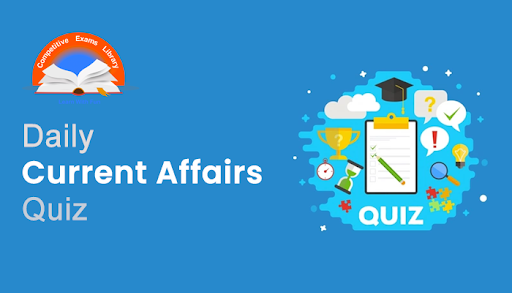 Dear Readers, Daily Current Affairs Questions Quiz for SBI, IBPS, RBI, RRB, SSC Exam 2020 of 24th November 2020. Daily GK quiz online for bank & competitive exam. Here we have given the Daily Current Affairs Quiz based on the previous days Daily Current Affairs updates. Candidates preparing for IBPS, SBI, RBI, RRB, SSC Exam 2020 & other competitive exams can make use of these Current Affairs Quiz.
1) The Government has extended a period For Submission Of Life Certificate By Central Government Pensioners till which date?
A) 30th June, 2021
B) 31st Dec, 2020
C) 28th February 2021
D) 1st April 2021
E) 1st January 2021
2) Who among the following has launched the international version of UMANG App?
A) Nitin Gadkari
B) Hardeep Puri
C) Narendra Modi
D) Ravi Shankar Prasad
E) Harsh Vardhan
3) Education Minister Ramesh Pokhriyal 'Nishank has inaugurated _______ online ATAL Faculty Development Programmes.
A) 45
B) 40
C) 44
D) 42
E) 46
4) Who among the following has inaugurated the mobile COVID-19 RT-PCR Lab at ICMR in New Delhi?
A) Narendra Modi
B) Harsh Vardhan
C) Amit Shah
D) Arvind Kejriwal
E) Anurag Thakur
5) India along with the EU has held the ______ round of consultations on disarmament & non-proliferation matters.
A) 8th
B) 7th
C) 4th
D) 6th
E) 5th
6) The Government aims to replace which duty with custom duty to protect local manufacturers of solar equipment?
A) Basic customs duty
B) Safeguard duty
C) Solar duty
D) Electricity duty
E) Local duty
7) Which institution has laid down plans to deliver Covid-19 vaccine to 92 low-income countries?
A) IMF
B) World Bank
C) UNICEF
D) GAVI Alliance
E) WHO
8) The Asian Development Bank has approved a ______ million dollar loan to improve resource planning in West Bengal.
A) 70
B) 65
C) 60
D) 55
E) 50
9) South Indian Bank, Canara, Axis and Indian Bank have each purchased a ______percent stake in IBBIC.
A) 4.15
B) 5.25
C) 6.67
D) 6.25
E) 6.06
10) Which company has collaborated with Bank Muscat for digital payment services?
A) Snapdeal
B) Hike
C) Freecharge
D) Infibeam Avenues
E) Paytm
11) Comptroller and Auditor General of India has been elected as the external auditor of Inter-Parliamentary Union (IPU), Geneva for a ______ year term.
A) 5
B) 2
C) 6
D) 4
E) 3
12) Which company has partnered with Visa To Launch Co-branded Prepaid Cards With Credit Lines?
A) DHFL
B) Bajaj Finserv
C) StashFin Partners
D) Muthoot
E) India Bulls
13) Which Bank has rolled out the 'Mouth Shut' campaign against cyber frauds?
A) Bank of Baroda
B) Bank of India
C) ICICI
D) HDFC
E) SBI
14) Muthoot Finance has tied up with which company for gold jewellery insurance?
A) Religare
B) Bajaj Allianz
C) Aviva
D) Nippon
E) Max Bupa
15) The Odisha Assembly has recently passed the 'Odisha Essential Services (Maintenance) Amendment Bill-2020' to amend the existing act of _____to prohibit strikes by employees of essential services in the state.
A) 1994
B) 1993
C) 1992
D) 1991
E) 1988
16) Country's first moss garden will soon come up in which of the following states?
A) Rajasthan
B) Haryana
C) Uttarakhand
D) Madhya Pradesh
E) Chhattisgarh
17) The National Capital Region Transport Corporation has joined hands with which company to develop indigenous platform screen doors?
A) IOL
B) HPCL
C) BDL
D) GAIL
E) BEL
18) Who among the following has been honoured with Aditya Vikram Birla Kalashikhar Puraskar?
A) Paresh Rawal
B) Pankaj Tripathi
C) Naseeruddin Shah
D) Anil Kapoor
E) Shahrukh Khan
19) Who among the following has been elected as the President of Volleyball Federation of India?
A) Praveen Sharma
B) Suresh Singh
C) Anand Raj
D) Achyuta Samanta
E) Anil Chaudhry
20) Which company has been declared winner of ET Government Global Smart Cities Forum 2020 under the category Best Digital Initiative of the Year?
A) Delta
B) Quantela
C) Confex
D) Kohima Smart City Development Limited
E) Tata Power
21) Which Indian web series has won the International Emmy award for Best Drama Series?
A) Bandish Bandits
B) Delhi Crime
C) Aashram
D) Permanent Roommates
E) Mirzapur
22) Which of the following countries is hosting the 2020 APEC Summit?
A) Thailand
B) Vietnam
C) Malaysia
D) Japan
E) France
23) Shaik Khaja Hussain who passed away recently was an eminent ______.
A) Producer
B) Actor
C) Director
D) Cricketer
E) Poet
24) Which country will soon launch a moon probe, seeking the first lunar rock retrieval since the 1970s?
A) Japan
B) Russia
C) China
D) Germany
E) US
25) NASA, US has partnered with space agencies from _______ to Launch Mission to Monitor Global Ocean.
A) Germany
B) Russia
C) India
D) Europe
E) China
26) As per the Worldwide Cost of Living 2020, which city ranks on top along with Paris and Zurich?
A) Tashkent
B) Lusaka
C) Singapore
D) Osaka
E) Hong Kong
27) Indian Navy has recently received its _____ P-8I anti-submarine warfare aircraft as a part of the 1 billion deal with the US.
A) 5th
B) 6th
C) 9th
D) 8th
E) 7th
28) Which edition of the Indo-Thai Coordinated Patrol (CORPAT) is being conducted from 18 – 20 November 2020?
A) 34th
B) 30th
C) 31st
D) 32nd
E) 33rd
29) Which institution has developed  solar-powered unmanned survey craft for Indian ports?
A) IIT-Roorkee
B) IIT-Delhi
C) IIT-Madras
D) IIT-Guwahati
E) IIT-Bombay
30) Tarun Gogoi who passed away at 86 was the former Chief minister of which state?
A) Telangana
B) Bihar
C) Haryana
D) Chhattisgarh
E) Assam
Answers :
1) Answer: C
Government has extended the period for submission of Life Certificate by Central Government pensioners till 28th February next year.
Earlier, the government had extended the timeline for submission of Life Certificate from 1st of November to 31st of December, 2020.
According to the Ministry of Personnel, Public Grievances and Pension, the Department has been in receipt of numerous petitions from various Pensioners' Associations as well as individuals requesting a further extension in the date for submitting Life Certificate in view of the ongoing Covid-19 pandemic and vulnerability of elderly population to coronavirus.
The Ministry stated, after consultation with the office of Controller General of Accounts, it has now been decided to further extend the existing timeline for submission of Life Certificate.
2) Answer: D
To mark the occasion of 3 years of UMANG and 2000 plus services milestone, an online conference was organized under the chairmanship of  Minister for Electronics and Information Technology, Ravi Shankar Prasad.
On this occasion,  Mr Prasad launched UMANG's international version in coordination with the Ministry of External Affairs for select countries that include USA, UK, Canada, Australia, UAE, Netherlands, Singapore, Australia and New Zealand. It  will help Indian international students, NRIs and Indian tourists abroad, to avail Government of India services, anytime. It will also help in taking India to the world through 'Indian Culture' services available on UMANG and create interest amongst foreign tourists to visit India.
The international version of the UMANG App can be downloaded from Play Store of specific countries. The Union Minister also launched an e-Book which presents major milestones of UMANG and major services available on UMANG App classified into various categories. Mr Prasad also unveiled the newly instituted UMANG Awards for Partner Departments of Centre and States based on the highest number of transactions across services.
3) Answer: E
Education Minister Ramesh Pokhriyal 'Nishank' inaugurated 46 online AICTE Training and Learning (ATAL) Academy Faculty Development Programmes (FDPs) to train teachers of higher education institutions. The FDPs will be conducted in 22 Indian states. On the occasion, Mr Pokhriyal stated, in the year 2020-21, new thrust areas in the field of Engineering, Management, Life Skills, Design and Media have been incorporated.
The online Faculty Development Programmes  will be conducted according to the new National Education Policy -2020. The Education Minister also informed that the London-based organization has recognized the FDPs as a world record, under which 1,000 online FDPs in over 100 emerging areas will benefit one lakh faculty members across premier institutions like IITs, NITs, and IIITs. This year the online FDP programme will cost 10 crore rupees.
Professor Anil D Sahasrabuddhe, Chairman, All India Council of Technical Education (AICTE)  stated that Digital learning and the increasing use of smart devices such as computers, smart phones, and tablets have enhanced student learning.
4) Answer: C
Home Minister Amit Shah inaugurated a mobile COVID-19 RT-PCR Lab at the Indian Council of Medical Research (ICMR) in New Delhi. It has been jointly developed  by Spice Health and the ICMR.
This testing lab and more such labs which are planned to be set up will help in adding more capacity to COVID-19 testing.The lab is accredited by NABL and approved by the ICMR.
These tests will be free of cost for the people. This initiative is a step in making COVID-19 testing affordable and more accessible to the common person.
The test report would be available within 6 to 8 hours from the time of sample collection compared to the average 24 to 48 hours taken by similar test reports.
To begin with, the first testing facility has been set up in Delhi and more such testing facilities will come up in different parts of the National Capital over the coming days. It is planned to set up 10 labs in the first phase.
At the outset, each lab would be able to test up to 1,000 samples per day and testing would slowly be ramped up to 3,000 samples per day per lab.
5) Answer: D
India and the European Union held the sixth round of consultations on disarmament and non-proliferation matters in a virtual format.
The consultations involved exchanges on developments in the area of nuclear, chemical, biological disarmament and non-proliferation, conventional weapons, outer space security issues, export control regimes, strategic stability environment and other developments of mutual interest.
The consultations aim at enhancing mutual understanding and appreciation between India and the EU on international security issues.These are part of the broad dialogue architecture with the EU as a key strategic partner of India.
6) Answer: B
Minister of State for Power and New and Renewable Energy R K Singh has stated, India is going to replace the safeguard duty with the custom duty to protect the local manufacturers of solar equipment. He stated, some countries are dumping solar equipment at very low prices in our country to destroy local manufacturers.
Mr. Singh stated, India wants to expand its export base in the solar energy sector like wind energy wherein the country is not only self sufficient but also an exporter. He stated, India has the maximum growth and demand of renewable energy as per capita energy consumption is very low in the country.
Terming the PM-KUSUM scheme a second green revolution, Mr. Singh stated, this scheme will benefit the farmers by providing subsidy for setting up solar pumps and solar power generation capacity on their barren lands.
The Minister stated that the cost of solar power will come down in future with the increased efficiency of solar modules, cells and storage capacity. He stated, this will help the consumer to a great extent by providing cheap electricity.
7) Answer: C
The United Nations Children's Fund (UNICEF) has started collaborating with airlines, shipping lines, and freight operators, among other logistics, to deliver lifesaving coronavirus vaccine as quickly as possible, stated an official cited in Xinhua report.
The agency revealed that for the distribution, UNICEF is working with over 350 logistics partners from around the world to effectively deliver Covid-19 vaccines in more than 92 countries, as soon as doses are available.
With such collaborations, UNICEF aims to manage the purchase and delivery of vaccines in 92 low- and lower-middle-income economies.
UNICEF mentioned that since January, it has delivered over 190 million U.S. dollars' worth of COVID-19 supplies such as masks, gowns, oxygen concentrators, and diagnostic test kits to support countries as they respond to the pandemic.
8) Answer: E
The Asian Development Bank stated it has approved a USD 50 million loan to improve operational efficiencies and resource planning and management in West Bengal.
The loan will support the integration of financial and information systems and the expansion of automation reforms in the operations of the state government, which are expected to strengthen the delivery of public services and create fiscal savings, stated the Manila-based multilateral lending agency in a release.
The loan will be supplemented by a USD 350,000 technical assistance grant for capacity building, monitoring of IFMS (Integrated Financial Management System) reforms, and strengthening the integration of social and gender aspects in reform areas.
This programme supports the Government of India's objective of making public services more accessible through interoperable eGovernment platforms, ADB Senior Public Management Economist for South Asia Navendu Karan stated.
These programmes, according to the ADB, helped develop and implement an IFMS, established successful e-Governance systems for improved revenue administration, undertook measures for expenditure rationalisation, and promoted the private sector's involvement in service delivery.
9) Answer: C
Canara Bank, Axis Bank, Indian Bank and South Indian Bank have acquired 6.67% stake each in financial technology firm, IBBIC, at Rs 10 per equity share for a cash consideration of Rs 5 lakh each.
Canara Bank (down 0.27%), Axis Bank (down 1.54%), Indian Bank (up 0.40%) and South Indian Bank (up 4.56%) advanced.
Post investment, all the partners will hold 6.67% shareholding in IBBIC on a fully diluted basis through acquisition of 50,000 equity shares. The transaction is expected to be completed by the end of December 2020. The announcement was made after market hours on Friday, 20 November 2020.
IBBIC is proposed to be incorporated as a financial technology company with an objective of providing a platform for exploring, building and implementing Distributed Ledger Technology (DLT) solutions for the Indian financial services sector.
Additionally, the lenders stated the company registration application of IBBIC will be submitted to the Registrar of Companies, Mumbai by the end of this month.
10) Answer: D
E-commerce and online payments services provider Infibeam Avenues Limited announced its collaboration with Bank Muscat, Oman's biggest bank, to offer high-end payment gateway services to merchants in Oman.
The company has entered into definitive agreement with Bank Muscat, to offer its acquiring processor services to the bank.
Under the agreement, Infibeam Avenues, through its digital payment solution, CCAvenue Payment Gateway Service (CPGS), will process online card transactions of various payment networks for Bank Muscat and help the bank to authorise online payment for its merchants which intends to boost fast growing e-commerce sector in the region, a company statement stated.
The move further strengthens Infibeam's footprint in West Asia after CCAvenue's existing digital payment solution services in the UAE and Saudi Arabia.
Earlier, Infibeam Avenues had announced its tie-up with Bank Dhofar in Oman.
11) Answer: E
Comptroller and Auditor General of India has been elected as the external auditor of Inter-Parliamentary Union (IPU), Geneva for a three-year term. Girish Chandra Murmu, the 14th Comptroller and Auditor General of India will assume the charge from Supreme Audit Institution of Switzerland.
The election took place at the virtual meeting of the 284th session of the IPU which is a 179 countries Parliamentarians body, also having 13 associate members. The IPU has permanent observer status at the United Nations General Assembly.
The CAG of India has been the external auditor of various international organisations, the statement stated. The CAG of India has earlier also been on the UN Board of Auditors from 1993 to 1999 and 2014 to 2020. Presently, he is the external auditor of the World Health Organisation, Geneva and Food and Agriculture Organisation, Rome.
12) Answer: C
Singapore-based neobanking startup StashFin announced to have partnered with Visa with an aim to launch co-branded prepaid cards with credit lines and expand its digital banking footprint in existing and new geographies.
Founded in 2016, the StashFin Credit Line prepaid card powered by Visa claims to be a defined resolution for salaried and self-employed professionals.
With the festive season already in full swing, the partnership is stated to promise good news for customers who are on the lookout for festive shopping discounts, helping them to convert their purchases into easy equated monthly installments (EMIs) using their Credit Line card. The neobanking startup will be extending Visa's commercial offers available on the cards in order to enhance the product offerings to its users.
13) Answer: D
HDFC Bank has launched the 'Mouth Shut' campaign across Tamil Nadu to increase awareness about cyber frauds.
The bank plans to conduct Secure Banking workshops, numbering about a hundred across the State in the next four months.
The workshops have been planned in Chennai, Coimbatore, Madurai, Salem, Tiruchirappalli, Tirunelveli and Vellore among other cities in the State.
The campaign, initially launched to fight Covid-19, has now been extended to fight cyber frauds.
The campaign aims to sensitise people against sharing card details, CVV, OTP, Net and mobile banking login details and password and more.
14) Answer: B
Muthoot Finance has tied up with Bajaj Allianz General Insurance to provide insurance on gold jewellery as part of their new initiative, Muthoot Gold Shield, which is backed and powered by Group Affinity All Risk policy of Bajaj Allianz General Insurance.
The policy provides insurance coverage of gold jewellery for individuals. This is designed to provide insurance coverage of gold jewellery articles for customers of the company at the time of closure of gold loans and release of gold ornaments. It will provide insurance coverage to the customers of Muthoot Finance as a loyalty product.
The policy covers burglary, robbery, theft from insured person's homes, loss-in-transit and 13 other disasters (natural calamities). Muthoot Gold Shield is provided at a nominal premium, which is lower than industry average. Zero documentation is required and it takes less than 2 minutes to generate a policy, a release stated
15) Answer: E
Odisha Essential Services (Maintenance) Amendment Bill-2020 was passed by the state assembly.The bill seeks to amend the existing Act of 1988 to prohibit strikes by employees of essential services in the state.
expanding the ambit of essential services, the bill includes services like fire service, excise, forest, prison reforms, electronics and Information and Communication departments.
According to the provisions of the amended bill, persons resorting to or found instigating or funding illegal strikes may face imprisonment upto one year or a fine upto Rs. five thousand or both.
While the opposition alleged the amendment was an attempt to suppress the voice of workers, the government defended it as a move so that citizens are not deprived of essential services.
Trade unions too have opposed it as a ploy to divest the workers of their democratic right to protest.
16) Answer: C
The Uttarakhand forest department dedicated the newly-built Moss Garden to the people, claiming that it is the country's first such garden, spread over 10 hectares in Kumaon's Nainital district.
The moss garden, which took nearly a year to build, was inaugurated by Water Man of India Rajendra Singh.
Last year, the state forest department had approved research projects to study moss species, considered the most significant indicator of ecosystem fluctuations as they are more sensitive towards habitat and climate changes.
Of the 2,300 moss species found in India, 339 are found in Uttarakhand according to experts. Mosses are non-vascular plants that belong to the Bryophyta division. They are small flowerless plants that typically grow in damp and shady locations. They play a very important role in maintaining and developing the ecosystem and biodiversity including soil formation, water retention, checking erosion and acting as nutrient sink.
17) Answer: E
The National Capital Region Transport Corporation and Bharat Electronics Limited inked a memorandum of understanding on Saturday to develop indigenous platform screen doors, which act as a safety barrier between the passengers and tracks, under the self-reliant India scheme.
According to an official in the NCRTC, which is tasked to implement the country"s first regional rapid transit system (RRTS), platform screen doors (PSD) are currently imported and that the new move will give an impetus to "Atmanirbhar Bharat" (self-reliant India).
The official stated the NCRTC and the BEL would indigenously developed the PSD system for the upcoming bus rapid transit system (BRTS), mass rapid transit system (MRTS), RRTS and high-speed rail projects in India, as well as abroad.
18) Answer: C
Veteran actor Naseeruddin Shah has been honoured with the 2020 Aditya Vikram Birla Kalashikhar Puraskar at annual Sangit Kala Kendra Awards. Alongside, two emerging stars, in the firmament of theatrics – Neel Choudhary and Irawati Karnik were awarded the Aditya Vikram Birla Kalakiran Puraskars. "Theatre" is the central theme for this year's awards.
The Aditya Vikram Birla Kalashikhar and Kalakiran Puraskar awards, were instituted in 1996 by the Sangeet Kala Kendra (SKK), which was founded in 1973 by Aditya Vikram Birla (former Chairman of Aditya Birla Group), to honor excellence in theatre and performing arts.
19) Answer: D
Prof. Achyuta Samanta, MP Kandhamal and Founder, KIIT and KISS has been elected unopposed as the President of Volleyball Federation of India (VFI). He is the first person from Odisha to be elected for this highest and prestigious post. With this, Prof. Samanta has become entitled to be the member of the Olympics Association of India.
Raj Kumar of Punjab has been elected as Executive Vice President, while nine others were elected as Vice Presidents of VFI. Anil Choudhury of Rajasthan has been elected unopposed as Secretary General of VFI. The term of the newly-elected body is from 2020 to 2024. Prof. Samanta thanked the VFI for electing him as the President. He will try his best to take the federation to a new height, he stated.
20) Answer: D
In Nagaland, Kohima Smart City Development Limited, KSCDL has been declared Winner at the ET Government Global Smart Cities Forum 2020 under the category Best Digital Initiative of the Year (Technology) for Kohima City Wifi Phase-I Project.
CEO KSCDL, Mr. Kovi Meyase stated that the main objective is to provide internet access for the masses in public locations at a cheaper cost and instant access to data for emergency services with real-time s with better coverage for emergency services.
He stated, IT infrastructure will enable Internet of Things and establish a platform for smart city with innovative smart solutions such as pan-city fire emergency solutions, smart offices, entertainment, smart street lighting, smart Kiosks, smart traffic management and others with the aim to turn Kohima into a more tourist-friendly place.
21) Answer: B
Delhi Crime' has bagged a major win for Indian web series, winning the Best Drama Series award at the 48th International Emmys.This was the first-ever Emmy for an Indian program.
The seven-part Netflix series written and directed by Richie Mehta is based on the 2012 Delhi gang-rape and murder case. It stars Shefali Shah in the lead role along with Rajesh Tailang, Rasika Dugal, Adil Hussain, Vinod Sherawat, Mridul Sharma, Gopal Datt Tiwari, Gaurav Rana, Yashaswini Dayama, Jaya Bhattacharya, Anurag Arora and Sidharth Bhardwaj.
The 48th International Emmys were major for Indian web series with multiple nominations in various categories.
22) Answer: C
The 2020 Asia-Pacific Economic Cooperation (APEC) Economic Leaders' Meeting was held under the Chairmanship of Malaysian Prime Minister Tan Sri Muhyiddin Yassin. This was the first time that all 21 APEC Economic Leaders met virtually due to the ongoing COVID-19 pandemic. The APEC 2020 ended with the adoption of the APEC Putrajaya Vision 2040 and the 2020 Kuala Lumpur Declaration. The APEC Summit 2021 will be hosted by New Zealand. This is the second time Malaysia hosted an APEC meeting, having hosted one in 1998.
The theme of the APEC Malaysia 2020 was "Optimising Human Potential Towards a Resilient Future of Shared Prosperity: Pivot. Prioritise. Progress".
The APEC leaders' meeting was the first since 2018 after last year's host, Chile, canceled the annual summit due to violent domestic protests. APEC brings together Australia, Brunei, Canada, Chile, China, Hong Kong, Indonesia, Japan, South Korea, Malaysia, Mexico, New Zealand, Papua New Guinea, Peru, Philippines, Russia, Singapore, Taiwan, Thailand and the United States. New Zealand will also host next year's APEC meetings virtually due to the pandemic.
23) Answer: E
Noted Telugu poet, journalist, scriptwriter, and Kendra Sahitya Academy award winner Shaik Khaja Hussain, popularly known as Devi Priya, passed away. He was born in Tadikonda in Guntur district of Andhra Pradesh. He bagged the Sahitya Akademi Award 2017, for his book Gaali Rangu. His "Running Commentary" on contemporary politics in Udayam Telugu daily was very popular and thought-provoking.
Apart from penning poetry, he has also written several lyrics for Telugu movies. His song Jambhal Bhari Bhai penned for Maa Bhoomi was very popular among all. He authored several books including Gareebi Geetaalu, Amma Chettu Chepa Chiluka, and others. During his journalism stint, Devipriya was instrumental in making noted Telugu poet Sri Sri to write his autobiography.
24) Answer: C
China plans to launch an unmanned spacecraft to the moon this week to bring back lunar rocks in the first attempt by any nation to retrieve samples from Earth's natural satellite since the 1970s.
The Chang'e-5 probe, named after the ancient Chinese goddess of the moon, will seek to collect material that can help scientists understand more about the moon's origins and formation. The mission will test China's ability to remotely acquire samples from space, ahead of more complex missions.
If successful, the mission will make China only the third country to have retrieved lunar samples, following the United States and the Soviet Union decades ago.
Since the Soviet Union crash-landed the Luna 2 on the moon in 1959, the first human-made object to reach another celestial body, a handful of other countries including Japan and India have launched moon missions.
25) Answer: D
A joint U.S.-European satellite built to monitor global sea levels lifted off on a SpaceX Falcon 9 rocket from Space Launch Complex 4E at Vandenberg Air Force Base in California Saturday at 9:17 a.m. PST (12:17 p.m. EST).
About the size of a small pickup truck, Sentinel-6 Michael Freilich will extend a nearly 30-year continuous dataset on sea level collected by an ongoing collaboration of U.S. and European satellites while enhancing weather forecasts and providing detailed information on large-scale ocean currents to support ship navigation near coastlines.
After arriving in orbit, the spacecraft separated from the rocket's second stage and unfolded its twin sets of solar arrays. Ground controllers successfully acquired the satellite's signal, and initial telemetry reports showed the spacecraft in good health. Sentinel-6 Michael Freilich will now undergo a series of exhaustive checks and calibrations before it starts collecting science data in a few months' time.
26) Answer: E
The new edition of the Worldwide Cost of Living report shows how the Covid-19 pandemic has changed the cost of living in about 130 cities around the world since the start of 2020.
Just like last year, three cities share the top spot as the world's most expensive city to live in. Retaining its place at the top of the ranking, Hong Kong is now joined by Paris and Zurich. Both cities have overtaken Singapore and Osaka, which have dropped down to 4th and 5th ranks, respectively.
Damascus (Syria), Tashkent (Uzbekistan), Lusaka (Zambia) ranked the last three spots as the most cheapest cities in the list, which comprises 133 cities. The report took into account the price of 138 items, used every day for survival, and the falling or rising value of that country's currency due to Covid to rank the cities accordingly.
27) Answer: C
Indian Navy has got its ninth Boeing P-8I long-range maritime reconnaissance and anti-submarine warfare aircraft, part of the nearly $1 billion deal with the US for four additional planes signed in 2016. India, which had first signed a contract for eight such aircraft in 2009, is also negotiating a deal for six more P-8Is with the US under the government-to-government route. While the ninth aircraft was scheduled to be handed over to the Indian Navy in July this year, the Covid pandemic delayed plans. The remaining three are scheduled to be handed over to India in 2021. Incidentally, the aircraft, the latest of which landed at INS Hansa in Goa.
The aircraft is also being used by India in Ladakh for surveillance besides the Indian Ocean Region. It was deployed during the 2017 Doklam standoff as well. The Indian fleet of P-8I aircraft, a variant of the P-8A Poseidon aircraft that Boeing developed as a replacement for the US Navy's ageing P-3 fleet, has surpassed 25,000 flight hours since it was inducted in 2013. India had become the first international customer for the P-8 aircraft with the conclusion of the nearly $2.1 billion contracts on 1 January 2009 for a total of eight aircraft. India is also the second-biggest operator of the aircraft in the world.
28) Answer: B
The 30th edition of India-Thailand Coordinated Patrol (Indo-Thai CORPAT) between the Indian Navy and the Royal Thai Navy is being conducted from 18 – 20 November 2020. Indian Naval Ship (INS) Karmuk, an indigenously built Missile Corvette and His Majesty's Thailand Ship (HTMS) Kraburi, a Chao Phraya Class Frigate along with Dornier Maritime Patrol Aircraft from both the navies are participating in the CORPAT.
As part of Government of India's vision of SAGAR (Security AndGrowth for All in the Region), the Indian Navy has been involved in assisting countries in the Indian Ocean Region with EEZ Surveillance, Humanitarian Assistance and Disaster Relief (HADR), and other capacity building and capability-enhancement activities, on their request. India and Thailand have especially enjoyed a close and friendly relationship covering a wide spectrum of activities and interactions, which have strengthened over the years.
29) Answer: C
In a boost to the indigenisation of Indian maritime sector, researchers at IIT-Madras have developed a solar-powered Unmanned Autonomous Survey Craft for Indian ports and inland waterways to undertake autonomous hydrographic and oceanographic surveys and provide real-time data transmission over long distances.
This system could be equipped with an echo sounder, GPS System, and broadband communication technology, capable of delivering precise depth measurements. In addition to the echo sounder and GPS system, it is possible to add additional oceanographic payloads (current and velocity measurements) and 360-degree camera, LiDAR, for seamless topography and bathymetry measurements.
30) Answer: E
Former Assam chief minister Tarun Gogoi, who had been battling for his life with post-Covid complications in a hospital for weeks, died of multiple organ failure.
Born in 1934, Mr. Gogoi served as the Chief Minister of Assam from 2001 to 2016. He is the longest serving Chief Minister of the state. Prior to becoming Chief Minister, Tarun Gogoi served as Union Minister. He represented Jorhat and Kaliabor constituencies in Lok Sabha. Mr. Gogoi also served in various capacities in the Congress party.