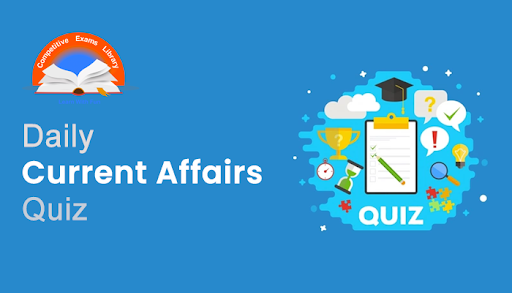 Dear Readers, Daily Current Affairs Questions Quiz for SBI, IBPS, RBI, RRB, SSC Exam 2020 of 25th November 2020. Daily GK quiz online for bank & competitive exam. Here we have given the Daily Current Affairs Quiz based on the previous days Daily Current Affairs updates. Candidates preparing for IBPS, SBI, RBI, RRB, SSC Exam 2020 & other competitive exams can make use of these Current Affairs Quiz.
1) Martyrdom Day of Guru Tegh Bahadur is being observed across the country. He was the ____ Guru of the Sikhs.
A) 7th
B) 6th
C) 9th
D) 8th
E) 5th
2) What is the theme of the National Pharmacy Week 2020?
A) Pharmacists in a covid world
B) The importance of Pharmacists
C) Pharmacists to the rescue
D) Pharmacists: Frontline Health Professionals
E) Pharmacists and Covid19
3) The Home Ministry has set ________ as the deadline for the NGOs registered to open an account at the specified branch of SBI.
A) June 30, 2021
B) February 28, 2021
C) January 1, 2021
D) April 1, 2021
E) March 31, 2021
4) The AAI is observing Aviation Safety Awareness Week 2020 from which of the following dates?
A) November 24
B) November 27
C) November 23
D) November 28
E) November 29
5) Who among the following will inaugurate the RE-INVEST 2020 on November 26?
A) Anurag Thakur
B) S.Jaishankar
C) Venkaiah Naidu
D) Narendra Modi
E) Ravi Shankar Prasad
6) International Day for the Elimination of Violence against Women is being observed on which date?
A) 20 November
B) 21 November
C) 22 November
D) 23 November
E) 25 November
7) The Agriculture Minister has unveiled _______ to impart training to primary cooperative societies in rural areas.
A) Sahakar Sahayata
B) Kisan Pragya
C) Kisan Sahakar
D) Sahakar Pragya
E) Kisan Vikas
8) The Government has approved ______ proposals of Food Processing Projects worth over Rs 234 crores.
A) 6
B) 7
C) 5
D) 8
E) 9
9) Which edition of the National Science Film Festival has recently been kicked off in virtual mode?
A) 5th
B) 9th
C) 10th
D) 12th
E) 11th
10) Who among the following headed the Expert panel to recommend 5 technologies for drinking water, sanitation?
A) Rajiv Kumar
B) Ramesh Chand
C) Amitabh Kant
D) K VijayRaghavan
E) Vinod Paul
11) ESIC has extended the  Atal Beemit Vyakti Kalyan Yojana scheme to which date?
A) May 1, 2021
B) January 1, 2021
C) February 28, 2021
D) April 30, 2021
E) June 30, 2021
12) NSDL Payments Bank has joined hands with which insurance company to offer Customized Insurance Solutions To Customers?
A) Religare
B) Nippon
C) HDFC Ergo
D) Max Bupa
E) Aviva
13) The government of which state has launched the 'Him Suraksha Abhiyan' to sensitize people about Covid-19 pandemic?
A) Assam
B) Chhattisgarh
C) Kerala
D) Himachal Pradesh
E) Haryana
14) India has announced the launch of Phase-IV of High Impact Community Development Projects in which country?
A) Mauritius
B) Sri Lanka
C) Nepal
D) Bangladesh
E) Afghanistan
15) The chief minister of which state has launched a WhatsApp helpline for women in distress?
A) Assam
B) Haryana
C) Goa
D) Karnataka
E) Kerala
16) First cow hospital in the Northeast has been inaugurated in which state?
A) Sikkim
B) Tripura
C) Mizoram
D) Assam
E) Nagaland
17) The Central government has blocked access to ______mobile apps based on the inputs regarding these apps for engaging in activities which are prejudicial to sovereignty and integrity.
A) 37
B) 43
C) 41
D) 40
E) 45
18) Who among the following has been appointed Executive Chairman of OneWeb?
A) Vinod Paul
B) Anand Mahindra
C) Sunil Mittal
D) Urijit Patel
E) HR Gandhi
19) Which of the following Tiger Reserve has received the global award for doubling tiger population?
A) Nagarhole
B) Satpura
C) Bandhavgarh
D) Pilibhit
E) Pench
20) Abhayam' app for the safety of women passengers has been launched in which state?
A) Punjab
B) Haryana
C) Uttar Pradesh
D) Kerala
E) Andhra Pradesh
21) Who among the following has been presented by the Doctor of Science Honorary Doctorate?
A) Udupi Ramachandra Rao
B) Krishnaswamy Kasturirangan
C) K. Sivan
D) AS Kiran Kumar
E) Madhavan Nair
22) Who among the following has overtaken Bill Gates to Grab World's Second-Richest Ranking?
A) Mark Zuckerberg
B) Larry Ellison
C) Warren Buffett
D) Elon Musk
E) Bernard Arnault
23) India has test-fired the land-attack version of BrahMos missile with the range now enhanced to _____kilometers.
A) 600
B) 550
C) 500
D) 450
E) 400
24) Who among the following recently released the book "The Battle of Belonging"?
A) Venkiah Naidu
B) Raghuram Rajan
C) Shashi Tharoor
D) S.Jaishankar
E) Urijit Patel
25) Ashish Roy who passed away due to kidney failure was an eminent _____.
A) Dancer
B) Singer
C) Producer
D) Actor
E) Writer
26) _____ Medicinal Plants Of Karnataka have recently been added to the IUCN's Endangered List.
A) 28
B) 23
C) 24
D) 25
E) 27
27) Research team from which institution have Developed a Space Optical Communication Using Light Beams?
A) IIT Roorkee
B) IIT Delhi
C) IIT Guwahati
D) IIT Madras
E) IIT Bombay
28) A Deep Depression over SouthWest Bay of Bengal has intensified into a cyclonic storm named _______.
A) Vayu
B) Gati
C) Amphan
D) Nisarg
E) Nivar
Answers :
1) Answer: C
Martyrdom Day of Guru Tegh Bahadur, the ninth Guru of Sikhs, is being observed across the country.
It was on this in 1675, Guru Tegh Bahadur sacrificed his life to protect religion, human values, ideals and principles.
The martyrdom of Guru Tegh Bahadur is remembered as Shaheedi Divas every year.
2) Answer: D
The 59th National Pharmacy Week (NPW) was celebrated throughout the country from November 16-22, 2020. The theme of the NPW 2020 is "Pharmacists: Frontline Health Professionals".
The Indian Pharmaceutical Association (IPA) organises NPW during the third week of November every year. The main aim this week is to make all stakeholders aware of the presence of pharmacists in the society and to know the role played by registered pharmacists with respect to medicines, their usage, handling and dispensing.
3) Answer: E
The Union Ministry of Home Affairs has relaxed the norms for the NGOs mandated to maintain FCRA account under the Foreign Contribution Regulation Act (FCRA) with the State Bank of India.
The MHA stated in its 5-page order that the FCRA account holder shall have complete freedom to transfer the foreign contribution received in their SBI FCRA Account to another FCRA Account.
The order further stated that the main SBI branch in New Delhi will not levy any charge or fees for such transfers. The bank will also be required to inform the FCRA account holder immediately about each such transfer through an email and SMS.
Key Highlights
The Home Ministry has set March 31, 2021 as the deadline for the NGOs registered to open an account at the specified branch of SBI.
The MHA order also stated that no inward remittance will be allowed in any account other than the FCRA account opened in SBI main branch in New Delhi from the date of opening the FCRA account or from March 31, 2021 whichever is earlier.
The Ministry has, however, allowed the NGOs to maintain their existing FCRA Accounts for keeping or utilization purposes.
4) Answer: C
Airports Authority of India (AAI) is observing Aviation Safety Awareness Week 2020 from 23 November to 27 November 2020. The week-long celebration is being observed at all airports and ANS locations managed by AAI across India.
The Ministry of Civil Aviation aims to achieve the long term objective of Zero fatality by the year 2030 as envisaged by ICAO in its Global Aviation Safety Plan (GASP-2020-22) through better managed safety systems of stakeholders.
5) Answer: D
Prime Minister Narendra Modi will inaugurate the virtual third Global Renewable Energy Investment Meeting and Expo (RE-Invest 2020).  The three days summit is organised by the Ministry of New and Renewable Energy.
The theme for RE-Invest 2020 is Innovations for Sustainable Energy Transition. It will feature a 3-day conference on renewables and future energy choices, and an exhibition of manufacturers, developers, investors and innovators.
It is expected to be attended by over 75 international Ministerial delegations, over 1000 global industry leaders, and 50,000 delegates.
It aims to accelerate the worldwide effort to scale up development and deployment of renewable energy and connect the global investment community with Indian energy stakeholders.
6) Answer: E
The UN Secretary-General's UNiTE to End Violence against Women campaign, a multi-year effort aimed at preventing and eliminating violence against women and girls, will focus on amplifying the call for global action to bridge funding gaps, ensure essential services for survivors of violence during the COVID-19 crisis, focus on prevention, and collection of data that can improve life-saving services for women and girls.
This year's theme for the International Day for the Elimination of Violence against Women is "Orange the World: Fund, Respond, Prevent, Collect!".
7) Answer: D
Agriculture Minister Narendra Singh Tomar unveiled Sahakar Pragya. The 45 new training modules of Sahakar Pragya of the National Cooperative Development Corporation (NCDC) will impart training to primary cooperative societies in rural areas of the country along with Lakshmanrao Inamdar National Cooperative Research and Development Academy.
On this occasion, Mr. Tomar called upon the cooperative sector to play a role in making the village-poor-farmers Atma Nirbhar. He stated, India boasts a huge network of over 8.50 lakh cooperative societies with about 290 million members and around 94 per cent of the farmers are members of at least one cooperative society.
The Agriculture Minister stated, NCDC has emerged as a financial powerhouse of giving the client cooperatives a wide range of products and services. So far, it has advanced loans to the tunes of 1.58 lakh crore rupees to cooperative societies of various categories across the country. He stated, Sahakar Pragya is the latest in the series of farmer focused steps by NCDC.
8) Answer: B
The government has approved seven proposals of Food Processing Projects worth over 234 crore rupees. It also includes  grants-in-aid of 60.87 crores rupees in Meghalaya, Gujarat, Madhya Pradesh, Karnataka, and Maharashtra.
Minister of Food Processing Industries Narendra Singh Tomar virtually chaired the Inter-Ministerial Approval Committee meeting yesterday.  Proposals received under the Scheme for Creation of Infrastructure for Agro-Processing Cluster of Pradhan Mantri Kisan Sampada Yojana were considered. Ministry of Food Processing Industries in a statement stated that these projects will leverage private investment of 173.81 crores rupees and are expected to generate employment for 7750 persons.
The scheme for Creation of Infrastructure for Agro-Processing Cluster was approved in 2017 under the Pradhan Mantri Kisan Sampada Yojana to incentivize the setting up of agro processing clusters in the country.  This scheme aims at development of modern infrastructure to encourage entrepreneurs to set up food processing units based on cluster approach.
9) Answer: C
Tenth edition of the prestigious science film festival got off in a virtual mode. VigyanPrasar, an autonomous agency under the Department of Science and Technology, Government of India, has been organizing the four-day long festival as a part of its science popularization endeavour. It offers a unique platform to showcase the science films made by professionals, amateur and student filmmakers under various themes.
A total of 115 shortlisted films selected by the ten-member jury will be screened during the festival. These include films in Hindi, English, Urdu, Malayalam, Kashmiri, Bengali, Marathi, Punjabi and Tamil languages.
10) Answer: D
A high-level multi-disciplinary technical panel in the Department of Drinking Water and Sanitation has recommended five technologies, three for safe drinking water and two for sanitation, an official statement stated.
According to the Jal Shakti Ministry, the committee focussed on application of science and technology for providing field-level solutions.
The technologies include Grundfos AQpure, a solar energy based water treatment plant based on ultra-filtration, Janajal Water on Wheel, an Internet of Things (IoT) based electric vehicle to deliver safe water to households and Presto Online Chlorinator, a non-electric online chlorinator for disinfection of water for removal of bacterial contamination.
The other two are Johkasou technology, an inbuilt packaged black (sewage) and grey water (kitchen and bath water) treatment system having advanced anaerobic-aerobic configuration that can be installed underground, while FBTec is a site assembled decentralised sewage treatment system using fixed filter media.
The panel was headed by K VijayRaghavan, the principal scientific adviser to the government, members from NITI Aayog, Department of Science and Technology, Department of Biotechnology, CSIR, DRDO, NEERI, IIT, National Institute of Ocean Technology, states.
11) Answer: E
ESI Corporation (ESIC) has announced the extension of the "Atal Beemit Vyakti Kalyan Yojana" (ABVKY) by another one year up to June 30, 2021and relaxed the eligibility conditions for the period between March 24, 2020 and December 31, 2020.
The Corporation had earlier introduced (on a pilot basis) a new cash benefit under ABVKY – effective from July 1, 2018 to June 30, 2020, to provide cash compensation to insured persons rendered jobless. This has been extended up to the end-June next year.
The original eligibility conditions of the ABVKY scheme would, however, hold good for those rendered unemployed on or before March 23, 2020 and on or after January 1, 2021.
12) Answer: C
HDFC ERGO General Insurance Company has tied up with NSDL Payments Bank Limited to offer a range of general insurance products to the bank's customers, a company statement stated. NSDL Payments Bank Limited is a subsidiary of National Securities Depository Ltd.
The partnership aims to bring together the deep distribution network of NSDL Payments Bank and the strong innovation pipeline of HDFC ERGO to contribute towards financial inclusion in the country, the statement stated.
Insurance penetration continues to be low in India, but the current pandemic has accelerated its need, especially of health insurance.
Also, customers will reap the benefits of sophisticated digital capabilities offered by NSDL Payments Bank and HDFC ERGO through self-service and assisted channels, thereby creating a one-stop-shop for all banking and financial services.
13) Answer: D
In Himachal Pradesh, the state government launched 'Him Suraksha Abhiyan' to sensitize the people regarding Covid-19 pandemic and also to collect information regarding symptoms of diseases like TB, Leprosy, sugar and blood pressure by door to door campaign throughout the State. This campaign is being launched from tomorrow and will continue till coming 27th December, across the State.
While launching the program in Shimla, Chief Minister Jairam Thakur stated that not only symptomatic patients with probable Covid-19 would be detected under this campaign but patients with other ailments would also be listed through the campaign. He urged the people of the State to provide wholehearted support to the health workers by providing them accurate information about their diseases and health parameters.
Under this Abhiyan about 8000 teams comprising Health, Ayurveda, Women and Child Development, Panchayati Raj Departments, District Administration and NGOs would be involved in this campaign. It would ensure door to door data collection of health parameters of the people.
14) Answer: E
India has announced the launch of Phase-IV of the High Impact Community Development Projects in Afghanistan. It envisages more than 100 projects worth  80 million dollars that India would undertake in Afghanistan. External Affairs Minister Dr S Jaishankar stated this during the  2020 Afghanistan Conference organized in Geneva through video- conference. The two day conference began and was co-hosted by the United Nations, the Government of Afghanistan, and the Government of Finland.
Dr Jaishankar also announced that India had just concluded with Afghanistan an agreement for the construction of the Shatoot dam, which would provide safe drinking water to two million residents of Kabul city. He stated, India had earlier built the 202-kilometer Phul-e-Khumri transmission line that provided electricity to Kabul city.
15) Answer: C
Goa Chief Minister Pramod Sawant launched a Whatsapp helpline for women in distress in the state here at Police Headquarters, Panaji.
He also insisted on circulating the helpline number to women at a larger scale through media, social media, railways stations, airport and other concerned government institutions so that helpline facilities reach women who are looking for help. Women helpline aims to provide all-time security and comfort for the womenfolk and achieve zero crime against women in the state.
As an additional measure of safety for women in distress, an exclusive Whatsapp helpline number 7875756177 is launched. This dedicated WhatsApp number will be functional round the clock at the State Police Control Room, Panaji to redress grievances of women in distress."
16) Answer: D
A cow shelter in Assam's Dibrugarh inaugurated Northeast's first-ever cow hospital, on the occasion of Gopashtami.
The hospital, Surbhi Aarogyashala, is set up by Shree Gopal Gaushala at a cost of Rs 17 lakh.The hospital will provide services in 30 km radius. There are 368 cows in the shelter.
17) Answer: B
Government blocked access to 43 mobile apps. This action was taken based on the inputs regarding these apps for engaging in activities which are prejudicial to sovereignty and integrity, defence, security of state and public order.
Ministry of Electronics and Information Technology has issued the order for blocking the access of these apps by users in India based on the comprehensive reports received from Indian Cyber Crime Coordination Center.
Earlier on 29th June Government had blocked access to 59 mobile apps and on 2nd September, 118 more apps were banned under section 69A of the Information Technology Act.
18) Answer: C
OneWeb, the Low Earth Orbit (LEO) broadband satellite communications firm, also announced new management with telecom czar Sunil Mittal at the helm as Executive Chairman.
The UK government and Bharti Global are the new owners of OneWeb. Bharti Global — an overseas arm of Bharti — operates out of London and has investments in telecom, technology, hospitality, transportation and energy.
"This is a telecom network in space," Mittal, Founder and Chairman of Bharti Enterprises told PTI while terming the constellation of LEO satellites as a "game-changer".
Mittal stated OneWeb is eyeing a full global coverage, including India market, by the middle of 2022.
OneWeb also announced the second half of December 2020 for its "Return-to-Flight", with a 36-satellite payload scheduled for launch by Arianespace from the Vostochny Cosmodrome.
Launches will continue throughout 2021 and 2022 and OneWeb is on track to begin commercial connectivity services to the UK and the Arctic region in late 2021 and will expand to delivering global services in 2022, the company stated.
19) Answer: D
The Pilibhit Tiger Reserve (PTR) and the Uttar Pradesh Forest department have bagged the first-ever international award, TX2, for doubling the number of tigers in four years against a target of 10 years.PTR was the first to receive the award among 13 tiger range countries.
It achieved this goal in just four years from 2014, when it had 25 tigers which went up to 65 in 2018.
The award was virtually presented to the principal chief conservator of forest (wildlife) of the state, Sunil Pandey, by UNDP's (United Nations Development Program) head of ecosystems and biodiversity, Mindori Paxton.
Pandey stated the global target of doubling the tiger population was set in 2010 by the partners in TX2 award — UNDP, Global Tiger Forum, International Union for Conservation of Nature, World Wide Fund for Nature, Conservation Assured/Tiger Standards and the Lion's Share.
20) Answer: E
Chief Minister Y.S. Jagan Mohan Reddy launched 'Abhayam' mobile phone application which helps women and children travelling in taxis and auto-rickshaws, to raise alarm in case of any emergency.
To start with, 1,000 auto-rickshaws equipped with Internet-of -Things (IoT)-enabled GPS devices will be rolled out in Visakhapatnam city. Five thousand vehicles will be brought on to the platform by February 1, 50,000 by July 1 and 1,00,000 by November 2021.
Launching the app, Mr. Reddy stated the Government accorded top priority to the safety of women and children and that Andhra Pradesh was the first State to bring out a legislation (Disha Bill) for security of women.
Disha police stations were set up and steps were taken for establishing special courts and posting dedicated public prosecutors to ensure speedy disposal of cases of attacks on women.
21) Answer: C
Karnataka Governor Vajubhai Vala presented Doctor of Science honorary doctorate upon ISRO Chairman K Sivan. The Visvesvaraya Technological University has conferred the doctorate to him.
The Governor highly praised the role of ISRO in defining our Space programme and the social role that it has played in the country.
22) Answer: D
Tesla co-founder Elon Musk is now the world's second richest person after he leapfrogged Microsoft billionaire Bill Gates, according to the Bloomberg Billionaire Index, which tracks the wealth of the world's 500 richest people.
The 49-year-old entrepreneur, who is also the co-founder of space exploration firm SpaceX, saw his net worth rise by $7.2 billion to $128 billion on Monday as Tesla shares surged days after the news that the electric car company will be admitted to the S&P 500 index in December.
Musk's net worth has risen by $100.3 billion in 2020, marking the largest increase among those on the Bloomberg Billionaire Index. In January, Musk ranked 35th.
Last week, Musk pushed Facebook CEO Mark Zuckerberg down into fourth position when he claimed the third spot.
The only person ahead of Musk now is Amazon boss Jeff Bezos, who took the top spot from Gates in 2017 and has stayed there since.
The move forces Gates down into third place, marking only the second time in the index's eight-year history that he hasn't been ranked in the top two. However, Gates's net worth of $127.7 billion would be considerably higher if it weren't for his philanthropic endeavors. Since 2006, he has given over $27 billion to the Bill and Melinda Gates Foundation.
23) Answer: E
India test-fired a land-attack version of the BrahMos supersonic cruise missile from the Andaman and Nicobar Islands,. "The target of the missile was on another island there. "The supersonic cruise missile was test fired and it successfully hit its target. The test was conducted by the Indian Army which has many regiments of the DRDO-developed Missile system. The strike range of BrahMos missile has now been enhanced to over 400 km.The BrahMos is a medium-range supersonic cruise missile which can be launched from submarines, ships, aircraft or land. It is the world's fastest supersonic cruise missile, as well as the fastest anti-ship cruise missile in operation. BrahMos-II, a hypersonic version of the missile, is also currently under development.
BrahMos Aerospace is a joint venture between DRDO and Russia's NPO Mashinostroyeniya and was established on February 12, 1998. Its name is a combination of India's Brahmaputra and Russia's Moskva rivers.
24) Answer: C
Shashi Tharoor's latest book "The Battle of Belonging" was formally launched at the Prabha Khaitan Foundation's signature event Kitab .This book is the culmination of a lifetime's thoughts, readings and arguments on issues of nationalism and patriotism which are not just theoretical or academic but intensely personal too. The book was prompted by the rise of a fundamental challenge to the very essence of Indian nationalism. The book offers one observer's note towards an understanding of nationalism in the world against specificity in India.
India's own anti-colonial nationalism converted itself into a 'civic nationalism' encoded in a democratic Constitution and then the conflict over contemporary attempts to convert that into a religious-cultural nationalism. That is the battle of belonging to India and having India belong to you. Those are the principal themes in the book.
25) Answer: D
Popular TV actor Ashiesh Roy passed away at his Mumbai residence. He was 55. Ashiesh had worked in several shows, including Kuch Rang Pyar Ke Aise Bhi, Sasural Simar Ka, Mere Angne Mein, Baa Bahu Aur Baby, Bymokesh Bakshi, and others.
Ashiesh was a popular dubbing artiste as well and has given voice to Hindi versions of The Dark Knight (Heath Ledger's Joker character), Superman Returns, Man of Steel and many others. The veteran actor was suffering from kidney ailment and was admitted to hospital early this year.
26) Answer: B
Around 23 rare medicinal plants in various forests of Karnataka are on the verge of extinction and listed as 'endangered' on the International Union for Conservation of Nature (IUCN) list.
The Karnataka Biodiversity Board and National Medicinal Plants Board (NMPB) conducted study has revealed that medicinal plants like sandalwood, wild clove, red sanders, wild Jamun, wild cinnamon and other species endemic to the Western Ghats have turned endangered on the IUCN list.
The study spanning for five years by forest officials, botanists and field experts helped document more than 4,800 flowering plant species in various circles of the forests. Out of these, 60 rare species are medicinally prominent, including the 23 endangered species.
Highlighting the importance of these species, a detailed report was released by the State Biodiversity Board in Bengaluru. The board with the help of the state forest department is chalking out plans to safeguard the endangered species based on the findings of the report.
27) Answer: C
A research team led by the Indian Institute of Technology Guwahati (IIT Guwahati) has developed a free-space optical communication system for information transfer. In free-space communication, an IIT Guwahati statement says, data in the form of voice, text or image is transmitted using light wirelessly rather than through optical fibres and it represents the next generation of communications technology.
The research team has demonstrated the distortion-free transmission of text messages and images over a distance of one kilometre even in the presence of turbulence during stormy weather. The communication system can be used for high speed and secured communication between two individuals located either inside a building or outside.
28) Answer: E
The MET Department in Chennai says the Cyclone Nivar is moving north westwards at a speed of 5-km per hour for the past six hours. It currently lies 450 km south east of Chennai and 410 km south east of Puducherry. It is very likely to intensify into a severe cyclonic storm in the next 24-hours.
The Deep Depression over the South West Bay of Bengal has intensified into the Cyclonic Storm "Nivar," on 24 November 2020.
The cyclone is currently located 410 km east-southeast of Puducherry and 450 km southeast of Chennai.
As per the India Meteorological Department, Cyclone Nivar is very likely to intensify into a severe cyclonic storm in the next 24-hours.
The storm shall cross Tamil Nadu and Puducherry coasts between Karaikal and Mamallapuram around Puducherry on November 25 evening.