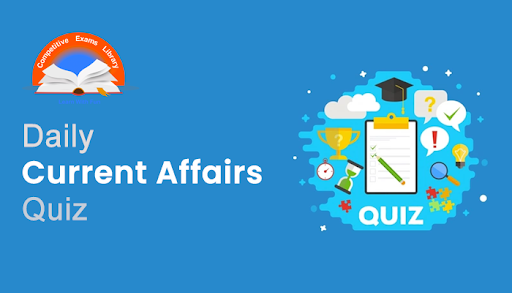 Dear Readers, Daily Current Affairs Questions Quiz for SBI, IBPS, RBI, RRB, SSC Exam 2020 of 26th November 2020. Daily GK quiz online for bank & competitive exam. Here we have given the Daily Current Affairs Quiz based on the previous days Daily Current Affairs updates. Candidates preparing for IBPS, SBI, RBI, RRB, SSC Exam 2020 & other competitive exams can make use of these Current Affairs Quiz.
1) Constitution Day is celebrated across the country on which of the following dates?
A) November 22
B) November 23
C) November 26
D) November 27
E) November 28
2) Who among the following has chaired the 33rd PRAGATI interaction?
A) Nitin Gadkari
B) Prahlad Patel
C) Amit Shah
D) Narendra Modi
E) Venkiah Naidu
3) The Cabinet has approved infusion of ______ crore rupees in the National Investment and Infrastructure Fund.
A) 7000
B) 5500
C) 5000
D) 6500
E) 6000
4) The Communications ministry has stated that all fixed to mobile calls to be dialed with prefix _____ from January 15.
A) 5
B) 3
C) 0
D) 1
E) 2
5) NITI Aayog has formed a Panel To Study Feasibility Of Hyperloop Tech In India. It will be headed by whom among the following?
A) Sudhendhu Jha
B) VK Yadav
C) Vinod Paul
D) VK Saraswat
E) Ramesh Chand
6) National Milk Day is observed on which date to mark the birthday of Dr Verghese Kurien?
A) November 21
B) November 26
C) November 27
D) November 28
E) November 29
7) Cabinet minister Narendra Singh Tomar has virtually inaugurated the Phagwara mega food park in which state?
A) Telangana
B) Chhattisgarh
C) Punjab
D) Haryana
E) Madhya Pradesh
8) Which bank has ties-up with PNB MetLife to extend Pradhan Mantri Jeevan Jyoti Bima Yojana (PMJJBY) Insurance?
A) HDFC
B) ICICI
C) Axis
D) IPPB
E) SBI
9) HDFC Life has partnered with which company to provide complete cover against Covid -19?
A) Nippon
B) Religare
C) Max Bupa
D) Bajaj Allianz
E) HDFC Ergo
10) The government of which state has passed an ordinance to ban unlawful religious conversions for marriage?
A) Madhya Pradesh
B) Kerala
C) Uttar Pradesh
D) Haryana
E) Punjab
11) Which college from Bengaluru has been named after Atal Bihari Vajpayee?
A) AIMS Institute
B) Indus Business Academy
C) LN Welingkar
D) Bowring and Lady Curzon Medical College and Research Institute
E) IFM Business School
12) Which of the following airports will be renamed as Maryada Purushottam Sri Ram Airport?
A) Lucknow
B) Ayodhya
C) Bengaluru
D) Hyderabad
E) Pune
13) Diego Maradona Who Died due to a heart attack was an eminent _____ player.
A) Hockey
B) Badminton
C) Cricket
D) Tennis
E) Football
14) The UN has released ______ million for women-led projects fighting gender-based violence.
A) 45
B) 40
C) 25
D) 30
E) 35
15) The Sports Council of which state/ UT has inked an MOU with Cricketer Suresh Raina's Cricket Academy to develop budding Cricketers?
A) Chhattisgarh
B) Madhya Pradesh
C) Uttar Pradesh
D) J&K
E) Haryana
16) Who among the following has been elected as Bihar Assembly Speaker?
A) Manish Singh
B) Awadh Chouhdhary
C) Ravi Mishra
D) Sunil Yadav
E) Vijay Kumar Sinha
17) Who among the following has been elected as new chairman of the International Cricket Council?
A) Neeraj Singh
B) Suresh Chandran
C) Greg Barclay
D) Shashank Manohar
E) Imran Khwaja
18) Who among the following has been appointed as chairman of Tata Chemicals?
A) Vibha Paul Rishi
B) Bhaskar Bhat
C) KBS Anand
D) N. Chandrashekaran
E) Vijay Kumar Sinha
19) Ahmed Patel who died at 71 after Battling Covid was veteran leader belonging to which political party?
A) JDU
B) Congress
C) BJP
D) BJD
E) RJD
20) Which of the following has been named as Cambridge Dictionary's Word of the Year 2020?
A) Emergency
B) Prevention
C) Quarantine
D) Disease
E) Healthcare
21) Which bank has joined hands with ICCI to support SMEs and start-ups?
A) Bandhan
B) IPPB
C) Axis
D) SBI
E) HDFC
22) Who among the following will release the Book On Life And Ideals Of Guru Nanak Dev?
A) Venkiah Naidu
B) Suresh Prabhu
C) Narendra Modi
D) Prahlad Patel
E) Nitin Gadkari
23) G. Satheesh Reddy has flagged off the first Varunastra, a heavy weight torpedo from which unit of BDL?
A) Kandla
B) Marmagoa
C) Chennai
D) Visakhapatnam
E) Kandla
24) Ministry of Youth Affairs and Sports has granted the annual recognition to Archery Association of India as a National Sports Federation (NSF) after ______ years.
A) 9
B) 6
C) 7
D) 8
E) 5
25) Kalbe Sadiq who died at 83 was an eminent ______.
A) Director
B) Actor
C) Scholar
D) Cricketer
E) Hockey player
Answers :
1) Answer: C
Constitution Day is being celebrated  across the country to mark the adoption of the Indian Constitution by the Constituent Assembly. The day is also known as National Law Day and commemorates the adoption of the Constitution in India. On 26th November in 1949, the Constituent Assembly of the country formally adopted the Constitution of India which came into force on 26th January 1950.
The constituent assembly took two years, eleven months and seventeen days to accomplish the stupendous task of drafting the historic document. It had many members who fought for the freedom of the country and came from different regions, religions, communities reflecting the country's diversity.
2) Answer: D
Prime Minister Narendra Modi chaired the PRAGATI meeting. It marked Prime Minister's thirty-third interaction through PRAGATI – the ICT based multi-modal platform for Pro-Active Governance and Timely Implementation, involving Central and State governments.
During the meeting, multiple projects, grievances and programmes were reviewed. The projects taken up were of the Ministry of Railways, MORTH, DPIIT and Power Ministry. These projects, with a total cost of 1.41 lakh crore rupees, were related to ten states and union territories, including Odisha, Maharashtra, Karnataka, Uttar Pradesh, Jammu & Kashmir, Gujarat, Haryana, Madhya Pradesh, Rajasthan and Dadra and Nagar Haveli.
3) Answer: E
Union Cabinet has approved equity infusion by Government of  6000 crore rupees in NIIF Debt Platform sponsored by National Investment and Infrastructure Fund, comprising Aseem Infrastructure Finance Limited and NIIF Infrastructure Finance Limited. This was one of the twelve key measures made by the Finance Minister as part of Government's stimulus to the economy, under Atma Nirbhar Bharat 3.0 on 12th November.
NIIF Infrastructure Debt Financing Platform is expected to contribute nearly one lakh crore rupees in debt to the infrastructure sector over the next five years. This will act as a catalyst in attracting more investments into the infrastructure sector as envisaged in the National Infrastructure Pipeline.
4) Answer: C
Communications Ministry has stated all Fixed to Mobile calls will be dialed with prefix '0' from 15th January next year. There will be no change in dialing plan from fixed to fixed, mobile to fixed and mobile to mobile calls. The Department of Telecommunications has taken the decision of implementing this with the consideration of TRAI Recommendation on "Ensuring Adequate Numbering Resources for Fixed Line and Mobile Services".
Suitable announcement will be made for the same. This announcement shall be played whenever a subscriber dials a fixed to mobile call without prefixing '0'. All fixed line subscribers will be provided with '0' dialing facility.
A total of approximately 2539 million numbering series is expected to be generated from this. This will free up sufficient numbering resources for future use. With the freeing up of sufficient numbering resources, more number of connections can be added in future which will be beneficial to the mobile customers at large.
The changes have been done in order to have minimum inconvenience to the subscribers and freeing up essential numbering resources.
5) Answer: D
Government think-tank NITI Aayog has formed a high-level panel to explore the technological and commercial viability of the Virgin Hyperloop technology for ultrahigh speed travel in India, weeks after its first test was completed with humans on board.
The Virgin Hyperloop test run was conducted on a 500-meter track in Las Vegas in the USA with a pod, as the hyperloop vehicles are called, travelling with passengers, including an Indian, inside an enclosed tube at more than 100 mph or 161 kmph.
The committee has NITI Aayog member VK Saraswat as its Chairman and Adviser (Infrastructure Connectivity, Niti Aayog) Sudhendu Jyoti Sinha as its convener.
Its other members are Railway Board Chairman & CEO VK Yadav, the secretaries of the ministries of Housing and Urban Affairs, Road Transport and Highways, and the Maharashtra government's Transport Secretary.
6) Answer: B
National Milk Day is celebrated across the country on November 26 every year on the birthday of Dr Verghese Kurien. This day marks the birth anniversary of Verghese Kurien, the Father of White Revolution in India. India is celebrating the 98th birth anniversary of Dr Kurien this year.
National Milk Day was established in 2014 by the Food and Agriculture Organisation to commemorate Dr. Verghese Kurien, who is considered the father of India's White Revolution.
7) Answer: C
Union Food Processing Industries Minister Narendra Singh Tomar virtually inaugurated the Rs 107.83 crore mega food park at Phagwara in Kapurthala district of Punjab which is likely to generate 5,000 jobs.
The mega food park, spread over 55 acres of land that will benefit 25,000 farmers, is equipped with warehouses in 3,944 square meter, silos with 20,000 tonne capacity, cold storage with 3,000 tonne capacity as well as individually quick-frozen and deep freezer units and other facilities.
So far, 37 mega food parks have been sanctioned across the country, of which 20 have started functioning.
Highlighting measures taken to boost the farm sector, Tomar stated MSP has been increased and a new scheme has been started to establish 10,000 new farmer producers organizations (FPOs) across the country. Besides, a Rs 10,000 crore fund has been created for the promotion of the food processing sector.
8) Answer: D
India Post Payments bank (IPPB) has tied-up with PNB MetLife India Insurance, for its customers availing the Pradhan Mantri Jeevan Jyoti Bima Yojana (PMJJBY). The government backed low cost life insurance scheme, available since 2015, provides protection and financial security to the poor and underprivileged.
The PPMJJBY, which seeks to bring sections of the both the underserved and unserved population into the financial mainstream, is available for all individuals holding a savings account with IPPB. The renewable coverage of one year, will have an entry age of 18 years and a maximum of 50 years, whilst maximum maturity age for the scheme would be 55 years. The scheme ensures a maximum coverage of Rs 2 lakh per life, at a premium of Rs 330 payable on an annual basis.
9) Answer: E
HDFC Life Insurance and HDFC Ergo Health Insurance have partnered to launch a combi product that aims to provide a complete financial protection package in the current Covid-19 pandemic.
Called Click 2 Protect Corona Kavach, the policy will provide all the benefits and features of Click 2 Protect 3D Plus and Corona Kavach.
"An individual can choose from the available options provided by HDFC Life's Click 2 Protect 3D Plus, including premium waiver for accidental total permanent disability or on diagnosis of critical illness and can also avail of a Covid-19 health cover that includes ambulance charges, home care treatment charges, pre and post hospitalisation charges if diagnosed with Covid-19," HDFC Life Insurance stated.
10) Answer: C
The Uttar Pradesh government has passed an ordinance to ban unlawful religious conversions for marriage. Unlawful conversion for the sake of getting married through force, deceit, undue pressure or by way of alluring into marriage will come into the category of non-bailable offence and can lead to imprisonment of a maximum of 10 years and penalty of 50 thousand rupees.
The  Prohibition of Unlawful Religious Conversion Ordinance, 2020, recommends 1-5 years imprisonment if an accused fails to prove that the conversion of the woman was not for marriage or by use of force, deceit and allurement. The jail sentence for the offence would be 3-10 years if the woman is from the Scheduled cast, Scheduled Tribe community or is seen as part of mass conversion.
11) Answer: D
The Bowring and Lady Curzon Medical College and Research Institute in Bengaluru has been named after former Prime Minister Atal Bihari Vajpayee.
The institute was set up in 2018-19 on the campus of Bowring and Lady Curzon Hospital in Shivajinagar in the heart of Bengaluru.
Born on December 25, 1924, in Madhya Pradesh's Gwalior, Vajpayee was the first leader from the Bharatiya Janata Party to become the Prime Minister. He served as Prime Minister thrice — briefly in 1996, from 1998 to 1999, and then for a full five-year term between 1999 and 2004. Among his several portfolios, Vajpayee had also served as External Affairs Minister during PM Morarji Desai's tenure during 1977 and 1979.
12) Answer: B
Uttar Pradesh Cabinet led by Chief Minister Yogi Adityanath has cleared the proposal to rename the Ayodhya airport as Maryada Purushottam Sri Ram Airport, Ayodhya. The  Uttar Pradesh Government stated that the state cabinet had cleared the proposal to name the airport in Ayodhya as Maryada Purshottam Shriram Airport, Ayodhya.
This decision was taken to bring this proposal for passage in the UP Legislative Assembly, and send it to the Union Civil Aviation Ministry.
13) Answer: E
Diego Maradona, one of the greatest footballers of all time, died at the age of 60, plunging his sport and his native Argentina. Renowned along with Pele as one of the greatest players ever to play the game, the Argentine World Cup-winning captain died of a heart attack, having undergone brain surgery earlier this month, a member of his entourage told AFP.
Maradona will forever be known for his "Hand of God" goal against England in the 1986 World Cup quarter-final in Mexico, when he appeared to use his hand to push the ball into the net before later swerving through the English defenders for a memorable second goal that sealed victory.
14) Answer: C
The United Nations humanitarian chief has released 25 million US dollars from its emergency fund to support women-led organisations that prevent and respond to gender-based violence.
The funding has gone to the United Nations Population Fund (UNFPA) and UN Women that have been asked to channel at least 30 per cent of it to organisations run by women that prevent violence against women and girls, and help victims and survivors with access to medical care, family planning, legal advice, safe spaces, mental health services and counselling, UN Office for the Coordination of Humanitarian Affairs stated .
UNFPA will receive 17 million dollars and 8 million dollars will go to UN Women. They will now decide where and how the money will be spent, stated.
The funding comes from the UN Central Emergency Response Fund, an emergency fund that offers one of the fastest and most effective ways to help people affected by crises. Since it was established in 2005, the fund has provided close to 7 billion dollars for life-saving humanitarian action that has helped hundreds of millions of people across more than 100 countries and territories.
15) Answer: D
In the Union Territory of Jammu and Kashmir, the Jammu and Kashmir Sports Council enters into an MOU with Cricketer Suresh Raina's Cricket Academy to develop budding Cricketers in the Union Territory.
On the occasion, LG Manoj Sinha, Chief Secretary BVR Subrahmanyam, Principal Secretary to LG Nitishwar Kumar, Secretary Sports, Sarmad Hafeez, Secretary J&K Sports Council Naseem Choudhary and Cricketer Suresh Raina were present.
The LG observed that the MoU will provide an opportunity to budding cricketers to hone their skills & to showcase their talent in various levels of national & international competitive tournaments.
16) Answer: E
Senior BJP leader and NDA nominee Vijay Kumar Sinha was elected as the new speaker of Bihar Assembly. Protem Speaker Jitan Ram Manjhi announced the election result of Assembly speaker. Mr Manjhi stated Vijay Kumar Sinha got 126 votes while Grand Alliance candidate Awadh Bihari Choudhary got 114 votes.
Newly elected Assembly Speaker Vijay Kumar Sinha  is a four time MLA from Lakhisarai constituency. In the previous Nitish Kumar led government, Mr Sinha was Labour Minister.
17) Answer: C
New Zealand's Greg Barclay has been elected as the new independent chairman of the International Cricket Council (ICC). The head of the New Zealand Cricket team, NZC, Barclay beat Imran Khwaja in the second round of voting. Imran was interim chairman after Shashank Manohar stepped down from the post in July this year. Barclay is the second independent chairman of the world body, after Shashank Manohar of India.
A commercial lawyer by trade, Barclay has served as a director of NZC since 2012. He was a director of 2015 Men's World Cup, held in Australia and New Zealand. He is also an experienced company director holding board positions with various New Zealand and Australian companies.
18) Answer: D
Chandrasekaran also chairs the boards of several group operating companies, including Tata Steel, Tata Motors, Tata Power, and TCS.
The Tata Group company has appointed N. Chandrasekaran as an additional director and chairman of the board of directors of the company effective 24 November 2020.
Chandrasekaran, 57 years, is the chairman of the board at Tata Sons, promoter of the company. Chandrasekaran joined the board of Tata Sons in October 2016 and was appointed chairman in January 2017. He also chairs the boards of several group operating companies, including Tata Steel, Tata Motors, Tata Power, and Tata Consultancy Services (TCS) – of which he was chief executive from 2009-17.
Further, Bhaskar Bhat has resigned as the director of the company, effective 24 November 2020.
19) Answer: B
Senior Congress leader Ahmed Patel, who was the political secretary to Congress President Sonia Gandhi, has passed away, after testing positive for Covid-19. He was 71.
Patel has represented Gujarat for eight terms in the Parliament of India, from 1977 to 2020, which included three times in the lower house or Lok Sabha and five times in the upper House or Rajya Sabha.
He was also the treasurer of the All India Congress Committee.
20) Answer: C
Cambridge Dictionary has named 'quarantine' as Word of the Year 2020. The word has been named the word of the year based on data that showed that it was one of the most highly searched words on the Cambridge Dictionary this year.
"Quarantine was the only word to rank in the top five for both search spikes and overall views (more than 183,000 by early November), with the largest spike in searches (28,545) seen in the week of March 18-24 , when many countries around the world went into lockdown as a result of Covid-19," as per an official release.
Cambridge editors have noticed that people are using the word in a new way this year describing a "general period of time in which people are not allowed to leave their homes or travel freely, so that they do not catch or spread a disease."
"Research shows the word is being used synonymously with lockdown, particularly in the United States, to refer to a situation in which people stay home to avoid catching the disease," it stated.This new sense of quarantine has now been added to the Cambridge Dictionary.
21) Answer: E
ICCI will evaluate and recommend potential start-ups /SMEs /MSMEs for investments
ICCI (Inventivepreneur Chamber of Commerce and Industries), in its endeavour to support SMEs (small and medium enterprises) and start-ups, has signed an MoU with HDFC Bank.
According to the official release, through this association, ICCI will engage, enroll, and support various start-ups /SMEs /MSMEs to facilitate inter-alia financial and other facilities to/from HDFC Bank.
HDFC Bank may offer bank accounts to start-ups that are supported and recommended by ICCI.
In the joint statement, the organisations mentioned that ICCI will evaluate and recommend potential start-ups ,SMEs ,MSMEs for investments. ICCI will further support businesses to pitch their solutions to requisite stakeholders, and will work towards providing them an opportunity to showcase their solutions.
22) Answer: C
Prime Minister Narendra Modi released a book on the life and ideals of Guru Nanak Dev, the founder of Sikhism and first of its ten gurus. PM Modi posted a picture of him releasing the book and noted that the book has been penned by Kirpal Singh, who is based in Chandigarh.
23) Answer: D
G.Satheesh Reddy, Secretary, Department of Defence R&D and Chairman, DRDO flagged off the first Varunastra, the heavyweight torpedo that was delivered to the Indian Navy at a ceremony held at BDL, Visakhapatnam Unit.
He later laid the foundation stone for setting up of a state-of-the-art central store at BDL, Visakhapatnam Unit.
Varunastra, the heavyweight torpedo, has been designed and developed by NSTL, Visakhapatnam. BDL, being the production agency, is manufacturing Varunastra at its Visakhapatnam Unit for the Indian Navy. This product is also being offered for export, according to a BDL statement.
BDL is associated with DRDO for its various missile programmes and it is the production agency for Quick Reaction Surface to Air Missile (QRSAM), for which trials were conducted successfully recently. BDL is also the production agency for Astra Air- to- Air Missile System and has commenced manufacturing of these missiles. These missile systems are developed indigenously by the DRDO for the Indian Air Force.
24) Answer: D
Ministry of Youth Affairs and Sports has granted the annual recognition to Archery Association of India as a National Sports Federation (NSF), validating its elections held for new office-bearers earlier this year. AAI's recognition was withdrawn by the ministry on December 7, 2012 on account of its failure to conduct elections in accordance with the sports code despite the directions of the High Court.
This comes after AAI's independent elections and revocation of suspension by the World Archery and Indian Olympic Association. The recognition will be valid for one year. AAI president Arjun Munda welcomed the decision and stated that it will start a new chapter in Indian archery.
25) Answer: C
Prominent Islamic scholar, reformer, educationalist and vice-president of All India Muslim Personal Law Board (AIMPLB) Maulana Kalbe Sadiq, 83.
Sadiq was born in Lucknow and was known for his lectures, mostly during Muharram.His father Kalbe Hussain was an Islamic scholar and orator and his brother Kalbe Abid was also an Islamic scholar.