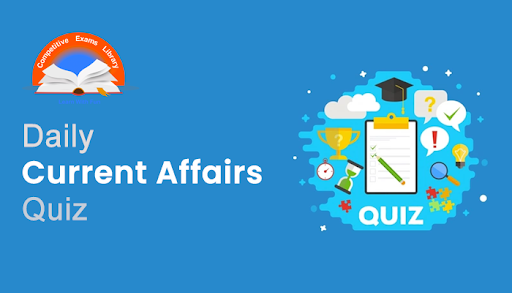 Dear Readers, Daily Current Affairs Questions Quiz for SBI, IBPS, RBI, RRB, SSC Exam 2020 of 30th December 2020. Daily GK quiz online for bank & competitive exam. Here we have given the Daily Current Affairs Quiz based on the previous days Daily Current Affairs updates. Candidates preparing for IBPS, SBI, RBI, RRB, SSC Exam 2020 & other competitive exams can make use of these Current Affairs Quiz.
1) PM Modi has dedicated to the nation the section of Eastern Dedicated Freight Corridor in which state?
A) Tamil Nadu
B) Chhattisgarh
C) Uttar Pradesh
D) Haryana
E) Madhya Pradesh
2) President Ram NathKovind will be on a four day visit which of the following UT from December 25 to 28?
A) Andaman and Nicobar Islands
B) Ladakh
C) Puducherry
D) Diu
E) Chandigarh
3) The government has approved _____ crore matric scholarship scheme for over four crore SC students for the next five years.
A) 35,000
B) 45,750
C) 52,500
D) 55,000
E) 59,048
4) Who among the following has reviewed the progress of the upcoming Dedicated Freight Corridor?
A) Nitin Gadkari
B) Venkiah Naidu
C) Prahlad Patel
D) Piyush Goyal
E) Narendra Modi
5) Who among the following has launched the Ocean Data Management 'Digital Ocean' developed by INCOIS?
A) Anurag Thakur
B) Nitin Gadkari
C) Harsh Vardhan
D) Narendra Modi
E) Prahlad Patel
6) Which country's first commercial extraction of oil has begun in Gulf of Thailand?
A) Singapore
B) Cambodia
C) Myanmar
D) Thailand
E) Vietnam
7) 21-yr-old AryaRajendran of which state has been selected as Thiruvananthapuram Mayor?
A) Andhra Pradesh
B) Telangana
C) Tamil Nadu
D) Karnataka
E) Kerala
8) Who among the following has released a report on Action Agenda for an AtmaNirbhar Bharat?
A) Prahlad Patel
B) Venkiah Naidu
C) Harsh Vardhan
D) Anurag Thakur
E) Narendra Modi
9) Union Health Minister Launched India's first indigenous pneumonia vaccine, developed by which organization?
A) Covaxin
B) Ranbaxy
C) Pfizer
D) SII
E) Cipla
10) Indian Railways has launched _______ and a mobile application for downloading a Unique medical identity card. 
A) Porter Management Information System
B) Passenger Management Information System
C) Hospital Management Information System
D) Information Management Information System
E) Reception Management Information System
11) S Jaishankar is on a 2 Day visit to which country?
A) UAE
B) Lebanon
C) Oman
D) Qatar
E) Saudi Arabia
12) Who among the following will head the up panel to work out common entrance test for UG Admission?
A) Rajesh Jhamb
B) Sukriti Gupta
C) ArtiMisra
D) Swadheen Singh
E) RP Tiwari
13) Which of the following UT will get its own Meteorological Centre?
A) Andaman & Nicobar Island
B) Delhi
C) Puducherry
D) Ladakh
E) Diu
14) Which state government has announced its new Solar Power Policy-2021?
A) Uttar Pradesh
B) Gujarat
C) Madhya Pradesh
D) Haryana
E) Bihar
15) PM Modi has laid the foundation stone of AIIMS in which state recently?
A) Haryana
B) Uttar Pradesh
C) Gujarat
D) Kerala
E) Karnataka
16) Students of which state who studied in government schools will get quota for admission into medical & engineering colleges?
A) Kerala
B) Madhya Pradesh
C) Uttar Pradesh
D) Odisha
E) Haryana
17) The government of which state has set up a new building of AtalBihari Vajpayee Institute in PPP mode?
A) Chattisgarh
B) Uttar Pradesh
C) Kerala
D) Bihar
E) Karnataka
18) Which Bank has acquired a 9.09% stake in ed-tech platform Myclassboard Educational Solutions?
A) HDFC
B) Bandhan
C) ICICI
D) SBI
E) Axis
19) Who among the following will give out the Digital India Awards 2020?
A) Ravi Shankar Prasad
B) Nitin Gadkari
C) Narendra Modi
D) Ram NathKovind
E) Prahlad Patel
20) Which bank has tied with ICICI Pru Life tie up to offer life insurance solutions?
A) Axis
B) SBI
C) ICICI
D) Paytm
E) AU Small Finance
21) Which Bank and Google Pay have collaborated to bring digital registration of FASTag?
A) Bandhan
B) ICICI
C) SBI
D) HDFC
E) Axis
22) Which of the following bank has started its digital lending platform?
A) Yes
B) Axis
C) Bank of Baroda
D) HDFC
E) SBI
23) Who among the following will Probably be the next HDFC Bank chairperson?
A) Ravish Kumar
B) Sunil Mehta
C) Ramesh Chand
D) Atanu Chakraborty
E) Vinod Paul
24) Rajeev Mishra has been promoted as Additional DG of which state?
A) Uttar Pradesh
B) Chhattisgarh
C) Madhya Pradesh
D) Haryana
E) West Bengal
25) The Chief Minister of which state has released the Element of Quantitative Genetics by Prof. Dr. Stuti Sharma of Jawaharlal Nehru Agricultural University?
A) Rajasthan
B) Jharkhand
C) Madhya Pradesh
D) Uttar Pradesh
E) Chhattisgarh
26)  Who among the following has been honoured with the Dr. NarendraDabholkar Memorial Award?
A) Makrand Sathe
B) Gajanan Khatu
C) Rajkumar Sangle
D) Vijay Dewan
E) K.Veeramani
Answers :
1) Answer: C
On December 29, 2020, Prime Minister NarendraModi dedicated to the nation the ambitious New Bhaupur-New Khurja section of Eastern Dedicated Freight Corridor in Uttar Pradesh through video conference.
Governor of Uttar Pradesh Anandiben Patel also attended the function through video conferencing.
The 351-kilometre New Bhaupur- New Khurja section of EDFC is built at a cost of Rs. 5,750 crore and most of its part passes through Uttar Pradesh.
The section will decongest the existing Kanpur-Delhi main line and will enable Indian Railways to run faster trains.
The Prime Minister also inaugurated Eastern Dedicated Freight Corridor's Operation Control Centre at Prayagraj.
This will act as the command centre for the entire route length of the EDFC.
2) Answer: D
President Ram NathKovind will be on a four days visit to Diu in the UT of Dadra and Nagar Haveli & Daman and Diu starting from December 25 to 28, 2020 .
In this Visit, He will inaugurate the Jalandhar Circuit House in Diu.
The President will inaugurate and lay the foundation stone for various developmental projects in Diu such as inauguration of first academic session of IIIT Vadodara-International Campus Diu, improvement of 1.3 kilometre heritage walk-way on Diu City Wall and upgradation of fruits and vegetable market at Fort Road.  MrKovind will also inaugurate the INS Khukhri Memorial.
3) Answer: E
Social Justice and Empowerment Minister ThawarchandGehlot announced, the Central government is committed for the welfare of scheduled caste students as it has made a historic change in the scholarship available to students of this community pursuing higher education.
He explains about the commission in a meeting which is held in Newdelhi, the government has approved Rs. 59,048 Crore post matric scholarship scheme for over four crore SC students for the next five years.
Mr. Gehlot said the Central Government will spend 60 per cent of the scholarship amount and the remaining 40 per cent will be spent by the State governments.
MrGehlot said, it is estimated that 1.36 Crore SC students, who are currently not continuing their education beyond 10th standards would be brought into the higher education system through this initiative.
4) Answer: D
Union Minister for Railways and Commerce & Industry and Consumer Affairs, Food &  Public Distribution ShriPiyushGoyal reviews the progress of upcoming DFC.
It may be noted that Prime Minister ShriNarendraModi is going to inaugurate the 351 km long 'New Bhaupur- New Khurja section' of Eastern Dedicated Freight Corridor (EDFC) in Uttar Pradesh.
During the event, the Prime Minister will also inaugurate EDFC's Operation Control Centre (OCC) at Prayagraj as well.
Dedicated Freight Corridor Corporation of India is constructing the Western DFC, 1504 Route kilometer and Eastern DFC, 1856 route kilometer including  Sonnagar-Dankuni PPP Section.
5) Answer: C
Union Minister for Science and Technology Harshvardhan launched the 'Digital Ocean' platform on December 29, 2020.
It is developed by Indian National Centre for Oceanic Information Services (INCOIS).
About Digital Ocean App :
Digital Ocean is the one stop-solution for all data related needs of a wide range of users, including research institutions, operational agencies, strategic users, academic community, maritime industry, and the public.
It can be accessed at www.do.incois.gov.in. website.
It will play a central role in sustainable management of our oceans.
This first of its kind platform for ocean data management has a set of applications that present heterogeneous oceanographic data with geospatial technology.
6) Answer: B
Cambodia's first commercial extraction of oil begins in Gulf of Thailand.
Cambodian Prime Minister Hun Sen, the country's long-awaited first commercial extraction of oil has finally begun.
The first drop of oil was extracted by KrisEnergy, a Singapore-based oil and gas company, from a well in offshore Block A in the Gulf of Thailand, west of the coastal Cambodian province of Preah Sihanouk.
"The start of production is a blessing for our Cambodia," Hun Sen stated.
The 3,000-square-kilometer (1,158-square-mile) Block A concession is estimated to hold as much as 30 million barrels of oil reserves.
7)  Answer: E
AryaRajendran, the 21-year-old college student, has been elected as the new mayor of Thiruvananthapuram Municipal Corporation, of Kerala.
The Communist Party of India (CPI)Marxist leader, Arya is the youngest person in India to occupy the post of mayor anywhere in the country.
She won 54 votes out of 99 votes cast in the civic body polls in Kerala.
Arya is also the state president of Balasangam, the children's wing of the CPI(M).
Arya is a second-year student of Bachelor of Science (B.Sc) in Mathematics at the All Saints College
8) Answer: C
Science and Technology Minister Dr Harsh Vardhan releases report – Action Agenda for an AtmaNirbhar Bharat prepared by Technology Information, Forecasting and Assessment Council, TIFAC in New Delhi.
TIFAC's White Paper on Focused Interventions for Make in India: post COVID -19 which was released earlier in July this year.
The Minister said, a roadmap should be drawn for implementing the key suggestions in the report by 15th August, 2022 when India turns 75 years old.
9) Answer: D
On 28th December 2020, Harsh Vardhan, Union health minister, launched Pneumosil, India's first Pneumococcal Conjugate Vaccine (PCV).
The Pneumosil' has been developed by Serum Institute of India in collaboration with the Bill and Melinda Gates Foundation.
Pneumosil has been extensively evaluated in 5 randomized controlled clinical trials and has demonstrated comparable safety and immunogenicity
Pneumosil was found to be safe and effective in preventing Pneumonia disease during the clinical trials and it is available at an affordable price in single dose and Multidose.
10) Answer: C
The Indian Railways has launched the recently integrated Hospital Management Information System (HMIS) and a mobile application for downloading Unique Medical Identity Card (UMID).
The HMIS project has accordingly been launched with four modules in five units at Central Hospital, Lallaguda and health units located at Chilkalguda, Moulali, Kacheguda and Nampally and 2 units at Northern Railways.
The HMIS in Railways has been developed by Indian Railways in coordination with RailTel Corporation Limited.
The objective of the HMIS is to provide a single window of clearance of hospital administration activity such as clinical, diagnostics, pharmacy, examinations and industrial health.
A mobile application has also been launched for downloading UMID cards through mobile phone for enhancing the integration of UMID with HMIS and also to facilitate the railway employees for conveniently using UMID cards while accessing their health care services.
11) Answer: D
External Affairs Minister (EAM) Dr S Jaishankar,  two-day  visit to Qatar from 27 to 28 December.
During the visit, he called on The Amir and Father Amir as well as the Prime Minister and Interior Minister of the State of Qatar and held detailed discussions with the Deputy Prime Minister and Foreign Minister.
EAM held detailed discussions with Deputy PM and Foreign Minister H.E. Sheikh Mohammad bin Abdulrahman bin Jassim Al Thani on bilateral as well as regional and international issues of mutual interest.
Both Ministers discussed ways to strengthen the multifaceted bilateral relationship in areas such as energy, trade, investment, food processing, healthcare, education, culture, defence and security. They agreed to maintain regular consultations and coordination on all issues of mutual interest at multilateral fora.
EAM also extended an invitation to Deputy PM and Foreign Minister of Qatar to visit India for the first Joint Commission Meeting in 2021.
12) Answer: E
The UGC set up a seven-member committee , headed by Vice-Chancellor of Central University of Punjab R P Tiwari, to consider the issue holding common entrance tests at undergraduate level only from the next academic year in central universities to provide a single platform for admission.
This is the first attempt, after the introduction of the new National Education Policy,
The new NEP, released in July this year, advocates reducing the number of entrance tests to eliminate the need for taking coaching for these exams
The National Testing Agency will be tasked to conduct a common aptitude test as well as specialised common exams for different disciplines at least twice a year.
13) Answer: D
On December 29, 2020, Union Earth Sciences Minister Dr Harsh Vardhan, will virtually inaugurate the newly established Indian Meteorological Department for Ladakh.
The IMD will have four Automatic Weather Stations (AWS) operating in Leh, Kargil, Drass and Stakna.
It will Provide :
Real time weather information from these stations will be available online for every fifteen minutes and hourly basis through the IMD website.
The new Met centre will provide all information relating to weather and climate  for the entire Ladakh region including far-off places like Changthag, Nubra, Zanskar, Zojila and Drass.
14) Answer: B
The Gujarat government announced a new solar power policy comprising provisions to encourage small and medium scale solar projects on residential, commercial and industrial premises.
Under the new policy, the state government has scrapped the condition that the installed capacity of a solar project needs to be 50 per cent of the sanction load or contract demand.
Now, an individual or industry can produce solar power in their premises as per their requirements and without any limit on the capacity, Chief Minister Vijay Rupani said, while unveiling the "Gujarat Solar Power Policy 2021".
According to the policy, the power consumers will be able to set up solar projects on their rooftop or vacant place.
They can also offer their space to third party for power generation and utilization.
This policy will bring down power cost to industry from Rs. 8 per unit to around Rs. 4.50.
It will reduce the production cost, which will help the state manufacturers to be globally competitive.
Security deposit given to power companies has been cut from Rs. 25 lakh per MW to Rs. 5 lakh per MW. New solar power policy will remain effective for the next five years.
15) Answer: C
Prime Minister NarendraModi will lay the foundation stone of AIIMS at Rajkot, Gujarat through video conferencing on Dec 31.
For the project, 201 acres of land has been allotted.
It will be built at an estimated cost Rs. 1195 crores, and is expected to be completed by mid of 2022.
The state-of-the-art 750 bed hospital will also have a 30 bed AAYUSH block.
It will have 125 MBBS seats and 60 nursing seats.
16) Answer: D
Students who studied in government schools in Odisha will now get the quota in admission into MBBS and BTECH in colleges of the state.
A decision to this effect was taken by the state cabinet.
According to the decision, a high level committee under the chairmanship of a retired judge of the Odisha High Court will be constituted to establish the modalities to implement the policy.
The decision is consequent upon the realisation by the government that even meritorious students from government schools are not adequately represented in the medical and engineering colleges of the state.
The government felt that these students, particularly those of rural hinterland, fail to prove their talent in All India Entrance Tests like JEE and NEET, for lack of exposure to specialised coaching due to both geographical and economic constraints.
The decision is an effort towards addressing such unequal competition thereby instilling a sense of self- confidence in such deserving students to realise their dream of becoming a doctor or an engineer.
17) Answer: E
Karnataka Chief Minister B S Yediyurappa inaugurated the new building of AtalBihari Vajpayee Institute of Medical Sciences and Research Centre in Bengaluru.
The 13 storey tall building will house 13 departments of medicine and a research centre for the medical college students.
The state health and medical education minister Dr. K Sudhakar informed that the Government is planning to establish medical colleges in PPP mode.
The minister said that the Gujarat model will be adopted to set up medical colleges with private participation to reduce the financial burden on the government.
Saying that the Central Government has a vision to set up 22 AIIMS across the country.
Dr. Sudhakar said that efforts are on to get one for the state of Karnataka.
He also added that a new health and medical education policy will be introduced in the state based on the national health policy introduced in 2017.
18) Answer: C
Private sector lender ICICI Bank will acquire 9.09 percent stake in educational technology platform Myclassboard Educational Solutions Pvt Ltd for cash consideration of Rs 4.5 crore.
The transaction is expected to be completed by the end of February 2021.
19) Answer: D
President Ram NathKovind will virtually confer the Digital India Awards 2020  through video conference.
The Digital India Awards 2020 have been announced under six categories including `Innovation in Pandemic'.
In line with Digital India's vision, this is the first time that the entire process of the Digital India Awards is being conducted online from nominations to screening to the final awards ceremony.
National Informatics Centre under Ministry of Electronics and Information Technology has been conducting the biennial Digital India Awards to promote innovation in eGovernance and digital transformation of government service delivery mechanism.
Minister for Communications and IT, Ravi Shankar Prasad, and IT secretary Ajay Sawhney and other dignitaries would attend the virtual event.
20) Answer: E
AU Small Finance Bank  announced a strategic partnership with ICICI Prudential Life Insurance to offer life insurance solutions.
The tie-up aims to deliver paperless, secure, and hassle-free life insurance.
Through this agency arrangement, to over 1.8 million customers through digital platforms across 700 banking touchpoints in 13 states and 2 Union territories.
AU Bank even claimed that these products will enable customers to provide financial security to themselves and their families and help them achieve their financial goals.
21) Answer: B
ICICI Bank has announced that it is collaborating with Google to issue FASTag.
It has become the first bank to join hands with Google Pay for the issuance of FASTag.
Customers will now be able to order, track and recharge ICICI Bank FASTag via the Google Pay app.
The main aim of this initiative is to ensure the safety of applicants during the COVID-19 pandemic since they can complete procedures digitally.
About the agreement :
The new partnership will now allow users to conveniently order, track, and recharge ICICI Bank FASTags from the app itself. The government has made January 1, 2021 as the new date for mandatorily adding FASTags to vehicles.
The announcement makes ICICI Bank the first bank to join hands with Google Pay for the issuance of FASTag. This will also add competition for Paytm, which currently issues FASTags from the app as well and is quite a popular choice for many customers.
The association gains prominence during the widespread pandemic as this allows any Google
22) Answer: C
Bank of Baroda (BoB) has launched its Digital Lending Platform (DLP), which will allow prospective retail loan seekers to get loans digitally through a paperless process.
The bank will also offer 'Online Loan against Fixed Deposits' via DLP.
BoB also launches Atmanirbhar Women Gold Scheme.
The platform provides 'in-principle approval' for home, car and personal loans in 30 minutes without human intervention
With the launch of DLP, BoB said personal loan disbursements will be completely digitised first, followed by MSME (micro, small and medium enterprises) and agriculture disbursements.
The bank envisages that the digital share of disbursement in retail lending will grow to 74 per cent over five years.
23) Answer: D
Former Economic Affairs Secretary AtanuChakraborty is likely to be the next Chairperson of the country's largest private sector lender HDFC Bank..
He would replace ShyamalaGopinath, who is set to complete her term in January.
The bank has recommended the name of Chakraborty for appointment as the part-time Chairperson, subject to the Reserve Bank of India's approval.
Chakraborty, a 1985 batch IAS officer of Gujarat cadre, retired as Secretary of Department of Economic Affairs in April 2020.
Prior to that, he was Secretary of Department of Investment and Public Asset Management (DIPAM).
Both departments come under the finance ministry.
The tenure of Gopinath, a former RBI Deputy Governor, is ending on January 1, 2021.
24) Answer: E
The West Bengal government has  promoted Rajeev Mishra IPS WB:1996 as Additional DG.
Mishra IG of South Bengal is one of the three IPS officers who were summoned by the Centre after BJP President JagatPrakashNadda's convoy was attacked earlier this month.
25) Answer: C
Madhya Pradesh Chief Minister ShriShivraj Singh Chouhan released a book titled "Element of Quantitative Genetics" by Prof. Dr. Stuti Sharma of Jawaharlal Nehru Agricultural University, Jabalpur.
On this occasion, Agriculture Minister Shri Kamal Patel, MP and State BJP President Shri V.D. Sharma, ShriLokendraParashar and co-author of the book ShriManoranjanVishwas were present.
This book, a complex subject like Plant Breeding Genetics is presented in a simple manner. B.Sc., M.Sc. and Ph.D. students and researchers of Agriculture faculty will get special help from this book. Candidates appearing in competitive examinations will also be able to benefit from the book. This is the first book of its kind on Quantitative Genetics.
26) Answer: E
The Dr.NarendraDabholkar Memorial Award for this year has been conferred  uponDravidarKazhagam President K. Veeramani
The award was instituted in the memory of the Maharashtra based rationalist Dabholkar.
The U.S based Maharastra Foundation had instituted the award in his memory, a release issued by the DravidarKazhagam.
The award includes 1 lakh and a citation.
Mr.Veeramani has dedicated his whole life to propagate rationalism and served for the cause of social justice in society.