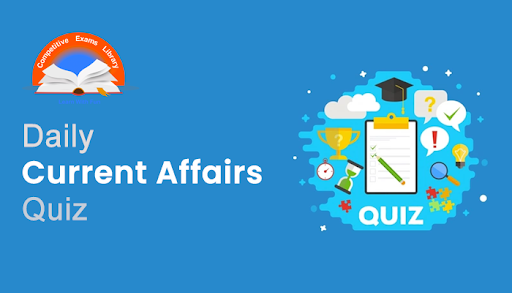 Dear Readers, Daily Current Affairs Questions Quiz for SBI, IBPS, RBI, RRB, SSC Exam 2020 of 31st December 2020. Daily GK quiz online for bank & competitive exam. Here we have given the Daily Current Affairs Quiz based on the previous days Daily Current Affairs updates. Candidates preparing for IBPS, SBI, RBI, RRB, SSC Exam 2020 & other competitive exams can make use of these Current Affairs Quiz.
1) India's first pollinator park has come up in which state?
A) Bihar
B) Madhya Pradesh
C) Uttarakhand
D) Haryana
E) Chhattisgarh
2) Indian Railways has completed its _____ Kmph Speed Trail Run recently.
A) 170
B) 155
C) 160
D) 180
E) 150
3) Who among the following has launched the Global PravasiRishta portal and mobile App?
A) Prahlad Patel
B) Anurag Thakur
C) NarendraModi
D) S.Jaishankar
E) V. Muraleedharan
4) Union Cabinet approved the export of which missile system recently?
A) Vikas
B) Nirbhay
C) Aakash
D) Prithvi
E) Garud
5) PM will lay the foundation stone of Light House Projects at how many sites?
A) 4
B) 6
C) 5
D) 7
E) 8
6) To mark the ____th anniversary of NetajiSubash Chandra Bose, NarendraModi recently went to Port Blair and had the honour of hoisting the Tricolour.
A) 71
B) 72
C) 73
D) 75
E) 74
7) The 3rd Global Re-invest Summit was addressed by who among the following?
A) Nirmala Sitharaman
B) Anurag Thakur
C) RK Singh
D) Narendra Modi
E) Prahlad Patel
8) Union Minister NitinGadkari has announced the Multi-Modal Logistics Park In which state recently?
A) Nagaland
B) Tripura
C) Mizoram
D) Manipur
E) Assam
9) The Central Government has announced Nagaland as 'disturbed area' for ____ months.
A) 3
B) 5
C) 6
D) 4
E) 7
10) The Fourth meeting of India and which country's working group has recently been held in virtual mode?
A) Singapore
B) Vietnam
C) Thailand
D) Sri Lanka
E) Bangladesh
11) PM Modi has chaired the _____th PRAGATI interaction recently.
A) 30th
B) 34th
C) 33rd
D) 32nd
E) 31st
12) Which state has won Digital India award for transferring money to beneficiaries' accounts during COVID-19?
A) Uttar Pradesh
B) Haryana
C) Bihar
D) Chhattisgarh
E) Madhya Pradesh
13) The Union Cabinet has approved Deepening and Optimization of Inner Harbour Facilities for which state?
A) Madhya Pradesh
B) Bihar
C) Chhattisgarh
D) Odisha
E) Haryana
14) Which state has recently conducted an Intra State Level programme?
A) Uttar Pradesh
B) Jammu & Kashmir
C) Bihar
D) Chhattisgarh
E) Jharkhand
15) New Government Tool Room & Training Center has been set up by government of which state?
A) Bihar
B) Haryana
C) Madhya Pradesh
D) Kerala
E) Karnataka
16) Cycle rally 'Fit India campaign' has recently been held in which state/UT?
A) Kerala
B) Andaman & Nicobar Island
C) Jammu & Kashmir
D) Delhi
E) Puducherry
17) North East's first-ever Ginger Processing Plant has become functional in ______.
A) Assam
B) Nagaland
C) Manipur
D) Meghalaya
E) Mizoram
18) Who among the following has won the DRDO's 'Scientist of the Year' award?
A) Sumit Mittal
B) Anant Hedge
C) Hemant Kumar Pandey
D) Arushi Verma
E) Nilesh Singh
19) Which bank has appointed NiranjanBanodkar as new CFO?
A) ICICI
B) SBI
C) Bandhan
D) Axis
E) Yes
20) RBI working paper has defended the _____ per cent inflation target for India.
A) 5
B) 3
C) 4
D) 6
E) 2
21) Which bank has introduced a Whatsapp banking option recently?
A) SBI
B) Bandhan
C) Yes
D) City Union Bank
E) ICICI
22) Which state has signed a three agreements with different firms to impart skill training?
A) Uttar Pradesh
B) Karnataka
C) Madhya Pradesh
D) Haryana
E) Bihar
23) Cabinet has recently approved anMoU between India and which country?
A) Vietnam
B) Thailand
C) Bhutan
D) Sri Lanka
E) Myanmar
24) Which organization has signed anMoU with PimpriChinchwad Municipal Corporation to co-create India's first Social Impact Bond?
A) WB
B) ADB
C) IMF
D) UNDP
E) UNICEF
25) Nikhil Nandy who passed away at 88 was a famous _____.
A) Singer
B) Tennis Player
C) Cricketer
D) Hockey Player
E) Footballer
26) Who among the following has been nominated to the Board of GAVI, The Vaccine Alliance?
A) Amit Shah
B) Narendra Modi
C) Harsh Vardhan
D) Prahlad Patel
E) Anurag Thakur
27) Which institution has developed a Quantum Random Number Generator?
A) ONGC
B) DRDO
C) ISRO
D) BHEL
E) BDL
28) Which company has launched the first remote monitoring system for oil refineries?
A) BEL
B) ONGC
C) BPCL
D) HPCL
E) IOCL
Answers :
1) Answer: C
The country's first pollinator park with over 40 species of butterflies, honey bees, birds and insects has been developed over four acres at Nainital'sHaldwani.
Developed by the research wing of the Uttarakhand Forest Department, the colourful park was inaugurated by renowned butterfly expert Peter Smetacek.
Objective of the Park : The objective behind developing the park is to conserve various pollinator species, create awareness among people in general about the importance of conservation of these species and to promote further research on various aspects of pollination, including threat to habitat and impact of pollution on pollinators.
There are at present 40 species of pollinators at the park.
2) Answer: D
Indian Railways successfully completed a speed trial for 180 km per hour of a new design vistadome tourist coach.
According to the Railway Ministry, the new vistadome tourist coach has been manufactured by the Integral Coach Factory (ICF), Chennai.
These vistadome coaches mostly operate in mountain railways and are specially designed to make train journeys scenic and memorable.
The coaches also give a boost to tourism.
The European-style coaches are made with see-through glass rooftops and wide windows for the indulgent sightseeing experience.
These vistadome tourist coaches boast of large windows on the sides and have glass panels on the roof of the trains.
These coaches are being operated on selected routes on the Indian Railways network including the Darjeeling Himalayan Railway, Nilgiri Mountain Railway, Kangra Valley Railway, Kashmir Valley, Kalka-Shimla Railway, Matheran Hill Railway between Dadar in Mumbai as well as Madgaon in the Araku Valley.
3) Answer: E
Minister of State for External Affairs V. Muraleedharan launched the Global PravasiRishta portal and mobile App, to connect with 3.12 crore strong diaspora across the world.
The Minister said, the portal will act as a dynamic communication platform between our pravasis, the Ministry of External Affairs and missions abroad and will help in engaging Indian diaspora more intensively.
This portal is created to enable the registration of Indian diaspora members i.e. NRIs, PIOs and the OCIs which is not just going to facilitate the Indian government to connect with the overseas Indian community but also facilitate NRIs, OCIs and PIOs community by connecting them to various new and existing government schemes benefiting them in various areas of interest.
Union Minister for external Affairs :SubrahmanyamJaishankar
4) Answer: C
The Union Cabinet chaired by Prime Minister NarendraModi has approved the proposal to export indigenously-developed Akash Missile System.
Akash is the country's important missile with over 96 percent indigenisation. Akash is a Surface to Air Missile with a range of 25 Kms.
The export version of Akash will be different from System currently deployed with Indian Armed Forces
The missile was inducted in 2014 in IAF and in 2015 in Indian Army.
5) Answer: B
Prime Minister NarendraModi will lay the foundation stone of Light House Projects under the Global Housing Technology Challenge-India (GHTC-India) at six sites across six states on January 1 in a video conference.
The Prime Minister will also announce winners under Affordable Sustainable Housing Accelerators (ASHA)- India and give out annual awards for excellence in implementation of PradhanMantriAwasYojana – Urban (PMAY-U) Mission.
During the event, he will release a certificate course on innovative construction technologies named 'NAVARITIH' (New, Affordable, Validated, Research Innovation Technologies for Indian Housing) and a compendium of 54 innovative housing construction technologies identified through GHTC-India, the Prime Minister's Office said.
The LHPs are being constructed at Indore (Madhya Pradesh), Rajkot (Gujarat), Chennai (Tamil Nadu), Ranchi (Jharkhand), Agartala (Tripura) and Lucknow (Uttar Pradesh).
They comprise about 1,000 houses at each location along with allied infrastructure facilities.
6) Answer: D
"To mark the 75th anniversary of NetajiSubash Chandra Bose, he had gone to Port Blair and had the honour of hoisting the Tricolour,"
The Prime Minister said, 30th December 1943, a day etched in the memory of every Indian, when the brave NetajiSubhas Bose hoisted the Tricolour at Port Blair.
Born to advocate Janakinath Bose in Odisha's Cuttack on January 23, 1897, Netaji went on to play a key role in the freedom movement.
He is also known for establishing the Azad Hind Fauj.
7) Answer: C
The renewable energy minister was speaking at the Chief Ministers' Plenary session of the virtual 3rd Global RE-INVEST Summit.
Power Minister R K Singh said that the Centre has achieved remarkable achievement in terms of expanding access to electricity in the country.
India will have around 60 per cent of its installed electricity generation capacity from clean and green sources by 2030.
Union Power Minister and Minister of New & Renewable Energy, R K Singh said that the centre is committed to promote new and renewable energy resources in the country.
He added that the centre has asked every state government to earmark at least one city within their territory as green city.
Mr. Singh asserted that the government is working with a focused approach towards clean and green energy with emphasis on areas which require special attention.
Highlighting the achievements :
8) Answer: E
Union Minister for Road Transport and Highways NitinGadkari has announced that a multi-modal logistics park will be constructed in Silchar in Assam.
The Balacherra-Harengajao section of the Silchar-Saurashtra Highway will be completed in March 2022.
MrGadkari made this announcement at a public meeting at Zero Point on the East-West Corridor at Madhurmukh at Rangpur.
It is pertinent to mention that the Union Minister unveiled a 13-foot tall bronze statue of former Prime Minister Bharat RatnaAtalBihari Vajpayee.
9) Answer: C
The entire state of Nagaland has been declared a disturbed area for six more months.
The Home Ministry in a notification said, the Central government is of the opinion that the area comprising the whole of Nagaland is in such a disturbed and dangerous condition that the use of armed forces in aid of the civil power is necessary.
It said, therefore, in exercise of the powers conferred by Section 3 of the Armed Forces (Special Powers) Act, 1958, the Central government declares that the whole of the State of Nagaland to be disturbed area for a period of six months. The Armed Forces (Special Powers) Act has been in force in Nagaland for several decades.
Union minister of Home Affairs :Amit shah
10) Answer: D
The Fourth Meeting of the India-Sri Lanka Joint Working Group on Fisheries was held through virtual mode.
The meeting covered the entire gamut of issues related to fishermen and fishing boats which have been on the agenda of bilateral discussions between India and Sri Lanka for many years.
It may be recalled that during the Virtual Bilateral Summit between Prime Minister NarendraModi and Sri Lankan Prime Minister MahindaRajapaksa held on 26 September this year, both leaders agreed to continue engagement to address the issues related to fishermen through regular consultation and bilateral channels.
11) Answer: B
Modi chaired the meeting to review the various projects, programmes& grievances.
Prime Minister NarendraModi chaired the 34th PRAGATI interaction.
Projects of the Ministry of Railways, Ministry of Road Transport and Highways and Ministry of Housing and Urban Affairs were discussed.
These projects, with a total cost of about one lakh crore rupees, pertained to ten states and Union Territories including, Uttar Pradesh, Madhya Pradesh, Rajasthan, Jammu and Kashmir, West Bengal, Maharashtra, Delhi, Haryana, Gujarat and Dadra and Nagar Haveli.
During the interaction, the programmes, Ayushman Bharat and JalJeevan Mission were reviewed.
12) Answer: C
The Chief Minister Secretariat, the Disaster Management Department besides the National Informatics Centre (NIC) of the state have jointly been chosen as winners in the "pandemic category" Digital India Awards 2020.
The Bihar government's initiative to transfer financial assistance directly to the accounts of beneficiaries during the COVID-19 pandemic has made its departments winners of the Digital India Awards, instituted by the central government, this year for innovative steps in e- governance.
More than 21 lakh stranded workers outside Bihar were provided financial assistance through the "Bihar Sahayata Mobile App".
In addition to that President Ram NathKovind will give away the Digital India Awards to winners on December 30 in New Delhi.
13) Answer: D
The Cabinet Committee on Economic Affairs chaired by Prime Minister NarendraModi has approved the project 'Deepening and Optimization of Inner Harbour Facilities including Development of Western Dock on Build, Operate and Transfer (BOT) basis under Public-Private Partnership (PPP)mode to handle cape size vessels at Paradip Port'Odisha.
The estimated cost of the project is Rs.3,004.63Crore. This includes development of the new Western Dock on BOT basis and capital dredging by the selected Concessionaire at a cost of Rs.2,040 Crore and Rs.352.13 Crore respectively; and Paradip Port's investment will be to the tune of Rs.612.50 Crore towards providing Common Supporting Project Infrastructure.
Union Minister DharmendraPradhan has said that development of the Western dock at Paradip port in Odisha, is in line with the NDA government's commitment to building next-generation infrastructure for a 21st century self-reliant India.
The Union Cabinet had approved a project to enhance the facilities at Paradip port.
MrPradhan said, the project will enhance the cargo handling capacity of the port, while boosting industrial economy and generating employment opportunities.
The Minister said that it will also usher in port-led development in Odisha and eastern India in sync with the Prime Minister's vision of Purvodaya.
14) Answer: B
Jammu and Kashmir Govt conducts Intra State Level programme begins at Teacher's Bhawan Gandhi Nagar, Jammu
In the Union Territory of Jammu and Kashmir, as part of National Youth Festival 2021, an Intra State Level event begins at Teacher's Bhawan Gandhi Nagar, Jammu amid festivity.
The programme was organised by the Department of Youth Services and Sports, J&K in collaboration with Nehru Yuva Kendra Sangathan, J&K.
The intra state festival would culminate on 4th January 2021 followed by an inter-state level programme commencing on 5th.
The programme will be concluded on 8th of January, which will include various cultural events.
The theme of this mega carnival is "Standing together for truth, we the power of youth".
15) Answer: E
Karnataka Deputy Chief Minister Dr. C N AswathaNarayana has said that new Government Tool Room and Training Centers will be established in different parts of the state to impart training in different skills.
The minister said that annually 6000 youth are offered short term courses and the aim is to increase it to 15000 next year.
He informed that two new Tool Room and Training Centers will start functioning in Bengaluru apart from one that exists now.
Training Centers under construction in Challakere, Koppala, Chitradurga, Hunsuru and Madakeri will be ready soon.
Vijayapura and Bengaluru Rural districts are chosen for building new skill training Centers apart from 24 Centers functioning now.
He added that the Mechanical Electronics course has overwhelming demand and hence the seats in this discipline will be increased.
16) Answer: C
In the Union Territory of Jammu and Kashmir, to generate awareness among the common masses about the Fit India campaign, Municipal Council Udhampur organized a cycle rally at Udhampur.
DrPiyushSingla flagged off the cycle rally, which passed through SlathiaChowk, RamnagarChowk, Court road, Gole market, Bus Stand and culminated at Town Hall Udhampur.
Cycle rally highlighted the importance of physical and mental fitness in the development of a healthy society.
The main objective of organizing this awareness rally is to sensitize the common masses about the Fit India campaign launched by the Government of India.
17) Answer: D
North East's first-ever specialised "Ginger" Processing Plant at district Ri-Bhoui in Meghalaya is being revived and is likely to become functional in the beginning of 2021.
Disclosing this here today after reviewing the functioning of the North Eastern Regional Agricultural Marketing Corporation (NERAMAC), a PSU working under the aegis of the Ministry of DoNER, Union Minister of State (Independent Charge) Development of North Eastern Region (DoNER), MoS PMO, Personnel, Public Grievances, Pensions, Atomic Energy and Space, Dr.Jitendra Singh said that the only Ginger Processing Plant of North East India was established around the year 2004 but has remained non-functional for many years.
The NERAMAC has now undertaken the responsibility of reviving it and initiated steps to operationalize the closed Plant through PPP mode.
The ginger products being prepared from this Plant, said Dr.Jitendra Singh, will not only be available for domestic consumption but will also have a wider demand and this will also be in keeping with Prime Minister Modi's calls for "Vocal for Local".
For the PPP mode, an Operation and Maintenance Operator was selected through the tendering process and the work on setting up and reviving the Plant is under progress.
18) Answer: C
Senior scientist Hemant Kumar Pandey has been honoured with DRDO's 'Scientist of the Year Award' for his contribution in developing several herbal medicines, including the popular drug Lukoskin meant for treatment of leucoderma.
About Hemant Kumar Pandey :
A recipient of several prestigious awards for his contribution in the field of herbal medicine, Pandey has been undertaking research at the Defence Research and Development Organisation's (DRDO) lab Defence Institute of Bio-Energy Research (DIBER) at Pithoragarh in Uttarakhand for the past 25 years.
The Scientist has developed six herbal drugs so far, Lukoskin used for treating leucoderma or Vitiligo, a condition in which whits patches develop on the skin, has been most widely appreciated and found huge acceptance in the market.
19) Answer: E
The private sector lender Yes Bank has appointed NiranjanBanodkar as a new Group Chief Financial Officer (CFO).
He will supersede AnuragAdlakha, who has been designated as the Chief Human Resources Officer (CHRO).
Banodkar comes with 17 years of experience in Banking in financial planning and strategy, risk management and capital markets.
Banodkar started working with Yes Bank in April 2006 and was a key member in setting up the Market Risk function.
And then Both of them will assume the new role with effect from January 1, 2021.
20) Answer: C
The Reserve Bank of India (RBI) working paper has recommended that maintaining the inflation target at 4 percent is appropriate for the country.
The paper, authored by Harendra Kumar Behera and Michael DebabrataPatra, finds that there is a steady decline in trend inflation to 4.1-4.3 per cent since 2014.
The RBI working paper, which seeks to examine whether the choice of the target for inflation is consistent with its trend, finds that the concept of trend inflation is vital for the design and conduct of monetary policy to which actual inflation outcomes are expected to converge after short run fluctuations from a variety of sources die out.
21) Answer: D
Tamil Nadu-based City Union Bank (CUB) is now available on India's most popular messaging application—Whatsapp.
The bank has recently launched a new Video KYC facility through which anyone can open a new bank account from the comfort of the home or office, as a next step towards digitisation, through the platform.
With CUB's "Whatsapp Banking" service, customers can get a variety of information and can register for the services by sending 'Hi' to the bank's customer care number '044-71225000' through Whatsapp.
Services offered through the platform include Instance Account Openings, Account Balance Enquiry, Deposit Opening, Deposits Balance Enquiry, Mini Statement, Green PIN for Net/Mobile Banking, Bill Payment, Card Blocking and several others.
22) Answer: B
Karnataka signs three agreements with different firms to impart skill training to youths for jobs abroad.
The Deputy Chief Minister and minister for higher education Dr. C N AshwathNarayana has informed that the state has signed three agreements with different firms to impart skill training to the youths of the state for fetching them jobs abroad.
THREE AGREEMENTS
The ITI trained youth will be further trained by Peenya Industrial Association member industries.
A skill university has come forward to train the apprentice in various trades.
A learning foundation has come forward to train ITI students in entrepreneurship.
Dr. AshwathNarayana said that these training will shape up human resources by imparting them skills that meet the contemporary requirements of the industries.
He added that these agreements are in line with the new National Education Policy.
23) Answer: C
Cabinet approves MoU between India and Bhutan on Cooperation in the peaceful uses of outer space.
The Union Cabinet chaired by Prime Minister ShriNarendraModi approved a Memorandum of Understanding (MoU) between the Government of the Republic of India and the Royal Government of Bhutan on Cooperation in the peaceful users of outer space signed on November 19, 2020 by both sides at Bangalore/Thimpu and exchanged.
This MoU shall enable India and Bhutan to pursue cooperation in potential interest areas, such as remote sensing of the earth.
Satellite communication and satellite based navigation.
Space science and planetary exploration; use of spacecraft and space systems and ground systems; and application of space technology.
24) Answer: D
PimpriChinchwad Municipal Corporation (PCMC) recently signed anMoU with UNDP India to co-create India's first Social Impact Bond (SIB).
As part of this unique investment tool, the PCMC administration will only have to bear the costs of a public welfare project associated with the bond.
The introduction of the SIB will attract more investors from public and private sectors to fund public welfare projects and thus help to meet the investment deficit
The Palladium Group has been appointed for design and structuring expertise for the impact bond.
25) Answer: E
Former Indian footballer Nikhil Nandy, was a part of the squad in the 1956 Melbourne Olympics, died on December 29, 2020. He was 88.
Nandy was part of the triumphant Bengal squad which won the Santosh Trophy in 1955. He had also won the Calcutta Football League with Eastern Railways back in 1958.
Nandy also had a coaching stint with the National Team, as he took charge of the Blue Tigers dugout, jointly with J. Kittu
26) Answer: C
On 29th December, 2020 Dr. Harsh Vardhan, Union Minister of Health and Family Welfare was nominated by the Global Alliance for Vaccines and Immunisation (GAVI) as a member of the GAVI Board.
The seat is currently held by Mr. MyintHtwe of Myanmar.
Dr. Harsh Vardhan will be representing the South East Area Regional Office (SEARO)/ Western Pacific Regional Office (WPRO) constituency on the GAVI Board.
Dr. Harsh Vardhan will be representing India from 1stJanuary 2021 until 31st December 2023.
The Board normally meets twice a year in June and November/ December and holds an annual retreat, normally in March or April
About GAVI Board:
The vaccine alliance GAVI is an international organisation based in Geneva, Switzerland, that provides a forum for balanced strategic decision-making, innovation and partner collaboration.
The GAVI board is responsible for strategic direction and policy-making oversees the operations of the Vaccine Alliance and monitors programme implementation.
GAVI, the Vaccine Alliance as part of its mission to save lives, reduce poverty and protect the world against the threat of epidemics, has helped vaccinate more than 822 million children in the world's poorest countries, preventing more than 14 million future deaths.
Dr. NgoziOkonjo-lweala presently serves as Chair of the GAVI Alliance Board.
27) Answer: B
The Defence Research and Development Organisation (DRDO) has achieved a milestone in quantum technology by successfully developing a Quantum Random Number Generator (QRNG).
The facility has developed a fiber-optic branch path based QRNG.
Random numbers have essential roles in various fields ranging from quantum communication, cryptography applications like key generation, key wrapping, authentication along with scientific simulations, lotteries and fundamental physics experiments.
On December 8, the DRDO announced that their Quantum Key Distribution (QKD) technology underwent a successful trial between two laboratories in Hyderabad.
28) Answer: E
Indian Oil Corp (IOC), the country's largest fuel retailer, announced it has launched the country's first remote monitoring system for oil refineries' turbines. The project, located in Hyderabad, was inaugurated by oil minister DharmendraPradhan.
The Remote Monitoring & Operation Centre for Tracking of Indian Oil's Refinery Gas Turbines was implemented by BHEL-GE Gas Turbine Services (BGGTS), a joint venture of BHEL and General Electric.
The technology called Proactive Predictive Analytics-based Automated Anomaly Detection  will allow Gas Turbine Operational Data flowing in digitally from 27 turbines of the eight IndianOil refineries to be analysed round-the-clock in Hyderabad.
This analysis will help in detection and diagnosis of emerging issues relating to gas turbines before they become critical and trigger corrective actions. This will help avoid refinery process unit shutdowns.