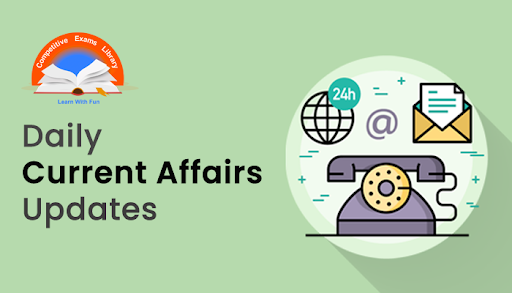 Dear Readers, Daily Current Affairs News Updates about the National and International events were listed here. Read Current Affairs Today here and stay updated with current news. Candidates those who are preparing for IBPS/SBI/PO/Clerk exam and all other competitive exams can use this and try the Current Affairs Quiz to test your knowledge level.
CURRENT AFFAIRS: IMPORTANT DAYS
International Day of Non-Violence: October 2
International Day of Non-Violence is observed on October 2 to mark the birthday of Mahatma Gandhi who had played an important role in India's Independence.
On 15 June, 2007, General Assembly adopted a resolution of establishing the International Day of Non-Violence to spread the message of non-violence including education and public awareness
Mahatma Gandhi's birth anniversary is also observed as the International Day of non-violence.
The Nation pays homage to the Father of the Nation, Mahatma Gandhi on his 152nd birth anniversary
A series of functions have been organized across the country and by Indian Missions abroad. A Sarva Dharma Prarthana Sabha was organised at his Samadhi – Raj Ghat in the national capital.
CURRENT AFFAIRS : NATIONAL NEWS
Azadi Ka Amrit Mahotsav: Amit Shah to flag off 7,500 kilometers Car rally by NSG:
Home Minister Amit Shah has flagged off All India Car Rally of the National Security Guard – Sudarshan Bharat Parikrama from the historic Red Fort in Delhi under the ongoing Azadi Ka Amrit Mahotsav.
Government is celebrating the Azadi Ka Amrit Mahotsav to revive and instill in youth, the spirit and sacrifices of the unsung Martyrs and Freedom Fighters.
During its seven thousand 500 kilometers long journey, the National Security Guard, car rally has passes through important and historical places associated with the Freedom Movement and Freedom Fighters of the country. The rally will end on 30th of october at the Police Memorial in New Delhi.
Mr Shah has also flagged-in the cycle rallies of the Central Armed Police Forces, which started from different parts of the country, such as Dandi, the North East and Leh to Kanyakumari, concluding in New Delhi.
Centre to start procurement of paddy under MSP scheme in Punjab & Haryana:
Union Government has decided that the procurement of paddy under Minimum Support Price operation will commence from 11th october in Punjab and Haryana.
Consumer Affairs, Food and Public Distribution Ministry has advised all agencies to gear up to help farmers.
The widespread rainfall has been experienced across Punjab and Haryana during second fortnight of September this year. Untimely showers have affected the standing paddy crop in both the agrarian states.
State Government of Punjab and Haryana have also been requested to advise their agencies to dry the paddy already arrived and further produce may be brought to the mandi after proper drying.
The decision to start the procurement of Paddy under MSP from 11th October in Punjab and Haryana is in the overall interest of farmers and consumers
About Punjab:
Governor: Banwarilal Purohit
Chief minister: Charanjit Singh Channi
Capital: Chandigarh
About Haryana:
Governor: Bandaru Dattatreya
Capital: Chandigarh
Chief minister: Manohar Lal Khattar
Expert group for minimum wages reconstituted
Barely three months after the committee was set up, the Labour Ministry reconstituted the expert group responsible for determining the national floor level minimum wages under the Code on Wages.
Economist and statistician SP Mukherjee will lead the 9-member group.
Ajit Mishra, who headed the previous panel, excused himself from discharging his duty on account of his personal and other professional commitments.
The group includes Arup Mitra of the Institute of Economic Growth (IEG) and Rupa Chanda of the Indian Institute of Management (IIM), Bangalore were added as members to the group along with a representative from the Ministry of Skill Development and Entrepreneurship.
The group has been constituted for a period of three years and will continue to provide technical inputs to the ministry going forward.
About Labour Code on Wages:
The Labour Code on Wages was passed in 2019.
It gives legislative protection of minimum wages to all workers.
Additional Information
Prior to the wage code in August 2019, the Labour Ministry had set up a similar committee chaired by Prof Anoop Satpathy.
In January 2019, the seven-member committee suggested a national minimum wage at Rs 375 per day or Rs 9,750 per month irrespective of sectors, skills, occupations and rural-urban locations.
It also suggested a monthly housing allowance of Rs 1,430 for city-based workers.
DAC approves Defence Procurement worth Rs. 13,165 crores
The Defence Acquisition Council (DAC) under the Chairmanship of Defence Minister Rajnath Singh approved the Acceptance of Necessity (AoN) for defence procurement worth Rs. 13,165 crores for modernisation of Indian Armed Forces.
87% (Rs. 11,486 crores) of the Rs. 13,165 crores were approved for domestic procurement to boost 'Make in India' in the Defence Sector.
Hindustan Aeronautics Limited (HAL) to manufacture 25 Advanced Light Helicopters (ALH) Mark III helicopters for the Indian Army at an approximate cost of Rs. 3,850 crores.
About Ministry of Defence:
Union Minister – Rajnath Singh (Lucknow, Uttar Pradesh)
Minister of State – Ajay Bhatt (Nainital-Udhamsingh Nagar, Uttarakhand).
Cabinet Approval on September 29, 2021
The Union Cabinet headed by Prime Minister Narendra Modi approved the following important initiatives on September 29, 2021.
Modification:
Cabinet has approved renaming the Mid-Day Meal Scheme into PM POSHAN (Pradhan Mantri Poshan Shakti Nirman).
The Cabinet Committee on Economic Affairs chaired by PM Narendra Modi has approved the listing of Export Credit Guarantee Corporation (ECGC) Ltd., an unlisted Central Public Sector Enterprises (CPSE) through the Initial Public Offer (IPO) on the Stock Exchange under the SEBI's (Issue of Capital and Disclosure Requirements) Regulations, 2018.
About Ministry of Education:
Union Minister – Dharmendra Pradhan (Constituency – Madhya Pradesh)
Minister of State – Annpurna Devi (Kodarma, Jharkhand), Subhas Sarkar (Bankura, West Bengal), Dr. Rajkumar Ranjan Singh (Inner Manipur, Manipur).
CURRENT AFFAIRS : INTERNATIONAL NEWS:
Mamady Doumbouya sworn in as interim President of Guinea:
Colonel Mamady Doumbouya was sworn in as Interim President of coastal West African country of Guinea.
Colonel Doumbouya, who led the overthrow of President Alpha Conde on 5th of last month was sworn in by Supreme Court Head Mamadou Sylla for a transition period of unspecified length.
The new Interim President spoke of his commitment that neither he nor any member of the junta would stand in any future elections that the military have promised to organise after a transition period
About Guinae:
President: Alpha Condé Trending
Capital: Conakry
Currency: Guinean franc
North Korea Test-Fired Hypersonic Missile: Hwasong-8
The North Korean Academy of National Defense Science has test-fired a newly-developed hypersonic missile, 'the Hwasong-8'.
Hwasong series missiles used liquid-propellant engines with an ampoule fuel system.
North Korea has used the ampoule fuel system for the 1st time.
The missile has nuclear capabilities and they have named it a 'strategic weapon'.
About Hypersonic Missile:
Hypersonic are the missiles that are capable of travelling at least 5 times the speed of sound. They are more difficult to track and intercept.
The ampoule is the Russian term for liquid-propellant missiles that could be fueled during production and then sent to the field in canisters.
Quick Launch Time: This technology reduces the launch time as it allows missiles to be pre-fuelled and then sent to the field in canisters.
Thus, the soldiers do not need to fuel the missiles in the field as they could potentially stay launch-ready for years.
Russia, China and other countries are also developing hypersonic weapons systems. South Korea also launched a new submarine capable of firing ballistic missiles.
CURRENT AFFAIRS : STATE NEWS
Anurag Thakur to inaugurate various roads of PMGSY in Himachal Pradesh:
Union Information and Broadcasting Minister Anurag Singh Thakur has arrived to Hamirpur district as part of his two-day visit to Himachal Pradesh.
During his visit, Mr Thakur will inaugurate various roads of Pradhan Mantri Gram Sadak Yojana (PMGSY) in Hamirpur district.
The Union Minister has inaugurated various roads made under Pradhan Mantri Gram Sadak Yojana at Majhog khas, Panjot and Bharmoti of Sujanpur, Bhoranj and Nadun assembly constituencies in Hamirpur district.
The Union Minister will also launch the 25th Nand Ghar at Dadla in Sujapur, which provides service in the field of child malnutrition eradication, education, health care and women empowerment. He will also participate in the Yuva Morcha Sammelan at Tauni Devi at Sujanpur in Hamirpur district
About Himachal Pradesh:
Chief minister: Jai Ram Thakur
Capitals: Shimla (Summer), Dharamshala (Winter)
Governor: Rajendra Vishwanath Arlekar
About PMGSY:
Launch year: 2000
Launched by (prime minister): Atal Bihari Vajpayee
Ministry: Ministry of Rural Development
Odisha targets to achieve 100% house connections for drinking water in all cities by December 2022:
Odisha has targeted to achieve 100% house connections for drinking water in all cities by December 2022. Speaking at the launch of Swachh Bharat mission 2.0 and AMRUT 2.0 by Prime Minister Narendra Modi.
Odisha has substantially benefited from AMRUT MISSION launched by the union government in 2015.
Chief Minister Naveen Patnaik has announced that Odisha capital Bhubaneswar has become the first and only million plus city so far to achieve 100% house connection for tapped water supply.
The state has also set a target to set up 100% faecal sludge facilities in all the cities of the state by March 2022.
Odisha's partnership with the central government in successful implementation of these flagship missions.
About Odisha:
Capital: Bhubaneswar
Governor: Ganeshi Lal
Chief minister: Naveen Patnaik
CURRENT AFFAIRS : BUSINESS NEWS
PM Modi shares his remarks at launch of India Pavilion at Dubai Expo 2020 through video conferencing:
Prime Minister Narendra Modi has invited global investors to invest in India and be a part of India's growth story. Sharing his remarks at the launch of India Pavilion at Dubai Expo 2020 through video conferencing.
The main theme of Expo is Connecting Minds, Creating the Future. the spirit of this theme is also seen in India's efforts as we move ahead to create a New India.
This expo is also testimony to the resilience of mankind against the once in a century pandemic.
Referring to the theme of India's pavilion Openness, Opportunity and Growth, the Prime Minister stressed that today's India is one of the most open countries in the world, open to learning, open to perspectives, open to innovation and open to investment.
India's economic growth is powered by a combination of legacy industries and start-ups. India's pavilion will showcase the best of India across these multiple areas.
Mr Modi called the Expo historic and it is the first one to be held in the Middle East, Africa and South Asia region.
The Expo will go a long way in further building our deep and historical relations with UAE, and with Dubai.
CURRENT AFFAIRS : BANKING & ECONOMY
UPI records 365 crore transactions worth ₹6.54-lakh cr in September:
Digital payments continued to register robust growth in September amidst the festival season and normalisation of economic activities.
The Unified Payments Interface (UPI) registered 365 crore transactions worth ₹6.54-lakh crore in September, as per data released by the National Payments Corporation of India
The UPI platform had clocked 355 crore transactions amounting to ₹6.39-lakh crore in August.
This was the third consecutive month where UPI transactions remained well above the 300-crore mark.
Immediate Payment Service (IMPS) also registered a rise in transactions and processed 38.44 crore payments of ₹3.24-lakh crore in September. As many as 37.79 crore transactions amounting to ₹3.18-lakh crore took place through IMPS
About UPI:
Unified Payments Interface is an instant real-time payment system developed by National Payments Corporation of India facilitating inter-bank peer-to-peer and person-to-merchant transactions.
Owner: National Payments Corporation of India
Introduced: 11 April 2016
About IMPS:
Immediate Payment Service is an instant payment inter-bank electronic funds transfer system in India. IMPS offers an inter-bank electronic fund transfer service through mobile phones.
The service is available 24×7 throughout the year including bank holidays. NEFT was also made available 24×7 from December 2019
Owner: National Payments Corporation of India
Founded: 22 November 2010
RBI takes Indian Overseas Bank out of Prompt Corrective Action framework
The Reserve Bank of India (RBI) removed Indian Overseas Bank (IOB) from the Prompt Corrective Action Framework (PCAF) as the performance of bank is compliant with the PCA parameters.
This decision has been taken during the performance review of Indian Overseas Bank by the Board for Financial Supervision.
With this, IOB committed to comply with the norms of Minimum Regulatory Capital, Net NPA (non-performing assets) and leverage ratio on an ongoing basis.
Background:
The RBI had put IOB under the PCAF in October 2015 due to high NPAs and negative Return on Assets (RoA).
IOB was barred from increasing risk-weighted assets.
About PCAF:
The PCAF was introduced in 200 under which RBI imposes certain business restrictions on banks with weak financial metrics due to poor asset quality, or vulnerable due to loss of profitability.
About Reserve Bank of India (RBI):
Establishment– 1st April 1935
Headquarters– Mumbai, Maharashtra
Governor– Shaktikanta Das
Deputy Governors – Mahesh Kumar Jain, Michael Debabrata Patra, M. Rajeshwar Rao, T. Rabi Sankar
SEBI Board Approved List of Key Amendments, Initiatives
The board of Securities and Exchange Board of India (SEBI) under its board meeting issued frameworks for Gold Exchange, social stock exchange, delisting framework, and superior voting rights shares and approved some amendments
About Securities and Exchange Board of India (SEBI):
Establishment – On April 12, 1992, in accordance with the SEBI Act, 1992.
Headquarters – Mumbai, Maharashtra
Chairman – Ajay Tyagi
Stellapps, Airtel Payments Bank partner for Cashless Fund Transfer to Small Dairy Farmers
Dairy-tech startup Stellapps and Airtel Payments Bank have joined hands to enable cashless payment transfers to small dairy farmers.
Need of this partnership:
Farmers have been facing a challenge of long travel to the nearest ATM (Automatic Teller Machine) or bank branch for withdrawing cash.
Now under this partnership, stellapps milk collection centers will act as banking points which will enable farmers to open a bank account, withdraw and deposit cash, earn interest on savings, access Aadhaar enabled payments, get government pension schemes, and make bill payments.
This project will be initiated in Uttar Pradesh (Varanasi & Kanpur) and Madhya Pradesh (Gwalior).
These centres will be powered by mooPay (Stellapps fintech platform) with access to ecosystem partnerships to assist in farm improvement, animal healthcare, and nutrition services.
About Airtel Payments Bank:
Managing Director & CEO– Anubrata Biswas
Headquarter– New Delhi, Delhi
About Stellapps:
It has been closely working with dairies and their milk collection centers to facilitate direct payments to the bank account of the dairy farmers through mooPay.
CURRENT AFFAIRS : APPOINTMENTS AND RESIGNATION:
Ambrish Jain steps down as COO of Vodafone Idea:
Vodafone Idea announced that after a 20 years stint, Ambrish Jain, Chief Operating Officer, will be retiring from the services of Vodafone Idea at the end of October 2021.
Ambrish started his career more than 40 years back. He has been part of the telecom industry in India since the mid-90s when the first licenses were issued.
Arvind Nevatia, currently Cluster Business Head – Karnataka & Andhra Pradesh, will take over as Chief Enterprise Business Officer effective November 1
Abhijit has wide experience in the telecom space and has worked extensively in Enterprise and Consumer Sales, Marketing, Distribution and Operation
He joined the Company in March 2015 and has held leadership roles in Consumer Operations and Enterprise.
Former MD of Ford India Anurag Mehrotra, joins Tata Motors:
Former Managing Director of Ford India, Anurag Mehrotra, has joined the commercial vehicle division of Tata Motors as vice-president international business and strategy.
Mehrotra had quit Ford India in September after the American auto brand decided to shut down manufacturing and sales of Ford's existing range of cars in India.
Mehrotra has been appointed as vice-president (international business and strategy) of its commercial vehicles business unit (CVBU), with effect from October 1.
Mehrotra had left Ford at the end of September after the company announced a leadership change in its operations in India weeks after declaring stoppage of vehicle production in the country.
As part of the exercise, Balasundaram Radhakrishnan, director (manufacturing) of Ford India Pvt Ltd (FIPL), was appointed to the role of transformation officer of the company
Aurobindo Pharma Managing Director N Govindarajan resigns:
Drug firm Aurobindo Pharma, Director N Govindarajan has tendered his resignation as the managing director and a director on the company's board due to personal reasons.
His resignation was considered and accepted by the board of directors. N Govindarajan will be relieved from the services of the company effective from the close of business on December 31, 2021.
The board has also taken note of the appointment of S Damodharan as chief operating officer for the active pharmaceutical ingredient (API) vertical
The board has further taken note of the appointment of P Yugandhar as the chief executive officer of Eugia Pharma Specialities Ltd, a wholly-owned subsidiary of the company focused on generic injectables and oncology business.
Shares of Aurobindo Pharma on Friday closed at ₹717.25 per scrip on the BSE, down 1.21 per cent from its previous close.
Former Foreign Minister Fumio Kishida Set to Become the 100th PM of Japan
Former Foreign Minister Fumio Kishida (64 years old) has been elected as the president of the ruling Liberal Democratic Party (LDP) and set to become the next and the 100th Prime Minister (PM) of Japan.
He will be succeeding Yoshihide Suga, who stepped down as Japan's PM.
About Fumio Kishida:
Fumio Kishida hails from Hiroshima, Japan.
He served as the LDP policy chief and Japan's longest-serving post-war foreign minister under the premiership of Shinzo Abe from 2012 to 2017.
CURRENT AFFAIRS : AWARDS AND HONOURS:
CII-SR launches CFO Excellence Awards:
The Confederation of Indian Industry (CII), Southern Region has launched the first edition of the CII CFO Excellence Awards at a virtual event.
The annual awards are instituted with the objective of identifying and acknowledging Chief Financial Officers (CFOs) who have demonstrated outstanding capabilities and exemplary achievements in the finance function.
The virtual event saw the launch of ciicfoawards.com portal to invite nominations from CFOs across the country for awards in 18 covering diverse sectors and themes.
Women will have equal representation across all categories.
The steering committee for the awards is chaired by Gopal Mahadevan, Whole-time Director and CFO, Ashok Leyland and includes CFOs B Ganesh Shenoy of MTR Foods, MP Vijay Kumar of Sify Technologies, Milind Kulkarni, of Tech Mahindra and Sachin Tayal, MD, Protiviti Member Firm for India.
The steering committee with the technical partner for the awards, Protiviti Member Firm for India, has developed a simple assessment methodology to analyse and evaluate the achievements of the CFOs from across small, mid-Size and large firms across India.
An eminent and senior panel of Jury members would be assessing the nominations to adjudge the winners across all categories.
Delhi-based organisation, LIFE wins 2021 Right Livelihood Award
Delhi-based environmental organisation Legal Initiative for Forest and Environment (LIFE) has won the 2021 Right Livelihood Award, for empowering communities in areas ranging from child protection to environmental defence.
The award is also known as Sweden's alternative Nobel Prize given by the Swedish Right Livelihood Foundation.
Other Award Winners
LIFE shared the award with three other winners including Freda Huson, a Canadian indigenous rights campaigner, Marthe Wandou, a Cameroonian woman fighting sexual violence against girls, and Vladimir Slivyak, a Russian environmental campaigner.
About LIFE organisation
It stands for Legal Initiative for Forest and Environment (LIFE).It works to protect the environment in India through the creative use of law and legal processes and it works at grass roots level.
Founders – Ritwick Dutta and Rahul Choudhary
Founded In – 2005
CURRENT AFFAIRS : MOUs AND AGREEMENT:
Indian Bank inks MoU with NBFCs for priority sector lending:
Indian Bank has announced that it has entered into a memorandum of understanding with three leading non-banking finance companies (NBFCs) and housing finance companies (HFCs) for co-originate loans to the priority sectors.
The Chennai-based lender is partnering with Indiabulls Housing Finance, Indiabulls Commercial Credit and IIFL Home Finance on this co-lending arrangement.
The arrangement entails joint contribution of credit at the facility level, by both lenders. It also involves sharing of risks and rewards between the bank and the NBFC for ensuring appropriate alignment of respective business objectives, as per the mutually decided agreement between the bank and the NBFC
The bank expects to generate substantial business under the priority sector through co-Lending during the third quarter of the current fiscal
About Indian Bank:
CEO: Padmaja Chunduru
Headquarters: Chennai
Founded: 15 August 1907
CURRENT AFFAIRS : RANKING
India Ranks 59th in 'Digital Quality of Life Index 2021; Denmark Tops
India was positioned at an overall rank of 59th among 110 countries in the 3rd edition of 'Digital Quality of Life Index (DQL) 2021' prepared by cybersecurity company 'Surfshark'.
This is 2 positions lower than the 57th rank secured by India in the 2020 Index.
For the 2nd consecutive time, Denmark topped the ranking, followed by South Korea & Finland in 2nd & 3rd positions.
Ethiopia is the lowest (110) ranked Country. Cambodia ranked at 108th Position & Cameroon ranked at 109th Position .
The Index ranks India at 17th place among the Asian countries and 1st in the South Asian region.
The report evaluates countries' digital quality based on 5 fundamental principles.
CURRENT AFFAIRS : SCIENCE AND TECHNOLOGY
US' Earth-monitoring satellite 'Landsat 9' launched from California
The United States (US) satellite, Landsat 9, was launched through the United Launch Alliance (ULA) Atlas V rocket that lifted off from the foggy Vandenberg Space Force Base in California, US.
It will monitor the Earth's land surface by taking the orbital track of Landsat 7, which will be decommissioned.
It is a project of NASA (National Aeronautics and Space Administration) and the US Geological Survey (USGS).
About National Aeronautics and Space Administration (NASA):
Administrator – Bill Nelson
Headquarter– Washington, DC, United States
CURRENT AFFAIRS : SPORTS
Tokyo Olympic medalist Rupinder Pal Singh announces retirement from hockey
The Olympic bronze medal-winning Indian hockey player, Rupinder Pal Singh has announced his retirement from international hockey to make way for young and talented players.
The 30-year-old Rupinder represented the Indian hockey team in 223 matches in his 13 years hockey career.
Rupinder was part of the Indian hockey team that won the bronze medal in the 2020 Summer Tokyo Olympics, held in July – August 2021.
Daily CA On Oct 01 :
International Day of the Older Persons is observed on October 1 every year to raise problems faced by elder persons and to promote the development of a society for all ages.
World Vegetarian Day is observed annually around the planet on October 1.
International Coffee Day is celebrated on October 1 all over the day with the intention of identifying the plight of the farmers of coffee beans and expressing our love for the aromatic drink.
The Social Justice and Empowerment Ministry will organise the Vayo Naman Programme in the honour of senior citizens on the occasion of the International Day of Older Persons in New Delhi.
Anurag Thakur, who holds the Youth Affairs and Sports portfolio has launched a month-long Clean India Programme from Prayagraj as part of Azadi Ka Amrit Mahotsav.
Prime Minister Narendra Modi will interact with Gram Panchayats and Pani Samitis and Village Water and Sanitation Committees (VWSC) on Jal Jeevan Mission.
ONGC Videsh Limited has started its first exploratory drilling campaign in Bangladesh for finding oil and gas.
India's Ambassador to China Vikram Misri has called for reformed multilateralism, resilience and redundancy in global value chains to meet current and future challenges. Delivering a lecture at New Development Bank (NDB) Think Lab, Shanghai also the serious reform of global political and economic architecture is necessary.
Due to the South West Monsoon, Maharashtra has recorded 19% excess rain during June to September 202
Ladakh Lieutenant Governor RK Mathur will lay the foundation stone for strategic roads and upgradation of border roads in Turtuk.
The Asian Infrastructure Investment Bank (AIIB) has approved a USD 356.67 million loan to the Government of India to support the expansion of the Chennai metro rail system.
The gross GST revenue collected in the month of September was 1,17,010 crore rupees, which included CGST component of 20,578 crore, SGST 26,767 crore and IGST component of 60,911 crore rupees.
Crisil Ratings credit ratio increased further in the first half of fiscal 2022, with 488 upgrades and 165 downgrades, reflecting a sharp and sustained recovery in demand despite the intense second wave of Covid-19 infections.
The World Bank will give $150 million loan to support the Government of Tamil Nadu's Chennai City Partnership: Sustainable Urban Services Programme, which seeks to help strengthen institutions, improve the financial health of service agencies, and drive significant improvements in the quality of four key urban services — water supply and sewerage, mobility, health, and solid waste management.
Gift city regulator International Financial Services Centres Authority (IFSCA) has constituted an Expert Committee to recommend an approach towards development of a Sustainable Finance Hub and provide a road map for the same.
IISc-incubated startup L2MRail, Society for Innovation and Development (SID), and IISc have signed an MoU with Kerala Rail aimed at enhancing rail safety, especially in risk-prone terrains.
The defence ministry has dissolved the Ordnance Factory Board (OFB) and transferred its assets, employees and management to seven public sector units (PSUs).
Piramal Enterprises has completed the acquisition of Dewan Housing Finance (DHFL) by paying Rs 34,250 crore to creditors of the housing finance company.
On Sep 29, 2021, Prime Minister Narendra Modi chaired the 38th PRAGATI meeting.
On Sep 27, 2021, The US space agency National Aeronautics and Space Administration (NASA) successfully launched Landsat 9 from the foggy Vandenberg Space Force Base in
The CHAMPIONS portal of the Ministry of Micro, Small & Medium Enterprises has announced that a new online system of MSME/Udyam Registration has crossed 50 lakh registrations of MSMEs.
According to the IIFL Wealth Hurun India Rich List 2021, Reliance Industries Limited (RIL) Chairman Mukesh Ambani continues to be India's richest man for the 10th straight year with a net worth of Rs 7,18,000 crore.
A new novel, titled  "Chronicles from the Land of the Happiest People on Earth' authored by Wole Soyinka.
On Sep 30, 2021, Olympic bronze medal-winning Indian hockey player Rupinder Pal Singh announced his retirement from international hockey with immediate effect to make way for youngsters.
The eight-division world champion and Philippines senator Manny Pacquiao announced his retirement from professional boxing after 26 years and 72 professional bouts.
On Sep 27, 2021, Liverpool legend and England World Cup Winner Roger Hunt Passed away.
On Sep 28, 2021, Professor Bala V Balachandran, the management guru and founder of the Great Lakes Institute of Management (GLIM), passed away.
Daily CA On Oct 02 :
International Day of Non-Violence is observed on October 2
Home Minister Amit Shah has flagged off All India Car Rally of the National Security Guard
Centre to start procurement of paddy under MSP scheme in Punjab & Haryana
The Labour Ministry reconstituted the expert group responsible for determining the national floor level minimum wages under the Code on Wages
Defence Acquisition Council (DAC) approved the Acceptance of Necessity (AoN) for defence procurement worth Rs. 13,165 crores for modernisation of Indian Armed Forces
Cabinet has approved renaming the Mid-Day Meal Scheme into PM POSHAN (Pradhan Mantri Poshan Shakti Nirman)
Colonel Mamady Doumbouya was sworn in as Interim President of coastal West African country of Guinea
North Korean Academy of National Defense Science has test-fired a newly-developed hypersonic missile, 'the Hwasong-8'
Anurag Thakur to inaugurate various roads of PMGSY in Himachal Pradesh
Odisha targets to achieve 100% house connections for drinking water in all cities by December 2022
PM Modi shares his remarks at launch of India Pavilion at Dubai Expo 2020 through video conferencing
UPI records 365 crore transactions worth ₹6.54-lakh crore in September
RBI takes Indian Overseas Bank out of Prompt Corrective Action framework
SEBI Board Approved List of Key Amendments, Initiatives
Dairy-tech startup Stellapps and Airtel Payments Bank have joined hands to enable cashless payment transfers to small dairy farmers
Ambrish Jain steps down as COO of Vodafone Idea
Former Managing Director of Ford India, Anurag Mehrotra, has joined the commercial vehicle division of Tata Motors as vice-president international business and strategy
Aurobindo Pharma Managing Director N Govindarajan resigns
Former Foreign Minister Fumio Kishida Set to Become the 100th PM of Japan
The Confederation of Indian Industry (CII), Southern Region has launched the first edition of the CII CFO Excellence Awards at a virtual event
Delhi-based organisation, LIFE wins 2021 Right Livelihood Award
Indian Bank inks MoU with NBFCs for priority sector lending
India Ranks 59th in 'Digital Quality of Life Index 2021; Denmark Tops
US' Earth-monitoring satellite 'Landsat 9' launched from California
Tokyo Olympic medalist Rupinder Pal Singh announces retirement from hockey