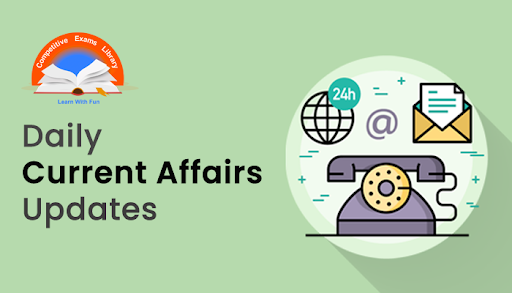 Dear Readers, Daily Current Affairs News Updates about the National and International events were listed here. Read Current Affairs Today here and stay updated with current news. Candidates those who are preparing for IBPS/SBI/PO/Clerk exam and all other competitive exams can use this and try the Current Affairs Quiz to test your knowledge level.
CURRENT AFFAIRS: IMPORTANT DAYS
World Animal Day 2021- Oct 4
World Animal Day 2021 is observed every year on October 4th to raise awareness about improving the welfare standards of the animals across the globe.
The theme for the World Animal Day 2021 is "Forests and Livelihoods: Sustaining People and Planet."
This International day of action(World Animal Day) is also the Feast Day of St Francis of Assisi, the patron saint of animals.
Heinrich Zimmermann organized the first celebration in 1925 in Berlin, Germany. He launched the event to raise awareness and improve the welfare of animals.
More than 5000 people showed up and showed their support in the first event.
CURRENT AFFAIRS: NATIONAL NEWS
New road project connecting Surat and Chennai – Nitin Gadkari
Union Minister for Road Transport and Highways Nitin Gadkari announced a new ambitious road project connecting Surat in Gujarat and Chennai in Tamil Nadu.
The new green field road will cover Surat-Nashik-Ahmadnagar-Solapur-Chennai with the cost of 50 thousand crore rupees. 
He also inaugurated a Highway Project in Ahmadnagar district of Maharashtra.
The traffic congestion will be removed due to this road network and a total of 1,150 hectares of land will be acquired for this project.
About Gujarat:
Capital: Gandhinagar
Governor: Acharya Devvrat
Chief minister: Bhupendrabhai Patel
About Tamil Nadu:
Governor: R. N. Ravi
Capital: Chennai
Chief minister: M. K. Stalin
Environment Minister Bhupender Yadav has launched a web portal
Environment Minister Bhupender Yadav has launched a web portal – indianwetlands.in on the occasion of Gandhi Jayanti and heralding the Iconic Week of Azadi ka Amrit Mahotsav of the Ministry. The portal is a single point access to all information relating to wetlands.
The portal is a dynamic system for processing information and making it available to the stakeholders in an efficient and accessible manner
The portal would be populated by the different States and UTs and additional features may be added in the coming months. The portal also enables citizen engagement
Currently citizens can register themselves and upload wetland related pictures across different themes. The portal has been developed under a Technical Cooperation project "Wetlands Management for Biodiversity and Climate Protection" Wetlands Project of Ministry of Environment, Forest and Climate Change in partnership with Deutsche Gesellschaft für Internationale Zusammenarbeit (GIZ) GmbH.
The project is commissioned by the German Federal Ministry for the Environment, Nature Conservation and Nuclear Safety BMU under the International Climate Initiative IKI.
World's largest Khadi National Flag Installed in Ladakh:
World's largest Khadi national flag was installed at Leh in Ladakh on the occasion of Gandhi Jayanti. It was inaugurated by Ladakh Lieutenant Governor RK Mathur.
The tricolor, which is 225-feet long and 150-feet wide, weighs around 1,000 kg. The flag has been made by Khadi and Village Industries Commission (KVIC) and was displayed by 57 Engineer Regiment of the Indian Army.
Army Chief General Manoj Mukund Naravane was also present along with other army officials during the inauguration of the flag.
The flag measuring 225 ft by 150 ft and weighing 1000 kgs, is the largest hand woven and hand spun Cotton Khadi Flag ever manufactured in India by the Khadi Village and Industries Commission affiliated Mumbai based Khadi Dyers and Printers.
Sura-Soi Engineer Regiment was entrusted with the responsibility of installing the National Flag at the top of the high mountains
KVIC has created the largest symbol of patriotism for the people of the country.
15th Edition of Indo-Nepal Joint Training Exercise – Uttarakhand
The 15th Edition of Indo-Nepal Joint Training Exercise, EXERCISE SURYA KIRAN XV culminated at Pithoragarh, Uttarakhand after 14 days of rigorous training.
The Joint Exercise, which began on 20 September, was focused on Counter Terrorism and Disaster Relief operations. The exercise also provided an opportunity to troops of both Armies to foster everlasting professional and social bonding.
After intense military training, the joint exercise concluded with both Armies exhibiting their combat power and dominance over the terrorist groups during the validation exercise. The closing ceremony showcased the immense talent with unique traditional touch of both Nations.
The exercise will go a long way in future strengthening the bonds between the Armed Forces of both countries
About Nepal:
Capital: Kathmandu
Currency: Nepalese rupee
President: Bidhya Devi Bhandari
Prime minister: Sher Bahadur Deuba
Mansukh Mandaviya to virtually inaugurated the Iconic week
Chemicals and Fertilizers Minister Mansukh Mandaviya has virtually inaugurated Iconic week under which various activities will be organized across the country.
Department of Pharmaceuticals has celebrate the iconic week from 4th to 10th October with the theme Story Of Pharma @75: Future Opportunities.
Under Azadi ka Amrit Mahotsav, Pradhan Mantri Bhartiya Janaushadhi Pariyojana has organised Health Check up Camps and free distribution of First Aid kits at 750 Pradhan Mantri Bhartiya Janaushadhi Kendras across the country on 10th October.
It has also conduct Jan Aushadi Paricharircha where Pradhan Mantri Bhartiya Janaushadhi Kendras owners and distributors will interact with Doctors and health workers for spreading awareness on generic drugs.
Power Ministry promulgates Electricity Rules 2021 to regulate Transmission System Planning:
The Power Ministry has promulgated the Electricity (Transmission System Planning, Development and Recovery of Inter-State Transmission Charges) Rules 2021.
This paves the way for overhauling of transmission system planning, towards giving power sector utilities easier access to the electricity transmission network across the country.
At present, generating companies apply for long-term access based on their supply tie-ups, while medium-term and short-term transmission access is acquired within the available margins.
Based on Long Term Access application, incremental transmission capacity is added. A number of sector developments, such as the increasing focus on renewable energy, and the development of the market mechanism, necessitated a review of the existing transmission planning framework based on LTA.
Govt Extended the Validity of ECLGS till March 31, 2022
To support the various businesses impacted by the second wave of COVID 19, the government has decided to extend the timeline of the Emergency Credit Line Guarantee Scheme (ECLGS) till March 31, 2022, or till guarantees for an amount of Rs 4.5 lakh crore are issued under the scheme, whichever is earlier.
The last date of disbursement under the scheme was also extended to June 30, 2022.
Since its launch, ECLGS has extended relief to over 1.15 crore Micro, Small and Medium Enterprises (MSMEs) and businesses for meeting their operational liabilities and restarting their businesses that were affected by COVID-19.
As of 24th September 2021, loans sanctioned under ECLGS have crossed Rs. 2.86 lakh crore and out of which, about 95 percent of the loans were issued for MSMEs.
About Ministry of Finance:
Union Minister – Nirmala Sitharaman (Karnataka)
Minister of State (MoS) – Pankaj Chaudhary (Maharajganj, Uttar Pradesh), Bhagwat Kishanrao Karad (Constituency – Maharashtra)
Indian & Australian Navies signs 'Terms of Reference' to conduct Navy to Navy talks
The Indian Navy signed the 'Terms of Reference' (ToR) with the Royal Australian Navy to conduct Navy to Navy (N2N) talks under the framework of the 'Joint Guidance for the India – Australia Navy to Navy Relationship' document signed by the Navies in August.
Notably, this is the 1st time the Indian Navy has signed such an agreement with another country.
The inaugural Navy-to-Navy Talk between India & Australia was held in 2005.
Signatories:
The signing ceremony was held virtually between Rear Admiral Jaswinder Singh, ACNS (FCI), IN and Rear Admiral Christopher Smith, DCNS, RAN.
About Indian Navy:
Chief of Naval Staff (CNS) – Admiral Karambir Singh
Founded – 26 January 1950
About Australia:
Prime Minister – Scott Morrison
Capital – Canberra
'AUSINDEX' is an annual bilateral Military Exercise between India & Australia
Bhupender Yadav launched 'DigiSaksham' in collaboration with Microsoft India to boost Youth Employment
As a move to further extend the Central Government's effort of supporting youth from rural and semi-urban areas, on September 30, 2021, Union Minister Bhupender Yadav, Ministry of Labour and Employment launched DigiSaksham in collaboration with Microsoft India.
It aims to enhance youth employment opportunities in these areas by imparting digital skills.
Microsoft India has also roped in Aga Khan Rural Support Programme-India and its knowledge partner TMI e2E Academy for rolling out this initiative.
About Ministry of Labour & Employment (MoL&E):
Bhupender Yadav Constituency– Constituency – Rajasthan
Minister of State– Rameswar Teli (Constituency – Dibrugarh, Assam)
CURRENT AFFAIRS: INTERNATIONAL NEWS
NTPC REL signs 1st Green Term Loan Pact of Rs 500 cr with Bank of India
The NTPC Renewable Energy Ltd. (REL) signed its first Green Term Loan (GTL) agreement of Rs 500 crores with Bank of India (BoI) for a period of 15 years.
The loan will be used for the development of 470 MW (Mega Watt) solar project in Rajasthan and 200 MW solar project in Gujarat.
A green loan is a type of loan instrument enabling borrowers to finance environmental projects.
Signatories:
It was signed in the presence of NTPC Director (Finance) Anil Kumar Gautam, Chandan Kumar Mondal, Chairman of NTPC REL; and Mohit Bhargava, Chief Executive Officer (CEO), NTPC REL and senior officials from Bank of India.
About Bank of India (BoI):
Managing Director & CEO– Atanu Kumar Das
Headquarter– Mumbai, Maharashtra
Tagline– Relationship beyond banking
Indel Money ties up with IndusInd Bank for 1st Gold Loan co-lending Partnership
A first-of-its-kind conventional gold loan co-lending partnership has been generated between a Non-Banking Financial Company (NBFC), Indel Money, and a commercial bank i.e. IndusInd Bank. 
Under this tie-up, IndusInd Bank will offer gold loans at competitive rates to its customers, which will be processed by Indel Money on mutually formulated credit parameters and eligibility criteria.
80% of gold loans will be funded by IndusInd Bank while the remaining 20% will be funded by Indel Money.
About Indel Money:
Executive Director & CEO– Umesh Mohanan
Headquarter– Mumbai, Maharashtra
About IndusInd Bank:
Managing Director & CEO– Sumant Kathpalia
Headquarter– Pune, Maharashtra
Tagline– We Make You Feel Richer
Gandhi Museum has inaugurated at Noakhali in Bangladesh
On the occasion of the 152 birth anniversary of Mahatma Gandhi, the renovated Gandhi Museum was inaugurated at the historic Gandhi Ashram Trust at Noakhali in Bangladesh.
The inauguration was done by the Foreign Minister of Bangladesh Dr A K Abdul Momen, Law Minister Advocate Anisul Huq and High Commissioner of India to Bangladesh Vikram Doraiswami.
The renovation of the Museum housed inside the Gandhi Ashram campus has been supported by India. The guests visited the Gandhi Memorial Museum and appreciated the unique display of memorabilia and artefacts related to Mahatma Gandhi.
A seminar on the theme of  Ahimsa,  Satyagraha and the Mahatma – Revisited  was also organised to  commemorate the  International Day of Non-Violence and the 152nd Birth Anniversary of Mahatma Gandhi at Gandhi Ashram, Noakhali as part of Azadi ka Amrit Mahotsav celebrations.
Foreign Minister Dr. A K Abdul Momen recalled the influence of Mahatma Gandhi on Bangabandhu Sheikh Mujibur Rahman
Bangladesh Naval ship reached Visakhapatnam on 5-day visit
Bangladesh Naval Ship (BNS) Somudra Avijan has reached Visakhapatnam on a five day visit to the Eastern Naval Command. The officers and crew of BNS Avijan were accorded a traditional welcome by the representatives of the Eastern Naval Command and the Eastern Fleet with the navy band in attendance, said an official press release.
The BNS Somudra Avijan is visiting India for the joint celebration of the birth centenary year of Bangabandhu Sheikh Mujibur Rahman and golden jubilee of the Liberation War of Bangladesh.
A series of activities between the two navies are scheduled during the 5-day visit of BNS Somudra Avijan. These include professional interactions, cross-deck visits, visit to INS Vishwakarma and INS Dega.
A special documentary on the Bangladesh Navy and interaction with 1971 war veterans would be major highlights of the visit.
CURRENT AFFAIRS: STATE NEWS
AP Governor launches 'one million tree plantation' programme:
Andhra Pradesh Governor Biswa Bhusan Harichandan has launched the one million tree plantation programme of the Indian Red Cross Society, Andhra Pradesh State Branch, by planting a sapodilla plant in the Raj Bhavan lawns at a programme on the occasion of Mahatma Gandhi Jayanthi.
The Andhra Pradesh State Branch of the Indian Red Cross Society has taken up the programme to plant 10 lakh trees across the 13 districts in the State with the help of 13 lakh Junior Red Cross volunteers and Youth Red Cross volunteers in 3000 schools and colleges.
The tree plantation programme has been taken up by the AP State Branch of the Indian Red Cross Society to celebrate the 75th year of India's Independence and also coinciding with the Swach Bharat 2.0 Mission launched by Prime Minister Narendra Modi and the Clean Andhra Pradesh (CLAP) programme launched by Andhra Pradesh Chief Minister Y.S. Jagan Mohan Reddy.
The tree plantation programme by 13 lakh Junior Red Cross volunteers and Youth Red Cross volunteers will continue across 13 districts in the State till end of January, 2022.
About Andhra Pradesh:
Governor: Biswabhusan Harichandan
Chief minister: YS Jagan Mohan Reddy
Maharashtra village getting 24 hrs clean drinking water under Jal Jivan Mission scheme
Prime Minister Mr. Narendra Modi recently interacted with Sarpanchs, members and Gram Sabhas of selected Gram Panchayats in various states through a televised system to know about the progress of National Water Mission in their region.
The Banwadi Gram Panchayat in Satara district of Maharashtra was one of the participant.
Speaking to All India Radio Sarpanch of Banwadi village Pradip Patil informed that every house in his village is getting 24 hours clean drinking water under the Central Government's Jal Jivan Mission scheme.
About Maharashtra:
Governor: Bhagat Singh Koshyari
Capital: Mumbai
Chief minister: Uddhav Thackeray
About Jal Jivan Mission:
Jal Jeevan Mission, is envisioned to provide safe and adequate drinking water through individual household tap connections by 2024 to all households in rural India.
The programme will also implement source sustainability measures as mandatory elements, such as recharge and reuse through grey water management, water conservation, rain water harvesting.
The Jal Jeevan Mission will be based on a community approach to water and will include extensive Information, Education and communication as a key component of the mission.
The Mission was launched on August 15, 2019.
Nitin Gadkari inaugurates Highway projects of 527 km length in Maharashtra
Union Road Transport and Highway Minister Nitin Gadkari has inaugurated National Highway projects totalling a length of 527 km, worth Rs 4,075 crore at Ahmednagar district in Maharashtra.
Bhumipoojan and dedication of these projects to the nation was held in a programme organized at Kedgaon in Ahmednagar by the National Highways Authority of India (NHAI).
The 527 Km road development projects in Ahmednagar district will be implemented through the Ministry of Road Transport and Highways, National Highways Authority of India and Public Works Department, Government of Maharashtra and there is a need to run vehicles on electricity and ethanol on the lines of Brazil.
India has produced 4.65 billion litres of ethanol last year and it needs 16.5 billion litres of ethanol hence the Central Government will take up as much ethanol as  produced.
The Government of India has allowed ethanol pumps so, all sugar mills should start ethanol pumps in their area.
About Maharashtra:
Governor: Bhagat Singh Koshyari
Capital: Mumbai
Chief minister: Uddhav Thackeray
Cycle race "Pedal for Peace" organised by Police along with NGO: J & K
In Jammu and Kashmir, a cycle race "Pedal for Peace" was organised by Police alongwith an NGO 'Feeding Kashmir' in Vilgam area of Handwara in north  Kupwara district.
The programme was  as a part of ongoing country wide celebrations of 'Azadi Ka Amrit Mahotsav',
The cycle race was flagged off from Police Station Vilgam and  culminated at Champora.
The event was witnessed by a large number of local population of the area.
CURRENT AFFAIRS: BANKING & ECONOMY NEWS
The Monetary Policy Committee (MPC) is expected to keep key rates unchanged:
The Monetary Policy Committee (MPC) assessment of the evolving domestic and global macro-economic and financial conditions and the outlook, the MPC voted unanimously to keep the policy repo rate unchanged at 4 per cent
Amidst softening retail inflation, the Monetary Policy Committee is expected to keep key rates unchanged and maintain its accommodative stance to help sustain the growth momentum. Some experts believe that there could be steps announced to calibrate excess liquidity.
Retail inflation, as measured by the Consumer Price Index, eased to a four-month low of 5.3 per cent in August with moderation in food prices
The MPC, chaired by RBI Governor Shaktikanta Das, is set to meet between October 6 and 8 for the next bi-monthly review. 
The Reserve Bank had last cut the repo rate by 40 basis points in May 2020 but has since then maintained status quo on rates.
NTPC gained nearly 3% on ₹15,000 crore asset monetisation plan by 2024
Shares of public sector power giant NTPC gained nearly 3 per cent during the morning trade on reports of the company's plans to raise ₹15,000 crore by 2024 through the listing of its three units: NTPC Renewable Energy, North Eastern Electric Power Corp (NEEPCO) and NTPC Vidyut Vyapar Nigam.
NTPC is planning to sell shares in NTPC Renewable Energy within a year. Meanwhile, it is planning initial public offerings of Neepco and NTPC NVVN by March 2024
The NTPC Renewable Energy's target will be to have a minimum of 10 gigawatts of generation capacity by the time.
About NTPC:
NTPC Limited, formerly known as National Thermal Power Corporation Limited, is an Indian statutory corporation. It engaged in generation of electricity and allied activities. It is a statutory corporation incorporated under the Companies Act 1956 and is under the jurisdiction of Ministry of Power, Government of India.
Founded: 1975
Headquarters: New Delhi, India
AU SFB, NABARD collaborates to boost rural development in Rajasthan
Private sector AU Small Finance Bank (SFB) signed a pact with the National Bank for Rural and Development (NABARD) to boost ongoing rural development initiatives in Rajasthan.
Objective
The initiatives will benefit farmers, Farmer Producer Organisations (FPOs), Self Help Groups (SHGs), rural artisans, agri-entrepreneurs, and agri-startups in the State.
The partnership helps to improve the rural prosperity of the state by various ongoing initiatives and lending facilities.
This lending facilities would enhance the agriculture and rural development in the state.
About NABARD
It stands for National Bank for Rural and Development
Chairman: Dr G R Chintala
Founded In – 1982
Headquarters: Mumbai, Maharashtra
About AU Small Finance Bank
Managing director & CEO: Sanjay Agarwal
Headquarters: Jaipur, Rajasthan
AIIB Grants USD 356.67 mn Loans for Chennai Metro; India Becomes Largest Beneficiary of AIIB
The Asian Infrastructure Investment Bank (AIIB) will provide loan assistance of USD 356.67 million (~Rs.2.65 lakh Crore) for the expansion of Chennai Metro Rail system, Tamil Nadu (TN), India.
With this Investment, AIIB has invested a total of USD 6.7 billion making India its largest beneficiary.
Chennai Metro Rail Project:
AIIB will invest in the phase 2 of the project that involves construction of a new corridor in Chennai's Metro Network.
The project is aligned with AIIB's mandate to support high-quality and sustainable infrastructure.
It will promote integrated economic and transport sector growth in Chennai.
It will also reduce greenhouse gas (GHG) emissions which further led to reducing carbon footprint
The metro project will span from Lighthouse in the east to Poonamallee Bypass in the west to ensure seamless multimodal transport across Chennai by providing integrated access to suburban rail, bus stations and the city's main airport.
The station will be equipped with rooftop solar panels, which promotes green economic growth in the city. 
The project also integrates climate change resilience features to reduce its vulnerability to climate-related events.
About Asian Infrastructure Investment Bank (AIIB)
Headquarters- Beijing, China
Member – 103 members ( 2021)
Commenced Operation- 2016
President- Jin Liqun
CURRENT AFFAIRS: APPOINTMENTS & RESIGNATIONS
CoinDCX has brought actor Amitabh Bachchan as its first-ever brand ambassador
Cryptocurrency exchange CoinDCX has brought onboard actor Amitabh Bachchan as its first-ever brand ambassador.
CoinDCX wants to increase awareness around crypto and popularise crypto as an emerging asset class.
Amitabh Bachchan will be the face of the new campaign, which will focus on popularising crypto as an asset class.
CoinDCX wants to convey that it is at the forefront when it comes to the safety of its users and being compliant with all the regulations. The brand aims to educate prospective users about the crypto space.
According to CoinDCX, the crypto market in India is worth more than $2 trillion and is set to increase further with more Indian investors showing interest in it.
Padmaja Chunduru appointed as MD & CEO of NSDL
In September 2021, the Securities & Exchange Board of India (SEBI) gave approval for the appointment of Padmaja Chunduru as the new Managing Director (MD) & Chief Executive Officer (CEO) of the National Securities Depository Limited (NSDL). 
She will succeed GV Nageswara Rao after his superannuation.
Padmaja Chunduru served as the MD and CEO of Indian Bank for 3-year before her term ended in August 2021.
Other notable positions held by her, Deputy Managing Director (Digital Banking) of State Bank of India.
Director in Life Insurance Corporation of India.
She served as the country head of US operations at SBI from 2014 to 2017 in New York.
She also served as the non-executive chairperson (nominee director) of Universal Sompo General Insurance Company Ltd.
About National Securities Depository Limited (NSDL):
Established – 1996
Headquarter – Mumbai, Maharashtra
Najla Bouden Romdhane Became First Woman Prime Minister of Tunisia
Tunisia's President Kais Saied has appointed Najla Bouden Romdhane as the first woman Prime Minister of Tunisia. 
She succeeds Prime Minister Hichem Mechichi who served as the Prime Minister of Tunisia, from 2020 to 2021.
About Najla Bouden Romdhane
Romdhane was born in Tunisia's central Kairouan province in 1958.
She is a geology professor at the National School of Engineers in Tunis.
She was assigned by the Ministry of Higher Education and Scientific Research to implement programmes with the World Bank.
She previously served in the education ministry in 2011.
Political Crisis: – 
Anti-government protests stemming in part from the COVID-19 pandemic resulted in parliament suspension and dismissed Prime Minister Hichem Mechichi.
President Kais also froze the activities of the parliament led by the moderate Islamist Ennahda party due to the emergency act needed in Tunisia.
About Tunisia Parliament: –
Assembly of the People's Representatives is Tunisia's legislative branch of government. The legislature consists of 217 seats.
Tunisia's electoral law requires "vertical gender parity", a male and female candidates must alternate within each party's regional list of candidates.
About Tunisia
Tunisia, officially the Republic of Tunisia, is the northernmost country in Africa.
Capital – Tunisi
Currency – Tunisian dinar
CURRENT AFFAIRS : DEFENCE NEWS
8th Edition of Indo-Sri Lanka Joint Exercise – Mitra Shakti'21
The eighth edition of India-Sri Lanka bilateral joint Exercise Mitra Shakti will be conducted at Combat Training School, Ampara in Sri Lanka from October 4 to 15 , 2021.
Aim :
To enhance inter-operability and sharing best practices in counter insurgency and counter terrorism operations between Armies of both countries and further strengthen the relationship between both the South Asian Nations.
In the joint exercise, all arms contingent of 120 personnel of the Indian Army will participate in the exercise along with a battalion of the Sri Lankan Army.
The exercise will involve tactical level operations at the sub-unit level in an international Counter Insurgency and Counter Terrorism environment and will go a long way in further strengthening the relationship between both the South Asian Nations and will act as a catalyst in bringing synergy and cooperation at the grass-root level between both Armies.
Note :
The 7th Edition of Exercise Mitra Shakti was held in 2019, at Foreign Training Node (FTN), Pune, Maharashtra.
About Sri Lanka :
Capital: Sri Jayawardenepura Kotte
President: Gotabaya Rajapaksa
Currency: Sri Lankan rupee
CURRENT AFFAIRS : APPS & SERVICES
Govt launches web portal Waste to Wealth – To find solutions to India's waste problems
On Oct 02, 2021,The government launched a web portal called "Waste to Wealth" to bring together technology providers, government stakeholders and urban local bodies to find solutions to India's waste problems, mainly plastic waste.
The portal has been launched by the Office of the Principal Scientific Adviser and inaugurated by the Principal Scientific Advisor Vijay Raghavan.
Aim :
To enhance cooperation for sustainable development through economy and community participation.
CURRENT AFFAIRS : SPORTS NEWS
Asian Table Tennis Championship 2021:  Indian men's team wins bronze 
On Oct 01, 2021, The Indian men's table tennis team claimed the bronze medal after losing to South Korea 0-3 in the semi-finals in the Asian Table Tennis Championships held in Doha, Qatar from 28 September to 5 October
This is India's second medal at Asian Championships since 1976.
The team consisted of Sathiyan Gnanasekaran, Sharath Kamal, Harmeet Desai, Sanil Shetty, and Manav Thakkar.
The women's team finished fifth after beating Thailand 3-1 .
About Asian Table Tennis Championship :
The Asian Table Tennis Championships is a biennial table tennis tournament regarded as continental championships by International Table Tennis Federation (ITTF).
Former India striker SV Sunil & Birendra Lakra announces retirement from International Hockey
The veteran forward and star striker of India men's field hockey team, S V Sunil & Olympic bronze medal-winning Indian hockey star defender Birendra Lakra have announced their retirement from international hockey.
About SV Sunil :
The 32-year-old Sunil, hailing from Karnataka.
He represented India during the 2012 London Olympics and won silver with them at the 2014 Commonwealth Games.
He has scored 72 goals in 264 appearances for the national team.
He was part of the Indian team that won gold in the 2011 Asian Champions Trophy, and silver in the same event in 2012.
He also won gold and bronze medals in the 2014 and 2018 Asian Games respectively besides gold in the Asia Cup 2017.
He played an instrumental role in the team's historic silver medal wins at the 2016 and 2018 FIH Champions Trophy.
Awards & Honours :
Sunil received the Arjuna award from President of India Ram Nath Kovind in 2017.
About Birendra Lakra :
Birendra Lakra was born on 3 February 1990 in the Sundargarh District of Odisha.
He represented India in Men's Hockey during the 2012 London Olympics.
In Tokyo 2020, he was selected as vice captain of the Indian team.
He has represented India in 197 games with 10 goals.
The National Basketball Association (NBA) named Bollywood superstar Ranveer Singh as the NBA Brand Ambassador
The National Basketball Association (NBA) named Bollywood superstar Ranveer Singh as the NBA Brand Ambassador for India to help grow the league's profile in India throughout its landmark 75th Anniversary Season in 2021-22. 
With this collaboration, Ranveer Singh will participate in a number of league initiatives that will be featured on NBA India's and his personal social media accounts.
He will attend NBA All-Star 2022 in Cleveland, where he will meet NBA players and legends. 
NBA is a global sports and media business built around four professional sports leagues: the National Basketball Association, Women's National Basketball Association, the NBA G League and the NBA 2K League.
Ranveer will also be featured on "NBA Style" (@nbastyle_in), a new lifestyle-focused Instagram account for fans in India. 
Piramal Pharma ropes in Kareena Kapoor to endorse baby products Piramal Pharma Limited's consumer products division has appointed Kareena Kapoor as brand ambassador for its brand Little's – Baby Wipes and Little's Comfy Baby Pants.
As part of the collaboration, she will endorse baby products of the company.
About Piramal Pharma Limited 
Headquarters: Mumbai, Maharashtra
Chairman: Ajay Piramal
About National Basketball Association (NBA) 
It is a professional basketball league in North America
Commissioner: Adam Silver
Headquarters: New York, United States
CURRENT AFFAIRS : OBITUARIES
Ghanshyam Nayak aka Nattu Kaka of Taarak Mehta Ka Ooltah Chashmah passes away
On Oct 03, 2021, Veteran actor Ghanshyam Nayak who is popularly known for playing the role of Nattu Kaka in Taarak Mehta Ka Ooltah Chashmah passed away.
He was 77.
About Ghanshyam Nayak :
Nayak was born on 12 May 1945 in Bombay.
Ghanshyam Nayak had more than 100 Gujarati and Hindi films to his credit & he starred in over 350 television shows.
He was known for playing the role of Natwarlal Prabhashankar Undhaiwala AKA Nattu Kaka in the famous show Taarak Mehta Ka Ooltah Chashmah.
He has acted in two of the most popular ones among them being Sarabhai Vs Sarabhai and Ek Mahal Ho Sapno Ka.
Daily CA On Oct 02 :
International Day of Non-Violence is observed on October 2
Home Minister Amit Shah has flagged off All India Car Rally of the National Security Guard
Centre to start procurement of paddy under MSP scheme in Punjab & Haryana
The Labour Ministry reconstituted the expert group responsible for determining the national floor level minimum wages under the Code on Wages
Defence Acquisition Council (DAC) approved the Acceptance of Necessity (AoN) for defence procurement worth Rs. 13,165 crores for modernisation of Indian Armed Forces
Cabinet has approved renaming the Mid-Day Meal Scheme into PM POSHAN (Pradhan Mantri Poshan Shakti Nirman)
Colonel Mamady Doumbouya was sworn in as Interim President of coastal West African country of Guinea
North Korean Academy of National Defense Science has test-fired a newly-developed hypersonic missile, 'the Hwasong-8'
Anurag Thakur to inaugurate various roads of PMGSY in Himachal Pradesh
Odisha targets to achieve 100% house connections for drinking water in all cities by December 2022
PM Modi shares his remarks at launch of India Pavilion at Dubai Expo 2020 through video conferencing
UPI records 365 crore transactions worth ₹6.54-lakh crore in September
RBI takes Indian Overseas Bank out of Prompt Corrective Action framework
SEBI Board Approved List of Key Amendments, Initiatives
Dairy-tech startup Stellapps and Airtel Payments Bank have joined hands to enable cashless payment transfers to small dairy farmers
Ambrish Jain steps down as COO of Vodafone Idea
Former Managing Director of Ford India, Anurag Mehrotra, has joined the commercial vehicle division of Tata Motors as vice-president international business and strategy
Aurobindo Pharma Managing Director N Govindarajan resigns
Former Foreign Minister Fumio Kishida Set to Become the 100th PM of Japan
The Confederation of Indian Industry (CII), Southern Region has launched the first edition of the CII CFO Excellence Awards at a virtual event
Delhi-based organisation, LIFE wins 2021 Right Livelihood Award
Indian Bank inks MoU with NBFCs for priority sector lending
India Ranks 59th in 'Digital Quality of Life Index 2021; Denmark Tops
US' Earth-monitoring satellite 'Landsat 9' launched from California
Tokyo Olympic medalist Rupinder Pal Singh announces retirement from hockey
Daily CA On Oct 03 & 04 :
World Animal Day 2021 is observed every year on October 4th to raise awareness about improving the welfare standards of the animals across the globe with the theme of "Forests and Livelihoods: Sustaining People and Planet."
Union Minister for Road Transport and Highways Nitin Gadkari announced a new ambitious road project connecting Surat in Gujarat and Chennai in Tamil Nadu.
Environment Minister Bhupender Yadav has launched a web portal – indianwetlands.in on the occasion of Gandhi Jayanti and heralding the Iconic Week of Azadi ka Amrit Mahotsav of the Ministry. The portal is a single point access to all information relating to wetlands.
World's largest Khadi national flag was installed at Leh in Ladakh on the occasion of Gandhi Jayanti. It was inaugurated by Ladakh Lieutenant Governor RK Mathur.
The 15th Edition of Indo-Nepal Joint Training Exercise, EXERCISE SURYA KIRAN XV culminated at Pithoragarh, Uttarakhand after 14 days of rigorous training.
Chemicals and Fertilizers Minister Mansukh Mandaviya has virtually inaugurated Iconic week under which various activities will be organized across the country.
The Power Ministry has promulgated the Electricity (Transmission System Planning, Development and Recovery of Inter-State Transmission Charges) Rules 2021.
To support the various businesses impacted by the second wave of COVID 19, the government has decided to extend the timeline of the Emergency Credit Line Guarantee Scheme (ECLGS) till March 31, 2022, or till guarantees for an amount of Rs 4.5 lakh crore are issued under the scheme, whichever is earlier.
The Indian Navy signed the 'Terms of Reference' (ToR) with the Royal Australian Navy to conduct Navy to Navy (N2N) talks under the framework of the 'Joint Guidance for the India – Australia Navy to Navy Relationship' document signed by the Navies in August.
As a move to further extend the Central Government's effort of supporting youth from rural and semi-urban areas, on September 30, 2021, Union Minister Bhupender Yadav, Ministry of Labour and Employment launched DigiSaksham in collaboration with Microsoft India.
The NTPC Renewable Energy Ltd. (REL) signed its first Green Term Loan (GTL) agreement of Rs 500 crores with Bank of India (BoI) for a period of 15 years.
A first-of-its-kind conventional gold loan co-lending partnership has been generated between a Non-Banking Financial Company (NBFC), Indel Money, and a commercial bank i.e. IndusInd Bank. 
On the occasion of the 152 birth anniversary of Mahatma Gandhi, the renovated Gandhi Museum was inaugurated at the historic Gandhi Ashram Trust at Noakhali in Bangladesh.
Bangladesh Naval Ship (BNS) Somudra Avijan has reached Visakhapatnam on a five day visit to the Eastern Naval Command. The officers and crew of BNS Avijan were accorded a traditional welcome by the representatives of the Eastern Naval Command and the Eastern Fleet with the navy band in attendance, said an official press release.
Andhra Pradesh Governor Biswa Bhusan Harichandan has launched the one million tree plantation programme of the Indian Red Cross Society, Andhra Pradesh State Branch, by planting a sapodilla plant in the Raj Bhavan lawns at a programme on the occasion of Mahatma Gandhi Jayanthi.
Prime Minister Mr. Narendra Modi recently interacted with Sarpanchs, members and Gram Sabhas of selected Gram Panchayats in various states through a televised system to know about the progress of National Water Mission in their region.
Union Road Transport and Highway Minister Nitin Gadkari has inaugurated National Highway projects totalling a length of 527 km, worth Rs 4,075 crore at Ahmednagar district in Maharashtra.
In Jammu and Kashmir, a cycle race "Pedal for Peace" was organised by Police alongwith an NGO 'Feeding Kashmir' in Vilgam area of Handwara in north  Kupwara district.
The Monetary Policy Committee (MPC) assessment of the evolving domestic and global macro-economic and financial conditions and the outlook, the MPC voted unanimously to keep the policy repo rate unchanged at 4 per cent
Shares of public sector power giant NTPC gained nearly 3 per cent during the morning trade on reports of the company's plans to raise ₹15,000 crore by 2024 through the listing of its three units: NTPC Renewable Energy, North Eastern Electric Power Corp (NEEPCO) and NTPC Vidyut Vyapar Nigam.
Private sector AU Small Finance Bank (SFB) signed a pact with the National Bank for Rural and Development (NABARD) to boost ongoing rural development initiatives in Rajasthan.
The Asian Infrastructure Investment Bank (AIIB) will provide loan assistance of USD 67 million (~Rs.2.65 lakh Crore) for the expansion of Chennai Metro Rail system, Tamil Nadu (TN), India.
Cryptocurrency exchange CoinDCX has brought onboard actor Amitabh Bachchan as its first-ever brand ambassador.
In September 2021, the Securities & Exchange Board of India (SEBI) gave approval for the appointment of Padmaja Chunduru as the new Managing Director (MD) & Chief Executive Officer (CEO) of the National Securities Depository Limited (NSDL). 
Tunisia's President Kais Saied has appointed Najla Bouden Romdhane as the first woman Prime Minister of Tunisia. 
The eighth edition of India-Sri Lanka bilateral joint Exercise Mitra Shakti will be conducted at Combat Training School, Ampara in Sri Lanka from October 4 to 15 , 2021.
On Oct 02, 2021,The government launched a web portal called "Waste to Wealth" to bring together technology providers, government stakeholders and urban local bodies to find solutions to India's waste problems, mainly plastic waste.
On Oct 01, 2021, The Indian men's table tennis team claimed the bronze medal after losing to South Korea 0-3 in the semi-finals in the Asian Table Tennis Championships held in Doha, Qatar from 28 September to 5 October
The veteran forward and star striker of India men's field hockey team, S V Sunil & Olympic bronze medal-winning Indian hockey star defender Birendra Lakra have announced their retirement from international hockey.
The National Basketball Association (NBA) named Bollywood superstar Ranveer Singh as the NBA Brand Ambassador for India to help grow the league's profile in India throughout its landmark 75th Anniversary Season in 2021-22. 
On Oct 03, 2021, Veteran actor Ghanshyam Nayak who is popularly known for playing the role of Nattu Kaka in Taarak Mehta Ka Ooltah Chashmah passed away