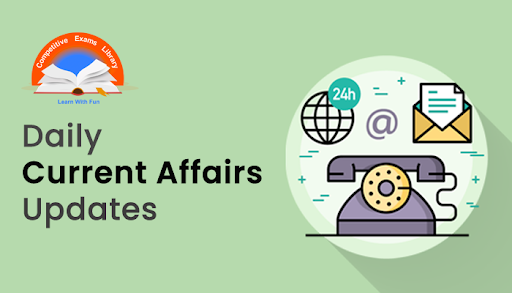 Dear Readers, Daily Current Affairs News Updates about the National and International events were listed here. Read Current Affairs Today here and stay updated with current news. Candidates those who are preparing for IBPS/SBI/PO/Clerk exam and all other competitive exams can use this and try the Current Affairs Quiz to test your knowledge level.
CURRENT AFFAIRS:DAYS
DRI celebrates 63rd Founding Day
The Directorate of Revenue Intelligence (DRI) is celebrating its 63rd Founding Day on 4th of December, 2020.
This time the celebration will be done virtually on a digital platform in the presence of the Union Minister of Finance & Corporate Affairs Smt. Nirmala Sitharaman along with the Union Minister of State for Finance & Corporate Affairs Shri Anurag Singh Thakur.
As part of this year's Founding Day celebrations, a panel discussion on Trade Based Money Laundering is also organised through video conferencing with the representatives from Australian Border Force, HM Revenue and Customs, Customs Administration of the Netherlands and INTERPOL as panelists.
About DRI
Headquarters – New Delhi
Founded – 4 th December 1957
Indian Navy Day – Dec 4
Indian Navy Day is observed on December 4th to celebrate the achievements and role of the naval force of the country.
The theme of Navy Day 2020 is Indian Navy Combat Ready, Credible & Cohesive.
About Indian Navy:
Chhatrapati Shivaji Maharaj is the Father of Indian Navy.
Indian Navy Day is also celebrated each year to work towards securing marine borders and bolstering relationships with other countries through joint exercises, humanitarian missions and relief operations.
CURRENT AFFAIRS: NATIONAL
Vocal for Local – Hunar Haat Invites artisans and craftsmen organised at Rampur and Lucknow
HunarHaat will be organised at Numaish Ground, Rampur from 18th to 27th of this month and Shilp Gram, Lucknow from 23rd to 31st January next year.
The theme will be Vocal for Local with focus on indigenous Indian toys (Swadeshi toys). Artisans and craftsmen from 27 States and UTs will bring their indigenous exquisite handmade products for display and sale at these HunarHaats.
About Hunar Haat:
Hunar Haat', the flagship programme of the Minority Affairs Ministry to create employment opportunities for artisans across India.
The Minority Affairs Ministry, which had launched Hunar Haat in FY17 as a component of the Upgrading the Skills and Training in Traditional Arts/ Crafts for Development (USTTAD) scheme launched on May 15, 2015, to focus on preserving the heritage of traditional arts of minorities.
9 th edition of International Sand Art Festival begins in Odisha's Puri
The five days event has been organised from 01 December 2020 to 05 December 2020.
Sudarsan Pattnaik, world-renowned sand artist and Padmashree Awardee, has been appointed as Chief Curator of the festival. This year, the main themes of the sculptures are 'Environment' and 'Covid-19'.
About 70 artists from across the country are set to take part in the much-awaited festival that provides a platform for both national and international sand artists to showcase their talent.
31st Konark Dance Festival begins
The 31st edition of the Konark Dance Festival began in Konark, Odisha after the Corona Protocol.
The festival is organized every year by the Tourism Department of the Government of Odisha against the backdrop of the famous Sun Temple.
Phase 8 of the Vande Bharat Mission extended till 31st December
Phase 8 of the Vande Bharat Mission has been operational since the first of November.
External Affairs Ministry spokesperson Anurag Srivastava stated, this Phase has now been extended until the 31st of December.
Under this extended phase called Phase 8 Plus, 897 international flights have been scheduled to operate from 15 countries with a capacity to repatriate an estimated 1.5 lakh people.
In addition to this, flights operated under the bilateral air bubble arrangements with 18 countries are progressing smoothly.
CURRENT AFFAIRS: BANKING AND FINANCE
RBI tells HDFC Bank to stop new digital launches
The Reserve Bank of India (RBI) has directed India's largest private sector lender, HDFC Bank, to stop issuing new credit cards as well as halt the launch of new digital businesses, according to a company filing with the stock exchanges.
About HDFC:
HDFC Bank MD and CEO: Sashi Jagdishan
Headquarters: Mumbai
RBI decides to keep benchmark interest rate unchanged at 4%
The Reserve Bank of India has decided to keep the benchmark interest rate unchanged at 4%.
Announcing the outcome of the three-day RBI bi-monthly policy review, Governor Shaktidas Das stated that the MPC has projected real GDP growth for 2021 at -7.5%.
He stated recovery in rural demand will strengthen further. He stated there is a need to have an accommodative stance to remain through the current financial year.
Das stated with financial stability and depositor interest in mind we have fixed issues at two scheduled commercial banks.
CURRENT AFFAIRS: STATES
Maharashtra First Child Friendly Police Station in Pune
The police station has been set up in accordance with guidelines laid down by the National Commissioner for Protection of Child Rights.
It was inaugurated by IIT Kanpur Director Dr Abhay Karandikar who tweeted that the "child-friendly police station is an innovative concept in the direction of preventing juvenile crimes and children reforms."
Aimed at giving children in conflict with law as well as minor victims a friendly environment, officials stated.
About the National Commissioner for Protection of Child Rights.
Headquarters – New Delhi
Chairman – Priyank Kanoongo
Nitin Gadkari to inaugurate & lay foundation stones of 15 National Highway projects of Nagaland
Union Minister for Road Transport & Highways, Micro, Small & Medium Enterprises Nitin Gadkari along with Chief Minister of Nagaland Neiphiu Rio will inaugurate and lay the foundation stones of 15 National Highway projects of Nagaland through video conference.
The projects having the total length of 270 kms worth over 4,127 crores rupees in Nagaland will benefit the state by generating employment and self employment opportunities, easy access for availing health care and emergency services, boost the socio- economic progress and also enhance economic relations with other neighbouring states.
West Bengal govt launches 'Duare Sarkar' programme for doorstep delivery of govt schemes
According to reports, "Duare Sarkar" aims to bring 11 schemes of the state government, including Swastha Sathi (health scheme), Khadya Sathi (public food distribution scheme), Jai Johar and Kanyashree (a cash transfer scheme aimed at retaining girls in schools and preventing their early marriage) to the doorsteps of the people.
It is a 2 month long Programme Launched ahead of 2021, It will be held from Dec 1 2020 to Jan 2021, in 4 Phases. Slogan for this Programme is Jar jekhane darkar, asche apnar duare sarkar.
CURRENT AFFAIRS: MOU
India and the US sign MoU on Intellectual Property cooperation
The MoU was signed between Guruprasad Mohapatra, Secretary, DPIIT and Mr. Andrei Iancu, Department for Promotion of Industry and Internal Trade(DPIIT), Ministry of Commerce and Industry and United States Patent and Trademark Office (USPTO), Department of Commerce of the United States of America respectively.
Cabinet in its meeting on 19th February this year gave the approval for signing the MoU with USPTO in the field of IP Cooperation.
The MoU aims at increasing IP co-operation between the two countries. It will facilitate exchange and dissemination of best practices, experiences and knowledge on IP among the public, and between and among the industry, universities, research and development organizations, and Small and Medium-sized Enterprises.
CURRENT AFFAIRS: APPOINTMENTS AND RESIGNATIONS
Bata Promotes Sandeep Kataria become 1 st Indian head to Global Business
Sandeep Kataria, 49, who is currently Bata India's CEO, has been elevated as global CEO of the company as the current incumbent, Alexis Nasard, moves on.
Kataria becomes the first Indian to head Bata globally.
He joined Bata India as its CEO in 2017. He has earlier worked with global firms such as unilever, Yum brands and Vodafone in India and Europe.
About Bata:
Headquarters of Bata – Lausanne, Switzerland
Chairman – Ashwani Windlass
Founder of Bata – Tomas Bata
Joshi Appointed as Chairperson of Interim NDDB
IAS officer and Joint Secretary in the union Fisheries, animal husbandry and dairying ministry, Varsha Joshi, will take over as interim chairman of the Anand headquartered NDDB.
About NDDB:
NDDB- National Dairy Development Board
NDDB Foundation Day – 16 th July, 1965
Headquarters – Anand, Gujarat.
AR Rahman is the ambassador for BAFTA
BAFTA announced AR Rahman as the ambassador for BAFTA Breakthrough India 2020-21.
The initiative, supported by Netflix, aims to identify, celebrate, and support up to five talents working in film, games, or TV in India.
About BAFTA:
BAFTA Breakthrough initiative, is part of the Academy's year-round effort to support new talent, operating alongside their Awards ceremonies.
Chief Executive of BAFTA- Amanda Berry
CURRENT AFFAIRS: SUMMITS AND CONFERENCE
PM Modi to deliver keynote address at IIT-2020 Global Summit
Prime Minister Narendra Modi will be delivering a keynote address at the IIT-2020 Global Summit, organised by PanIIT USA. The theme of this year's summit is 'The Future is Now'. The Summit will focus on issues like global economy, technology, innovation, health, habitat conservation and universal education.
PanIIT USA is an organization that is more than 20 years old. Since 2003 PanIIT USA has organised this conference and invited speakers from different sectors including industry, academia and government. PanIIT USA is  run by an all-volunteer team of IIT alumni.
CURRENT AFFAIRS: RANKING
RIL tops 'Fortune India 500' list of India's largest companies
Reliance Industries Limited (RIL) has been ranked Number One in the '2020 Fortune India 500' list of India's largest.
According to 'Fortune India', Reliance pipped the public-sector Indian Oil Corporation (IOC) last year to top the 'Fortune India 500' for the first time ever.
The top 10 companies on the '2020 Fortune India 500'
Reliance Industries
Indian Oil Corporation
Oil and Natural Gas Corporation
State Bank of India
Bharat Petroleum
Tata Motors
Rajesh Exports
Tata Consultancy Services
ICICI Bank
L&T.
About RIL:
Owner & CEO – Mukesh Ambani
Founder – Dhirubhai Ambani
CURRENT AFFAIRS: AWARDS AND HONORS
No Dorai and Fagun Haway win Bangladesh best films award of 2019
The Bangladesh Ministry of information announced the National Film Awards for 2019.
Films 'No Dorai' and 'Fagun Haway' jointly won the best film award. Taneem Rahman Anghshu who directed the film 'No Dorai' got the best Director award. The awards this year have been given away in 26 categories.
Tarique Anam Khan was adjudged the best actor in lead role (male) for 'Abar Basanta' while the award for best actress in lead role (female) went to Sunehra Binte Kamal for 'No Dorai'.
Zahid Hasan got the Best Villain award for his role in the film 'Shaludu'.
Nari Jibon got the best short film award while Ja Chilo Ondhokare was selected for the best documentary film of 2019. Emon Chowdhury got the best Music Director award for the film 'Maya- The Lost Mother'.
Best playback singer (male) award was given to Mrinal Kanti Das. Best Female singer award was awarded jointly to Momtaz Begum and Fatima Tuz Zahara Oyshee.
Plabon Koroshi and Tanvir Tarek won the award for best music composer category.
CURRENT AFFAIRS: OBITUARY
Iconic Entrepreneur Dharampal Gulati Dies At 97
MDH Spices Owner dies due to cardiac attack
About Dharampal & MDH :
Dharampal Gulati – face of ads in Mahashian Di Hatti (MDH) who is known as the grand old man of spices
He was awarded the Padma Bhushan, India's third-highest civilian award in 2019
Valéry Giscard d'Estaing Dies, Age 94
Former French President Valéry Giscard d'Estaing Dies, Age 94 due to Complications of Coronavirus.
He was Third President of the Republic of France from 1974 to 1981.
Current President – Emmanuel Macron
Olympic Gold Medalist Rafer Johnson Passes away
American legend Rafer Johnson, who won the gold medal at the 1960 Rome Olympics for the decathlon event, and was considered by many to be the 'World's Greatest Athlete', died at the age of 86 at his home in Los Angeles.
About Rafer Johnson:
He won Silver Medal in 1956 Melbourne Games
DAILY CA DEC 3rd
International Day of Persons with Disabilities Celebrated on December 3. Theme of the day is Not all Disabilities are Visible.
Indian Council of Agricultural Research has designated on 3rd December as Agricultural Education Day to commemorate the birth anniversary of first President Union Minister of Agriculture, Bharat Ratna, Rajendra Prasad.
December 2 is observed as National Pollution Control Day every year. The day is observed in the memory of those who have lost their lives in the Bhopal Gas tragedy on the night of December 2nd and 3rd, 1984
World Computer Literacy Day is observed on December 2 to create awareness and drive digital literacy in underserved communities worldwide.
International Day for the Abolition of Slavery Obsrved on December 2
Lieutenant General Rajeev Chaudhry assumes the charge as Director General Border Roads
The 7th India-Suriname Joint Commission Meeting held virtually co-chaired by the Minister of state for External Affairs, V. Muraleedharan
Dr Harsh Vardhan, Union Minister of Health & Family Welfare chaired the inaugural session of the annual conference of the India Sweden Healthcare Innovation Centre
The Union Minister of State for Communication Sanjay Dhotre launched a five star village postal Scheme in Uttarakhand.
The President of India, in exercise of the power conferred by clause (l) of Article 224 of  the Constitution of India, appointed 10 additional Judges.
Karnataka Chief Minister B S Yediyurappa laid the foundation stone for a 11.5 megawatt power plant run on municipal waste.
Assam Chief Minister Sarbananda Sonowal on Tuesday launched Orunodoi Scheme To Provide Rs 830 Per Month
Global Terrorism Index 2020 India 8th most affected country and Afghanistan ranked in first position.
Indian Oil Corporation (IOC)  launched the nation's first 100 Octane petrol.
ADB, India sign 50 million loan to boost West Bengal's digital platforms for public finance reforms
Union Home Minister Shri Amit Shah addressed inaugural session of Annual DGsP/IGsP Conference
com Inc. is in exclusive talks to acquire podcasting company Wondery Inc. for more than $300 million.
Dairy giant Amul enters milk procurement business in Andhra Pradesh
Pandemic chosen as Word of the Year 2020 by Dictionary.com and Merriam Webster
MDH owner Mahashay Dharampal Gulati passed away
Former French President Giscard d'Estaing dies of COVID-19 complications
DAILY CA DEC 4th
First  Indian head to Global Business Bata CEO Sandeep Kataria, Kataria becomes the first Indian to head Bata globally.
Varsha Joshi appointed as the interim head of NDDB
AR Rahman is the ambassador for BAFTA
Iconic Entrepreneur Dharampal Gulati, owner of MDH Dies At 97, He was awarded the Padma Bhushan, India's third-highest civilian award in 2019
French President Valéry Giscard d'Estaing Dies of Coronavirus
Olympic Gold Medalist Rafer Johnson Passes away
Vocal for Local – Hunar Haat Invites artisans and craftsmen organised at Rampur and Lucknow
9 th edition of International Sand Art Festival begins in Odisha's Puri
PM Modi to deliver keynote address at IIT-2020 Global Summit.
Phase 8 of the Vande Bharat Mission extended till 31st December.
DRI celebrates 63rd Founding Day
Indian Navy Day Celebrated on Dec 4
RBI tells HDFC Bank to stop new digital launches
India and the US sign MoU on Intellectual Property cooperation
RIL tops 'Fortune India 500' list of India's largest companies
RBI decides to keep benchmark interest rate unchanged at 4%
No Dorai and Fagun Haway win Bangladesh best films award of 2019
Maharashtra First Child Friendly Police Station in Pune
Nitin Gadkari to inaugurate & lay foundation stones of 15 National Highway projects of Nagaland
West Bengal govt launches 'Duare Sarkar' programme for doorstep delivery of govt schemes