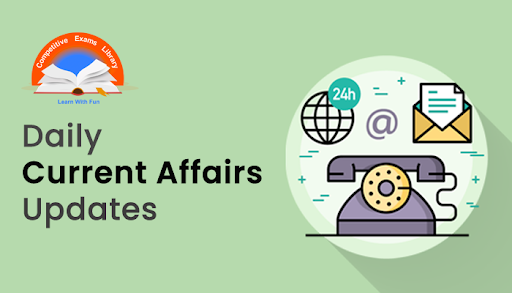 Dear Readers, Daily Current Affairs News Updates about the National and International events were listed here. Read Current Affairs Today here and stay updated with current news. Candidates those who are preparing for IBPS/SBI/PO/Clerk exam and all other competitive exams can use this and try the Current Affairs Quiz to test your knowledge level.
CURRENT AFFAIRS: IMPORTANT DAYS
World Brain Tumor Day: Observed on June 08
World Brain Tumor Day, which seeks to raise awareness for the disease, we take a look at its history, purpose and significance.
A tumor is an abnormal growth of tissues in the body because of a malfunction in the cells that grow and divide more than they are supposed to.
Tumors also occur in brains or can spread to the brain from elsewhere.
They are either benign, which is non-cancerous or malignant, which is cancerous.
The National Cancer Institute estimates that about 18,600 people have died from brain and nervous system cancers this year in the United States alone.
The disease affects adults and the elderly, and also teenagers and children.
World Accreditation Day – Observed on June 09
The World Accreditation Day (WAD) is celebrated on 9th June every year to highlight as well as promote the role of accreditation in trade & economy.
A global initiative established by IAF and ILAC to promote the value of accreditation.
This year's themeis Accreditation: Supporting the Implementation of the Sustainable Development Goals (SDGs).
CURRENT AFFAIRS: NATIONAL NEWS
GMB setup India's first International Maritime Cluster at GIFT City 
Gujarat Maritime Board (GMB) will set-up the country's first international maritime services cluster at GIFT City.
The maritime cluster will be developed as a dedicated ecosystem comprising ports, shipping, logistics services providers and government regulators, all present in the same geographic vicinity — GIFT City.
The cluster will further leverage the proximity and accessibility of these stakeholders to enable a synergetic collaboration.
Tapan Ray, MD and Group CEO, GIFT City mentioned, "Establishing a maritime cluster is a much-needed step towards advancing India's credentials and economic viability in this sector".
Environment Minister launches awareness campaign on single use plastic 2021
Environment, Forest and Climate Change Minister Prakash Javadekar launched an awareness campaign on single use plastic 2021 on the occasion of World Ocean Day.
Mr Javadekar stated that uncollected plastic waste is a major problem.
In India two-third was getting collected and one-third was not getting collected.
Under the plastic waste management rules, there is a mechanism of collection and recycling of plastic.
After the ban of single use plastic in the country, the government had also put a ban on plastic waste import.
Govt prepared guidelines in Special e-content for the Divyang 
For the first time, an attempt was made to prepare guidelines for CwD also referred to as Children with Special Needs(CWSN) children so that the goal of inclusive education is fulfilled.
The Committee submitted a report titled "Guidelines for the Development of e-Content for Children with Disabilities"comprising of eleven Sections and two Appendices.
This report was shared, presented, discussed and accepted by the MoE.
The salient highlights of the e-content guidelines in the report are:
e-Content for CwDs should be developed based on the four principles namely: perceivable, operable, understandable and robust.
e-Content including text, tables, diagrams, visuals, audios, videos etc. should comply with accessibility standards: national standards (GIGW 2.0) and international standards (WCAG 2.1, E-Pub, DAISY etc).
Distribution platforms on which content is uploaded (e.g. DIKSHA) and Reading platforms/devices on which content is accessed and interacted (g. e-pathshala) must comply with technical standards
Reasonable pedagogical accommodations have been recommended to meet the specific needs of CwDs
The technical standards and guidelines have been detailed out in Section 4 of the report.
The Committee has also recommended that in a phased manner textbooks may be adapted into Accessible Digital Textbooks(ADTs).
The content of ADTs should be provided in multiple formats (text, audio, video, sign language etc) with turn-on and turn-off features.
CURRENT AFFAIRS: INTERNATIONAL NEWS
India to be elected in UN Economic and Social Council for term 2022-24
India was elected to the Economic and Social Council (ECOSOC), one of the six main organs of the United Nations, for the 2022-24 term.
Indian Ambassador to the United Nations TS Tirumurti thanked all UN member states for their 'vote of confidence in India' shortly after the country made it to the council.
India was elected in the Asia-Pacific States category alongside Afghanistan, Kazakhstan and Oman in the elections.
Solar-Powered Bitcoin Mining facility introduced in U.S.
Blockchain technology company Blockstream Mining stated that Square Inc will invest $5 million to build an open-source, solar-powered bitcoin mining facility at one of Blockstream's U.S. sites.
Blockstream, in an announcement on its blog, mentioned the "facility will be a proof-of-concept for a 100% renewable energy Bitcoin mine at scale."
To identify missing persons the Interpol launches 'I-Familia' database 
The Interpolhas launched a new global database named "I-Familia" to identify missing persons through family DNA and help the police solve cold cases in member countries.
More than 12,000 active Yellow Notices, which are international police alerts for missing persons, had been issued by the Interpolby late 2020.
About I-Familia:
I-Familiais a global database launched to identify missing persons through family DNA.
It will help the police to solve cases in member countries.
Interpol applies cutting-edge scientific research and uses the DNA of relatives to identify missing persons or unidentified human remains around the world.
DNA kinship matching is used mostly in cases where a direct sample of the missing person is not available.
CURRENT AFFAIRS: STATE NEWS
Weyan became the First Village to Vaccinate 100% Adult Population
A remote hamlet in the Bandipora district of Jammu and Kashmir has become the first village in India to vaccinate all its adult population against the novel coronavirus.
"Weyan, a village in district Bandipora (J&K) has become the first village in the country, where the entire population above 18 years has been vaccinated".
Due to the difficult terrain of the area, the vaccinators had walked 18 km on foot to reach the village.
About J&K:
Capital: Jammu(Winter) , Srinagar(Summer)
Lieutenant Governor: Shri Manoj Sinha
Punjab CM formally inaugurated recently announced district Malerkotla
Punjab chief minister Capt Amarinder Singh virtually inaugurated Malerkotlaas the 23rd district of the state and laid the foundation stone of development projects worth Rs 548 crore in Malerkotla city.
Amarinder stated he had promised to upgrade Malerkotla as a district during his previous tenure in 2005 but it could not materialise then for some reasons.
He had made a formal announcement about this decision on the occasion of Eid-ul-Fitr on May 14 this year.
About Punjab:
Capital: Chandigarh
Governor:  P. Singh Badnore
Chief minister: Captain Amarinder Singh
Haryana CM launcheD Pran Vayu Devta Pension Scheme
Haryana Pran Vayu Devta Pension Scheme (PVDPS) 2021 & Oxy Van (Oxygen Forest) launched Rs. 2500 per year in Prana Vayu Devta Pension Yojana for maintenance of trees older than 75 years.
Haryana governmentled by CM Manohar Lal Khattar has launched Pran Vayu Devta Pension Scheme 2021.
This Life Air God Pension scheme aims to ensure adequate supply of natural oxygen in the state.
This Prana Vayu Devta Pension Yojna is a major step towards ensuring clean air to breathe amid the ongoing COVID-19 pandemic outbreak.
Oxy Van is a piece of land identified by the Haryana govt.
On which as many as 3 crore trees would be planted.
The Oxy Vans will occupy 10% of the 8 lakh hectares of land across the state.
About Haryana:
Capital: Chandigarh
Governor: Satyadev Narayan Arya
Chief minister: Manohar Lal Khattar
CURRENT AFFAIRS: BUSINESS NEWS
CRISIL predicts India's GDP Growth for FY22 to 9.5%
Domestic credit ratings agency Crisil has revised India's real GDP growth projection for 2021-22 downwards to 9.5 percent from 11 per cent estimated earlier.
The downward revision has been attributed to the decline in private consumption and investments following the second wave of Covid-19.
Crisil further stated that in its base case of 9.5 per cent growth, the pre-pandemic levels will be achieved some time after September, while in the pessimistic scenario of eight per cent growth, quarterly GDP would surpass the pre-pandemic level only in the December 2021 quarter.
Flipkart introduces QR-code based pay-on-delivery option for consumers
Flipkart, India's homegrown e-commerce marketplace has launched a contactless, QR-code-based payment facility for all its pay-on-delivery shipments.
The payment method not only ensures greater safety for consumers at a time when they are looking to minimize personal contact; but also addresses the trust deficit that many consumers might face.
Consumers who earlier opted for cash on delivery can now use this facility, scan the QR code attached to their purchase and make a digital payment for their order through any UPI app at the time of delivery.
CURRENT AFFAIRS: BANKING NEWS
NITI Aayog finalize the plan – privatisation of Central Bank, Indian Overseas Bank
To privatize two state-run banks as unveiled by Finance Minister Nirmala Sitharaman in her Union Budget speech 2021, the Narendra Modi government may soon finalize plans to sell Centre's stake in Central Bank of India and Indian Overseas Bank (IOB). 
This is part of the Government's mega privatization initiative which also includes sale of other state-run companies like BPCL.
NITI Aayog has submitted the names of two public sector banks (PSBs) and one public sector general insurer, which can be sold off under the government's new privatization policy, to the Core Group of Secretaries on Disinvestment.
RBI imposes penalty on two banks – BoI, PNB totalling Rs 6 crore
The RBI imposed a penalty aggregating to Rs 6 crore on Bank of India and Punjab National Bank for contravention of norms, including one related to 'Frauds – Classification and Reporting'.
A penalty of Rs 4 crore has been imposed on Bank of India and Rs 2 crore on Punjab National Bank.
RBI stated the statutory Inspection for Supervisory Evaluation (lSE) of Bank of India was conducted with reference to its financial position as on March 31, 2019.
The bank had also conducted a review and submitted a Fraud Monitoring Report (FMR) dated January 1, 2019 pertaining to detection of fraud in an account.
Examination of the risk assessment report pertaining to the ISE and the FMR revealed non-compliance with/contravention of directions, viz., breach of stipulated transaction limits; delay in transfer of unclaimed balances to DEA Fund; delay in reporting a fraud to RBI and sale of a fraudulent asset.
Over 20 lakh customers of other banks log in to ICICI Bank mobile app
The ICICI bank has announced that over 20 lakh customers of other banks are now using its 'iMobile Pay' app.
The achievement is significant as the bank had made the platform available for all only five months ago.
ICICI bank was the first to introduce a mobile banking app in the country in 2008, called 'iMobile'.
The Bank has transformed the app and renamed it 'iMobile Pay' five months ago to offer interoperability so that anyone, including customers of other banks, can experience the benefits of hassle-free payments and digital banking of ICICI Bank through this app."
Customers of any bank can start using 'iMobile Pay' by linking their bank account with the app and generating a UPI ID.
CURRENT AFFAIRS: APPOINTMENT AND RESIGNATION NEWS
RBI Deputy Governor Mahesh Kumar Jain gets two-year extension
The Appointments Committee of the Cabinet approved the re-appointment of MaheshKumar Jain, Deputy Governor, Reserve Bank of India (RBI), for two years with effect from June 22.
It may be recalled that Jain'sthree-year term as RBI Deputy Governor is due to get completed on June 21.
RBI grants re-appointment of GC Chaturvedi as part-time chairman of ICICI Bank
The Reserve Bank of Indiahas approved the re-appointment of Girish Chandra Chaturvedi as the part-time Chairman of ICICI Bank for a period of three years starting July 1, 2021.
Reappointmentwas earlier approved by shareholders.
Union AMC appointed Sanjay Bembalkar as equity fund manager
Union Asset Management Company, a subsidiary of Union Bank of India and Dai-ichi Life Holdings, stated it has appointed Sanjay Bembalkar as a fund manager in the equity segment.
He will be part of the equity fund management team and will be working closely with Vinay Paharia, Chief Investment Officer (CIO) of Union AMC, the asset management company.
Prior to joining Union AMC, Bembalkar was working with Canara Robeco Asset Management Co Ltd as Fund Manager – Equities, where he managed some of the flagship equity funds since October 2019.
 State cooperative department appointed RS Dhondkar as Liquidator of Shivajirao Bhosale Bank
After RBI cancelled the licence of the Shivajirao Bhosale Cooperative bank', the state cooperative department has appointed deputy registrar RS Dhondkar, as liquidator for the bank.
The appointment of the administrator, depositors of the bank said this has brightened the chances of insurance payments and investors getting their money soon.
It is worth repeating that the Deposit Insurance and Credit Guarantee Corporation (DICGC) is liable to pay upto Rs 5 lakh within two months of filing a claim with the liquidator.
It is said the process of paying depositors as per the DICGC Act 1961, will start soon as per the RBI order.
Anup Chandra Pandey appointed as election commissioner of India
The Election Commission of India now has full strength, ahead of the assembly elections scheduled to be held in UP, Punjab, Goa, Manipur and Uttarakhand in 2022.
The Union government appointed Anup Chandra Pandey as Election Commissioner.
Pandey was appointed to the position left vacant by former Chief Election Commissioner Sunil Arora's retirement on April 12. 
This restored the three-member commission to its full strength, which will now oversee the next set of crucial assembly elections in Uttar Pradesh, Punjab, Goa, Manipur and Uttarakhand next year.
In the Election Commission, Pandey will have a little under three years in office and will retire in February 2024.
RBI approved the re-appointment of CS Ghosh as MD & CEO of Bandhan Bank 
The Reserve Bank of India has granted approval for re-appointment of Chandra Shekhar Ghosh, MD and CEO of Bandhan Bank, for a period of three years.
The RBI vide its communication dated June 8 has granted approval for re-appointment of Ghosh for a period of three years, with effect from July 10, 2021.
Ghosh, who has been one of foremost proponents of microfinance in India, founded Bandhan in 2001 as a not-for-profit enterprise that stood for financial inclusion and women empowerment through sustainable livelihood creation.
Dentsu India appointed Arti Singh as vice president of Hyperspace
Dentsu Indiahas announced the appointment of Arti Singh as vice president- national for its shoppers' marketing unit, Hyperspace. 
Singh will be in charge of the shoppers' marketing division that includes experiential, retail, cinema and mall business.
Singh, a seasoned professional with more than 18 years of expertise in the field, will be driving and developing strategies for brands.
Additionally, she will play a significant role in designing the offline path of the purchase journey for consumers, thus, connecting them with brands.
Dentsu International appointed Rashmi Vikram as chief equity officer in APAC
DentsuInternational has appointed Rashmi Vikram as chief equity officer for APAC region.
She was formerly group diversity and inclusivity practice leader at Microsoft.
At Microsoft, she was responsible for creating clarity and scaling the organization's diversity and inclusion strategy for One Microsoft internationally.
Generating energy by supporting leaders to activate a culture where all employees, no matter their different perspectives, are empowered to achieve more.
CURRENT AFFAIRS: AWARDS AND HONOURS
Bengaluru international airport bags net energy neutral status
On World Environment Day, Bangalore International Airport Limited (BIAL) announced that the Kempegowda International Airport, Bengaluru has achieved net energy neutral status in the fiscal year 2020-21.
BIAL considers this one of its ambitious goals as it has already set the target to become Net Energy Neutral by 2020-21. 
It claims to begin 2021-22 promisingly by addressing 98 percent of its energy requirement of 21-22 through renewable sources.
The airport corporation claims to have saved up to22 lakh units of electricity in FY 2020-21, enough to power nearly 9,000 houses for a month. 
BIAL saved nearly 5 lakh units (KWH) from lighting and has implemented chiller plant optimization in Heating, Ventilation, and Air Conditioning (HVAC), which has resulted in saving of over 17 lakh units (KWH) of power.
CURRENT AFFAIRS: MOU's AND AGREEMENTS
BharatPe signed a strategic partnership with ICC
Merchant payment and lending service provider BharatPe mentioned it has entered into a strategic partnership with International Cricket Council (ICC). 
The agreement will ensure BharatPe's involvement and integration at all ICC events throughout the term, including the ICC Men's T20 World Cup (India, 2021), ICC Men's T20 World Cup (Australia, 2022), ICC Women's World Cup (New Zealand, 2022) and ICC Men's Cricket World Cup (India, 2023) among others.
CESL signed MOU with Ladakh and Meghalaya
To promote clean, affordable and reliable energy solutions, Meghalayagovernment and Ladakh union territory have signed memorandum of understanding (MoU) separately with Convergence Energy Services Ltd, a wholly-owned subsidiary of Energy Efficiency Services Ltd to generate around 65MW of decentralized solar.
In the first MoU with Meghalaya Power Distribution Corporation Ltd (MePDCL), CESL has signed an MoU worth 60MW, which will also entail finding synergies in business development to implement various sustainable solutions like pump sets, LED lighting and solar power stationsfor agriculture.
With Ladakh, CESL will implement various clean energy and energy efficiency programmes, including decentralized solar power in Zanskar region worth 5MW
CURRENT AFFAIRS: PERSONS IN NEWS
Rhea Chakraborty topped 'The Times 50 Most Desirable Women 2020'
Rhea Chakraborty topped 'The Times 50 Most Desirable Women 2020'
Rhea Chakrabortyhas bagged the number 1 spot on Times Most Desirable Women 2020 list.
Rhea Chakraborty was in the news for most of last year due to the sudden demise of Sushant Singh Rajput and the controversy around his death.
CURRENT AFFAIRS : DEFENCE NEWS
Indian Navy to receive three MH-60 Romeo Multi role helicopters from the US in July 2022
Indian Navy will receive the first set of three of the 24 MH-60 'Romeo' multirole helicopters from the US in July 2022.
In February 2020, India had signed a Rs 15,157 crore ($2.13 billion) contract with the US for Lockheed Martin.
The first batch of Indian pilots has reached the US for training on the helicopters.
Key Features of MH-60 Romeo : 
The MH-60 Romeo helicopters would be equipped with multimode radars and night vision devices, Hellfire missiles, torpedoes, and precision-guided weapons.
The MH-60 helicopters have been designed to operate from cruisers, aircraft carriers, destroyers, and frigates.
The choppers are designed for hunting submarines as well as knocking out ships and conducting search-and-rescue.
About Indian Navy :
Founded: 26 January 1950
Vice Chief of the Naval Staff (VCNS): Vice Admiral Ashok Kumar
Deputy Chief of the Naval Staff (DCNS): Vice Admiral Ravneet Singh
Chief of the Naval Staff (CNS): Admiral Karambir Singh
Commander-in-Chief: President Ram Nath Kovind
CURRENT AFFAIRS : RANKING & INDEX
Union Education Minister Ramesh Pokhriyal 'Nishank'  releases Performance Grading Index (PGI) 2019                       
On June 06, 2021, Union Education Minister, Ramesh Pokhriyal 'Nishank'  approved the release of Performance Grading Index (PGI) 2019-20 for States and Union Territories.
About PGI Index :
The PGI for States and Union Territories was first published in 2019 with reference year 2017-18.
The PGI index measures the performance of states in school education, based on data drawn from several sources, like Unified District Information System for Education Plus, National Achievement Survey, and Mid-Day Meal.
The PGI States/UTs for 2019-20 is the third publication in this series.
These parameters are grouped under five broad categories
Access (eg. enrolment ratio, transition rate and retention rate);
Governance and management;
Infrastructure;
Equity (difference in performance between scheduled caste students and general category students)
Learning outcomes (average score in mathematics, science, languages and social science).
In PGI grading system There are 10 levels, 
Level I (951-1000) is the highest grade while Level X, also known as Grade VII (0-550) is the lowest grade.
In 2021 PGI, none of the state or Union Territory could achieve the highest grade, that is Level I.
Chandigarh, Punjab, Tamil Nadu, Andaman and Nicobar and Kerala have obtained Grade 1++ (or Level II), which makes them the best performing states.
Ladakh has obtained the lowest grade, Grade VII.
CURRENT AFFAIRS : SPORTS NEWS
Inaugural FIH Hockey 5s World Hosted By Oman in January 2024
The International Hockey Federation (FIH) has appointed Oman as the host country for the inaugural FIH Hockey 5s World Cups (Men and Women
It will be played in January 2024.
The Hockey5s' flagship event is a brand-new FIH competition.
16 teams per gender (3 per continent + Oman, as hosts) will take part in this very first edition.
About FIH :
Headquarters: Lausanne, Switzerland
President: Leandro Negre
CEO: Thierry Weil (Apr 2018–)
Founder: Paul Léautey
Founded: 7 January 1924, Paris, France
About Oman :
Capital: Muscat
Currency: Omani rial
Daily CA On June 08 :
World Oceans Day is an international day that takes place annually on 8 June. The themefor World Oceans Day 2021 is 'The Ocean: Life and Livelihoods'.
New e-filing website (www.incometax.gov.in) launch:The IncomeTax Department launched its new e-filing portalincometax.gov.in. The Income Tax Department will launch a new e–filing portal to further ease the filing of income tax returns (ITRs).
Prime Minister Narendra Modi announced the extension of the Pradhan Mantri Garib Kalyan Anna Yojana (PMGKAY) till Diwali this year to ensure free ration is provided to those in need.
A Model Panchayat Citizens Charter/ framework for delivery of the services across the 29 sectors, aligning actions with localized Sustainable Development Goals (SDGs) as prepared by Ministry of Panchayati Raj (MoPR) in collaboration with National Institute of Rural Development & Panchayati Raj (NIRDPR).
Central government has raised upper ceiling for family pensionfrom Rs 45,000 to Rs 1, 25,000 per month to provide 'ease of living' for the family members of the deceased employees and would provide adequate financial security to them.
India along with the Govt. of United Kingdom launched a new work stream to promote industrial energy efficiency under the Clean Energy Ministerial's (CEM) – Industrial Deep Decarburization Initiative (IDDI) coordinated by UNIDO, at the 12th Chief Energy Ministerial (CEM).
Raimona in Assam's Kokrajhar district was declared as the state's sixth national park. Chief Minister Himanta Biswa Sarma made an announcement in this regard on the occasion of World Environment Day.
The State government has launched the Knowledge Economy Missionto bring the ongoing efforts to provide employment to the educated and support 'knowledge workers' under a single programme.
MS Mani, senior director, Deloitte India stated, "Collections above Rs 1 lakh crore pertaining to the transactions in the month of April 21 indicates that the economic impact of the lockdowns has been much lower than expected".
The World Bankhas approved a USD 500 million program to help boost India's MSME sector. The programme targets improvements in the performance of five lakh 50 thousand MSMEs.
The Yamuna International Airport Pvt Ltd (YIAPL) has received the final credit sanction for Rs 3725 crore from the State Bank of India (SBI) for the development of Noida International Airport (NIA).
Social media platform Facebook named Spoorthi Priya as its grievance officer for India.
KK Maheshwari has assumed the role of new president of Association of National Exchanges Members of India (ANMI), India's largest stock exchange member's body, with a 5-pronged priority agenda for the next couple of months in view of the 'New Normal' for the industry forced upon by the Coronavirus pandemic.
ArunRaste has taken charge as Managing Director and CEO of the National Commodity and Derivatives Exchange. 
Maldives Foreign minister Abdulla Shahid has been elected as the president of the 76th session of the United Nations General Assembly that will start in September.
Vice Admiral Rajesh Pendharkar, AVSM, VSM has assumed charge as Director General Naval Operations.
Former power secretary Sanjeev Nandan Sahai, who virtually made a last-minute entry into the list of candidates, has been selected as the new chairman of oil regulator PNGRB.
Senior IAS officer Alok Kumar took charge as the new chief secretary of Tripura.
HSBC announced Hitendra Dave will be appointed the chief executive officer (CEO) of HSBC India on receipt of regulatory approval, and has been appointed the interim CEO, effective June 7, 2021.
Kuwaiti Husain Al-Musallam was elected president of FINA at a general congress in Doha, the aquatics world governing body.
Water Burial has won the best film award on environment conservation at the 67th National Films Awards 2021. 
Mahindra Group Chairman Anand Mahindra and Infosys co-founder Nandan Nilekani have chosen "TecHalli" as an alternative name for Bengaluru, instead of India's Silicon Valley.
State run Indian Oil Corporation Ltd (IOC) inked pacts with Gujarat government for implementing projects totaling around 24,000 crore in the western state.
The National Medicinal Plant Board (NMPS) and the National Botanical Research Institute (CSIR-NBRI) have signed an agreement to boost cultivation and production of medicinal plants and herbs in India.
BSE-led mutual funds distributor platform, BSE STAR MF, has signed a Memorandum of Understanding (MoU) with Godavari Urban Multi State Credit Co-Op Society Ltd., Nanded (GUMCCSL) to deepen its network of over 70,000 registered distributors.
The SPAG9 antigen developed by the National Institute of Immunology (NII) has received the ASPAGNIITM trademark, from the Department of Biotechnology (DBT). India's first indigenous tumour antigen SPAG9 was discovered in 1998 by Dr Anil Suri.
Red Bull's Sergio Perez won a chaotic Azerbaijan Grand Prix 2021 held at Baku, Azerbaijan.
Noted Assamese litterateur Dr Lakshmi Nandan Bora passed away.
Daily CA On June 09 :
World Brain Tumor Day, which seeks to raise awareness for the disease, we take a look at its history, purpose and significance.
The World Accreditation Day (WAD) is celebrated on 9th June every year to highlight as well as promote the role of accreditation in trade & economy.
Gujarat Maritime Board (GMB) will set-up the country's first international maritime services cluster at GIFT City.
Environment, Forest and Climate Change Minister Prakash Javadekar launched an awareness campaign on single use plastic 2021 on the occasion of World Ocean Day.
For the first time, an attempt was made to prepare guidelines for CwD also referred to as Children with Special Needs(CWSN) children so that the goal of inclusive education is fulfilled.
India was elected to the Economic and Social Council (ECOSOC), one of the six main organs of the United Nations, for the 2022-24 term.
Blockchain technology company Blockstream Mining stated that Square Inc will invest $5 million to build an open-source, solar-powered bitcoin mining facility at one of Blockstream's U.S. sites.
The Interpolhas launched a new global database named "I-Familia" to identify missing persons through family DNA and help the police solve cold cases in member countries.
A remote hamlet in the Bandipora district of Jammu and Kashmir has become the first village in India to vaccinate all its adult population against the novel coronavirus.
Punjab chief minister Capt Amarinder Singh virtually inaugurated Malerkotlaas the 23rd district of the state and laid the foundation stone of development projects worth Rs 548 crore in Malerkotla city.
Haryana Pran Vayu Devta Pension Scheme (PVDPS) 2021 & Oxy Van (Oxygen Forest) launched Rs. 2500 per year in Prana Vayu Devta Pension Yojana for maintenance of trees older than 75 years.
Domestic credit ratings agency Crisil has revised India's real GDP growth projection for 2021-22 downwards to 5 percent from 11 percent estimated earlier.
Flipkart, India's homegrown e-commerce marketplace has launched a contactless, QR-code-based payment facility for all its pay-on-delivery shipments.
To privatize two state-run banks as unveiled by Finance Minister Nirmala Sitharaman in her Union Budget speech 2021, the Narendra Modi government may soon finalize plans to sell Centre's stake in Central Bank of India and Indian Overseas Bank (IOB). 
The RBI imposed a penalty aggregating to Rs 6 crore on Bank of India and Punjab National Bank for contravention of norms, including one related to 'Frauds – Classification and Reporting'.
The ICICI bank has announced that over 20 lakh customers of other banks are now using its 'iMobile Pay' app. The achievement is significant as the bank had made the platform available for all only five months ago.
The Appointments Committee of the Cabinet approved the re-appointment of MaheshKumar Jain, Deputy Governor, Reserve Bank of India (RBI), for two years with effect from June 22.
The Reserve Bank of Indiahas approved the re-appointment of Girish Chandra Chaturvedi as the part-time Chairman of ICICI Bank for a period of three years starting July 1, 2021.
Union Asset Management Company, a subsidiary of Union Bank of India and Dai-ichi Life Holdings, stated it has appointed Sanjay Bembalkar as a fund manager in the equity segment.
After RBI cancelled the licence of the Shivajirao Bhosale Cooperative bank', the state cooperative department has appointed deputy registrar RS Dhondkar, as liquidator for the bank.
The Election Commission of India now has full strength, ahead of the assembly elections scheduled to be held in UP, Punjab, Goa, Manipur and Uttarakhand in 2022.
The Reserve Bank of India has granted approval for re-appointment of Chandra Shekhar Ghosh, MD and CEO of Bandhan Bank, for a period of three years.
Dentsu Indiahas announced the appointment of Arti Singh as vice president- national for its shoppers' marketing unit, Hyperspace. 
DentsuInternational has appointed Rashmi Vikram as chief equity officer for APAC region.
On World Environment Day, Bangalore International Airport Limited (BIAL) announced that the Kempegowda International Airport, Bengaluru has achieved net energy neutral status in the fiscal year 2020-21.
Merchant payment and lending service provider BharatPe mentioned it has entered into a strategic partnership with International Cricket Council (ICC). 
To promote clean, affordable and reliable energy solutions, Meghalayagovernment and Ladakh union territory have signed memorandum of understanding (MoU) separately with Convergence Energy Services Ltd, a wholly-owned subsidiary of Energy Efficiency Services Ltd to generate around 65MW of decentralized solar.
Rhea Chakraborty topped 'The Times 50 Most Desirable Women 2020' Rhea Chakrabortyhas bagged the number 1 spot on Times Most Desirable Women 2020 list.
Indian Navy will receive the first set of three of the 24 MH-60 'Romeo' multirole helicopters from the US in July 2022.
On June 06, 2021, Union Education Minister, Ramesh Pokhriyal 'Nishank'  approved the release of Performance Grading Index (PGI) 2019-20 for States and Union Territories.
The International Hockey Federation (FIH) has appointed Oman as the host country for the inaugural FIH Hockey 5s World Cups (Men and Women