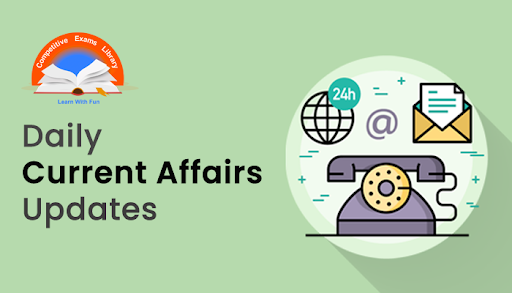 Dear Readers, Daily Current Affairs News Updates about the National and International events were listed here. Read Current Affairs Today here and stay updated with current news. Candidates those who are preparing for IBPS/SBI/PO/Clerk exam and all other competitive exams can use this and try the Current Affairs Quiz to test your knowledge level.
CURRENT AFFAIRS: IMPORTANT DAYS
International Day to Protect Education from Attack – Observed on Sep 09
The International Day to Protect Education from Attack is an international observance established by a unanimous decision of the United Nations General Assembly in 2020.
It is observed on September 9 of each year.
Attacks on children, schools and educators, as well as the military use of educational infrastructure, have received increased attention in recent years.
In 2015, the governments of Norway and Argentina led a process among UN member states to develop the Safe Schools Declaration, a voluntary international agreement dedicated to the protection of education in armed conflict.
The Declaration sets out a number of key commitments states can make to protect education, including bringing the Guidelines for Protecting Schools and Universities from Military Use during Armed Conflict into domestic policy.
The UN General Assembly has designated 9 September as the International Day to Protect Education from Attack.
CURRENT AFFAIRS: NATIONAL NEWS
CBDT amends Income-tax Rules
Central Board of Direct Taxes (CBDT) has amended the Income-tax Rules to ease authentication of electronic records submitted in faceless assessment proceedings.
The Finance Ministry stated electronic records submitted through registered account of the taxpayers in the Income-tax portal shall be deemed to have been authenticated by the taxpayer by electronic verification code.
The move will ease the process of authentication of electronic records in faceless assessment proceedings.
This simplified process will also be available to companies and tax audit cases.
Earlier, companies and tax audit cases are mandatorily required to authenticate the electronic records by digital signature.
About CBDT:
The Central Board of Direct Taxes (CBDT) is the authority vested with the responsibility of the administration of laws related to direct taxes through the Department of Income Tax.
In India, necessary inputs for policy and planning is provided by the CBDT.
The Central Board of Direct Taxes (CBDT) stated that taxpayers can now file application for settlement till 30th September.
the board mentioned that in order to dispose off the pending settlement applications as on 31 January 2021, the central government has constituted Interim Board for Settlement.
CURRENT AFFAIRS: INTERNATIONAL NEWS
Yoshihide Suga step down as Japan's prime minister
Japanese Prime Minister Yoshihide Suga stated in a surprise move he would step down, setting the stage for a new premier after a one-year tenure marred by an unpopular COVID-19 response and sinking public support.
Suga, who took over after Shinzo Abe resigned last September citing ill health, has seen his approval ratings drop below 30% as the nation struggles with its worst wave of COVID-19 infections ahead of a general election this year.
Suga did not capitalise on his last major achievement – hosting the Olympics, which were postponed months before he took office as corona virus cases surged.
About Japan:
Capital: Tokyo
Currency: Japanese yen
CURRENT AFFAIRS: STATE NEWS
India's tallest air purifier tower become operational in Chandigarh
An air purification tower, which is reported to be the tallest in India, became operational at the Transport Chowk, Sector 26.
Standing tall at 24 metres, it was inaugurated by UT adviser Dharam Pal to mark the second International Day of Clean Air for Blue Skies.
The purifier has been installed by Pious Air Private Limited without any cost to the Chandigarh administration.
The firm will also operate and maintain it for five years.
About Punjab:
Capital: Chandigarh
Governor:  P. Singh Badnore
Chief minister: Captain Amarinder Singh
National parks: Bir Moti Bagh National Park.
About Haryana:
Capital: Chandigarh
Governor: Bandaru Dattatreya
Chief minister: Manohar Lal Khattar
National parks: Sultanpur National Park, Kalesar National Park
CURRENT AFFAIRS: BUSINESS NEWS
S&P Global Ratings forecasts India's GDP for FY22 at 9.50%; FY23 at 7.00%,
S&P Global Ratings cut India's growth forecast for FY22 to 9.5 per cent from 11 per cent earlier.
The agency also warned of risk to the outlook from further waves of COVID-19.
S&P stated that the severe second wave that led to local lockdowns in April and May sharply contacted economic activity.
"We forecast growth of 5 per cent this fiscal year from our March forecast of 11 per cent".
S&P stated that permanent damage to private and public sector balance sheets will constrain growth over the next couple of years.
For the next fiscal ending March 31, 2023, the agency projected India's growth at 8 per cent.
"Further pandemic waves are a risk to the outlook given that only about 15 per cent of the population has received at least one vaccine dose so far, although vaccine supplies are expected to ramp up".
About S&P Global Ratings:
S&P Global Ratings is an American credit rating agency and a division of S&P Global that publishes financial research and analysis on stocks, bonds, and commodities.
S&P is considered the largest of the Big Three credit-rating agencies, which also include Moody's Investors Service and Fitch Ratings.
President: John L. Berisford
Headquarters: New York, United States
CURRENT AFFAIRS: BANKING NEWS
Bank of Baroda ranked first in the MeitY Digital Payment Scorecard for 2020-21
Bank of Baroda announced that the bank has Ranked #1 with a total of 86% marks on the scorecard issued by Ministry of Electronics and Information Technology (MeitY) for the month of February and March 2021.
The scorecard ranks 44 banks (Public Sector Banks, Private Banks, Foreign Banks, Payments Banks, Small Finance Banks) on various parameters on the digital business.
This overall rating was based on multiple factors where the Bank scored above average.
These factors consist of the following:
Exceptional growth of digital payment transactions achievement (129% of 137 Cr. Digital transactions target)
Achievement of 6 times the target for merchant acquiring in Rural geography target (16,100)
Achievement of 124% merchant acquiring in North-Eastern States target (6,900)
Reduction in average % of Technical Declines of UPI from 0.59% in FY 2019-20 to 0.29% in FY 2020-21.
The decline ratio is the 2nd lowest amongst all large banks.
Reduction in average % of Technical Declines of Aadhaar Enabled Payment Systems activation from 0.39% in FY 2019-20 to 0.12% in FY 2020-21.
About BOB:
Bank of Baroda is an Indian government owned banking and financial services company.
It is under the ownership of Ministry of Finance, Government of India.
Headquarters: Alkapuri, Vadodara
Merged banks: Vijaya bank, Dena Bank
Tagline: India's International Bank
Karnataka Bank unveiled POS device 'WisePOSGo' for merchant customers
WisePOSGo – a POS device (Point of Sales swiping machine) that processes business payments, was launched by Karnataka Bank in collaboration with Mswipe Technologies Pvt Ltd., for the Bank's merchant customers.
"This is yet another product in line with our vision of becoming the 'Digital Bank of Future'.
This compact, light weight and user friendly device will be a game changer and transform the digital payment ecosystem associated with POS machines.
About the device:
This device is an all-in-one swiping machine loaded with advanced features like contactless payment, mobile phone, QR Code, Pay by link, Magstripe, barcode scanner,5 – megapixel camera etc, The device will support 4G, WiFi, Bluetooth and micro – USB and can connect through Facebook, YouTube and WhatsApp also.
About Karnataka Bank:
Karnataka Bank Limited is India's twelfth largest private sector bank.
It is an 'A' Class Scheduled Commercial Bank based in Mangaluru in Karnataka, India.
Karnataka Bank Limited has a network of 858 branches, 1 Extension Counter, 1,001 ATMs and 462 e-lobbies/mini e-lobbies across 22 states and 2 union territories.
Headquarters: Mangalore
CEO: Mahabaleshwara M. S
CURRENT AFFAIRS: APPOINTMENT AND RESIGNATION NEWS
Satish Parekh named as International Road Federation India president
Ashoka Buildcon Managing Director and promoter Satish Parekh has taken over as the president of India Chapter of International Road Federation (IRF).
The governing council of the International Road Federation on September 4, 2021, unanimously endorsed Satish Parakh as President, IRF-IC.
He takes over from Subhmay Gangopadhyay former director of Central Road Research Institute (CRRI).
The Geneva-based global road safety body IRF is working for better and safer roads worldwide.
About IRF:
The International Road Federation IRF India Chapter has been active in India since February 2009 with aims and objectives in consonance with those of its Geneva based parent body, International Road Federation Geneva Programme Centre, which had initiated and consolidated Road Safety activities in a major way in India since 2005.
Accordingly IRF-IC works for economic, safer and sustainable roads through improved design, construction, maintenance and management.
Uttarakhand Governor Baby Rani Maurya Resigned
Only the second woman to be appointed Uttarakhand governor after Margaret Alva, Baby Rani Maurya resigned from her position, almost two years before completing her term, confirmed Brijesh Kumar Sant, secretary to the governor.
About Baby Rani Mauriya:
1956 born Baby Rani Maurya took charge as Uttarakhand governor in August 2018, succeeding Krishan Kant Paul, who was appointed governor in January 2015.
The only other woman governor of the state, Margaret Alva held the post from August 2009 to May 2012.
About Uttarakhand:
Capital: Dehradun
Governor: Baby Rani Maurya
Chief minister: Pushkar Singh Dhami
National Parks: Valley of Flowers National Park, Rajaji National Park, Nanda Devi National Park, Gangotri National Park, Govind Pashu Vihar National Park & Sanctuary.
CURRENT AFFAIRS: AWARDS AND HONOURS
Indian biologist Shailendra Singh bags global award in turtle conservation
Indian biologist Shailendra Singh has been awarded the Behler Turtle Conservation Award for bringing three critically endangered turtle conservation species back from the brink of extinction.
"In just 15 years, there are few individuals that have made such monumental contributions to turtle conservation as Shailendra Singh.
He and his team's efforts now span much of India, impacting well over half of its turtle and tortoise species, many of which are among the most endangered turtles on the planet".
About the Award:
The award has been bestowed by several global bodies involved in turtle conservation such as Turtle Survival Alliance, IUCN/SSC Tortoise and Freshwater Turtle Specialist Group, Turtle Conservancy, and the Turtle Conservation Fund.
Namita Gokhale selected for 7th Yamin Hazarika Woman of Substance Award
Writer Namita Gokhale has been chosen as the recipient of the seventh Yamin Hazarika Woman of Substance Award.
She was conferred upon the honour recently in a virtual ceremony.
Organised by a collective of women professionals from the year 2015, the annual award honours Yamin Hazarika, the first woman from Northeast India to be selected for DANIPS, a federal police service that administered Delhi and the Union Territories in 1977.
About Namita Gokhale:
Namita Gokhale is an Indian writer, editor, festival director, and publisher.
Her debut novel, Paro: Dreams of Passion was released in 1984, and she has since written fiction and nonfiction, and edited nonfiction collections.
Delhi Airport bags CII National Awards of "National Energy Leader" & "Excellent Energy Efficient Unit" 2021
GMR led Delhi International Airport Limited (DIAL) has won the prestigious awards of CII 'National Energy Leader' and 'Excellent Energy Efficient Unit' at the 22nd National Award ceremony for 'Excellence in Energy Management' organised by the Confederation of Indian Industry (CII) – Green Business Centre (GBC) during the 22nd edition of 'Energy Efficiency Summit', Virtual Conference & Exposition on Energy Efficiency held from 24 – 27 August 2021.
Award for:
DIAL presented the key energy-saving and emission reduction initiatives, innovative projects, and other environmental aspects such as waste and water management, climate change adaptation strategies, etc.
DIAL is Asia Pacific's first Level 4+ (transition) accredited airport under Airport Council International's Airport Carbon Accreditation (ACA) programme.
About the award:
The objective of these awards is to recognize the companies engaged in energy-efficiency initiatives that adopt best practices and technological advancement in their daily operations.
The jury evaluated the participants on several parameters of energy efficiency and innovative thought process adopted.
CURRENT AFFAIRS: BOOKS AND AUTHORS
A book titled "Gita Govinda: Jaydeva's Divine Odyssey" by Utpal K. Banerjee launched by culture minister
Union Minister of Culture Shri Kishan Reddy Gangapuram launched the book "Gita Govinda: Jaydeva's Divine Odyssey" by Dr Utpal K. Banerjee, along with an exhibition on "Gita Govinda" and program 'BujurgonkiBaat–DeshKeSaath'.
Gita Govinda is originally written by 12th-century poet Jayadeya.
"It gives great pleasure to launch the book GeetaGovindam – a Divine Odyssey by one of our elders and Padma Shri awardee Shri Utpal Banerjee.
This is the first-ever fully-rhymed translation of the great 12th-century poet Jayadeva".
GeetaGovindam has stood the test of time through chanting, recitation, traditional music, classical dance, miniature painting and intricate sculpture.
CURRENT AFFAIRS: SUMMIT AND CONFERENCE
India to host G-20 summit in 2023; Piyush Goyal to be the Sherpa for G20
The government appointed commerce and industry minister Piyush Goyal as India's Sherpa for the G20.
Goyal is also India's minister for consumer affairs, food & public distribution, and textiles besides being the Leader of the House in Rajya Sabha.
G20 is a major international grouping that brings together 19 of the world's major economies and the European Union, with its members accounting for more than 80% of global GDP, 75% of global trade and 60% of global population.
About G20:
Prime Minister Narendra Modi has been leading India's representation at G20 Summits since 2014.
India has been a member of the G20 since its inception in 1999.
India will be holding the G20 Presidency from 1 December 2022 and will convene the G20 Leaders' Summit in 2023 for the first time.
The next G20 Summit is scheduled for October 30-31, 2021 under Italian Presidency.
India will be part of the G20 Troika (preceding, current, and incoming G20 Presidencies) from December 1, 2021 till November 30, 2024,
First ever India-Japan High Level Policy Dialogue on Environment
The First India–Japan High Level Policy Dialogue was held virtually on 7th September 2021 between Bhupender Yadav, Union Minister of Environment, Forest and Climate Change of India and Mr. KOIZUMI Shinjiro, Minister of the Environment of Japan, and discussed issues on Air Pollution, Sustainable Technologies and Transports, Climate Change, Marine Litter, Fluorocarbons, COP 26, etc.
Bhupender Yadav acknowledged the importance of Indo-Japan bilateral cooperation on environment and appreciated efforts made by Japan in bringing new technologies in India.
He also highlighted the achievements made India in tackling climate change under the leadership of our Hon'ble Prime Minister.
Yadav stated that India and Japan may explore strengthening bilateral cooperation especially on circular economy and resource efficiency, low carbon technology, green hydrogen,etc.
CURRENT AFFAIRS: CABINET APPROVAL
Cabinet nods PLI scheme worth Rs 10,683 cr for textiles sector
The cabinet approved the production-linked incentive (PLI) scheme worth Rs 10,683 crore for textiles sector with an aim to boost domestic manufacturing and exports.
The decision was taken in a meeting which was chaired by Prime Minister Narendra Modi here.
The cabinet has approved the PLI scheme for textiles for MMF (man-made fibre) apparel, MMF fabrics and ten segments/products of technical textiles with a budgetary outlay of Rs 10,683 crore.
PLI scheme for textiles is part of the overall announcement of the scheme for 13 sectors made earlier during the Union Budget 2021-22, with an outlay of Rs 1.97 lakh crore.
About PLI Scheme:
PLI scheme for Textiles will promote production of high value MMF Fabric, Garments and Technical Textiles in country.
The incentive structure has been so formulated that industry will be encouraged to invest in fresh capacities in these segments.
PLI will help further, in attracting investment in this segment.
CURRENT AFFAIRS: APPS AND WEB PORTAL
Union Minister Bhupender Yadav introduced PRANA portal to regulate air pollution in 132 cities
Air, water, and land are three important aspects that need to be conserved for life to sustain on Earth.
Union Minister of Environment, Forest, and Climate Change, Bhupender Yadav, on September 7, launched PRANA.
PRANA meaning 'Life' in Sanskrit, is a portal for regulation of air pollution in 132 cities across the country.
The Union Minister also dedicated the first functional smog tower of India, installed in Anand Vihar in New Delhi to the country.
Union Environment Minister stressed that technological solutions are important tools for air quality management in the short and medium-term.
He asked stakeholders to contribute to achieving cleaner air and healthier lives for all.
The air pollution portal: PRANA
PRANA or the Portal for Regulation of Air-pollution in Non-Attainment cities under the National Clean Air Programme (NCAP) would support tracking of the physical and financial status of city air action plan implementation.
It would also disseminate information on air quality to the public while also providing comprehensive information related to NCAP programme details, progress, city action plans, implementation updates by city/state/ national level agencies, air quality data, and trends, etc.
The portal (prana.cpcb.gov.in) has a national dashboard that has interactive points on 7 thematic areas of city air action plans, PM10 performance, ambient air monitoring network, public grievance redressal portal, graded response action plans, and more.
It is intertwined with the Government's goal for sustainable utilization, protection, and conservation of public goods and the environment.
National Clean Air Programme (NCAP)
National Clean Air Programme, a mid-term, five-year action plan was launched in 2019 by the Ministry of Environment, Forest and Climate Change.
This comprehensive initiative, in partnership with various Ministries and States, aims to improve air quality at the city, regional and national levels and is a focused and time-bound effort to implement various sectoral policies, strengthen monitoring and enhance public participation in more than 100 cities for effective air quality management.
Union Govt launches portal for National Livestock Mission
Union Minister for Fisheries, Animal Husbandry, and Dairying, Parshottam Rupala, on September 6, launched the portal for National Livestock Mission (NLM).
With the portal, the Government aims to increase the effectiveness and ensure transparency in the implementation of the scheme.
National Livestock Mission Portal:
The NLM portal is developed by the Small Industries Development Bank of India (SIDBI) in collaboration with the Department of Animal Husbandry and Dairying.
The online portal aims to enable a customized workflow between State Implementing Agency (SIA), lenders, and Ministry as required under the National Livestock Mission.
The portal was launched during the national level meeting with all State Animal Husbandry/Veterinary Ministers convened by Union Minister Parshottam Rupala.
National Livestock Mission:
The National Livestock Mission, an initiative of the Ministry of Agriculture and Farmers' Welfare, was introduced in 2014-15, with the objective of sustainable development of the livestock sector.
The livestock sector in the country has been growing at a compound annual growth rate of 8.15% from 2014-15 to 2019-20.
Special livestock package:
During the meeting, the Union Minister also highlighted the special livestock sector package to all State Ministers which was announced by the Government in July 2021 for the next 5 years with an outlay of Rs. 9,800 crore leveraging a total investment of Rs. 54,618 crore.
Daily CA On Sep 08 :
International Literacy Day is observed and celebrated widely every year on September 8 & the theme of 2021 is 'Literacy for a human-centred recovery: Narrowing the digital divide'.
MEA and TRIFED to set up Atma Nirbhar Bharat corner in 100 Indian Embassies across the World.
On 7th September 2021, Prime Minister Narendra Modi inaugurated the "Shikshak Parv-2021" via video conferencing.
G Kishan Reddy, the Minister of Culture, launched the "Bujurgon ki Baat-Desh Ke Saath" program in New Delhi on 07th September.
The Ministry of Coal has constituted a Task Force and Expert Committee to Prepare Road Map for Coal based Hydrogen Production.
Afghanistan Mullah Hasan Akhund appointed PM of new Taliban govt, Mullah Baradar to be his deputy
El Salvador has become the first country in the world to accept Bitcoin as legal tender.
Cuba became the first country in the worldon September 6, 2021, to vaccinate toddlers with the COVID-19 vaccine. 
The Greek government announced that it is creating a ministry for climate change after a record-breaking summer of deadly heat.
Environment Minister Bhupender Yadav unveiled first functional Smog Tower of India, situated at Anand Vihar in New Delhi
Deputy Chief Minister Manish Sisodia launched the Delhi government's 'Business Blasters' programme which aims at developing young entrepreneurs at the school-level by providing students seed money to start a business.
The Assam government announced that it will form a committee comprising ministers and members of the All Assam Students' Union (AASU) for preparing a roadmap within three months to implement the Assam Accord.
Hindustan Petroleum Corporation Ltd. unveiled its branded store "Happy Shop" In Mumbai, marking its foray into non-fuel retailing.
The India Today Group has launched Good News Today (GNT), India's first and only good news channel that recognise that the news doesn't just have to be shocking, sensational and stressful.
India's largest broking firm Zerodha has received in-principle approval to set up an asset management company (AMC) company. 
Walmart-owned Flipkart launched 'Flipkart Boost', a new programme aimed at helping digital-first consumer brands to grow their business.
SBM Bank has partnered with fintech player OneCard to launch a mobile-based credit card.
HDFC Bank has signed a pact with the National Small Industries Corporation (NSIC) for providing credit support to the micro, small and medium enterprise (MSME)
India Post Payments Bank (IPPB) has joined hands with LIC Housing Finance for selling housing finance products of the latter to its 4.5 crore customers.
State-owned Bank of India (BOI) stated it has entered into a co-lending arrangement with MAS Financial Services for MSME loans.
The government has appointed Harsha Bhupendra Bangari as the managing director (MD) of Export-Import Bank of India (EXIM Bank).
The Appointments Committee of the Cabinet (ACC) has approved the appointment of SL Tripathy as Chairman-cum-Managing Director (CMD) of the United India Insurance Company Limited (UIICL).
The Appointments Committee of the Cabinet (ACC) has approved the proposal of the Ministry of Petroleum & Natural Gas for the appointment of S Ramesh as Managing Director (MD) of Bharat Petro Resources Limited (BPRL). 
Bharat Petroleum Corporation Limited (BPCL) has appointed V Ramkrishana Gupta as Chief Financial Officer (CFO) of the company with effect from August 1.
The Madhya Pradesh government has issued a letter appointing hockey player Vivek Sagar, who was part of the Indian squad that won the bronze medal at the Tokyo Olympics, as Deputy Superintendent of Police (DSP) in the state police.
President Ram Nath Kovind, September 5, presented the national teacher award to 44 teachers on the occasion of Teachers' Day.
Ramesh Narayan will be inducted into the Asian Federation of Advertising Associations (AFAA) Hall of Fame at the AdAsia 2021.
The Bharat Electronics Limited (BEL) has signed a pact for providing reliable and sustainable power supply to security forces operating in remote, Naxal-affected and high-altitude areas.
India-based First Policy Insurance Brokers has completed the acquisition of Amicus Insurance Brokers which helps consolidate its position in the market.
On Sep 07, 2021, Minister of State for Health Bharati Pravin Pawar represented India at the 74th Session of World Health Organization- South East Asia Regional Office (WHO-SEARO) through video-conference.
Air Chief Marshal RKS Bhadauria, Chief of the Air Staff (CAS) attended the Pacific Air Chiefs Symposium 2021 (PACS-21) at Joint Base Pearl Harbor-Hickam, Hawaii from 30 Aug to 02 Sep 21.
State-run telecom research and development organisation C-DoT has launched a lab to design and develop pan-India integrated alert system for disaster management at the occasion of its 38th Foundation Day.
Haryana Chief Minister, Manohar Lal released the book 'Haryana Environment and Pollution Code' compiled by former IAS officer and famous poet Smt. Dheera Khandelwal.
The 130th edition of the Durand Cup kicked off at the Vivekananda Yubabharati Krirangan in Kolkata,West Bengal.
19-year-old shooter Avani Lekhara, led India's contingent at the Closing Ceremony of Tokyo Paralympics as the flag-bearer.
India Clinched 39 medals including 14 gold at the ASBC Asian World Youth and Junior Championships 2021 in
Rajni Kaul, Indian media personality passed away.
Daily CA On Sep 09 :
International Day to Protect Education from Attack – Observed on Sep 09
Central Board of Direct Taxes (CBDT) has amended the Income-tax Rules to ease authentication of electronic records submitted in faceless assessment proceedings
Yoshihide Suga step down as Japan's prime minister
India's tallest air purifier tower become operational in Chandigarh
S&P Global Ratings forecasts India's GDP for FY22 at 9.50%; FY23 at 7.00%
Bank of Baroda ranked first in the MeitY Digital Payment Scorecard for 2020-21
Karnataka Bank unveiled POS device 'WisePOSGo' for merchant customers
Ashoka Buildcon Managing Director and promoter Satish Parekh has taken over as the president of India Chapter of International Road Federation (IRF)
Uttarakhand Governor Baby Rani Maurya Resigned
Indian biologist Shailendra Singh bags global award in turtle conservation
Writer Namita Gokhale has been chosen as the recipient of the seventh Yamin Hazarika Woman of Substance Award
GMR led Delhi International Airport Limited (DIAL) has won the prestigious awards of CII 'National Energy Leader' and 'Excellent Energy Efficient Unit' 2021
A book titled "Gita Govinda: Jaydeva's Divine Odyssey" by Utpal K. Banerjee launched by culture minister
India to host G-20 summit in 2023; Piyush Goyal to be the Sherpa for G20
First ever India–Japan High Level Policy Dialogue on Environment was held virtually
The cabinet approved the production-linked incentive (PLI) scheme worth Rs 10,683 crore for textiles sector with an aim to boost domestic manufacturing and exports
Union Minister Bhupender Yadav introduced PRANA portal to regulate air pollution in 132 cities
Union Minister for Fisheries, Animal Husbandry, and Dairying, Parshottam Rupala, launched the portal for National Livestock Mission (NLM)