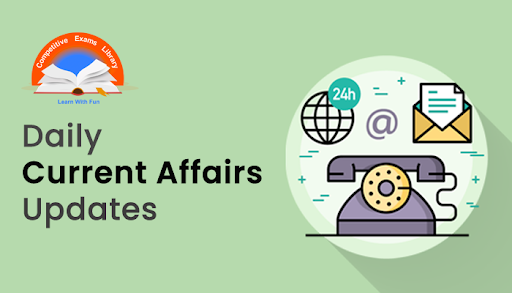 Dear Readers, Daily Current Affairs News Updates about the National and International events were listed here. Read Current Affairs Today here and stay updated with current news. Candidates those who are preparing for IBPS/SBI/PO/Clerk exam and all other competitive exams can use this and try the Current Affairs Quiz to test your knowledge level.
CURRENT AFFAIRS: IMPORTANT DAYS
World Suicide Prevention Day: 10 September
World Suicide Prevention Day is an awareness day observed on 10 September every year, in order to provide worldwide commitment and action to prevent suicides, with various activities around the world since 2003.
The 2021 theme of World Suicide Prevention Day is "Creating Hope Through Action", which promises a collective initiative towards suicide prevention.
World Suicide Prevention Day was first celebrated in 2003.
The pandemic has increased anxiety and depression among a lot of people all over the world, young and old.
On the occasion of World Suicide Prevention Day, here are seven ways to reduce stress and depression amid the pandemic without taking any medication.
CURRENT AFFAIRS: NATIONAL NEWS
India's first Indigenously Designed High Ash Coal Gasification Based Methanol Production Plant unveiled at BHEL R&D Centre, Hyderabad
Methanol is utilized as a motor fuel, to power ship engines, and to generate clean power all over the world.
Methanol is also used to generate di-methyl ether (DME), a liquid fuel that is very similar to diesel — existing diesel engines simply need to be minimally changed to use DME instead of diesel.
The majority of worldwide methanol production is derived from natural gas, which is a relatively easy process.
Since India doesn't have much of the natural gas reserves, producing methanol from imported natural gas lead to outflow of foreign exchange and sometimes uneconomical due to excessive prices of natural gas.
About BHEL:
Bharat Heavy Electricals Limited is an Indian government owned engineering and manufacturing enterprise based in New Delhi, India.
It is under the ownership of Ministry of Heavy Industries and Public Enterprises, Government of India.
Established in 1964, BHEL is India's largest power generation equipment manufacturer.
Headquarters: New Delhi
CEO: Nalin Singhal
Centre Forms committee to Frame New Law For Drugs, Cosmetics, Medical Devices; Head – Dr VG Somani
The government has constituted an eight-member panel to frame a new law for drugs, cosmetics and medical devices.
The panel is being headed by Drugs Controller General of India (DCGI) Dr VG Somani.
"The government has decided to constitute a committee for framing/preparation of the New Drugs, Cosmetics and Medical Devices Bill so that the New Drugs, Cosmetics and Medical Devices Act can be framed".
The Drugs and Cosmetics Act, 1940, regulates the import, manufacture, distribution and sale of drugs, cosmetics and medical devices.
This Act is amended from time to time.
The last amendment in the Act was made in 2008.
About The Committee:
The Central government has constituted a committee for framing/preparing new drugs, cosmetics and medical device laws.
The eight-member panel, headed by Drug Controller General of India G. Somani, is scheduled to submit a draft document by November 30.
The other members of the panel are Rajiv Wadhawan (director, Ministry of Health and Family Welfare), Dr. S.E. Reddy (member) A.K. Pradhan (joint drug controller), drugs controllers of Haryana, Gujarat, Maharashtra and IAS officer NL Meena. The committee is allowed to co-opt member(s) if it requires.
Govt initiates 'Main Bhi Digital 3.0' campaign for Digital Onboarding & Training for street vendors
Ministry of Housing and Urban Affairs in collaboration with the Ministry of Electronics and Information Technology launched the pilot drive 'Main Bhi Digital 3.0' – A special Campaign for Digital On boarding and Training for street vendors under PM SVANidhi scheme across 223 cities in the country.
It was jointly launched by Housing and Urban Affairs Secretary Durga Shanker Mishra and Electronics and IT Secretary Ajay Prakash Sawhney in a virtual event.
The drive is in line with Prime Minister Narendra Modi's vision of Sabka Saath Sabka Vikas.
About the campaign:
The BharatPe, Mswipe, PhonePe, Paytm, Aceware are participating in this drive to issue UPI IDs, QR code and provide digital training. Digital Payment Aggregators will handhold the street vendors to bring about enhanced adoption of digital transactions and behaviour change.
To promote digital transactions instruction has been issued to the Lending Institutions to handover a durable QR Code and trains the beneficiaries for conducting digital receipt and payment transactions within a week of disbursement.
So far, 5 lakh applications have been received.
Out of these, 2 lakh loans have been sanctioned and 24.6 lakh loans have been disbursed.
The amount disbursed so far is 2 thousand 4 hundred 44 crore rupees.
More than 70 thousand 448 street vendors have repaid their first loan tranche.
Out of 22.41 lakh digitally on-boarded street vendors, 7.24 lakh street vendors are digitally active and have recorded 5.92 Crore number of digital transactions.
CURRENT AFFAIRS: STATE NEWS
ADB grants $300 million loan to expand rural connectivity in Maharashtra
Indian government and the Asian Development Bank (ADB) signed a 300 million dollar loan as additional financing to scale up improvement of rural connectivity to help boost rural economy in Maharashtra.
The additional financing for the ongoing Maharashtra Rural Connectivity Improvement Project will help improve an additional 1,100 rural roads and 230 bridges for a total length of 2,900 kilometers in 34 districts.
The ongoing project with 200 million dollar financing, approved in August 2019, is already improving and maintaining the condition and safety of 2,100 kilometers of rural roads.
The signatories to the loan agreement were Additional Secretary, Ministry of Finance, Rajat Kumar Mishra and Country Director of ADB's India Resident Mission, Takeo Konishi.
With the additional financing, the overall project will improve the condition and safety of five thousand kilometer of rural roads and over 200 bridges connecting rural communities.
The new project is expected to generate about 3.1 million person-days of employment for local communities, of which at least 25 per cent will be for women, over the construction and maintenance periods.
A gender action plan has been prepared to focus on capacity development of women workers so that they can benefit from the semiskilled and unskilled labor opportunities.
About Maharashtra:
Capital: Mumbai
Governor: Bhagat Singh Koshyari
Chief minister: Uddhav Thackeray
National Parks: ChandoliNational Park, Gugamal National Park, Nawegaon National Park, Pench (Jawaharlal Nehru) National Park, Sanjay Gandhi (Borivali) National Park, Tadoba National Park
ADB grants $112 million loan to improve water supply infrastructure in Jharkhand
Asian Development Bank and India have signed two separate loans totalling $412 million for projects in Maharashtra and Jharkhand.
For Maharashtra, the lender signed an additional loan of $300 million to scale up rural connectivity.
ADB and the government signed another loan of $112 million for development of water supply infrastructure in Jharkhand.
The $112-million loan for Jharkhand will develop water supply infrastructure and strengthen capacity of urban local bodies for improved service delivery in four towns in the state.
In these towns, four water plants with a combined capacity of 275 million litres per day will be established, along with 940 kilometres of water distribution network that will supply to around 115,000 households.
About Jharkhand:
Capital: Ranchi
Chief minister: Hemant Soren
Governor: Ramesh Bais
National Parks: Betla National Park
About ADB:
The Asian Development Bank is a regional development bank established on 19 December 1966, which is headquartered in the Ortigas Center located in the city of Mandaluyong, Metro Manila, Philippines.
The company also maintains 31 field offices around the world to promote social and economic development in Asia.
ADB is committed to achieving a prosperous, inclusive, resilient, and sustainable Asia and the Pacific, while sustaining its efforts to eradicate extreme poverty.
Headquarters: Mandaluyong, Philippines
Mumbai became first South Asian city to work on climate action plan
Iqbal Singh Chahal, Commissioner of the stated that Mumbai is the first city in South Asia to launch the Mumbai Climate Action Plan, which is rolling in now.
"This has been launched after a lot of homework and now we are going to work on this plan and it has a number of tangible initiatives which we will be taking on a fortnightly basis and they will be reviewed also".
BMC officials claimed that they were in tune with what the climate experts have to say about the near future and the devastation that could be witnessed in the city if corrective measures aren't put in place.
"The situation will be completely different in the next 30 years or so.
Hence, our aim is to mitigate and off-set climate change which is lurking.
Soon every city, every district and every corporation will have its own climate action plan.
Things are moving at a very fast pace and soon this action plan will be implemented".
Karnataka state govt to set up spices park in Chikkamagaluru
The state government has decided to set up a spices park in Chikkamagaluru district.
The Karnataka Industrial Areas Development Board (KIADB) will develop the facility on a 10-acre plot at the earliest.
The government's decision followed a meeting between Nirani and Union Minister of State for Agriculture & Farmers Welfare Shobha Karandlaje in Bengaluru.
Karandlaje represents Chikkamagaluru in Lok Sabha.
The union minister requested Nirani to set up a spices park in her district to promote agriculture exports.
The district is known for spices apart from coffee.
About Karnataka:
Capital: Bengaluru
Governor: Thawar Chand Gehlot
Chief minister:Basavaraj Bommai
National Parks: Bannerghatta National Park, Bandipur National Park, Nagarhole National Park, Kudremukh National Park, Anshi National Park.
CURRENT AFFAIRS: BANKING NEWS
Bank of Baroda's unveiled digital platform 'bob World'
State-owned Bank of Baroda announced the launch of its digital banking platform 'bob World', aimed at providing all banking services under one roof.
The lender aims to provide an all-inclusive and seamless virtual banking experience, encompassing all digital banking services less than one roof for the convenience of customers.
bob World' will offer a wide gamut of banking products and services, to be rolled out in phases, under four key pillars — Save, Invest, Borrow and Shop.
The pilot of bob World began on August 23, and the application (app) is already being used by more than 50 lakh users.
About BOB:
Bank of Baroda is an Indian government owned banking and financial services company.
It is under the ownership of Ministry of Finance, Government of India.
Headquarters: Alkapuri, Vadodara
Merged banks: Vijaya bank, Dena Bank
Tagline: India's International Bank
RBI neglects lending curbs on UCO Bank
The central bank uses the PCA framework to rein in banks that have breached certain regulatory thresholds in bad loans and capital adequacy.
PCA entails curbs on high-risk lending, setting aside more money on provisions and restrictions on management salary.
UCO Bank, RBI stated, has provided a written commitment that it would comply with the norms of minimum regulatory capital, net non-performing asset (NPA) and leverage ratio on an ongoing basis.
The Kolkata-based lender has also apprised RBI about the structural and systemic improvements it has put in place to help in continuing to meet these commitments.
About UCO Bank:
UCO Bank, formerly United Commercial Bank, established in 1943 in Kolkata, is a major nationalised bank.
It is under the ownership of Ministry of Finance, Government of India.
During FY 2020–21, its total business was 3.24 lakh crore.
Based on 2020 data, it is ranked 80 on the Fortune India 500 list.
Headquarters: Kolkata
CEO: Atul Kumar Goel
RBI nods tokenization in Card-on-File services
In a move aimed to allow seamless recurring payments, Reserve Bank of India (RBI) has expanded the tokenisation facility from earlier device-based tokenisation framework to card-on-file tokenisation (CoFT) services as well, with the explicit consent of the customer.
It may be pointed out that the RBI has set a December-2021 deadline to prohibit payments aggregators, merchants and service providers like Amazon and Netflix from storing customer card details in their servers.
Currently, checkout is faster as customers are not required to refill their card details for monthly subscriptions. But it won't be like that any longer.
The objective of the RBI's diktat is to create a better security framework for digital transactions.
In the past, there have been instances of unauthorised use of customer data, theft, and misuse.
CURRENT AFFAIRS: APPOINTMENT AND RESIGNATION NEWS
Lt Gen (retd) Gurmit Singh appointed as governor of Uttarakhand, ex-IPS RN Ravi as new TN governor
President Ram Nath Kovind made a series of appointments of Governors that involves five states.
Rashtrapati Bhavan stated the President has accepted the resignation of Uttarakhand Governor Baby Rani Maurya.
Her successor is Lieutenant-General Gurmit Singh.Baby Rani Maurya — who completed three years in office as the Governor last month — resigned for personal reasons.
Ms Maurya took oath as the Governor of Uttarakhand on August 26, 2018, taking over from Krishna Kant Paul.
Banwarilal Purohit, the Governor of Tamil Nadu, who was holding additional charge of the Governor of Punjab, has been formally appointed the Governor of Punjab.
The Centre's interlocutor and retired IPS officer RN Ravi, who was the Governor of Nagaland, has been shifted to Tamil Nadu as its new Governor.
Jagdish Mukhi, Governor of Assam, will be "discharging the functions of the Governor of Nagaland in addition to his own duties, until regular arrangements are made".
About Uttarakhand:
Capital: Dehradun
Governor: Baby Rani Maurya
Chief minister: Pushkar Singh Dhami
National Parks: Valley of Flowers National Park, Rajaji National Park, Nanda Devi National Park, Gangotri National Park, Govind Pashu Vihar National Park & Sanctuary.
About TamilNadu:
Capital: Chennai
Governor: Banwarilal Purohit
Chief minister:  K. Stalin
National Parks: Guindy National Park, Gulf of Mannar Marine National Park, Indira Gandhi (Annamalai) National Park, Mudumalai National Park, Mukurthi National Park
RBI grants re-appointment of V. Vaidyanathan as MD & CEO of IDFC FIRST Bank
The Reserve Bank of India (RBI) has given a green signal for the re-appointment of Vaidyanathan as the Managing Director (MD) and Chief Executive Officer (CEO) of IDFC FIRST Bank.
The IDFC FIRST Bank in a regulatory filing mentioned reappointment of Vaidyanathan as MD and CEO is for three years which is going to be effective from December 19, 2021.
Apart from that, stated re-appointment is also bound to the approval of shareholders at the ensuing Annual General Meeting of the Bank which is going to take place on September 15 this month.
Meanwhile, after the merger of IDFC Bank and Capital First, he took charge as the IDFC FIRST Bank's MD and CEO in December 2018.
About IDFC FIRST Bank:
IDFC First Bank in July 2015.was listed on BSE and NSE.
CEO: V. Vaidyanathan
Headquarters: Mumbai
Govt appointed 10 merchant bankers for managing IPO of LIC
The government has appointed 10 merchant bankers including Goldman Sachs (India) Securities, Citigroup Global Markets India, and Nomura Financial Advisory and Securities India to manage the mega initial public offering of country's largest insurer LIC.
Other selected bankers include SBI Capital Market, JM Financial, Axis Capital, BofA Securities, JP Morgan India, ICICI Securities, and Kotak Mahindra Capital Co Ltd.
"Government has finalised the book running lead managers and some other advisors for the IPO of LIC".
Centre appointed G.S Pannu as Officiating ITAT President
The Government has appointed S. Pannu as Officiating President of Income Tax Appellate Tribunal (ITAT).
The Government has appointed, G. S. Pannu, who is presently a Vice-President, ITAT, New Delhi as Officiating President of ITAT with effect from September 6, 2021 till appointment of regular President or until further orders, whichever is earlier.
About Mr. Pannu:
Pannu was born on 01 Aug 1962 at Hoshiarpur (Punjab), he is a C.A and joined Government Service 14 September 2000.
Presently posted as Vice-President at ITAT, New Delhi.
Before joining ITAT, practised as a Chartered Accountant at New Delhi from 1986-2000.
Tata AIA Life appointed Neeraj Chopra as brand ambassador
Tata AIA Life Insurance announced on-boarding of Olympic gold medallist Neeraj Chopra as its brand ambassador in a multi-year deal, aimed at promoting health and wellness among policyholders, and going deeper into the tier II and III markets.
The javelin thrower clinched a gold medal at the recently-concluded Tokyo Olympics.
Tata AIA stated the association with Chopra, a multi-year brand partnership, also marks the very first brand partnership to be signed with the champion, post his historic Olympic win.
Over the next few years, Chopra will support Tata AIA"s efforts in offering best-in-class life protection and health and wellness solutions to its consumers across the country.
About Tata AIA Life:
Tata AIA Life Insurance Company (Tata AIA Life) is a JV between Tata Sons and AIA Group Limited (AIA).
Tata AIA Life combines the Tata group's pre-eminent brand strength and leadership position in India and AIA's expertise and presence in 18 markets across the Asia- Pacific region.
CEO: Naveen Tahilyani
Headquarters: Mumbai
CURRENT AFFAIRS: MOU AND AGREEMENTS NEWS
All India Institute of Ayurveda signed MoU with Western Sydney University to appoint Ayurveda Chair
All India Institute of Ayurveda under Ministry of Ayush has signed a Memorandum of Understanding, MoU in coordination with Western Sydney University Australia, in virtual mode to appoint an Academic Chair in Ayurveda.
The MoU was signed by Professor Tanuja Nesari, Director, All India Institute of Ayurveda and Vice-Chancellor and President, Western Sydney University, Australia, Professor Barney Glover.
The new Academic Chair will undertake academic and collaborative research activities in Ayurveda.
It includes herbal medicine and yoga as well as design academic standards and short-term and medium-term courses and educational guidelines.
This Chair will also conduct workshops,seminars and conferences on Ayurveda.
The Ayurveda Academic Chair will be based at Western Sydney University's NICM Health Research Institute, located on the West mead campus, with tenure for a period of three years.
The appointment of the chair is jointly funded by the Ministry of Ayush and Western Sydney University and anticipated to commence early in 2022.
Coal India Ltd inks MoU with Dept of Sports for betterment of sports infrastructure
Coal India Limited has signed an MoU with Department of Sports in New Delhi for betterment of sports infrastructure in the country.
Under the MoU, Coal India Limited, under its Corporate Social Responsibility program will contribute 75 crore rupees towards the National Sports Development Fund.
The fund will be used for construction of three large hostels meant for sports persons.
These hostels will be constructed at Lakshmibai National Institute of Physical Education, Gwalior and Sports Authority of India's centres at Bhopal and Bengaluru with a combined capacity of 350 sports persons.
The initiative is seen as a significant step towards reaping the sports atmosphere created through recent success in Olympics and Paralympics where India finished with the best ever medal tally.
The MoU signing ceremony was held in the presence of Youth Affairs and Sports Minister Anurag Thakur and Coal Secretary, Dr. Anil Kumar Jain.
Coal Ministry stated, these hostels will benefit talented athletes directly by creating a conducive eco-system through focused training under national level coaches.
The project will be completed by 2023 for which Coal India Limited has already released 25 crore rupees.
CURRENT AFFAIRS: RANKING AND INDICES
IIT Madras Retains Top Spot in Overall Category of NIRF India Ranking 2021 list
Indian Institute of Technology (IIT) Madras has retained the top spot among institutes all over India whereas Indian Institute of Science (IISc) Bengaluru was the best among research institutions as per the Ministry of Education's National Institutional Ranking Framework (NIRF) rankings.
Eight IITs and two national Institutes of Technology (NITs) have figured in the top 10 engineering institutions in the country as per the sixth edition of the National Institutional Ranking Framework (NIRF).
Union Education Minister Dharmendra Pradhan announced the rankings on September 9.
This list can be accessed on the official NIRF website – nirfindia.org.
These rankings are released under various categories like engineering, pharmacy, management, overall, research, law, university, ARIIA (Atal Ranking of Institutions on Innovation Achievements), medical, college, and architecture.
Education ministry has allotted these rankings on the basis of teaching, peer perception, graduation outcome, research and professional practice, learning and resources, outreach and inclusivity.
About NIRF:
The National Institutional Ranking Framework is a methodology adopted by the Ministry of Education, Government of India, to rank institutions of higher education in India.
The Framework was approved by the MHRD and launched by Minister of Human Resource Development on 29 September 2015.
CURRENT AFFAIRS: CABINET APPROVAL
Cabinet nods MoU between ICAI and Chamber of Auditors of Azerbaijan
Union Cabinet has approved the signing of Memorandum of Understanding between the Institute of Chartered Accountants of India and the Chamber of Auditors of the Republic of Azerbaijan.
It will help in establishing the Mutual Cooperation in the areas of Member Management, Professional Ethics, Technical Research, Professional Accountancy Training, Audit Quality Monitoring, Advancement of Accounting Knowledge, Professional and Intellectual Development.
The Cabinet also approved the signing of an MoU on cooperation in the field of Geosciences between the Joint Stock Company Rosgeologia, a legal entity incorporated under the laws of the Russian Federation and the Geological Survey of India.
Purpose of MOU:
The main objective of this MoU is to extend mutual cooperation for technological collaboration on exploration for deep-seated and concealed mineral deposit, analysis and interpretation of the aero-geophysical data, Joint development of the Indian Geoscience Data repository with the Russian state-of-the-art Information Technology and; exchange of technology & knowledge in the field of drilling, sampling and laboratory analysis.
The Cabinet also cleared the signing of an agreement on the recruitment of Indian citizens to work in the Portuguese Republic between India and Portugal.
CURRENT AFFAIRS: SPORTS NEWS
Guinness World Records – Ronaldo for most goals scored
Cristiano Ronaldo became the highest-scoring man in the international football history with his 110th goal for Portugal.
The Portugal captain scored in the 89th minute against Ireland in a World Cup qualifier, moving ahead of former Iranian striker Ali Daei.
He added a second — another header — minutes later in the 2-1 victory.
Earlier in the game, he had a penalty saved in the 15th minute.
Ronaldo was honoured by Guinness World Records on his achievement.
About Ronaldo:
The 36-year-old Ronaldo, who finalized his return to Manchester United after leaving Juventus, was playing in his 180th game for Portugal.
The forward made his debut for the national team in 2003 and began his historic scoring run at the 2004 European Championship in a 2-1 loss to Greece in the group stage.
Daily CA On Sep 09 :
International Day to Protect Education from Attack – Observed on Sep 09
Central Board of Direct Taxes (CBDT) has amended the Income-tax Rules to ease authentication of electronic records submitted in faceless assessment proceedings
Yoshihide Suga step down as Japan's prime minister
India's tallest air purifier tower become operational in Chandigarh
S&P Global Ratings forecasts India's GDP for FY22 at 9.50%; FY23 at 7.00%
Bank of Baroda ranked first in the MeitY Digital Payment Scorecard for 2020-21
Karnataka Bank unveiled POS device 'WisePOSGo' for merchant customers
Ashoka Buildcon Managing Director and promoter Satish Parekh has taken over as the president of India Chapter of International Road Federation (IRF)
Uttarakhand Governor Baby Rani Maurya Resigned
Indian biologist Shailendra Singh bags global award in turtle conservation
Writer Namita Gokhale has been chosen as the recipient of the seventh Yamin Hazarika Woman of Substance Award
GMR led Delhi International Airport Limited (DIAL) has won the prestigious awards of CII 'National Energy Leader' and 'Excellent Energy Efficient Unit' 2021
A book titled "Gita Govinda: Jaydeva's Divine Odyssey" by Utpal K. Banerjee launched by culture minister
India to host G-20 summit in 2023; Piyush Goyal to be the Sherpa for G20
First ever India–Japan High Level Policy Dialogue on Environment was held virtually
The cabinet approved the production-linked incentive (PLI) scheme worth Rs 10,683 crore for textiles sector with an aim to boost domestic manufacturing and exports
Union Minister Bhupender Yadav introduced PRANA portal to regulate air pollution in 132 cities
Union Minister for Fisheries, Animal Husbandry, and Dairying, Parshottam Rupala, launched the portal for National Livestock Mission (NLM)
Daily CA On Sep 10 :
World Suicide Prevention Day is an awareness day observed on 10September every year
India'sfirstIndigenously Designed HighAshCoalGasification Based Methanol Production Plantunveiled at BHEL R&D Centre, Hyderabad
Centre Forms committee to Frame New Law For Drugs, Cosmetics, Medical Devices; Head – Dr VG Somani
Ministry of Housing and Urban Affairs in collaboration with the Ministry of Electronics and Information Technology launched the pilot drive 'Main Bhi Digital 3.0' for Digital Onboarding & Training for street vendors
ADB grants $300 million loan toexpand rural connectivity in Maharashtra
Asian Development Bank and India have signed two separate loans totalling $412 million for projects in Maharashtra and Jharkhand
Mumbai became first South Asian city to work on climate action plan
Karnataka state govt to set up spices park in Chikkamagaluru
Bank of Baroda announced the launch of its digital banking platform 'bob World', aimed at providing all banking services under one roof
Reserve Bank of India neglects lending curbs on UCO Bank
Reserve Bank of India (RBI) has expanded the tokenisation facility from earlier device-based tokenisation framework to card-on-file tokenisation (CoFT)
Lt Gen (retd) Gurmit Singh appointed as governor of Uttarakhand, ex-IPS RN Ravi as new Tamil Nadu governor
RBI grants re-appointment of V. Vaidyanathan as MD & CEO of IDFC FIRST Bank
The government has appointed 10 merchant bankers including Goldman Sachs (India) Securities, Citigroup Global Markets India, and Nomura Financial Advisory and Securities India to manage the mega initial public offering of country's largest insurer LIC
The Government has appointed S. Pannu as Officiating President of Income Tax Appellate Tribunal (ITAT).
Tata AIA Life Insurance announced on-boarding of Olympic gold medallist Neeraj Chopra as its brand ambassador
All India Institute of Ayurveda signed MoU with Western Sydney University toappoint Ayurveda Chair
Coal India Limited has signed an MoU with Department of Sports in New Delhi for betterment of sports infrastructure in the country
IIT Madras RetainsTopSpot in Overall Category of NIRF India Ranking 2021 list
Union Cabinet has approved the signing of Memorandum of Understanding between the Instituteof Chartered Accountants of India and the Chamber of Auditors of the Republic of Azerbaijan
Cristiano Ronaldo became the highest-scoring man in the international football history with his 110th goal for Portugal