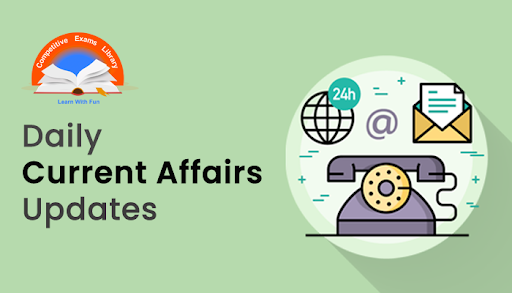 Dear Readers, Daily Current Affairs News Updates about the National and International events were listed here. Read Current Affairs Today here and stay updated with current news. Candidates those who are preparing for IBPS/SBI/PO/Clerk exam and all other competitive exams can use this and try the Current Affairs Quiz to test your knowledge level.
CURRENT AFFAIRS: DAYS
International Mountain Day 2020: Observed on Dec 11
The International Mountain Day is observed on December 11 every year.
Theme of 2020 – Mountain biodiversity
The first International Mountain Day was celebrated in 2003.
The United Nations had declared 2002 as the UN International Year of Mountains.
Why is International Mountain Day celebrated?
It is a UN designated day to celebrate the rich biodiversity, as well as address the threats mountains face.
Purpose : To create awareness about the importance to life, to highlight the opportunities and constraints in mountain development and to build alliances that will bring positive change to mountain peoples and environments around the world.
UNICEF Day: 11 December
Every year, UNICEF Day is observed on December 11 by the United Nations.
The UNICEF day is celebrated on December 11 because the United Nations General Assembly created UNICEF on December 11, 1946.
It was started in order to provide assistance, supplies and improve health, education, nutrition of children after World War II.
About UNICEF
UNICEF – United Nations International Children Emergency Fund.
UNICEF works in more than 190 countries and territories. It aims to save the lives of children, defend their rights and help them fulfil their potential.
It was awarded the Nobel Prize for peace in 1965.
The work of UNICEF includes child Protection, child environment, child development and nutrition, education, polio eradication, children and age, reproductive and Child Health, advocacy and partnership, emergency preparedness and response, etc.
CURRENT AFFAIRS: NATIONAL
Cabinet Approves PM- WANI Scheme
The Central government's scheme is called the Prime Minister Wi-Fi Access Network Interface (PM-WANI) on 9th December 2020, and is being seen as an attempt by the government to elevate wireless internet connectivity in the country.
It aims to promote the growth of public wi-fi networks in the country.
The scheme would enable our small shopkeepers to provide Wi-Fi service. This will boost incomes as well as ensure our youth gets seamless internet connectivity.
Salient Features: This Public Wi-Fi Access Network Interface will be known as PM-WANI. PM-WANI ecosystem will be operated by different players as described herein under:
Public Data Office (PDO): It will establish, maintain, and operate only WANI compliant Wi-Fi Access Points and deliver broadband services to subscribers.
Public Data Office Aggregator (PDOA): It will be an aggregator of PDOs and perform the functions relating to Authorization and Accounting.
App Provider: It will develop an App to register users and discover WANI compliant Wi-Fi hotspots in the nearby area and display the same within the App for accessing the internet service.
Central Registry: It will maintain the details of App Providers, PDOAs, and PDOs. To begin with, the Central Registry will be maintained by C-DoT.
Registration of PDOs, PDOAs :
While no registration would be required for PDOs, PDOAs and App Providers will get themselves registered with DoT through an online registration portal (SARALSANCHAR; https://saralsanchar.gov.in) of DoT, without paying any registration fee.
Registration shall be granted within 7 days of the application.
Cabinet approves Atmanirbhar Bharat RojgarYojana
The Union Cabinet, chaired by Prime Minister NarendraModi, has given its approval for Atmanirbhar Bharat RojgarYojana (ABRY).
Aim: To incentivise the creation of new employment opportunities.
ABRY will also incentivize creation of new employment opportunities under Atmanirbhar Bharat Package 3.0.
Cabinet has approved an expenditure of Rs 1,584 crore for the current financial year and Rs 22,810 crore for the entire Scheme period i.e. 2020-2023.
Salient features of the Scheme are as under:
Government of India will provide subsidy for two years in respect of new employees engaged on or after 1st October 2020 and up to 30th June 2021
Government of India will pay both 12% employees' contribution and 12% employers' contribution i.e. 24% of wages towards EPF in respect of new employees in establishments employing up to 1000 employees for two years
The Government of India will pay only employees' share of EPF contribution i.e. 12% of wages in respect of new employees in establishments employing more than 1000 employees for two years.
G Kishan Reddy inaugurates National Centre for Divyang Empowerment in Telangana
Minister of State for Home Affairs G Kishan Reddy inaugurated National Centre for Divyang Empowerment (NCDE) at the CRPF Group Centre in Hakimpet near Hyderabad in Telangana on 10th December 2020.
This is a centre to skill and re-skill the specially-abled people who suffered disability while serving the nation.
NCDE aims to provide the soldiers who suffered and sustained grievous injuries during operational duties and rendered physically challenged, a chance to enhance and train them for various fields of work including Information Technology and para-athletes.
About CRPF
Formed – 27th July 1939
Headquarters – New Delhi
Founder – Parliament of India
Ministry of AYUSH, AIIMS to set up Department of Integrative Medicine
The Ministry of AYUSH and AIIMS have decided to initiate work on setting up a Department of Integrative Medicine at AIIMS.
This was decided in a joint visit and review by Secretary, AYUSH Vaidya Rajesh Kotecha and Director, AIIMS, New Delhi Dr.RandeepGuleria.
CIMR receives notable support through the Centre of Excellence Scheme of the Ministry of AYUSH.
It was decided that the Centre for Integrative Medicine and Research(CIMR) AIIMS may develop an integrated protocol with Ayurveda and Yoga for study on Post COVID treatment.
CURRENT AFFAIRS: INTERNATIONAL
Joe Biden & Kamala Harris jointly named Time magazine's Person of the Year
S. President-elect Joe Biden and Vice President-elect Kamala Harris were jointly named Time magazine's 2020.
The US president was named as Person of the Year in 2016 by Time.
Trump, the 45th U.S. president and Time's 2016 Person of the Year
Teenage climate activist Greta Thunberg last year became the youngest individual winner of the accolade.
Along with its Person of the Year honor, Time magazine named the Korean pop group BTS as its Entertainer of the Year, and basketball star LeBron James was crowned Athlete of the Year.
CURRENT AFFAIRS: STATES
NitinGadkari inaugurates three lane 1.5 km long Koilwar bridge over Soneriver in Bihar
Road Transport and Highways Minister NitinGadkari inaugurated the three lane 1.5 km long Koilwarbridge over Sone river in Bihar through Video Conferencing on 10 Dec 2020.
A sum of 266 crore rupees has been spent on the bridge. The existing two lane bridge for both rail and road traffic is 138 years old.
A six-lane bridge is being made in its place, of which, a three-lane carriageway has been opened for public.
The bridge is a major road for transport between Bihar and Uttar Pradesh.
MrGadkari stated, the Ministry has approved a four-lane elevated road from Bharauli (Buxar) to Haidaria for providing connectivity to the Poorvanchal Expressway.
CURRENT AFFAIRS: APPOINTMENTS AND RESIGNATIONS
Romania's Prime Minister LudovicOrban quits Nicolae-IonelCiuca appointed as interim PM
Romania's Defence Minister NicolaeCiuca was named interim prime minister after LudovicOrban resigned over his ruling centre-right National Liberal Party, PNL's poor showing in parliamentary elections.
About Romania
Currency: Romanian leu
Capital: Bucharest
CURRENT AFFAIRS : SUMMITS & CONFERENCE
India & Uzbekistan to held first bilateral virtual summit
Prime Minister NarendraModi and President of Uzbekistan ShavkatMirziyoyev held a virtual summit
This was the first bilateral Virtual Summit between India and a central Asian country.
The leaders discussed the entire spectrum of bilateral relationship, including strengthening of India-Uzbekistan cooperation in the post-COVID world.
They also exchanged views on regional and global issues of mutual interest.
The visits of Prime Minister Modi to Uzbekistan in 2015 and 2016 and President Mirziyoyev to India in 2018 and 2019 have imparted a new dynamism to the strategic partnership..
CURRENT AFFAIRS: RANKING
Finance Minister NirmalaSitharaman at 41 on Forbes 2020 list of 100 most powerful women
Finance Minister NirmalaSitharaman has made it to the list of the world's 100 most powerful women by Forbes, for the second year in a row.
Sitharaman is ranked 41st on the list this year. In 2019, she was ranked at 34.
US Vice President-elect Kamala Harris, Biocon Founder KiranMazumdar-Shaw and HCL Enterprise CEO RoshniNadarMalhotra have also been named in the list which has been topped by German Chancellor Angela Merkel for the 10th year in a row.
European Central Bank head Christine Lagarde is at second position the second year in a row while US Vice President-elect Kamala Harris is at third spot, entering the list for the first time.
Sitharaman was appointed India's finance minister in 2019 and is also the minister for corporate affairs.
SonuSood tops'50 Asian Celebrities In The World' 2020 list
Indian actor SonuSood has been named the number 1 Asian celebrity on the planet for 2020, which is published by UK based Eastern Eye newspaper.
He ranked ahead of global stars, including from Hollywood, the music industry, television, literature and social media, for his inspiring philanthropic work throughout the Covid-19 pandemic.
The top 50 list celebrating Asian stars who shone the brightest in 2020, is based on those who did good work, made a positive impact, broke boundaries, shattered glass ceilings, gave hope, did philanthropic deeds or were just inspiring in their own unique way.
CURRENT AFFAIRS: SCIENCE AND TECHNOLOGY
HAL-IISc Skill Development Centre in launches its first training programme
HAL-IISc Skill Development Centre in Challakere of Chitradurga district in Karnataka launched its first training programme offering five courses in virtual mode.
The programmes offered are in the niche engineering areas of aerospace, mechanical, electrical and electronic sectors, and in line with the "Make in India" mission.
Defence Minister Rajnath Singh had formally inaugurated the Skill Development Centre in Challakere on August 13th this year.
The Centre is located in IISc's new 1500 acre campus in Challakere, projected as a Science and Technology city.
The Skill Development Centre spread over 75000 sq.feet was constructed at a cost of 73.7 crore rupees.
It is well equipped with modern labs, classrooms, auditorium and residential accommodation for 250 trainees and faculty members.
CURRENT AFFAIRS: SPORTS
Breakdancing gets Olympic status to debut at Paris in 2024
The International Olympic Committee has registered Breakdancing as the newest entry into Olympics, with the aim to attract a new and younger audience.
Breakdancing will be known as 'Breaking' in the Olympics event.
The IOC executive board also confirmed skateboarding, sport climbing and surfing for Paris.
Those three sports will make their Olympic debuts at the Tokyo Games which were postponed because of the coronavirus pandemic. The Tokyo opening ceremony is July 23, 2021.
About IOC:
Headquarters – Lausanne, Switzerland
President – Thomas Bach
Founded – 23rd June 1894 ( Paris, France )
Zena Wooldridge Elected as World Squash Federation President
Zena Wooldridge has been elected as the new World Squash Federation (WSF) President following the WSF's 2020 Annual General Meeting.
She replaces outgoing President Jacques Fontaine, from France, who was elected President in 2016.
Wooldridge, from England, will become the 10th WSF President to serve since the Federation's inception in 1967 and the second female.
Wooldridge will serve a minimum four-year term after being elected by delegates representing 64 National Federations.
Wooldridge previously served six years as President of the European Squash Federation between 2013-2019.
She replaces outgoing President Jacques Fontaine, from France, who was elected President in 2016.
Annika Sorenstam elected president of International Golf Federation
Annika Sorenstam was elected president of the International Golf Federation replacing the outgoing Peter Dawson.
Sorenstam, a 72-time winner on the LPGA Tour and former No. 1 from Sweden, will take up the position on Jan. 1.
He was a leading ambassador for golf's bid to become an Olympic sport at the 2016 Rio de Janeiro Games.
About  International Golf Federation
Founded – 1958
Headquarters: Lausanne, Switzerland
Madagascar replaces Maldives as host of 2023 Indian Ocean Island Games
Madagascar has replaced the Maldives as the host of the 2023 Indian Ocean Island Games due to concerns over the COVID-19 pandemic.
The event had been awarded to the Maldives last year, but members of the Indian Ocean Island Games Federation voted to move the Games to Madagascar.
The Maldives had requested pushing back the 2023 Games to 2025 but the IOIGF was keen to avoid a six-year void between editions of the multi-sport event.
Maldives had received the hosting right of the event in 2019.
About Madagascar
Capital: Antananarivo.
Currency: Malagasy ariary.
President: AndryRajoelina
Daily CA on Dec 10th
World Human Rights Day on 10 December 2020 and the theme of 2020isRecover Better – Stand Up for Human Rights.
The Reserve Bank of India has cancelled the licence of The KaradJanataSahakari Bank Ltd, Karad, Maharashtra, because it does not comply with the relevant provisions of the Banking Regulation Act, 1949.
Nomura Expects India to be the fastest growing Asian economy in 2021  gross domestic product GDP growth to average 9.9% in 2021 versus -7.1% in 2020.
Fitch Ratings has raised India's GDP forecast to -9.4% in FY21
The World Economic Forum will hold its 2021 annual meeting in Singapore instead of its traditional home of Switzerland.
Prime Minister NarendraModi will inaugurate the PravasiBharatiya Divas Convention on 9th of Jan 2021 in virtual format and the theme is Contributing to Atmanirbhar Bharat.
Kuwait Emir Sheikh Nawaf Al-Ahmad Al-Sabah has re-appointed Sheikh Sabah Al-Khalid Al-Sabah as prime minister.
Former India wicketkeeper-batsman Parthiv Patelannounced his retirement from all forms of cricket after an 18-years-long cricket career.
World record-breakers Mondo Duplantis of Sweden and Yulimar Rojas of Venezuela have been named the male and female World Athletes of the Year respectively at the World Athletics Awards 2020.
The central government has introduced a new digital platform called CO-WIN for COVID-19 vaccine delivery.
NarendraModi will address the International Bharati Festival, 2020 on Dec 11. Organised by Vanavil Cultural Centre to celebrate the 138th birth anniversary of MahakaviSubramanyaBharati.
NarendraModiwill lay the foundation stone of the New Parliament Building at SansadMarg in Parliament Complex with the vision of Atmanirbhar Bharat.
Varinderpal Singh, an agricultural scientist with the Punjab Agricultural University declines an awardpresented by a Union Minister to express his solidarity with the farmers agitating against the Centre's farm laws.
The Union Education Minister proposed a new School Bag Policy 2020 and recommends that weight of the school bag needs to be monitored on a regular basis as per NCERT recommendation.
The Ramnagar Forest Division in Nainital District, of Uttarakhand has constructed the state's first eco-bridge across KaladhungiNainital Highway.
Uttar Pradesh government has recently launched a scheme to take the unique culture of the Tharu tribes across the world.
Bank of Baroda (BoB) has launched the Atmanirbhar Women Scheme as part of its Baroda Gold Loan. Under the scheme, the bank is offering loans at 0.50% concession for women.
State-run power producer SJVNL has inked a memorandum of understanding (MoU) with Indian Renewable Energy Development Agency (IREDA) for greenenergyprojects.
Daily CA on Dec 11th
The International Mountain Day is observed on December 11 every year. Theme of 2020 is Mountain biodiversity
Every year, UNICEF Day is observed on December 11 by the United Nations.
The Central government's scheme is called the Prime Minister Wi-Fi Access Network Interface (PM-WANI) on 9th December 2020, and is being seen as an attempt by the government to elevate wireless internet connectivity in the country.
The Union Cabinet, chaired by NarendraModi, has given its approval for Atmanirbhar Bharat RojgarYojana (ABRY). and the Aim is To incentivise the creation of new employment opportunities.
Minister of State for Home Affairs G Kishan Reddy inaugurated National Centre for Divyang Empowerment (NCDE) at the CRPF Group Centre in Hakimpet near Hyderabad in Telangana on 10th December 2020.
The Ministry of AYUSH and AIIMS have decided to initiate work on setting up a Department of Integrative Medicine at AIIMS.
Road Transport and Highways Minister NitinGadkari inaugurated the three lane 1.5 km long Koilwarbridge over Sone river in Bihar through Video Conferencing on 10 Dec 2020.
S. President-elect Joe Biden and Vice President-elect Kamala Harris were jointly named Time magazine's 2020.
The International Olympic Committee has registered Breakdancing as the newest entry into Olympics, with the aim to attract a new and younger audience.
Zena Wooldridge has been elected as the new World Squash Federation (WSF) President following the WSF's 2020 Annual General Meeting.
Annika Sorenstam was elected president of the International Golf Federation replacing the outgoing Peter Dawson.
Madagascar has replaced the Maldives as the host of the 2023 Indian Ocean Island Games due to concerns over the COVID-19 pandemic.
Finance Minister NirmalaSitharaman at 41 on Forbes 2020 list of 100 most powerful women
Indian actor SonuSood has been named the number 1 Asian celebrity on the planet for 2020, which is published by UK based Eastern Eye newspaper.
HAL-IISc Skill Development Centre in Challakere of Chitradurga district in Karnataka launched its first training programme offering five courses in virtual mode.
Prime Minister NarendraModi and President of Uzbekistan ShavkatMirziyoyev held a virtual summit