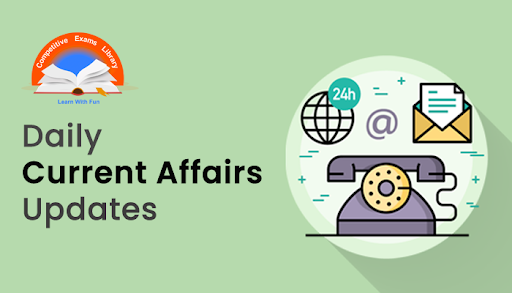 Dear Readers, Daily Current Affairs News Updates about the National and International events were listed here. Read Current Affairs Today here and stay updated with current news. Candidates those who are preparing for IBPS/SBI/PO/Clerk exam and all other competitive exams can use this and try the Current Affairs Quiz to test your knowledge level.
CURRENT AFFAIRS: IMPORTANT DAYS
World First Aid Day 2021 – Observed on second Saturday of September
World First Aid Day is an annual campaign to 'promote the importance of first aid training in preventing injuries and saving lives'.
Every year, the second Saturday of September is observed as World First Aid Day, this year the day falls on September 11. 
Theme this year: The theme for World First Aid Day 2021 is 'First aid and road safety,' according to the International Federation of Red Cross and Red Crescent Societies (IFRC).
The day was first observed in 2000 by International Federation of Red Cross and Red Crescent Societies (IFRC) according to whome first aid is a 'humanitarian act' and should be accessible to everyone.
The IFRC also urges people to learn basic fird aid skills as volunteers and communities for first aid help save lives 'without discrimination'
United Nations Day for South-South Cooperation – Observed on Sep 12
South-South cooperation is a manifestation of solidarity among peoples and countries of the South that contributes to their national well-being, their national and collective self-reliance and the attainment of internationally agreed development goals, including the 2030 Agenda for Sustainable Development.
Taking into account the current pandemic, these types of collaborations are now more important than ever.
Several countries of the global South have already demonstrated effective responses to contain the outbreak and mitigate its impact.
The United Nations Day for South-South Cooperation aims to raise people's awareness of the UN's efforts to work on technical cooperation among developing countries.
It also celebrates the economic, social and political developments made in recent years by regions and countries in the south.
It is a time for individuals and organizations to agree on the importance of South-South cooperation, in complementing North-South cooperation, to support low-income countries in achieving development goals.
CURRENT AFFAIRS: NATIONAL NEWS
Govt adds dairy products under TMA scheme 
The government widened the scope of the Transport and Marketing Assistance (TMA) scheme for specified agriculture products by including dairy products in its purview and increasing the rates of assistance.
Enhanced assistance under the revised scheme is expected to help Indian exporters of agricultural products to meet rising freight and logistics costs.
Under the TMA, the government reimburses a certain portion of freight charges and provides assistance for the marketing of agricultural produce. It was launched in 2019 to boost exports of such commodities to certain countries in Europe and North America.
The scheme has been extended till March 31, 2022.
MoS Jal Shakti Shri Prahlad Singh Patel inaugurates Swachh Survekshan Grameen 2021
The Minister of State, Jal Shakti Ministry, Shri Prahlad Singh Patel presided over the e-launch of Swachh Survekshan Grameen 2021 under Swachh Bharat Mission (Grameen) Phase -II at an event organized by Department of Drinking Water and Sanitation (DDWS).
The Department of Drinking Water and Sanitation (DDWS) will undertake Swachh Survekshan Grameen 2021 countrywide to support acceleration of ODF Plus interventions and increase momentum for improving ODF Sustainability as well as Solid and Liquid Waste Management (SLWM) activities across the villages in the country.
DDWS had commissioned Swachh Survekshan Grameen (SSG)on two occasions earlier in 2018 and 2019.
About Swachh Survekshan Grameen:
Swachh Survekshan Grameen, 2021 will be launched under the Swachh Bharat Mission Phase- 2 on 9th September, 2021.
An expert agency has been hired to conduct the Survekshan 2021.
As part of the Survekshan, Villages, Districts and States would be ranked using key parameters.
The programme will be launched by Union Jal Shakti minister Gajendra Singh Shekhawat and his deputy Prahlad Singh Patel.
Union Govt sets up three BARs to help with tax matters
The Central Board of Direct Taxes (CBDT) has set up three Boards for Advance Rulings (BAR) to offer greater clarity on tax implications of transactions, which in turn will help avoid income tax disputes.
A CBDT order stated the provisions to replace the Authority for Advance Rulings (AAR), which was set up in 1993, with BAR will come into effect from 1 September.
A separate CBDT order mentioned out of the three BARs, two will be in Delhi and one in Mumbai.
The move to replace AARs with BARs seeks to fast-track disposal of cases.
Appeals against BARs' orders can be filed in the high courts.
About CBDT:
The Central Board of Direct Taxes (CBDT) is a part of Department of Revenue in the Ministry of Finance.
The CBDT provides inputs for policy and planning of direct taxes in India, and is also responsible for administration of direct tax laws through the IT Department.
Union Minister for Food Processing Industries, Shri Pashupati Kumar Paras along with Minister of State for Food Processing Industries, Shri Prahlad Singh Patel virtually inaugurate 7 Food Processing projects
The Union Minister for Food Processing Industries, Shri Pashupati Kumar Paras and the Minister of State for Food Processing Industries, Shri Prahlad Singh Patel, inaugurated 7 food processing projects at Uttar Pradesh, Andhra Pradesh and Tamil Nadu, through video conferencing here as part of the 'Azadi Ka Amrit Mahotsav'
The total cost of these 7 projects is about 164.46 crores and a grant in aid of Rs. 27.99 crores has been approved by the Ministry.
Along with this, 3,100 people will get direct and indirect employment, and 16,500 farmers and entrepreneurs will be benefited from these projects.
About Food Processing Industries:
The Ministry of Food Processing Industries is a ministry of the Government of India responsible for formulation and administration of the rules and regulations and laws relating to food processing in India.
Webinar on "POSHAN Abhiyaan – Sahi Poshan Desh Roshan" organized in Chandigarh
A webinar on "POSHAN Abhiyaan– Sahi Poshan Desh Roshan" was organised by Regional Outreach Bureau (ROB) & Press Information Bureau (PIB), Chandigarh, Ministry of Information & Broadcasting, Government of India.
The remarkable initiative of 'Poshan Vatika' amongst Anganwadi workers has further led to awareness generation about importance of balanced diet".
Most of the recommendations presented in the Strategy document have been subsumed within the design of the POSHAN Abhiyaan and now that the Abhiyaan is launched, NITI Aayog has been entrusted with the task of closely monitoring the POSHAN Abhiyaan and undertaking periodic evaluations.
About POSHAN Abhiyaan:
The Prime Minister's Overarching Scheme for Holistic Nutrition or POSHAN Abhiyaan or National Nutrition Mission, is Government of India's flagship programme to improve nutritional outcomes for children, pregnant women and lactating mothers.
CURRENT AFFAIRS: STATE NEWS
Gujarat: PM Narendra Modi inaugurates Sardardham Bhavan in Ahmedabad
Prime Minister Narendra Modi inaugurated via video conferencing the Ahmedabad-based Sardardham Bhavan and, in the same function, also performed the "Bhoomi Pujan" of the Sardardham Phase-II Kanya Chhatralaya (girls' hostel). 
The two establishments, as their names suggest, are dedicated to the "Iron Man of India," Sardar Vallabhbhai Patel.
Located in Ahmedabad, the largest city in the western state, the Sardardham Bhavan has state-of-the-art facilities for students, with modern amenities.
The Kanya Chhatralaya, meanwhile, will house 2000 girls, irrespective of their economic criteria.
About Gujarat:
Capital: Gandhinagar
Governor: Acharya Devvrat
Chief minister: Bhupendra Patel
National Parks: Gir National Park, Velavadar National Park, Marine National Park, Vansda National Park.
India's largest open air fernery unveiled in Uttarakhand
India is home to a plethora of plant and animal species.
The geographical and weather condition of the country is apt for the growth and development of a variety of species.
The natural forest of Uttarakhand has been known to host some of these.
From unique black-bellied coral snakes to crypto gamic species, the forest is a secret hub for flora and fauna.
In line with this, India's largest open-air fernery was inaugurated, September 12 in Uttarakhand's Ranikhet.
The fernery is home to a large number of fern species, some of which are endemic to the state, some hold medicinal value while some are threatened species that demand care and conservation.
"This center has been developed for conservation of fern species and also to create awareness about their ecological role and promote further research".
About Uttarakhand:
Capital: Dehradun
Governor: Gurmit Singh
Chief minister: Pushkar Singh Dhami
National Parks: Valley of Flowers National Park, Rajaji National Park, Nanda Devi National Park, Gangotri National Park, Govind Pashu Vihar National Park & Sanctuary.
'Medicine from the Sky' initiative launched in Telangana for delivery of medicines, vaccine via drone
Civil aviation minister Jyotiradtiya Scindia launched "a first of its kind" Medicine from the Sky project aimed at transporting vaccines and other essential products to remote areas using drones.
The Medicine from the Sky project will be taken up on a pilot basis in 16 green zones in Telangana and later scaled up on the national level based on data.
"This 'Medicines from the Sky' project will be taken up in 16 green zones.
The data will be analysed for three months.
Along with the health ministry, IT ministry, state government and the Centre will together analyse the data and make a model for the whole country.
About Telangana:
Capital: Hyderabad
Governor: Tamilisai Soundararajan
Chief minister:  Chandrashekar Rao
National parks: Kasu Brahmananda Reddy National Park, Mahavir Harina Vanasthali National Parkand Mrugavani National Park
CURRENT AFFAIRS : ECONOMY
Paytm Money Partnered with WealthDesk to Launch 'WealthBaskets'
Paytm's wholly-owned subsidiary, Paytm Money, is planning to launch a wealth and investment advisory marketplace on its platform to offer curated advisory services and products to retail investors.
Paytm Money has partnered with start-up WealthDesk to offer investment portfolios called 'WealthBaskets' as the first step to build up the advisory network.
A 'WealthBasket' is a custom portfolio of stocks and exchange traded fund created by Securities and Exchange Board of India (SEBI)-Registered investment professionals and users will be able to invest in several Wealthbasket.
RBI enhances scope of tokenization to CoFT to ensure security of card data
In order to ensure security of transaction card data, the Reserve Bank of India (RBI) extended the scope of tokenization from device-based tokenization to card-on-file tokenization (CoFT) services.
This enhancement will block merchants from storing actual card data while online transactions.
RBI had issued the directive under Section 10 (2) read with Section 18 of Payment and Settlement Systems Act, 2007 (Act 51 of 2007).
Enhanced Features:
With this, RBI also permitted card issuers (such as Rupay, Visa, and Mastercard) to act as token service providers (TSP).
RBI also refused to extend its deadline for card tokenization beyond January 1, 2022 means no entity in the card transaction, other than the card issuers or card networks, will store the actual card data.
Tokenisation of card data shall be done with explicit customer consent requiring Additional Factor of Authentication (AFA) validation by card issuer.
For transaction tracking and / or reconciliation purposes, entities can store limited data, last four digits of actual card number and card issuer's name in compliance with the applicable standards.
CURRENT AFFAIRS: APPOINTMENT AND RESIGNATION NEWS
Vijay Rupani resigned as Gujarat Chief Minister and BJP's Bhupendra Patel named as new Gujarat Chief Minister
Vijay Rupani unexpectedly tendered his resignation as Gujarat chief minister, a year before the next assembly election. 
The move carried echoes of his predecessor Anandiben Patel's departure.
To be sure, there had been speculation for some time in state political circles over Rupani's likely removal by the Bharatiya Janata Party (BJP) high command, especially after criticism over his management of the pandemic.
The opposition Congress described the move as a futile exercise in damage control by the ruling party.
A day after the exit of Gujarat Chief Minister Vijay Rupani and his cabinet, Ghatlodia MLA Bhupendra Patel was picked to be the next CM of the state.
About Patel:
Patel had won the 2017 Gujarat Assembly polls from the Ghatlodia constituency, defeating Congress candidate Shashikant Patel by over one lakh votes.
It was the highest winning margin in the 2017 Gujarat polls.
He holds a diploma in civil engineering and is considered to be close to former CM Anandiben Patel, who had won from the seat in the 2012 polls.
Patel, a first-time MLA, is a member of the Patidar community.
He has also held the positions of president of Memnagar municipality in Ahmedabad, standing committee chairman of Ahmedabad Municipal Corporation and Ahmedabad Urban Development Authority.
Yahoo Appointed Jim Lanzone as its new CEO
Yahoo Inc. announced Jim Lanzone as the new chief executive, he will be responsible for exploring strategic opportunities and growth of the company.
Previously Lanzone has worked as CEO of the very famous dating app Tinder, and he has worked in digital media for 23 years.
He was earlier chief executive of CBS Interactive here he launched the CBS All Access streaming service that was a precursor to Viacom CBS Inc.'s Paramount+ service.
He was the head of Tinder for 1 year plus, he reinvented its product design, by adding features such as the explore section that will allow users to find matches based on their interests.
He will be starting at Yahoo from September 27.
About Yahoo:
Yahoo is still most popular among the users, the company has about 900 million monthly active users through its various outlets, from Yahoo Finance and Yahoo Sports to AOL, making it an important player in the digital advertising arena.
Earlier this year Apollo Global Management Inc. agreed to purchase Yahoo for $5 billion from Verizon Communications Inc. Guru Gowrappan, the former Verizon executive who has overseen Yahoo since 2018 and continued running the company after the deal, will become a senior adviser to Apollo's private-equity business.
Previously Yahoo was led by Marissa Mayer, she is the former Google executive , who took over as CEO in 2012.
She helped in grasping a deal to sell Yahoo's web assets to Verizon in 2017.
Iqbal Singh Lalpura appointed as chairman of National Commission for Minorities
Sardar Iqbal Singh Lalpura took charge as the Chairman, National Commission for Minorities in the presence of Union Minister for Minority Affairs Shri Mukhtar Abbas Naqvi in New Delhi.
His vast experience in administration, social and literary fields will be helpful in strengthening Prime Minister Narendra Modi's commitment to "Sabka Sath, Sabka Vikas, Sabka Vishwas, Sabka Prayas".
About National Commission for Minorities:
The National Commission for Minorities was set up as a statutory body with the enactment of the National Commission for Minorities Act, 1992 by the Parliament.
NCM Act, 1992 extends to whole of India.
The Act was enforced with effect from 17.5.1993 and amended on 8.9.1995 to provide for a Vice Chairperson in the Commission.
As the Act stands after the amendment in 1995, the Commission now consists of a Chairperson, a Vice Chairperson and five Members, out of which 5 Members including the Chairperson shall be from amongst the notified religious minority communities.
As per Section 2(c) of the NCM Act, 1992, 'Minority', for the purposes of the NCM Act, means a community notified as such by the Central Government.
The functions and responsibilities of the Commission are thus related to the six notified minority communities based on religion namely, Muslims, Christians, Sikhs, Buddhists, Parsis and Jains.
Vijay Goel named as Vice Chairman of Gandhi Smriti and Darshan Samiti
Former Union Minister Vijay Goel took charge as Vice Chairman of Gandhi Smriti and Darshan Samiti at a function in Gandhi Smriti,New Delhi, the site of the Martyrdom of Mahatma Gandhi, the Father of the Nation.
He further emphasised the need to take the message of Mahatma Gandhi's life throughout the country and to every household.
Goel reiterated the key projects of Prime Minister Shri Narendra Modi such as 'swachhatha', 'digital India', 'construction of toilets'  and stated that they reflect the Gandhian vision of constructive work for a progressive India.
About Gandhi Smriti and Darshan Samiti:
Gandhi Smriti formerly known as Birla House or Birla Bhavan, is a museum dedicated to Mahatma Gandhi, situated on Tees January Road, formerly Albuquerque Road, in New Delhi, India.
It is the location where Mahatma Gandhi spent the last 144 days of his life and was assassinated on 30 January 1948. 
Gandhi Smriti and Darshan Samiti (GSDS) were formed in September 1984 by the merger of Gandhi Darshan at Rajghat and Gandhi Smriti, at 5, Tees January Marg as an autonomous body, and are functioning under the constructive advice and financial support from the Ministry of Culture, Government of India.
CURRENT AFFAIRS: AWARDS AND HONOURS
ICRISAT honoured 2021 AFRICA FOOD PRIZE
ICRISAT has been awarded the Africa Food Prize for 2021 for improving food security in sub-Saharan Africa.
The Tropical Legumes Project developed 266 varieties of improved legumes and half a million tons of seeds for a range of legume crops, including cowpeas, pigeon peas, chickpea, common bean, groundnut, and soybean.
The improved seeds benefitted over 25 million farmers in climate-resilient approaches and to control pest outbreaks across the region.
About ICRISAT:
ICRISAT, a CGIAR Research Centre, is a non-profit, non-political public international research organisation that conducts agricultural research for development in Asia and sub-Saharan Africa with a wide array of partners throughout the world.
Between 2007 and 2019, ICRISAT led a collaboration of partners to deliver the Tropical Legumes Project.
The project, undertaken together with the International Center for Tropical Agriculture (CIAT) and International Institute of Tropical Agriculture (IITA), developed 266 improved legume varieties and almost half a million tonnes of seed for a range of legume crops, including cowpeas, pigeon peas, chickpea, common bean, groundnut, and soybean.
MSME Tool Room CITD, Hyderabad won Patent for "Anaar" (Fireworks) making Machine
The MSME Tool Room, Hyderabad,Central Institute of Tool Design (CITD) has obtained a patent for the invention entitled "AUTOMATIC MACHINE FOR THE PRODUCTION OF CONICAL SHAPED FIREWORKS" for 20 years from the 10th November,2015.
Central Institute of Tool Design signed an MOU with M/s. Standard Fireworks Pvt. Ltd.,(SFPL), Sivakasi and finalized orders worth Rs11.49 crore for machines for automation processes for various firework projects.
SFPL initially had placed an order worth Rs300 lakh for filling up of flower pots and packing, chakkar filling and chakkar winding.
As a first project, CITD has taken up for Module-1 (consisting of flower pot chemical filling and packing).
The total project consists of 10 different stations like paper cutting & pasting, chemical filling, washer insertion &ramming, mud filling & sealing etc.
The aim of project is to automate the entire above process for relieving human fatigue and to save human from hazardous environment.
The entire process is minimal human intervention.
Hence, it is safe for humans to handle the machine in Fireworks Industry.
About CITD:
Central Institute of Tool Design or CITD is an institute in India providing programs in Tool Engineering and Technology.
The CITD main campus is in Hyderabad, Telangana, with a branch campus in Vijayawada and an extension centre in Chennai.
CURRENT AFFAIRS: MOU's AND AGREEMENTS
India jointly with Denmark to launch Centre of Excellence on Offshore Wind
Union Minister for Power and New and Renewable Energy R. K. Singh met Denmark's Minister for Climate, Energy and Utilities Dan Jørgensen in New Delhi.
Mr Singh underlined to the Danish side that energy transition towards green is an important part of India's policy.
He pointed out that Prime Minister Narendra Modi in his Independence Day speech has set a target of 450 Giga Watt of Renewable Energy capacity by 2030.
The Minister went on to say that India's whole renewable energy portfolio is already at 146 GW.
He stated that India is the only G-20 country whose actions are in consonance with the Paris Climate agreement with regard to global rise in temperature.
Discussing the potential of green energy, the Minister said that India is looking at making Ladakh and islands such as Andaman Nicobar and Lakshadweep green in energy including transport.
The two Ministers jointly launched 'Centre of Excellence on Offshore Wind' as part of the Green Strategic Partnership.
About Denmark:
Capital: Copenhagen
Currency: Danish krone
Prime Minister: Mette Frederiksen
CURRENT AFFAIRS : DEFENCE NEWS
Indian Navy to launch 1st nuclear missile tracking ship : INS Dhruv                              
On Sep 10,2021, India's first nuclear-missile tracking ship INS Dhruv was commissioned from Visakhapatnam in Andhra Pradesh.
It has been Built by the Hindustan Shipyard in collaboration with the Defence Research and Development Organisation (DRDO) and the National Technical Research Organisation (NTRO).
With this India will join an elite list of countries that presently consists of only France, the US, the UK, Russia, and China, who possess and operate such vessels.
About INS Dhruv :
The INS Dhruv could provide early warning of attacks by ballistic missiles launched from Pakistan and China.
Dhruv is India's first naval vessel that is capable of tracking nuclear missiles at a long range.
It has a displacement of more than 10,000 tonnes, length of 175 metre, beam of 22 metre, draught of 6 metre and can attain a speed of 21 knots.
It is powered by two imported 9,000 kilowatt combined diesel and diesel (CODAD) configuration engines and three 1200 kilowatt auxiliary generators.
It is equipped with the capability to map ocean beds for research and detection of enemy submarines.
It would play a key role in advancing India's presence in the Indo-Pacific region.
It will also help in monitoring the flight trajectories and telemetry data of the Agni land-based missiles and 'K' series of submarine-launched ballistic missiles launched by India during trials.
CURRENT AFFAIRS : SPORTS NEWS
2021 Formula One Italian Grand Prix: Daniel Ricciardo wins title
On Sep 12, 2021, Australian-Italian Daniel Ricciardo (McLaren) won the Formula One Italian Grand Prix 2021 title.
The victory was McLaren's first since 2012 and Ricciardo's first since he was at Red Bull in 2018.
Lando Norris came second & Valtteri Bottas came third in the F1 race.
The top two championship contenders Max Verstappen (Red Bull) and Lewis Hamilton (Mercedes) crashed out due to collision.
About 2021 Italian Grand Prix :
The 2021 Italian Grand Prix was a Formula One motor race held at Autodromo Nazionale Monza.
It was the 14th round of the 2021 Formula One World Championship and the second Grand Prix in Italy of the season.
2021 US Open men's singles Tennis Title : Daniil Medvedev wins
On Sep 12,2021, Daniil Medvedev defeated world number one Novak Djokovic in straight sets, 6-4, 6-4, 6-4, to win the US Open 2021 men's singles final.
About Daniil Medvedev :
Daniil Medvedev is a 25 year old Russian professional tennis player.
He has won thirteen ATP Tour singles titles, including the 2021 US Open and the 2020 ATP Finals.
Currently he is ranked by the Association of Tennis Professionals (ATP) as world No. 2.
US Open 2021 women's singles title : British tennis player Emma Raducanu wins
On Sep 12, 2021, In the 2021 US Open women's singles final title, 18-year-old Great Britain's tennis player Emma Raducanu defeated Canada's Leylah Annie Fernandez to win the title in 6-4, 6-3, held at the Arthur Ashe Stadium, New York .
Raducanu created history by becoming the first-ever qualifier and the first British woman since 1977 to win a Grand Slam.
Raducanu came into the U.S. Open ranked 150th in the world.
Complete List of Winners of 2021 US Open Tennis Title :
Men's single – Daniil Medvedev
Women's single – Emma Raducanu
Men's double – Rajeev Ram / Joe Salisbury
Women's double – Samantha Stosur / Zhang Shuai
Mixed Doubles – Desirae Krawczyk / Joe Salisbury
Daily CA On Sep 11 :
Environmentalist Anil Joshi announced that Himalaya Diwas will be observed on September 9 in Uttarakhand.
World EV Day is observed on September 9 every year.
The world's largest plant designed to suck carbon dioxide out of the air and turn it into rock has started running.
Union ministers Rajnath Singh and Nitin Gadkari will inaugurate an emergency landing strip at Gandhav Bhakasar section on National Highway-925 in Barmer, Rajasthan, for Indian Air Force (IAF) planes.
The Jharkhand Assembly cleared the Jharkhand State Employment of Local Candidates in Private Sector Bill, 2021, which accords 75 percent of all existing jobs in the private sector with a monthly salary of up to Rs.40,000 for locals. 
In an effort to enhance electronic payment of taxes and dues easier, the Odisha government rolled out a revamped platform.
NPCI introduces RuPay credit card stack, 'nFiNi' to enable fintechs to co-create bank sponsored credit cards
ICICI Bank stated ICICI Lombard General Insurance has ceased to be its subsidiary, as shareholding of the bank has come down to 48 per cent after the merger of Bharti AXA with the insurer.
Digital payments and financial firm Paytm announced that its wholly-owned subsidiary, Paytm Money, is launching a wealth and investment advisory marketplace on its platform to offer curated advisory services and products to retail investors.
South Indian Bank has launched the SIB – OneCard Credit Card.
Leading Public Sector Bank, UCO Bank has partnered with Fisdom, operated by a wealth-tech start-up Finwizard Technology Pvt. Ltd. to offer wealth management products and services, beginning with mutual funds, through the Bank's mBanking Plus App to the Bank's thirty million customers.
Debit card owners will soon be able to request a Visa card from the bank, which can store up to 2,000 rupees on the chip itself, allowing them to trade without a connection.
The Comptroller and Auditor General (CAG) of India GC Murmu was elected as the chairman of the assembly of Asian Organization of Supreme Audit Institutions (ASOSAI) for a period of three years from 2024 to 2027.
Nirlep Singh Rai is the new Chairman & Managing Director (CMD) of National Fertilizers Limited (NFL), a Mini Ratna PSU under the Department of Fertilizers.
Kabir Suri, Co-Founder & Director, Azure Hospitality, took over as the new President of the National Restaurant Association of India (NRAI) at its 39th Annual General Meeting held online.
Sameer Sharma, a 1985-batch IAS officer, has been appointed as the Chief Secretary of the government of Andhra Pradesh (GoAP) in the place of Aditya Nath Das, who is due to retire on September 30.
Banks Board Bureau (BBB) recommended Atul Kumar Goel for the post of Managing Director of Punjab National Bank.
The Golden Rock Railway Workshop (GOC), Tiruchchirappalli has bagged 22nd National Award for Excellence in Energy Management from the Confederation of Indian Industry (CII) 
A 12-year-old environmental activist from Mumbai, Ayaan Shankta, has been named as the 2021 International Young Eco-Hero in recognition of his efforts to solve tough environmental problems.
Prime Minister Shri Narendra Modi chaired the 13th BRICS Summit virtually & the theme of the Summit, [email protected]: Intra-BRICS Cooperation for Continuity, Consolidation and Consensus.
The world's most valuable edtech company, Byju's acquired online exam preparation platform Gradeup.
China successfully launched Earth observation satellite Gaofen-502 into space from the Taiyuan Satellite Launch Center in northern Shanxi Province on a Long March 4C carrier rocket.
For the first time, South Korea has successfully test-fired a submarine-launched ballistic missile (SLBM).
India's first Dugong conservation reserve will be built in Tamil Nadu for the conservation of Dugong.
Researchers from Department of Zoology Goa University and the Thackeray Wildlife Foundation, Mumbai, have discovered a new species of gecko in Goa.
Daily CA On Sep 12 & 13 :
World First Aid Day is an annual campaign to 'promote the importance of first aid training in preventing injuries and saving lives' Observed on September 11. 
United Nations Day for South-South Cooperation  Observed on Sep 12
The government widened the scope of the Transport and Marketing Assistance (TMA) scheme for specified agriculture products by including dairy products in its purview and increasing the rates of assistance.
The Minister of State, Jal Shakti Ministry, Shri Prahlad Singh Patel presided over the e-launch of Swachh Survekshan Grameen 2021 under Swachh Bharat Mission (Grameen) Phase -II at an event organized by Department of Drinking Water and Sanitation (DDWS).
The Central Board of Direct Taxes (CBDT) has set up three Boards for Advance Rulings (BAR) to offer greater clarity on tax implications of transactions, which in turn will help avoid income tax disputes.
The Union Minister for Food Processing Industries, Shri Pashupati Kumar Paras and the Minister of State for Food Processing Industries, Shri Prahlad Singh Patel, inaugurated 7 food processing projects at Uttar Pradesh, Andhra Pradesh and Tamil Nadu, through video conferencing here as part of the 'Azadi Ka Amrit Mahotsav'
A webinar on "POSHAN Abhiyaan– Sahi Poshan Desh Roshan" was organised by Regional Outreach Bureau (ROB) & Press Information Bureau (PIB), Chandigarh, Ministry of Information & Broadcasting, Government of India.
Prime Minister Narendra Modi inaugurated via video conferencing the Ahmedabad-based Sardardham Bhavan and, in the same function, also performed the "Bhoomi Pujan" of the Sardardham Phase-II Kanya Chhatralaya (girls' hostel). 
The country's largest open air fernery was inaugurated at Ranikhet in Uttarakhand's Almora district 
Civil aviation minister Jyotiradtiya Scindia launched "a first of its kind" Medicine from the Sky project aimed at transporting vaccines and other essential products to remote areas using drones.
Paytm's wholly-owned subsidiary, Paytm Money, is planning to launch a wealth and investment advisory marketplace on its platform to offer curated advisory services and products to retail investors.
In order to ensure security of transaction card data, the Reserve Bank of India (RBI) extended the scope of tokenization from device-based tokenization to card-on-file tokenization (CoFT) services.
Vijay Rupani unexpectedly tendered his resignation as Gujarat chief minister, a year before the next assembly election. 
Yahoo Inc. announced Jim Lanzone as the new chief executive, he will be responsible for exploring strategic opportunities and growth of the company.
Sardar Iqbal Singh Lalpura took charge as the Chairman, National Commission for Minorities in the presence of Union Minister for Minority Affairs Shri Mukhtar Abbas Naqvi in New Delhi.
Former Union Minister Vijay Goel took charge as Vice Chairman of Gandhi Smriti and Darshan Samiti at a function in Gandhi Smriti,New Delhi, the site of the Martyrdom of Mahatma Gandhi, the Father of the Nation.
ICRISAT has been awarded the Africa Food Prize for 2021 for improving food security in sub-Saharan Africa.
The MSME Tool Room, Hyderabad,Central Institute of Tool Design (CITD) has obtained a patent for the invention entitled "AUTOMATIC MACHINE FOR THE PRODUCTION OF CONICAL SHAPED FIREWORKS" for 20 years from the 10th November,2015.
Union Minister for Power and New and Renewable Energy R. K. Singh met Denmark's Minister for Climate, Energy and Utilities Dan Jørgensen in New Delhi.
On Sep 10,2021, India's first nuclear-missile tracking ship INS Dhruv was commissioned from Visakhapatnam in Andhra Pradesh.
On Sep 12, 2021, Australian-Italian Daniel Ricciardo (McLaren) won the Formula One Italian Grand Prix 2021 title.
On Sep 12,2021, Daniil Medvedev defeated world number one Novak Djokovic in straight sets, 6-4, 6-4, 6-4, to win the US Open 2021 men's singles final.
On Sep 12, 2021, In the 2021 US Open women's singles final title, 18-year-old Great Britain's tennis player Emma Raducanu defeated Canada's Leylah Annie Fernandez to win the title in 6-4, 6-3, held at the Arthur Ashe Stadium, New York .Current