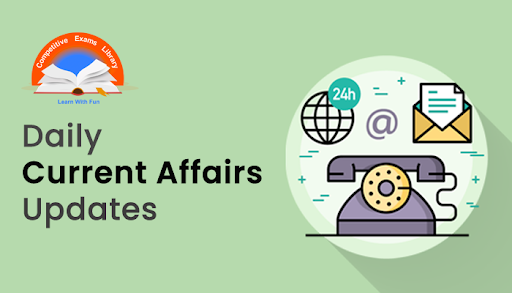 Dear Readers, Daily Current Affairs News Updates about the National and International events were listed here. Read Current Affairs Today here and stay updated with current news. Candidates those who are preparing for IBPS/SBI/PO/Clerk exam and all other competitive exams can use this and try the Current Affairs Quiz to test your knowledge level.
CURRENT AFFAIRS: IMPORTANT DAYS
World Arthritis Day-Oct 12
World Arthritis Day is celebrated every year on October 12 to spread awareness about the existence and impact of rheumatic and musculoskeletal diseases
Arthritis is not a single disease but a broad term for more than a hundred diseases related to joints. It can cause swelling in or around a joint, resulting in pain, stiffness, and sometimes difficulty moving.
This day was started by Arthritis and Rheumatism International (ARI) in 1996 in order to spread awareness about arthritis and encourage policymakers to help reduce burden of arthritis.
This year the theme of the day is Don't Delay, Connect Today: Time2Work.
The day provides an opportunity for all communities, everywhere, to come together and to find a common voice to help bring the much-needed message to all audiences.
There are an estimated one-hundred million people who are undiagnosed and trying to cope with symptoms that are often overlooked and frequently misdiagnosed, according to EULAR (European Alliance of Associations For Rheumatology).
CURRENT AFFAIRS: NATIONAL NEWS
Power Ministry Revised Policy to Use Biomass Pellets in Coal-Burning Thermal Power Plants
The Ministry of Power, Government of India, has set a revised policy to use biomass pellets in coal-burning thermal power plants. 
This encourages the use of agricultural waste, which will be burnt by the farmers causes air pollution.
About the revised policy:
The revised policy has made it mandatory for 3 categories of thermal power plants to use a 5% blend of biomass pellets along with coal.
The revised policy will come into force in October 2022, with a requirement to increase the proportion of biomass to 7% within 2 years of the power plant.
The policy will be in force for 25 years or until the useful life of the thermal power plant.
Addl.Info:
The paddy stalks and straws burned by the farmers of North India to prepare for the lands for planting causes air pollution which results in the formation of smog over North India.
Govt Approved Air India Disinvestment; Tata Sons Won the Bid for Acquiring Air India for Rs 18,000 Crore
Tata Sons Private Ltd subsidiary Talace Pvt Ltd has won the final bid for acquiring the national carrier Air India by submitting Rs 18,000 crore bid. 
The Cabinet Committee on Economic Affairs (CCEA) – empowered Air India Specific Alternative Mechanism (AISAM) approved the highest price bid of Talace Pvt Ltd, a wholly-owned subsidiary of Tata Sons Pvt. Ltd. 
The bid involves sale of 100 percent stake AI (the shareholding of Government of India), 100 percent stake in AI's subsidiary Air India Express (AIXL) and 50 percent in the joint venture Air India SATS (Air India SATS Airport Services Private Limited).
The total permanent and contractual employee strength of Air India & AIXL is 13,500.
The winning bid of Rs 18,000 crore as Enterprise Value (EV) does not include non-core assets including land and building, valued at Rs 14,718 crore, which are to be transferred to GoI's Air India Asset Holding Limited (AIAHL).
The AISAM comprises Union Minister for Home Affairs and Cooperation Amit Shah; Union Minister for Finance & Corporate Affairs Nirmala Sitharaman; Union Minister for Commerce and Industry Piyush Goyal and Union Civil Aviation Minister Jyotiraditya Scindia.
About Tata Sons Private Ltd:
Executive Chairman – N Chandrasekaran
Headquarters – Mumbai, Maharashtra
Economy
Highlights of the Fourth Bi-Monthly Monetary Policy of FY21-22
The Reserve Bank of India's (RBI) 6-members Monetary Policy Committee (MPC) had met on 6th, 7th and 8th October 2021 and released its fourth bi-monthly monetary policy statement for FY22 (April 2021 – March 2022).
Policy Rates: RBI kept the rates unchanged (maintains status quo) for the 8th consecutive time i.e it decided to continue with the accommodative stance to mitigate the impact of COVID-19 on the economy
The MPC has retained India's real gross domestic product (GDP) growth projection for FY22 at 5 percent with 7.9 percent in Q2; 6.8 percent in Q3; and 6.1 percent in Q4 of 2021-22.
Real GDP growth for Q1 FY23 is projected at 17.2 per cent.
Consumer Price Index (CPI) inflation was projected at 5.3 percent in FY22, with 5.1 percent in Q2; 4.5 percent in Q3; and 5.8 percent in Q4.
CPI inflation for Q1 FY23 was projected at 5.2 percent.
About the Reserve Bank of India (RBI):
Establishment – April 1, 1935
Headquarters – Mumbai, Maharashtra
Governor – Shaktikanta Das
Deputy Governors – Mahesh Kumar Jain, Michael Debabrata Patra, M. Rajeshwar Rao, T. Rabi Sankar
Federal Bank Upgraded its Mobile Banking App 'FedMobile'
Federal Bank has upgraded its mobile banking app 'FedMobile 'with an investment platform equipped with superior wealth management capability for the convenience of its users.
The upgraded module was launched in association with Equirus Wealth. 
The app allows a user to open an investment account in less than 2 minutes and start executing transactions instantly.
The module offers an entire range of MFs across different categories such as equity, debt, hybrid and solution-oriented funds from all the leading asset management firms in the country.
It enables customers to set up a Systematic Investment Plan (SIP), a tool to invest money at regular intervals and accumulate wealth over the long term.
About Federal Bank:
Establishment – April 23, 1931 (as Travancore Federal Bank Limited)
Changed to The Federal Bank Limited on December 2, 1949
Headquarters – Aluva, Kerala
Managing Director & CEO – Shyam Srinivasan
Tagline – Your Perfect Banking Partner
Federal Bank Authorised by RBI for Collection of Direct and Indirect Taxes
The Federal Bank has been authorised by the Reserve Bank of India (RBI), based on the recommendation of Controller General of Accounts, Ministry of Finance, for collection of Direct and Indirect Taxes, on behalf of CBDT (Central Board of Direct Taxes) and CBIC (Central Board of Indirect Taxes and Customs).
Through the authorisation would make it convenient for the customers to pay their Direct and Indirect taxes through the Bank's various digital platforms such as FedMobile (Mobile Banking app), FedNet (Net Banking), Fedebiz (Corporate Digital Banking) and through a wide branch network.
Adani Finserv buys 10% stake in CSC Grameen eStore
The Adani Finserv, a financial services arm of Adani group has acquired 10% equity stake in the government's rural e commerce venture CSC Grameen eStore. 
CSC (Common Service Centre) Grameen eStore is a wholly-owned subsidiary of CSC e-Governance Services, a joint venture between the Ministry of Electronics and Information Technology (Meity) and industry.
PM Modi addresses 28th NHRC Foundation Day programme
Prime Minister Narendra Modi has Addresses the 28th National Human Rights Commission (NHRC) Foundation Day programme through video conferencing.
Even after independence, India offered a new perspective and vision on equality and human rights to the world.
The government is enabling facilities for the marginalised in the society and facilitating them with their basic needs and improved livelihood.
That the government ensured that all its reforms and actions are designed keeping in mind every individual of the society without any discrimination.
In the last seven years, about 60 crore poor people have been taken care of and ten crore women have been provided with toilets and about four crore houses have been provided access to electricity.
NHRC Chairperson Justice Retired Arun Kumar Mishra has called for a long term and effective plan for providing justice to the citizen.
PM Modi to participate in G20 Extraordinary Leaders' Summit on Afghanistan
Prime Minister Narendra Modi has participated in the G20 Extraordinary Leaders' Summit on Afghanistan in virtual format. 
The summit has been convened by Italy, the current chair of the G20 that comprises 20 of the world's major economies.
The agenda of the meeting has included a discussion on response to humanitarian needs and access to basic services and livelihood. Security and the fight against terrorism, mobility, migration and human rights will also be discussed.
Prime Minister Narendra Modi had earlier participated in the SCO – CSTO outreach Summit on Afghanistan. 
External Affairs Minister S Jaishankar participated in the meeting of G20 Foreign Ministers on Afghanistan on the margins of the UN General Assembly in New York. 
The G20 is an important platform to help build international consensus and facilitate a coordinated approach between multilateral organizations, including the UN and its agencies, and global and regional actors to address the worsening humanitarian crisis in Afghanistan.
CCI imposes penalty on two firms for bid rigging of GAIL tender
The Competition Commission of India (CCI) has imposed a penalty upon two firms for bid-rigging in tender floated by Gas Authority of India Limited, GAIL.
These two firms are PMP Infratech Pvt. Ltd. and Rati Engineering. The CCI found them indulging in concerted practices leading to bid-rigging of the tender floated in 2017-18 for the restoration of the well site located in Ahmedabad and Anand areas of Gujarat.
Based on the investigation, CCI found that the two firms were in regular touch with each other regarding the tender floated by GAIL and even after the submission of their bids.
The CCI imposed a monetary penalty of 25 lakh rupees on PMP Infratech Pvt. Ltd., and 2.5 lakh rupees on Rati Engineering, and one lakh rupees and 50 thousand rupees on their respective individuals who managed and controlled the firms, besides passing a cease-and-desist order.
CURRENT AFFAIRS: INTERNATIONAL NEWS
India and Kyrgyz Republic agreed on 200 million US Dollar Line of Credit
External Affairs Minister, Dr. S. Jaishankar has agreed on 200 million US Dollar Line of Credit to support development projects.
They concluded an understanding on executing high impact community projects. Both the leaders discussed need for early travel of Indian students and more liberal visa regime.
They agreed to encourage countries' Chambers and business to work closely while the governments will continue to play a facilitative role.
The signing of the new Bilateral Investment Treaty in 2019 and the mutual agreement on date of entry into force of the Amended Protocol of the India-Kyrgyz Double Taxation Avoidance Agreement are important steps in that regard.
Some agreements or MoUs are also expected to be signed during the visit. He will attend the 6th Ministerial Meeting of the Conference of Interaction and Confidence Building Measures in Asia, (CICA) in Nur-Sultan.
About Kyrgyzstan:
Capital: Bishkek
Currency: Kyrgyzstani som
President: Sadyr Japarov
CURRENT AFFAIRS: STATE NEWS
Haryana bans govt employees from participating in politics & elections
Haryana has banned government employees from participating in politics and elections. A notification has been issued from the office of the chief secretary in this regard.
A government has a violation of the order will invite immediate and strict disciplinary action.
As per the notification, no government employee should be a member of any political party or any organisation, which takes part in politics.
They should also not aid or assist any political movement or activity. Display of any electoral symbol by a government employee on his person, vehicle or residence will amount to using his influence in connection with an election.
CURRENT AFFAIRS: BUSINESS NEWS
Finance Ministry has released monthly installment of PDRD Grant of Rs 9,871 crore to states
The Finance Ministry has released the 7th monthly installment of Post Devolution Revenue Deficit (PDRD) Grant of  9,871 crore rupees to the states.
With the release of this installment, a total amount of 69,097 crore rupees has been released to states as PDRD in the current financial year.
The grants are released as per the recommendations of the Fifteenth Finance Commission in monthly installments to meet the gap in revenue accounts of the states post devolution.
The Commission has recommended PDRD grants to 17 States during 2021-22. The states include Andhra Pradesh, Assam, Haryana,  Karnataka, Kerala, Manipur,   Mizoram, Nagaland, Punjab, Rajasthan,  Tamil Nadu, Tripura, Uttarakhand and West Bengal.
The eligibility of states to receive this grant was decided by the Commission based on the gap between assessment of revenue and expenditure of the State.
The Commission recommended a total Post Devolution Revenue Deficit Grant of over 1.18 lakh crore to the states in the financial year 2021-22. Out of this, an amount of 69,097 crore rupees has been released so far.
CURRENT AFFAIRS: BANKING AND ECONOMY
Axis Bank unveils open APIs to help customers use integrated services
Axis Bank has launched open APIs (Application Programming Interface) to facilitate its retail and corporate customers/ partners to use banking services integrated across partner platforms.
The API Banking portal has a suite of API products covering 200 plus retail APIs across cards, deposits, accounts, loans, 51 corporate APIs across payments, trade, collections, bill payments as well as cross-cutting APIs
Further, the APIs will allow Axis Bank's banking solutions to get embedded via direct integration with the customers' digital systems, without the need for a net banking interface.
Sameer Shetty, President and Head – Digital Business & Transformation, Axis Bank, has announced these latest API banking offerings, look forward to collaborate and co-create with partners, to offer an enhanced user experience and simplify their day-to-day operations
CURRENT AFFAIRS : APPOINTMENTS & RESIGNATIONS
Aveek Sarkar re-elected as the Chairman of PTI
Aveek Sarkar, the Editor Emeritus and Vice Chairman of the Ananda Bazar Group of Publications, has been re-elected as the Chairman of Press Trust of India (PTI) for a period of 2 years.
Aveek Sarkar was the founding Managing Director of Penguin India and the founding editor of Business Standard. KN Shanth Kumar, Director of The Printers (Mysore) Private Limited, has been elected as the Vice-Chairman of PTI.
CoinSwitch Kuber names Ranveer Singh as its brand ambassador
Crypto platform CoinSwitch Kuber has roped in Bollywood actor Ranveer Singh as its first-ever brand ambassador. 
With this collaboration, Ranveer Singh will be featured in three ad films for CoinSwitch Kuber's ongoing 'KuchToh Badlega'.
The objective is to connect with millennials and Gen-Z users by featuring Ranveer through its 'KuchToh Badlega' campaign.
Additional information
The platform recently turned into a unicorn after raising $260 million from major private equity players like Andreessen Horowitz, Coinbase Ventures Paradigm, Ribbit Capital, Sequoia Capital and Tiger Global at a valuation of $1.9 billion.
With this investment, CoinSwitch became the 30th unicorn startup in India, with a valuation of $1.9 billion.
Note: Earlier, actor Amitabh Bachchan was appointed as the brand ambassador of Indian crypto exchange CoinDCX.
About CoinSwitch Kuber:
Founded– 2020
Founder & CEO- Ashish Singhal
Headquarters – Bengaluru, Karnataka
CURRENT AFFAIRS : ACQUISITIONS & MERGERS
Reliance New Energy Solar acquires REC Solar Holdings for $771 million
Reliance New Energy Solar Ltd (RNESL), a wholly-owned subsidiary of Reliance Industries Ltd (RIL), has acquired 100% shareholding of REC Solar Holdings AS (REC Group) from China National Bluestar (Group) Co Ltd., for an Enterprise Value of $771 million. 
The acquisition is key to RIL's new-energy vision to become a global-scale photovoltaic (PV) manufacturing player, which includes plans to build solar capacity of at least 100 gigawatts (GW) by 2030.
The acquisition of REC will help Reliance with a ready global platform and the opportunity to expand and grow in key green energy markets globally, including in the US, Europe, Australia and elsewhere in Asia.
About RNESL :
Headquarters: Mumbai
Founded: 2021
About REC :
Headquarters : Norway
Operational headquarters : Singapore
Regional hubs : North America, Europe, Australia, and Asia-Pacific.
REC Group is an international pioneering solar energy company leading the industry through its technological innovations and superior, high efficiency and long-life solar cells and panels for clean and affordable solar power.
About RIL :
CEO: Mukesh Ambani
Founder: Dhirubhai Ambani
Founded: 8 May 1973, Maharashtra
Headquarters: Mumbai, Maharashtra
CURRENT AFFAIRS : SUMMITS & CONFERENCES
16th Meeting of India-US Defence Policy Group Held in Washington
The 16th meeting of the India-US Defence Policy Group (DPG) was held in Washington.
Purpose :
To review the progress on various defence cooperation issues between the India-US.
The DPG meeting was co-chaired by Indian Defence Secretary Ajay Kumar and US Under Secretary of Defense for Policy Colin Kahl.
About the Meeting :
During the meeting, both sides shared regional security perspectives and agreed to cooperate "to work together to promote shared interests in the Indo-Pacific region.
In that meeting, the two sides reviewed the progress in military-to-military engagements, implementation of foundational defence agreements, defence exercises, strengthening technology cooperation and defence trade.
They also discussed opportunities for enhanced cooperation with like-minded partners to sustain a free and open Indo-Pacific.
The third India-US 2+2 Ministerial Dialogue was held in New Delhi in October 2020.
About DPG :
The DPG is the apex official-level mechanism between the Ministry of Defence of India and the US Department of Defense to comprehensively review and guide all aspects of bilateral defence cooperation between the two countries.
About United States :
Capital: Washington, D.C.
President: Joe Biden
Currency: United States Dollar
 CURRENT AFFAIRS : REPORTS & INDEX
UNESCO launches 2021 State of the Education Report for India
On the occasion of World Teacher's Day, ( Oct 05 ) the United Nations Educational, Scientific and Cultural Organization (UNESCO) launched its 2021 State of the Education Report (SOER) for India: "No Teacher, No Class".  
This publication is the annual flagship report of UNESCO New Delhi and it is based on extensive research.
The report aims to serve as a reference for enhancing the implementation of the NEP and towards the realization of the 4 target 4c on teachers.
The report also looks at teachers' experience of ICT and the effect of the COVID-19 pandemic on the teaching profession.
It concludes with a set of ten action-oriented recommendations to address the challenges facing the teaching profession in India, and thus help achieve the NEP 2020 vision and objective – "Ensuring quality education for all in the country".
 The ten recommendations are: 
Improve the terms of employment of teachers in both public and private schools
Increase the number of teachers and improve working conditions in North Eastern states, rural areas and 'aspirational districts'
Recognize teachers as frontline workers
Increase the number of physical education, music, art, vocational education, early childhood and special education teachers.
Value the professional autonomy of teachers
Build teachers' career pathways
Restructure pre-service professional development and strengthen curricular and pedagogical reform
Support communities of practice
Provide teachers with meaningful ICT training
Develop teaching governance through consultative processes, based on mutual accountability
The substance of the Report has been developed by an expert team of researchers in the Tata Institute of Social Sciences, Mumbai, under the guidance of the UNESCO Office in New Delhi.
High proportion of female teachers: Chandigarh, Delhi, Kerala, Punjab, Tamil Nadu
Low proportion of female teachers: Tripura, Assam, Rajasthan, Jharkhand, Bihar.
About UNESCO :
UNESCO : United Nations Educational, Scientific and Cultural Organization.
It seeks to build peace through international cooperation in Education, the Sciences and Culture.
Headquarters: Paris, France
Director-General; Audrey Azoulay
Founded: 16 November 1945, London, United Kingdom
Multidimensional Poverty Index (MPI) released by UNDP & OPHI; India has max multidimensional poor
A new analysis on global multidimensional poverty namely 'Multidimensional Poverty Index (MPI)' 2021 was released which is produced by the United Nations Development Programme (UNDP) and the Oxford Poverty and Human Development Initiative (OPHI).
India has a maximum number of people, 381 million, living in multidimensional poverty.
5 out of 6 multidimensional poor people are from lower tribes or castes.
The Scheduled Tribe (ST) accounts for 4% of the population and is the poorest with 65 million of the 129 million people living in multidimensional poverty.
They account for about one-sixth of all people living in multidimensional poverty in India.
About United Nations Development Programme (UNDP):
Establishment– 1965
Administrator– Achim Steiner
Headquarters– New York, United States
CURRENT AFFAIRS : SPORTS NEWS
India Won 3 Bronze Medals in 2021 Asian Table Tennis Championships in Doha, Qatar
For the first time, the Indian table tennis contingent has won 3 Bronze medals in the 2021 Asian Table Tennis Championship organised by the International Table Tennis Federation (ITTF) at Doha, Qatar between 28th September and 5th October 2021.
Two of the Three medals came from Men's Doubles event, while the 3rd medal was won by the Indian Men's Team.
Medal Winning Teams: Indian Men's Team – Sharath Kamal, Sathiyan Gnanasekaran and Harmeet Desai
Men's Doubles Team – Sharath Kamal Achanta & Satihyan Gnanasekaran Men's Doubles Team – Manav Thakkar & Harmeet Desai
Indian Men's Team composed of Sharath Kamal, Sathiyan Gnanasekaran and Harmeet Desai lost to the top seeded South Korean team in the Semi-final.
Two Men's Doubles teams reached the semi-finals in the tournament for the 1st time. The Team of Sharath Kamal & Sathiyan Gnanasekaran was defeated in the semi-finals by Japan's Yukiya Uda & Shunsuke Togami in a 3-0 game.
While the other team of Manav Thakkar & Harmeet Desai lost to South Korea's Woojin Jang & Jonghoon Lim in a close 3-2 match.
Addl.Info:
Terms related to Table Tennis – Twiddle or Twirl, Sidespin, Backhand, Racket or Paddle, Chop
About International Table Tennis Federation (ITTF):
Founded – 1926
Headquarter – Lausanne, Switzerland
CEO – Steve Dainton (Australia)
Top ranked Indians in ITTF World Ranking: 
Men's Singles – Sharath Kamal Achanta (33rd)
Women's Singles – ManikaBatra (58th)
CURRENT AFFAIRS : BOOKS & AUTHORS
Book Titled Quest for a Stable Afghanistan: A View from Ground Zero authored by Sujeet Sarkar                    
A New Book Titled Quest for a Stable Afghanistan: A View from Ground Zero authored by Sujeet Sarkar.
The book is published by Rupa Publications India.
About the Book :
The Book is an extremely powerful story on how the faulty policies of the west have brought Afghanistan into crisis.
The war in Afghanistan has been raging for 20 years three times more than the duration of World War II.
It provides a daring new outlook denouncing several myths that colour common global perception of this war-ravaged country.
CURRENT AFFAIRS : OBITUARIES
Former diplomat V.M.M. Nair passes away
The oldest living former diplomat of India, Vallilath Madhathil Madhavan Nair, Passed away.
About V.M.M. Nair :
M.M. Nair born on 8 October 1919, Mangalore, Madras Presidency.
He was an Indian civil servant and diplomat.
Nair joined the Indian Civil Service or the ICS in 1942 and was allotted to the Bihar Cadre.
He was permanently seconded to the Indian Foreign Service on November 1, 1944.
He served as Under Secretary in the External Affairs Department from August 1946 to September 1948.
He was the Senior Under Secretary in charge of Commonwealth Relations between September '48 to July '49.
He served as the High Commissioner of India in Kuala Lumpur during 1957-'58.
In 1958, he was appointed as ambassador to Cambodia.
He also served in Poland as ambassador.
Pulitzer-Winning Scholar and Navy Veteran Martin J. Sherwin Passes away            
Pulitzer-Winning Scholar and Navy Veteran Martin J. Sherwin Passed away.
He was 84.
About Martin J. Sherwin :
Martin J Sherwin, was a New York City native & a leading scholar of atomic weapons.
He was best known for American Prometheus published in 2005 and winner of the Pulitzer for biography.
The book was widely praised as a comprehensive and invaluable study of the so-called "father of the atomic bomb".
Sherwin wrote A World Destroyed: Hiroshima and its Legacies, which won the Stuart L. Bernath Prize, and the National Historical Society's American History Book Prize.
He was a junior officer in the Navy and was told of plans to evacuate from their base in San Diego to a remote location in Baja California, Mexico.
 Daily CA On Oct 10 & 11 :
World Mental Health Day is observed on 10 October every year, to create awareness about mental health issues with the theme of mental health in an unequal world"
The International Day of the Girl Child is observed annually on October 11, a date set by the United Nations to urge the global community to embolden gender equality impacts with the theme of "Digital generation. Our generation."
The World Cotton Day, India's Ministry of Textiles (MoT) supported by Ministry of Agriculture and Farmers Welfare (MoAFW) signed a Memorandum of Understanding (MoU) with Germany's Deutsche Gesellschaft für Internationale Zusammenarbeit (GIZ) to implement projects on 'Sustainability and Value Added in the Cotton Economy'.
The government of India has released 1st guidelines for cybersecurity in the power sector, it were released under the direction of Union Power and New & Renewable Energy Minister Raj Kumar Singh and the Central Electricity Authority (CEA).
India officially joined the High Ambition Coalition (HAC) for Nature and People during a ceremony between the French and Indian governments held at New Delhi, India.
Prime Minister Narendra Modi has launched the first ever National Infrastructure Masterplan, Pradhan Mantri Gati Shakti.
External Affairs Minister S Jaishankar has visited Kyrgyzstan as part of his four-day visit to Kyrgyz Republic, Kazakhstan and Armenia.
Prime Minister Narendra Modi has launched Indian Space Association (ISpA) through video conferencing.
India and Denmark have inked four agreements and decided to expand cooperation following bilateral talks between Prime Minister Narendra Modi and his Danish counterpart Mette Frederiksen in New Delhi. 
India and the United Kingdom have agreed upon a 'Forward Action Plan' on power, clean transportation, renewables, green finance, and research as part of the 2030 roadmap.
This report is the 3rd edition of the SOER, an annual flagship report of UNESCO & It analysed data from the Unified District Information System for Education (UDISE) 2018-19 and the periodic labour force survey 2018-19.
Justice Satish Chandra Sharma has been sworn in as the Chief Justice of Telangana high Court. Telangana.
The Ministry of Coal has launched next round of auction process for 40 new coal mines for sale of coal. 
The outlook for bank credit growth is expected to be in the range of 7.5 per cent to 8.0 per cent for FY22 on the back of a low base effect, economic expansion, extended Emergency Credit (ECLGS) support, and retail credit push
Bank of Maharashtra (BoM) has launched a Digital Lending Platform which will enable its current and prospective customers to avail home and car loans through a paperless process at the convenience of their place and time of choice.
Fitch Ratings, an American credit rating agency, in its latest 'APAC (Asia-Pacific) Sovereign Credit Overview 4Q21' has reduced India's GDP (Gross Domestic Product) growth forecast for FY22 to 8.7 percent from 10 percent. 
Punjab National Bank (PNB) launched the "6S Campaign" under customer outreach programme to offer financial services at a concessional rate during festival season.
State Bank of India (SBI) extended its partnership with Tata Consultancy Services (TCS) for another five years. 
The Interim Government of Guinea led by Colonel Mamady Doumbouya has appointed Mohamed Béavogui(68 years old), a former civil servant and expert in agricultural finance as the New Prime Minister(PM) of Guinea.
The Norwegian Nobel Committee has decided to award the Nobel Peace Prize 2021 to Maria Ressa, journalist from Philippines and Dmitry Andreyevich Muratov, journalist from Russia for their efforts to protect the freedom of expression, the precondition of democracy and lasting peace.
Commerce and Industry Minister Piyush Goyal addressed the Inaugural Session of the ICRIER's 13th Annual International G-20 Conference.
A premier laboratory of Defence Research and Development Organisation (DRDO), Integrated Test Range (ITR) Chandipur, organised All India Official Language, Scientific and Technical Seminar on October 06-07, 2021.
On Oct 07, 2021, Indian Naval Fast Attack Craft (IN FAC) T-81 of Super Dvora MK II class was decommissioned at Naval Dockyard, Mumbai, Maharashtra with Rear Admiral V Srinivas, Flag Officer Commanding Maharashtra Naval Area, as chief guest.
The second phase of Exercise Malabar 2021, between the Quadrilateral group comprising India, Australia, Japan and the S will take place in the Bay of Bengal from October 12 to 15, 2021
A New Debut Book Titled The Custodian of Trust authored by former chairman of State Bank of India (SBI) Rajnish Kumar will hit the stands on October 18.
On Oct 10, 2021, Mercedes-Finland driver Valtteri Bottas won the F1 Turkish Grand Prix 2021 held at Istanbul Park in tuzla, Istanbul.
On Oct 10, 2021, Father of Pakistan's clandestine nuclear programme, Abdul Qadeer Khan passed away.
On Oct 09, 2021,Iran's first president after the 1979 Islamic revolution, Abolhassan Banisadr Passed away.
Daily CA On Oct 12 :
World Arthritis Day is celebrated every year on October 12 to spread awareness about the existence and impact of rheumatic and musculoskeletal diseases.
The Ministry of Power, Government of India, has set a revised policy to use biomass pellets in coal-burning thermal power plants. 
Tata Sons Private Ltd subsidiary Talace Pvt Ltd has won the final bid for acquiring the national carrier Air India by submitting Rs 18,000 crore bid. 
The Reserve Bank of India's (RBI) 6-members Monetary Policy Committee (MPC) had met on 6th, 7th and 8th October 2021 and released its fourth bi-monthly monetary policy statement for FY22 (April 2021 – March 2022).
Federal Bank has upgraded its mobile banking app 'FedMobile 'with an investment platform equipped with superior wealth management capability for the convenience of its users.
The Federal Bank has been authorised by the Reserve Bank of India (RBI), based on the recommendation of Controller General of Accounts, Ministry of Finance, for collection of Direct and Indirect Taxes, on behalf of CBDT (Central Board of Direct Taxes) and CBIC (Central Board of Indirect Taxes and Customs).
The Adani Finserv, a financial services arm of Adani group has acquired 10% equity stake in the government's rural e commerce venture CSC Grameen eStore. 
Prime Minister Narendra Modi has Addresses the 28th National Human Rights Commission (NHRC) Foundation Day programme through video conferencing.
Prime Minister Narendra Modi has participated in the G20 Extraordinary Leaders' Summit on Afghanistan in virtual format. 
The Competition Commission of India (CCI) has imposed a penalty upon two firms for bid-rigging in tender floated by Gas Authority of India Limited, GAIL.
External Affairs Minister, Dr. S. Jaishankar has agreed on 200 million US Dollar Line of Credit to support development projects.
Haryana has banned government employees from participating in politics and elections. A notification has been issued from the office of the chief secretary in this regard.
The Finance Ministry has released the 7th monthly installment of Post Devolution Revenue Deficit (PDRD) Grant of  9,871 crore rupees to the states.
Axis Bank has launched open APIs (Application Programming Interface) to facilitate its retail and corporate customers/ partners to use banking services integrated across partner platforms.
Aveek Sarkar, the Editor Emeritus and Vice Chairman of the Ananda Bazar Group of Publications, has been re-elected as the Chairman of Press Trust of India (PTI) for a period of 2 years.
Crypto platform CoinSwitch Kuber has roped in Bollywood actor Ranveer Singh as its first-ever brand ambassador. 
Reliance New Energy Solar Ltd (RNESL), a wholly-owned subsidiary of Reliance Industries Ltd (RIL), has acquired 100% shareholding of REC Solar Holdings AS (REC Group) from China National Bluestar (Group) Co Ltd., for an Enterprise Value of $771 million. 
The 16th meeting of the India-US Defence Policy Group (DPG) was held in Washington.
On the occasion of World Teacher's Day, ( Oct 05 ) the United Nations Educational, Scientific and Cultural Organization (UNESCO) launched its 2021 State of the Education Report (SOER) for India: "No Teacher, No Class".  
A new analysis on global multidimensional poverty namely 'Multidimensional Poverty Index (MPI)' 2021 was released which is produced by the United Nations Development Programme (UNDP) and the Oxford Poverty and Human Development Initiative (OPHI).
For the first time, the Indian table tennis contingent has won 3 Bronze medals in the 2021 Asian Table Tennis Championship organised by the International Table Tennis Federation (ITTF) at Doha, Qatar between 28th September and 5th October 2021.
A New Book Titled Quest for a Stable Afghanistan: A View from Ground Zero authored by Sujeet Sarkar.
The oldest living former diplomat of India, Vallilath Madhathil Madhavan Nair, Passed away.
Pulitzer-Winning Scholar and Navy Veteran Martin J. Sherwin Passed away