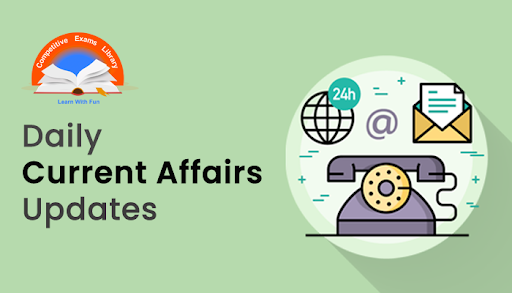 Dear Readers, Daily Current Affairs News Updates about the National and International events were listed here. Read Current Affairs Today here and stay updated with current news. Candidates those who are preparing for IBPS/SBI/PO/Clerk exam and all other competitive exams can use this and try the Current Affairs Quiz to test your knowledge level.
CURRENT AFFAIRS : NATIONAL NEWS
Union Minister Kiren Rijiju assigned additional charge of Ministry of AYUSH
Union Minister Kiren Rijiju has been assigned the additional charge of the Ministry of AYUSH.
During the hospitalization and treatment of AYUSH Minister Shripad Naik following a road accident
The President has directed that this arrangement may continue till Mr Naik resumes his work related to the Ministry of AYUSH. 
The President of India, as advised by the Prime Minister, has directed that during the hospitalization and treatment of Shripad Yesso Naik, Minister of State (Independent Charge) of Ministry of Ayurveda, Yoga and Naturopathy, Unani, Siddha, and Homeopathy (AYUSH); and Minister of State in Ministry of Defence, following a road accident, his portfolio related to Ministry of AYUSH, be temporarily assigned to Kiren Rijiju, Minister of State (Independent Charge) in addition to his existing portfolios."
About AYUSH :
Office Holder : Shripad Naik
Founded : 9 November, 2014
Headquarters : New Delhi
MoRTH notifies Inter Country Transport Vehicles Rules 2021
The Ministry of Road Transport and Highways has notified Inter Country Transport Vehicles Rules, 2021 which would facilitate and regulate the movement of passenger and goods vehicles between India and neighbouring countries.
As per the rules, the State Transport Authority has been given the power to grant the Inter Country Transport Permit after thoroughly examining the application.
The permit will remain valid for a period of one year from the date of its issue and it will be renewable for a period of five years on a yearly basis.
The State Transport Department will take care of formalities like provisioning of tickets, debugging of bus, frisking or checking of passengers, handling of luggage before departure from the designated place. The frequency can be reviewed by the State Transport Department and it can be increased as per the demand.
The decision has been taken considering the requests made by the Ministry of Road Transport and Highways to notify rules under provisions of the Motor Vehicles Act 1988 to facilitate movement of vehicles carrying goods and passengers between India and neighbouring countries.
About Ministry of Road Transport and Highways :
Headquarters : New Delhi
Founded : July 1942
Minister of State : Mansukh L. Mandaviya
Union Minister : Nitin Gadkari
Union Minister Dharmendra Pradhan inaugurates LNG truck-loading unit of Shell India in Gujarat
Petroleum and Natural Gas Minister Dharmendra Pradhan inaugurated the LNG truck-loading unit of Shell India at Hazira, Gujarat. 
The unit will boost availability of natural gas in off-grid areas where there are no gas pipelines. It will also promote the use of LNG in long-haul trucking.
Increasing competition in the LNG sector will help in emergence of new markets, creating new employment opportunities, ensure cleaner fuels for industries and facilitate environment conservation.
This is another big step towards a cleaner and greener future for India.
The LNG sector will help in the emergence of new markets, create new employment opportunities, ensure cleaner fuels for industries and facilitate environment conservation.
Bhawana Kanth to become the 1st woman fighter pilot to take part in R Day parade
Flight lieutenant Bhawana Kanth is set to become the first woman fighter pilot to take part in the Republic Day parade.
She will be a part of the Indian Air Force's (IAF's) tableau that will showcase mock-ups of the light combat aircraft, light combat helicopter and the Sukhoi-30 fighter plane.
She is currently posted at an airbase in Rajasthan where she flies the MiG-21 Bison fighter plane.
Kanth is also one of the first women fighter pilots in the IAF.
She, along with Avani Chaturvedi and Mohana Singh, was inducted into the IAF as the first women fighter pilots in 2016.
Ten women have been commissioned as fighter pilots after an experimental scheme for their induction into the IAF's combat stream was introduced in 2015.
India's 2021 Republic Day parade
The newly inducted Rafale fighter aircraft will feature in India's Republic Day parade on January 26 and culminate the flypast by carrying out the 'Vertical Charlie' formation.
A  total of 38 IAF aircraft and four planes of the Indian Army will participate in the flypast on January 26,
The flypast will be divided into two blocks
In the first block, there will be three formations. The first will be the 'Nishan' formation consisting of four Mi17V5 aircraft that will carry the national flag and logos of all three services.
About Indian Air Force :
Founded : 8 October 1932
Headquarters : New Delhi
Commander in Chief : Ram Nath Kovind
CURRENT AFFAIRS : INTERNATIONAL NEWS
Netherlands PM Mark Rutte and his entire cabinet quits over welfare scandal
Dutch Prime Minister Mark Rutte and his entire Cabinet resigned to take political responsibility for a scandal involving investigations into child welfare payments that wrongly labeled thousands of parents as fraudsters.
Rutte and his cabinet will continue running the government in a caretaker capacity, with general elections already scheduled for March 2021.
The resignation brings to an end a decade in office for Rutte, although his party is expected to win the election, putting him first in line to begin talks to form the next government. If he succeeds in forming a new coalition, Rutte would most likely again become prime minister.
About Netherlands :
Capital : Amsterdam
Currency : Euro
CURRENT AFFAIRS : STATE NEWS
India's first Labour Movement museum to come up in Kerala
The country's first Labour Movement Museum, showcasing the history of world labour movement, would be launched in Kerala's houseboat tourism hub, Alappuzha.
The museum will feature a huge repository of documents and exhibits that shaped the labour movements across the continents and impacted Alappuzha, the cradle of the labour movement in the country.
The museum would be launched as part of the LDF government's second 100-day programme.
The New Model Cooperative Society Limited, previously run by the Bombay Company, has been converted into the Labour Movement Museum.
It will portray, through pictures, documents and other exhibits, the growth of the world labour movement and the history of Keralas labour movement"
About Kerala :
CM : Pinarayi Vijayan
Governor : Arif Mohammad Khan
Capital : Thiruvananthapuram
Kerala becomes 8th State to complete ease of doing business reforms
Kerala has become the 8th State in the country to successfully undertake Ease of Doing Business reform stipulated by the Department of Expenditure, Ministry of Finance.
The State has become eligible to mobilise additional financial resources of 2,373 crore through Open Market Borrowings.
Permission for the same was issued by the Department of Expenditure, on 12th January 2021,
Kerala has now joined the seven other States namely, Andhra Pradesh, Karnataka, Madhya Pradesh, Odisha, Rajasthan, Tamil Nadu, and Telangana, who have completed this reform. On completion of reforms facilitating ease of doing business, these eight States have been granted additional borrowing permission of Rs 23,149 crore.
About ease of doing business :
The ease of doing business is an important indicator of the investment-friendly business climate in the country. Improvements in the ease of doing business will enable faster future growth of the state economy.
Therefore, the government of India had in May 2020, decided to link grant of additional borrowing permissions to States who undertake the reforms to facilitate ease of doing business.
Gujarat CM Vijay Rupani announces 'Horticulture Development Mission'
In Gujarat, Chief Minister Vijay Rupani announced the 'Horticulture Development Mission' (Bagayat Vikas Mission).
Aim :  this mission is to double the income of farmers involved in medicinal and horticulture farming.
Under this mission, the waste land of the government will be given on 30-year lease for farming of horticulture and medicinal crops.
As per an estimate, the government has about 50,000 non-cultivated land waste lands. The government intends to convert this land into cultivation.
A list of land blocks for land allotment in transparent manner will be released on I-Khedut portal. The government will also offer priority assistance to lease owners for drip-sprinkler fountains.
Surendranagar, Patan, Sabarkantha and Banaskantha districts in the first phase.
About the Mission :
Under this mission, a tax on land conversion will be waived off. Lease amount applicable will be Rs 100 to Rs 500 per year per acre during 6th to 30th year.
Lease holders will be able to set up solar panel, windmills to generate energy for their own use, but will not be allowed to sell it.
If land is returned before the end of the lease period, no compensation will be payable. Final decision on land allotment will be taken by a high power committee chaired by the Chief Minister.
About Gujarat :
Capital : Gandhinagar
Governor : Acharya Devvrat
Chief Minister : Vijay Rupani
 Nagpur's Gorewada Zoo renamed as Balasaheb Thackeray Zoological Park
The Maharashtra government renamed Nagpur's Gorewada International Zoo as Balasaheb Thackeray Zoological Park .
The zoological park, spread over 1,900 hectares, will be inaugurated on January 26 by Chief Minister Uddhav Thackeray.
Three special 40-seat capacity vehicles and an online ticket booking facility will be made available to the people as soon after the Indian safari is inaugurated,
Aim : to protect forests and promote tourism, Prakash Javadekar, Union Minister for Environment, Forest and Climate Change (MoEFCC), had announced the setting up of the 'international-standard' bio park in August 2019.
The task was entrusted to the Forest Development Corporation of Maharashtra Ltd.
About Maharashtra :
Chief Minister : Uddhav Thackeray
Governor : Bhagat Singh Koshyari
Capital : Mumbai
CURRENT AFFAIRS : BANKING & FINANCE
ICICI Bank launches 'InstaFX' mobile app to help customers obtain Forex Prepaid Card swiftly
ICICI Bank on January 20 launched a new mobile application 'InstaFX' for authorised money changers to help customers of any bank get 'ICICI Bank Forex Prepaid Card' swiftly.
The bank is the first in the country to offer such a facility to money changers.
The app enables the authorised money changers, who are partners of the Bank, to complete the KYC verification and validation of customers digitally and on a real-time basis.
The 'InstaFX' app will enable the authorised money changers, who are partners of the Bank, to complete the KYC verification and validation of customers digitally and on a real-time basis.
The 'ICICI Bank Forex Prepaid Card' gets activated swiftly within a few hours, as against the industry practice of up to two-days, thus it will significantly improve customer convenience, even if they are not customers of ICICI bank.
The 'InstaFX' app can be downloaded and operated from any android devices. Customers can avail the 'ICICI Bank Forex Prepaid Card' by visiting the partner money changer outlets in cities or at airports across the country.
What is Money Changer :
A money changer is a person or organization whose business is the exchange of coins or currency of one country, for that of another.
About ICICI Bank :
CEO : Sandeep Bakhshi
Headquarters : Mumbai
Founded : June 1994, Vadodara
CURRENT AFFAIRS : SUMMITS & CONFERENCES
15th India Digital Summit 2021
The India Digital Summit, the flagship event of the Internet and Mobile Association of India (IAMAI) is one of the biggest conferences for the digital industry scheduled on January 19 and 20, 2021. 
Honourable Union Minister for Communications, Electronics & IT and Law & Justice, Shri Ravi Shankar Prasad, who is the chief guest, will deliver the inaugural address at the Summit.
About the Summit :
The summit, in its 15th year, will bring thought leadership on various digital initiatives that will cover Policies, Business, Investment, Advertising, Digital Commerce, Start-ups Ecosystem, Emerging Tech, and other Digital Trends.
The theme for this year's summit, which is being held virtually is 'Aatmanirbhar Bharat – Start of New Decade' in line with the government's 'Make for the World' Initiatives.
The staggering increase in the total number of internet users in rural India recently presents us with the unique opportunity to establish India as a global powerhouse of Digital Growth.
With an eye to empowering the nation's growing digital economy and bolstering Government of India's commitment to transform a connected nation by creating a new digital ecosystem, the 15th India Digital Summit (IDS) will be the platform for thought leaders to pursue the goal.
India, Singapore sign pact on submarine rescue support
India and Singapore signed an implementing agreement on submarine rescue support and cooperation between their navies during the 5th Defence Minister's Dialogue held over video conference,
Both ministers were pleased to witness the signing of the implementing agreement on submarine rescue support and cooperation between the two navies.
Rajnath Singh and his Singaporean counterpart Ng Eng Hen conveyed their full support towards early conclusion of agreements to "facilitate conduct of live firings and to establish reciprocal arrangements for the cross-attendance of military courses"
About Singapore :
Currency : Dollar
President : Halimah Yacob
Prime Minister : Lee Hsien Loong
CURRENT AFFAIRS : SCIENCE & TECHNOLOGY
Infosys gets Google Cloud Partner status
Infosys has accredited with the Google Cloud Partner Specialisation within the information and analytics area.
It is among the many high world system integrators to be accredited with this specialisation, claimed the corporation.
Infosys has achieved this recognition by efficiently demonstrating end-to-end capabilities on Google Cloud together with information ingestion and warehousing on the cloud, as per the agency.
It  has showcased technical proficiency, sturdy methodology, robust business experience, and success in specialised information and analytics options and repair areas.
These information and analytics choices, a part of Infosys Cobalt.
Along with AI capabilities assist migrate workloads to Google Cloud, modernise information landscapes, and optimise prices paving the best way for AI and cloud-native digital transformation for enterprises, Infosys additionally mentioned.
About Infosys :
Founded : 7 July 1981
Headquarters : Bangalore
CDEO : Salil Parekh
CURRENT AFFAIRS : RANKING
NITI Aayog releases 2nd edition of India Innovation Index-2020
NITI Aayog released the second edition of the India Innovation Index-2020.
The index demonstrates the government's continued commitment towards transforming the country into an innovation-driven economy.
The report examines the innovation capabilities and performance of the states and union territories.
The India Innovation Index aims to create an extensive framework for the continual evaluation of India's innovation environment. The index aims to rank states and UTs based on their scores, recognize opportunities and challenges, and assist in tailoring government policies to foster innovation.
The innovation inputs were measured through five enabler parameters, and the output through two performance parameters. While 'Human Capital', 'Investment', 'Knowledge Workers', 'Business Environment', 'Safety and Legal Environment Were identified as enabler parameters, 'Knowledge Output' and 'Knowledge Diffusion Were chosen as the performance parameters.
In the 'Major States' category, Karnataka continued to occupy the top position, while Maharashtra moved past Tamil Nadu to reach the second place. Telangana
In Union Territory and city states category, Delhi topped followed by Chandigarh.
Under the 'North-Eastern/Hill States' category, Himachal Pradesh moved up from the second position  to emerge as the top ranker this year.
About NITI Aayog :
Formed : 1 January 2015
Headquarters : New Delhi
Chairperson : Narendra Modi
CEO  : Amitabh Kant
Vice Chairman Dr Rajiv Kumar
CURRENT AFFAIRS : APPOINTMENTS 
Yoweri museveni wins sixth term as uganda's president
Ugandan President Yoweri Museveni has scored a decisive election victory to win a sixth term.
Mr Museveni, 76, has been in power since 1986 and is one of Africa's longest-serving leaders.
Mr Museveni won 5.85 million votes, or 58.6 per cent, while Mr Wine had 3.48 million votes.
About Uganda :
Capital : Kampala
Currency : Ugandan Shilling
Vishwavir Ahuja re-appointed as CEO of RBL Bank
The board of directors of RBL Bank, approved the re-appointment of Vishwavir Ahuja as the Managing Director and CEO of the bank for three years.
The re-appointment is with effect from June 30, 2021, to June 29, 2024.
Ahuja has been MD & CEO of RBL Bank since June 30, 2010. Prior to joining RBL Bank, he was the MD & CEO of Bank of America, India, from 2001 to 2009.
As per the regulatory filing, under Ahuja's leadership, the deposits of the bank have grown almost 40 times, while advances have grown more than 45 times since 2011.
About RBL Bank :
Founded : August 1943
Under the Indian Companies Act, 1913
Headquarters : Mumbai, Maharashtra
CURRENT AFFAIRS : SPORTS NEWS
India defeat Australia by 3 wickets to win Border-Gavaskar Trophy
Ajinkya Rahane-led India defeated Australia by three wickets in the final fourth Test of the Border-Gavaskar Trophy 2020-21.
To clinch the series and bring an end to Australia's 32-year-long unbeaten streak at  The Gabba.
Australia's last defeat in Brisbane came against West Indies in 1988.
They were undefeated at The Gabba in their last 31 games having won 24 and drawn seven matches.
In that Man of the match is Rishabh Pant.
Daily CA On Jan 20 :
The Government of India has decided to celebrate the birthday of Netaji Subhas Chandra Bose that falls on January 23 as 'Parakram Diwas' from now on every year.
Defence Research and Development Organisation handed over MotorBike Ambulance Rakshita to the Central Reserve Police Force (CRPF). Director General of CRPF Dr A P Maheshwari flagged off the contingent of 21 bikes on the occasion.
Defence Secretary Ajay Kumar inaugurated Swachhata Pakhwada organised by National Cadet Corps, NCC at India Gate.
A team of 10 Nepali climbers made history by becoming the first to scale in winter the world's second highest mountain K2, considered as the world's most dangerous and challenging peak.
The UK government unveiled new laws to protect England's cultural and historic heritage in the form of statues and monuments to ensure they are not removed at a whim.
Madhya Pradesh signed a memorandum of understanding with Kerala for replicating the latter's pioneering Responsible Tourism (RT) initiative.
First, a bird festival is being organised at the Mahananda wildlife sanctuary in West Bengal to provide an opportunity to enthusiasts to explore the forest and watch different bird
The Indian Air Force (IAF) and French Air and Space Force are set to participate in Exercise Desert Knight-21. The bilateral air exercise will be held at Jodhpur Air Force station in Rajasthan, India, from 20 to 24 January.
The government is set to procure 21 MiG-29 and 12 Sukhoi-30MKI fighter aircraft from The Cabinet Committee on Security (CCS) approved the purchase of 83 Light Combat Aircraft Tejas from Hindustan Aeronautics Limited (HAL).
The Tribal Cooperative Marketing Development Federation of India (TRIFED) signed a Memorandum of Understanding (MoU) with Indian Farm Forestry Development Co-operative Ltd (IFFDC)  to promote livelihood generation of tribal people.
Prime Minister Narendra Modi was appointed the new chairman of the trust which manages the world famous Somnath Temple at Prabhas Patan town in Gujarat's Gir-Somnath district.
Bilkis Dadi, and an eminent social activist and writer Harsh Mander of "Karwan -e- Mohabbat" were presented the Quaide Milleth Award.
Goa Chief Minister Pramod Sawant released a book 'Manohar Parrikar- Off the Record' at a function organized at Institute Menezes Braganza hall in the city.
Phil Spector, the eccentric and revolutionary music producer who transformed rock music with his "Wall of Sound" method and who later was convicted of murder, has died. He was 81
Dr V Shanta, renowned Indian oncologist and doyen of cancer care, has passed away at the age of 93. She was the chairperson of Adyar Cancer Institute  which she joined in 1954.
Daily CA On Jan 21 :
Union Minister Kiren Rijiju has been assigned the additional charge of the Ministry of AYUSH.
The Ministry of Road Transport and Highways has notified Inter Country Transport Vehicles Rules, 2021 which would facilitate and regulate the movement of passenger and goods vehicles between India and neighbouring countries.
Petroleum and Natural Gas Minister Dharmendra Pradhan inaugurated the LNG truck-loading unit of Shell India at Hazira, Gujarat. 
Flight lieutenant Bhawana Kanth is set to become the first woman fighter pilot to take part in the Republic Day parade.
Dutch Prime Minister Mark Rutte and his entire Cabinet resigned to take political responsibility for a scandal involving investigations into child welfare payments that wrongly labeled thousands of parents as fraudsters.
The country's first Labour Movement Museum, showcasing the history of world labour movement, would be launched in Kerala's houseboat tourism hub, Alappuzha.
Kerala has become the 8th State in the country to successfully undertake Ease of Doing Business reform stipulated by the Department of Expenditure, Ministry of Finance.
In Gujarat, Chief Minister Vijay Rupani announced the 'Horticulture Development Mission' (Bagayat Vikas Mission).
The Maharashtra government renamed Nagpur's Gorewada International Zoo as Balasaheb Thackeray Zoological Park .
ICICI Bank on January 20 launched a new mobile application 'InstaFX' for authorised money changers to help customers of any bank get 'ICICI Bank Forex Prepaid Card' swiftly.
The India Digital Summit, the flagship event of the Internet and Mobile Association of India (IAMAI) is one of the biggest conferences for the digital industry scheduled on January 19 and 20, 2021. 
India and Singapore signed an implementing agreement on submarine rescue support and cooperation between their navies during the 5th Defence Minister's Dialogue held over video conference,
Infosys has accredited with the Google Cloud Partner Specialisation within the information and analytics area.
NITI Aayog released the second edition of the India Innovation Index-2020. The index demonstrates the government's continued commitment towards transforming the country into an innovation-driven economy.
Ugandan President Yoweri Museveni has scored a decisive election victory to win a sixth term.
The board of directors of RBL Bank, approved the re-appointment of Vishwavir Ahuja as the Managing Director and CEO of the bank for three years.
Ajinkya Rahane-led India defeated Australia by three wickets in the final fourth Test of the Border-Gavaskar Trophy 2020-21