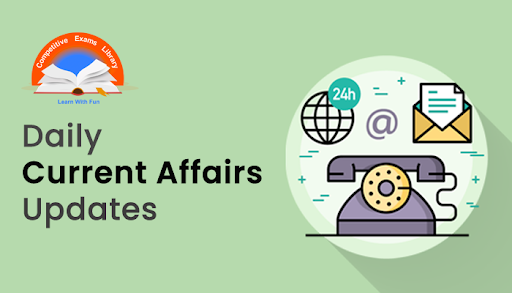 Dear Readers, Daily Current Affairs News Updates about the National and International events were listed here. Read Current Affairs Today here and stay updated with current news. Candidates those who are preparing for IBPS/SBI/PO/Clerk exam and all other competitive exams can use this and try the Current Affairs Quiz to test your knowledge level.
CURRENT AFFAIRS : IMPORTANT DAYS
International Stuttering Awareness Day 2021: Observed on 22 October        
The International Stuttering Awareness Day is annually Observed on 22 October.
Theme of 2021 International Stuttering Awareness Day is "Speak the change you wish to see"
Purpose : 
The day is intended to raise public awareness of the millions of people who have a speech disorder of stuttering or stammering.
History of International Stuttering Awareness Day :
The day is Organized by the European League of Stuttering Associations, International Fluency Association, and International Stuttering Association.
Note :
International Stuttering Awareness Day (ISAD) was first celebrated in the year 1998.
About Stuttering :
Stuttering is a communication disorder that involves "disfluencies", or disruptions in a person's speech.
The person who stutters will be unable to produce sounds, prolongations of sounds, usually vowels and semivowels, syllables, words, or phrases.
It also includes abnormal hesitation, involuntary silent pauses, or blocks.
Primary causes of stuttering include genetics, child development, neurophysiology, and family dynamics.
CURRENT AFFAIRS : NATIONAL NEWS
UK Foreign Secy Elizabeth Truss to arrive in New Delhi today on three-day visit to India
UK Secretary of State for Foreign, Commonwealth and Development Affairs Elizabeth Truss will arrive in New Delhi on a three-day visit to India. 
During her stay in New Delhi, Ms Truss will hold talks with External Affairs Minister S Jaishankar today on bilateral, regional and international issues of mutual interest.
During the India-UK Virtual Summit between the two Prime Ministers on 4th May this year, the bilateral relationship between the two nations was elevated to Comprehensive Strategic Partnership. 
Addl.Info:
External Affairs Ministry said, Ms Truss' visit will be an opportunity to review the roadmap 2030 launched during the Virtual Summit and further deepen the partnership across various sectors like trade, science and technology, innovation, defence, climate, education and health sectors.
CURRENT AFFAIRS : INTERNATIONAL NEWS
FATF retains Pakistan on its grey list; Turkey also added to list
The Financial Action Task Force (FATF) has retained Pakistan on its Grey List.
FATF President Marcus Pleyer announced the decision was after a three-day-long plenary session of the global terror financing watchdog in Paris.
Pakistan government failed to comply with four of action points out of 34-point action plan given by FATF.
Three other countries – Turkey, Mali and Jordan have been added to the FATF Grey List.
Addl.Info:
The Financial Action Task Force (FATF) established in 1989 during the G7 Summit in Paris.
The objectives of the FATF are to set standards and promote effective implementation of legal, regulatory and operational measures for combating money laundering, terrorist financing and other related threats to the integrity of the international financial system.
Headquarters – Paris.
Member Countries: 37 members (India is one of the members).
It meets three times per year.
Grey List: 
Countries that are considered safe haven for supporting terror funding and money laundering are put in the FATF grey list.
This inclusion serves as a warning to the country that it may enter the blacklist.
Over 700,000 people displaced by the worst floods to hit South Sudan in decades: UN
The United Nations says more than 700,000 people have been displaced by the worst floods to hit South Sudan in decades.
At least 40 people have died across the country as heavy rains and flash floods destroy livestock, farmlands and homes.
The floods have mainly affected four states.
Some of those who have fled have been displaced numerous times over due to conflict and three years of consecutive flooding.
Scientists have blamed climate change for the flooding in South Sudan and other countries in eastern Africa
CURRENT AFFAIRS : STATE NEWS
Himachal Pradesh govt procures record amount of apple in over a decade
The Himachal Pradesh government has procured a record amount of apple this season in over a decade.
The HPMC and Himfed have procured the apple via Market Intervention Scheme (MIS).
The combined procurement of the two organisations this year is close to 70,000 MT. These include over 35,000 MT by HPMC and 33,000 MT by Himfed.
Addl.Info:
This is the maximum Himfed has procured in over a decade. Last year, it had bought 18,000 MT.
For HPMC, too, this is a record procurement over the past decade or so.
While the HPMC uses a portion of its procurement for making juices and jams, the rest is auctioned in Parwanoo.
CURRENT AFFAIRS : BANKING & ECONOMY
Govt to issue 4 tranches of Sovereign Gold Bonds from October 2021 to March 2022
Centre in consultation with RBI has decided to issue four tranches of Sovereign Gold Bonds from October 2021 to March 2022. 
As the statement of RBI, Subscription for the next tranche can be done between 25th October to 29th October.
The Bonds will be sold through Scheduled Commercial banks, designated post offices, and Stock exchanges. 
Bonds will be restricted for sale to resident individuals, HUFs, Trusts, Universities and Charitable Institutions.
It will be denominated in multiples of gram of gold with a basic unit of 1 gram and Minimum permissible investment will be 1 gram of gold.
Addl.Info:
Price of Bond will be fixed on the basis of simple average of closing price of gold of 999 purity, published by the India Bullion and Jewellers Association Limited for the last 3 working days of the week preceding the subscription period. 
Discount of ₹50 per gram will be given for those who will subscribe it online and pay through digital mode.
SEBI asks investment advisors to refrain from dealing in digital gold
Capital markets regulator Sebi has asked investment advisers to refrain from dealing in digital gold, which is an unregulated product.
This came after Sebi noted that some registered investment advisers are engaged in unregulated activity by providing a platform for buying, selling or dealing in unregulated products including digital gold. 
SEBI further said any dealing in unregulated activities by investment advisers may entail action under the Sebi Act and regulations framed thereunder. 
In August, the National Stock Exchange (NSE) had directed its members, including stockbrokers, to discontinue the sale of digital gold on their platforms by September 10.
The direction came after the capital markets regulator noted that certain members are providing a platform to their clients for buying and selling digital gold.
CBDT issues refunds of over Rs 92,961 crore to taxpayers in FY22 so far
Central Board of Direct Taxes, CBDT has issued refunds of over 92 thousand 961 crore rupees to more than 63 lakh 23 thousand taxpayers between 1st of April to 18th of October this year
The refunds of 23 thousand 26 crore rupees have been issued in over 61 lakh 53 thousand cases and Corporate Tax refunds of 69 thousand 934 crore rupees have been issued in over one lakh 69 thousand cases.
Addl.Info:
Income Tax Department has refunded 62 thousand and 361 crore rupees to more than 20 lakh taxpayers during Covid-19 lockdown days
Central Board of Direct Taxes has issued tax refunds at a speed of 76 cases per minute from 8th April to 30th June.
Income tax refunds amounting to over 23 thousand and 453 crore rupees have been issued in more than 19.07 lakh cases and corporate tax refunds amounting to over 38 thousand 908 crore rupees have been issued in more than 1.36 lakh cases to taxpayers during this period.
Refunds of this magnitude and numbers have been issued completely electronically and have been directly deposited into the bank accounts of the taxpayers.
Oil remains near multi-year highs as energy supply crunch continues
Oil futures now rose and were near multi-year highs as an energy supply crunch continued across the globe. 
Falling temperatures in China revived concerns over whether the world's biggest energy consumer can meet domestic heating needs.
In intra-day trade, Brent crude was trading around 84 dollars and 30 cents per barrel while WTI crude prices were at 82 dollars and 20 cents per barrel.
Rs 814 cr received in dividend tranches from 5 CPSEs: DIPAM Secy
Secretary of Department of Investment and Public Asset Management (DIPAM) Tuhin Kanta Pandey has said that dividend tranches of about 296 crore rupees have been received from Power Finance Corporation Limited (PFC) and 233 crore rupees from Housing and Urban Development Corporation (HUDCO).
OIL has paid about 92 crore rupees, KIOCL 99 crore rupees and Satluj Jal Vidyut Nigam SJVN 94 crore rupees as dividend tranches to Government of India.
CURRENT AFFAIRS : APPOINTMENTS & RESIGNATIONS
Barbados elects first ever president ahead of becoming republic
Barbados has elected its first ever president as it prepares to become a republic, removing Queen Elizabeth as head of state.
The government announced the plan to move to a republic status last year.
The change had already been recommended by a constitutional review in 1998.
About Dame Sandra Mason:
Dame Sandra Mason, 72, is set to be sworn in on 30 November, which will mark the country's 55th anniversary of independence from Britain.
The first woman to serve on the Barbados Court of Appeals, Dame Sandra has been governor-general since 2018.
Addl.Info:
With a population of about 285,000, Barbados is one of the more populous and prosperous Caribbean islands.
Once heavily dependent on sugar exports, its economy has diversified into tourism and finance.
Barbados will not be the first former British colony in the Caribbean to become a republic.
Guyana took that step in 1970, less than four years after gaining independence from Britain. Trinidad and Tobago followed suit in 1976 and Dominica in 1978.
CURRENT AFFAIRS : SUMMITS & CONFERENCES
UIDAI to host 'Aadhaar Hackathon 2021' 
The Unique Identification Authority of India (UIDAI) is hosting a Hackathon titled "Aadhaar Hackathon 2021"  for young innovators.
This is the first ever Hackathon, which will start from 28th October till 31st October.
Aadhaar Hackathon 2021 is themed around two topics: "Enrolment and Update" (which essentially covers some of the real-life challenges being faced by the residents while updating their address)  & "Identity and Authentication" solution offered by UIDAI.
To attend the Aadhar Hackathon 2021 can fill the online registration form which is available here https://hackathon.uidai.gov.in/.
Objective :
To popularize some of the existing and new APIs to solve the needs of residents.
The winners of each theme would be rewarded by UIDAI through prize money and other lucrative benefits.
About UIDAI :
Headquarters: New Delhi
Founded: 28 January 2009, India
It serves as the issuing authority for Aadhaar unique identification numbers (UIDs) and cards.
The agency has been mandated by the government to develop, identify and set up the necessary infrastructure for issuing Aadhaar cards.
CURRENT AFFAIRS : SCIENCE & TECHNOLOGY
European drone developer FIXAR ties up with Paras Aerospace 
On Oct 19, 2021, European commercial drone and software developer FIXAR tied up with Paras Aerospace, a subsidiary of Paras Defence.
It has emerged for the initiation of the Drone (UAV) market in India.
Under the collaboration, Paras will support operations set-up, business development, and technical support for providing this future-ready technology .
The initial agreement targets delivery of 150 drones to the operators in India in the next 6-8 months.
These drones have applications in areas such as real-time video surveillance, laser scanning and aerial photography for various sectors including government, agriculture, security, surveying, among others
The FIXAR007 drone has demonstrated an increased flight length (up to 60km), a payload capacity of 2kg/4.4lb max, and increased stability compared to similar class drones.
Union Minister Dr Jitendra Singh launches Air Quality Early Warning System
The Indian Institute of Tropical Meteorology (IITM), Pune has developed a new 'Decision Support System' (DSS) and enhanced the existing 'Air Quality Early Warning System' (AQEWS) for Delhi-NCR.
It was launched by Dr Jitendra Singh, Union Minister of State (Independent Charge) Earth Sciences, as a part of Azadi Ka Amrit Mahotsav week organised by the Ministry of Earth Sciences.
The need was stated by the Commission for Air Quality Management in the National Capital Region and Adjoining Areas (CAQM).
The website is designed to deliver quantitative information about: 
The contribution of emissions from Delhi and the surrounding 19 districts to the air quality in Delhi,
The contribution of emissions from 8 different sectors in Delhi their contribution,
The contribution from biomass-burning activities in the neighbouring states to the degradation of air quality in Delhi,
The possible quantitative effects of interventions at the forecast air-quality event in Delhi. All this information would assist in managing the air quality in a timely manner.
The institute has also developed a dedicated website for DSS,  https://ews.tropmet.res.in/dss/, to deliver quantitative information about the contribution of emissions from Delhi and surrounding districts to the air quality.
About IITM :
Established : 17 November 1962
Director : Ravi Nanjundiah
Located at : Pune, Maharashtra, India
It is an autonomous institute under the Ministry of Earth Sciences,  Government of India.
South Korea launches its first homegrown space rocket
South Korea has launched its first homegrown rocket in space.
The Korean Satellite Launch Vehicle II, known as Nuri, took off from Goheung, about 500km south of Seoul.
The vehicle completed its full flight sequence but failed in its goal of putting a dummy satellite in orbit.
About Nuri:
Nuri cost South Korea an estimated 2 trillion won $1.6 billion to develop.
Weighing 200 tonnes and measuring 47.2 metres long, it is fitted with six liquid-fuelled engines.
Addl.Info:
South Korea is locked in an arms race with North Korea, with both recently test-firing new weapons. The North put a satellite in orbit in 2012.
South Korea plans to carry out four more launches of the Nuri until 2027 according to the Korea Aerospace Research Institute (KARI) that is overseeing the launch.
Previous attempts by Seoul to launch a rocket in 2009 and 2010 failed, with the second exploding minutes after take-off.
South Korea is aiming to send a probe to the moon by 2030.
CURRENT AFFAIRS : PERSON IN NEWS
Russian filmmaker Klim Shipenko's "The Challenge" becomes world's first film in space
A Russian actress Yulia Peresild and a film director Klim Shipenko spent 12 days on the International Space Station (ISS) filming 30 minutes duration scenes for the film "The Challenge". 
It took around 30 hours to record the material while in space.
A Russian film crew has scripted a record by undertaking the first-ever motion picture shooting session in the International Space Station (ISS).
About the Film :
"The Challenge" is the first feature film to be shot in space.
The film is based on the life of a woman doctor who goes to space to save a cosmonaut's life.
CURRENT AFFAIRS : SPORTS NEWS
Australia fast bowler James Pattinson retires from international cricket
Australia fast bowler James Pattinson has retired from international cricket ahead of the 2021–22 Ashes series.
He will continue playing for his State team Victoria and help nurture the next generation of fast bowlers.
About James Pattinson :
James Lee Pattinson born on 3 May 1990 in Melbourne, Victoria, Australia.
He made test debut in December 2011 in a win over New Zealand.
In 2017, Pattinson was named in Australia's squad for the 2017 ICC Champions Trophy.
In 2019, Pattinson was awarded a national contract by Cricket Australia for the 2019–20 season.
In 2019, he was named in Australia's squad for the 2019 Ashes series in England
Pattinson played a key role in Australia's 2019 Ashes campaign in England.
He played 15 one-day and four Twenty20 international matches for the national team.
Indonesia and China won Thomas Cup and Uber Cup
Thomas Cup :
Indonesia beat defending champion China, 3-0, to win the Thomas Cup final played at the Ceres Arena in Aarhus, Denmark.
Japan and Denmark shared the bronze.
This is the 14th Thomas Cup badminton title for Indonesia and the first since 2002.
UBER Cup:
In the Uber Cup, China beat defending champions Japan 3-1, to clinch their 15th Uber Cup trophy. 
South Korea and Thailand shared bronze.
About Thomas & Uber Cup :
It is the biennial international badminton championship contested by the men and women's national teams of the member associations of Badminton World Federation (BWF).
The Thomas Cup is the men's team championship and has 16 teams divided into groups of four & the Uber Cup which is a women's event, also has 16 teams competing.
Note :
The 2020 Thomas & Uber Cup was the 31st edition of the Thomas Cup and the 28th edition of the Uber Cup.
About Badminton World Federation :
Headquarters: Kuala Lumpur, Malaysia
President: Poul-Erik Høyer Larsen
Founded: 5 July 1934
Membership: 194 member associations
CURRENT AFFAIRS : OBITUARIES
Sri Lanka's first Test skipper Bandula Warnapura Passes away
On Oct 18, 2021, Sri Lanka's first Test captain and a former coach and administrator, Bandula Warnapura Passed away.
He was 68.
About Bandula Warnapura :
Bandula Warnapura was born on 1 March 1953 in Rambukkana, Sri lanka.
He was a right-handed opening batsman and a right-handed medium pace bowler.
He played four Test matches and twelve One Day Internationals (ODI) during his international cricketing career from 1975 to 1982.
He has scored one half-century in ODI cricket.
Bandula worked as an ICC match referee and an umpire and refereed two Tests and three ODIs in 2001.
He was also the Development Manager of the Asian Cricket Council.
He was appointed as the Director of Coaching in 1994 and in 2001 he was given the post as the Director of Operations, Sri Lanka Cricket (SLC).
Warnapura played 12 ODI matches, accumulating a total of 180 runs at an average of 15.00.
First black US Secretary of State Colin Powell Passes away
On Oct 18, 2021, The first Black U.S. secretary of state, a top military officer and a national security adviser Colin Powell Passed away.
He was 84.
About Colin Powell :
Powell was born in New York City in 1937.
Colin Powell was an American statesman, diplomat, and four-star general who served as the 65th United States secretary of state from 2001 to 2005.
He was the first African-American secretary of state.
He served as the 16th United States national security advisor from 1987 to 1989 and he was the 12th chairman of the Joint Chiefs of Staff from 1989 to 1993.
Under the presidency of George HW Bush, Colin Powell became the youngest and first African American Chairman of the Joint Chiefs of Staff.
He won numerous US and foreign military awards and decorations including the Presidential Medal of Freedom (twice), the Congressional Gold Medal, the Presidential Citizens Medal, and the Secretary's Distinguished Service Award.
Former Hockey International Saranjeet Singh Passes Away
Former hockey international Saranjeet Singh has passed away
He was 59.
The former State Bank of India hockey player, who played for Coronation Club in the local league, represented Hyderabad juniors and seniors for many years in the late 70s and 80s and also played for India, which toured Germany in 1983.
 Daily CA On Oct 21 :
National Police Commemoration Day is observed on October 21 every year.
Prime Minister Narendra Modi has inaugurated the 806-bedded Vishram Sadan at the National Cancer Institute in Haryana's Jhajjar Campus of AIIMS, New Delhi.
The 52nd edition of the International Film Festival of India (IFFI) will be held in Goa November 20,the Information and Broadcasting Ministry has announced.
Bhupender Yadav, Union Minister for Environment Forest and Climate Change, virtually participated in the Like-Minded Developing Countries (LMDC) Ministerial meeting titled "Preparations for COP 26 on Climate Change – Expectations and Challenges".
The Central Government has constituted a Working Group (WG) to be headed by Chief Executive Officer (CEO) of PMFBY, currently Ritesh Chauhan to roll out an overhauled Pradhan Mantri Fasal Bima Yojana (PMFBY) from Kharif 2022.
NITI Aayog along with ISRO has launched the Geospatial Energy Map of India which will provide a holistic picture of all energy resources of the country. 
In accordance with the report by United Nations Office for Project Services (UNOPS), there is dire need of cleaning up the transport sector to reduce greenhouse gas (GHG) emissions and contain global warming.
Russia's President Vladimir Putin will not attend the UN COP26 (Conference of the Parties) climate summit in Glasgow, the Kremlin.
Bank of Maharashtra reported a 107 per cent year-on-year jump in second quarter net profit at ₹264 crore against ₹130 crore in the year ago quarter.
Small businesses and start-ups running on a subscription model are losing out on users and timely payments due to the Reserve Bank of India's new rule on recurring payments.
The Reserve Bank has imposed a penalty of ₹1 crore on Paytm Payments Bank Limited (PPBL) and ₹78 lakh on Western Union Financial Services for non-compliance with certain directions.
In its '2021 Article IV consultations with India' report, International Monetary Fund (IMF) has reduced India's potential GDP (Gross Domestic Product) growth forecast in the medium term by 25 basis points (bps) to 6 percent from 25 percent due to the impact of COVID-19 on investments and labour markets.
Agri-fintech firm Dvara E-Dairy Solutions Private Limited has entered into a collaboration with Jana Small Finance Bank (Jana SFB) to service small dairy farmers by empowering small and medium dairy farmers with financial and cattle management solutions using digital technologies.
NABSanrakshan Trustee Private Limited (NTPL), a subsidiary of NABARD (National Bank for Agriculture and Rural Development) signed a trust deed for Credit Guarantee Fund Trust for Farmer Producer Organisations (CGFTFPO).
The Competition Commission of India (CCI) has apxproved the acquisition of worldwide healthcare business process outsourcing (BPO) services of Hinduja Global Solutions Ltd(HGS) along with certain assets, contracts and employees by Betaine B.V.
OnePlus, has announced the appointment of Navnit Nakra, as its India CEO and Head of the OnePlus India region.
STPI FinBlue, Chennai signed an MoU with ASEAN Financial Innovation Network Ltd (AFIN) to explore cross border collaboration.
Tamil Nadu FibreNet Corporation Ltd (TANFINET) has signed the Master Service Agreement for the implementation of BharatNet Project in Tamil Nadu with various system integrators.
India is ranked at 71st position in the Global Food Security (GFS) Index 2021 out of 113 countries with a score of 2 points.
A New Species of Onion named Allium Negianum Discovered in Uttarakhand to honour the late Dr. Kuldeep Singh Negi who was an explorer and the collector of Allium.
Union Minister Rajnath Singh launched a book titled  'Veer Savarkar: The Man Who Could Have Prevented Partition' authored by Uday Mahurkar and Chirayu Pandit.
A New Book Titled The Origin Story of India's States authored by Venkataraghavan Subha Srinivasan.
The 2021 BNP Paribas Open tennis tournament was held from October 04 to 17, 2021 at Indian Wells, California, USA.
The 19-year-old Indian Grandmaster P Iniyan won the La Nucia Open chess tournament 2021 held in La Nucia, Spain.
The 16-year-old Indian Grandmaster (GM) Rameshbabu Praggnanandhaa has won the Julius Baer Challengers Chess Tour 2021 finals after defeating Christopher Yoo of the USA (United States of America).
Daily CA On Oct 22 :
The International Stuttering Awareness Day is annually Observed on 22 October & the theme is "Speak the change you wish to see"
UK Secretary of State for Foreign, Commonwealth and Development Affairs Elizabeth Truss will arrive in New Delhi on a three-day visit to India. 
The Financial Action Task Force (FATF) has retained Pakistan on its Grey List.
The United Nations says more than 700,000 people have been displaced by the worst floods to hit South Sudan in decades.
The Himachal Pradesh government has procured a record amount of apple this season in over a decade.
Centre in consultation with RBI has decided to issue four tranches of Sovereign Gold Bonds from October 2021 to March 2022. 
Capital markets regulator Sebi has asked investment advisers to refrain from dealing in digital gold, which is an unregulated product.
Central Board of Direct Taxes, CBDT has issued refunds of over 92 thousand 961 crore rupees to more than 63 lakh 23 thousand taxpayers between 1st of April to 18th of October this year
Oil futures now rose and were near multi-year highs as an energy supply crunch continued across the globe. 
Secretary of Department of Investment and Public Asset Management (DIPAM) Tuhin Kanta Pandey has said that dividend tranches of about 296 crore rupees have been received from Power Finance Corporation Limited (PFC) and 233 crore rupees from Housing and Urban Development Corporation (HUDCO).
Barbados has elected its first ever president as it prepares to become a republic, removing Queen Elizabeth as head of state.
The Unique Identification Authority of India (UIDAI) is hosting a Hackathon titled "Aadhaar Hackathon 2021"  for young innovators.
On Oct 19, 2021, European commercial drone and software developer FIXAR tied up with Paras Aerospace, a subsidiary of Paras Defence.
The Indian Institute of Tropical Meteorology (IITM), Pune has developed a new 'Decision Support System' (DSS) and enhanced the existing 'Air Quality Early Warning System' (AQEWS) for Delhi-NCR.
South Korea has launched its first homegrown rocket in space.
A Russian actress Yulia Peresild and a film director Klim Shipenko spent 12 days on the International Space Station (ISS) filming 30 minutes duration scenes for the film "The Challenge". 
Australia fast bowler James Pattinson has retired from international cricket ahead of the 2021–22 Ashes series.
Indonesia beat defending champion China, 3-0, to win the Thomas Cup final played at the Ceres Arena in Aarhus, Denmark &  In the Uber Cup, China beat defending champions Japan 3-1, to clinch their 15th Uber Cup trophy.
On Oct 18, 2021, Sri Lanka's first Test captain and a former coach and administrator, Bandula Warnapura Passed away.
On Oct 18, 2021, The first Black U.S. secretary of state, a top military officer and a national security adviser Colin Powell Passed away.
Former hockey international Saranjeet Singh has passed awaycurrent