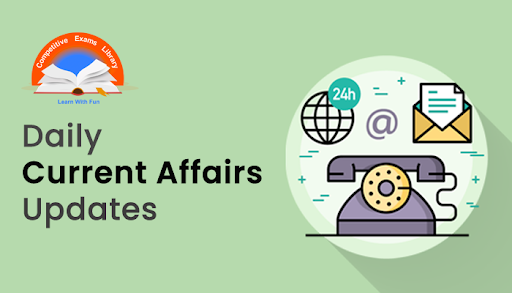 Dear Readers, Daily Current Affairs News Updates about the National and International events were listed here. Read Current Affairs Today here and stay updated with current news. Candidates those who are preparing for IBPS/SBI/PO/Clerk exam and all other competitive exams can use this and try the Current Affairs Quiz to test your knowledge level.
CURRENT AFFAIRS: IMPORTANT DAYS
Aaykar Diwas (Income Tax Day) – Observed on July 24
It was on 24th July, 1860 that Income Tax was introduced for the first time in India by Sir James Wilson to compensate for the losses incurred by the British regime during the first war of independence against British Rule.
The Finance Ministry stated, the week preceding the Aaykar Diwas has been marked by various activities undertaken by the regional offices of the department across the country.
Several outreach programmes have been organized across the country to promote payment of taxes as a value norm and for sensitizing potential tax payers that payment of taxes was an ethical duty of all citizens.
CURRENT AFFAIRS: NATIONAL NEWS
Union Cabinet nods PLI Scheme for Specialty Steel
The Union Cabinet approved Rs 6,322 crore production-linked incentive (PLI) scheme for speciality steel in a move that is expected to attract an additional investment of about Rs 40,000 crore and capacity addition of 25 million tonnes in the segment.
The scheme will give employment to about 525,000 people of which 68,000 will be direct employment.
Speciality steel has been chosen as the target segment by the government because out of a production of 102 million tonnes of steel in 2020-21, only 18 million tonnes of value-added steel/speciality steel were produced in the country.
Moreover, of 6.7 million tonnes of imports in the same year, approximately four million tonnes were of speciality steel, resulting in forex outgo of approximately Rs 30,000 crore, as per government estimates.
The five categories of specialty steel which have been chosen in the PLI Scheme are: coated/plated steel products, high strength/wear resistant steel, speciality rails, alloy steel products and steel wires, electrical
GOI Promoting Organic Farming under Paramparagat Krishi Vikas Yojana (PKVY)
The Government of India has been implementing a dedicated scheme of Paramparagat Krishi Vikas Yojana (PKVY) since 2015-16 to promote chemical free organic farming in the country in cluster mode.
Under the programme, financial assistance of Rs 50000/ha/3 years is provided for cluster formation, capacity building, incentive for inputs, value addition and marketing.
Out of it, Rs 31000/ ha / 3 years is provided for preparation / procurement of organic inputs such as bio/organic fertilizers, bio pesticides, seeds etc.
Through DBT  and  Rs 8800/ ha/ 3 years is provided for value addition and marketing that includes post harvest management practices like storage.
A total fund of Rs   1197.64 cr has been released to states and UTs for the last four years under the programme.
Financial assistance of Rs 3000 /hectare for 3 years is provided for Cluster formation (of 20 ha) and Capacity building including exposure visits, and training of field functionaries.
About the scheme:
The Paramparagat Krishi Vikas Yojana (PKVY), launched in 2015, is an extended component of Soil Health Management (SHM) under the Centrally Sponsored Scheme (CSS), National Mission on Sustainable Agriculture (NMSA). 
PKVY aims at supporting and promoting organic farming, in turn resulting in improvement of soil health.
The Scheme envisages:
Promotion of commercial organic production through certified organic farming.
The produce will be pesticide residue free and will contribute to improve the health of consumers.
It will raise farmer's income and create a potential market for traders.
It will motivate the farmers for natural resource mobilization for input production.
Govt Setting up of Mobile Labs for Soil Testing
Government has been implementing the Soil Health Card (SHC) scheme since 2015 to provide soil test based fertilizer use recommendations periodically to the farmers in the country.
Soil health card provides nutrient status of the soil along with prescription about balanced and integrated use of inorganic and organic fertilizers to maintain good health that results in increase in production.
SHC based fertilizer use advisories are issued to farmers from time to time.
Demonstrations about balanced use of fertilizers based on soil health card recommendations and training to the farmers on proper and integrated use of fertilizers are integral part of the scheme.
State/ district agriculture machinery and panchayats, village level rural development workers like KrishiSakhis, PasuSakhis are involved in educating farmers on right use of fertilizers.
Indian Council of Agricultural Research (ICAR) also imparts training, organizes front line demonstrations to educate farmers on this aspect.
Since 2015,   based on demand from states, 107    mobile labs have been set up   under Soil Health Management programme.
In all, 11531 labs have been set up including 491 static labs, 107 mobile labs, 8811 mini labs and 2122 village level labs.
About Soil Testing:
In agriculture, a soil test commonly refers to the analysis of a soil sample to determine nutrient content, composition, and other characteristics such as the acidity or pH level.
Composite sampling can be performed by combining soil from several locations prior to analysis.
NITI Aayog and IEA jointly launch 'Renewables Integration in India 2021'
"Renewables Integration in India 2021" report was jointly launched by Dr. Rakesh Sarwal, Additional Secretary, NITI Aayog & Mr. Keisuke Sadamori, Director of Energy Markets and Security, IEA on 22nd July, 2021.
The report is based on the outcome of three state workshops held with the Governments of Maharashtra, Karnataka and Gujarat to understand the specific energy transition challenges faced by these renewable-rich states.
The report uses IEA modelling results to show the effects of different flexibility options on the power system.
About the report:
The report highlights that India's power system can efficiently integrate renewable energy (175 GW by 2022 and 450 GW by 2030), but it would require identification of resources and proper planning, regulatory, policy and institutional support, energy storage and advance technology initiatives.
Indian states need to employ a wide range of flexibility options – such as demand response, more flexible operation of coal based power plants, storage, and grid improvements – to transition to cleaner electricity systems.
Larger shares of renewable energy can be better managed by shifting time of use in agriculture.
Time of Use (ToU) tariffs will be an effective tool to incentivize demand side management and encourage flexible consumption.
CURRENT AFFAIRS: INTERNATIONAL NEWS
Peru: Pedro Castillo declared as President-elect of the country
Pedro Castillo, the provincial schoolteacher who promised to restructure Peru's economy to favor the poor, was confirmed as the Andean country's president-elect more than six weeks after the election.
Peru's electoral agency certified the results of the June 6 runoff, giving the left-wing Castillo 13 percent of the vote over 49.87 percentfor his hard-right opponent Keiko Fujimori.
The two candidates were separated by just 44,000 votes out of nearly 19 million cast.
The result followed a deeply divisive election and last-ditch legal challenges by Fujimori.
Her lawyers made unsubstantiated claims of fraud in an effort to get 200,000 votes thrown out.
About Peru:
Capital: Lima
Currency: Sol
Prime Minister: Violeta Bermúdez
World's first 3D-printed stainless-steel bridge unveiled in Amsterdam
A 12-metre 3D-printed pedestrian bridge designed by Joris Laarmanand built by Dutch Robotics Company MX3D has opened in Amsterdam six years after the project was launched.
The bridge, which was fabricated from stainless steel rods by six-axis robotic arms equipped with welding gear, spans the Oudezijds Achterburgwal in Amsterdam's Red Light District.
Named MX3D Bridge, it was designed by Dutch studio Joris Laarman Labin collaboration with MX3D, a technology company co-founded by Laarman, and engineering firm Arup.
The structure used 4,500 kilograms of stainless steel, which was 3D-printedby robots in a factory over a period of six months before been craned into position over the canal this year.
About Netherlands:
Capital: Amsterdam
Currency: Euro
Prime Minister: Mark Rutte
Call on Prime Minister by PGA-elect and Foreign Minister of the Maldives 
The President-elect of the 76th session of the United Nations General Assembly (UNGA) and Foreign Minister of the Maldives, H.E. Abdulla Shahid, called on Prime Minister Shri Narendra Modi.
E. Abdulla Shahid is visiting India in his capacity as President-elect of the 76th session of the UNGA, following the election held in New York on July 7, 2021.
Prime Minister felicitated the President-elect on his Vision Statement for a 'Presidency of Hope', and assured him of India's full support and cooperation during his Presidency.
The Prime Minister emphasized the importance of reforming the multilateral system, including the United Nations organs, to reflect the current realities of the world and the aspirations of a vast majority of the world's population.
About Maldives:
Capital: Malé
Currency: Maldivian rufiyaa
President: Ibrahim Mohamed Solih
CURRENT AFFAIRS: STATE NEWS
Madhya Pradesh: UNESCO's 'Historic Urban Landscape' project for Gwalior, Orchha launched
In Madhya Pradesh, Gwalior and Orchha cities have been selected by UNESCO under 'Historic Urban Landscape Project', which was started in the year 2011, for the inclusive and well-planned development of fast-growing historical cities while preserving the culture and heritage.
Chief Minister Shivraj Singh Chouhan virtually launched UNESCO's 'Historic Urban Landscape' project for Gwalior and Orchha cities of the state through video conferencing.
The Chief Minister stated that six cities of South Asia, including Ajmer and Varanasi in India are already involved in this project.
Orchha and Gwalior have been included as the 7th and 8th cities.
The development and management plan of these cities will be prepared by UNESCO.
This project will help MP tourism get a new dimension.
Additional employment opportunities will also be created along with the development of tourism.
About UNESCO:
The United Nations Educational, Scientific and Cultural Organization is a specialized agency of the United Nations aimed at promoting world peace and security through international cooperation in education, the sciences, and culture.
Headquarters: Paris, France
Director-General: Audrey Azoulay
About Madhya Pradesh:
Madhya Pradesh, a large state in central India, retains landmarks from eras throughout Indian history.
Begun in the 10th century, its Hindu and Jain temples at Khajuraho are renowned for their carvings of erotic scenes, most prominently Kandariya Mahadeva, a temple with more than 800 sculptures.
The eastern Bandhavgarh and Kanha national parks, noted Bengal tiger sanctuaries, offer guided safaris.
Capital: Bhopal
Chief minister:Shivraj Singh Chouhan
Governor: Mangubhai C. Patel
National Parks: Kanha National Park, Bandhavgarh National Park, Madhav National Park, Sanjay National Park, Van Vihar National Park, Panna National Park, Satpura National Park, Pench National Park, Mandla Plant Fossils National Park.
Union Cabinet gives nod to setting up of Integrated Multi-purpose Infra Development Corp for Ladakh
The Centre approved the establishment of an integrated multi-purpose infrastructure development corporation for the Union Territory of Ladakh.
The decision has been taken at a meeting of the Union Cabinet, chaired by Prime Minister Narendra Modi.
The establishment of the corporation will result in inclusive and integrated development of the Union Territory of Ladakh.
This will, in turn, ensure socio-economic development of the entire region and the population of the UT.
The impact of development will be multi-dimensional and it will help in further development of human resources and better utilization thereof.
It increases domestic production of goods and services and will facilitate their smooth supply.
Thus, the approval will help in realising the goal of 'Atmanirbhar Bharat'.
The authorized share capital of the corporation will be Rs 25 crore and recurring expenditure will be around Rs 2.42 crore per year.
It is a new establishment.
Cabinet gives approval for setting up of Central University of Ladakh
The Union Cabinet approved the setting up of a central university in the union territory of Ladakh, while also giving its nod to an integrated multi-purpose infrastructure development corporation.
The decision was taken at the meeting chaired by Prime Minister Narendra Modi with an aim of addressing regional imbalances in higher education and stimulating the intellectual current within the broader society of Ladakh.
"Cabinet approves establishment of a Central University in the Union Territory of #Ladakh," Jaideep Bhatnagar.
The Cabinet also approved the creation of one post of Managing Director, for the corporation in the pay scale of  1,44,200- Rs.2,18,200 level.
About Ladakh:
Ladakh is a region administered by India as a union territory, and constitutes a part of the larger Kashmir region, which has been the subject of dispute between India, Pakistan, and China since 1947.
It was established on 31 October 2019, following the passage of the Jammu and Kashmir Reorganisation Act.
Capital: Leh, Kargil
Lieutenant governor: Radha Krishna Mathur
National park: Hemis National Park
CURRENT AFFAIRS: BUSINESS NEWS
India reach 90.32 % in UNESCAP's latest Global Survey on Digital & Sustainable Trade Facilitation
India has seen a "significant improvement" in the UNESCAP's Global Survey on Digital & Sustainable Trade Facilitation with a 90.32 percent score.
After evaluation of 143 economies, the Survey 2021 has highlighted India's significant improvement in the scores on all five key indicators — transparency, formalities, institutional arrangement and cooperation, paperless trade and cross-border paperless trade.
India has scored 90.32 per cent in the global survey on Digital and Sustainable Trade Facilitation.
This is a remarkable jump from 78.49 per cent in 2019.
Under the transparency indicator, the country scored 100 per cent in 2021, up from 93.33 percent in 2019.
The score for 'paperless trade' improved to 96.3 per cent in 2021, from 81.48 per cent in 2019.
The score in the institutional arrangement and cooperation indicator improved to 88.89 per cent, from 66.67 percent in 2019.
About UNESCAP:
The United Nations Economic and Social Commission for Asia and the Pacific is one of the five regional commissions under the jurisdiction of the United Nations Economic and Social Council.
Headquarters: Bangkok, Thailand
CURRENT AFFAIRS: BANKING NEWS
RBI decided to introduce digital currency on a pilot basis soon
The RBI is working on phased introduction of its own digital currency Deputy Governor T Rabi Sankar stated it is mulling pilot projects in wholesale and retail segments in the near future, .
He also mentioned several countries have implemented specific purpose Central Bank Digital Currencies(CBDCs) in the wholesale and retail segments.
A CBDC is a legal tender issued by a central bank in a digital form.
It is the same as a fiat currency and is exchangeable one-to-one with the fiat currency.
Sankar noted that developing a domestic CBDC could provide the public with uses that any private virtual currency (VC) offers and to that extent might retain public preference for the rupee.
About Digital Currency:
Digital currency is any currency, money, or money-like asset that is primarily managed, stored or exchanged on digital computer systems, especially over the internet.
Types of digital currencies include cryptocurrency, virtual currency and central bank digital currency.
In terms of legal status, there are two major types of virtual currencies – centralized and decentralized.
Max Bupa Health Insurance renames itself as Niva Bupa
Standalone health insurer Max Bupa Health Insurance, backed by private equity firm True North and Bupa, has rebranded itself to Niva Bupa Health Insurance.
Max India, which owned 51 per cent in the insurer, sold its stake to True North in February 2019 for Rs 510 crore.
While the erstwhile promoters exited the venture, it was decided that the use of the "Max" brand will be phased out over a period of two years and replaced with a suitable name.
The Bupa brand name, however, would continue as before.
"Owing to a change in shareholding pattern, with the exit of Max India and entry of private equity firm True North, Max Bupa needed to create a new brand identity as part of the transition".
About Max Bupa:
Max Bupa Health Insurance Company Limited is an Indian health insurance company, founded in 2008.
It is headquartered in New Delhi, India.
It started as a joint venture between Max India Limited and Bupa, the UK-based international healthcare group.
CEO: Krishnan Ramachandran
Dvara E-Dairy make partnership with IFFCO Tokio General Insurance for AI-led tag
Dvara e-Dairy Solutions Pvt. Ltd. announced its partnership with IFFCO Tokio General Insurancefor providing artificial intelligence (AI) powered digital cattle identity solution for cattle insurance.
The company's 'Surabhi e-Tag'is an AI-powered digital tag that identifies cattle based on muzzle identity.
IFFCO Tokio General Insurance Executive Vice President (underwriting) Subrata Mondal stated the company was exploring a reliable cattle identity process that can be stored digitally and can be accessed anytime.
"Using advanced AI and ML (machine learning) technologies, the critical challenge of improving the quality of images at the time of image capturing are mitigated".
About AI tag:
Automated contenttagging is one approach to solving the challenge of finding the right content.
The concept is simple; instead of forcing business users to add metadata to content, an AI engine tagsevery piece of content.
Magma Fincorp Limited rebrands its name to Poonawalla Fincorp Limited
Magma Fincorp Limited, a RBI-registered non-banking finance company (NBFC) has been rechristened as Poonawalla Fincorp Limited and has initiated rebranding activity, following the acquisition of controlling stake by Adar Poonawalla led Rising Sun Holdings Private Limited on 21st May 2021.
Along with this, its fully owned housing finance subsidiary Magma Housing Finance Limited is also renamed as Poonawalla Housing Finance Limited.
In its new avatar under the Poonawalla brand, the group will be focusing on consumer and MSME segments.
As a part of the new strategy, the company will expand its product range to include Personal Loans, Loans to Professionals, Merchant Cash Advances, Loan against Property, Consumer Finance and Machinery Loans along with existing products of Business Loan, Pre-Owned Car Loans and Home Loans.
About Poonawalla Fincorp:
Poonawalla Fincorp Limited is a Mumbai based non-banking financial company registered with the Reserve Bank of India as an Asset Finance Company with a registered office in Kolkata.
The company operates more than 295 branches in 22 states and a union territory and has a strong presence in rural and semi-rural India.
Headquarters: West Bengal
Indian Bank unveiled drive to instil confidence in customers
Indian Bank launched its CASA (current account, savings account) campaign on the 53rd Bank Nationalization day. 
The campaign is expected to 'inject confidence' in customers and to bring new customers into their fold to improve the CASA of the Bank. 
A programme was organized at the Chetpet branch and was presided by Imran Amin Siddiqui, Executive Director of Indian Bank. 
Olympian Shiny Wilson, who had participated in four Olympics and was the flag bearer of Indian contingent at the Barcelona Olympics 1992, was a special guest at the programme.
She extended her wishes to the CASA campaign.
About Indian Bank:
Indian Bank is an Indian government owned financial services and banking company.
It is under the ownership of the Ministry of Finance of the Government of India, established in 1907.
Headquarters: Chennai
CEO: Padmaja Chunduru
Tagline: Your Own Bank, Banking That's Twice As Good
CURRENT AFFAIRS: APPOINTMENT AND RESIGNATION NEWS
Digital broker Upstox appointed Thippesha Dyamappa as CTO
Upstox (also known as RKSV Securities India Pvt. Ltd.), one of India's largest investment platforms, has appointed US-based Thippesha Dyamappa,former director of software development, international retail at Amazon, as its Chief Technology Officer (CTO).
Meanwhile, the co-founder Shrini Viswanath, who was looking after the technology stack, will now take on a more strategic role in the organization.
About Dyamappa:
Thippesha Dyamappa brings in a unique mix of tech capabilities and organizational acumen, 20+ years of software engineering experience in building best-in-class organizations in six countries (US, India, Jordan, China, UAE, and Brazil).
The appointment of Dyamappa is the first step towards the next phase of Upstox's expansion into global markets.
CURRENT AFFAIRS: AWARDS AND HONOURS
Chief Hydrographer bags Alexander Dalrymple Award
India"s chief hydrographer Vice Admiral Vinay Badhwar was conferred with the prestigious Alexander Dalrymple award by the British government in recognition of his works in areas of hydrography and nautical cartography.
Vice Admiral Badhwar received the award from British High Commissioner Alex Ellis at a brief ceremony here.
The Indian Navy stated the Admiral has been honoured with the award in recognition of his "unparalleled dedication, professionalism and leadership" in the disciplines of hydrography and nautical cartography.
Vice Admiral Vinay Badhwar was conferred with the award in 2019 but the award ceremony was delayed due to the ongoing Covid pandemic.
The Alexander Dalrymple award has been named after the first hydrographer of the Admiralty and was instituted in 2006.
CURRENT AFFAIRS: MOU's AND AGREEMENTS
Indian Bank inks pact with IIT-Guwahati's Technology Incubation Centre (TIC)
Chennai-headquartered Indian Bank has signed an agreement with IIT Guwahati Technology Incubation Centre (TIC) for financing start-ups under Bank's loan product "IND SpringBoard".
The MoU was signed by K S Sudhakara Rao, General Manager (MSME), Indian Bank and Professor R. Ganesh Narayanan – Technology Incubation Centre (TIC), IIT-Guwahati.
Indian Bank's "Ind SpringBoard" scheme aims to empower start-ups to realise their research efforts powered by financial support from the bank.
Under this product, the bank supports start-ups by extending up to Rs.50 crore as working capital and fund-based term loan requirements for acquiring fixed assets.
GoAP signs MoU with IIM Shillong 
The Arunachal government has signed a memorandum of understanding (MoU) with Dr APJ Abdul Kalam Centre for Policy Research and Analysis-IIM here in Meghalaya for collaborating as a knowledge partner to build the capacity of the state government officers to set up a satellite centre of the IIM Shillong in Arunachal, and for necessary policy interventions.
Chief Secretary Naresh Kumar signed the MoU on behalf of the Arunachal government, while IIM Shillong Director Prof DP Goyal signed on behalf of the IIM, in the presence of Chief Minister Pema Khandu.
CURRENT AFFAIRS : BOOKS & AUTHORS
A New Book titled 'Bank With A Soul: Equitas', Written by Dr. C K Garyali
On July 17, 2021, Shri. Duvvuri Subbarao, Former Governor, RBI released a book titled 'Bank with a Soul: Equitas'.
The Book has been written by Dr. C K Garyali is a founder trustee of EDIT (Equitas Development Initiative Trust).
About the Book :
The book chronicles the journey of Equitas and EDIT in transforming the lives of women with frequent social reform initiatives helping them set up micro-enterprises and pioneering financial inclusivity right from its inception.
Filmmaker Rakeysh Omprakash Mehra announces autobiography : The Stranger In The Mirror  
Filmmaker Rakeysh Omprakash Mehra is coming up with his autobiography, "The Stranger In The Mirror".
The Book has been Published by Rupa Publications, it will hit the stands across the country on July 27.
About the Autobiography :
The Stranger In The Mirror features first-person accounts of noted personalities from cinema and advertising world including Waheeda Rahman, A R Rahman, Bajpayee, Abhishek Bachchan, Akhtar, Kapoor Ahuja, Tandon, Ronnie Screwvala, Atul Kulkarni, R Madhavan, Divya Dutta and Prahlad Kakar.
He is known for helming movies like Rang De Basanti, Delhi-6, Bhaag Milkha Bhaag and the recently released Toofan.
He has co-written the book with noted author Reeta Ramamurthy Gupta.
About Rakeysh Omprakash Mehra :
Rakeysh Omprakash Mehra was born on 7 July 1963 in Delhi
He is best known for writing and directing Rang De Basanti (2006) and Bhaag Milkha Bhaag (2013) & he is the writer and director of the films Aks (2001) and Delhi-6 (2009).
CURRENT AFFAIRS : SPORTS NEWS
Madhya Pradesh Rubina Francis wins gold at Peru event
21-year-old Madhya Pradesh shooter Rubina Francis, won gold in the 10-metre air pistol para women's event at World shooting Para Sport Cup held in Lima, Peru from June 12 to 17.
She scored 238.1 points and beat the world record of Aysegul Pehlivanlar of Turkey,
Also She securing the Paralympic quota for India at the Tokyo games 2020.
About Rubina Francis :
Rubina started learning the basics of shooting in 2006 in a camp organised by an academy in Jabalpur.
In 2017, she started practising at MP Shooting Academy.
In 2017, she helped set a junior world record in the 10m air pistol women team event at the World Shooting Para Sports Championship in Bangkok, winning gold.
She also has a bronze from the 2019 world para championship in Croatia.
She is currently ranked number five by the International Shooting Sport Federation in Women's 10m Air Pistol SH1 (World Shooting Para Sport Rankings)
She also participated in the 2018 Asian Para Games P2 – Women's 10M Air Pistol
She has made Madhya Pradesh proud by earning 12 medals including 10 gold, 2 silver in national para shooting competitions.
About International Shooting Sport Federation :
Headquarters: Munich, Germany
President: Vladimir Lisin
Founded: 1907
Aman Gulia and Sagar Jaglan Become India's new World Cadet champions 
Young wrestlers Aman Gulia (Sonepat wrestler) and Sagar Jaglan were crowned the new world champions in their respective categories at the Cadet World Championship in Budapest, Hungary.
Gulia defeated American Luke Joseph Lilledahl for a 5-2 win in the 48kg final. 
On the Other hand, Jaglan defeated James Mockler Rowley 4-0 in the 80kg summit clash to clinch the gold.
In addition to that in the Women's Category Young wrestlers Tannu and Priya became the latest world champions as India's spectacular run continued at the Cadet World Championship.
Tannu defeated Valeryia Mikitsich in the 43kg title & Priya grabbed the 73kg title with a 5-0 win over Belarus' Kseniya Patapovich.
CURRENT AFFAIRS : OBITUARIES
Noted Carnatic Classical Violinist Sikkil R Bhaskaran passes away         
On July 21, 2021, Noted Carnatic Classical Violinist 'Kalaimaamani' Sikkil Shri R Bhaskaran passed away.
He was 85.
About Sikkil Shri R Bhaskaran :
Sikkil Shri R Bhaskaran started learning the Violin at the age of 11 from Thiruvarur Shri Subba Iyer.
He had 5 decades of Musical Career, & he was an 'A' Grade Artist of AIR and also served for nearly 2 decades in  Chennai radio Station from 1976 to 1994. 
He has served as an Executive Committee member of the Thiruvaiyaru Thyaga Brahma Festival for more than 2 decades.
Achievements : 
Sikkal Ramaswami Pillai, was awarded with Kalaimamani title and Sangeetha Nataka Academy award by Tamil Nadu and Central Government.
India's oldest student, Bhageerathi Amma, Passes away                        
On July 23, 2021, Kerala's oldest women learner Bhageerathi Amma, to take the equivalency exams, passed away in Kollam, Kerala.
She was 107.
About Bhageerathi Amma :
Bhageerathi Amma was born in 1914.
She hailed from the Kollam district of Kerala, and decided to continue her education at the age of 105 
She had quit formal education in class three, when she was 9 years old.
She started preparing for an equivalency examination conducted by the state-run Kerala State Literacy Mission (KSLM) in 2019.
At the age of 105, Amma decided to continue her education and took examinations in Mathematics, the Malayalam language and Environmental Science.
She cleared the Kerala State Literacy Mission's fourth-standard equivalency test.
She scored 205 out of a total of 275 marks and full marks in mathematics.
Achievements :
Bhageerathi Amma, was a recipient of the prestigious Nari Shakti Puraskar by the central government for her exceptional contribution towards women's empowerment.
She received appreciation from the Prime Minister in his Mann Ki Baat address.
About Nari Shakti Puraskar :
Nari Shakti Puraskar is an annual award given by the Ministry of Women and Child Development of the Government of India to individual women or to institutions that work towards the cause of women empowerment.
The awards are presented by the President of India on International Women's Day 8 March, at Rashtrapati Bhavan in New Delhi.
The awards were instituted in 1999 under the title of Stree Shakti Puraskar and were renamed and reorganised in 2015. 
Veteran thespian Urmil Kumar Thapliyal Passes away
Veteran theatre personality and litterateur Urmil Kumar Thapliyal passed away
He was 78.
About Urmil Kumar Thapliyal :
Urmil was born in 1943 in Dhaudhan Mason village in the Garhwal hills.
Thapliyal worked all through his life for the revival of nautanki and popularising theatre.
He was associated with Darpan, the 50-year-old popular theatre group of the state capital. 
Also he had a long innings with the All India Radio.
Thapliyal, has donned several roles of a Playwright, author, poet, performer, satirist and theatre personality who contributed immensely to the revival of 'nautanki' and popularizing theatre.
Daily CA On July 23 :
World Brain Day – Observed on July 22, The theme for this year's campaign is "our brain, our future"
National Broadcasting Day celebrated on 23rd July
NSE Foundation, a subsidiary of the National Stock Exchange (NSE), in partnership with the NITI Aayog and UNICEF has launched a programme to spread awareness on COVID-19 vaccination
Union Cabinet approved the Production Linked Incentive (PLI) Scheme for specialty steel. The duration of the scheme will be five years, from 2023-24 to 2027-28.
The Union Cabinet has approved the establishment of an Integrated Multi-purpose infrastructure Development Corporation for the Union Territory of Ladakh
Government receives 27 proposals from private entities for undertaking various space activities in India
Government has achieved its atomic energy generation target set for the current year. The target set for the current year 2021-22 is 41821 Million Units
Union Agriculture and Farmers Welfare Minister Shri Narendra Singh Tomar inaugurated the office of National Farmers Welfare Program Implementation Committee
Union Minister of Agriculture and Farmers Welfare Shri Narendra Singh Tomar laid the foundation stone of the Plant Authority building at Pusa, New Delhi
Government is implementing Bhartiya Prakritik Krishi Padhati (BPKP) as a sub scheme of Paramparagat Krishi Vikas Yojana (PKVY) since 2020-21 for the promotion of traditional indigenous practices
Liverpool cleared of World Heritage status
King Mswati III appoints Cleopas Dlamini as Eswatini's new Prime Minister
Telangana CM Launches 'Telangana Dalit Bandhu' scheme
Uttar Pradesh to set panchayat secretariat in all panchayats of the state
The Shravan Harela, celebrated in the Hindu calendar month of Shravan, marks the onset of the rainy season (Monsoon)
In Madhya Pradesh, Gwalior and Orchha cities have been selected by UNESCO under 'Historic Urban Landscape Project'
Mirae Asset Investment Managers (India) launched India's first ETF tracking Nifty Financial Services Index
India has scored 90.32% in United Nation's Economic and Social Commission for Asia Pacific's (UNESCAP) latest Global Survey on Digital and Sustainable Trade Facilitation
ICICI Bank and HPCL jointly launches 'ICICI Bank HPCL Super Saver' Credit Card
The state-run insurance and investment company, Life Insurance Corporation of India (LIC), has rolled out the Arogya Rakshak plan, a benefit-based, non-linked, non-participating, regular premium and individual health insurance policy
India's largest lender State Bank of India has selected Paisalo Digital as its National Corporate Business Correspondent for boosting its financial inclusion drive with the help of kiosk-based banking services
Citi India appointed Rahul Saraf as Head of Investment Banking
Aramane Giridhar take oath additional charge of Chairman, NHAI
Rasmi Ranjan Das, a Joint Secretary in the Ministry of Finance, is among a distinguished group of 25 tax experts from around the world appointed as members of the UN tax committee for the 2021 to 2025 term
The Cachar district of Barak Valley in South Assam has got the prestigious National Silver SKOCH award under health category on the project called "Pushti Nirbhor"
Former Indian Footballer Shibaji Banerjee honoured with Mohun Bagan Ratna Award 2021 Posthumously
AmbitionBox bags UST for top employee choice awards
The Indian Navy has signed a Memorandum of Understanding (MoU) with Kotak Mahindra for salary accounts of all its personnel – both serving and retired
Space technology applications being used for digital education in the country
Last blast of Sela Tunnel's escape tube conducted by DG Border Roads
Indian Navy participated in a two-day bilateral Passage Exercise (PASSEX) with Royal Navy Carrier Strike Group (CSG)-21 led by HMS Queen Elizabeth in the Bay of Bengal from 21 to 22 Jul 21
Daily CA On July 24 :
Aaykar Diwas (Income Tax Day)  Observed on July 24, it has been marked by various activities undertaken by the regional offices of the department across the country.
The Union Cabinet approved Rs 6,322 crore production-linked incentive (PLI) scheme for speciality steel in a move that is expected to attract an additional investment of about Rs 40,000 crore and capacity addition of 25 million tonnes in the segment.
The Government of India has been implementing a dedicated scheme of Paramparagat Krishi Vikas Yojana (PKVY) since 2015-16 to promote chemical free organic farming in the country in cluster mode.
Government has been implementing the Soil Health Card (SHC) scheme since 2015 to provide soil test based fertilizer use recommendations periodically to the farmers in the country.
"Renewables Integration in India 2021" report was jointly launched by Dr. Rakesh Sarwal, Additional Secretary, NITI Aayog & Mr. Keisuke Sadamori, Director of Energy Markets and Security, IEA on 22nd July, 2021.
Pedro Castillo, the provincial schoolteacher who promised to restructure Peru's economy to favor the poor, was confirmed as the Andean country's president-elect more than six weeks after the election.
A 12-metre 3D-printed pedestrian bridge designed by Joris Laarmanand built by Dutch Robotics Company MX3D has opened in Amsterdam six years after the project was launched.
The President-elect of the 76th session of the United Nations General Assembly (UNGA) and Foreign Minister of the Maldives, H.E. Abdulla Shahid, called on Prime Minister Shri Narendra Modi.
In Madhya Pradesh, Gwalior and Orchha cities have been selected by UNESCO under 'Historic Urban Landscape Project', which was started in the year 2011, for the inclusive and well-planned development of fast-growing historical cities while preserving the culture and heritage.
The Union Cabinet approved the establishment of an integrated multi-purpose infrastructure development corporation for the Union Territory of Ladakh.
The Union Cabinet approved the setting up of a central university in the union territory of Ladakh, while also giving its nod to an integrated multi-purpose infrastructure development corporation.
India has seen a "significant improvement" in the UNESCAP's Global Survey on Digital & Sustainable Trade Facilitation with a 90.32 percent score.
The RBI is working on phased introduction of its own digital currency Deputy Governor T Rabi Sankar stated it is mulling pilot projects in wholesale and retail segments in the near future, .
Standalone health insurer Max Bupa Health Insurance, backed by private equity firm True North and Bupa, has rebranded itself to Niva Bupa Health Insurance.
Dvara e-Dairy Solutions Pvt. Ltd. announced its partnership with IFFCO Tokio General Insurancefor providing artificial intelligence (AI) powered digital cattle identity solution for cattle insurance.
Magma Fincorp Limited, a RBI-registered non-banking finance company (NBFC) has been rechristened as Poonawalla Fincorp Limited and has initiated rebranding activity, following the acquisition of controlling stake by Adar Poonawalla led Rising Sun Holdings Private Limited on 21st May 2021.
Indian Bank launched its CASA (current account, savings account) campaign on the 53rd Bank Nationalization day & this campaign is expected to 'inject confidence' in customers and to bring new customers into their fold to improve the CASA of the Bank. 
Upstox (also known as RKSV Securities India Pvt. Ltd.), one of India's largest investment platforms, has appointed US-based Thippesha Dyamappa,former director of software development, international retail at Amazon, as its Chief Technology Officer (CTO).
India"s chief hydrographer Vice Admiral Vinay Badhwar was conferred with the prestigious Alexander Dalrymple award by the British government in recognition of his works in areas of hydrography and nautical cartography.
Chennai-headquartered Indian Bank has signed an agreement with IIT Guwahati Technology Incubation Centre (TIC) for financing start-ups under Bank's loan product "IND SpringBoard".
The Arunachal government has signed a memorandum of understanding (MoU) with Dr APJ Abdul Kalam Centre for Policy Research and Analysis-IIM here in Meghalaya for collaborating as a knowledge partner to build the capacity of the state government officers to set up a satellite centre of the IIM Shillong in Arunachal, and for necessary policy interventions.
On July 17, 2021, Shri. Duvvuri Subbarao, Former Governor, RBI released a book titled 'Bank with a Soul: Equitas' & the Book has been written by Dr. C K Garyali is a founder trustee of EDIT (Equitas Development Initiative Trust).
Filmmaker Rakeysh Omprakash Mehra is coming up with his autobiography, "The Stranger In The Mirror" & the Book has been Published by Rupa Publications, it will hit the stands across the country on July 27.
21-year-old Madhya Pradesh shooter Rubina Francis, won gold in the 10-metre air pistol para women's event at World shooting Para Sport Cup held in Lima, Peru from June 12 to 17.
Young wrestlers Aman Gulia (Sonepat wrestler) and Sagar Jaglan were crowned the new world champions in their respective categories at the Cadet World Championship in Budapest, Hungary.
On July 21, 2021, Noted Carnatic Classical Violinist 'Kalaimaamani' Sikkil Shri R Bhaskaran passed away.
On July 23, 2021, Kerala's oldest women learner Bhageerathi Amma, to take the equivalency exams, passed away in Kollam, Kerala.
Veteran theatre personality and litterateur Urmil Kumar Thapliyal passed away