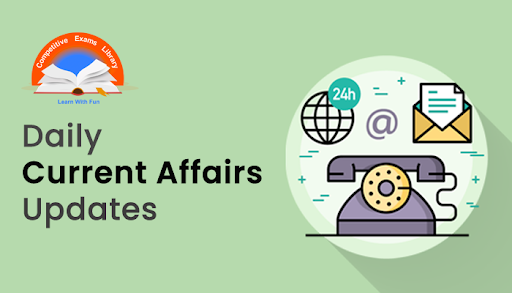 Dear Readers, Daily Current Affairs News Updates about the National and International events were listed here. Read Current Affairs Today here and stay updated with current news. Candidates those who are preparing for IBPS/SBI/PO/Clerk exam and all other competitive exams can use this and try the Current Affairs Quiz to test your knowledge level.
CURRENT AFFAIRS : BANKING & FINANCE
Bank of Baroda unveils facility for cash withdrawals using UPI on its ATMs
Public lender Bank of Baroda (BoB) has launched Interoperable Cardless Cash Withdrawal (ICCW) facility for its customers, wherein they can withdraw money from Automated Teller Machines (ATMs) using the United Payment Interface (UPI).
BoB becomes the first public sector bank to launch this service.
By whom would it be withdrawn?
Bank of Baroda customers
Customers of other participating issuer banks that use Bharat Interface for Money (BHIM) UPI
Bob World UPI or any other UPI application enabled for ICCW on their mobile phone can withdraw cash from a Bank of Baroda ATM without using their debit card.
Key Highlights :
Customers can avail of 2 transactions a day per account with a withdrawal limit of Rs 5,000 per transaction.
Customers can select the option 'UPI Cash Withdrawal' on the ATM screen, and then enter the withdrawal amount.
The customer can scan the QR code using a UPI app enabled for ICCW and then authorise the transaction with her/his UPI PIN on the mobile phone to withdraw the cash from the ATM.
If multiple bank accounts are linked to a single UPI ID, ICCW functionality gives customers the option to select the account to be debited.
Benefits :
The new ICCW facility being offered by the bank gives customers the freedom to withdraw money without the use of a physical card – a simple, convenient and secure way to withdraw cash."
About BoB :
Founded : 20 July 1908
Headquarters : Vadodara, Gujarat, India
MD & CEO : Debadatta Chand
Tagline : India's International Bank
Bank of Baroda operates more than 11,000 ATMs across India.
HDFC Bank introduces Millennia Credit Card
HDFC Bank has introduced a new credit card – Millennia offering cashback.
The card comes with contactless technology allowing customers to 'tap and pay' via a Point Of Sale (POS) machine.
Features of HDFC Millennia Credit card :
The card offers cashback and reward points on Amazon, Flipkart, and other e-commerce platforms.
The card also offers 1% cashback on offline purchases, smart Equated monthly instalments (EMI), and lounge access for free, among others.
In every billing, a maximum reward of ₹1000 would be offered.
The cardholder receives a Rs 1000 gift card after spending Rs 1 lakh in a calendar quarter.
Eligibility to obtain HDFC Millennia Credit card
The Millennia card is applicable to both self-employed and salaried persons.
The minimum age limit is 21 and the maximum age is 40.
People earning a maximum of ₹35,000 gross salary can apply for the card.
Self-employed people with an annual income of ₹6 lakhs or above are also eligible.
About HDFC Bank Ltd :
Founded : August 1994
Headquarters : Mumbai, Maharashtra, India
MD & CEO : Sashidhar Jagdishan
Tagline : We Understand Your World
SEBI issues norms for transactions in corporate bonds through Request for Quote (RFQ) platform
Capital markets regulator Securities and Exchange Board of India (SEBI) came out with guidelines for transactions in corporate bonds (CBs) through the Request for Quote (RFQ) platform by stock brokers (SBs).
SEBI has been taking steps to increase the liquidity on the RFQ platform of stock exchanges to enhance the transparency and disclosure pertaining to trading in the secondary market in corporate bonds.
Key Highlights :
For all the trades in proprietary capacity, stock brokers will have to undertake at least 10% of their total secondary market trades by value in corporate bonds in that month by placing quotes through one-to-one (OTO) or one-to-many (OTM) mode on the RFQ platform of stock exchanges from July 1, 2023.
The percentage will increase to 25% from April, 2024
What is RFQ?
The Request for Quote (RFQ) is a trade execution platform, launched in 2020.
The RFQ is a system or interface for inviting and/or giving quotes on an electronic platform.
The platform was introduced as a 'participant-based' model, wherein all regulated entities, listed corporate bodies, institutional investors and all Indian financial institutions were eligible to register, access and transact.
In October 2022, SEBI allowed stock brokers to place bids on the RFQ platform on behalf of their clients to facilitate wider participation in the corporate bond market.
This was in addition to the existing option of placing bids in a proprietary capacity.
It provides users a range of options to seek a quote and to respond to a quote, while keeping an audit trail of all the interactions i.e. quoted yield, mutually agreed price, deal terms, etc.
About SEBI :
Established : 12 April 1988 as an executive body and was given statutory powers on 30 January 1992 through the SEBI Act, 1992
Headquarters : Mumbai, Maharashtra
Chairman : Madhabi Puri Buch (the first woman to lead the SEBI)
SEBI is the regulatory body for securities and commodity markets in India under the ownership of the Ministry of Finance (MoF),
YES SECURITIES Collaborated with Watch Your Health to provide investment solutions to the healthcare fraternity
YES SECURITIES Limited (YSL), a leading financial services company, is partnered with WatchYourHealth (WYH), a tech-driven healthcare platform, to provide investment solutions to healthcare professionals through the 'Wellth- Where Investments and Health Unite' program.
Aim:
To help the healthcare community start their investment journey for successful wealth creation and achieving long-term financial goals
Key Highlights :
The company will provide free-of-cost demat and trading accounts, monthly stock research recommendations, and tailor-made product offerings based on the client's needs.
Some of the other features under the Wellth program include investment products and advisory services to doctors and healthcare professionals, financial planning products including Systematic Investment Plan (SIPs) and Alternative Investment Funds (AIFs) to retail and High Networth Individuals (HNI) clients.
This will also comprise webinars to create investment awareness, an online module to train doctors and healthcare professionals.
Advance brokerage plans with complimentary turnover limit of 50 Lacs without charging any brokerage, along with Call and Trade and Digital DIY options for all trading needs
CEO and co-founder of WatchYourHealth : Ratheesh Nair
About YES SECURITIES :
MD & CEO : Anshul Arzare
YES SECURITIES, a wholly-owned subsidiary of YES BANK, is one of the leading financial advisors in India, offering a gamut of services such as Investment Banking, Merchant Banking, Institutional and Equity Research, Institutional Sales, Portfolio Investment Advisory and Broking services.
RBI Introduces '100 Days 100 Pays' campaign to settle unclaimed deposits
The Reserve Bank of India (RBI) has launched '100 Days 100 Pays' campaign to trace and settle the top 100 unclaimed deposits of every bank in every district within 100 days.
This measure will complement the ongoing efforts and initiatives by the central bank to reduce the quantum of unclaimed deposits in the banking system and return such deposits to their rightful owners/claimants.
What are unclaimed deposits?
Unclaimed Deposit accounts are accounts which have not been operated for the last 10 years.
Banks transfer these amounts to the "Depositor Education and Awareness" (DEA) Fund maintained by the RBI.
The total amount of unclaimed deposits transferred to the RBI by public sector banks (PSBs) was Rs 35,012 crore till February 2023.
Currently, the State Bank of India (SBI) tops the chart of unclaimed deposits worth Rs 8,086 crore followed by Punjab National Bank Rs 5,340 crore, Canara Bank Rs 4,558 crore and Bank of Baroda Rs 3,904 crore.
Apart from the campaign, the RBI has also announced the setting up of a centralised web portal for the public to search unclaimed deposits across multiple banks.
About RBI :
Established : 1 April 1935
Headquarters : Mumbai, Maharashtra, India
Governor : Shaktikanta Das
Deputy governors : Mahesh Kumar Jain,M. Rajeshwar Rao, Michael Patra and T. Rabi Shankar
CURRENT AFFAIRS: NATIONAL NEWS
Cabinet approves increase in MSP for all mandated Kharif Crops for 2023-24 season:
The Cabinet Committee on Economic Affairs (CCEA) today approved an increase in Minimum Support Price, MSP, for all mandated Kharif Crops for Marketing Season 2023-24.
The Cabinet has taken this decision to ensure remunerative prices to growers for their produce and to encourage crop diversification.
The increase in MSP for Kharif Crops for Marketing Season 2023-24 is in line with the Union Budget 2018-19 announcement of fixing the MSP at a level of at least 1.5 times the All-India weighted average Cost of Production, aiming at reasonably fair remuneration for the farmers.
The expected margin to farmers over their cost of production is estimated to be highest in the case of Bajra at 82 per cent followed by tur at 58 per cent, soybean at 52 per cent, and urad at 51 per cent.
For the rest of the crops, the margin to farmers over their cost of production is estimated to be at least 50 percent.
In recent years, Government has been promoting the cultivation of crops, other than cereals such as pulses, oilseeds, and Nutri-cereals or Shree Anna, by offering a higher MSP for these crops.
Additionally, the Government has also launched various schemes and initiatives, such as the Rashtriya Krishi Vikas Yojana, and National Food Security Mission to encourage farmers to diversify their crops.
As per Third Advance Estimates for 2022-23, total Foodgrain production in the country is estimated at a record 330.5 million tonnes which is higher by 14.9 million tonnes as compared to the previous year 2021-22.
This is the highest increase in the last five years.
Govt approves third revival package for BSNL with total outlay of Rs 89,047 cr
Union Cabinet chaired by the Prime Minister Shri Narendra Modi, approved the third revival package for BSNL with the total outlay of Rs. 89,047 crore.
It includes allotment of 4G/5G spectrum for BSNL through equity infusion.
The authorized capital of BSNL will be increased from Rs. 1,50,000 crore to Rs. 2,10,000 crore.
With this revival package, BSNL will emerge as a stable telecom service provider focused on providing connectivity to remotest parts of India.
The details of the spectrum are as follows:
Band
Spectrum allotted
Budgetary support
700 MHz
10 MHz paired in 22 LSAs
Rs. 46,338.60 Cr
3300 MHz
70 MHz in 22 LSAs
Rs. 26,184.20 Cr
26 GHz
800 MHz in 21 LSAs and 650 MHz in 1 LSA
Rs.   6,564.93 Cr
2500 MHz
20 MHz in 6 LSAs and 10 MHz in 2 LSAs
Rs.   9,428.20 Cr
 
Miscellaneous items
Rs.      531.89 Cr
Total
Rs.  89,047.82 Cr
BSNL/MTNL revival:
Government had approved the first revival package for BSNL/MTNL in 2019.
It amounted to Rs. 69,000 Crore and brought stability in BSNL/MTNL.
In 2022, Government approved second revival package for BSNL/MTNL amounting to Rs. 1.64 Lakh Crore.
It provided financial support for capex, viability gap funding for rural landlines, financial support for de-stressing the balance sheet, and settlement of AGR dues, merger of BBNL with BSNL, etc.
As a result of these two packages, BSNL has started earning operating profits since FY 2021-22. Total debt of BSNL has reduced from Rs. 32,944 Crore to Rs. 22,289 Crore.
BSNL has achieved strong growth in home fiber segment. It is providing more than 1 Lakh new connections every month.
Total home fiber subscriber base of BSNL in May 2023 is 30.88 Lakh.
Total revenue from home fiber last year was Rs. 2,071 Crore.
Indigenous 4G/5G technology
Telecom technology is a strategic technology with a limited number of end-to-end technology providers in the world.
Under the Atmanirbhar vision of Hon'ble Prime Minister Narendra Modi, India's own 4G/5G technology stack has been successfully developed.
Union Government launched a Mission on Advanced and High-Impact Research (MAHIR):
The Ministry of Power and the Ministry of New and Renewable Energy have jointly launched a National Mission to quickly identify emerging technologies in the power sector and develop them indigenously, at scale, for deployment within and outside India.
The National Mission, titled "Mission on Advanced and High-Impact Research (MAHIR)" aims to facilitate indigenous research, development and demonstration of the latest and emerging technologies in the power sector.
Planned for an initial period of five years from 2023-24 to 2027-28, the Mission will follow the technology life cycle approach of Idea to Product.
Mission Objectives
To identify emerging technologies and areas of future relevance for the Global Power Sector and take up indigenous end-to-end development of relevant technologies
To provide a common platform for Power Sector Stakeholders for collective brainstorming, synergetic technology development and devise pathways for smooth transfer of technology
To support pilot projects of indigenous technologies (developed especially by Indian Start-ups) and facilitate their commercialization
To leverage foreign alliances and partnerships to accelerate research & development of advanced technologies and to build competencies, capabilities and access to advanced technologies through bilateral or multilateral collaborations, thereby facilitating exchange of knowhow and Technology Transfer.
Scope of the Mission
Under the Mission, once research areas are identified and approved by the Apex Committee, the proposals for outcome-linked funding will be invited from companies / organizations across the globe.
The selection of the proposal shall be done through Quality cum Cost-Based Selection (QCBS) basis.
The organizations of the Ministries may also co-develop the technologies with the selected Research Agency.
The IPR of the technology developed would be shared by the Government of India and the Research Agency.
Shri Giriraj Singh inaugurates two-day conference, invites sharpest minds to create roadmap for Rural India during Amrit Kaal
Rural Development and Panchayati Raj Minister Giriraj Singh inaugurated a two-day conference in New Delhi inviting the sharpest minds on rural development to brainstorm and create a roadmap for Rural India during the Amrit Kaal.
The two-day Conference is titled 'Evolving India: Re-imagining Rural Development for Shared Prosperity'.
He emphasized that his Ministry aims to support and enhance livelihood opportunities and enable Lakhpati women across SHG network.
He also highlighted the ministry's focus on sustainability, carbon neutrality, financial inclusivity, and the firm alignment with the Sustainable Development Goals 2030.
Minister of State for Rural Development Faggan Singh Kulaste asserted that the scope and strength of the SHG network can be greatly enhanced with adequate training in packaging and marketing support to the SHGs.
Rural Development Secretary Shailesh Kumar Singh laid stress on the community-driven approach with the socio-economic empowerment of rural women at its core.
The mission to achieve its objectives of enhanced income must leverage the benefits of various government schemes and build upon the partnerships.
Union Government allows 2,000 Primary Agricultural Credit Societies to open PMBJAKs
The government has decided to allow two thousand Primary Agricultural Credit Societies PACS to open Pradhan Mantri Bhartiya Jan Aushadhi Kendras across the country.
The decision was taken in a meeting of Home and Cooperation Minister Amit Shah with Chemicals and Fertilizers Minister Mansukh Mandaviya in New Delhi.
Two thousand PACS across the country will be identified to open Pradhan Mantri Bhartiya Jan Aushadhi Kendras.
One thousand Pradhan Mantri Bhartiya Jan Aushadhi Kendras will be opened by August this year and another one thousand by December 2023.
This important decision will not only increase the income of PACS and create employment opportunities but will also make medicines available at affordable prices to the people, especially those living in rural areas.
More than nine thousand 400 Pradhan Mantri Bhartiya Jan Aushadhi Kendras have been opened across the country till now.
One thousand 800 types of medicines and 285 other medical devices are available in these Jan Aushadhi Kendras. Medicines at Pradhan Mantri Bhartiya Jan Aushadhi Kendras are available at 50 percent to 90 percent lesser rate in comparison to the branded medicines.
The Eligibility Criteria for the Individual applicants to open Pradhan Mantri Bhartiya Jan Aushadhi Kendra is to have D. Pharma or B. Pharma.
Any organization, NGO, charitable organization and hospital can apply for this by appointing B.Pharma or D.Pharma degree holders.
The incentive amount for Pradhan Mantri Bhartiya Jan Aushadhi Kendra is five lakh rupees, 15 per cent of monthly purchases or a maximum of 15 thousand rupees per month.
One time additional incentive of two lakh rupees as reimbursement for IT and infra expenditure in special categories and areas is also provided.
Union Cabinet approves continuation of Central Sector Scheme of 'Exploration of Coal and Lignite Scheme':
The Cabinet Committee on Economic Affairs (CCEA) chaired by the Hon'ble Prime Minister Shri Narendra Modi approved the continuation of the Central Sector Scheme of "Exploration of Coal and Lignite scheme" with an estimated expenditure of Rs. 2980 crore from 2021-22 to 2025-26 co-terminus with the 15th Finance Commission cycle.
Under this scheme, exploration for Coal and Lignite is conducted in two broad stages:
(i) Promotional (Regional) Exploration and
(ii) Detailed Exploration in Non-Coal India Limited blocks.
The approval will provide an outlay of Rs.1650 crore for Promotional (Regional) Exploration and 1330 crore for Detailed Drilling in Non-CIL areas.
Approximately, 1300 sq. km area will be covered under Regional exploration and approximately 650 sq. km area will be covered under Detailed exploration.
Exploration for Coal and Lignite is required to prove and estimate coal resources available in the country which helps in preparing detailed project report to start coal mining.
The Geological reports prepared through this exploration is used for auctioning new coal blocks and the cost is thereafter recovered from successful allocatee.
Cabinet approves Metro Connectivity from HUDA City Centre to Cyber City, Gurugram with Spur to Dwarka Expressway
The Union Cabinet, chaired by the Hon'ble Prime Minister Shri Narendra Modi, approved Metro Connectivity from HUDzzA City Centre to Cyber City with Spur to Dwarka Expressway, Gurugram covering the distance of 28.50 km having 27 stations on the route.
The total completion cost of the project will be Rs.5,452 crore.
This will be a standard gauge line of 1435 mm (5 ft 8.5 inches).
The entire project will be elevated.
The spur from Basai village has been provided for connectivity to depot.
The project is proposed to be completed in four years from the date of sanction of the Project and is to be implemented by Harayana Mass Rapid Transport Corporation Limited (HMRTC) which will be set up as a 50:50 Special Purpose Vehicle (SPV) of the Government of India and Government of Haryana after sanction order is issued.z
CURRENT AFFAIRS : INTERNATIONAL NEWS
Montana becomes the first US state to ban TikTok
Montana has become the first United States (US) state to ban the popular social media app TikTok.
Montana Republican Governor Greg Gianforte signed the law expecting a legal fight.
The law, scheduled to take effect 1, 2024, also faces questions over whether it can be enforced.
TikTok is facing growing calls from some U.S. lawmakers to ban the app nationwide over concerns about potential Chinese government influence over the platform.
CEO of Tiktok : Shou Zi Chew
About US  :
President : Joe Biden
Capital : Washington, D.C
Currency : U.S. dollar
CURRENT AFFAIRS : STATE NEWS
Maharashtra Chief Minister Shri Eknath Shinde launched Asia's largest, cluster development scheme in Thane
Maharashtra Chief Minister (CM) Shri Eknath Shinde has launched Asia's largest, ambitious and historic cluster development scheme in Thane, Maharashtra.
The City and Industrial Development Corporation (CIDCO) will execute the project.
The occupants will get a 323 Square feet ownership house.
Key Highlights :
The scheme was conceptualised for the collective redevelopment of unauthorised and official dangerous buildings after the collapse of the Sairaj Building in Thane which had claimed 18 lives.
The redeveloped township plan includes well-equipped health, educational, sports, recreational, parking, mandi, and civic facilities.
Under the project, the integrated redevelopment project will be done on the lines of townships.
In the first phase, a total of 10,000 tenements are being built on a cumulative area of 1,500 hectares, which will be the biggest in Asia
About Maharashtra :
Governor: Ramesh Bais
Chief minister: Eknath Shinde
Capital: Mumbai
National Park : Tadoba National Park, Navegaon National Park
Wildlife Sanctuaries : Bhimashankar Wildlife Sanctuary, Karnala Bird Sanctuary, Nagzira Wildlife Sanctuary
UNESCO Heritage Sites : Chhatrapati Shivaji Maharaj Terminus, The Victorian and Art Deco Ensemble of Mumbai, Ajanta Caves, Elephanta Caves, Ellora Caves
Haryana Government launched special campaign to raise awareness about door-to-door waste collection and segregation
The Government of Haryana launched a special campaign to raise awareness about door-to-door waste collection and
Urban Local Bodies Minister, Kamal Gupta stated that this is a part of government's continuous efforts to transform every city in the state into a 'Clean City-Safe City'.
Kamal Gupta was presiding over a review meeting held at Chandigarh.
The meeting was attended by Municipal Corporation Commissioners, District Municipal Commissioners, and officers of the Urban Local Bodies Department (ULB).
During the meeting, he directed the officers to take concrete measures for the beautification of cities including repair of roads, parks and parking facilities.
About Haryana :
Governor : Bandaru Dattatreya
Chief Minister : Manohar Lal Khattar
Capital : Chandigarh
National Park : Sultanpur National Park, Kalesar National Park
Wildlife Sanctuary : Chhilchhila Wildlife Sanctuary, Nahar Wildlife Sanctuary, Khaparwas Wildlife Sanctuary
CURRENT AFFAIRS : DEFENCE NEWS
Indian Navy's indigenous torpedo successfully engaged underwater target
The Heavy-Weight anti-submarine Torpedo named 'Varunastra', developed by the Indian Navy and the Defence Research and Development Organisation (DRDO), successfully engaged an underwater target.
It showcases India's commitment to future proof combat readiness through aatmanirbharta.
What is Torpedo?
The torpedo is an underwater ranged weapon launched above or below the water surface, self-propelled towards a target, and with an explosive warhead designed to detonate either on contact with or in proximity to the target.
The term torpedo originally applied to a variety of devices, most of which would today be called mines.
About 'Varunastra' :
The Varunastra is an Indian advanced heavyweight anti-submarine torpedo, developed by Naval Science and Technological Laboratory (NSTL) of the DRDO for the Indian Navy.
It is named after a legendary weapon created by the Hindu god of the oceans, Varuna.
The torpedo is powered by an electric propulsion system with multiple 250 KWs silver oxide zinc (AgOZn) batteries.
It can achieve speeds in excess of 40 kn (74 km/h; 46 mph), weighs around5 tonnes and can carry 250 kg (550 lb) of conventional warhead.
This torpedo has more than 95% indigenous content.
About Indian Navy :
Headquarters : New Delhi, Delhi
Chief of the Naval Staff : Admiral R Hari Kumar
About DRDO :
Established : 1958
Headquarters : New Delhi, Delhi
Chairman : Sameer V Kamath
CURRENT AFFAIRS : SCIENCE & TECHNOLOGY
Iran unveils its 1st hypersonic missile – Fattah
The Islamic Revolutionary Guard Corps (IRGC) of Iran has unveiled its first-ever Indigenously made hypersonic ballistic missile, called Fattah, or "Conqueror" (in Farsi language).
The missile can move at a speed of up to Mach 15 (5,145 metres or 16,880 feet per second), has a range of 1,400km (870 miles) and features a moveable secondary nozzle and employs solid propellants that allow for high manoeuvrability.
What is a hypersonic missile?
A hypersonic missile is a weapon system which flies at least at the speed of Mach 5 i.e. five times the speed of sound and is manoeuvrable.
The 2 types of hypersonic weapons systems are Hypersonic Glide Vehicles (HGV) and Hypersonic Cruise Missiles.
The HGV are launched from a rocket before gliding to the intended target while the hypersonic cruise missile is powered by air breathing high speed engines or 'scramjets' after acquiring their target.
About Iran :
President : Ebrahim Raisi
Capital : Tehran
Currency : Iranian rial
CURRENT AFFAIRS: BUSINESS NEWS
Govt removes procurement ceilings of 40 % for tur, urad, and Masur under PSS operations for 2023-24
In a significant step towards enhancing domestic production of pulses, the Government has removed the procurement ceilings of 40 percent for tur, urad, and Masur under Price Support Scheme PSS operations for 2023-24.
The decision, in effect, assures the procurement of these pulses from farmers at MSP without ceilings.
The assured procurement of these pulses by the Government at remunerative prices will help motivate the farmers to enhance sowing area in respect of tur, urad, and Masur in the upcoming Kharif and Rabi sowing seasons in order to enhance production.
The government has imposed stock limits on tur and urad by invoking the Essential Commodities Act, 1955 in order to prevent hoarding and unscrupulous speculation and also to improve affordability to the consumers.
The stock limits have been made applicable to wholesalers, retailers, big chain retailers, millers, and importers.
It has also been made mandatory for these entities to declare their stock position on the portal of Department of Consumer Affairs.
CURRENT AFFAIRS: MOUS AND AGREEMENT
NHPC inks pact with Energy department of Maharashtra for developing 7,350 MW pumped storage hydro power projects in Maharashtra
A Memorandum of Understanding has been signed between NHPC Limited and Department of Energy, Government of Maharashtra for the development of Pumped Storage schemes and other Renewable Energy Source projects in the state of Maharashtra.
The MoU envisages development of four Pumped Storage Projects aggregating to a total capacity of 7,350 MW, namely Kalu – 1,150 MW, Savitri – 2,250 MW, Jalond – 2,400 MW and Kengadi -1,550 MW.
Other Renewable Energy Source Projects too will be developed in the state under the agreement.
The MoU entails harnessing the Pump Storage Projects as Energy Storage Solutions to help achieve the national objective of Energy Transition, i.e., installed capacity of 500 GW of renewable energy by 2030 and Net Zero by 2070.
These projects will attract an investment of about Rs. 44,000 crores and will generate indirect and direct employment for 7,000 people in the state,
The MoU was signed in the presence of Deputy Chief Minister, Govt. of Maharashtra, Devendra Fadnavis.
The MoU was signed by Director, (Projects), NHPC Biswajit Basu and Principal Secretary (Energy), Department of Energy, Govt. of Maharashtra, Abha Shukla. Independent Director, NHPC, Uday S. Nirgudkar; Executive Director (SBD & C), NHPC, Rajat Gupta and other senior officers from both the organizations were also present during the occasion.
About NHPC:
NHPC Limited is a Public Sector enterprise of the government of India, and is the largest hydropower development organization in India, with capabilities to undertake all the activities from conceptualization to commissioning of hydro projects.
NHPC has also diversified in the fields of Solar & Wind energy development.
NHPC is a listed company on NSE and BSE after successfully concluding its IPO in 2009.
Founded: 7 November 1975
Headquarters: Faridabad, India
CURRENT AFFAIRS: SPORTS NEWS
Siddharth Choudhary clinches gold in men's shot put event of U-20 Asian Athletics Championships in South Korea
India's Siddharth Choudhary clinched gold in men's shot put with a personal best throw of 19.52 metres.
Further three other players Sharuk Khan (3000-metre steeplechase), Shivam Lohakare (Javelin), and Susmita (Long Jump) claimed silver medals in their respective events.
Shakeel (800 metre) and the mixed relay team concluded the day by winning the bronze medal.
With this India won six medals on day 2 with the overall tally accounting to nine.
CURRENT AFFAIRS :  OBITUARIES
Senior most Maoist leader Katakam Sudarshan Passed away
Top Maoist leader Katakam Sudarshan, more known by his nom de gurre 'comrade Anand' in revolutionary circles and public, Passed away at the age of 69.
About Katakam Sudarshan :
Anand was born at Adilabad in Andhra Pradesh (AP).
He was a member of CPI (Maoist) Central Committee and Politburo member.
In 1995, he was appointed as the Secretary of the newly formed North Telangana Special Zonal Committee (NTSZC).
He was elected to the Central Committee in the All India Special Conference in
He was editor of Kranthi, Erra Jenda, People's War and People's March publications.
Mahabharat Actor Gufi Paintal Passed Away
Gufi Paintal, best known for playing 'Shakuni mama' in the epic TV serial "Mahabharat", has passed away at the age of 79 in Mumbai, Maharashtra.
About Gufi Paintal :
Initially he joined the Indian army during the Sino-Indian War in 1962.
Paintal's acting credits also include 1980s Hindi films such as "Suhaag", "Dillagi", as well as television shows "CID" and "Hello Inspector"
He made his debut with the 1975 film Rafoo Chakkar.
His last show was Jai Kanhaiyya lal ki on Star plus.
CURRENT AFFAIRS: IMPORTANT DAYS
World Oceans Day 2023: June 8
Every year on June 8th, World Ocean Day is commemorated to raise awareness of the ocean's vital role in human life and ways to conserve it across the world.
The theme of this year's (2023) United Nations World Oceans Day is 'Planet Ocean: Tides are Changing'.
In 1992, during the Earth Summit in Rio de Janeiro, the notion of World Ocean Day was introduced.
In 2008 World Ocean Day was officially created by the United Nations General Assembly to be observed yearly on June 8 to address ocean issues and conserve ocean water.
On June 8, 2009, The United Nations General Assembly formally designated the day with Resolution 63/111.
World Brain Tumour Day 2023: June 8
Every year on June 8th, World Brain Tumor Day is commemorated
The day raises awareness of brain tumors and educates people about them.
In 2000, World Brain Tumor Day was declared by the Deutsche Hirntumorhilfe as an International Commemoration Day.
Since 2000, this day has been commemorated every year on 8th June and 2023 will observe the 23rd anniversary of the World Brain Tumor Day.
World Brain Tumor Day is now celebrated annually on 8 June as a tribute to all brain tumor patients and their families.
Daily CA One- Liner: June 8
Public lender Bank of Baroda (BoB) has launched Interoperable Cardless Cash Withdrawal (ICCW) facility for its customers, wherein they can withdraw money from Automated Teller Machine (ATMs) using the United Payment Interface (UPI).
HDFC Bank has introduced a new credit card – Millennia offering cashback.
Capital markets regulator Securities and Exchange Board of India (SEBI) came out with guidelines for transactions in corporate bonds (CBs) through the Request for Quote (RFQ) platform by stock brokers (SBs).
YES SECURITIES Limited (YSL), a leading financial services company, is partnered with WatchYourHealth (WYH), a tech driven healthcare platform, to provide investment solutions to healthcare professionals through the 'Wellth- Where Investments and Health Unite' program.
The Reserve Bank of India (RBI) has launched '100 Days 100 Pays' campaign to trace and settle the top 100 unclaimed deposits of every bank in every district within 100 days.
Montana has become the first United States (US) state to ban the popular social media app TikTok.
The Cabinet Committee on Economic Affairs (CCEA) today approved an increase in Minimum Support Price, MSP, for all mandated Kharif Crops for Marketing Season 2023-24.
Union Cabinet chaired by the Prime Minister Shri Narendra Modi, approved the third revival package for BSNL with the total outlay of Rs. 89,047 crore
The Ministry of Power and the Ministry of New and Renewable Energy have jointly launched a National Mission to quickly identify emerging technologies in the power sector and develop them indigenously, at scale, for deployment within and outside India
Rural Development and Panchayati Raj Minister Giriraj Singh inaugurated a two-day conference in New Delhi inviting the sharpest minds on rural development to brainstorm and create a roadmap for Rural India during the Amrit Kaal
The government has decided to allow two thousand Primary Agricultural Credit Societies PACS to open Pradhan Mantri Bhartiya Jan Aushadhi Kendras across the country
The Cabinet Committee on Economic Affairs (CCEA) chaired by the Hon'ble Prime Minister Shri Narendra Modi approved the continuation of the Central Sector Scheme of "Exploration of Coal and Lignite scheme" with an estimated expenditure of Rs. 2980 crore from 2021-22 to 2025-26 co-terminus with the 15th Finance Commission cycle
The Union Cabinet, chaired by the Hon'ble Prime Minister Shri Narendra Modi, approved Metro Connectivity from HUDA City Centre to Cyber City with Spur to Dwarka Expressway, Gurugram covering the distance of 28.50 km having 27 stations on the route.
In a significant step towards enhancing domestic production of pulses, the Government has removed the procurement ceilings of 40 percent for tur, urad, and Masur under Price Support Scheme PSS operations for 2023-24
A Memorandum of Understanding has been signed between NHPC Limited and Department of Energy, Government of Maharashtra for the development of Pumped Storage schemes and other Renewable Energy Source projects in the state of Maharashtra
India's Siddharth Choudhary clinched gold in men's shot put with a personal best throw of 19.52 metres
Maharashtra Chief Minister (CM) Shri Eknath Shinde has launched Asia's largest, ambitious and historic cluster development scheme in Thane, Maharashtra.
The Government of Haryana launched a special campaign to raise awareness about door-to-door waste collection and
The Heavy-Weight anti-submarine Torpedo named 'Varunastra', developed by the Indian Navy and the Defence Research and Development Organisation (DRDO), successfully engaged an underwater target.
The Islamic Revolutionary Guard Corps (IRGC) of Iran has unveiled its first-ever Indigenously made hypersonic ballistic missile, called Fattah, or "Conqueror" (in Farsi language).
Top Maoist leader Katakam Sudarshan, more known by his nom de gurre 'comrade Anand' in revolutionary circles and public, Passed away at the age of 69.
Gufi Paintal, best known for playing 'Shakuni mama' in the epic TV serial "Mahabharat", has passed away at the age of 79 in Mumbai, Maharashtra.
Every year on June 8th, World Ocean Day is commemorated to raise awareness of the ocean's vital role in human life and ways to conserve it across the world
Every year on June 8th, World Brain Tumor Day is commemorated