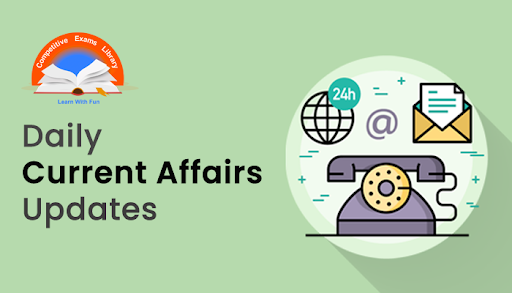 Dear Readers, Daily Current Affairs News Updates about the National and International events were listed here. Read Current Affairs Today here and stay updated with current news. Candidates those who are preparing for IBPS/SBI/PO/Clerk exam and all other competitive exams can use this and try the Current Affairs Quiz to test your knowledge level.
CURRENT AFFAIRS : BANKING & FINANCE
RBI issues updated list of entities not authorized to deal in forex transactions
The Reserve Bank of India (RBI) updated its 'Alert List' for the public on unauthorised forex trading platforms by adding 8 more entities taking the total to 56.
The names added are:
QFX Markets
WinTrade
Guru Trade7 Limited
Bric Trade
Rubik Trade
Dream Trade
Mini Trade
Trust Trade.
The list aimed to raise awareness and protect individuals from fraudulent entities operating in the forex market.
Earlier on February 10, 2023 the RBI issued the list of 48 entities in this regard.
Key Highlights :
The alert list contains the names of entities that do not hold the necessary authority under the Foreign Exchange Management Act, 1999 (FEMA) or the Electronic Trading Platforms (Reserve Bank) Directions, 2018.
The Alert List also contains names of entities/platforms/websites which appear to be promoting unauthorised entities/ETPs, including through advertisements of such unauthorised entities or claiming to be providing training/advisory services.
The authorisation status of any person/Electronic Trading Platform (ETP) can be ascertained from the list of authorised persons and authorised ETPs available on the RBI's website.
The RBI had cautioned residents against entities/platforms/websites promoting unauthorised forex trade.
Click here to know about 56 entities
About RBI :
Established : 1 April 1935
Headquarters : Mumbai, Maharashtra, India
Governor : Shaktikanta Das
Deputy governors : Mahesh Kumar Jain, M. Rajeshwar Rao, Michael Patra and T. Rabi Shankar
World Bank Cuts India's GDP Growth Forecast To 6.3% In FY24  
According to the World Bank's (WB) latest Global Economic Prospects report, the World Bank expects growth in India to slow down further to 6.3% in the financial year FY 2023/24 (April to March).
This is a3 percentage point downward revision from the previous estimates of 6.6%.
This revision is primarily attributed to constraints faced by private consumption due to high inflation and increasing borrowing costs, as well as the impact of fiscal consolidation on government consumption.
India is projected to retain its position as the fastest-growing economy among the emerging and developing economies, both in terms of high aggregate and per capita GDP growth.
Key Highlights of Report :
According to the bank's assessment, global growth is projected to decelerate from 3.1% in 2022 to 2.1% in 2023.
In Emerging Market and Developing Economies (EMDEs) other than China, growth is set to slow to 2.9% in 2023 from 4.1% in 2022.
However, the report predicts a recovery in 2024, with global growth seen at 2.4%.
In January, estimates had placed global growth at 1.7%.
Further, the report added, unemployment declined to 6.8% in the first quarter of 2023, the lowest since the onset of the COVID-19 pandemic, and labour force participation increased.
India's headline consumer price inflation has returned to within the central bank's 2-6% tolerance band.
For the fiscal year FY25 , the World Bank expects a GDP growth rate of 6.4% & while in 2025 fiscal, the growth rate is expected at 6.5%.
About World Bank :
Established : December 1944
Headquarters : Washington, D.C., United States of America
President : Ajay Banga
Membership : 189 countries
Wipro Partnered with Microsoft Launched an Immersive Innovation Experience for Financial Services 
Wipro Limited, a leading technology services and consulting company, has collaborated with Microsoft and announced the launch of the Wipro Industry Innovation Experience for Financial Services, featuring a new suite of banking and financial services solutions built on Microsoft Cloud.
Aim:
To help financial services clients accelerate growth and deepen client relationships.
Key Highlights :
The Innovation Experience will bring together Microsoft Cloud capabilities with Wipro FullStride Cloud, as well as leverage Wipro's and Capco's deep domain expertise in financial services.
The Innovation Experience will allow financial services firms to explore new solutions in an immersive 3D environment.
Solutions currently included in the Innovation Experience include:
Core Banking Transformation – a bundled solution empowering banks to overcome legacy challenges, deliver new capabilities, and realize the benefits of NextGen banking.
Intelligent Volume Optimization and Risk Management (IVOR) – an Artificial Intelligence (AI)-powered anti-money laundering solution that helps detect financial crime by making operations more accurate, efficient, and cost-effective.
NetOxygen – a digital cloud-based loan origination solution that streamlines the lender/borrower experience, enabling an automated, end-to-end lending process that scales cost effectively, delivering a faster and seamless digital mortgage experience.
FinOps – a comprehensive cloud operations and management solution that enables banks to capitalize on their cloud investments, drive innovation, optimize operations and scale products quickly.
About Wipro :
Founded : 29 December 1945
Headquarters : Bengaluru, India
Kotak Private Banking launches a Savings Program Réserve
Kotak Private Banking, a division of Kotak Mahindra Bank Limited, has unveiled Kotak Réserve, a Savings Programme curated exclusively for UHNIs (Ultra High Net Worth Individuals) and HNIs (High Net Worth Individuals).
This by-invite programme extends beyond banking services, offering a range of exclusive amenities to provide clients with an unparalleled luxury banking experience.
Aim :
To deliver a premium banking experience by offering exclusive lifestyle benefits in areas such as travel, health and wellness, and
Key offerings of Kotak Réserve :
An Epicure Privileged Membership by Taj, Lafayette Luxury Concierge services, BookMyShow vouchers, preferential pricing on services, and the Kotak White Reserve credit card.
These privileges encompass a spectrum of services such as luxury stays, dining experiences, spa treatments, customized lifestyle solutions, access to exclusive Michelin-starred restaurants, and more.
About Kotak Private Banking :
Headquarters : Mumbai, Maharashtra
CEO : Oisharya Das
SIDBI signs pact with HDFC Bank to offer financial solutions to MSMEs
State-owned Small Industries Development Bank of India (SIDBI) has entered into a Memorandum of Understanding (MoU) with HDFC Bank for providing financial solutions to Micro, Small, and Medium Enterprises (MSMEs).
The MoU will facilitate providing complete financial solutions to MSMEs in a seamless manner.
This arrangement will enable MSMEs to avail financial products and services of both the banks.
Both banks will endeavour to bring more MSMEs in financial ecosystems through the arrangement.
About SIDBI :
Established : 2 April 1990
Headquarters : Lucknow, Uttar Pradesh, India
Chairman & Managing Director : Sivasubramanian Ramann
SIDBI is the apex regulatory body for overall licensing and regulation of micro, small and medium enterprise finance companies in India.
It is under the jurisdiction of the Ministry of Finance (MoF), Government of India (GoI).
About HDFC Bank :
Founded : August 1994
Headquarters : Mumbai, Maharashtra, India
MD & CEO : Sashidhar Jagdishan
Tagline : We Understand Your World
HSBC India launches campaign "My Account Starts Today" featuring cricketer Virat Kohli
The Hongkong and Shanghai Banking Corporation Limited, India (HSBC India) or HSBC Bank India, unveiled its latest advertising campaignMy Account Starts Today featuring their new brand influencer, ace cricketer Virat Kohli.
The campaign highlights HSBC's purpose of "opening up a world of opportunity" as it works to support the goals of India going global.
Aim :
To leverage the cricketer's appeal to help illustrate the benefits of banking with HSBC.
The campaign will run across print, television, outdoor, Over The Top (OTT) platforms and digital media to connect with the target audience.
About HSBC Bank India :
Incorporated in India : 1 January 1983.
Headquarters : Mumbai, Maharashtra, India
CEO : Hitendra Dave
CURRENT AFFAIRS: NATIONAL NEWS
Railways earns Rs 14642 Crores from Freight loading in May 2023
During May 2023, originating freight loading of 134 MT has been achieved against loading of 131.50 MT in May 2022, which is an improvement of approximately 2% over the last year.
Freight revenue of Rs. 14641.83 crore have been achieved in May 2023 against Rs 14083.86 crore freight earnings in May 2022, thereby an improvement of about 4% over last year.
On cumulative basis from April – May 2023, freight loading of 260.28 MT achieved against last year loading of 253.48 MT, an improvement of approximate 3% over last year loading.
Railways have earned Rs 28512.46 crore against Rs 27066.42 crore over the last year which is an improvement of approx 5% as compared to the same period of the last year.
IR has achieved freight loading of 65.89 MT in Coal, followed by 15.23 MT in Iron Ore, 13.20 MT in cement, 10.96 MT in Balance other goods, 6.79 MT in containers, 4.89 MT in Fertilizer, 4.85 MT in Food grains and 4.23 MT in mineral oil in May'2023.
Following the Mantra, "Hungry For Cargo", IR has made sustained efforts to improve the ease of doing business as well as improve the service delivery at competitive prices.
The customer-centric approach and work of Business Development Units backed up by agile policy making helped Railways towards this significant achievement.
IBBI Chairperson Ravi Mital inaugurates 'week with the legends' at Indian Institute of Corporate Affairs
Indian Institute of Corporate Affairs (IICA), under the aegis of Ministry of Corporate Affairs, kick started its annual week-long conference – 'Week with Legends, 2023', for its Graduate Insolvency Programme (GIP) wherein stalwarts of the Insolvency practice are invited to take part in a roundtable discussion with the students of its flagship GIP on various aspects of Insolvency and Bankruptcy regime in India.
The conference was inaugurated by Shri Ravi Mittal, Chairperson IBBI with Shri Jayanti Prasad, Whole Time Member, IBBI at the Campus of IICA, Manesar.
Shri Ritesh Kavdia, Executive Director, IBBI and Shri Shiv Anant Shankar, Chief General Manager, IBBI were also present.
The inaugural session of the conference began with a welcome note by Shri Praveen Kumar, DG & CEO of the Institute with Dr. KL Dhingra, Head, Centre for Insolvency and Bankruptcy, highlighting the importance of the conference for the Insolvency ecosystem and especially for the students of GIP for their future as IPs and presented the journey of GIP so far to the participants.
The conference will resume with its week-long itinerary on 19th June 2023 and will go on till 22nd June, 2023 with various other legends and dignitaries of the Insolvency practice from India and overseas interacting with the students.
NTPC School of Business holds Indo – Scandinavian Leadership Conference and Workshop
An Indo – Scandinavian Leadership Conference and Workshop was held by NTPC School of Business at its Noida campus.
Thought leaders from several geographies deliberated on the dynamics of cultures, perceptions and the mind's preparedness to adapt to the changing economic and environmental milieu.
The conference has been organized, recognizing that this is essential for coherence and purpose orientation in a world that calls for increasingly high levels of inclusiveness.
About 150 leading professionals from domains such as disaster mitigation, community empowerment, energy efficiency and emission reduction, higher management education; bilateral and multilateral forums and research participated in the event.
India has emerged as the 2nd Largest Producer of Crude Steel in the world
Union Minister of Steel and Civil Aviation, Sh. Jyotiraditya M. Scindia held a press conference on the theme 9-years of Government's "Seva, Sushasan and Gareeb kalyan" focusing on the Steel sector, at Rajiv Gandhi Bhawan, New Delhi
The Minister started his address by highlighting the importance of the Steel sector in ensuring the country's pragati (growth) and vikas (development).
India currently ranks as the World's 2nd Largest Producer of Crude Steel, surpassing Japan in 2018", the minister said, while mentioning the remarkable growth recorded by India's steel industry.
In the past 9 years (2014-15 to 2022-23), Steel CPSEs viz. SAIL, NMDC, MOIL, KIOCL, MSTC, and MECON, used ₹90,273.88 crores of their own resources for CAPEX and paid a dividend to the Government of India to the tune of ₹21,204.18 crores
| | | | |
| --- | --- | --- | --- |
| Key parameters | FY 2014-15 | FY 2022-23 | % increase |
| Crude steel Capacity (MT) | 109.85 | 160.3 | 46% |
| Crude steel Production (MT) | 88.98 | 126.26 | 42% |
| Total Finished Steel Production (MT) | 81.86 | 122.28 | 49% |
| Consumption (MT) | 76.99 | 119.86 | 57% |
| Per capita steel consumption (in Kg) | 60.8 | 86.7 | 43% |
IICA and NALSAR launch "LL.M in Insolvency and Bankruptcy Laws" programme
The Indian Institute of Corporate Affairs (IICA) in association with NALSAR University of Law, Hyderabad launched a new programme, LL.M in Insolvency and Bankruptcy Laws at New Delhi.
The first of its kind of programme in India was launched by Shri Manoj Govil, Secretary, Ministry of Corporate Affairs, Government of India, in the presence of Shri Praveen Kumar, Director General & CEO, IICA; Prof. Srikrishna Deva Rao, Vice Chancellor; Prof. K. Vidyullatha Reddy, Registrar, NALSAR University of Law and Dr. Pyla Narayana Rao, Head, School of Corporate Law, IICA, besides faculty and staff members from the both Institutes.
the programme's main objective is to produce the best and tailor-made professionals, academicians and researcher on IBC who may take up the profession with utmost confidence and join the rich insolvency eco-system in the country.
While speaking about the course coverage, he mentioned that the course covers all kinds of insolvency included in IBC and allied legislations.
Union Cabinet gives nod for a 28.5-km elevated metro line in Gurugram:
The Centre has approved a new metro line between HUDA City Centre and Cyber City in Gurugram, with a branch line to Dwarka Expressway.
There will be 27 stations on the 28.5 km elevated stretch.
The project, to come up at a cost of ₹5,452 crore, was approved at a Union Cabinet meeting chaired by Prime Minister Narendra Modi.
It will connect parts of new Gurugram (HUDA City Centre, Cyber Park, Hero Honda Chowk) with the older parts of the city (Sector 10, Ashok Vihar, Palam Vihar) and spur economic activity in the area
To link with IGI Airport
The network will also provide connectivity to a railway station near Dwarka Sector 101 and in the next phase with IGI Airport
Metro trains on the line will have a 'design speed' of 80 km per hour and an average speed of 34 km per hour.
'Design speed' is the fastest a train can travel while ensuring the safety of its passengers.
The loan for the project is being tied up with the European Investment Board and World Bank.
HMRTC to execute
The project is proposed to be completed in four years and will be executed by the Haryana Mass Rapid Transport Corporation Limited (HMRTC), which will be set up as a 50:50 Special Purpose Vehicle (SPV) of the Centre and the Haryana government.
The new metro line's daily ridership is likely to be around 5.34 lakh by 2026, 7.26 lakh by 2031, 8.81 lakh by 2041 and 10.70 lakh by 2051.

Gurugram

has an estimated population of around 25 lakh.
CURRENT AFFAIRS : APPOINTMENTS & RESIGNATIONS
Nirmala Lakshman appointed as new Chairperson of The Hindu Group Publishing Private Limited
Nirmala Lakshman has been unanimously appointed as Chairperson of the Board of Directors of The Hindu Group Publishing Private Limited (THGPPL) for a term of 3 years.
She succeeds Malini Parthasarathy, who stepped down as Chairperson at the Board's meeting on Monday, June 5, 2023 upon nearing the completion of her 3-year term.
About Nirmala Lakshman :
Nirmala Lakshman has worked as an editor, writer, and strategist for The Hindu's numerous publications for almost four decades.
In her years as Joint Editor of The Hindu, she led the re-launch of several feature sections and the creation of new ones, including 'The Hindu Literary Review', 'Young World', and 'The Hindu in School'.
She is the founder and curator of Lit for Life, The Hindu's literary festival.
She served as the Chairperson of Kasturi Media Limited (KML), publishers of The Hindu Tamil Thisai.
About THGPPL :
Founded : 1878
Headquarters : Chennai, Tamil Nadu
Founder : G. Subramania Iyer
It is the publisher of The Hindu, a national daily newspaper, as well as other publications including Frontline, Sportstar and Hindu BusinessLine.
THGPPL operates the digital assets including the website and mobile app of The Hindu.
Dennis Francis elected as 78th UNGA president
Trinidad and Tobago's ambassador to the United Nations (UN) Dennis Francis was elected as the 78th President of the United Nations General Assembly (UNGA).
He will succeed Csaba Korosi of hungary.
He will take charge as President of UNGA at the beginning of the 78th session in September 2023.
The 78th session of the UN General Assembly (UNGA 78) will open 12 September 2023.
The first day of the high-level General Debate will be 25 September 2023.
About UNGA :
Founded : 1945
Headquarters : New York, United States of America
It is one of the 6 principal organs of the United Nations (UN) serving as the main deliberative, policymaking, and representative organ of the UN.
About Trinidad and Tobago :
President : Christine Kangaloo
Capital : Port of Spain
Currency : Trinidad and Tobago dollar
Wrangler onboards cricketer Smriti Mandhana as its brand ambassador
Ace Turtle Omni Pvt Ltd., a retail company, has appointed Indian cricketer Smriti Mandhana as the brand ambassador of its Wrangler brand.
Her association with Wrangler will inspire customers, especially the youth, to embrace their uniqueness and chase their dreams fearlessly."
CEO of Ace Turtle Omni Pvt Ltd : Nitin Chhabra
Achievements of Smriti Mandhana :
For her outstanding performances on the cricket field, she has received the ICC Women's Cricketer of the Year award twice.
She was the highest bid player, receiving ₹3.4 crore, in the Women's Premier League auctions.
About Wrangler :
Founded : 1904
Headquarters : Greensboro, North Carolina, United States
Wrangler is an American manufacturer of jeans and other clothing items, particularly workwear.
CURRENT AFFAIRS : ACQUISITIONS & MERGERS
CCI approves acquisition of additional stake in Acko Tech by General Atlantic 
The Competition Commission of India (CCI) has given its approval for General Atlantic Singapore ACK Pte. Ltd. (GASACK) to acquire an additional stake in Acko Technology and Services Private Limited (Acko Tech).
The proposed combination involves the acquisition of a 4.04% shareholding of Acko Tech by GASACK, an investment holding company controlled by funds or vehicles under General Atlantic.
GASACK, an investment holding company, is held by funds or vehicles controlled by General Atlantic.
Acko Tech is engaged in the business of providing general (non-life) insurance through its subsidiary, Acko General Insurance Limited (Acko GI).
The Commission approved the proposed combination subject to compliance of modifications jointly furnished by GASAK and GAP Bermuda, L.P. under Regulation 19(2) of the CCI (Procedure in regard to the transaction of business relating to combinations) Regulations, 2011.
About CCI :
Established : 14 October 2003
Headquarters : New Delhi, Delhi, India
Chairman : Ravneet Kaur
The CCI is the chief national competition regulator in India.
It is a statutory body within the Ministry of Corporate Affairs.
CURRENT AFFAIRS : : DEFENCE NEWS
6th edition of India Maldives exercise 'ezkatha' begin in maldives   
The sixth (6th) edition of annual exercise Ekatha between India and Maldives scheduled to run from June 4 to July 3, 2023 in
Objective:
To enhance interoperability in diving and special operations.
Participants :
The Indian Navy's Marine Commandos (MARCOS) and divers went to participate in the 6th edition of Exercise with the Maldives National Defence Force (MNDF).
The High Commissioner of India to the Maldives, Munu Mahawar and the Flag Officer Commanding-in-Chief of Southern Naval Command, Indian Navy, Vice Admiral M. A. Hampiholi handed over certificates to the Marines of Special Operations Group (SOG) of the MNDF Marine Corps.
Chief of Defence Force Major General Abdullah Shamaal as well as the Flag Officer Commanding-in-Chief of Southern Naval Command, Indian Navy, Vice Admiral A. Hampiholi addressed the attendees at the ceremony.
History :
The 5th edition of the bilateral naval exercise was held in Maldives from September 5 to October 3, 2022.
Exercise Ekatha has been conducted since 2017.
Other exercise between India & Maldives :
Armies of India and Maldives also conducted Exercise EKUVERIN & its 11th edition was held in December 2021.
Exercise EKUVERIN has been conducted since 2009.
About Maldives :
President : Ibrahim Mohamed Solih
Capital : Malé
Currency : Maldivian rufiyaa
CURRENT AFFAIRS : SCIENCE & TECHNOLOGY
IIT-Madras-incubated space startup to launch world's 1st multi-sensor earth observation satellite -Drishti
An Indian Institute of Technology (IIT)-Madras, Tamil Nadu (TN) -incubated space-tech startup, GalaxEye, is building the world's first multi-sensor earth observation satellite named Drishti.
It will launch its first satellite 'Drishti Mission' in 2024.
It is being built with the help of a visible spectrum camera providing synchronised imaging that can take multiple images at the same time.
Note :
'Drishti 'becomes India's first and the world's highest resolution multi-sensor imaging satellite.
Key Highlights :
GalaxEye is working on deploying a satellite constellation with a first-of-its-kind sensor based on data fusion to provide the most comprehensive imagery dataset from space.
The data fusion technology developed in-house will bring unparalleled insights and data from space, enabling satellite constellations to perform all-weather imaging at all times without atmospheric interference typical of today's single-sensor satellites.
The technology will enable the production of images with extremely high resolution via a small satellite constellation that, once fully operational, will provide global coverage in under 12 hours.
About GalaxEye Space :
Founded : 2020
Founders : Suyash Singh, Denil Chawda, Kishan Thakkar, Pranit Mehta, Rakshit Bhatt and Prof S R Chakravarthy
CEO : Suyash Singh
CURRENT AFFAIRS: RANKING AND INDEX
Union Health Minister Dr Mansukh Mandaviya releases fifth State Food Safety Index in New Delhi
Union Health Minister Dr Mansukh Mandaviya released the fifth State Food Safety Index in New Delhi.
The Index is an annual assessment released by the Food Safety and Standards Authority of India (FSSAI).
This index assesses states' performance in six food safety parameters.
Mandaviya awarded the winning states in different categories.
Kerala, Punjab, and Tamil Nadu were awarded in the Large State category, and Goa, Manipur, and Sikkim in the Small States category.
Jammu and Kashmir, Chandigarh, and Delhi got the awards in the Union Territories category.
He lauded the role played by the FSSAI in ensuring food safety in India.
The Minister also highlighted the country's achievement in the economic sector saying that India has registered a growth of seven per cent at a time when the major economies are sluggish in their growth.
It measures the performance of states on five significant parameters of Food Safety.
The parameters include Human Resources and Institutional Data, Compliance, Food Testing Infrastructure and Surveillance, Training and Capacity Building, and Consumer Empowerment.
It aims to create a competitive and positive change in the food safety ecosystem.
The index helps in providing safe and nutritious food to the citizens.
Eat Right Challenge aims to promote and encourage healthy eating habits and enhancing the overall food safety and sustainability.
CURRENT AFFAIRS : OBITUARIES
Prominent Doordarshan News Anchor Gitanjali Aiyar Passed Away
One of India's first English female news presenters on national broadcaster Doordarshan, Gitanjali Aiyar passed away at the age of 70 in Delhi.
About Gitanjali Aiyar :
She joined Doordarshan in 1971 and presented news programmes for more than three decades.
She was a diploma holder from the National School of Drama (NSD).
She was also the deputy head of the Press and Public Affairs wing of the British High Commission in Delhi for over 3 years
She had acted in the 1985 Doordarshan TV serial 'Khandaan'.
She was associated with the World Wildlife Fund (WWF) as the head of the organisation's Major Donors department.
She had also worked as the vice-president of the Public Affairs department at Yash Birla Group in 2001.
In 2005, she moved to the Oberoi Group as the director of international sales.
She was also a consultant for the Confederation of Indian Industry (CII).
She also presented popular shows related to taking English song requests – A Date With You – on Friday nights on All India Radio.
Awards & Honors :
During her illustrious career at Doordarshan as news anchor, Aiyar won the best anchor award four times.
She also received the Indira Gandhi Priyadarshini Award for Outstanding Women in 1989 for her work, achievements, and contributions.
P.V. Valsala Govindan Kutty, officer known for 1999 copyright law Passed away                                                     
Retired bureaucrat P.V. Valsala Govindan Kutty, who was actively involved in drafting the Copyright (Amendment) Act, 1999, passed away in Thrissur, Kerala.
About  P.V. Valsala Govindan Kutty :
She is a member of the Indian delegation at the 1996 'Diplomatic Conference on Certain Copyright and Neighboring Rights Questions' at the World Intellectual Property Organization (WIPO) in
She was a former Joint Secretary in the Ministry of Home Affairs.
She served as Director of the Rajiv Gandhi National Water Supply Mission.
She had been the Secretary, Department of Official Languages, in the Ministry of Home Affairs and participated in the World Hindi Sammelan in 2008.
She had also served as the Registrar of Copyright in the Department of Education.
Daily CA One- Liner: June 9
The Reserve Bank of India (RBI) updated its 'Alert List' for the public on unauthorised forex trading platforms by adding 8 more entities taking the total to 56.
According to the World Bank's (WB) latest Global Economic Prospects report, the World Bank expects growth in India to slow down further to 6.3% in the financial year FY 2023/24 (April to March).
Wipro Limited, a leading technology services and consulting company, has collaborated with Microsoft and announced the launch of the Wipro Industry Innovation Experience for Financial Services, featuring a new suite of banking and financial services solutions built on Microsoft Cloud.
Kotak Private Banking, a division of Kotak Mahindra Bank Limited, has unveiled Kotak Réserve, a Savings Programme curated exclusively for UHNIs (Ultra High Net Worth Individuals) and HNIs (High Net Worth Individuals).
State-owned Small Industries Development Bank of India (SIDBI) has entered into a Memorandum of Understanding (MoU) with HDFC Bank for providing financial solutions to Micro, Small, and Medium Enterprises (MSMEs).
The Hongkong and Shanghai Banking Corporation Limited, India (HSBC India) or HSBC Bank India, unveiled its latest advertising campaignMy Account Starts Today featuring their new brand influencer, ace cricketer Virat Kohli.
During May 2023, originating freight loading of 134 MT has been achieved against loading of 131.50 MT in May 2022, which is an improvement of approximately 2% over the last year
Indian Institute of Corporate Affairs (IICA), under the aegis of Ministry of Corporate Affairs, kick started its annual week-long conference – 'Week with Legends, 2023', for its Graduate Insolvency Programme (GIP) wherein stalwarts of the Insolvency practice are invited to take part in a roundtable discussion with the students of its flagship GIP on various aspects of Insolvency and Bankruptcy regime in India.
An Indo – Scandinavian Leadership Conference and Workshop was held by NTPC School of Business at its Noida campus
Union Minister of Steel and Civil Aviation, Sh. Jyotiraditya M. Scindia held a press conference on the theme 9-years of Government's "Seva, Sushasan and Gareeb kalyan" focusing on the Steel sector, at Rajiv Gandhi Bhawan, New Delhi
The Indian Institute of Corporate Affairs (IICA) in association with NALSAR University of Law, Hyderabad launched a new programme, LL.M in Insolvency and Bankruptcy Laws at New Delhi
The Centre has approved a new metro line between HUDA City Centre and Cyber City in Gurugram, with a branch line to Dwarka Expressway.
Union Health Minister Dr Mansukh Mandaviya released the fifth State Food Safety Index in New Delhi
Nirmala Lakshman has been unanimously appointed as Chairperson of the Board of Directors of The Hindu Group Publishing Private Limited (THGPPL) for a term of 3 years.
Trinidad and Tobago's ambassador to the United Nations (UN) Dennis Francis was elected as the 78th President of the United Nations General Assembly (UNGA).
Ace Turtle Omni Pvt Ltd., a retail company, has appointed Indian cricketer Smriti Mandhana as the brand ambassador of its Wrangler brand.
The Competition Commission of India (CCI) has given its approval for General Atlantic Singapore ACK Pte. Ltd. (GASACK) to acquire an additional stake in Acko Technology and Services Private Limited (Acko Tech).
The sixth (6th) edition of annual exercise Ekatha between India and Maldives scheduled to run from June 4 to July 3, 2023 in
An Indian Institute of Technology (IIT)-Madras, Tamil Nadu (TN) -incubated space-tech startup, GalaxEye, is building the world's first multi-sensor earth observation satellite named Drishti.
One of India's first English female news presenters on national broadcaster Doordarshan, Gitanjali Aiyar passed away at the age of 70 in Delhi.
Retired bureaucrat zP.V. Valsala Govindan Kutty, who was actively involved in drafting the Copyright (Amendment) Act, 1999, passed away in Thrissur, Kerala.z