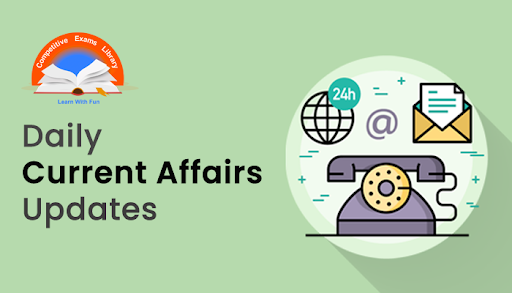 Dear Readers, Daily Current Affairs News Updates about the National and International events were listed here. Read Current Affairs Today here and stay updated with current news. Candidates those who are preparing for IBPS/SBI/PO/Clerk exam and all other competitive exams can use this and try the Current Affairs Quiz to test your knowledge level.
CURRENT AFFAIRS: IMPORTANT DAYS
International Day to End Impunity for Crimes against Journalists- Nov 2:
The International Day to End Impunity for Crimes against Journalists is an UN-recognized international day observed annually on 2 November.
The day draws attention to the level of impunity for crimes against journalists, which remains extremely high globally.
The day was recognized by the UN General Assembly in December 2013.
The date chosen by the UN marks the death of Ghislaine Dupont and Claude Verlon, two French journalists killed while reporting in Mali on November 2, 2013.
About UNESCO:
Headquarters: Paris, France
Head: Director-General; Audrey Azoulay
Founded: 16 November 1945, London, United Kingdom
CURRENT AFFAIRS: NATIONAL NEWS
India to achieve net-zero carbon emissions by 2070:
India will achieve net-zero carbon emissions by 2070 and reduce one billion tonnes of carbon emissions from the total projected emissions by 2030.
The country will bring down the carbon intensity of its economy by more than 45 percent by 2030. Delivering the National Statement at the World Leaders' Summit of COP26 in Glasgow.
India will bring its non-fossil energy capacity to 500 GW by 2030 and it will fulfill 50 percent of its energy requirement through renewable energy by 2030' Foreign Secretary Harsh Vardhan Shringla, both leaders also discussed regional and global challenges including Afghanistan, Counter-Terrorism, Indo-Pacific, supply chain resilience and post-Covid global economic recovery.
Narendra Modi reiterated India's commitment to closely work with the UK on climate finance, technology, innovation and green hydrogen.
Nirmala Sitharaman holds review meeting on CAPEX for Power, Coal and Atomic Energy:
Union Minister for Finance and Corporate Affairs Nirmala Sitharaman has chaired a review meeting with Ministry of Power, Ministry of Coal and Department of Atomic Energy in New Delhi to give a fillip to capital expenditure (CAPEX) and infrastructure progress in the country.
There must be close monitoring for infrastructure spending on-ground and Ministries must continuously make concerted efforts, including enhanced coordination with all states to ensure that project implementation is fast-tracked
And also reiterated the infrastructure projects are a priority for the Government and their on-track performance is important for the economy.
CAPEX achievements of first and second quarter, estimated targets of capital spending by Ministries and their Central Public Sector Enterprises (CPSEs) in the upcoming quarters of current financial year.
Rajnath Singh Addresses "2021 Indo-Pacific Regional Dialogue"
Union Defence Minister Rajnath Singh addressed the "Indo-Pacific Regional Dialogue" (IPRD) 2021, where he highlighted the importance of protecting the maritime interest of countries & maintaining a rule-based maritime system as per the United Nations Convention on the Law of Seas (UNCLOS), 1982.
2021's IPRD was held under the theme "Evolution in Maritime Strategy during the 21st Century: Imperatives, Challenges and Way Ahead", in a virtual format between 27th -29th October 2021.
Minister discussed on the potential of maritime trade & the challenges faced (Terrorism, piracy, drug trafficing) amonst the countries.
Under IPRD 2021, Panel discussions were conducted on 8 specific sub-themes:
Evolving Maritime Strategies within the Indo-Pacific Adaptive Strategies to Address the Impact of Climate Change upon Maritime Security Port-led Regional Maritime Connectivity and Development Strategies Cooperative Maritime Domain Awareness Strategies Impact of the Increasing Recourse to Lawfare upon a Rules-based Indo-Pacific Maritime Order Strategies to Promote Regional Public-Private Maritime Partnerships Energy-Insecurity and Mitigating Strategies Strategies to Address the Manned-Unmanned Conundrum at Sea
About IPRD:
IPRD is the annual international conference of the Indian Navy, organised since 2018, which reviews the opportunities & challenges faced in the Indo-Pacific region.
Chief Organiser – National Maritime Foundation, annually organises IPRD, it is also the knowledge partner of Indian Navy
About Indian Navy:
Chief of Naval Staff – Admiral Karambir Singh
Integrated Headquarters of Ministry of Defence (Navy) – New Delhi
REEL Launches India's Largest Landfill Biogas Plant in Hyderabad
Ramky Enviro Engineers Limited (REEL) has inaugurated one of the world's first and India's largest landfill gas-to-compressed biogas plant at the Hyderabad Integrated Municipal Solid Waste (HiMSW) site, Telangana.
The end (Biogas) product of the plant will be sold to Bhagyanagar Gas Limited (BGL).
The project will focus on the conversation of landfill gas into compressed biogas as an automotive fuel.
About Ramky Enviro Engineers Limited (REEL)
Chairman: B.S Shantharaju
MD & CEO: Goutham Reddy
Headquarters: Hyderabad, Telangana
MoES launches India's 1st Manned Ocean Mission 'Samudrayan' at Chennai
Dr Jitendra Singh, Minister of State (Independent Charge) – Ministry of Earth Science, launched India's 1st Manned Ocean Mission 'Samudrayan' from the National Institute of Ocean Technology (NIOT) in Chennai, Tamil Nadu.
With this launch, India joins the Unique set of countries in the World (like USA, Russia, Japan, France & China) to have an underwater vehicle to carry out subsea missions.
MATSYA 6000, the manned submersible developed under India's Deep-Sea Mission, is currently developed with support from DRDO, ISRO & IIT Madras.
Addl.Info:
In 2020, China touched the ocean depth of 11,000m using its manned submersible named 'Fendouzhe'.
CURRENT AFFAIRS: INTERNATIONAL NEWS
Japan's Prime Minister Fumio Kishida declares victory for his ruling Liberal Democratic Party:
Japan's Prime Minister Fumio Kishida has declared victory for his ruling Liberal Democratic Party (LDP). It was a big win for Kishida, who became Prime Minister only a month ago. His party secured more than 233 Lower House seats enough to govern without its coalition partner Komeito.
The LDP has dominated Japanese politics for decades, but was criticised for its handling of the pandemic Kishida's predecessor Yoshihide Suga quit after just a year in office.
The resignation came amid plummeting poll ratings for the LDP following an unpopular push to continue with the Tokyo Olympics despite public concern about surging COVID-19 rates.
Kishida has long-targeted the Prime Ministerial role and previously served as the country's Foreign Minister from 2012 to 2017.
13th Meeting of Heads of NSOs of BRICS Countries held virtually; Chaired by India's Dr. G. P. Samanta
The 13th Meeting of Heads of National Statistical Offices (NSO) of BRICS (Brazil, Russia, India, China, South Africa) Countries was held virtually under the Chairship of India.
The meeting was chaired by G. P. Samanta, Chief Statistician of India and Secretary, Ministry of Statistics and Programme Implementation (MoSPI), Government of India.
The meeting was attended by representatives from the National Statistical Offices (NSOs) of BRICS Countries.
Theme of the meeting:
NSOs efforts in monitoring Sustainable Development Goals (SDGs)
Addl.info:
During the meeting, the Joint Statistical Publication (JSP) 2021 and JSP Snapshot 2021 for BRICS Countries were released.
The first chapter of JSP 2021 provides general information with comparable statistics of the five countries, while the other 14 states the past development and current status of the individual countries.
The first BRICS JSP Snapshot 2021 was also released by NSO India which is a shorter version of BRICS JSL 2021.
This snapshot is to engage a wide range of users, as per the agreement by the member countries.
CURRENT AFFAIRS: BANKING AND ECONOMY
SBI launches video call life certificate submission facility for pensioners:
The State Bank of India (SBI) has launched a video life certificate service for pensioners.
This new facility, launched, will allow pensioners to submit their life certificates via video from their homes. As per the press release from SBI, this facility is available for pensioners (other than family pensioners).
Thus, a spouse of the pensioner receiving a pension from the government will not be able to use this facility. As per SBI, the process of video life certificate is paperless and free of cost
It is important for pensioners and family pensioners to submit their life certificates before November 30 every year to avoid their pensions getting suspended. If the life certificate is not submitted by the pensioner, then he/she will stop receiving his/her pension.
ICICI Lombard ties up with Vega Helmets:
ICICI Lombard General Insurance has partnered with Vega to offer personal accident insurance cover on every online purchase of Vega helmet.
The personal accident insurance policy will provide individuals with the benefit of accidental death with sum insured of ₹1 lakh. The cover is applicable on a worldwide basis
ICICI Lombard has always been a stout supporter of road safety and has undertaken several activities under our 'Ride to Safety' initiative which aims at creating awareness about safety rules. Taking the spirit ahead, this tie-up takes us one step closer to ensuring an individual's personal security
PhonePe launches tokenisation solution:
PhonePe launched PhonePe SafeCard, a tokenization solution for online debit and credit card transactions.
This solution will enable both PhonePe users and merchant partners to continue experiencing the convenience of saved card transactions with increased security, and in compliance with the new RBI guidelines. This solution supports all major card networks such as Mastercard, Rupay and Visa.
Tokenization provides users an added layer of security by converting sensitive cardholder data to a string of randomly generated numbers known as a token.
All a customer has to do is to provide a one-time consent via OTP and undertake a transaction to tokenize their debit and/or credit card for the first time.
This feature will enable users to utilise saved card details for seamless transactions across the PhonePe ecosystem.
About PhonePe:
Founded: December 2015
CEO: Sameer Nigam
Headquarters location: Bengaluru
RBI Eased Current Account Rules for Bank Exposures Less than Rs 5 crore
On account of the feedback received from the Indian Banks' Association (IBA), the Reserve Bank of India (RBI) has eased the Current Account (CA) rules for bank exposures less than Rs 5 crore and allowed borrowers to open CAs, Cash Credit (CC) and OverDraft (OD) from the banking system under certain provisions.
About OverDraft(OD):
It is a credit facility that will be provided by banks to allow customers to use or withdraw money from their savings or current account even when there is no balance or minimum balance up to the approved limit.
OD will work like an approved loan but the banks will charge interest only on the utilized amount for the time when it is used.
ADB Approved USD 250 Million Loan to Support India's NICDP
The Asian Development Bank (ADB) approved the 250 million USD (~Rs 1873 crore) loan to support the National Industrial Corridor Development Program (NICDP) of India.
This is the first subprogram of the programmatic USD 500 million loan to develop 11 industrial corridors across 17 states.
This loan is in line with India's reform agenda to strengthen industrial infrastructure and support to enhance the competitiveness of India's manufacturing sector, increase the share of manufacturing in the Gross Domestic Products (GDP) and generate a high level of formal employment.
This first subprogram loan will create opportunities for domestic and foreign investors by providing support to the government initiatives to strengthen the institutional framework and capacity development for industrial corridor planning, improve project readiness, and facilitate ease of doing business.
About National Industrial Corridor Development Program (NICDP):
NICDP aims to develop world-class industrial nodes, supported by urban agglomerations and multimodal connectivity, international gateways like ports and airports and inclusive, climate-resilient, and sustainable infrastructure.
The NICDP also desires to achieve strong institutional and regulatory frameworks.
Industrial Park Rating System (IPRS):
The Industrial Park Rating System (IPRS) has been upgraded to boost the industrial infrastructure competitiveness and support policies to enable industrialisation across India.
As a part of NICDP, it is also developing guidelines for green corridor framework and climate-resilient infrastructure with a focus on enhancing skills of the female labour.
About Asian Development Bank (ADB):
President– Masatsugu Asakawa
Managing Director General– Woochong Um
Establishment in 1966
Members– 68 members(49 are from within Asia & the Pacific and 19 outside)
Headquarters– Metro Manila, Philippines
CURRENT AFFAIRS: APPOINTMENTS
Govt Appointed Justice Ashok Bhushan as Chairperson of NCLAT
The Appointments Committee of the Cabinet (ACC) has approved the proposal to appoint Justice Ashok Bhushan, former Judge of the Supreme Court of India, as the Chairperson of National Company Law Appellate Tribunal (NCLAT) for a period of 4 years from the date of assumption of charge of the post or till he attains the age of 70 years or until further order.
About Justice Ashok Bhushan:
Justice Ashok Bhushan hails from the Jaunpur district of Uttar Pradesh.
He has served as the Judge in Allahabad High court and also served as Judge, Acting Chief Justice, and Chief Justice of the High Court of Kerala.
He was later elevated as Judge of the Supreme Court of India in May 2016 and served till July 2021.
Justice Ramalingam Sudhakar appointed as President of NCLT
The government has also approved the appointment of Justice Ramalingam Sudhakar, former chief justice (CJ) of Manipur High Court (HC) as the President of the National Company Law Tribunal (NCLT).
Following the retirement of Justice Mahesh Mittal Kumar as President of NCLT on 5th January 2020, BSV Prakash Kumar was appointed as the Acting President of NCLT, followed by 6 acting presidents.
About Justice Ramalingam Sudhakar:
Justice Ramalingam Sudhakar hails from Tamil Nadu.
He has served as the Acting Chief Justice of Jammu and Kashmir High Court and Judge of Jammu and Kashmir High Court and Madras High Court.
He was Elevated as Chief Justice of Manipur High Court in May 2018 and retired in February 2021.
About National Company Law Appellate Tribunal (NCLAT):
NCLAT was constituted under Section 410 of the Companies Act, 2013 for hearing appeals against the orders NCLT, with effect from 1st June 2016.
Principal Bench– New Delhi
About National Company Law Tribunal (NCLT):
NCLT was constituted under section 408 of the Companies Act, 2013 (18 of 2013) with effect from 1st June 2016.
Principal Bench– New Delhi
Other Benches– 14 (Ahmedabad, Allahabad, Bengaluru, Chandigarh, Chennai, Guwahati, Hyderabad, Kolkata, Mumbai, Cuttack, Jaipur, Kochi, Amravati, and Indore)
Daily CA on Oct 31 & Nov 01 :
National Unity Day or Rashtriya Ekta Diwas has been celebrated on 31st October every year since 2014 to commemorate the birth anniversary of Sardar Vallabhbhai Patel.
World Savings Day/World Thrift Day is celebrated across the world every year on October 31.
World Vegan Day is an annual event celebrated by vegans around the world every 1 November.
Prime Minister Narendra Modi arrived in Glasgow and visited the UK to participate in the 26th session of the Conference of Parties (COP-26). 
On Oct 30, 2021, Union Minister of Home Affairs  and Cooperation, Shri Amit Shah launched the "Dairy Sahakar" scheme at Anand, Gujarat.
The Ministry of Trade, Industry and Energy of South Korea held that the 'Shinincheon Bitdream Fuel Cell Power Plant' at the Shinincheon Bitdream headquarters of Korea Southern Power in Seo-gu, Incheon has been completed and inaugurated.
The United States Agency for International Development (USAID) has launched South Asia Regional Energy Partnership (SAREP), a new 5 year, 49 million USD initiative to facilitate collaboration among Bangladesh, Bhutan, India, the Maldives, Nepal, and Sri Lanka.
As per the latest "The Changing Wealth of Nations 2021 : Managing Assets for the Future" released by the World Bank, South Asia suffered the most loss in the world on human capital due to air pollution.
The Indian Railway Catering & Tourism Corporation Limited (IRCTC) has partnered with Truecaller India to provide passengers with greater trust in communication. 
According to the report of 6th edition, Public Affairs Index (PAI 2021) by the Public Affairs Centre (PAC), a Bengaluru- based non-profit think tank, the top three slots have been taken by Kerala, Tamil Nadu and Telangana among 18 large states.
The Tamil Nadu Government has decided to participate in the Dubai World Expo for seven days from 18th to 24th March 2022. 
An aromatic garden, with over 140 fragrant plant species from all over India, like Chandan, Tulsi, Parijat, etc., planted across 3 acres of land, was opened in Lalkuan, Nainital.
Microsoft's stock becomes world's most valuable after it's share rose as much as 1.1% to hit a market value of 2.46 trillion Dollars blowing past Apple.
Public sector lender Indian Bank has reported ₹73 crore worth of fraud to the Reserve Bank of India (RBI)
The Asian Development Bank (ADB) has approved a $250 million loan to support the Government of India's National Industrial Corridor Development Program (NICDP).
The finance ministry has approved an 8.5% return on employees' provident fund (EPF) deposits for 2020-21, a move that will impact over 6.4 crore subscribers.
As part of a major rebrand, Facebook Inc has changed its corporate name to Meta (Meta Platforms, Inc.), in an effort to include its virtual reality vision for the future. 
Pay U, India's leading online payments solutions provider, launched a unique tokenization solution service called 'PayU Token Hub'.
Max Life Insurance Co. Ltd became the 1st life insurer to join the Account Aggregator (AA) framework, which was introduced by the Reserve Bank of India (RBI) in September 2021.
Kotak Mahindra Bank (KMB) has partnered with the National Payments Corporation of India (NPCI) to launch Kotak credit cards on the RuPay network named 'Veer' for Indian armed forces i.e the Army, Navy, and Air Force personnel.
The Centre has appointed former Supreme Court Judge Justice Ashok Bhushan as the new Chairperson of the National Company Law Appellate Tribunal (NCLAT), for a period of four years or until he attains the age of 70 years, whichever is the earliest.
KPMG India has a new Chief Executive Officer in Yezdi Nagporewalla for a four-year term commencing on February 7, 2022 and ending on December 31, 2026.
Paytm Insuretech (PIT), announced that Switzerland-based reinsurance platform Swiss Re will purchase a 23% stake of Paytm Insuretech, Paytm's insurance unit, for about 920 crore rupee (a bit more than $122.6 million). 
Food Safety and Standards Authority of India (FSSAI) has launched an app called 'Food Safety Connect to improve connect with consumers and food business operators (FBOs).
On Oct 28, 2021, the 7th Indian Navy Frigate of P1135.6 class was launched at Yantar Shipyard, Kaliningrad, Russia.
The Athletics Federation of India (AFI) has signed a 3-year exclusive partnership with sports management firm IOS Sports and Entertainment.
Emerging javelin thrower from Odisha, Kishore Kumar has bagged gold medal in the 3rd National Open Javelin Throw Championships at Jawaharlal Nehru Stadium, New Delhi.
IPO-bound celebration wear brand Manyavar has partnered with International Cricket Council (ICC) as the official Indian wear partner of ICC Men's T20 World Cup 2021.
Australian Test bowling icon Ashley Mallett Passed away.
Hiroshima atomic bomb attack survivor and Japanese campaigner against nuclear weapons, Sunao Tsuboi Passed away.
On Oct 30, 2021, Legendary Australian all-rounder Alan Davidson Passed away.
Daily CA On Nov 02 :
The International Day to End Impunity for Crimes against Journalists is an UN-recognized international day observed annually on 2 November
India will achieve net-zero carbon emissions by 2070 and reduce one billion tonnes of carbon emissions from the total projected emissions by 2030
Nirmala Sitharaman holds review meeting on CAPEX for Power, Coal and Atomic Energy
Union Defence Minister Rajnath Singh addressed the "Indo-Pacific Regional Dialogue" (IPRD) 2021
Ramky Enviro Engineers Limited (REEL) has inaugurated one of the world's first and India's largest landfill gas-to-compressed biogas plant in Hyderabad
Dr Jitendra Singh, Minister of State (Independent Charge) – Ministry of Earth Science, launched India's 1st Manned Ocean Mission 'Samudrayan' from the National Institute of Ocean Technology (NIOT) in Chennai
Japan's Prime Minister Fumio Kishida declares victory for his ruling Liberal Democratic Party
13th Meeting of Heads of NSOs of BRICS Countries held virtually; Chaired by India's Dr. G. P. Samanta
SBI launches video call life certificate submission facility for pensioners
ICICI Lombard General Insurance has partnered with Vega to offer personal accident insurance cover on every online purchase of Vega helmet
PhonePe launched PhonePe SafeCard, a tokenization solution for online debit and credit card transactions
RBI Eased Current Account Rules for Bank Exposures Less than Rs 5 crore
The Asian Development Bank (ADB) approved the 250 million USD (~Rs 1873 crore) loan to support the National Industrial Corridor Development Program (NICDP) of India
Government Appointed Justice Ashok Bhushan as Chairperson of NCLAT
Justice Ramalingam Sudhakar appointed as President of NCLT