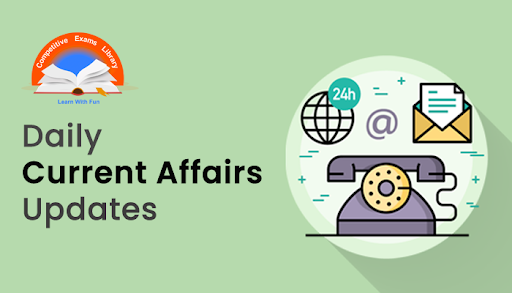 Dear Readers, Daily Current Affairs News Updates about the National and International events were listed here. Read Current Affairs Today here and stay updated with current news. Candidates those who are preparing for IBPS/SBI/PO/Clerk exam and all other competitive exams can use this and try the Current Affairs Quiz to test your knowledge level.
CURRENT AFFAIRS: IMPORTANT DAYS
National Cancer Awareness Day- Nov 7
The National Cancer Awareness Day is observed annually in India on November 7, to spread awareness on cancer, its symptoms and treatment.
According to the World Health Organization (WHO), cancer is the second leading cause of death globally.
National Cancer Awareness Day was first announced in September 2014 by then Union health minister Dr Harsh Vardhan, with November 7 chosen for the occasion to coincide with the birth anniversary of Nobel laureate Marie Curie, who was born on 7th November,1867 and whose works led to the development of radiotherapy to treat cancer.
In India, nearly 1.1 million new cases are being reported annually. Two-thirds of cancer cases are diagnosed at an advanced stage, reducing patients' chances of survival.
CURRENT AFFAIRS: NATIONAL NEWS
President Ram Nath Kovind has conferred Padma Awards 2020 at Rashtrapati Bhawan
Former Union Ministers Arun Jaitley, George Fernandes, and Sushma Swaraj were conferred with Padma Vibhushan posthumously along with Classical singer Pandit Chhannulal Mishra.
President Ram Nath Kovind has conferred Padma Awards 2020 at a civil investiture ceremony at Rashtrapati Bhawan.
Badminton player P V Sindhu received  Padha Bhushan Prominent personalities who were given Padma Shri awardees include Captain of women's hockey team Rani Rampal, Singer Adnan Sami, former head scientist ICMR, Dr Raman Gangakhedhkar, Air Marshal Dr Padma Bandopadhyay and  Actress Kangna Ranaut.
The Government had announced 141 Padma Awards on the eve of Republic Day in 2020.  The list comprises of seven Padma Vibhushan, 16 Padma Bhusan and 118 Padma Shri awards.
Power Minister R K Singh addresses 47th Raising Day of NTPC
Power Minister R K Singh has addressed the 47th Raising Day of NTPC in New Delhi.
NTPC for passing on approximately 4500 crore rupees to states in the last financial year by optimizing energy charges.
NTPC needs to enhance itself from being a national company to being an international behemoth and should dream of becoming the biggest multinational in the field of energy.
On the occasion, the Minister presented the Swarn Shakti Awards to NTPC plants in the areas of Productivity, Safety, Protection and Improvement of Environment, Rajbhasha, Best Health Facilities, CSR and Community Development and Project Management Awards.
He also inaugurated the Shram Kaushal portal.
PM Modi emerged at the top global leader with over 70% approval ratings
Prime Minister Narendra Modi has emerged at the top of the global leader approval ratings.
He sits at the top of the list with a 70 percent approval rating.
Modi received the maximum approval among adults across the world. He remains at over 60 per cent in approval ratings since Morning Consult started collecting data in 2019.
Mexican President Andrés Manuel López Obrador stood at the second place with 66 per cent, followed by Italian Prime Minister Mario Draghi (58 per cent), Germany Chancellor Angela Merkel (54 per cent) and Australian Prime Minister Scott Morrison (47 per cent).
US President Joe Biden lies at the sixth spot with 44 per cent, Canada's Justin Trudeau at seventh with 43 per cent while United Kingdom's Boris Johnson rounded the top 10 with 40 per cent.
Morning Consult Political Intelligence tracks the approval rating for governmental leaders in Australia, Brazil, Canada, France, Germany, India, Italy, Japan, Mexico, South Korea, Spain, the United Kingdom, and the United States.
Publications Division participating in 40th Sharjah International Book Fair
Publications Division is participating in the 40th Sharjah International Book Fair.
Information and Broadcasting Ministry, the fair is being held at Expo Centre Sharjah, United Arab Emirates from today till 13th November this year.
Consul General of India in Dubai, Aman Puri appreciated Publications Division's contribution in the field of publishing saying, Publications Division has been making a significant contribution to publishing high quality books on a variety of subjects.
India leads the international participation in Sharjah International Book Fair 2021 with 87 publishers, including Publications Division, among one thousand 566 publishers presenting their books at the fair. Continuing the celebrations of Azadi Ka Amrit Mahotsav, Publications Division will be offering the readers and books enthusiasts with more than 150 books on history of Indian freedom struggle and freedom fighters. 
The readers will also get to explore books and magazines in different Indian languages on themes such as art and culture, history of India, Gandhian literature, and children's literature, along with premium books on Rashtrapati Bhawan and Prime Minister's speeches, published exclusively by the Publications Division.
Narendra Modi Unveils Shri Adi Shankaracharya Samadhi and Statue in Kedarnath
Prime Minister Narendra Modi visited Kedarnath in Uttarakhand, to inaugurate key infrastructure projects related to the redevelopment of Kedarnath.
Modi has inaugurated the reconstructed Shri Adi Shankaracharya Samadhi at the premises of the Kedarnath Temple in Rudraprayag district of Uttarakhand and unveiled the statue of Shri Adi Shankaracharya at the Samadhi. The Samadhi was damaged in the 2013 Kedarnath flood.
The 12-feet long statue weighing around 35 tonnes (35,000kg) has been constructed by Mysore-based sculptor Arjun Yogiraj.
During the visit PM Modi inaugurated and laid the foundation stone of several reconstruction projects worth over Rs 400 crore at Kedarpuri.
The unveiling programmes of the statute was organized at the 12 Jyotirlingas and Jyotishpeeth across the country including Char Dhams (Badrinath, Dwarka, Puri and Rameshwaram).
CURRENT AFFAIRS: INTERNATIONAL NEWS
India, Bhutan to have 7 additional entry and exit points for trade
The trade between India and Bhutan has more than doubled since 2014.
It has reached one thousand 83 million dollar in 2020-21 from 484 million dollar in 2014-15.
The Commerce Secretary Level meeting between India and Bhutan was held in New Delhi on trade and transit issues.
The Indian delegation was led by Secretary, Department of Commerce B.V.R. Subrahmanyam and the Bhutanese delegation was led by Dasho Karma Tshering, Secretary, Ministry of Economic Affairs.
The two sides held extensive discussions on the current trade and transit issues including measures to further strengthen bilateral trade relations and issues of mutual interest, on ways to increase trade connectivity between the two countries.
Through Letters of Exchange, seven additional entry and exit points for trade between India and Bhutan were formalized.
CURRENT AFFAIRS: BANKING AND ECONOMY
RBI publishes 'Statement of Commitment to Support Greening India's Financial System
The Reserve Bank of India (RBI) recently published its 'Statement of Commitment to Support Greening India's Financial System – NGFS.
To benefit from the membership of NGFS by learning from and contributing to global efforts on Green Finance, RBI has joined the Central Banks and Supervisors Network for Greening the Financial System (NGFS) as a Member on April 23, 2021.
In this regard, on the occasion of the 2021 United Nations Climate Change Conference (COP26), NGFS has reiterated its willingness to contribute to the global response required to meet the objectives of the Paris Agreement, and, to that end, NGFS will expand and strengthen the collective efforts towards greening the financial system.
CURRENT AFFAIRS: STATE NEWS
Haryana government has notified State Employment of Local Candidates Act, 2020 from 2022
Haryana government has notified the State Employment of Local Candidates Act, 2020, which will come into force from January 15, 2022.
The Act was passed on March 2 this year to provide 75 per cent reservation to the local youth in employment in the private sector.
Chief Minister Manohar Lal Khattar, the upper limit of gross monthly salary under the Act has been reduced from 50,000 rupees to 30,000 rupees.
The Act will be applicable to employers of private sector companies, societies, trusts, limited liability partnership firms, partnership firms and any person who employs 10 or more persons on salary, wages, or other remuneration for the purpose of manufacturing, carrying on business, or rendering any service in Haryana.
They have to hire 75 percent of local candidates in all-new recruitments for posts where the gross monthly salary or wages does not exceed 30,000 rupees. 
The employer may claim exemption where the adequate number of local candidates of the desired skill, qualification, or proficiency is not available by applying to the Designated Officer.
Third edition of Goa Maritime Conclave has begun
The third edition of Goa Maritime Conclave (GMC) 2021 is being held from November 7-9 under the aegis of Naval War College, Goa. 
The GMC is the Indian Navy's Outreach Initiative providing a multinational platform to harness the collective wisdom of practitioners of maritime security and the academia towards garnering outcome-oriented maritime thought.
GMC-21 would build upon the working level deliberations of the Goa Maritime Symposium-21 held earlier in May this year, as the Sherpa event for the Conclave.
The theme for this year's edition of GMC is "Maritime Security and Emerging Non-Traditional Threats- A Case for Proactive Role for Indian Ocean Region Navies"
Our correspondent reports, at the GMC-21, Navy Chief  Karambir Singh would be hosting Chiefs of Navies, Heads of Maritime Forces from 12 Indian Ocean littorals, including Bangladesh, Comoros, Indonesia, Madagascar, Malaysia, Maldives, Mauritius, Myanmar, Seychelles, Singapore, Sri Lanka and Thailand.
CURRENT AFFAIRS: APPOINTMENTS AND RESIGNATION
Indian-origin C.S. Venkatakrishnan has been appointed as CEO of Barclays
Indian-origin has taken over the reigns of a major multinational company. S. Venkatakrishnan, head of global markets for Barclays, has been appointed as the bank's chief executive, following the resignation of Jes Staley after a report by UK regulators explored links with late financier and sex offender Jeffrey Epstein.
Born in Mysuru, Karnataka, Venkatakrishnan went to the United States for higher education, and completed S.B (Bachelor of Science), S.M. (Masters of Science) and Ph.D degrees from the Massachusetts Institute of Technology.
Venkatakrishnan and Staley were colleagues at J.P. Morgan, and had served early warning that the bank faced up to $6.3 billion of losses from dubious trades, which later became known after a trader called the "London Whale" cost the group at least $6.2 billion. After Staley left J.P. Morgan, he hired several of his former colleagues including Venkatakrishnan.
CURRENT AFFAIRS : DEFENCE NEWS
Air forces of India and Egypt conduct two-day joint exercise – Desert Warrior
Air forces of India and Egypt conducted a two-day exercise called Desert Warrior at the latter's El Berigat airbase.
Purpose :
To enhance mutual understanding and share operational experience.
It took place on October 30 and 31, 2021 between two countries.
Earlier, In December 2019, then Air Chief Marshal RKS Bhadauria had visited Egypt and met Air Marshal Mohamed Abbas Helmy, the Commander-in-Chief of Egypt Air Force, to boost cooperation between the two services.
About Egypt :
Capital: Cairo
Currency: Egyptian pound
President: Abdel Fattah Al-Sisi
CURRENT AFFAIRS : RANKING & INDEX
118 Indian universities in QS Asia University Rankings 2022              
Quacquarelli Symonds released the QS Asia University Rankings 2022 for the continent's best higher education institutions.
The National University of Singapore has come up as Asia's best university for the fourth consecutive year.
A total of 687 top universities of Asia as per QS come from 18 locations covered.
In that, 117 Indian universities were considered in the QS Asia University Rankings 2022.
Top 10 Universities in QS Asia University Rankings 2022 :
National University of Singapore (NUS), Singapore
Peking University, China (Mainland)
Nanyang Technological University (NTU), Singapore
University of Hong Kong (HKU), Hong Kong SAR
Tsinghua University, China (Mainland)
Zhejiang University, China (Mainland)
Fudan University, China (Mainland)
Universiti Malaya (UM), Malaysia
Hong Kong University of Science and Technology (HKUST), Hong Kong SAR
Shanghai Jiao Tong University, China (Mainland)
Top 10 Indian universities :
IIT Bombay (Rank 42)
IIT Delhi (Rank 45)
IIT Madras (Rank 54)
Indian Institute of Science (IISc) (56)
IIT Kharagpur (IITK) (60)
IIT Kanpur (IITK) (64)
University of Delhi (77)
Jawaharlal Nehru University (107)
IIT Roorkee (IITR) (109)
IIT Guwahati (119)
Meanwhile only 2 Indian institutes are among the top 50.
For the first time, 12 universities were ranked in that list.
The rankings are based on 11 indicators which include academic reputation, employer reputation, faculty/student ratio, international research network among others.
About QS Asia University Rankings :
QS World University Rankings is an annual publication of university rankings by Quacquarelli Symonds (QS).
The QS ranking receives approval from the International Ranking Expert Group (IREG).
About Quacquarelli Symonds :
Headquarters: London, United Kingdom
Founded: 1990
It is a global higher education think-tank and compilers of the world's most-consulted university rankings portfolio.
CURRENT AFFAIRS : SCIENCE & TECHNOLOGY
China launches 3 remote sensing satellites into space 
On Nov 06, 2021, China successfully launched three new remote sensing satellites from the Xichang Satellite Launch Centre in the country's southwestern Sichuan province.
The satellites, belonging to the Yaogan-35 family, were launched by a Long March-2D carrier rocket and entered the planned orbit successfully.
This launch marked the 396th mission for the Long March series carrier rockets.
The Long March carrier rocket series, developed by the China Aerospace Science and Technology Corporation, is responsible for about 96.4 per cent of all the launch missions in China.
In March 2019, China's Long March-3B rocket — regarded as the mainstay of the country's space programme since 1970 had successfully completed its 300th launch by putting a new communication satellite into orbit.
About CASC :
Chairman & President : Lei Fanpei
Headquarters: Beijing, China
Founded: 1 July 1999
About China :
Capital: Beijing
President: Xi Jinping
Currency: Renminbi
DRDO, IAF conduct 2 flight tests of smart anti-airfield weapon
The Defence Research & Development Organisation (DRDO) and Indian Air Force (IAF) have carried out two successful flight tests of indigenously-developed Smart Anti-Airfield Weapon (SAAW).
It was launched by an Indian Air Force aircraft from Chandan ranges at Jaisalmer, Rajasthan on October 28 and November 3.
Electro-optical seeker-based flight test of this class of bomb has been conducted for the first time in the country.
Two different configurations (of the weapon) based on satellite navigation and electro-optical sensors have been successfully tested.
The system is designed for a maximum range of 100 kilometres.
The electro-optical configuration of the system is equipped with Imaging Infra-Red Seeker technology enhancing the precision strike capability of the weapon.
About DRDO Smart Anti-Airfield Weapon :
The DRDO Smart Anti-Airfield Weapon (SAAW) is a long-range precision-guided anti-airfield weapon
It has been developed by the Research Centre Imarat (RCI), and other DRDO laboratories in collaboration with the Indian Air Force (IAF).
It is designed to be capable of engaging ground targets with high precision up to a range of 100 kilometres (62 mi).
It is a lightweight high precision guided bomb designed to destroy ground targets, such as runways, bunkers, aircraft hangars and other reinforced structures.
The SAAW project was approved by the Government of India in 2013.
About DRDO :
Headquarters: New Delhi
Founded: 1958
Defence Minister : Rajnath Singh
Chairman : Dr G. Satheesh Reddy
About IAF :
Founded: 8 October 1932, India
Headquarters: New Delhi
Commander-in-Chief: President Ram Nath Kovind
Chief of Defence Staff : General Bipin Rawat
Chief of the Air Staff : Air Chief Marshal Vivek Ram Chaudhari
Vice Chief of the Air Staff : Air Marshal Sandeep Singh
CURRENT AFFAIRS : BOOKS & AUTHORS
Sudha Murty authors a Book Titled The Sage with Two Horns: Unusual Tales from Mythology
The chairperson of the Infosys Foundation & Indian author Sudha Murty has come out with her latest book for children titled "The Sage with Two Horns.
The book has been published by Puffin and has illustrations by Priyankar Gupta.
About the Book :
The Book revolves around lesser known facts of Indian mythology.
It is the fifth and final in the series of  'Unusual Tales from mythology' series featuring kings and queens, gods and goddesses, sages and extraordinary men and women of wisdom.
The other four books in the series are 
"The Man from the Egg" – Unusual Tales About The Trinity
"Serpent's Revenge" – Unusual Tales from the Mahabharata
"The Upside-Down King" – Unusual Tales about Rama and Krishna
"The Daughter from the Wishing Tree" – Unusual Tales about Women in Mythology
About Sudha Murty :
Sudha Murty born on 19 August 1950 in Shiggaon, Haveri in Karnataka.
She is an Indian engineering teacher, author and a social worker.
She has authored novels, technical books, travelogues, collections of short stories and non-fiction pieces, and bestselling books for children.
She is the chairperson of the Infosys Foundation and a member of the public health care initiatives of the Gates Foundation.
She is married to the co-founder of Infosys, R. Narayana Murthy.
Awards & Honours :
She got the "Best Teacher Award" in 1995 from the Rotary Club at Bangalore.
In 2006 she received India's fourth highest civilian award Padma Shri.
Pradeep Magazine authors a Book Titled Not Just Cricket: A Reporter's Journey through Modern India 
Pradeep Magazine authored a Book Titled Not Just Cricket: A Reporter's Journey through Modern India releasing in December 2021.
The Book is Published by HarperCollins Publishers India.
About the Book :
The Book is a story of lived, real experiences, of joy, sorrow, fear, loss and hope, and about how an uprooted identity shapes one's attitude towards society and the nation.
The Book describes from the Kashmir of the 1950s to terror-stricken Punjab, from the Mandir–Masjid divide and the impact of Mandal politics to the tragic consequences of the Kashmir situation.
Magazine paints a fascinating portrait of modern India.
It accounts of some of the most epochal events in India's cricketing history, woven around personal encounters with several well-known cricketers.
About Pradeep Magazine :
Pradeep Magazine is a cricket writer, columnist and former sports editor of The Pioneer, the India Today e-paper and Hindustan Times.
He began his journalistic career in 1979 with the Chandigarh edition of The Indian Express.
He is the author of the book Not Quite Cricket that exposed the match-fixing scandal much before it surfaced in 2000.
Haryana CM Manohar Lal Khattar releases the book 'Modern India' by Poonam Dalal Dahiya
Haryana Chief Minister Manohar Lal Khattar released a book titled "Modern India" authored by Poonam Dalal Dahiya.
'The book was published by McGraw Hill'
The first copy of the book launched by McGraw Hill, was gifted by the author Ms. Poonam Dalal Dahiya to the honourable Chief Minister of Haryana Shri Manohar Lal Khattar during the book launch event.
About the Book :
The book provides comprehensive information on the history of modern India.
The book gives an in-depth coverage and thorough analysis of all the crucial events helping the students to gain conceptual understanding of the subject and is equally beneficial for both preliminary and mains examination.
About Poonam Dalal Dahiya :
Poonam Dalal is native of Chiara Village, in Jhajjar District of Haryana state.
She is an Additional Superintendent of Police, Gurugram.
About Haryana :
Governor: Bandaru Dattatreya
Capital: Chandigarh
Chief minister: Manohar Lal Khattar
National Parks : Sultanpur National Park, Kalesar National Park
Wildlife Sanctuaries : Bhindawas Wildlife Sanctuary, Khaparwas Wildlife Sanctuary, Nahar Wildlife Sanctuary, Chhilchhila Wildlife Sanctuary, Saraswati Wildlife Sanctuary, Abubshahar Wildlife Sanctuary, Khol Hi-Raitan Wildlife Sanctuary, Bir Shikargah Wildlife Sanctuary, Asola Bhatti Wildlife Sanctuary
CURRENT AFFAIRS : SPORTS NEWS
Manu Bhaker and Javad Foroughi wins air pistol mixed team gold in inaugural President's Cup
On Nov 05, 2021, India's woman pistol ace Manu Bhaker and Iran's reigning Olympic champion Javad Foroughi, won the 10M Air Pistol Mixed Team Gold at the ongoing International Shooting Sport Federation (ISSF) President's Cup Rifle/Pistol in Wroclaw, Poland.
The Indo-Iranian pair got the better of the French-Russian duo of Mathilde Lamolle and Artem Chernousov 16-8 in the gold medal match.
About International Shooting Sport Federation :
Headquarters: Munich, Germany
Founded: 1907
President: Vladimir Lisin
The International Shooting Sport Federation (ISSF) is the governing body of the Olympic Shooting events in rifle, pistol and shotgun (clay target) disciplines, and of several non-Olympic Shooting sport events.
CURRENT AFFAIRS : OBITUARIES
Legendary Cricket Coach Tarak Sinha Passes Away                    
On Nov 06, 2021, Dronacharya Awardee and renowned cricket coach Tarak Sinha Passed away.
He was 71.
About Tarak Sinha :
For all of his coaching services, he was referred to as Ustad Ji by his students.
The Board of Control for Cricket in India appointed Sinha the coach of the Delhi team that won its fourth Ranji title in the 1985–86 season.
In 2001–02, he was appointed head coach of the national women's team.
Tarak Sinha has produced cricketers like Surender Khanna, Randhir Singh, Raman Lamba, Manoj Prabhakar, Ajay Sharma, K.P. Bhaskar, Atul Wassan, Ashish Nehra, Sanjeev Sharma, Aakash Chopra, Shikhar Dhawan, Anjum Chopra and Rishabh Pant.
Awards & Honours :
Sinha received the Dronacharya Award for lifetime achievement from the Government of India in 2018.
He is only the fifth cricket coach, after Desh Prem Azad, Gurcharan Singh, Ramakant Achrekar and Sunita Sharma, to be given the Dronacharya award.
Daily CA On Nov 04 to 06 :
World Tsunami Awareness Day is observed on November 5 every year.
The UN General Assembly declared 6 November of each year as the International Day for Preventing the Exploitation of the Environment in War and Armed Conflict.
On Nov 05, 2021, India's first rooftop drive-in movie theatre was inaugurated at the Jio World Drive mall of Reliance Industries' in Mumbai, Maharashtra.
Delhi Regional Security Dialogue on Afghanistan will be hosted by India on 10th November. The NSA level meeting will be chaired by NSA Ajit Doval.
President of Senegal Macky Sall has expressed Senegal's desire to continue to engage with India to achieve full potential of the bilateral relations. 
In Ethiopia, nine anti-government groups, including the Tigray People's Liberation Front (TPLF) and Oromo Liberation Army (OLA), have agreed to form an alliance against Prime Minister Abiy Ahmed's administration. 
Reviving the landmark 2015 nuclear deal between Iran and six other nations are to resume this month.
In the United States, the first-ever 3-day 'All American Diwali' Celebrations started with a fireworks display over the Hudson River in New York City. 
India, Gambia ink two agreements for deepening bilateral relations
During the Patna tour Mr Naidu will visit two districts of East Champaran and Nalanda district of the state. 
The International Film Festival of India has announced the selection of films for the Indian Panorama section to be screened during its 52nd edition in Goa. 
On Nov 06, 2021, Bhai Dooj was celebrated & This is a festival celebrated by Hindus on the second lunar day of Shukla Paksha.
The Narcotics Control Bureau (NCB) has announced that a Special Investigation Team (SIT) comprising officers from Operation Branch of Narcotics Control Bureau Headquarters has been constituted by the Director General of NCB to take over 6 cases from NCB Mumbai Zonal unit.
In Ladakh, All India Radio Kargil Launched Swachh Bharat Abhiyan in its premises at Baroo as well as all its associate Stations as part of the Nation Wide Swachh Bharat Abhiyan under Azadi ka Amrit Mahotsav (Celebration of the 75th year of Independence).
The Delhi government has decided to declare 10th November as a public holiday on account of Chhath Puja. 
The air quality in the national capital Delhi is presently in the severe category.
The Mirage 2000 aircraft squadron of the Indian Air Force took part in the Blue Flag 2021 international exercise in
On Nov 05, 2021, China successfully launched a Guangmu Earth-science satellite via a Long March-6 carrier rocket from Taiyuan Satellite Launch Center in the northern Shanxi Province.
A New Book Titled The Cinema Of Satyajit Ray Authored by Bhaskar Chattopadhyay.
On Nov 05, 2021, In the 2021 AIBA Men's World Boxing Championships, Indian boxer Akash Kumar settled for a bronze medal at Belgrade in Serbia.
Daily CA On Nov 07 & 08 :
The National Cancer Awareness Day is observed annually in India on November 7, to spread awareness on cancer, its symptoms and treatment.
Former Union Ministers Arun Jaitley, George Fernandes, and Sushma Swaraj were conferred with Padma Vibhushan posthumously along with Classical singer Pandit Chhannulal Mishra.
Power Minister R K Singh has addressed the 47th Raising Day of NTPC in New Delhi.
Prime Minister Narendra Modi has emerged at the top of the global leader approval ratings.
Publications Division is participating in the 40th Sharjah International Book Fair.
Prime Minister Narendra Modi visited Kedarnath in Uttarakhand, to inaugurate key infrastructure projects related to the redevelopment of Kedarnath.
India and Bhutan are set to have seven additional entry and exit points for trade in order to increase trade connectivity.
The Reserve Bank of India (RBI) recently published its 'Statement of Commitment to Support Greening India's Financial System – NGFS.
Haryana government has notified the State Employment of Local Candidates Act, 2020, which will come into force from January 15, 2022.
The third edition of Goa Maritime Conclave (GMC) 2021 is being held from November 7-9 under the aegis of Naval War College, Goa. 
Indian-origin has taken over the reigns of a major multinational company. S. Venkatakrishnan, head of global markets for Barclays, has been appointed as the bank's chief executive, following the resignation of Jes Staley after a report by UK regulators explored links with late financier and sex offender Jeffrey Epstein.
Air forces of India and Egypt conducted a two-day exercise called Desert Warrior at the latter's El Berigat airbase.
Quacquarelli Symonds released the QS Asia University Rankings 2022 for the continent's best higher education institutions, the National University of Singapore has come up as Asia's best university for the fourth consecutive year.
On Nov 06, 2021, China successfully launched three new remote sensing satellites from the Xichang Satellite Launch Centre in the country's southwestern Sichuan province.
The Defence Research & Development Organisation (DRDO) and Indian Air Force (IAF) have carried out two successful flight tests of indigenously-developed Smart Anti-Airfield Weapon (SAAW).
The chairperson of the Infosys Foundation & Indian author Sudha Murty has come out with her latest book for children titled "The Sage with Two Horns.
Pradeep Magazine authored a Book Titled Not Just Cricket: A Reporter's Journey through Modern India releasing in December 2021.
Haryana Chief Minister Manohar Lal Khattar released a book titled "Modern India" authored by Poonam Dalal Dahiya.
On Nov 05, 2021, India's woman pistol ace Manu Bhaker and Iran's reigning Olympic champion Javad Foroughi, won the 10M Air Pistol Mixed Team Gold at the ongoing International Shooting Sport Federation (ISSF) President's Cup Rifle/Pistol in Wroclaw, Poland.
On Nov 06, 2021, Dronacharya Awardee and renowned cricket coach Tarak Sinha Passed away.Current