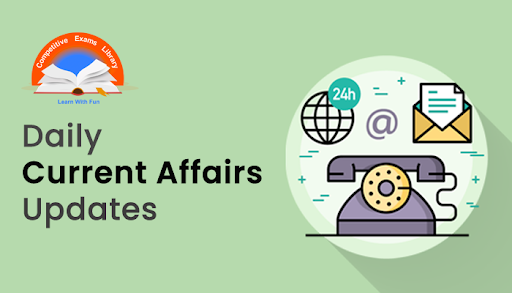 Dear Readers, Daily Current Affairs News Updates about the National and International events were listed here. Read Current Affairs Today here and stay updated with current news. Candidates those who are preparing for IBPS/SBI/PO/Clerk exam and all other competitive exams can use this and try the Current Affairs Quiz to test your knowledge level.
CURRENT AFFAIRS : IMPORTANT DAYS
International Day for Tolerance- Nov 16                                                       
The United Nations observes "International Day for Tolerance" on 16th November every year.
The United Nations is committed to strengthening tolerance by fostering mutual understanding among cultures and peoples.
The objective behind celebrating the day is to create public awareness of the dangers of intolerance. UNESCO created a prize for the promotion of tolerance and non-violence to mark the United Nations Year for Tolerance in 1995 and the 125th anniversary of the birth of Mahatma Gandhi.
The UN General Assembly in 1996 by resolution 51/95 invited the UN Member States to observe the International Day for Tolerance on 16 November.
National Epilepsy Day Observed on 17 November
National Epilepsy Day is observed on November 17 every year by the Epilepsy Foundation, to create awareness about epilepsy.
The month of November is observed as 'National Epilepsy Awareness Month
World COPD Day 2021 Observed on 17 November  
World COPD Day is observed on 17th November (Third Wednesday of November) every year.
The day is organised by the Global Initiative for Chronic Obstructive Lung Disease (GOLD) with the collaboration of health care professionals and COPD patient groups across the globe.
Purpose :
To raise awareness about chronic obstructive pulmonary disease (COPD) and improve COPD care throughout the world.
The first World COPD Day was held in 2002.
The 2020 World COPD Day was observed on Nov 18, 2020.
About Global Initiative for Chronic Obstructive Lung Disease :
The Global Initiative for Chronic Obstructive Lung Disease (GOLD) is a non-profit organization started by the World Health Organization and the US National Heart, Lung, and Blood Institute in 1997 to improve care for chronic obstructive pulmonary disease (COPD).
CURRENT AFFAIRS : SUMMITS & CONFERENCES
14th edition of Cyber security conference 'c0c0n' to be inaugurated by Gen. Bipin Rawat                           
Chief of Defence Staff General Bipin Rawat will inaugurate the 14th edition of 'c0c0n', an annual Hacking and Cyber Security Briefing, which will be held virtually from November 10-13.
The conference, which is being conducted by Kerala Police in association with two non-profit organisations, Society for the Policing of Cyberspace( POLCYB ) and Information Security Research Association (ISRA).
The theme of 2021 'c0c0n' is – Improvise, Adapt and Overcome.
Aim of the exercise :
To discuss at the international level the challenges facing the digital world during the COVID period and the solutions needed to overcome them.
About the Conference :
The conference is being held in such a way that online security is beneficial even to children in the state where many crimes are taking place with the shift to online classes.
It provides an information sharing platform on cyber security issues, enhancement of law enforcement agencies/corporates/researchers/academia's effectiveness and efficiency through the improvement of the technical and administrative capabilities in incident handling and a channel to discuss strategic directions and future challenges.
National and international experts will speak on various issues including cyber attacks on critical infrastructures, quantum computing, automotive cyber security, drone attacks detections using deep learning, data security and privacy, cyber espionage and cyber warfare.
To encourage more women into cyber security and to offer them equal opportunity to rise to senior leadership roles, Kerala Police is inviting more women, who play prominent roles in cyber security.
About Bipin Rawat :
Bipin Rawat is a four star general of the Indian Army.
He is the first and current Chief of Defence Staff (CDS) of India.
He served as Chairman of the Chiefs of Staff Committee as well as 26th Chief of Army Staff of the Indian Army.
About ISRA :
The Information Security Research Association (commonly known as ISRA) is a registered non-profit organization focused on various aspects of Information Security including security research and cyber security awareness activities.
CURRENT AFFAIRS : ACQUISITIONS & MERGERS
CCI approves acquisition of 71.25% shareholding of ASK Investment Managers Limited by BCP TopCo XII Pte Ltd
The Competition Commission of India (CCI) approves acquisition of 7.25% shareholding of ASK Investment Managers Limited by BCP TopCo XII Pte Ltd.
About BCP TopCo XII Pte Ltd :
BCP TopCo XII Pte Ltd. (Acquirer) is an affiliate of funds advised or managed by the affiliates of the Blackstone Group Inc.
The principal activity of the Acquirer is that of investment holding and related activities.
ASK Investment Managers Limited (Target) is an asset and wealth management company with an established client base in India.
About CCI :
Founded: 14 October 2003
Headquarters: New Delhi
First executive: Dhanendra Kumar
Chairperson : Ashok Kumar Gupta
Secretary : P K Singh
CURRENT AFFAIRS : DEFENCE NEWS
Sixth-edition of Indo-French joint military exercise 'EX-SHAKTI 2021' begins at Frejus\
On Nov 15, 2021, The sixth edition of Indo French joint military exercise 'EX-SHAKTI 2021' was conducted at the French port town of Frejus.
The exercise will focus on Counter-Terrorism operations in the backdrop of semi-urban terrain under UN Mandate.
The 12-day long bilateral exercise, which began Nov 15 , & it will conclude on Nov 26th.
Aim of the exercise :
To enhance military cooperation and interoperability between the two Armies.
A platoon strength of a Gorkha Rifles Infantry Battalion is representing the Indian Army in this 12-day bilateral exercise.
Meanwhile the French side is being represented by troops of the 21st Marine Infantry Regiment of the 6th Light Armoured Brigade.
The last edition of Exercise SHAKTI was conducted at Foreign Training Node in Mahajan Field Firing Ranges, Rajasthan from 31 October to 13 November 2019 in which Counter-Terrorism operations in semi-desert terrain.
India and France carry out three biennial training exercises namely, Exercise GARUDA with Indian Air Force, Exercise VARUNA with Indian Navy and Exercise SHAKTI with the Indian Army
About France :
Capital: Paris
Currency : Euro
President: Emmanuel Macron
India, Thailand & Singapore To Participate In 3rd SITMEX Trilateral Maritime Exercise in Andaman sea
The 3rd edition of the Singapore, India and Thailand Trilateral Maritime Exercise (SITMEX – 21) commenced on Nov 15-16, 2021.
The two-day exercise is being held in the Andaman Sea and is being hosted by the Royal Thai Navy (RTN).
The exercise is being conducted as a 'non-contact, at sea only' drill due to restrictions in place to contain the spread of the ongoing Covid-19 pandemic.
The Indian Navy is being represented by the Indian Naval Ship (INS) Karmuk missile corvette in the exercise.
The SITMEX will see the participation of the Republic of Singapore Navy (RSN) that is being represented by a Formidable Class Frigate, the RSS Tenacious.
The Royal Thai Navy (RTN) also taking part in this event saw the participation of (HTMS) Thayanchon, a Khamrosin Class Anti-submarine Patrol Craft.
The exercise will witness the Singapore, India and Thailand navies engage in various tactical exercises including naval manoeuvres and surface warfare drills.
It features the Republic of Singapore Navy's (RSN) Formidable-class frigate RSS Tenacious and the Royal Thai Navy's (RTN) Khamrosin-class anti-submarine patrol craft HTMS Thayanchon.
SITMEX-21 will include a number of tactical training drills between the three navies such as naval manoeuvres and surface warfare exercises.
About SITMEX :
Trilateral Maritime Exercise – SITMEX is an annual event that was conceived in 2019. The exercise aims to enhance mutual inter-operability and imbibing best practices between the Indian Navy (IN), RSN and RTN.
About Indian Navy  :
Headquarters : New Delhi
Founded: 26 January 1950
Commander-in-Chief: President Ram Nath Kovind
Chief of Defence Staff : General Bipin Rawat
Chief of the Naval Staff : Admiral Karambir Singh
Vice Chief of the Naval Staff : Vice Admiral Satish Namdeo Ghormade
Deputy Chief of the Naval Staff : Vice Admiral Ravneet Singh
About Singapore :
President : Halimah Yacob
Prime Minister : Lee Hsien Loong
Currency : Singapore dollar
About Thailand :
Capital: Bangkok
Prime Minister : Prayut Chan-o-cha
King: Maha Vajiralongkorn
Currency: Thai baht
CURRENT AFFAIRS : SCIENCE & TECHNOLOGY
India launches 41st Scientific Expedition to Antarctica
On Nov 16, 2021, India successfully launched the 41st Scientific Expedition to Antarctica.
The first batch of 23 scientists and support staff reached the Indian Antarctic station Maitri.
Four more batches will be landing in Antarctica by air using DROMLAN facility and onboard chartered ice-class vessel MV Vasiliy Golovnin by mid-January 2022.
The 41st expedition has two major programs.
Geological exploration of the Amery ice shelf at Bharati station. – It will help explore the link between India and Antarctica in the past.
Reconnaissance surveys and preparatory work for drilling of 500 meters of ice core near Maitri – It will help in improving the understanding of Antarctic climate, westerly winds, sea-ice and greenhouse gases from a single climate archive for the past 10,000 years.
The ice core drilling will be done in collaboration with the British Antarctic Survey and the Norwegian Polar Institute.
The 41st expedition is being led by Dr Shailendra Saini, Scientist National Centre for Polar & Ocean Research (Voyage Leader), Huidrom Nageshwar Singh, Metrologist, India Meteorological Department (Leader, Maitri Station) and Anoop Kalayil Soman, scientist Indian Institute of Geomagnetism (Leader, Bharati Station).
The Indian Antarctic program, which began in 1981.
It has completed 40 scientific expeditions, and built three permanent research base stations in Antarctica, named DakshinGangotri (1983), Maitri (1988) and Bharati (2012).
Currently, Maitri and Bharati are fully operational.
The National Centre for Polar and Ocean Research (NCPOR), Goa, an autonomous institute under the ministry of Earth Sciences manages the entire Indian Antarctic program.
About NCPOR :
Headquarters: Vasco da Gama, Goa
Director: M. Ravichandran
Formation: 25 May 1998
CURRENT AFFAIRS : APPS & SERVICES
Ministry of Culture launches mobile app for 'Azadi Ka Amrit Mahotsav'
On Nov 12, 2021, Union Minister of State for Culture Meenakshi Lekhi launched the Azadi Ka Amrit Mahotsav mobile App to enable all single point access to all information related to the 75th anniversary celebrations of India's independence.
The app available in android and iOS has details of all the activities and events happening under the AKAM banner.
It is a free download app with no age restrictions.
About the app :
The Home page enables users to get an overview of the interesting and wide-ranging content inside the app.
The app has sections like 'What's New' and 'Weekly Highlights' that allow users to stay connected to all current celebrations and event details.
These include links to sections such as 'Digital District Repository' and 'Unsung Heroes' which are part of an overall section titled 'History Corner'.
The 'Events and Activities' section has details of the Amrit Mahotsav celebrations organised by the various ministries, states and Union Territories.
These include celebrating the patriotic fervour of new India by writing patriotic songs 'DeshbhaktiGeet Writing Competition', connecting to our timeless traditions via 'Lori Writing Competition' and celebrating the colours of life by participating in the 'Rangoli Making Competition'.
About Azadi Ka Amrit Mahotsav :
Azadi Ka Amrit Mahotsav is an initiative of the Government of India to celebrate and commemorate 75 years of India post-Independence and the history of its people, culture and achievements.
The Ministry of Culture will also organize an All India Dance Competition 'Vande Bharatam-Nritya Utsav' as part of Azadi Ka Amrit Mahotsav.
Note :
Additional Secretary of Ministry of Culture : Shri Rohit Singh
About Ministry of Culture :
Cabinet Minister : Kishan Reddy
Minister of State : Meenakshi Lekhi
Headquarters : New Delhi
CURRENT AFFAIRS : BOOKS & AUTHORS
Pargat Singh launches book on Olympian Gurbachan Singh Randhawa                                           
Punjab Sports and higher education minister Pargat Singh launched a book 'Uddna Baaz' a biography on Olympian Gurbachan Singh Randhawa.
The book is written by the sports writer Navdeep Singh Gill, an officer with the state public relations department.
About Gurbachan Singh Randhawa :
Gurbachan Singh Randhawa born on 6 June 1939, in Punjab Nangli, Amritsar.
Randhawa was the flag-bearer of the Indian contingent at the 1964 Tokyo Olympics.
He finished fifth in the 110 hurdles at the 1964 Tokyo Olympics with a timing of 14.07 seconds.
He won Gold in the 1962 Jakarta Asiad in Decathlon besides the Best Athlete title.
Randhawa was awarded Rashtrapati Puraskar for meritorious services in the Police apart from honorary PhD degree as sports adviser of Punjabi University, Patiala.
Awards & Honours :
He was conferred the Arjuna Award ( first athlete ) in 1961 and the Padma Shri in 2005.
Book Titled The Disruptor: How Vishwanath Pratap Singh Shook India' by Debashish Mukerji
HarperCollins India presents A New Book Titled 'The Disruptor: How Vishwanath Pratap Singh Shook India' authored by Debashish Mukerji.
About the Book :
The Book deals with Vishwanath Pratap Singh, India's seventh Prime Minister.
About Vishwanath Pratap Singh :
Vishwanath Pratap Singh was an Indian politician who was the 7th Prime Minister of India from 1989 to 1990.
During his tenure as prime minister, he implemented the Mandal Commission report for India's backward castes.
He is the 41st Raja Bahadur of Manda.
He is India's only prime minister to have been a former Zamindar.
In 1980, he became the Chief Minister of Uttar Pradesh.
About Debashish Mukerji :
Debashish Mukerji was a journalist for nearly forty years, working with numerous publications, including Hindustan Times, The Week and Business Today.
He has written extensively on Uttar Pradesh and on national politics.
Pullela Gopichand's autobiography : Shuttler's Flick: Making Every Match Count
Pullela Gopichand released his autobiography Shuttler's Flick: Making Every Match Count Co-authored by writer and motivational speaker Priya Kumar.
The Book published by Simon & Schuster India.
About the Book :
The Book is an essential guide on how to smash down obstacles and rise above challenges without fear.
About Pullela Gopichand :
Pullela Gopichand born on 16 November 1973.
He is a former Indian badminton player.
Currently, he is the Chief National Coach for the India national badminton team.
He won the All England Open Badminton Championships in 2001 becoming the second Indian to achieve this feat after Prakash Padukone.
Awards & Honours :
He received the Arjuna Award in 1999, the Dronacharya Award in 2009 and the Padma Bhushan – India's third highest civilian award in 2014.
About Priya Kumar :
Priya Kumar was born on 4 March 1974 in Chandigarh, India.
She is an Indian writer and motivational speaker.
Other Books :
Her book License to Live (2010) was nominated for the Vodafone Crossword Book Award in 2010.
Her novel I Will Go with You (2015) was adapted into a web television series.
CURRENT AFFAIRS : SPORTS NEWS
Lewis Hamilton wins 2021 Brazilian grand prix
On Nov 15, 2021, Lewis Hamilton won the Brazilian Grand Prix 2021 in Sao Paulo, Brazil.
Max Verstappen (Red Bull – Netherlands) came second while Valtteri Bottas (Mercedes-Finland) came third in the Brazilian Grand Prix 2021.
Max Verstappen is leading the World Drivers' Standings with 312.5 points, 19 points ahead of Lewis Hamilton (318.5).
About Lewis Hamilton :
Lewis Carl Davidson Hamilton is a British racing driver.
In Formula One, Hamilton has won a joint-record seven World Drivers' Championship titles (tied with Michael Schumacher), and holds the records for the most wins (101), pole positions (101), and podium finishes (179), among others.
So far he is the only, black driver to race in the series.
He claimed his 100th race win at the 2021 Russian Grand Prix.
About 2021 São Paulo Grand Prix :
The 2021 São Paulo Grand Prix was a Formula One motor race.
It was held on 14 November 2021 at the Interlagos Circuit in São Paulo, Brazil.
The race was the 19th round of the 2021 Formula One World Championship.
The event marked the 49th edition of the Grand Prix
For the first time the event was known as the São Paulo Grand Prix, with previous editions being known as the Brazilian Grand Prix.
US high jumper Erik Kynard to get 2012 Olympic gold medal from Russian doper
On Nov 12, 2021, American high jumper Erik Kynard will finally get his gold medal from the 2012 London Olympics after the IOC approved reallocating some results from those games because of doping cases.
Ukhov was banned for four years in 2019 at the Court of Arbitration for Sport.
With Erik Kynard upgraded to men's gold, the three bronze medalists in 2012 will each now get silver medals: Derek Drouin of Canada, Robbie Grabarz of Britain and Mutaz Essa Barshim of Qatar.
About Erik Kynard :
Erik Kynard Jr. born on February 3, 1991, is an American track and field athlete who competes in the high jump.
In his Olympic debut at the 2012 Summer Olympics in London as a 21-year-old, he won a silver medal in the men's high jump.
About IOC :
Headquarters: Lausanne, Switzerland
President: Thomas Bach
Director General: Christophe De Kepper
Founded: 23 June 1894, Paris, France
Founders: Pierre de Coubertin, Demetrios Vikelas
CURRENT AFFAIRS : OBITUARIES
Eminent Hindi writer Mannu Bhandari passes away
On Nov 15, 2021, Renowned Hindi author Mannu Bhandari passed away at 90 years old.
About Mannu Bhandari :
Mannu Bhandari was born in Madhya Pradesh on April 3, 1931.
She was the wife of late Hindi fiction writer Rajendra Yadav.
She was considered to be one of the pioneers of the 'Nayi Kahani' movement.
Mannu Bhandari was known for her novels 'Aapki Banti' and 'Mahabhoj' and Yahi Sach Hai.
Her famous novel 'Yahi Sach Hai' was adapted into a Hindi movie 'Rajnigandha' in 1974.
Legendary novelist Wilbur Smith passes away
Internationally acclaimed author Wilbur Smith passed away at 88 years old.
About Wilbur Smith :
Wilbur Addison Smith was a Zambian-born South African novelist.
In 2021 he had published 49 books and had sold more than 140 million copies worldwide in more than 30 languages.
He gained a film contract with his first published novel When the Lion Feeds which turned into a movie with 15 sequels.
In 2018 he published his autobiography On Leopard Rock.
Daily CA On Nov 14 & 15
World Diabetes Day is observed on 14th November every year.
Petroleum Minister Hardeep Singh Puri is leading a three-day official and business delegation to UAE to attend the Abu Dhabi International Petroleum Exhibition and Conference ADIPEC.
Union Home Minister Amit Shah is chairing the Southern Zonal Council meeting at Tirupati in Chittoor district of Andhra Pradesh.
As part of Azadi Ka Amrit Mahotsav, Law Minister Kiren Rijiju has launched Citizens' Tele Law Mobile App and felicitated frontline functionaries at a function in New Delhi.
An Indian army cycling team arrived at Benapole, Bangladesh to start a joint cycling rally of Indian and Bangladeshi armies between Nov. 15-24 covering Jessore to Kolkata.
The biggest-ever Dubai Airshow began at Al Maktoum International Airport, Dubai World Central, with more than 1,200 exhibitors taking part in the five-day show.
The Centre has brought ordinance to extend the tenure of Enforcement Directorate (ED) and Central Bureau of Investigation (CBI) directors up to 5 years.
Satya Narayan Pradhan has been appointed as the Director-General of Narcotics Control Bureau (NCB) on a deputation basis till the date of his superannuation on August 31, 2024
Amway India, an FMCG company, has appointed Amitabh Bachchan as its brand ambassador.
Spanish-German actor Daniel Bruhl has been named a Goodwill Ambassador for the United Nations World Food Programme WFP
Defence Secretary Dr Ajay Kumar has released a book titled 'FORCE IN STATECRAFT':
A book titled "Sunrise over Ayodhya" authored by Salman Khurshid has been released
A book titled "Nehru: The Debates that Defined India" is co-authored by Tripurdaman Singh and Adeel Hussain. 
The Women's cricket tournament will make its debut at the 2022 Commonwealth Games in Birmingham, England.
Eminent historian and Padma Vibhushan awardee Balwant Moreshwar Purandare, popularly known as Babasaheb Purandare, passed away aged 99