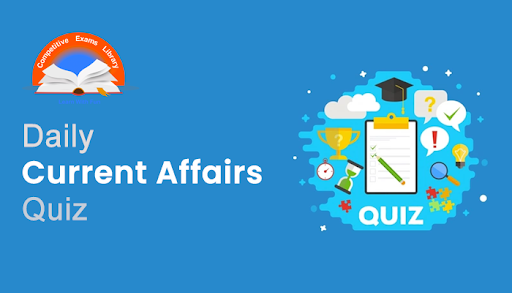 Dear Readers, Daily Current Affairs Questions Quiz for SBI, IBPS, RBI, RRB, SSC Exam 2021 of 14th & 15th November 2021. Daily GK quiz online for bank & competitive exam. Here we have given the Daily Current Affairs Quiz based on the previous days Daily Current Affairs updates. Candidates preparing for IBPS, SBI, RBI, RRB, SSC Exam 2021 & other competitive exams can make use of these Current Affairs Quiz.
1) What is the theme of the World Diabetes Day for the year 2021-2023,observed on 14th November every year?
(a) Diabetes: Nurses make the difference
(b) Women and diabetes ‒ our right to a healthy future
(c) Family and Diabetes
(d) Access to Diabetes Care
(e)Eyes on diabetes
2) Who is on a three-day visit to UAE to attend the Abu Dhabi International Petroleum Exhibition and Conference?
(a) Narendra Modi
(b)Hardeep Singh Puri
(c)Pralhad Joshi
(d) R K Singh
(e)Piyush Goyal
3) Name the city where Home Minister Amit Shah would chair the Southern Zonal Council meeting.
(a) Madurai
(b) Vizag
(c)Rameswaram
(d)Mysuru
(e)Tirupati
4) The government has decided to expandCitizens' Tele Law Mobile service to__________ gram panchayats.
(a) 75,000
(b)74,000
(c)73,000
(d)72,000
(e)71,000
5) Which city'sfive-day Airshow has begun at Al Maktoum International Airport?
(a)Muscat
(b)Sharjah
(c)Dubai
(d) Mecca
(e) Jeddah
6) How many members of strong joint cycling team of the Indian and Bangladesh army has participated in rally on the occasion of the golden jubilee year of Bangladesh liberation?
(a)15 members
(b)30 members
(c)35 members
(d)17 members
(e)31 members
7) The Centre has extended the tenure of which of the following Agencies' directors for 5 years?
(a) Research and Wing Analysis
(b)Enforcement Directorate
(c)Central Bureau of Investigation
(d)Both A & C
(e) Both B & C
8) Who has been appointed as the Director-General of Narcotics Control Bureauon a deputation basis?
(a)Satya Narayan Pradhan
(b)Rakesh Asthana
(c)Atul Karwal
(d) Sameer Wankhede
(e) None of these
9) Recently Amitabh Bachchan has been appointed as the brand ambassador of Amway India. Which Sports player was appointed earlier of August 2021 by Amway India?
(a) P V Sindhu
(b)Sanjitha Chanu
(c)Hima Das
(d)Mirabai Chanu
(e)Hima Koli
10) Name the organisation that has appointed Daniel Bruhl as its Goodwill Ambassador.
(a) UNEP
(b) UNESCO
(c) UNWFP
(d) UNGA
(e) UNIDO
11) A book titled 'FORCE IN STATECRAFT' has been released by Ajay Kumar. He is a____________ of India.
(a)Finance Secretary
(b)Revenue Secretary
(c)Defence Secretary
(d)Commerce Secretary
(e)Telecom Secretary
12) What is the name of the book authored by Salman Khurshid ,released recently?
(a)Sunrise over Ayodhya
(b)Enlightenment over Ayodhya
(c)Welcome to Ayodhya
(d)Praising the Ayodhya
(e)God on Ayodhya
13) A book titled, "Nehru: The Debates that Defined Indiais co-authored by Tripurdaman Singh and Adeel Hussain. The book has mentioned ___________ ofJawaharlal Nehru.
(a) Personal Life
(b)African Journey
(c) Jail Life
(d) Friendship with Gandhi
(e)Political Journey
14) The Women's cricket tournament would make debut in which of the following game in 2022?
(a) International Olympic Game
(b)Commonwealth Game
(c)Asian Game
(d) World Cup
(e) None of these
15) Balwant Moreshwar Purandare passed away recently .He was a famous __________________.
(a) Musician
(b) Freedom Fighter
(c) Saint
(d)Historian
(e) Activist
Answers :
1) Answer: D
World Diabetes Day is observed on 14th November every year.
The campaign aims to raise awareness around the crucial role that nurses play in supporting people living with diabetes.
World Diabetes Day was launched in 1991 by the IDF and the World Health Organization (WHO) in response to the rapid rise of diabetes around the world.
The theme for World Diabetes Day 2021-23: "Access to Diabetes Care".
In 2007 General Assembly adopted resolution 61/225 designating 14 November as World Diabetes Day.
The document recognized "the urgent need to pursue multilateral efforts to promote and improve human health, and provide access to treatment and health-care education."
2) Answer: B
Petroleum Minister Hardeep Singh Puri is leading a three-day official and business delegation to UAE to attend the Abu Dhabi International Petroleum Exhibition and Conference ADIPEC.
During the visit, Puri has participated in the inaugural Ceremony of ADIPEC and also take part in a Ministerial Round Table titled Charting the Climate Action Path from COP-26 to COP-27.
The Minister will inaugurate the India Pavilion, set up jointly by the Federation of Indian Petroleum Industry, Directorate General of Hydrocarbons DGH, and Confederation of Indian Industry.
Puri is scheduled to meet Minister of Energy and Infrastructure of UAE Suhail Mohamed Faraj Al Mazrouei and Minister of Industry and Advanced Technology and MD and Group CEO of ADNOC Dr. Sultan Ahmad Al Jaber to discuss issues of energy cooperation within the overall framework of India-UAE Strategic Partnership.
The Minister has also inaugurated the Oil and Gas Sectoral floor at the India Pavilion of the Dubai Expo.
3) Answer: E
Union Home Minister Amit Shah is chairing the Southern Zonal Council meeting at Tirupati in Chittoor district of Andhra Pradesh.
Representatives from the southern states and union territories are attending the meeting. Southern Zonal Council comprises Andhra Pradesh, Tamil Nadu, Karnataka, Kerala, Telangana, and Union Territories of Puducherry, Lakshadweep, and the Andaman and Nicobar Islands.
The Southern Zonal Meeting will be discussing 26 key issues such as cooperation between States, conflicts, border issues, internal security, infrastructure development, industries, tourism development, and economic development. Each state is coming to this meeting with a different agenda.
4) Answer: A
As part of AzadiKaAmritMahotsav, Law Minister KirenRijiju has launched Citizens' Tele Law Mobile App and felicitated frontline functionaries at a function in New Delhi.
This App would connect the beneficiaries directly with Panel Lawyers offering legal advice and consultation.
Post this launch this Mobile App, in Android version would be available on Google Playstore for download. And the App will go a long way in serving the people of the country in terms of legal aspects.
The government has decided to expand its Tele-Law service to 75,000 gram panchayats covering all states and Union territories this year,
There is a need to bring changes in our working system with a view to empower the citizens and to give a boost to the development of the country. And, it is the responsibility of the government to ensure justice to the poorest of the poor through whatever services they need.
5) Answer: C
The biggest-ever Dubai Airshow began at Al Maktoum International Airport, Dubai World Central, with more than 1,200 exhibitors taking part in the five-day show.
Dubai Airshow is also the largest of its kind since the outbreak of the Covid-19 pandemic. The show also features more than 160 of the world's most advanced aircraft on the ground and in the air.
Indian Air Force (IAF) contingent is also taking part in the Dubai Air Show following invitation by the Government of UAE to participate with the Sarang and Suryakiran Aerobatics Teams.
These teams will be performing along with some of the best aerobatics and display teams in the world, including the Saudi Hawks, Russian Knights and the UAE's Al Fursan.
In addition, the IAF's Light Combat Aircraft (LCA) Tejas will be part of the aerobatics and static displays during the show. The Dubai Air Show will be the first occasion for the Surya kirans and the Tejas to show off their swashbuckling aerial manoeuvres.
6) Answer: B
An Indian army cycling team arrived at Benapole, Bangladesh to start a joint cycling rally of Indian and Bangladeshi armies between Nov. 15-24 covering Jessore to Kolkata.
The rally has been organized on the occasion of the golden jubilee year of Bangladesh liberation to strengthen the friendly ties between the two countries.
The Indian cycling team was greeted at Benapole by Brigadier General Md. HafizurRahman of 55th infantry division of Jashor cantonment of Bangladesh.
The Indian army cycling team is led by Col. Mohit Singh of Kolkata cantonment. The 30 members strong joint cycling team of the Indian army and Bangladesh army will visit Jessore cantonment, Jhenaidah, Kushtia, and Jibanagar before returning to India on 19th November.
The joint cycling team will proceed on its India leg of the rally on 19th November from the Darshana land port before culminating at Kolkata on Nov. 24.
The participants of the rally will visit places of importance related to the 1971 Liberation War of Bangladesh. They will also interact with local people about the recollections of the 1971 Liberation war.
7) Answer: E
The Centre has brought an ordinance to extend the tenure of Enforcement Directorate (ED) and Central Bureau of Investigation (CBI) directors up to 5 years.
Two ordinances signed by President Ram NathKovind have virtually extended the tenures of the chiefs of the two agencies for up to five years. Both posts currently have a fixed tenure of two years.
At present, director of CBI and ED have been appointed for two-year tenure in office by the Central Vigilance Commission (CVC) Act, 2003
The Delhi Special Police Establishment (DSPE) Act and The Central Vigilance Commission (CVC) Act have been amended to give the government the power to keep the two chiefs in their posts for one year after they have completed their two-year terms.
8) Answer: A
:Satya Narayan Pradhan has been appointed as the Director-General of Narcotics Control Bureau (NCB) on a deputation basis till the date of his superannuation on August 31, 2024, or until further orders.
He was the Director-General of the National Disaster Response Force (NDRF) and was given additional charge of Director-General of NCB after RakeshAsthana (old DG of NCB) was appointed as Delhi Police Commissioner.
He was given additional charge of NCB Director-General after RakeshAsthana was appointed as Delhi Police Commissioner. As 1988-batch Gujarat cadre IPS officer AtulKarwal was appointed as NDRF Director-General, Appointments Committee of the Cabinet (ACC) in a order appointed Pradhan as Director-General of NCB on a full-time basis
9) Answer: D
Amway India, an FMCG company, has appointed Amitabh Bachchan as its brand ambassador.
Amitabh Bachchan will now endorse the brand Amway and the Nutrilite range of products across all platforms.
Earlier in August 2021, Amway had appointed MirabaiChanu as its brand ambassador.
It is a time in moment as the two brands have come together to proliferate messages on the significance of holistic health & wellness, women empowerment, and inspiring youth towards entrepreneurship for a progressive India.
As a part of the momentous association, he will endorse the brand Amway and all the Nutrilite products by Amway.
10) Answer: C
Spanish-German actor Daniel Bruhl has been named a Goodwill Ambassador for the United Nations World Food Programme WFP
Daniel Bruhl will help humanitarian organisation in its mission to reach a world with Zero Hunger.
World Food Programme (WFP) is the world's largest humanitarian organization aimed at ending hunger around the globe.
He has joined the WFP's mission to reach a world with Zero Hunger. As the goodwill ambassador, he will inform about the main drivers of hunger and showcase the efforts of UN WFP to tackle both immediate needs and root
11) Answer: C
Defence Secretary Dr Ajay Kumar released a book titled 'FORCE IN STATECRAFT', an edited volume by Commandant of National Defence College (NDC) Air Marshal DiptenduChoudhury and President's Chair of Excellence at NDC Air Vice Marshal (Dr) ArjunSubramaniam (Retd) in New Delhi on November 13, 2021.
The contributors of the book are all stalwarts of the Armed Forces, who have vast operational experience and understanding of several important cornerstones of forces and its application.
Since national security impacts every citizen, there has long been a need for a more sophisticated and nuanced understanding of the instrument of force in statecraft, which this book hopes to bridge.
The book has been endorsed by eminent personalities like former Governor of Jammu &Kashmir Shri NN Vohra; Director, Vivekananda International Foundation and former Deputy National Security Advisor Dr ArvindGupta;Professor of International Relation, King's College London & Director of Research, Observer Research Foundation, New Delhi Dr Harsh V Pant and Prof Rajesh Rajagopalan, JNU.
12) Answer: A
A book titled "Sunrise over Ayodhya" authored by Salman Khurshid has been released.
On 9 November 2019, the Supreme Court, in a unanimous verdict, cleared the way for the construction of a Ram temple at the disputed site in Ayodhya.
Through this book, Salman Khurshid explores how the greatest opportunity that the judgment offers is a reaffirmation of India as a secular society.
The Supreme Court in its order on November 9, 2019, directed the central government to hand over the 2.77 acres of disputed land to a trust, set up for the construction and management of a Ram temple.
A five-judge Constitution bench presided by the then Chief Justice of India RanjanGogoi had also directed that a suitable plot of land admeasuring five acres be handed over to the Sunni Central Waqf Board granting it the liberty to construct a mosque at the alternate site.
13) Answer: E
A book titled "Nehru: The Debates that Defined India" is co-authored by Tripurdaman Singh and Adeel Hussain.
A new book serves as a revisionist exploration of India's first and longest-serving prime minister Jawaharlal Nehru and investigates the overlooked role of his contemporaries and opponents in shaping his political vision.
The book mentions the political journey of Jawaharlal Nehru from being elected as Congress president to various other important aspects of his life.
14) Answer: B
The Women's cricket tournament will make its debut at the 2022 Commonwealth Games in Birmingham, England
Women's cricket will make its debut at the Commonwealth Games with the T20 format, and the final will be played on August 7th, 2022.
The opening match will be played between Australia and India at the Edgbaston Stadium.
This will be first time that women cricket will be included in the Commonwealth Games.
The last time cricket was played was List A men's tournament at the 1998 Commonwealth Games in Kuala Lumpur, Malaysia
The 2022 matches will be played under Twenty20 format and there will only be a women's tournament.
15) Answer: D
Eminent historian and Padma Vibhushan awardee Balwant Moreshwar Purandare, popularly known as Babasaheb Purandare, passed away aged 99
Mr.Purandare, an authority on the 17th century Maratha warrior king ChhatrapatiShivaji, was diagnosed with pneumonia a week ago and was undergoing treatment at the city's Deenanath Mangeshkar Hospital.
Known by his moniker 'Shiv Shahir' (literally Shivaji's bard), Purandare was considered one of the pre-eminent authorities on Chhatrapati Shivaji Maharaj.
Raja Shivchhatrapati, Purandare's popular two-part, 900-page magnum opus on Shivaji Maharaj in Marathi, was first published in the late 1950s and has since been a staple in Marathi households, going through numerous reprints over decades.